The Treaty of Waitangi [1] first signed on 6 February 1840 is an agreement between Maori, the first people of Aotearoa New Zealand and the British Crown. The Treaty was later taken to different parts of the country to be signed by leaders of Iwi (tribes) who were not at the original signing. At the time of the signing Maori vastly outnumbered Pakeha, forty to one.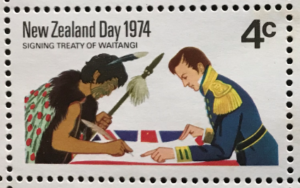 Signing of the Treaty Stamp
The Treaty was written in both Te Reo (the Maori Language) and in English. The two versions were not exactly the same.  In cases like this, the United Nations authorities would point out that the treaty of the indigenous peoples would be the correct version to follow.  In the Te Reo version, Maori did not give up sovereignty (or their authority) over their lands, forests and fisheries.
Maori were very upset with the amount of land that had been taken from their ownership.  Strategies of war and the law dispossessed Maori of much of their land. If Maori chose not to sell their land to the Crown they were called  'rebellious natives' and there would be a  war declared and the land seized. The British understood land ownership as individual ownership or title. Maori used tribal ownership (many owners). Maori were required to register their lands with the Land Courts which was a long and expensive process.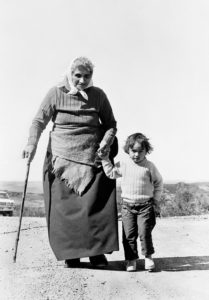 The Labour Prime Minister Norm Kirk changed the name Waitangi Day to New Zealand Day in 1974, the name was changed back to Waitangi Day by the following National Government to emphasize the importance of the Treaty between Maori and the Crown. Although there are still settlements to be made, Maori and Pakeha are working through current issues to find just and lasting solutions.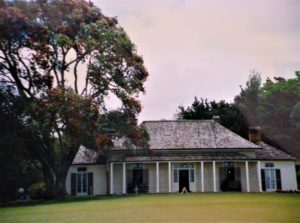 Waitangi Day's key celebrations are held at Waitangi where the Treaty was first signed. Waitangi Day begins with karakia (prayer), vigorous debate on the lower marae and protests, pomp and pageantry all happening on the main Waitangi grounds. Waka (canoes) and navy ships sail in the harbour nearby. There are different celebrations in various parts of the country with kapa haka (performing arts) sport and the sharing of food.
Waitangi Day is a reminder to New Zealanders both Maori and non-Maori, that although we are on the way, there is still much to be done towards honouring the Treaty of Waitangi. The intent of the Treaty lives on.