Here we have dozens of the best Valentine's Day quotes for your family.
When writing Valentine's Day cards, everyone wants to say something special. Something that shows the recipient how much you love and care for them.
While you can easily apply this to anyone in your family, these V-Day quotes are especially ideal for kids. Below, we have creative and meaningful messages for kids (from you to them) and from kids (to their siblings or parents).
Plus we have more great stuff, including funny Valentines quotes and jokes, brief quotes suitable for any relative, young or old, plus longer messages that come from the heart.
Read on for the best Valentine's Day Quotes for Family!
Valentine's Day Quotes for Family
Please note that this post contains affiliate links. This means that if you purchase something you see on our site we may receive a commission at no cost to you. Read our full disclosure here.
The Valentine's Day quotes for family are organized into these categories:
Simple & Sweet Quotes to Family Members
Quotes to Write to Your Kids
Quotes for Your Kids to Write to Others
Funny Quotes
Longer Messages
Special Compliments
Simple & Sweet Valentine's Day Quotes for Family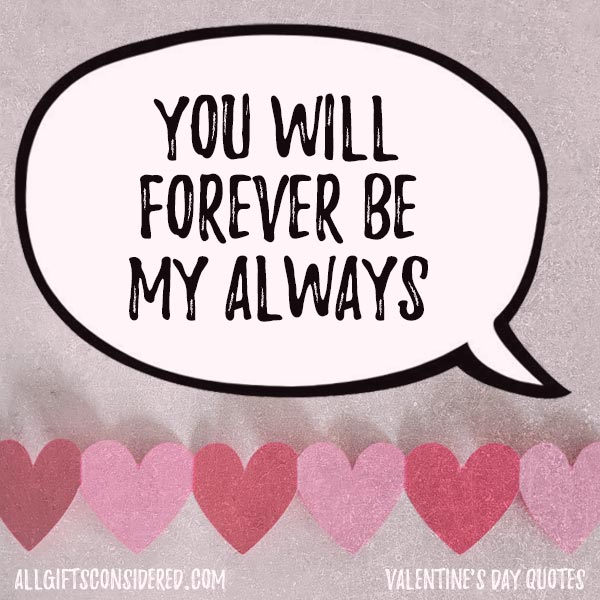 V-day quotes that are short and sweet. Perfect for writing in your Valentine's to kids, spouse, siblings, relatives, or the whole family.
I love you.
Hugs & kisses to you this Valentine's Day!
Love & kisses
And Valentine wishes!
I loved you yesterday
I love you still
I always have
I always will
You are like an angel, with a love that always glows;
You are one of the greatest gifts my heart will ever know.
A hundred hearts would be too few to carry all my love for you.
You will forever be my always.
My heart is wherever you are.
You're my favorite person of all time.
Words cannot express all that you mean to me.
My heart is happy because you're in it.
To me, you're perfect.
Yes, YOU!
The best part of Valentine's Day is the opportunity to express all the love that I have in my heart for you.
Roses are red.
Violets are blue.
Someone loves you –
Here is a clue:
Read John 3:16
– or –
It's me!
– or –
Their names rhyme with Wommy and Waddy
(etc)
I thank my God in every remembrance of you.
(Philippians 1:3)
If I had a flower for every time I thought of you… I could walk through my garden forever.
(Alfred Tennyson)
My heart is, and always will be, yours.
(Jane Austen)
How do I love thee? Let me count the ways…
(Elizabeth Barrett Browning)
Valentine's Day Quotes for Your Kids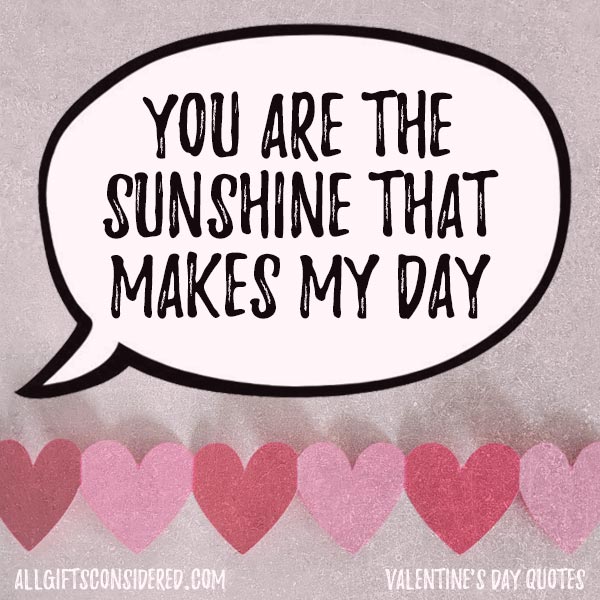 Tell your children how much they mean to you.
---
You are LOVED!
I'll love you forever
I'll like you for always
As long as I'm living
My baby you'll be
(from the classic book)
I have the best Valentine in the whole world. It's YOU!
Valentine's Day is only once a year, but I love you 365 days per year.
I have no greater joy than to hear that my children are walking in the truth.
(3 John 1:4)
You are the sunshine that makes my day.
You are amazing just the way you are.
I prayed for God to send me a [son/daughter] who is truly amazing. He heard my prayer, and I am so thankful that He chose to send you.
You are the kindest and most precious person I've ever known.
Thank you for filling my life with love.
Thank you for being such a wonderful [son/daughter].
You are the sweetest valentine I could have.
If there is one thing that I've done right in my life it's you.
I hope you have a Valentine's Day that is as amazing as you are.
I'm crazy about you!
You are my everything.
I love you today and always.
Thank you for making my Valentine's Day so special.
I'm proud of you.
I never loved you any more than I do, right this second. And I'll never love you any less than I do, right this second.
(Kami Garcia)