There's tons of love to go around on Valentine's Day. While some may reserve the holiday for their significant others, it's actually a special day to celebrate all the people you love most. Your friends — new and old — have helped you get through life's ups and downs: new jobs, big moves, budding relationships, and so much more. This year, return the favor with these unique Valentine's Day gifts for friends.
Regardless if your pals already have a valentine of their own or they're killing it solo, these gift ideas will remind them just how much they mean to you on Valentine's Day (or Galentine's Day) and beyond. There's something for every kind of friend: your best friend who has been by your side since birth, your long-distance friend who you miss dearly, and your new-ish friend who has brought you so much joy in recent months. Everything on this list is packed with meaning (even the last-minute, Amazon finds!), many of which can even be personalized with heartfelt messages or funny photos that only your nearest and dearest would appreciate. But if sentimental gifts aren't your style (or theirs), then go for a present that highlights their greatest passions in life: wine, sleep, and self-care. We'll leave it up to you — they're your friends, after all.
Soul Sisters Print
You two are so close, you're practically sisters. This 8″ x 10″ print, which can be customized with your hair colors, accessories, and names, celebrates the sweet sisterhood that you share.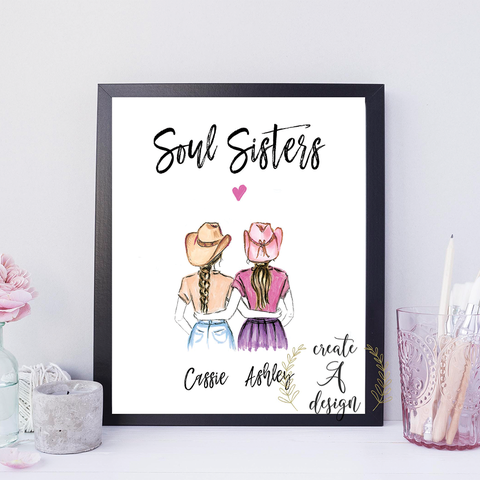 Self Care Subscription Box
Valentine's Day is also a reminder of the importance of self-love. To make sure your friend is taking care of their mind, body, and spirit, send them this subscription box, which comes packed with up to eight beauty, skincare, and mindfulness products.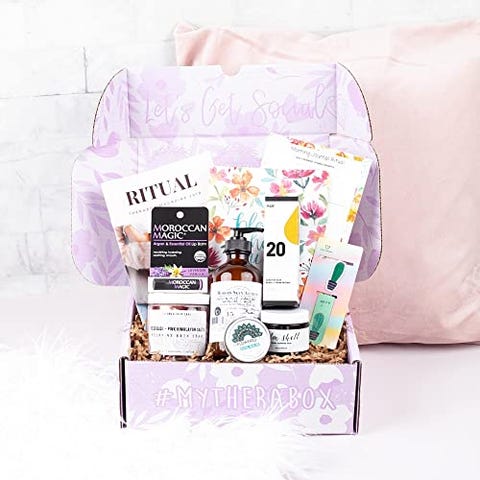 Why You're My Bestie Fill-in-the-Love Book
Each page in this book will prompt you to think of all the ways your best friend has filled your life with love, joy, and laughs. Tell 'em to give it a read when they miss you most.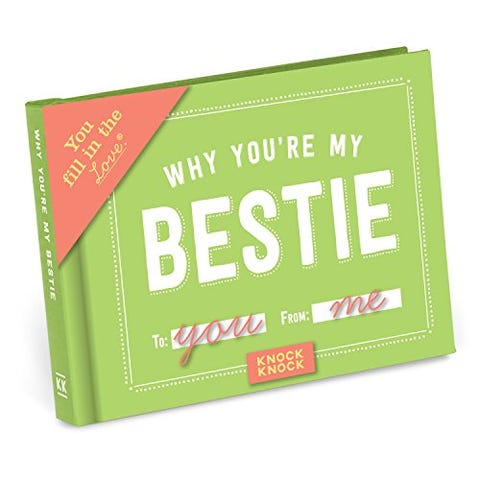 "Reasons Why We're Friends" Canvas
Come up with your 50 reasons — big or little — why you love your BFF and have them printed on this canvas, so they can have a permanent reminder of your sweet friendship on display.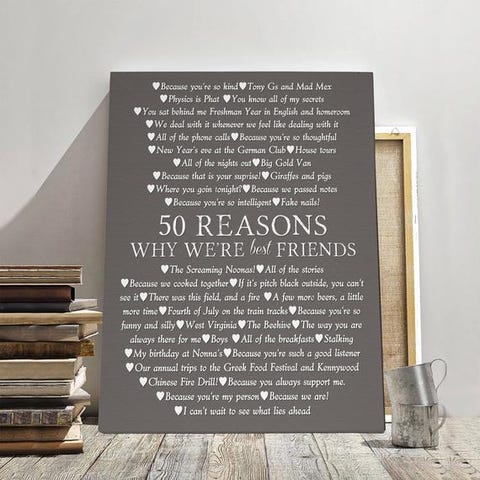 Do One Thing Every Day Together: A Journal for Two
You've been friends for what feels like forever. If you two are up for the challenge, use this book to guide insightful, sometimes hilarious conversations about your friendship. Jot everything down in the pages provided, so you can look back at it in the the future.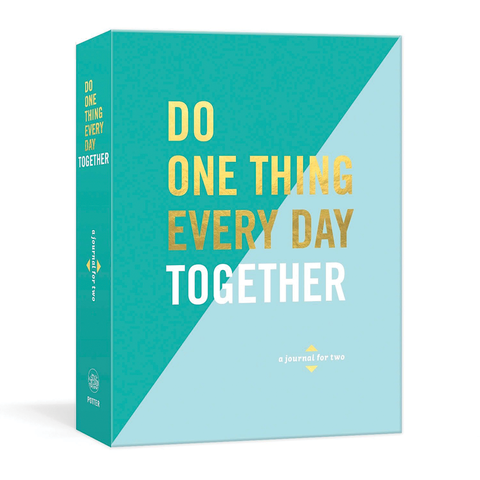 Golden Girls Funny Wine Glass
Thank your BFF for being a friend with this stemless wine glass. It's especially perfect if she sees a bit of each Golden Girls character in her: Blanche's spontaneity, Dorothy's quick wit, Sofia's charisma, and Rose's sweetness.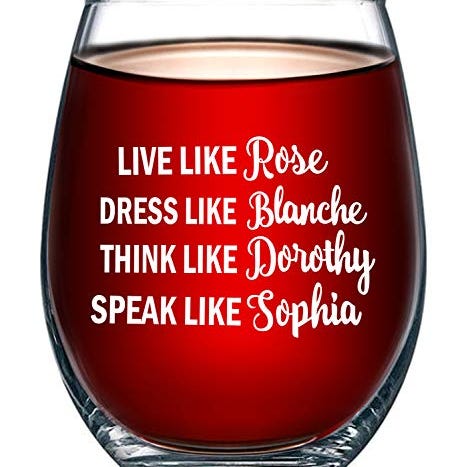 Letter Knot Bracelet
Simple in design, this bracelet can be worn on its own or as part of a stack of bangles. Choose between a gold, silver, or rose gold finish.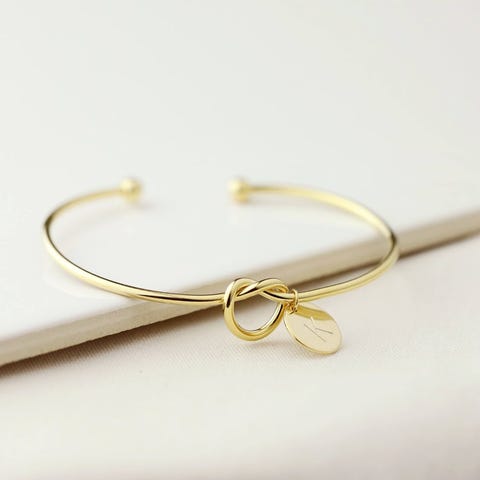 "Open When…" Envelopes
Fill all envelopes — anywhere from six to 25 — with handwritten notes that align with the moments they need you: when they can't sleep, need a hug, and more.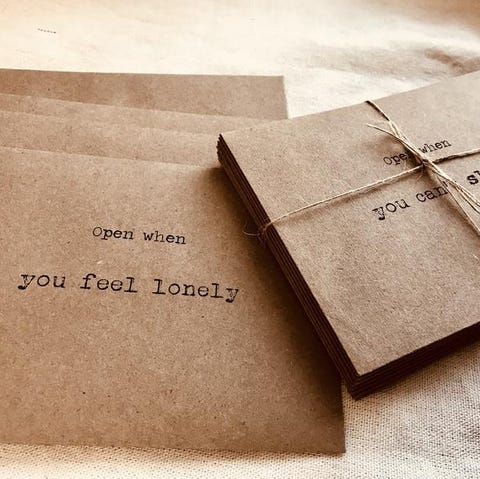 Aromatherapy Shower Steamers
When she sticks one of these six scented tablets in the corner of her steamy shower, she'll be surrounded by a therapeutic aroma of lavender, vanilla, peppermint, and other essential oils.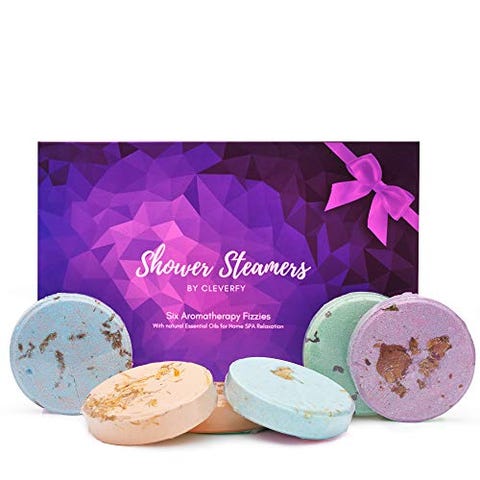 I Am Everything Affirmation Card Deck
When you're not around to tell your friend just how amazing/inspiring/thoughtful/beautiful she is, she can pull one of these affirmation cards from the deck and be her own cheerleader. Each card starts with an "I Am" statement, which she will repeat to herself until she starts to believe it.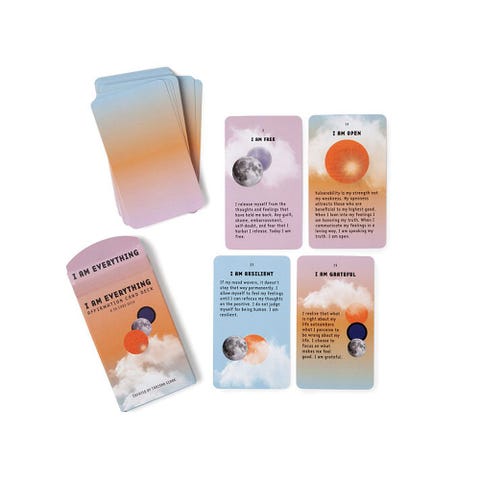 Corgi Succulent Planter
Whether she's a dog mom or simply loves corgis as much as the Queen, this little planter will look adorable on her window sill. Stick a real or faux succulent inside before gifting.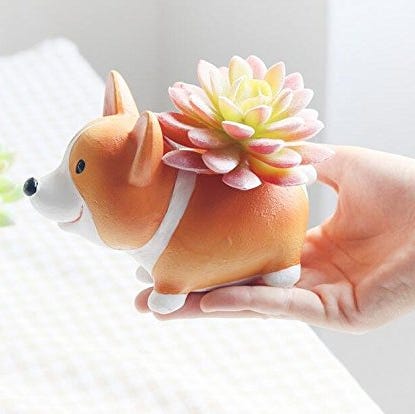 I Think I Am In Friend-Love With You
Let's talk about friend-love: It's the type of bond that can only be described in late-night texts, hour-long phone calls, and inside jokes. In this book, comic-book artist Yumi Sakugawa draws your special — sometimes, funny — connection with quirky characters.