This Valentine's Day, treat yourself and someone you love to a great date night out or in. Finding that something might be a little trickier this year, but there's still plenty of fun to be had in Chicago while staying safe. Who knows? This year could become your most memorable Valentine's Day yet.
Here are some of our favorite ideas for celebrating Valentine's Day 2021 in Chicago this year.
Enjoy a romantic dinner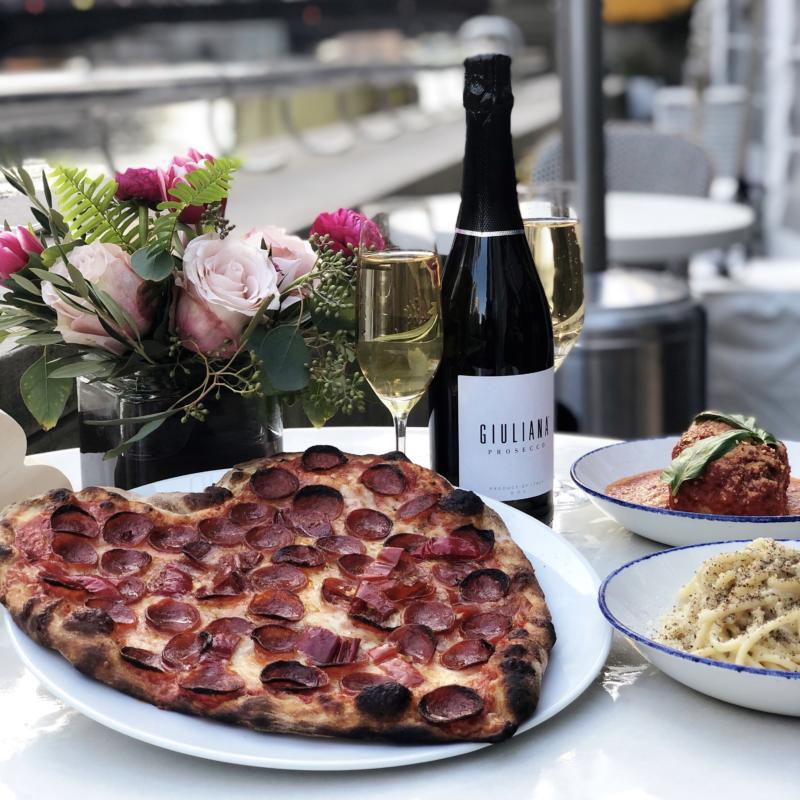 One of the best ways to celebrate the most romantic day of the year is with an unforgettable meal for two. Whether you want to cozy up on an outdoor patio or enjoy an intimate dinner at home, these Chicago restaurants have you covered with special dinners designed for two.
Le Colonial: Its description as "an escapists' paradise" might be reason enough to visit Le Colonial this year, but the special three-course menu of authentic Vietnamese dishes on offer for Feb. 14 is pretty compelling too.
Lush Food & Drink: Order a curated wine and snack box for dinner in, or reserve a seat on Lush's West Town patio to enjoy wine, cheese, and charcuterie in a cozy alleyway with European charm.
Geja's Cafe: Warm up at a fireside patio table with savory and sweet courses of fondue for two. Roasting your own marshmallows to coat with Geja's famous Belgian chocolate is the coziest way to dine outside.
Prime & Provisions: Order in or have your steak al fresco seated on Prime & Provisions' covered and heated outdoor patio.
Stay the night with hotel deals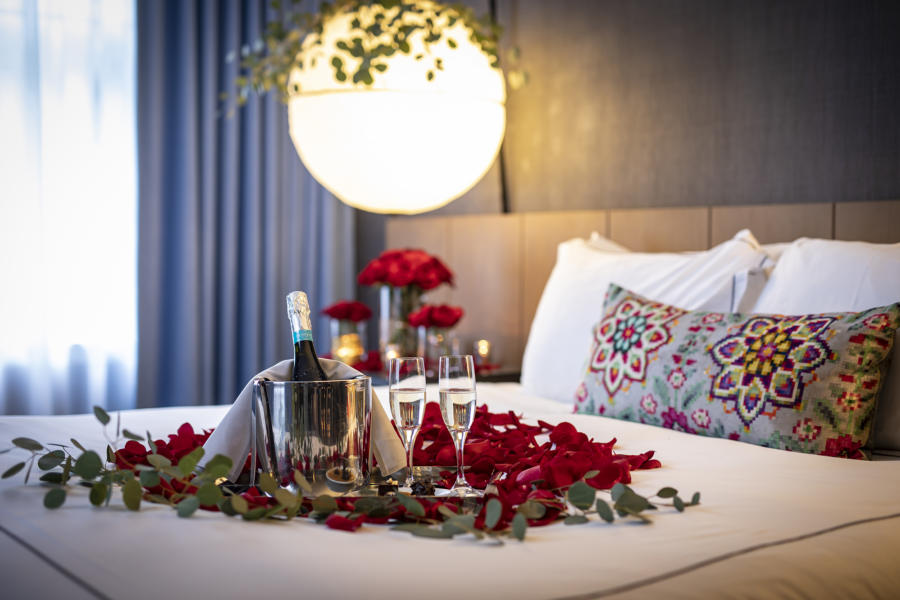 After a long year spent at home, switching up your surroundings for the night may be the perfect way to escape with your Valentine. It's also a great time to score deals, as the city's hotels are eager to entertain visitors in safety and comfort.
The Hoxton: With don't-pay-until-you-stay deals and flexible check out times, The Hoxton offers luxury, comfort, and flexibility for visitors and staycationers alike.
The Viceroy: Catering to sweethearts looking for a romantic night in, The Viceroy has two packages designed especially for the holiday, plus luxury add-ons to help you craft your perfect getaway.
Waldorf Astoria Chicago: Stretch out the holiday and take advantage of the Waldorf Astoria's "Long Weekender" offer, which allows guests staying Friday and Saturday to get up to half off their stay for Sunday night, too.
Kimpton Gray: Love is in full bloom at this Loop hotel. Wow your Valentine with an over-the-top floral experience, including a room packed with fresh blooms.
Catch a virtual (or drive-in) show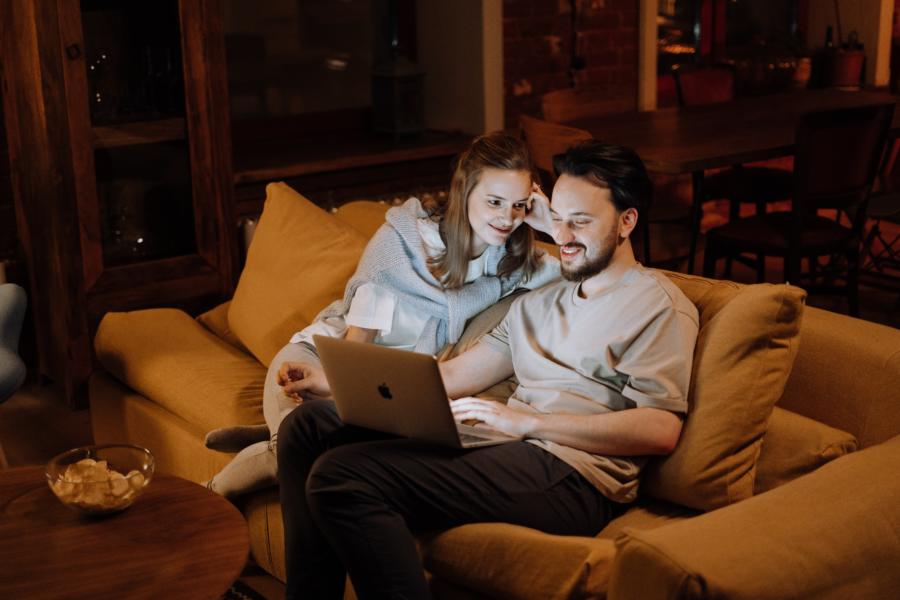 Chicago's thriving creative community has found new ways to entertain remotely with virtual comedy, theater, music, and burlesque. Just grab tickets, open a bottle of wine, and enjoy world-class entertainment in your own living room. And supporting the arts now, means you're helping them come back better than ever in the future.
The Neofuturist Theater: Hailed by the Chicago Tribune's theater critic as "creat[ing] the most successful online shows of the pandemic", the Neofuturists deliver 30 digital plays in 60 minutes with "The Infinite Wrench Goes Viral". The long-running, ever-changing show drew packed crowds for years, but now you can skip the line and see a local favorite at home.
ChiTown Movies: If you're tired of Zoom screens, bundle up and catch a classic movie on the big screen at this drive-in theater in Pilsen. Outside food isn't allowed (it's the movies, after all), but you can order dinner delivered right to your car, with popcorn, tacos, wings and more available.
Porchlight Music Theatre: Open a bottle of wine at home and enjoy a virtual masterclass on musical theater classics with a lineup of streaming shows that combine history with world-class performances.
Laugh Factory & Zanies: Both clubs are closed for in-person attendance, but they're offering tickets to stream stand-up sets from household names and up-and-coming comedians. A funny Valentine's Day might be the perfect antidote to 2020.
Warm up with a winter sport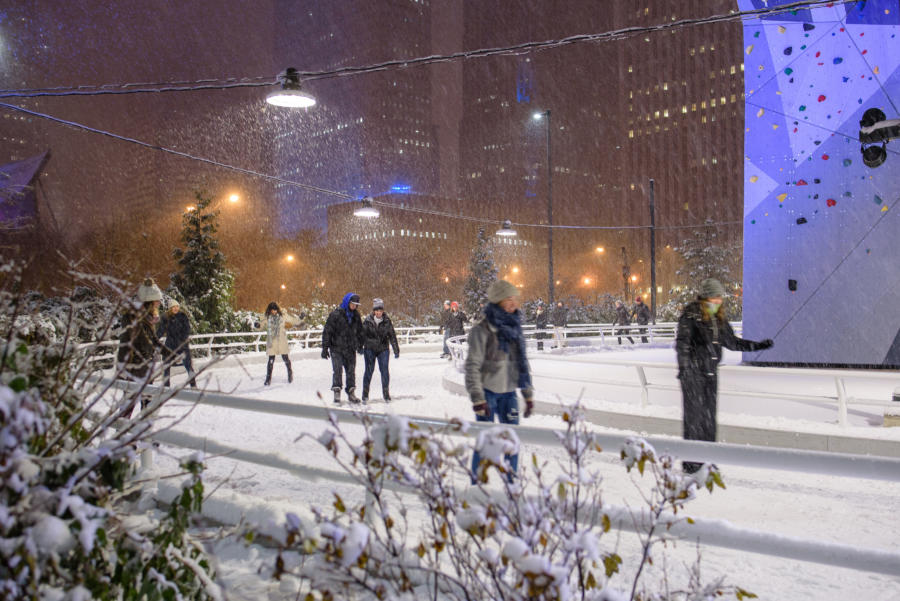 If you and your Valentine are ready to embrace "friluftsliv", Chicago can deliver. The Scandinavian word translates to "open-air living" and encourages spending time outdoors all year-round. Grab a good coat and warm socks and make the most of mid-February with one of these activities.
Ice skating on the Ribbon at Maggie Daley Park: Snag a reservation early to rent skates (or BYO) and enjoy a scenic course with unbeatable views of the park and downtown.
Curling Upstairs at the Gwen: $30 gets you a cocktail and 45 minutes of curling time surrounded by a stunning view of Chicago from the rooftop of the Gwen Hotel on Michigan Avenue. The outdoor curling rink is open-air, with fire pits and string lights providing warmth and atmosphere.
Neighborhoods ice rinks: The Chicago Park District sets up ice rinks in parks across the city each winter, from Hyde Park to West Ridge. Find your closest spot and get skating.
Take a virtual cooking class or wine tasting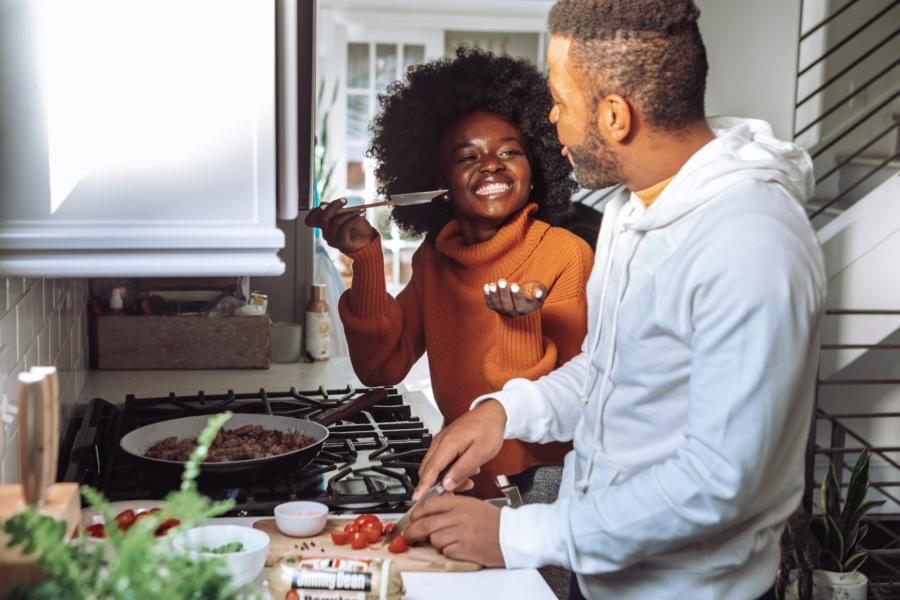 Take your cooking and imbibing game up a notch with a virtual class that puts dinner (or at least drinks) on the table. These local favorites offer a true taste of Chicago flavor and hospitality.
The Chopping Block: Lincoln Square mainstay The Chopping Block is offering two virtual cook-along classes for Valentine's Day: "Aphrodisiacs" on Valentine's Eve, or "Brunch in Bed" the next morning.
Virtual Cocktail and Confections from Momotaro: Bake and bartend with this fun DIY kit. Learn how to make a mochi dessert followed by a Valentine's Day cocktail with the experts from Momotaro on Sunday, Feb. 14.
Uvae Wine Bar: Uvae offers curbside pick-up or delivery of a rotating selection of wines (and snacks) that you can taste at home while tuning in for an interactive Zoom presentation by one of their resident sommeliers.
Koval Distillery: For fans of spirits, Koval offers virtual gin tastings and themed online cocktail making classes, like Prohibition Era Cocktails. Featured spirits for each class are available as packages online and include a class discount.