There are few things as imaginative as a unicorn. Use these unicorn quotes to spark your creativity. There is something that just feels magical about the mythical unicorn. They have long been loved by children that love to dream up creative stories and are great at using their imaginations. It's something that we can all learn from.
Best Unicorn Quotes 2021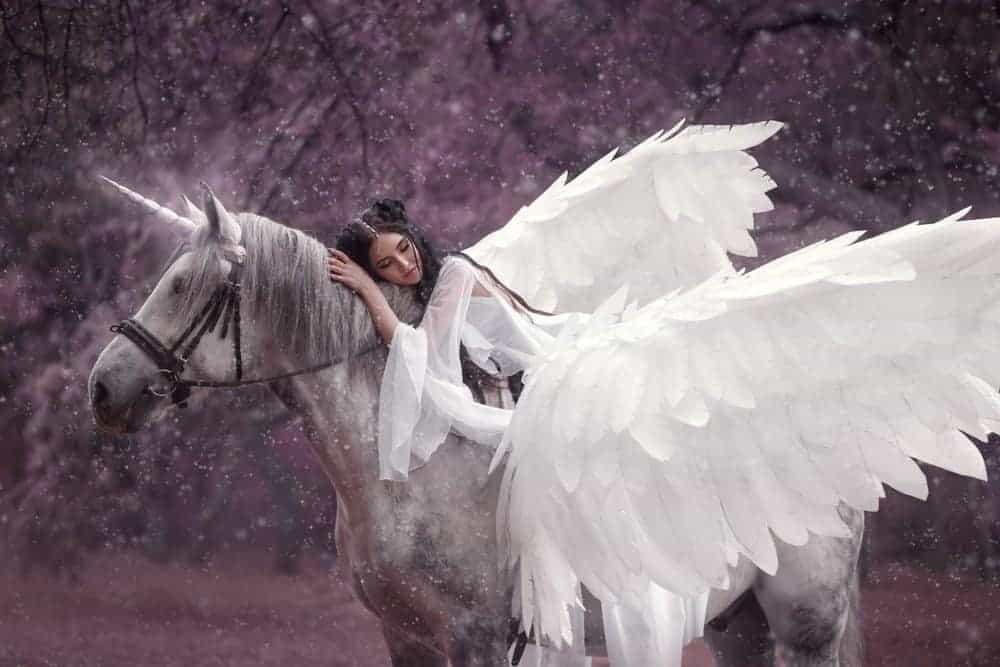 If you need a little help getting creative in your life or work, these unicorn quotes below can help you to tap into your imagination and think of things in a new way. The ability to reach into your creative thinking is all within your control by the way you choose to think about things.
For more inspiration, don't forget to also read our collection of magical blue quotes, these quotes about magic, as well as these creativity quotes that will inspire you to express your real self.
Unicorn quotes to spark your imagination
1. "'The unicorn', she said, 'was a marvelous beast, shining with honor, wisdom and strength. Just to see him strengthened the soul.'" – Megan Lindholm
2. "A unicorn is just a horse with a point of view." – Ron Sexsmith
3. "I thought unicorns were more… fluffy." – Terry Pratchett
4. "The unicorns were the most recognizable magic the fairies possessed, and they sent them to those worlds where belief in the magic was in danger of falling altogether. After all there has to be some belief in magic- however small- for any world to survive." – Terry Brooks
5. "It's not a unicorn – it's a horse with a sword on its head that protects my hopes and dreams." – Tad Quill & Gabrielle Allan
6. "The unicorn is not known for its horn, beauty, or purity; but for it's strength and courage as one." – Nicole Beckwith
7. "Unicorns are immortal. It is their nature to live alone in one place: usually a forest where there is a pool clear enough for them to see themselves — for they are a little vain, knowing themselves to be the most beautiful." – Peter S. Beagle
8. "This is the violet hour, the hour of hush and wonder, when the affections glow and valor is reborn, when the shadows deepen along the edge of the forest and we believe that, if we watch carefully, at any moment we may see the unicorn." – Bernard DeVoto
9. "Wherever they may have come from, and wherever they may have gone, unicorns live inside the true believer's heart. Which means as long as we can dream, there will be unicorns." – Bruce Coville
10. "What do men know? Because they have seen no unicorns for a while does not mean we have all vanished." – Peter S. Beagle
11. "I suppose I could understand it if men had simply forgotten unicorns, but not to see the at all, to look at them and see something else – what do they look to one another, then? What do trees look like to them, or houses, or real horses, or their own children?" – Peter S. Beagle
12. "Those who don't believe in magic will never find it." – Unknown
13. "You may have stopped believing in unicorns, but they never stopped believing in you." – Unknown
14. "Now I will believe that there are unicorns." – William Shakespeare (see more William Shakespeare quotes)
15. "'Do you know, I always thought unicorns were fabulous monsters, too? I never saw one alive before!' Well, now that we have seen each other,' said the unicorn, 'if you'll believe in me, I'll believe in you.'" – Lewis Carroll
Also read these funny Willy Wonka quotes to awaken your imagination.
Thoughtful quotes about unicorns
16. "Sleep is like the unicorn – it is rumored to exist, but I doubt I will see any." – Dr. Seuss
17. "I would wanna be a mermaid, but I think I'm a little bit more of a unicorn, because I'm like a little bit more horsey." – Blake Lively
18. "Don't you love it that Prince doesn't use Twitter? Don't you think he's somewhere on a unicorn?" – Bruno Mars
19. "Most people say, 'Show, don't tell,' but I stand by Show and Tell, because when writers put their work out into the world, they're like kids bringing their broken unicorns and chewed-up teddy bears into class in the sad hope that somebody else will love them as much as they do." – Colson Whitehead
20. "Everyone says social media is a unicorn, but maybe it's just a horse?" – Jay Baer
21. "My favorite wild animal is a narwhal – the unicorn of the sea. It's a whale with a tooth that sticks out of its head that's almost two-thirds the length of its entire body." – Kesha
22. "A legend – now I am like a unicorn." – Jean Giraud
23. "When I look at myself in the mirror, I see a unicorn. A badass unicorn." – Sebastien Milon
24. "It's like learning to ride a unicorn. You never forget." – Eoin Colfer
Magical unicorn quotes
25. "… no place is more enchanted than where a unicorn has been born." – Peter S. Beagle
26. "There's something about girls and unicorns that's deep and meaningful. Something about childhood." – Ted Naifeh
27. "I had My Little Ponies. I was obsessed with the idea of a creature that was born with something magical that sort of made them the misfit in the world of the stallion. I'm actually quite obsessed with unicorns. They are in essence a mythical creature. The unicorn is born magical and it's not the unicorn's fault and it doesn't make it any more or less special or any less unique but it can't help that it was born with that magic." – Lady Gaga (see more Lady Gaga quotes)
28. "Rhinos are just fat unicorns. If we'd give them the time and attention they deserve, as well as a diet: they'd reveal their majestic ways." – Unknown
29. "I love nonsense. It wakes up the brain cells. Fantasy is a necessary ingredient in living." – Dr. Seuss
Funny unicorn quotes
30. "Never play leapfrog with a unicorn." – Benny Hill
31. "There is something about riding a unicorn, for those people who still can, which is unlike any other experience: exhilarating, and intoxicating, and fine." – Neil Gaiman
32. "Be realistic with your expectations. I'd really like to cuddle a unicorn, but it ain't going to happen." – India Knight
33. "If I'm talking to a guy who's straight and cute and single, I'm like 'are you a unicorn?'" – Margaret Cho
34. "Hey, I like unicorns. Unicorns are just weaponized ponies." – Damon Suede
35. "Sorry… I got distracted listening to you and hot glued myself to my unicorn." – Mira Grant
36. "I would compete in unicorn back riding! Why? Because we are from the same fairytale." – Sasha Pivovarova
37. "… my conscience has the same hard reality as a unicorn." – Jeff Lindsay
38. "Never pretend to be a unicorn by sticking a plunger on your head." – Martin Espada
39. "Keep calm because unicorns are real." – Unknown
40. "You are like a unicorn who brings ice cream. You are too good to be true." – NotSalmon.com
41. "Being a person is getting too complicated. Time to be a unicorn." – Unknown
More unicorn quotes to inspire you
42. "Always be yourself, unless you can be a unicorn. Then, always be a unicorn." – Jaime Murray
43. "Be a unicorn in a field full of horses." – Unknown
44. "A friend told me I'm delusional. I almost fell off my unicorn." – Unknown
45. "Everything today has been heavy and brown. Bring me a unicorn to ride about the town." – Anne Morrow Lindbergh
46. "It would have been nice to have had unicorns." – Tom Stoppard
47. "It's going to be a rainbows and unicorns kind of day." – Unknown
48. "Poetry is news brought to the mountains by a unicorn and an echo." – Czeslaw Milosz
49. "Make your life story so amazing that unicorns have trouble believing it is true." – Karen Salmansohn
50. "The mist hung in the air like a prancing unicorn." – Graham Joyce