TRUE COLORS QUOTES: Feeling disappointed after seeing the true colors of your friends? We have rounded up the best true colors quotes, sayings, captions (including pictures and images) for you to relate to.
You meet people all of the time, and while many seem like great individuals, it's hard to say that you really know a person until you go through.
It's during the worst storms of your life that you will get to see the true colors of the people who say they care for you. You will see the true colors of people eventually. Real situations expose fake people.
TRUE COLORS QUOTES AND SAYINGS
"People show their true colors, unintentionally. Pay attention."


---

"If someone shows you their true colors, don't try to repaint them."


---

"Sometimes it's not the people who change, it's the mask that falls off."


---

"I think success shows a person's true colors." – Freddie Prinze, Jr


---

"Pay attention when someone gets mad, that's when their true colors show."


---

"Early risers catch the world waking and see its true colors." – Bernie Taupin


---

"You see a person's true colors when you are no longer beneficial to their lives."


---

"Show your true colors. Everyone wanna see that. Not the fake! But the real you!"


---

"Characterize people by their actions and you will never be fooled by their words."


---

"Black is the color of night. White is the true color of death." – Melissa de la Cruz


---

"I trusted you but now your words mean nothing because your actions spoke the truth."


---

"Hatred is one of the poisons; like jaundice, it alters the true colors of things." – Rae Foley


---

"Thank you for undusting my true colors; or color: black… Oh, how I missed the darkness!" ― Ahmed Mostafa


---

"Friends show their true colors in times of need; and not in times of happiness." ― Sir Kristian Goldmund Aumann


---

"A rainbow is not afraid of showing its true colors because it knows it is beautiful inside out." ― Matshona Dhliwayo


---

"People are like chameleons, they adapt to your favorite color so you'll like them. But eventually, true colors always show."


---

"It's such a nice change to get to play a wretched, shallow, mergers-and-acquisitions woman. My true colors come out."- Sigourney Weaver


---

"Our errors and failings are chinks in the heart's armor through which our true colors can shine." – Elizabeth Lesser


---

"Don't let your character change color with your environment. Find out who you are and let it stay its true color." – Rachel Scott


---

"The best leaders are the ones who show their true colors not during the banner years but during times of struggle." – Shawn Achor


---

"To see a man's true colors, tell him you're saving yourself for marriage. To see a woman's true colors, tell her you're poor." ― Matshona Dhliwayo


---

"I enjoy vanity. But I can't stick to any of that lifestyle for too long because, when its true colors come out, it's empty and cold and soulless."- Michelle Rodriguez


---

"In some cases, we first need to disappoint or enrage someone, or to break their heart, for them to finally show us their true colors." ― Mokokoma Mokhonoana


---

"In the beginning, some people try to appear that everything about them is "in black and white," until later their true colors come out." ― Anthony Liccione


---

"I have a visual sense for the music. It has to stay true to a certain sense of period. I rely on a sense of colors and mood in my approach to the arrangement." – Leon Redbone


---

"Everyone—whether straight, gay, lesbian, bisexual, or transgender should be allowed to show their true colors, and be accepted and loved for who they are." – Cyndi Lauper


---

"Never take your eyes from your enemy, Imanishaketheto. Never underestimate them. When you think you've won, they will show their true colors and their strength. You must be ready." ― E.Y. Laster, Of Captivity & Kings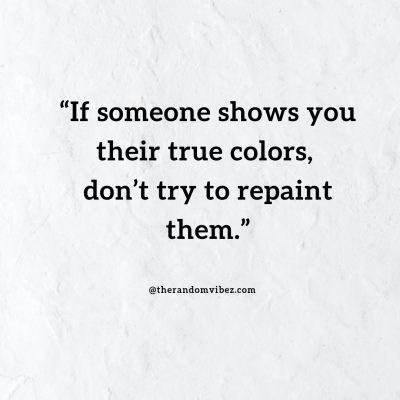 PEOPLE'S TRUE COLORS QUOTES
"The best thing about the worst time of your life is that you get to see the true colors of everyone."


---

"I'd rather have an enemy who admits they hate me, instead of a friend who secretly puts me down."


---

"Pay attention to how people act when you're not on good terms. True colors will always reveal themselves."


---

"Some people aren't loyal to you. They are loyal to the need of you, once their need changes so does their loyalty."


---

"When people show you their true colors don't get mad, paint beautiful mural life lessons, and keep marching forward."


---

"It's during the worst storms of your life that you will get to see the true colors of the people who say they care for you."


---

"Don't sacrifice your peace trying to point out someone's true colors. Lack of character always reveals itself in the end."


---

"A person's true colors will always show within time. You maybe fooled for the moment, but be patient and sees what happens."


---

"When people say they are happy for you it may mean they are sad for themselves." ― Josephine Humphreys, The Fireman's Fair


---

"The six colors, including the white background, represent the colors of all the world's flags … this is a true international emblem." – Pierre de Coubertin


---

"A hundred things are done today in the divine name of Youth, that if they showed their true colors would be seen by rights to belong rather to old age." – Wyndham Lewis


---

"My money's riding on this dark horse, baby My heart is sayin' it's the lucky one And its true color's gonna shine through someday If we let this Let this dark horse run – Amanda Marshall


---

"Neither, I must say with all due respect, is it the power of teachers and students. Basically the true and real power is with working people of all colors, of all beliefs, of all national origins." – Harry Bridges


---

"You may plainly perceive the traitor through his mask; he is well-known everywhere in his true colors; his rolling eyes and his honeyed tones impose only on those who do not know him.  – Moliere


---

"Best believe that needle hurt you Best to see these true colors Than follow one of your false virtues A little secret to make you think: Why is the crazy stuff we never say, poetry in ink?" – Eddie Van Halen


---

"And I'll see your true colors shining through I see your true colors and that's why I love you so don't be afraid to let them show your true colors, true colors are beautiful like a RAINBOW." –Cyndi Lauper


---

"The Christian conceives of his abode on Earth in no more delightful colors than the Jainist sectarian. He sees in it only a time of sad trial; he also thinks that his true country is not of this world." – Emile Durkheim


---

"I love to study the many things that grow below the corn stalks and bring them back to the studio to study the color. If one could only catch that true color of nature – the very thought of it drives me mad." – Andrew Wyeth


---

"Everyone loves each other for the pilot. But once you start to do the show, you see everybody's true colors. If it's successful, people start to change, and then if it's not doing well, people start to change in other ways." – Vanessa Marano


---

"A lot of the American press at the time was saying 'just watch what happens when Bertelsmann tries to buy EMI, that will be a moment of truth that will show the Commission's true colors.' Well, that deal never happened either." – Mario Monti


---

"Red has been praised for its nobility of the color of life. But the true color of life is not red. Red is the color of violence, or of life broken open, edited, and published. Or if red is indeed the color of life, it is so only on the condition that it is not seen. Once fully visible, red is the color of life violated, and in the act of betrayal and of waste." – Alice Meynell


---

"There is no better test of character than when you're tossed into crisis. That's when we see one's true colors shine through. So I try my best to make my characters personally involved in the plot, in a way that stresses them and tests them." – Tess Gerritsen


---

"It is often said that Anarchists live in a world of dreams to come, and do not see the things which happen today. We do see them only too well, and in their true colors, and that is what makes us carry the hatchet into the forest of prejudice that besets us." – Peter Kropotkin


---

"What are friends? Friends are people that you think are your friends But they really your enemies, with secret identities And disguises, to hide their true colors So just when you think you close enough to be brothers They wanna come back and cut your throat when you ain't lookin'."- Eminem


---

"My parents had a software company making children's software for the Apple II+, Commodore 64 and Acorn computers. They hired these teenagers to program the software, and these guys were true hackers, trying to get more colors and sound and animation out of those computers." – Bre Pettis


---

"Some people have the coldest smiles, but have the tenderest hearts. And many have the most tender smiles, but carry the coldest hearts. You cannot judge a man by his smile, but you CAN judge a man by his heart. The smallest actions reveal the most about a heart's true color, so pay attention to them. Actions are the true words of the heart."-  Suzy Kassem.
QUOTES ABOUT TRUE COLORS WITH IMAGES