Things To Draw For Mothers Day
Things To Draw For Mothers Day
Around the world, there are many special occasions that celebrate mothers and motherhood. This custom is not new; days honoring mothers have been observed since ancient times.
For example, the Encyclopædia Britannica describes "a festival derived from the custom of mother worship in ancient Greece.
Formal mother worship, with ceremonies to Cybele, or Rhea, the Great Mother of the Gods, were performed on the Ides of March throughout Asia Minor."
In its modern history, Mother's Day can be traced to Mothering Sunday, the fourth Sunday in Lent as observed in Britain and other parts of Europe. Originally, celebrants returned to their "mother church," usually in their hometown. Eventually the traditions shifted, and children began to present small gifts to their mothers.
Mother's Day in the United States originated with Anna Jarvis, who created the holiday in 1908.
After her mother's death, she desired "a way of honoring the sacrifices mothers made for their children." It became an official holiday in 1914, held on the second Sunday in May.
In other parts of the world, Mother's Day and similar holidays are celebrated at different times of the year.
In Thailand, it is celebrated in August, on the birthday of Queen Sirikit. In Ethiopia, Antrosht, held in August, is a celebration lasting many days. Families sing together and feast.
One thing most celebrations of mothers have in common is the gift of flowers, cards, candy, and the like. Some families give the mother a day off from household chores. The best part is, you don't need lots of money or special skills in order to make someone a special gift. All you need is a pencil and a sheet of paper.
Need some ideas? Consider the following list of drawing guides suitable for making a Mother's Day card or gift.
17 Mother's Day Drawing Ideas
How to Draw a Mother's Day Heart
This easy drawing is great for making a greeting card – to make a greeting card, simply fold a piece of stiff paper in half – or as a picture on its own. The heart and ribbon are marked with the sweet sentiment "I love you Mom."
How to Draw a Mother's Day Flower
This simple, step-by-step tutorial includes a tulip and the words "Mom, I love you." Whether you use your drawing as a greeting card or a stand-alone work of art, its statement says it all.
How to Draw a Flower Bouquet
A bouquet of flowers is one of the most quintessential Mother's Day gifts. You can draw a flower bouquet to give to mom using this easy tutorial. It contains some of the most popular flowers, including tulips and daisies.
How to Draw a Dad's Trophy
Don't forget about dad! This tutorial will help you to draw a trophy bearing the words "World's Best Dad." Whether or not you wait until Father's Day (celebrated the third Sunday in June), Dad will be pleased that you thought of him, too. Or you can change the text to "World's Best Mom!".
How to Draw a Teddy Bear with a Heart
This cuddly teddy bear holds a hand-stitched heart reading "I Love You." What a sweet way to show Mom how much you care!
How to Draw a Heart
The shape known as the heart is at the center of any gift that says how much you love the recipient. Did you know that the heart shape has symbolized love for hundreds of years? This easy tutorial will teach you to draw a simple heart, complete with a three dimensional shine.
How to Draw a Simple Rose
Red roses are used to symbolize love, beauty, and respect; yellow for friendship; and dark pink for appreciation and gratitude. Any of these sentiments are appropriate for showing Mom that you care. Draw this simple rose and shade its petals to send your message.
How to Draw a Rose Flower
This drawing guide adds detail to the rose's bloom with a head-on view of the flower. Surprise Mom with its lush and verdant petals.
How to Draw a Lily
In floriography, the art of sending messages using flowers, the white lily means sweetness, purity, innocence, and friendship. Use this drawing guide to show Mom how sweet you think she is!
How to Draw a Lotus Flower
The lotus can be used to represent love that has been abandoned. Use the lotus to say "I'm sorry" and make up with Mom on her special day. The water lily, which this tutorial also resembles, means purity of heart.
How to Draw a Daffodil
Daffodils are bright spring flowers, often picked by children. Most daffodils, however, have finished blooming long before Mother's Day. If you can't pick one, draw one instead! Daffodils also symbolize respect.
How to Draw a Cartoon Mom
Mothers play a pivotal role in society. We're all helpless after we're born and mothers take on the vital role of providing maternal care, teaching and introducing us to other human beings. Draw a cartoon version of your mom, you can add it to a Mother's Day card!
How to Draw a Mother Hugging a Daughter
Physical contact and especially hugging creates a unique bond between a mother and her child. Would you like to draw a picture of your mother hugging you as a child? This simple, step-by-step, drawing guide will show you how to do just that.
How to Draw an "I Love You" Heart
Similar to the "How to Draw an "I Love you Mom" heart, this easy to follow drawing guide will teach you how to draw a similar heart with the text "I love you" written beautifully next to a couple of flowers. Which version do you like more?
How to Draw Cartoon Flowers
Are you planning on drawing a hand-made card for your mom on Mother's Day? You can choose what to draw on the card, but we recommend adding some cartoon flowers since they'll definitely brighten your mom's day! You just need a pen and paper, if you want to try it out a few times before drawing the cartoon flowers on the card.
How to Draw a Carnation
Do you know what your mother's favorite flower is? Ask her! If she likes carnations, this step-by-step drawing guide of a cartoon carnation is exactly what you need! Use your imagination while following this easy drawing example of beautiful carnations and draw the flowers on a Mother's Day card.
How to Draw Simple Flowers in a Vase
Do you want to make a drawing and give it to your mom as a present on Mother's Day? This easy guide will show you how to draw a couple simple flowers in a vase. It will definitely make your drawing prettier and your mom will be very happy to see these beautiful drawing of simple flowers.
Easy How to Draw a Mother's Day Card Tutorial and Mother's Day Card Coloring
Here's how to draw a Mother's Day Card with some simple birds, hearts and creative lettering. Try this combination or arrange them to make your own.
In the United States, Mother's Day was loosely inspired by the United Kingdom's Mothering Sunday. But it was the efforts of Julia Ward Howe and Anna Jarvis that eventually saw President Woodrow Wilson proclaim "Mother's Day" in 1914, as a national observance to be held each year on the second Sunday of May.
As a teacher, you can never remind student's too often how much a handmade card will be appreciated on an occasion like Mother's Day. Something that was drawn and colored with love will always outweigh an expensive store bought card with fancy embossed letters and such.
This tutorial makes it easy for students of all ages to draw some very simple, yet very cute birds. The message can then be sprinkled around in an artsy way, and not follow any rules like staying in a straight line or something. Trace all the lines well with a black marker, color heavily with crayons, and you have a card that will have more creativity and sincerity than any you could find in a store.
Use the Button below to Download a PDF Tutorial
Mother's Day Coloring Page
Materials for How to Draw a Mother's Day Card
Eraser. Large ones you can hold in your hand do a much better job than just the pencil tips.
Black Sharpie Marker. These fine point permanent marker pens make nice black outlines, have a good tip for coloring, and never bleed when they get wet. Use them with good ventilation and add extra paper underneath to protect your tables.
Prang Crayons. These are a bit softer than other crayons so they sometimes look like oil pastels. They also have a some nice brown shades that Crayola does not have unless you buy their larger boxes.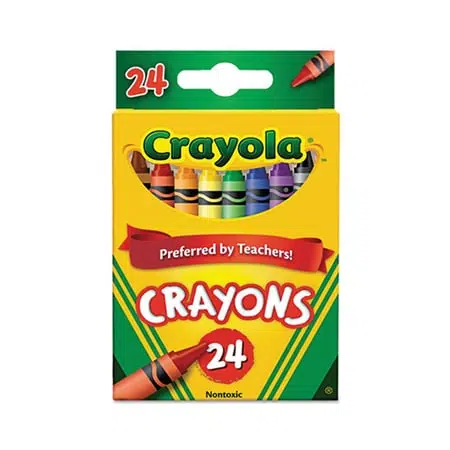 Crayola Crayons. The reliable brand that always works well. The 24 pack has some of my favorite golden orange and yellow colors that seem a bit richer and warmer than the ones Prang has.
Directions for How to Draw a Mother's Day Card
Time needed: 1 hour.
Draw a Mother's Day Card
Draw the big bird body.
Add a tail.

Draw the legs, eye and beak.
Add a wing and belly stripes.

Draw the small bird on top.
Write the word H-a-p-p-y

Add the word M-o-t-h-e-r-s
Finish with D-a-y and add hearts all around.

Trace with a marker and color with crayons.