Remembrance Sunday Cardiff 2019
Remembrance Sunday Cardiff 2019; Wales' national Remembrance Sunday occasion has occurred in Cardiff, with others being held around the area.
Separations from the Armed Forces walked to the Welsh National War Memorial at Alexandra Gardens, Cathays Park, before an administration at 11:00 GMT.
Cardiff board pioneer Huw Thomas said it was an open door for the country to "offer its regard to every one of the individuals who battled and passed on" in clashes.
A field of remembrance at Cardiff Castle has in excess of 10,000 crosses.
Remembrance weekend tributes paid
UK to stamp Remembrance Day
Welsh Field of Remembrance opens
Networks crosswise over Wales additionally held their very own administrations on Sunday.
Wrexham's RWF Memorial at Bodhyfryd was the focal point of its celebrations.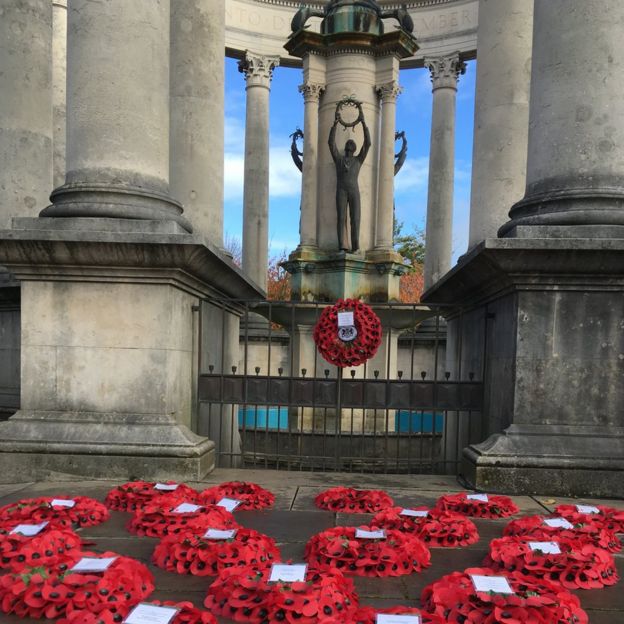 Wreaths laid on Remembrance Sunday at the Welsh National War Memorial at Alexandra Gardens in Cardiff
Aberystwyth's Remembrance Sunday march was composed by the Royal British Legion with different occasions in Ceredigion, including Cardigan and Lampeter.
In Gwynedd, Bangor facilitated a motorcade with an administration at the house of prayer while Swansea's principle administration was at the cenotaph on the promenade.
A few days of engine dashing was occurring at Anglesey Circuit as a major aspect of Mission Motorsport's Race of Remembrance.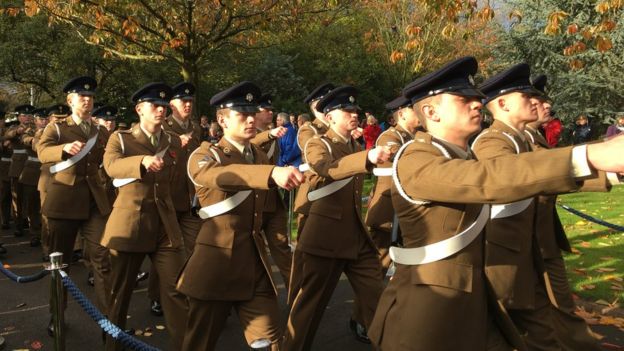 The Royal Navy, Army, Royal Air Force and Merchant Navy and Fishing Fleets walked to the Welsh National War Memorial at Cathays Park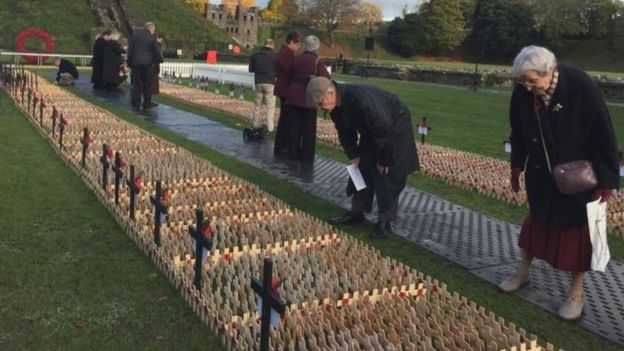 Cardiff Castle's Field of Remembrance is open until 18 November
The philanthropy uses dashing as a type of treatment for veterans who have been physically or rationally injured.
All dashing ceased at 10:45 on Sunday and the track quieted for remembrance.
The occasion was gone to by Army veteran Andy Mills, who was planning to finish his 522 mile (841km) stroll from Germany on the island. He is fund-raising for Mission Motorsport which he said helped him adapt to post horrendous pressure issue.
A remembrance stone has been disclosed in Holyhead on Remembrance Sunday just about 100 years to the day that a nearby saint kicked the bucket in fight.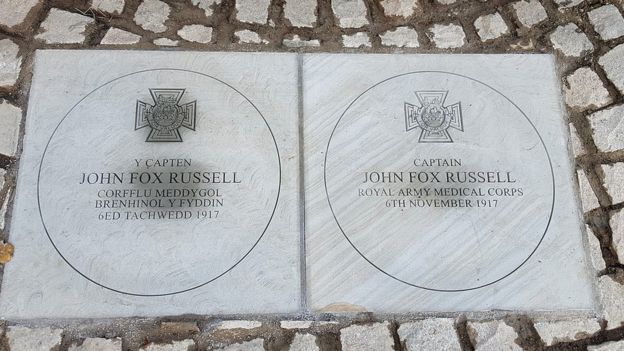 A remembrance stone was disclosed in Holyhead 100 years after nearby war legend John Fox Russell, who won the VC for boldness, kicked the bucket in fight
Chief John Fox Russell was after death granted the VC for dauntlessness at Tel el Khuweilfeh in Palestine during World War One when he "more than once went out to go to the injured under deadly discharge from expert riflemen and assault rifles".
Also Read:
The function was a piece of a national centennial remembrance to respect the 628 beneficiaries of the Victoria Cross during the war.
At the Cenotaph in London, volunteers from St John Cymru were among Welsh agents partaking in the administration.
The 130th (St John) Field Ambulance served during World War One, including at Mametz Wood on the Somme in July 1916 where the 38th (Welsh) Division endured overwhelming misfortunes.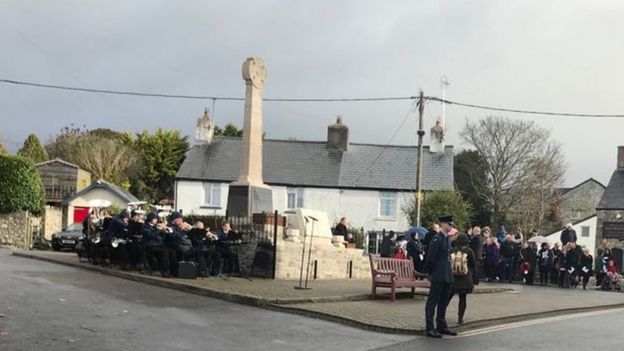 A two-minute quiet was held in Llantwit Major, Vale of Glamorgan
St John Cymru CEO Keith Dunn said the association denotes its centennial one year from now, "demonstrating that our work sparing lives is as significant and applicable today as it was on the war zones 100 years prior".
In Cardiff, music was played at the national administration by the Band of the Royal Welsh and Corps of Drums of The Royal Welsh.
The Canton Salvation Army Band additionally lead ex-servicemen and ladies to the cenotaph with psalms driven via Cardiff Arms Park Male Voice Choir.
At 10:59, a bugler from The Royal Welsh Regimental Band and Corps of Drums of The Royal Welsh sounded the Last Post.
It was trailed by an individual from Newport's 104 Regiment Royal Artillery discharging a firearm to check the beginning of the two minutes' quiet.
First Minister Carwyn Jones stated: "Our musings are with the individuals who have lost friends and family in those contentions and furthermore with those military work force who are right now serving to ensure our country."
The Fields of Remembrance in Cardiff is one of six over the UK which are made by The Royal British Legion each November as a tribute to the individuals who have kicked the bucket serving in the UK's military.