New Year's Eve Appetizers
The year is coming to a close, which means that it's time to break out your champagne glasses and fancy dinner plates to celebrate! Even though health experts recommend staying safe on December 31 by not throwing a blowout New Year's Eve party, getting through such a crazy year is still worth celebrating — even if it's just over Zoom or a tiny celebration with those you live with. And even a small New Year's Eve party in quarantine needs delicious food!
Before serving up the main course for your last dinner of 2020, whip up a few of these irresistible hors d'oeuvres that are super easy to make. From ooey-gooey cheese dip to mouthwatering flatbreads, these simple bites and spreads will kick off your NYE celebration on a yummy note — and they'll pair perfectly with a champagne cocktail. Whatever you decide to serve to start 2021 on the right foot, one thing's for sure: These memorable New Year's appetizers will keep you full and satisfied well past midnight.
Brie and Apple Tart
All the best appetizers start with puff pastry and Brie cheese, and this delicious tart is no exception.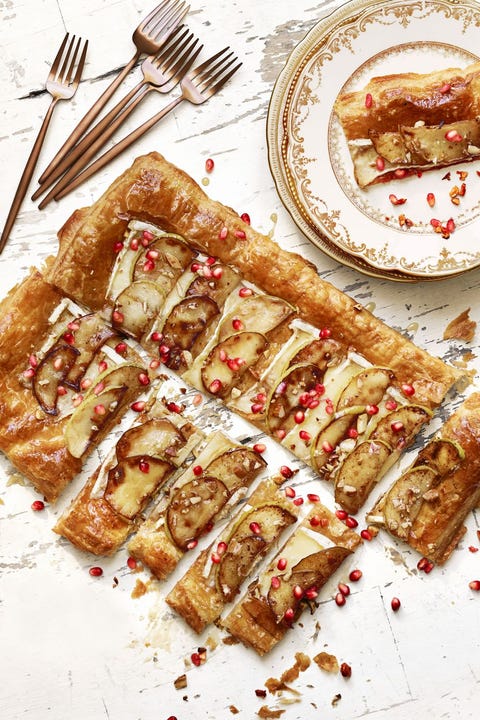 Prosciutto Scallion Bundles
These scallions wrapped with prosciutto are not only bundles of joy in your mouth, they're also easy to make, with only five ingredients and a total cooking time of 20 minutes.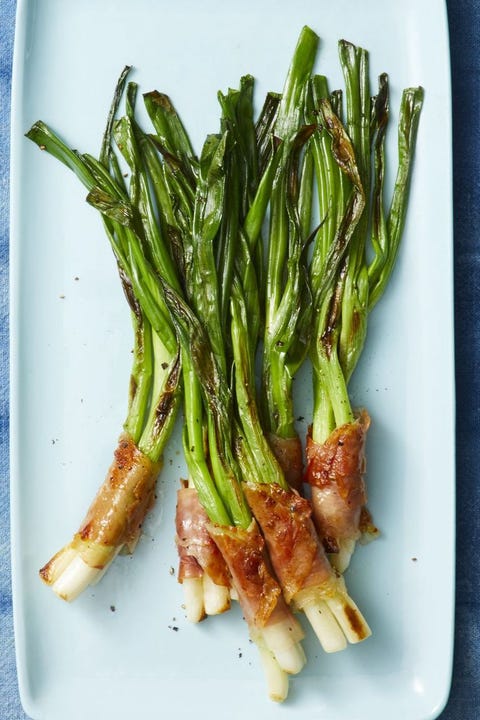 Caponata Flatbread
Flatbread never looked (or tasted) better with sweet and vinegary eggplant combined with ricotta and parsley, baked to a golden-brown perfection.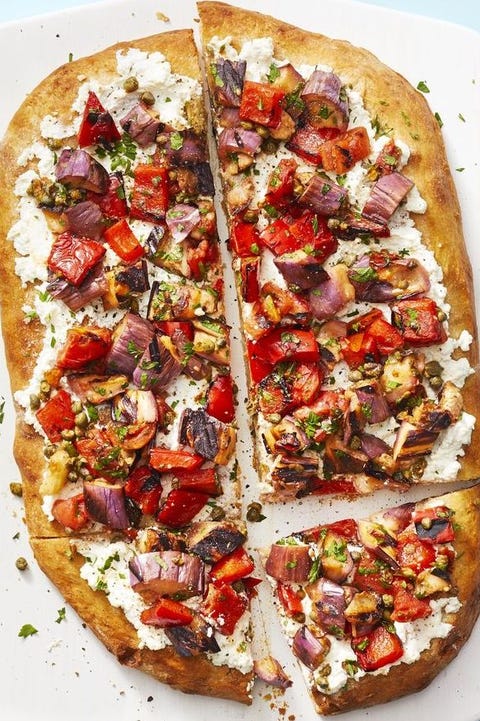 Melon Mosaic
This checkerboard "mosaic" salad made with a delicious trio of feta cheese, watermelon, and tomatoes is almost too pretty to eat — and it's super simple to make, too.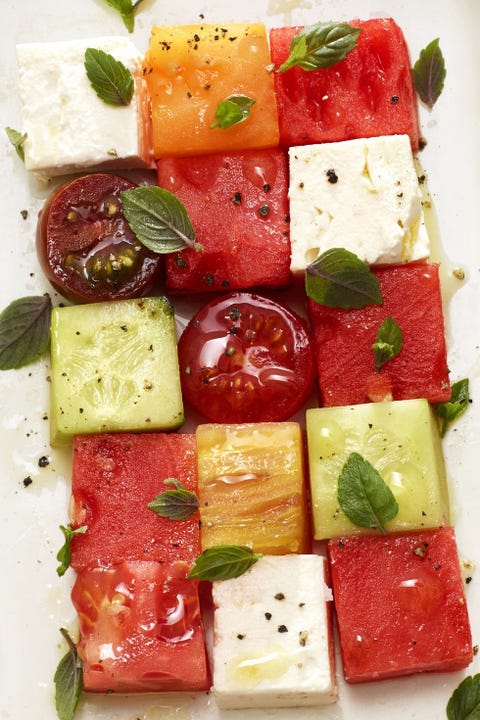 Parmesan-Chive Chips
Everyone knows that chips are absolutely essential to get any party started — so kick off your NYE celebration with this simple-yet-tasty recipe, as easy as tossing grated Parm and fresh chives onto baked potato chips.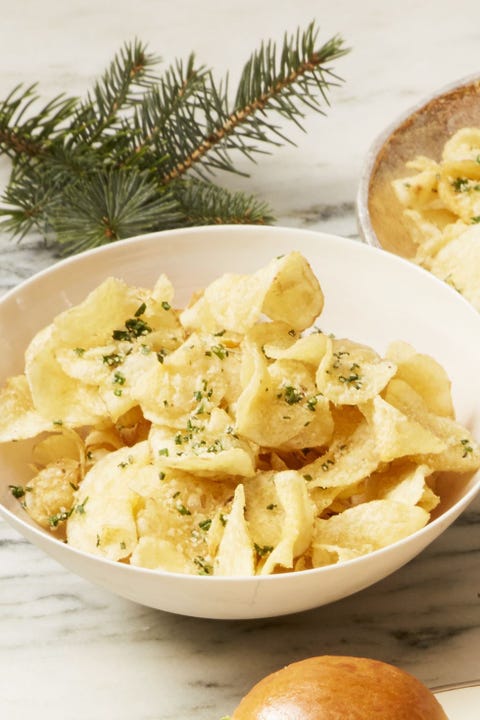 Spicy Deviled Walnuts
Move over, classic candied walnuts — these deviled walnuts have just the right bit of spice to them, and will definitely keep your guests happily munching (and then reaching for more).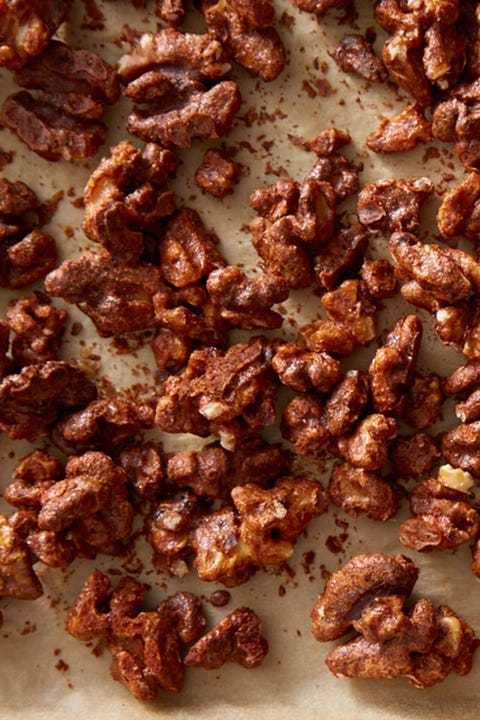 Peach and Prosciutto Skewers
It doesn't have to be summer to serve up some delicious peaches — this mouthwatering combination of mozzarella, prosciutto, and nectarine wedges is the perfect pre-dinner snack for a NYE bash.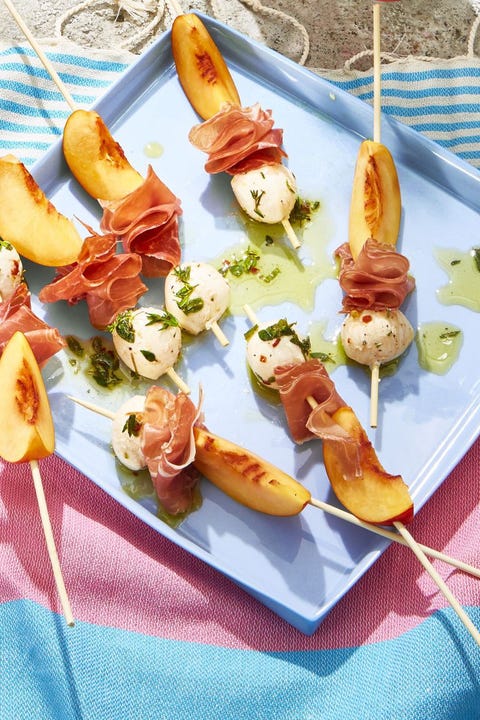 Spring Crudités With Herbed Cheese Dip
Pair healthy veggies with a flavor-packed dip made with goat cheese and ricotta combined with tasty herbs. It's a classic hors d'oeuvre that's sure to keep your guests satisfied.