National Pizza Day Deals 2021
Here's a great reason to take a break from the home-cooked meals and order out this week: It's National Pizza Week! And we've got the scoop on where to find piping-hot, cheesy deals.
What Is National Pizza Week?
The delicious holiday takes place from January 10 through January 16 and features deals from popular pizzerias across the country. You can score free slices, special menu deals and lots more. Plus, most restaurants are offering safe takeout and delivery options. Time to get ready to feast on some tasty dough!
To help you maximize on the great offers happening, I've rounded up a list of the  best deals and restaurants celebrating National Pizza Week in 2021. Enjoy!
Where to Find National Pizza Week Deals and Freebies 2021
Mazzio's Italian Eatery: You can chow down on a large combo pizza for just $10.99, a large pizza for the price of a medium and a large, one-topping pizza for $8.99.
MOD Pizza: For every MOD-size salad bought in January, MOD will give you a free one in February. You can redeem this deal up to four times in January.
Mountain Mike's Pizza: Save big at Mountain Mike's this week! Enjoy 20% off any two large pizzas during their "Two for Tuesday" event with code TUESDAY. On January 13, National Gluten Free Day, Mountain Mike's is offering $2 off a pizza with gluten-free crust. Use the code GLUTENFREE.
Old Chicago Pizza & Taproom: To celebrate National Pizza Week, this popular restaurant is debuting their new Fan favorite pizza, deemed the Hot Honey Bacon Pizza! You can also get two medium 2-topping pizzas for just $20. What a deal!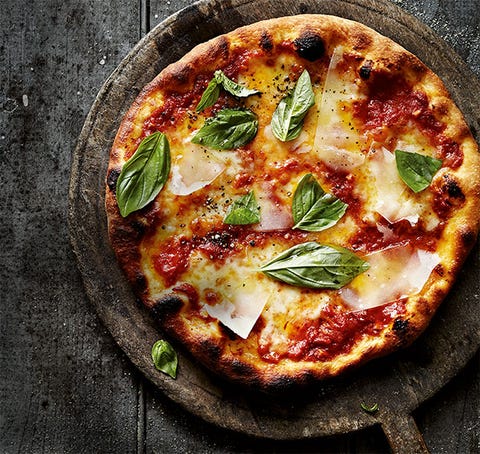 Papa Gino's: Get two or more large traditional cheese pizzas for $10 each when you use the code 7861 at checkout.
Papa John's: This pizzeria is celebrating with lots of cheesy deals! Try their new EPIC Stuffed Crust and get a one-topping Stuffed Crust Pizza for just $12. Sounds amazing!
Papa Murphy's: Now, this is a cool one! Right now you can enter to win free Papa Murphy's for an entire year. The sweepstakes is going on from January 4 at noon through January 25 at midnight. They're giving away $92,500 in prizes!
Pasqually's Pizza & Wings: For this whole week guests, can enjoy ordering the pizza-licious deals from Pasqually's Pizza & Wings on Grub Hub, UberEats, Door Dash and Postmates. You can order two large 1-topping pizzas, one order of boneless wings and giant cheese bread for just $29.99, and two large 1-topping pizzas for a 2 for $20 deal.
Peter Piper Pizza: This restaurant is offering a two for 22 special in which you can get two large one-topping pizzas for just $22.