Memorial Day Kindergarten Activities
The Memorial Day holiday often heralds the arrival of summer, but this year, take some time to teach kids about what this holiday actually celebrates: Remembering all the people who have given their lives in service to the U.S. Armed Forces. And a great, kid-friendly way to do just that is have a few Memorial Day kids crafts, videos and activities on hand.
Here are 13 fun and educational kids Memorial Day activities guaranteed to be a hit. And the best part? They're all easy — and inexpensive — to boot!
1. Read all about it
So many of us forget why we actually mark Memorial Day on our calendars. If you need some help explaining it to kids, these three books talk about the holiday in clear language that kids will understand:
"Memorial Day Surprise" by Theresa Martin Golding – Ages 5-7
"Memorial Day" by Mir Tamim Ansary – Ages 6-8
"The Wall" by Eve Bunting – All ages
Or visit The History Channel's website for more interesting facts and information.
2. Make "popsicles"
Popsicles out of popsicle sticks — genius! This America popsicle craft from Simply Sweet and Messy is one of the best preschool activities for Memorial Day. And definitely one that will go in the memory box.
3. Tie-dye a patriotic t-shirt
It's the kids Memorial Day gift that keeps on giving! These patriotic tie dye shirts from Mom Endeavors aren't just fun to make for Memorial Day, the kids will get use out of them all summer long. Win-win!
4. Have a (patriotic) picnic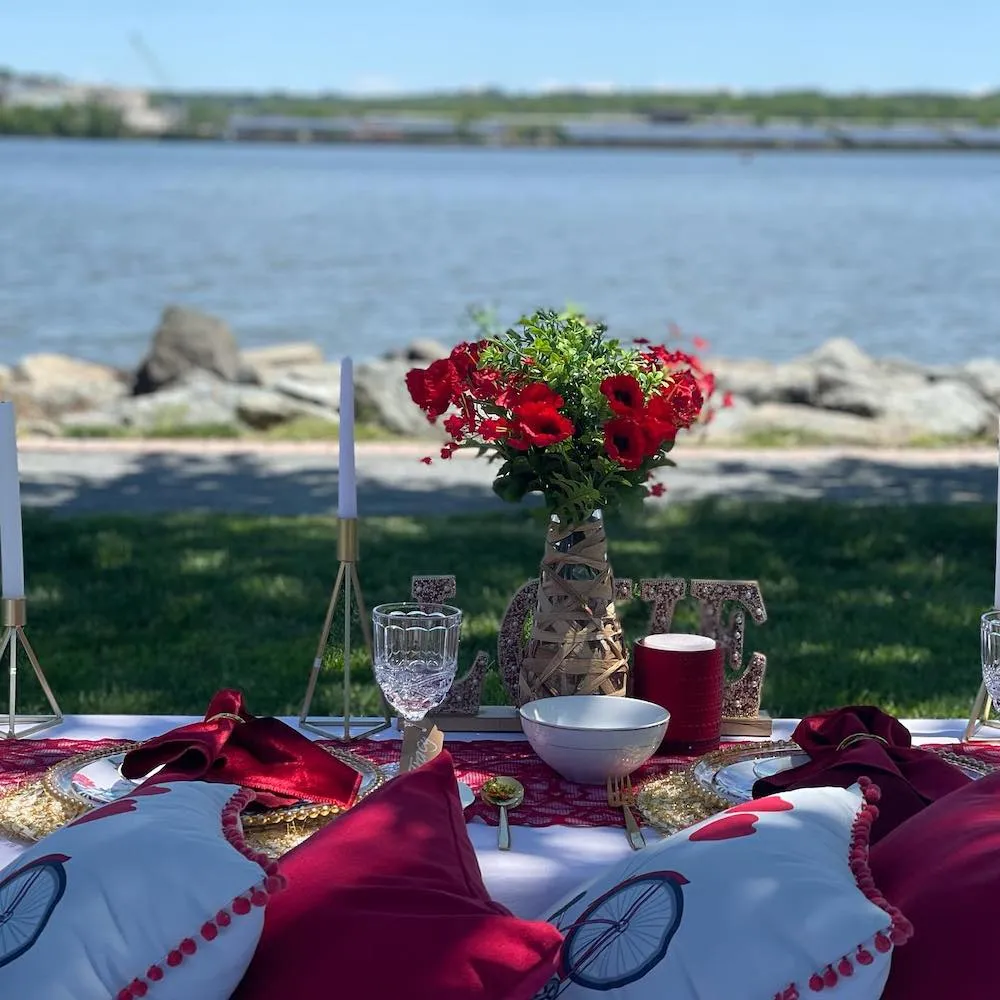 Sure, most people head to barbecues on Memorial Day, but that doesn't mean you can't have a small Memorial Day picnic in the days prior — a great place to talk about the true meaning of the holiday! And if you're going to have a picnic, make sure to make it thematic, like this red, white and blue stunner from Pikniks on the Land.
5. Make an egg carton poppy wreath
The red poppy flower is associated with Memorial Day. While some folks choose to wear a red poppy pin to honor those who have lost their lives, another great way to incorporate the flower is this egg carton poppy wreath from Kitchen Counter Chronicles.
6. Create a red, white and blue craft kit
Memorial Day for kids often means crafts. Lots of cute crafts. Why not let your little ones take the reins by throwing together a red, white and blue craft kit, like this one from Little Love Box NY? See what they create!
7. Serve up patriotic drinks
Who doesn't love a festive drink? No one, that's who. Consider making (non-alcoholic) red, white and blue drinks for Memorial Day, like this cutie from Mandy Drinkie.
8. Send a letter to a soldier overseas
As the folks at Coffee Cups and Crayons demonstrate, a thank-you letter or care package sent to a soldier stationed overseas is a wonderful way to show appreciation for the brave people who serve our country. If you don't know anyone specifically stationed abroad, there are many nonprofit organizations dedicated to this effort, such as Operation USO Care Package, Any Soldier and A Million Thanks.
9. Make a patriotic star sun-catcher
This simple star suncatcher from Crafts by Amanda is one of the sweetest Memorial day activities for preschoolers. You just need a few supplies and boom! Adorable kiddie art coming right up.
10. Serve a patriotic meal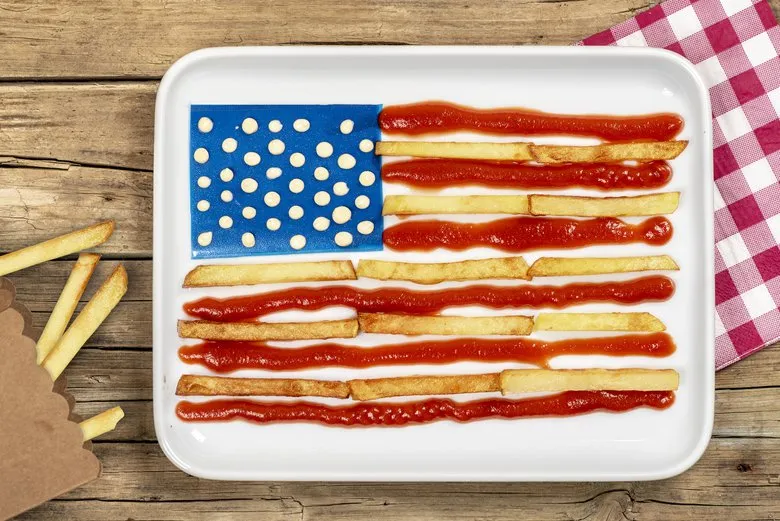 Really, is there anything more appropriate than a patriotic meal? Especially one of French fries and ketchup? (Yes, we get the irony of the fries.) Whether you're serving fries and ketchup or a fruit salad, arrange it in the shape of a flag and it's sure to delight kids.
11. Visit a local cemetery or memorial
Many families visit cemeteries annually on Memorial Day to pay respect to loved ones who served their country. Most communities also have some sort of cemetery or memorial dedicated to honoring fallen members of our Armed Forces with special commemorations on this holiday. Even if you don't have loved ones in these cemeteries, your kids can still honor these fallen service members by placing flowers or flags at headstones that don't have any.
12. Say 'Hi!' to a vet
Today is a great day to give back to the people who have served this country. Consider visiting a local veterans hospital or pop by and say hi to a veteran who lives on your block or near by.
13. Check out this Memorial Day video
The creators of the Hey! Guess What YouTube channel have a great, straight-forward, five-minute video on Memorial Day for kids. It breaks down the holiday in easy-to-understand terms.
Meaningful Memorial Day Activities You'll Want to Do With Your Kids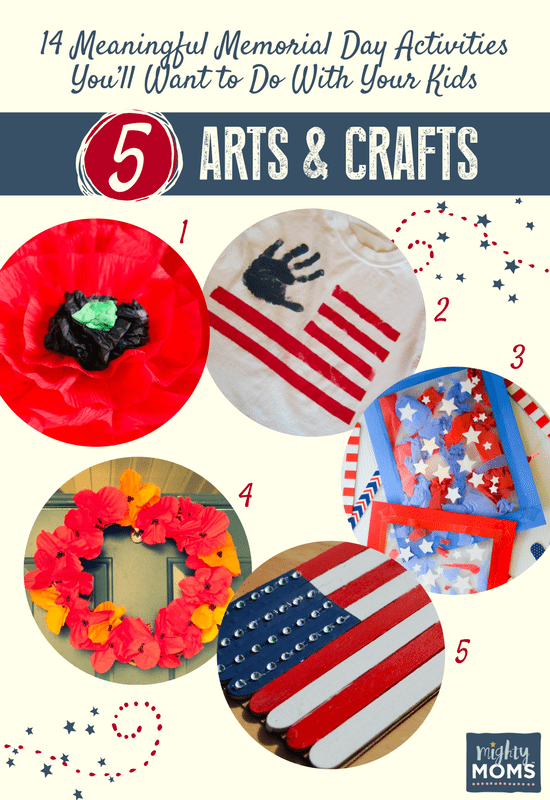 #1. A Pot of Giant Poppies
Decorate your front porch with a field pot of poppies! You just need red paper plates (or paint and white ones), red crepe paper, lime green tissue paper, black tissue paper and glue. Oh, and you'll definitely want to read through these easy instructions from Happy Hooligans.
#2. Handmade Patriotic Shirts
It's amazing what you can do with a plain white t-shirt from Hobby Lobby!
Create a handprint flag like this with a little red and blue fabric paint. Then wear it again on the 4th of July.
Go girly avant garde by using a blue and white flower, hot glue, and Jumbo Ric Rac. Directions at Piece of Life's Pie.
If flowers aren't your thing, check out Our Good Life's no-sew solution.
#3. A Patriotic Suncatcher
Help your kids put together these simple little patriotic suncatchers using the directions at At Little Pinch of Perfect.  When you're finished, give it to a veteran as a thank you! (Don't know any veterans? Call your local VA Hospital, I'm sure they can give you recommendations of veterans who don't have many visitors!)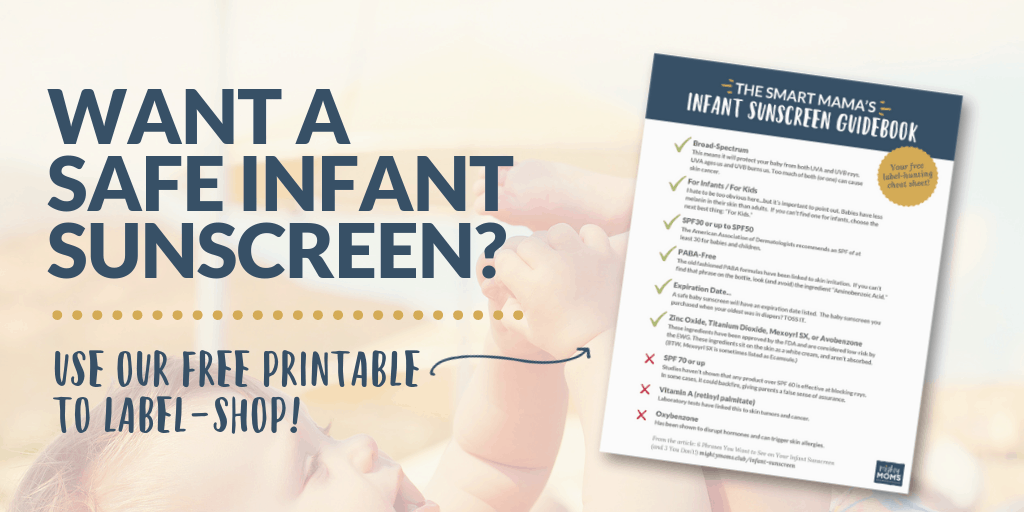 #4. Napkin Poppy Wreath
This beautiful poppy wreath is more, say, involved than the other crafts. You'll definitely want to take the lead, but the kids can help you cut out all the flower petals!
You'll need red napkins, orange napkins, black beads or buttons, a stick wreath, and every crafter's best friend: the glue gun. 
#5. Popsicle Stick Flag
I thought this popsicle flag idea was a very easy and clever idea for kids of every age to complete. You'll need cardstock, a bundle of sturdy craft sticks, glue, patriotic acrylic paints, sponge brushes, and these self-adhesive rhinestones (for the stars).
Memorial Day Activities for Kids:
Teaching Meaning
Obviously, the best way to teach your kid something is through action. Think about it, you've probably only got 30-seconds of "sit still" time to communicate anything, so the most teachable moments are going to be done on the backs of Memorial Day activities like these.
#6. Medal of Honor Coloring Book
I don't have a lot of military history in my family, so I actually learned a lot from these simple coloring pages.  (Warning: the website will make your eyes bleed…but hang in there, the content makes it worth a few jarring colors!)
#7. Memorial Scavenger Hunt / Flag Placement
Call your local veterans group or cemetery and ask if they are looking for volunteers to put flags on veterans graves before Memorial Day. Then let your kids come and "help" by spotting those graves belonging to veterans and helping you place the flag.
This provides a great opportunity to talk to them about…
Sacrifice
History (What's the difference between a Civil War vet and a Vietnam vet?)
Honor
Courage
Visiting veteran memorials is also a great way to teach your little ones about our noble GIs!
Don't Forget: Cemeteries and memorials aren't playgrounds. I may let my children run on the paved road of the cemetery, but once we touch grass, it's "sacred ground". We don't shout, we don't run across the grave sites. We respect not only those who are buried, but those who buried them.
#8. Read a Few Well-Chosen Books
As Memorial Day approaches, pull out a few well-seasoned books that can go over these lessons in a new and interesting way. Here are a few favorites: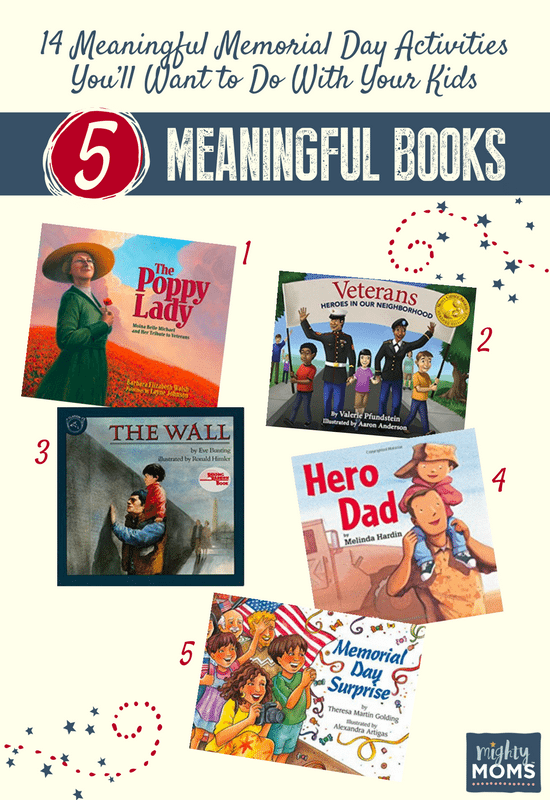 The Poppy Lady ~ Shares the true story about how the poppy became the Remembrance Flower.
Veterans: Heroes in Our Neighborhood  ~ a sweet rhyming story reminding us that veterans are all around us.
The Wall ~ A boy and his father look for his grandfather's name on the Vietnam War Memorial.
Hero Dad / Hero Mom ~ Excellent book, sharing what it's like to have a parent in the military. (Written from the child's perspective, is especially helpful for children with a parent in the service.)
Memorial Day Surprise ~ There's a surprise waiting for Marco at the head of the Memorial Day Parade!
#9. Coloring a Family Portrait
If your family has lost a veteran, take a few minutes to sit down with your kids and a few photos and share a few stories about your loved one.
Then break out the kid-friendly Crayola art case to draw or paint their own version of the story or photo you shared with them. When finished, give it to a loved one close to the loss, or keep it for yourself on the fridge as a reminder of how much this veteran meant to you.
Memorial Day Activities for Kids:
Show Your Support
Sometimes the best way to show thankfulness for someone's service is to serve them right back! Here are several suggestions on how to return the favor, in some small way.
#10. Send Something to a Soldier Overseas
There are few things as warm and wonderful to a serving soldier like a package from the good US of A. Don't know anyone in active service? Not a problem. AnySoldier.com gives you a list of servicemen (from all the branches of the military), where they are serving, and items they could really use.
If you're going to include a hand-written letter from your kids, though, you may want to proofread it first…
#11. Participate in a Memorial Day Parade
Show your appreciation by attending a Memorial Day Parade and standing and applauding as the various Veterans groups march by. Click here to see a directory and find a parade in your local area.
#12. Share Some Old-Fashioned Home-Baked Appreciation
Let the kids help you bake up some yummy delicious treats to share with veteran friends, or at the VA Hospital.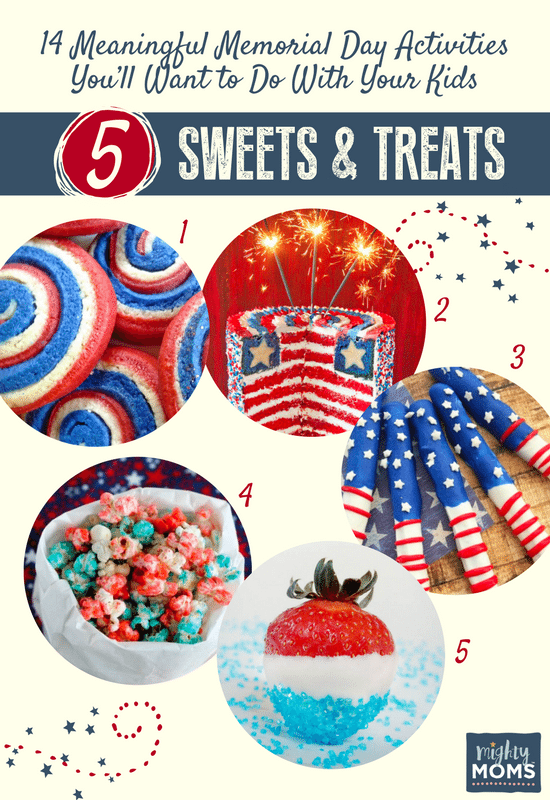 Patriotic Pretzels ~ An easy no-bake solution.
Red, White, and Blue Pinwheel Cookies – Swirls of patriotism.
American Flag Cake ~ Open it up and find the flag inside!
Patriotic Popcorn ~ The perfect gift!
Buzzed Strawberry Bites ~ This is probably one recipe you should make without the kids…
#13. Host a Patriotic Party
Get to know the veterans in your area by hosting a Patriotic BBQ Picnic over the weekend. It doesn't have to be Pinterest-worthy (unless you want it to). The larger point is to spend time getting to know the veterans living around you, not whether you have a balanced table-scape.
Just pop on a few burgers and hot dogs (or if you live in Wisconsin like myself, a few brats) offer some cool beverages, and start asking gentle questions to get to know them better!
Use some of the activities above to keep the kids busy or (even better) host a Red, White and Blue Tie-Dye party. Then everyone gets to go home with a new favorite t-shirt!
#14. Adopt a Military Family
Having a parent or spouse overseas can be difficult on everyone. If you're aware of a family with a parent overseas, consider "adopting" that family as an extension of your own. (I'm using "her" in my examples below, but Dads can be left behind too!)
Invite her to join you at the park or for family gatherings.
Offer to babysit the kids once a month so she can have some time off.
Double dinner and send over the other half, to give her a cooking break.
Send them a card or a text letting know that you are thinking/praying for them during the day. (It's amazing how encouraging it can be to know that someone is thinking about you!)
It's not uncommon for families to be alone in their area, with extended family far away across the states. This can make holidays particularly lonely – no spouse, no cousins or grandparents in the area…consider inviting them to your own family functions to ease the burden of being a single parent for months (or even years) at a time.
Choose ONE or TWO
Memorial Day Activities…
Listen, friend. You've got a lot going on right now. Let's just acknowledge that up-front.
These Memorial Day activities aren't meant to overwhelm you. Goodness gracious, don't try to do them all! Just pick one or two that seem most "doable" to you.
Remember, the purpose here is to do something different to indicate to your children that Memorial Day is special. Hopefully they will not only have a ton of fun, they will understand and gain respect for the heroes living all around them!