As the highly anticipated holiday nears, it's once again time to start thinking about the setting you'll celebrate in. If you plan to host a cookout or any kind of gathering this year, you're going to need a patriotic display with some of the best Memorial Day decorations. Luckily, we have you covered with a few stylish recommendations to ensure you have the most festive setup for making long-lasting memories with your friends and family. The best part? All of these picks can double for the 4th of July. And come to think of it, many of the items—including blue-colored glass cups and a red, '70s-inspired vase—can certainly work for whatever you're throwing this warm weather season. You'll find versatility at its finest, ahead!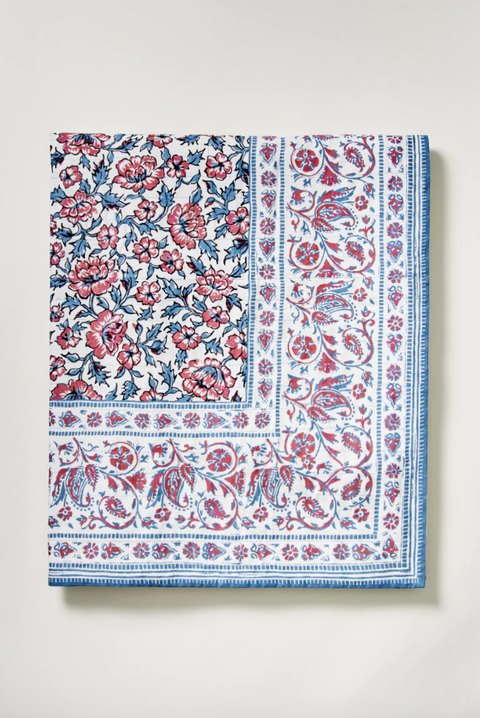 The easiest way to dress up a celebratory gathering is by breaking out a festive tablecloth. With detailed floral motifs, Veronica Beard has one that'll impress all summer long.
2 Patriotic Stars & Stripes Straws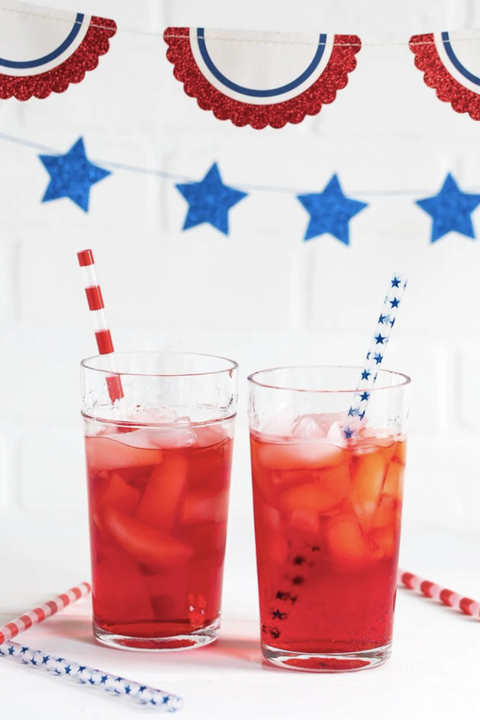 Featuring stars and stripes, these reusable plastic straws are sure to be a hit. They come in packs of 12 and can even double as party favors.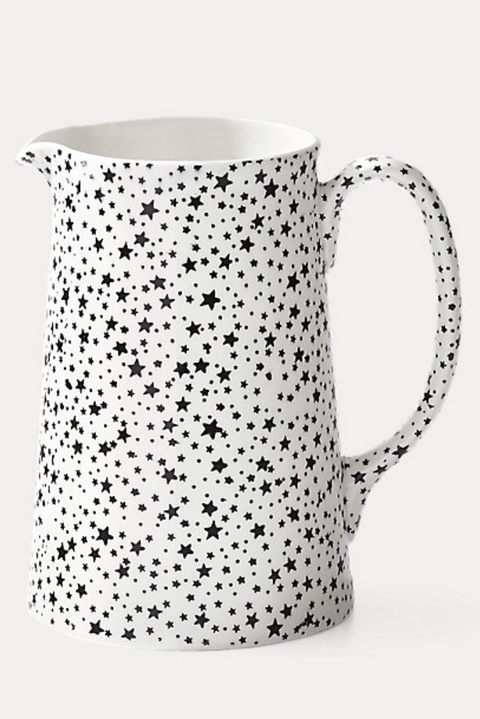 Serve anything from homemade lemonade to your go-to alcoholic beverage in Ralph Lauren's black-and-white pitcher that's covered in stars.
4 Seersucker Cloth Table Napkins (Set of 4)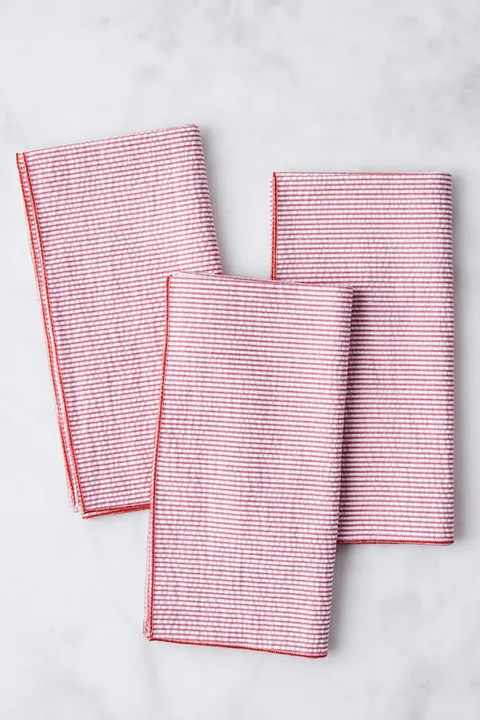 Whether you go for the red and white or navy and white stripes, these napkins will easily enhance your tablescape. They're available as a set of four dinner napkins or four cocktail napkins.
5Alma Blue Double Old-Fashioned Glass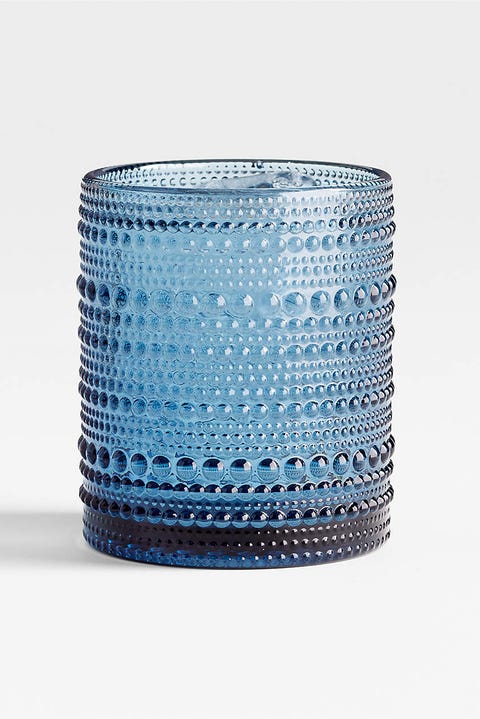 No matter what you're serving, any drink will look prettier in a deep blue glass inspired by Paris flea market finds.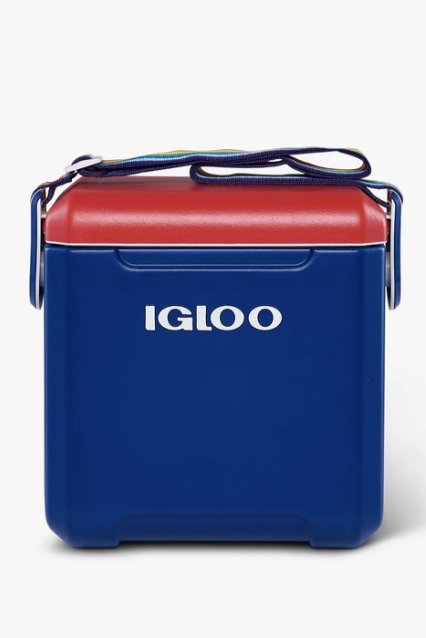 Bring a retro touch to your party with Igloo's stylish and affordable cooler. It holds up to 14 cans and comes with an adjustable strap for easy, hands-free transportation.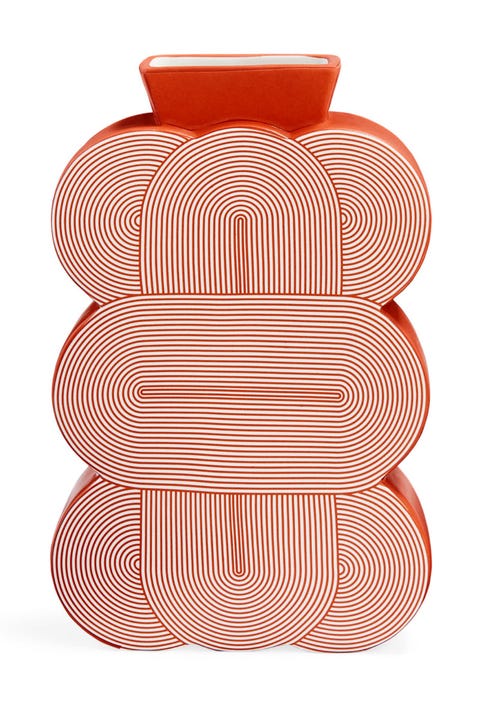 Place a few of your favorite blooms—whether it's white tulips or blue hydrangeas—in a dreamy Jonathan Adler vase for an eye-catching centerpiece.
8 USA American Flag Skinny Sleeves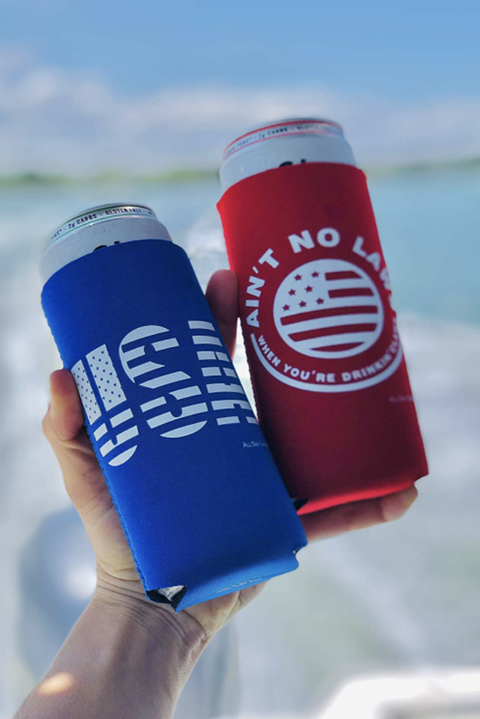 Keep drinks in slim cans cool (and your hands dry) with these patriotic neoprene koozies.
9 Twisty Taper Candles, Set of 3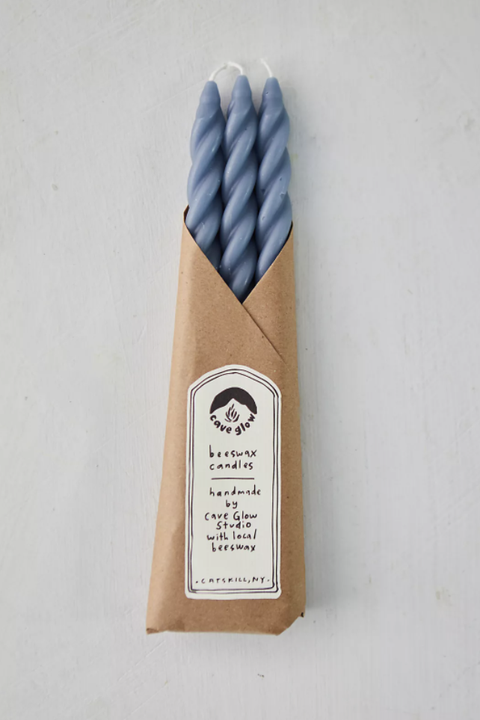 Mix a few soft blue taper candles with basic red and white ones for the ultimate display.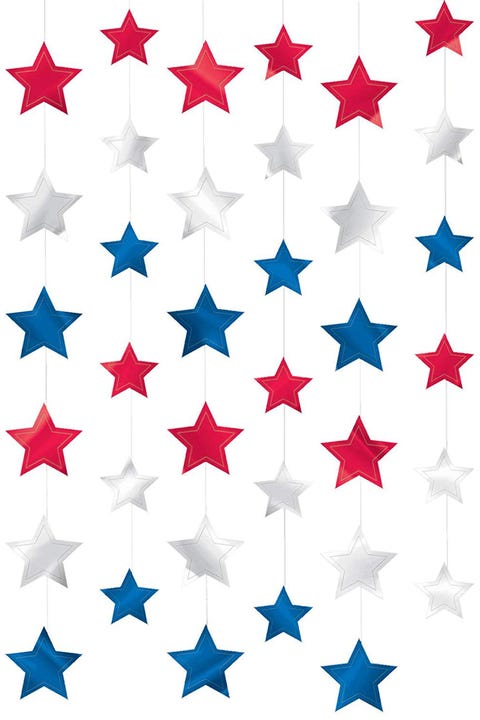 These hanging paper stars in red, blue, and silver can easily work as a wall decoration or be hung on a door or even in a doorway.
11Patriotic Hanging Paper Fans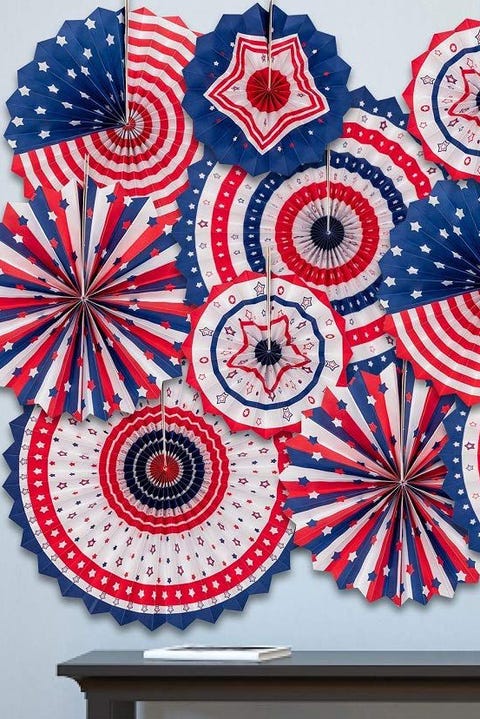 This set of paper fans in a variety of patterns look great clustered together, but you can hang them up any way you'd like.
12Patriotic Balloon Garland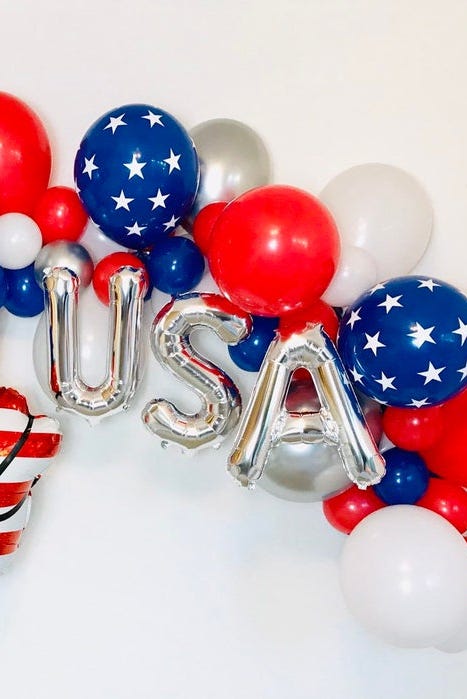 These silver foil letter balloons spell out USA. As a bonus, you can order with a peace sign balloon, too!
13Red White & Blue Bunting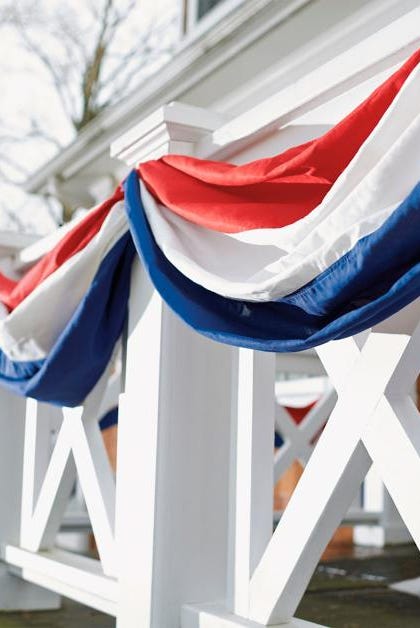 A simple, straightforward bunting looks patriotic on your porch, and you can totally leave it up all summer.
14Air Blown USA Peace Hand Inflatable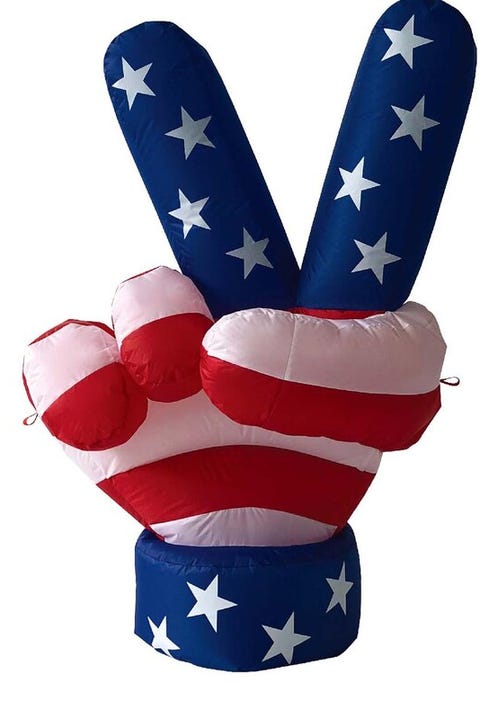 Your backyard decor is simply not complete without a patriotic-themed inflatable peace sign.
15 Red White & Blue Star String Lights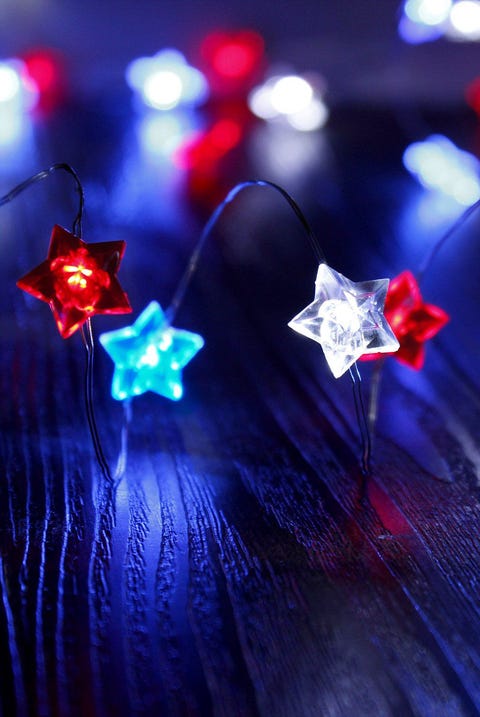 Shimmering colored string lights add some extra ambiance as your barbecue goes from day to night.
16 4th of July Independence Day Table Runner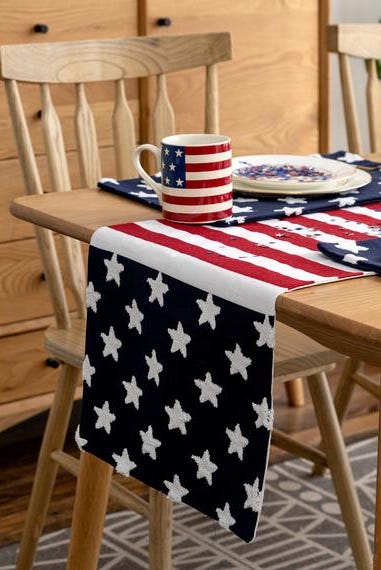 No patriotic tablescape or barbecue spread is complete without an on-theme table runner, like a red and white striped option from Etsy.
17 Gold Star Paper Plates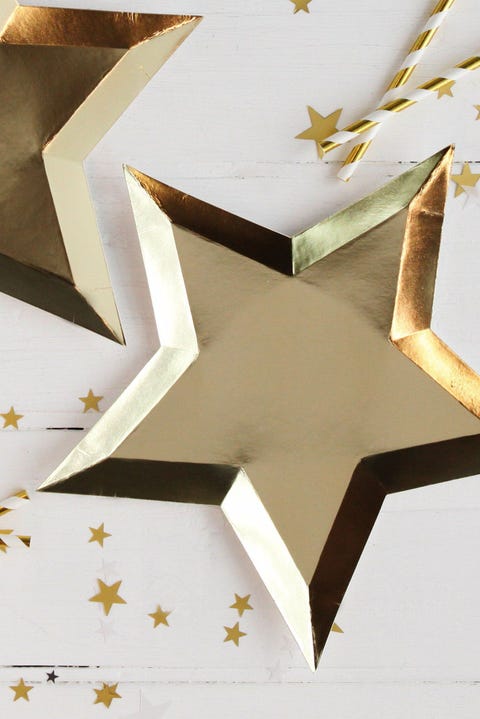 Instead of flag-patterned plates, go for gold with these metallic star plates that'll look amazing with the rest of your decorations.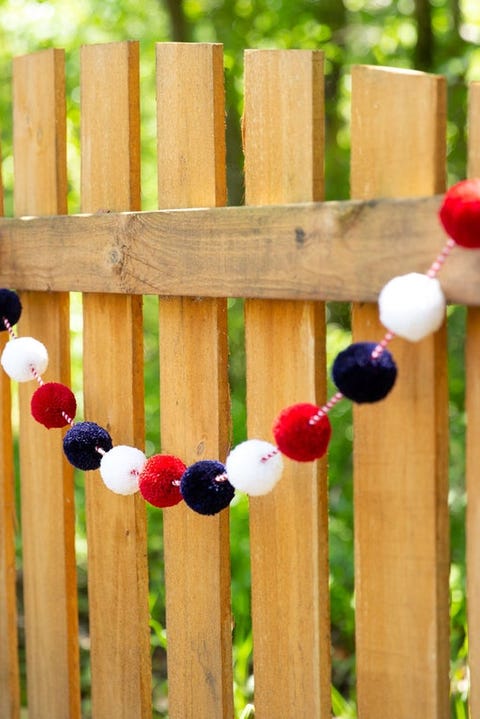 These red, white, and blue pom pom garlands can be hung just about anywhere but will look especially cute if add them to your fence.
19 American Flag Napkin Rings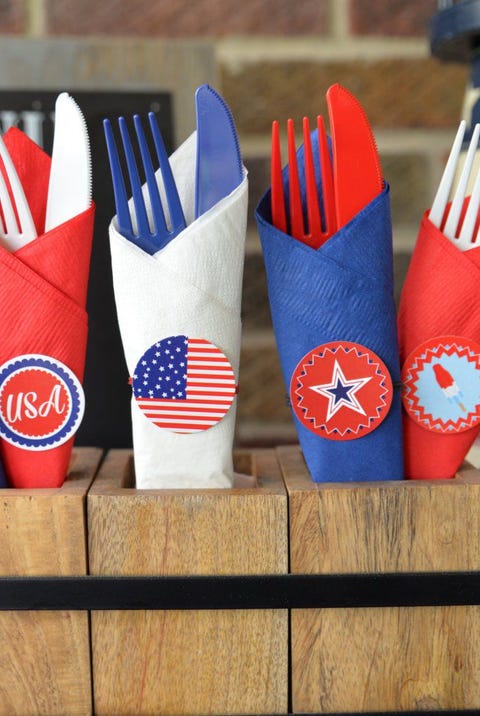 Wrap up plastic utensils and napkins with American flag napkin rings.
20 Soft Rose Americana Wreath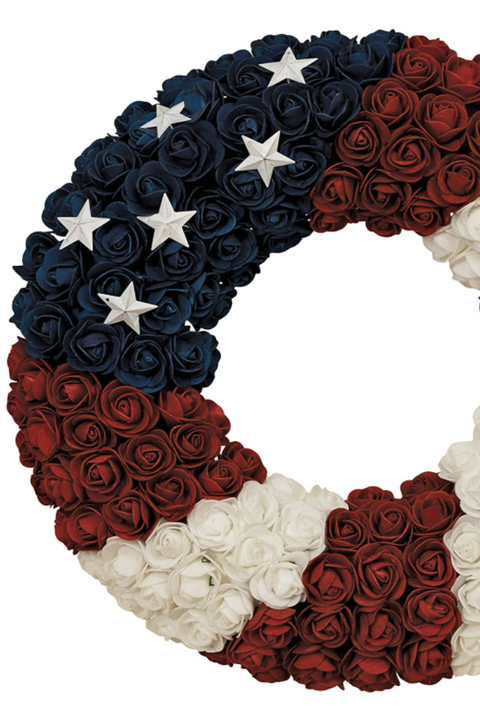 A beautiful wreath made with red, white, and blue wood curls will instantly up your holiday curb appeal.
Patriotic Memorial Day Decorations
1

 of 

20
Memorial Day is the time to honor and remember those who have served in the military, but celebrating the holiday in a fun, meaningful way can be a challenge. The day is usually warm, but not sweltering, and you'll want your décor to lean patriotic, but not as flag-covered as a Fourth of July celebration. The trick is to go subtly festive without overdoing it on the stars and stripes. Our ideas will enliven every corner of your fête without making it feel too excessive.
A cheerful striped table, just like the one pictured here, will prime your patio for a season of fun, while buckets filled with small flags create a festive centerpiece. Simply remove the flags, and you've got the perfect craft station or buffet to display all of your barbeque creations. If a table runner is more your speed, we have just the one to add a pop of color to your lunchtime spread. Take a bite out of the festivities with decorations that look as good as they taste. Bake our Fruited Cheesecake Flag or put together some Flag Ices for patriotic treats that pop on your tables.
We have plenty of festive DIYs to add to your party, too. A way to commemorate those who've served is by crafting a Silk Poppy. The flower symbolizes peace and is associated with mourning, which means making some of these faux flowers is a beautiful way to show your respect. For something more red, white, and blue, make a flag garland to drape over your fence, honoring veterans for all to see. Another colorful project that will add to your party decorations are paper lanterns. Not only are they perfect to hang in your backyard, but they also illuminate your space, making them ideal for a nighttime party.
Ahead, discover colorful Memorial Day decorations and party ideas guaranteed to make your gathering—no matter what size it may be—pop.
2

 of 

20
Red and White Bandanna
Looking for an easy way to add patriotic flair to your tables? A bandanna runner adds rugged country charm and red and white color to your tables. We like that it slips right off the next day. Add blue flowers for an entirely thematic setup.
3

 of 

20
Patriotic Pillows
You don't need to plaster your home with American flags in order to evoke the spirit of the holiday. Give your interior design a subtle patriotic update from Memorial Day through the Fourth of July, and even until Labor Day. Simply cover your pillows with festive scarves in shades of red, white, and blue. If there's one thing we love more than a chic design moment, it's one that does double duty.
4

 of 

20
Burlap Party Banners
A burlap American flag banner can withstand the wear and tear of time, making this a great investment. Plus, it'll look great on your front porch or in your backyard this Memorial Day.
5

 of 

20
Decorative Table Runner
A subtle nod to the American flag, this table runner is just the thing to spice up your Memorial Day party decorations.
6

 of 

20
Bald-Eagle Tissue Paper Lanterns
Hang lanterns in two styles. Paper ribbons inscribed with the words "America the Beautiful" dress up accordion-style lanterns and are fastened with LED tea lights inside for a safe glow. Meanwhile, upside-down honeycomb bells become bodies for bald eagles, and looped wings and a drawn head give this flier a little patriotic flourish.
7

 of 

20
America's Sweetheart
If there's one thing that has our all-year allegiance, it's dessert. Go ahead and play the flag card on the buffet table. It's for a good cause.
8

 of 

20
Flag Ices
VIEW RECIPE
THIS LINK OPENS IN A NEW TAB
A sweet Memorial Day decoration that doubles as a dessert? Yes, please. This delicious red, white, and blue recipe is easy to make, and only requires 25 minutes of prep, leaving you more time to focus on the party and less on cooking.
9

 of 

20
Flag-Inspired Tableware
Whether you're serving a flag-shaped treat or plating up some delicious recipes, these flag-inspired plates and serving pieces are nothing short of festive.
Shop Now: Martha Stewart Collection "Americana" Collection, from $28, macys.com.
10

 of 

20
Spirit Explosion
No fireworks yet, but you can fake it with some confetti-filled balloons—a surefire hit with partygoers young and old.
11

 of 

20
Red, White, and Blue Flowers
Arrange a beautiful bouquet of flowers in our country's colors for a festive, subtle touch of patriotism this Memorial Day.
12

 of 

20
Flag Garland Fence
Have the most patriotic home in the neighborhood in honor of Memorial Day. Here, we used 8-inch-wide bunting to dress up a plain white picket fence. Start by measuring the desired length of your swag and cut 1 3/4 times this length of bunting. Then, pleat the fabric: First, lay the fabric down, the wrong side up. To make a single box pleat, crease both edges of a block of blue, and fold both creases so they meet in the middle, covering the blue; the red and white stripes will line up. It's a good idea to spray with starch and iron the folds as you go; sewing along the top using a straight stitch.
13

 of 

20
American Flag-Inspired Ribbon Pins
GET THE STAR-SPANGLED STYLE: AMERICAN FLAG-INSPIRED RIBBON PINS HOW-TO
Honor a veteran or someone currently serving this Memorial Day by crafting a flag-inspired pin. With just three steps, this DIY makes for a great party favor.
14

 of 

20
Fruited-Cheesecake Flag
Who wouldn't love biting into this patriotic cake this Memorial Day? Cheesecake squares are topped with raspberries, strawberries, and blueberries to create a delicious treat that is equal parts decoration and party idea.
15

 of 

20
Paper Lanterns
Whether you decorate your front porch with these festive lanterns or illuminate a nighttime Memorial Day soirée, these lights are easy to make and look great. Accordion-fold tissue paper several layers high and punch with a star punch. Decoupage them onto the lantern using a store-bought medium or a homemade mixture—combining one part white glue with one part water. To create a cascading star pattern, as shown here, cluster stars close together at the top of the lantern and paste stars farther apart toward the bottom. Hang the lanterns in a group for maximum impact.
16

 of 

20
Silk Poppies
A commemorative flower, crafting a silk poppy is the perfect way to honor lost loved ones this Memorial Day. While this one is yellow, you can make a red one to show a dash of patriotism.
17

 of 

20
Stuck on Summer
Now that the table's got stars and stripes, don't let the bar go lonely. Stickers take a keg or ice bucket up a notch this Memorial Day.
18

 of 

20
Stars and Stripes Paper Cones
Serving snacks? Filled with a mix of beet and blue-potato chips, this easy-to-make container is something to cheer for. To make these paper cones: print clip-art image (red or blue) and trim. Score along dotted line, and fold back to create a tab. Wrap to form cone, and attach sides with glue stick or double-sided tape. To prevent grease marks, line the inside of the cone with waxed paper if desired.
19

 of 

20
Faithful Flatware
Channel the coast with table settings that'd be right at home on Cape Cod. We like that they're also reminiscent of the American flag.
20

 of 

20
Festive Can Decorations
Display May flowers and even hors d'oeuvres in DIY tin-can vases. Gingham, bandannas, and lightweight denim make wrappers you'll use all year.