Jar Jar Binks Quotes: Love him or hate him, Jar Jar Bink's place in the Star Wars realm will live on longer than you.
Intended as a comical relief for The Phantom Menace, Jar Jar became ridiculed and reviled as the worst thing about the movie but never forget Jar Jar was loved by the young kids who saw the movie as much as young kids loved Chewbacca when they first saw Star Wars.
Jar Jar Binks quotes from The Phantom Menace
He was intended to sell toys, like an Ewok we guess but he's now loved by many in an ironic sense.
Ahmed Best played Jar Jar and continued to do voice-over work for the character's appearances in The Clone Wars and video games. Best suffered a lot of backlash for the role but more recently has experienced a lot of support from the Star Wars community who grew up with TPM.
Any hey, if you've come here looking for the character's lines, Lucas must have done something right!
Jar Jar Binks's The Phantom Menace quotes
Mesa called Jar Jar Binks, mesa your humble servant!
Ex-squeeze me, but the mostest safest place would be Gunga City. 'Tis where I grew up. 'Tis a hidden city.
Hmm… yousa point is well seen. Dis way, hurry!
Yousa should follow me now, okeeday? My warning yous: Gungans no like outsiders. Don't 'spect a warm welcome.
How wuude!
Count me outta dis one. Better dead here than deader in the Core– Ye Gods, whatta mesa sayin'?!
You'd say, "boom de gasa"… den crashded da boss's heyblibber… den banished.
Uh-oh! Biiiiiig Goober fish!
Monsters out dere, leakin in here, all sinkin an no power? When are yousa tinkin' wesa in trouble?!
Oh, maxi big da Force…
Den BOOOM! Getin very scared and grabin dat Jedi, den pah… mesa here.
Mesa hatin' crunchin'. Dat's the last thing mesa want.
Dissen gonna be bery messy! Me no watchin!
Gungans no dyin' withouta fight. Wesa warriors. Wesa got a grand army. That's why you no likin' us, mesa thinks.
Icky, icky goo!
Jar Jar's Attack of the Clones quotes
Obi? Obi! Mesa So Smilen To Seein Yousa!
Senator Padme. Mesa Palos Here! Lookie, Lookie, Senator. Desa Jedi Arriven.
Mesa Busten Wit Happiness Seein Yousa Again, Ani. Shesa Happy. Happier Den Mesa Seein Her In A Longo Time.
It's-A Clear Desa Separatists Made A Pact Wesa Desa Federation Du Trade. Senators, "Dellow Felagates." In Response To This Direct Threat To The Republic, Mesa Propose That The Senate Give Immediately Emergency Powers To The Supreme Chancellor.
Jar Jar's Revenge of the Sith quote
As you can see, Jar Jar said less and less to say until he was reduced to one line in the final prequel film.  That line can almost be seen as George Lucas making an apology for the character's existence but that may be reading to much into it.
"Better dead here than deader in the core. Ye gods whatta meesa sayin'?" Star Wars: Episode I – The Phantom Menace
"Monsters out there, leaking in here. Weesa all sinking and no power." Star Wars: Episode I – The Phantom Menace
"Mesa day startin pretty okee-day with a brisky morning munchy, then BOOM! Gettin very scared and grabbin that Jedi and POW! Mesa here! Mesa gettin' very very scared!" Star Wars: Episode I – The Phantom Menace
"Yousa thinking yousa people ganna die?" Star Wars: Episode I – The Phantom Menace
"But mesa doin' nothing!" Star Wars: Episode I – The Phantom Menace
Pointless Lines from Jar Jar Binks That Had No Significance
Similar to the quotes above, a lot of things Jar Jar said had absolutely no significance in the films. Here's a select collection of these lines: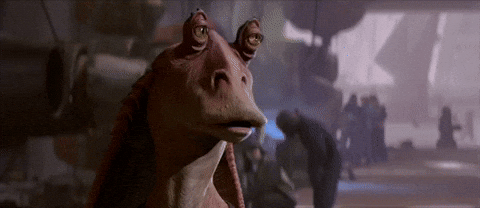 "Exsqueeze me!" Star Wars: Episode I – The Phantom Menace
"Hmmm… yousa point is well seen." Star Wars: Episode I – The Phantom Menace
"Mesa hatin' crunchin' . That's the last thing mesa wantin'." Star Wars: Episode I – The Phantom Menace
"Wesa gonna die in here!" Star Wars: Episode I – The Phantom Menace
Jar Jar Binks Quotes from The Clone Wars
Jar Jar Binks also appears in Season 4 of Star Wars: The Clone Wars. His lines are surprisingly more distinct and add a bit more value in this series. Below are a few of our favourites: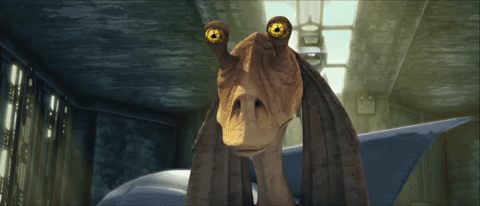 "Uh, yesa…uh, yesa. We must put end to… unfortunate… unfortunate bang-bang conflict." Season 4, Episode 4 "Shadow Warrior"
"Yousa need to do that…that thing…that BIG troop thing." Season 4, Episode 4 "Shadow Warrior"
"Mesa just telling general that wesa must make the immediate arrangements for our Gungan Separatist attack." Season 4, Episode 4 "Shadow Warrior"
"Well, mesa more of a deep thinker." Season 4, Episode 4 "Shadow Warrior"