INSPIRATIONAL KOBE BRYANT QUOTES: Looking for some quotes by Kobe Bryant for some motivation? We have curated Inspirational Kobe Bryant quotes on hard work and success to help you overcome every challenge in life.
Kobe Bryant was one of the greatest basketball players in the history of the game. He played in the NBA, with the Los Angeles Lakers for 20 seasons before his retirement in 2016.
On the 26th of January 2020, Kobe Bryant and his daughter Gianna met with a tragic death when their helicopter crashed. He was an inspiration to many and thus the sad news impacted people and his fans worldwide.
Don't forget to browse our funny NBA memes to get some laughter while watching the game!
To remember 5 time NBA Champion, Kobe Bryant, we celebrate his legacy through his own powerful words that will inspire basketball players, athletes and businessmen.
MOTIVATIONAL KOBE QUOTES ON HARD WORK
"You asked for my hustle – I gave you my heart."


---

"You are like fine wine baby ti amo per sempre."


---

"If you don't believe in yourself, no one will do it for you."


---

"Great things come from hard work and perseverance. No excuses."


---

"These young guys are playing checkers. I'm out there playing chess."


---

"Be willing to sacrifice anything, but compromise nothing in your quest to be your best."


---

"Either way, I refuse to change what I am. A lion has to eat. Run with me or run from me."


---

"The beauty of coaching is growing the players from the ground up. That journey continues."


---

"We all have self-doubt. You don't deny it, but you also don't capitulate to it. You embrace it."


---

"Trust me, setting things up right from the beginning will avoid a ton of tears and heartache…"


---

"The beauty in being blessed with talent is rising above doubters to create a beautiful moment."


---

"Leadership is lonely … I'm not going to be afraid of confrontation to get us to where we need to go."


---

"The most important thing is you must put everybody on notice that you're here and you are for real."


---

"Love that kids are building confidence on and off the court and unlocking their potential through sport."


---

"The most important thing is to try and inspire people so that they can be great at whatever they want to do."


---

"I create my own path. It was straight and narrow. I looked at it this way: you were either in my way, or out of it."


---

"The odd thing is that I wound up learning more about the world around me by having a singular focus inside of me."


---

"My parents are my backbone. Still are. They're the only group that will support you if you score zero or you score 40."


---

"Sports is such a great teacher. I think of everything they've taught me: camaraderie, humility, how to resolve differences."


---

"There's no need to get too crazy or bent out of shape. There are still challenges every day. But I'm still having fun. I was born to play this game. I still love it."


---

"There's been a lot of talk of me being a one-man show but that's simply not the case. We win games when I score 40 points and we've won when I score 10."


---

"Pain doesn't tell you when you ought to stop. Pain is the little voice in your head that tries to hold you back because it knows if you continue you will change."


---

"Being passive aggressive in this competition means you're fine with simply going with the flow and unwilling to disturb the calm waters of the game to accomplish your goals."


---

"Have a good time. Life is too short to get bogged down and be discouraged. You have to keep moving. You have to keep going. Put one foot in front of the other, smile and just keep on rolling."


---

"I had to organize things. So I created the 'Black Mamba'. So Kobe has to deal with these issues, all the personal challenges. The Black Mamba steps on the court and does what he does. I'm destroying everybody that steps on the court."


---

"Learn to love the hate. Embrace it. Enjoy it. You earned it. Everyone is entitled to their own opinion and everyone should have one about you. Haters are a good problem to have. Nobody hates the good ones. They hate the great ones."


---

"I have self-doubt. I have insecurity. I have fear of failure. I have nights when I show up at the arena and I'm like, 'My back hurts, my feet hurt, my knees hurt. I don't have it. I just want to chill.' We all have self-doubt. You don't deny it, but you also don't capitulate to it. You embrace it."


---
INSPIRATIONAL KOBE BRYANT QUOTES ON WORK ETHIC
"I'm chasing perfection."


---

"Dedication sees dreams come true."


---

"I got one more than Shaq. So you can take that to the bank."


---

"The biggest dreams aren't fueled by belief. They're fueled by doubt."


---

"It's my job to pick us up when we are down. I had to sharpen my focus."


---

"Haters are a good problem to have. Nobody hates the good ones. They hate the great ones."


---

"We can always kind of be average and do what's normal. I'm not in this to do what's normal."


---

"Trust me, setting things up right from the beginning will avoid a ton of tears and heartache…"


---

"Everyone looks at your watch and it represents who you are, your values and your personal style."


---

"This is the moment I accept the most challenging times will always be behind me AND in front of me."


---

"When I have the chance to guard Michael Jordan, I want to guard him. I want him. It's the ultimate challenge."


---

"Not even in my dreams. That was something that just happened. It's tough to explain. It's just one of those things."


---

"It's the one thing you can control. You are responsible for how people remember you—or don't. So don't take it lightly."


---

"I'm playing against great players, playing against the best in the world. The competition – that's what I've always wanted."


---

"I can't relate to lazy people. We don't speak the same language. I don't understand you. I don't want to understand you."


---

"I've pretty much done all I can here and, you know, God will carry me the rest of the way, so I'm pretty comfortable with that."


---

"It doesn't bother me at all. Do I hold any hard feelings? Not at all, … Life is too short to sit around and hold grudges. I don't hold any whatsoever."


---

"I have nothing in common with lazy people who blame others for their lack of success. Great things come from hard work and perseverance. No excuses."


---

"The examples are endless but my philosophy is simple. Once I knew my seed, I was able to discover my muse and my purpose for being was crystal clear."


---

"You need to figure out a way to invest in the future of your family and friends. This sounds simple, and you may think it's a no-brainer, but take some time to think on it further. I said INVEST. I did not say GIVE."


---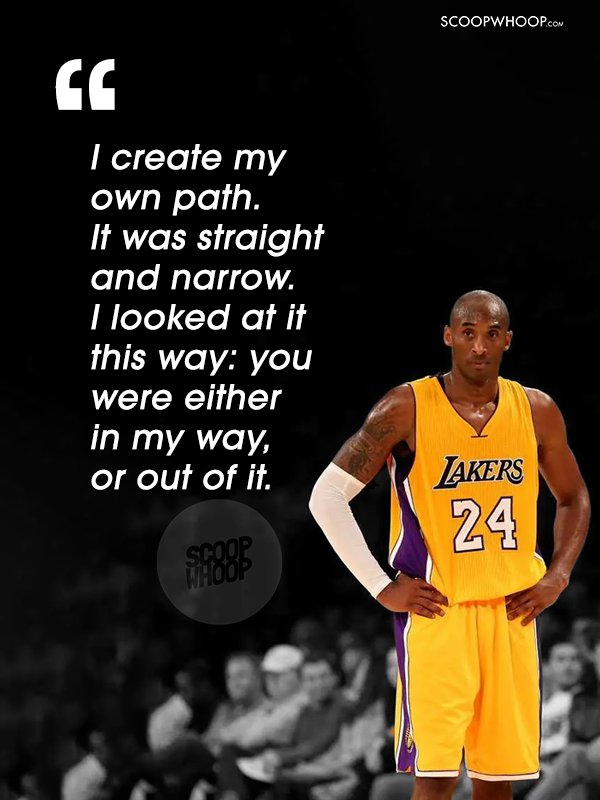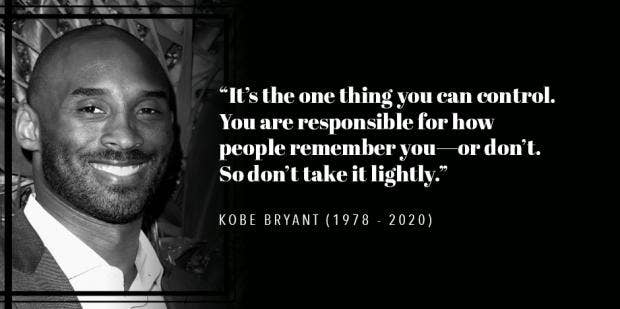 KOBE BRYANT QUOTES ON WINNING AND SUCCESS
"Passion is the fuel for success"


---

"I wanna be the best, simple, and plain."


---

"If you're afraid to fail, then you're probably going to fail."


---

"What people see on court is another side of me; it's not me."


---

"People just don't understand how obsessed I am with winning."


---

"The moment you give up, is the moment you let someone else win."


---

"Once you know what failure feels like, determination chases success."


---

"Winning takes precedence over all. There's no gray area. No almosts."


---

"We don't quit, we don't cower, we don't run. We endure and conquer."


---

"I don't want to be the next Michael Jordan, I only want to be Kobe Bryant."


---

"Everything negative – pressure, challenges – is all an opportunity for me to rise."


---

"Losers visualize the penalties of failure. Winners visualize the rewards of success"


---

"I'm reflective only in the sense that I learn to move forward. I reflect with a purpose."


---

"This is the moment I accept the most challenging times will always be behind me and in front of me."


---

"The most important thing is to try and inspire people so that they can be great at whatever they want to do."


---

"The important thing is that your teammates have to know you're pulling for them and you really want them to be successful."


---

"One thing you gotta know about me is I have absolutely no filter. I have no problem saying what the hell I think of someone."


---

"Use your success, wealth and influence to put them in the best position to realize their own dreams and find their true purpose."


---

"I'm extremely willful to win, and I respond to challenges. It's not a challenge to me to win the scoring title, because I know I can."


---

"I'll do whatever it takes to win games, whether it's sitting on a bench waving a towel, handing a cup of water to a teammate, or hitting the game-winning shot."


---
LEADERSHIP QUOTES BY KOBE BRYANT
"A lot of leaders fail because they don't have the bravery to touch that nerve or strike that chord."


---

"If you are going to be a leader, you're not going to please everybody. You got to hold people accountable, even if you have that moment of being uncomfortable."


---

"The topic of leadership is a touchy one. A lot of leaders fail because they don't have the bravery to touch that nerve or strike that chord. Throughout my years, I haven't had that fear."


---

"When we are saying this cannot be accomplished, this cannot be done, then we are short-changing ourselves. My brain, it cannot process failure. It will not process failure. Because if I have to sit there and face myself and tell myself, 'You are a failure,' I think that is almost worse than dying"