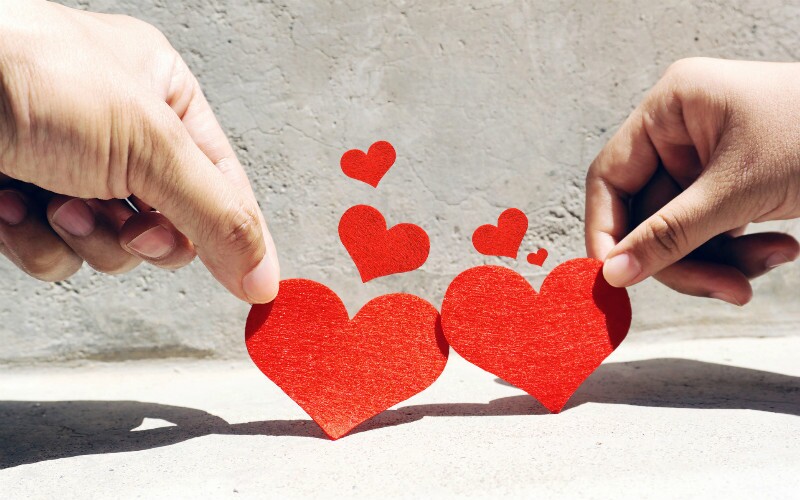 It is really difficult to confirm the exact time when Western Valentine's Day was introduced into China. However, Western Valentine's Day is widely celebrated in urban areas, where there are a lot of commercial events, especially in big cities like Shanghai, Beijing, Hong Kong, and Guangzhou. Valentine's Day is not so popular in small cities, towns and the countryside.
Chinese people have adopted the traditions of Westerners on celebrating Valentine's Day, such as exchanging gifts (like flowers, chocolates, ties and watches), making a special date to or have a romantic dinner or watch a movie in the evening, or even to make a marriage registration if Valentine's Day falls on a work day.
Hence, larger amounts of chocolate will be on sale in supermarkets, and, compared with that ordinary days, cinemas will be much busier, and the price of flowers (especially roses) and restaurants and hotels (especially romantic ones) could be much higher. Many restaurants will have special set menus, especially those in Hong Kong, Beijing and Shanghai. If you want to have a smooth celebration on Valentine's Day, remember to make reservations as far in advance as you can.
Chinese people have also made some changes to the Western way of celebrating Valentine's Day. For some senior couples, the husband might prepare a rich dinner, or buy an elegant dress elaborately for his wife on this day, to show his appreciation.
What Gifts Should You Give Your Love in China?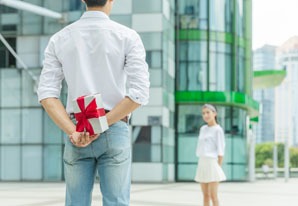 Most of the gifts for Valentine's Day are the same as in western countries, such as:
Gifts from gentlemen: flowers (traditionally red roses), chocolates, jewelry, a dress, a fashionable bag, underwear (not suitable for those who have just started dating), a comb, a necklace, etc.
Gifts from ladies: a watch, a tie, a shirt, a shaver, a wallet, a lighter, etc.
As a gentleman, if you choose a bouquet of yellow roses as the gift to your girl, you might need to a volume of explanation, because presenting yellow roses to someone you love generally symbolizes the declaration of breaking up.
No Umbrella and Shoes for Valentine's Day Gifts
These items would be fine for married couples. But if you are just going out or engaged, you might need to pay some attention to the perceived meanings below. It could help you avoid bad omens, according to ever, you may choose to pay no attention to them, because many of the young people in China now ignore it.
An umbrella should not be a gift for your love. This is because the Chinese for "umbrella" is 伞 (san), which sounds the same as 散 ('breaking up').
Shoes should not be a gift for your love either. This is because presenting shoes implies "packing off your love". However, if you have your love refund 1 yuan, the curse will be broken.
Is There A Chinese Valentine's Day?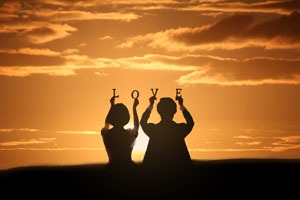 Yes, there are two festivals that have had a similar function to Western Valentine's Day: Lantern Festival and Double Seven Festival. Lantern Festival was more like a Chinese Valentine's Day in ancient times, while Double Seven Festival was only for ladies in ancient times, but now is recognized as the Chinese Valentine's Day.
Why Lantern Festival Functioned as Valentine's Day in Ancient China
Ladies (especially unmarried girls from respectable families or humble families) were forbidden to go out in ancient China. Only during Lantern Festival could they go out to appreciate the colorful lantern exhibitions, and possibly for a date. So, Lantern Festival was like a Chinese Valentine's Day in ancient China.
Nowadays, people still go out for date on the evening of Lantern Festival (including appreciating lantern exhibitions and fireworks shows together, and attending other celebration activities).
Double Seven Festival
Double Seven Festival (aka Qixi Festival) is recognized as Chinese Valentine's Day for its romantic legend about two stars: Altair and Vega. Altair is said to be Niu Lang (a poor but industrious cowherd), Vega is said to be Zhi Nü (the seventh daughter of the lord of heaven), and a romantic love story is told of the two.
Check out the legend of Double Seven Festival.
Recommended Films for Valentine's Day
If you are learning Chinese, or just looking for some Chinese films for Valentine's Day, the films below might be right for your appetite. These films are selected according their good reputation in China, listed by release date.
Love Is Not Blind (失恋33天 2011): A brokenhearted girl receives warm affection from another.
You Are the Apple of My Eye (那些年我们一起追的女孩 2011): There is a class beauty in every class, and everyone can remember the school life when boys tried to hide their unrequited love for the class beauty.
Sophie's Revenge (非常完美 2009): An interesting boyfriend battle carried on between a movie star and a cartoonist.
If You Are The One I (非诚勿扰1 2009): Cherish your Mr. Right or your princess. The movie will show you what a tough project finding the right partner can be.
Cape No. 7 (海角七号 2008): An overdue love letter brings another romantic international relationship.
A Chinese Odyssey Part One: Pandora's Box (大话西游之月光宝盒 1994) and Part Two: Cinderella (大话西游之仙履奇缘 1995): A new telling of "Journey to the West" brings you heart-warming love, with an atmosphere of relaxation and humor.
Valentine's Day Sayings
但愿人长久, 千里共婵娟 (dàn yuàn rén cháng jiǔ, qiān lǐ gòng chán juān)
Though miles apart, sharing the beauty of the graceful moonlight, we wish long-lasting lover. The saying is especially for those who cannot celebrate Valentine's Day together.
执子之手, 与子偕老 (zhí zǐ zhī shǒu, yǔ zǐ xié lǎo)
With you I made an agreement: when I grasped your hand and I vowed to spend the rest of my life with you.
有情人终成眷属 (yǒu qíng rén zhōng chéng juàn shǔ)
All shall be well, Jack shall have Jill. love will find a way.
爱你一万年 (ài nǐ yí wàn nián)
Love you forever.
我爱你, 就像老鼠爱大米 (wǒ ài nǐ jiù xiàng lǎo shǔ ài dà mǐ)
I love you as mice love rice.