New Year Resolution Quotes
A mix of funny, light-hearted, and encouraging New Year resolution quotes and new year quotes that talk about the highs and lows of setting New Year resolutions.
Never make a resolution which won't be as important on the eighth of April or the tenth of July as it is on the first of January.
~ Cary Grant
One resolution I have made, and try always to keep, is this: To rise above the little things.
~ John Burroughs, American naturalist and nature essayist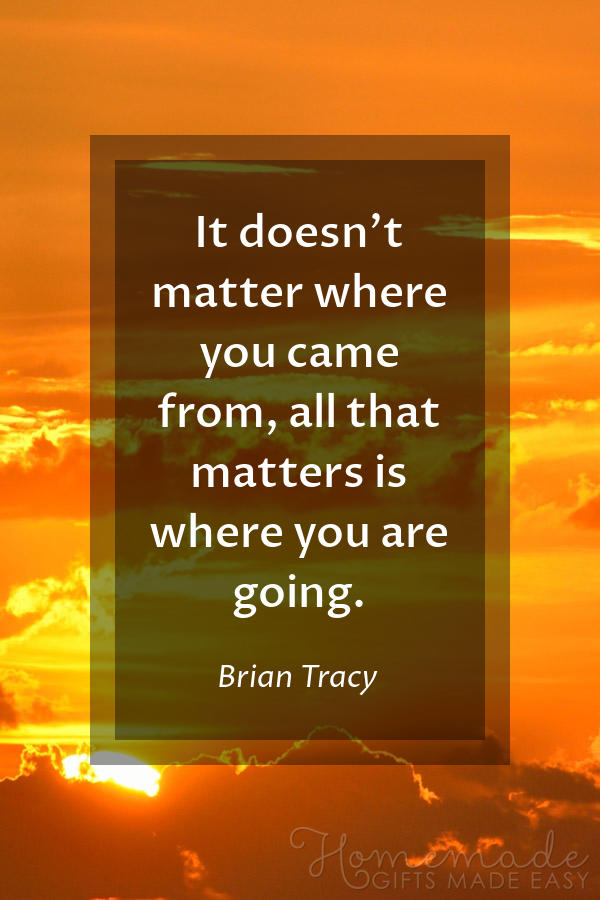 It doesn't matter where you came from, all that matters is where you are going.
~ Brian Tracy
Tomorrow is a new day. Begin it well and serenely, with too high a spirit to be cumbered with your old nonsense.
~ Ralph Waldo Emerson
A journey of a thousand miles begins with a single step.
~ Lao Tzu
It's a terrible thing, I think, in life to wait until you're ready. I have this feeling now that actually no one is ever ready to do anything. There is almost no such thing as ready. There is only now.
~ Hugh Laurie
I like the dreams of the future better than the history of the past.
~ Thomas Jefferson
Let our New Year's resolution be this: we will be there for one another as fellow members of humanity, in the finest sense of the word.
~ Goran Persson
What the New Year brings to you will depend a great deal on what you bring to the New Year.
~ Vern McLellan
Making resolutions is a cleansing ritual of self-assessment and repentance that demands personal honesty and, ultimately, reinforces humility. Breaking them is part of the cycle.
~ Eric Zorn
The three Cs in life: choice, chance, change. You must make the choice to take the chance if you want anything in life to change.
~ Anon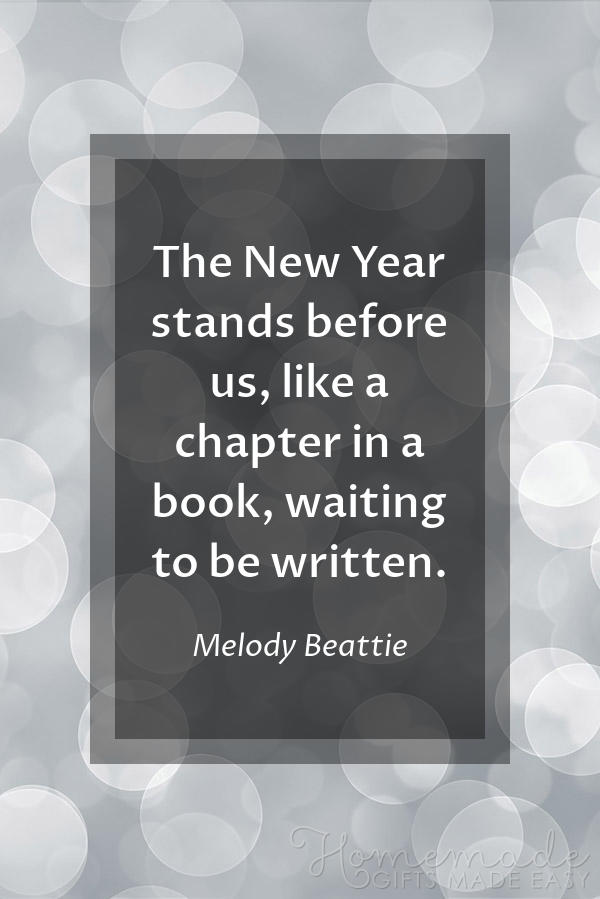 The New Year stands before us, like a chapter in a book, waiting to be written.
~ Melody Beattie
The first step towards getting somewhere is to decide you're not going to stay where you are.
~ John Pierpont Morgan
The beginning is the most important part of the work.
~ Plato
Nothing is predestined. The obstacles of your past can become the gateways that lead to new beginnings.
~ Ralph Blum
The chief beauty about time is that you cannot waste it in advance. The next year, the next day, the next hour are lying ready for you, as perfect, as unspoiled, as if you had never wasted or misapplied a single moment in all your life. You can turn over a new leaf every hour if you choose.
~ Arnold Bennett
Making New Year resolutions is one thing. Remaining resolute and seeing them through is quite another.
~ Alex Morritt
I made no resolutions for the New Year. The habit of making plans, of criticizing, sanctioning and molding my life, is too much of a daily event for me.
~ Anais Nin
It's not the resolutions you make once a year that matter, but the ones you make with every single breath.
~ Beau Taplin
You raze the old to raise the new.
~ Justina Chen
And here are some more light-hearted new year quotes about setting new year resolutions.
A New Year's resolution is something that goes in one Year and out the other.
~ Anon
Good resolutions are simply checks that men draw on a bank where they have no account.
~ Oscar Wilde
Doing the same thing over and over again and expecting different results means you're either insane or are making a New Year's resolution.
~ @thedeadauthor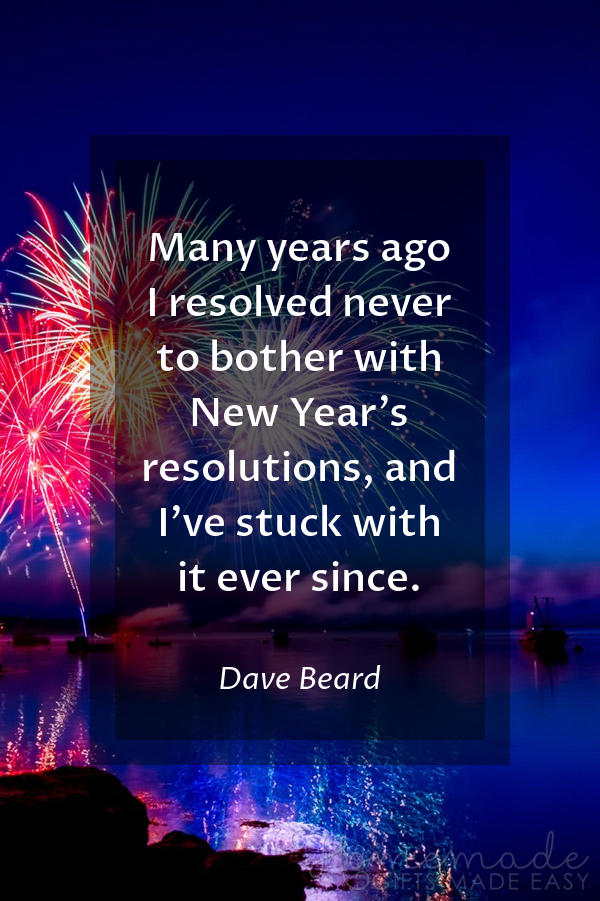 Many years ago I resolved never to bother with New Year's resolutions, and I've stuck with it ever since.
~ Dave Beard
New Year's Resolution: To tolerate fools more gladly, provided this does not encourage them to take up more of my time.
~ James Agate
May the New Year bring you courage to break your resolutions early! My own plan is to swear off every kind of virtue, so that I triumph even when I fall!
~ Aleister Crowley
Back to top of New Year quotes page
Happy New Year Quotes for Friends & Family
Happy New Year Quotes for friends and family, perfect for greeting card or text messages.
Happy New Year! Here's to living life to the full in 2021. As a wise person once said, "You only live once, but if you do it right, once is enough!"
Wishing you a blessed New Year! When I count my blessings, I count you twice.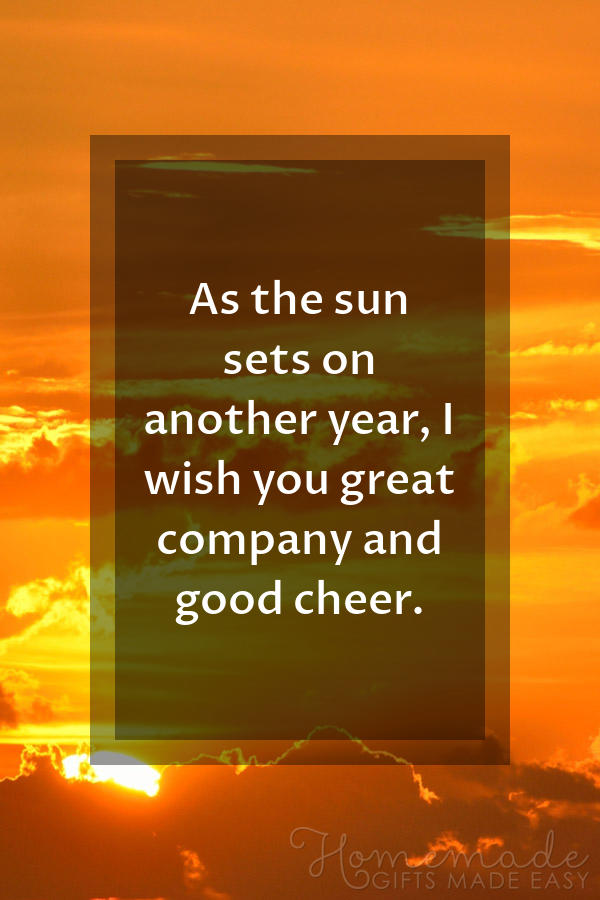 As the sun sets on another year, I wish you great company and good cheer.
Happy New Year! Here's to sharing more good times and great memories in 2021.
Sing and dance and make good cheer
Let's make it last throughout the year.
Here's to the bright New Year
And a fond farewell to the old;
Here's to the things that are yet to come
And to the memories that we hold.
~ Anon
May all of your troubles last as long as my New Years resolutions! Happy New Year!
Live it up on New Year's Eve – you've got the whole year to live it down!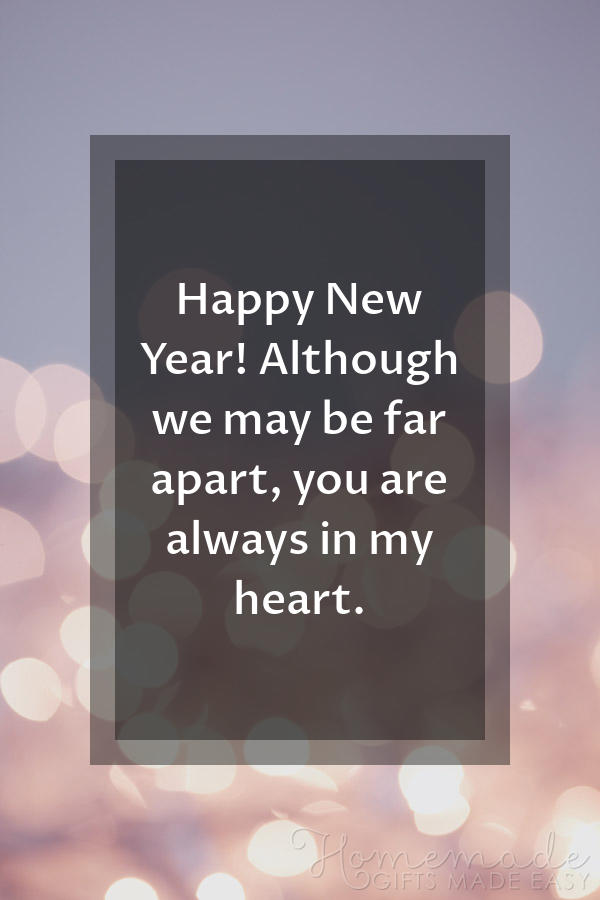 Happy New Year! Although we may be far apart, you are always in my heart.
Wishing you 12 months of success, 52 weeks of laughter, 365 days of fun, 8760 hours of joy, 525600 minutes of good luck, and 31536000 seconds of happiness.
Back to top of New Year quotes page
New Years Eve Quotes
There is a certain magic to New Year's eve, and these New Years eve quotes capture the excitement of that moment and express some of the hope and promise the evening holds as we think about the coming year.
Ah, New Years Eve. The evening of little miracles. Take away the dazzling fireworks, the celebrations, the drinking and the countdowns and what you are left with is hope. Small human hope. The hope of better days, of fresh starts, and perhaps, if you are very lucky, a kiss.
~ Beau Taplin
And now we welcome the new year. Full of things that have never been.
~ Rainer Maria Rilke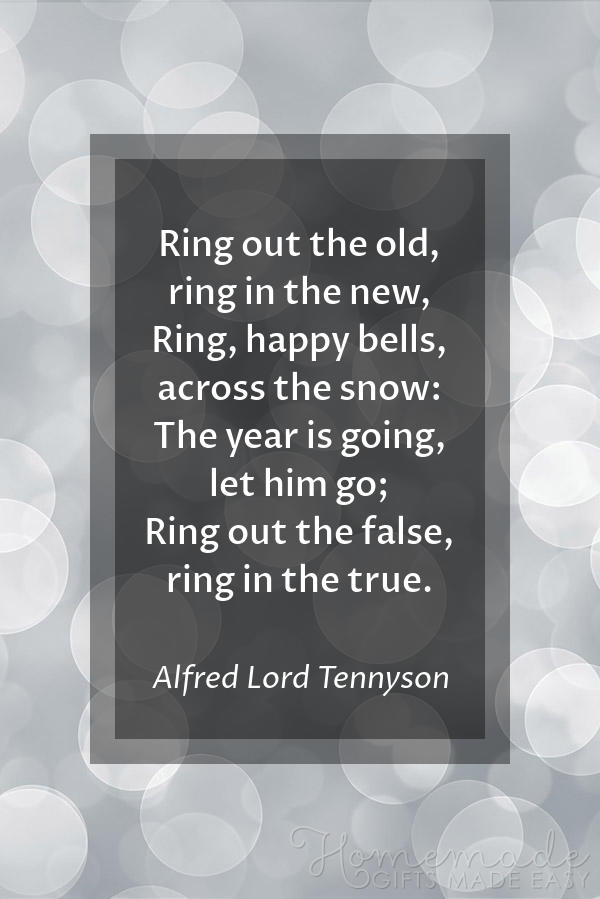 Ring out the old, ring in the new,
Ring, happy bells, across the snow:
The year is going, let him go;
Ring out the false, ring in the true.
~ Alfred Lord Tennyson
Sing and dance and make good cheer
Let's make it last throughout the year.
A new year quotes collection would not be complete without reference to this famous poem by Robert Burns. There are several translations, I have chosen the English translation.
Should old acquaintance be forgot,
And never brought to mind?
Should old acquaintance be forgot,
And old lang syne!
For old lang syne, my dear,
For old lang syne.
We'll take a cup of kindness yet,
For old lang syne.
~ Robert Burns
The merry year is born
Like the bright berry from the naked thorn.
~ Hartley Coleridge
For last year's words belong to last year's language,
And next year's words await another voice.
What we call the beginning is often the end,
And to make an end is to make a beginning.
~ T.S. Eliot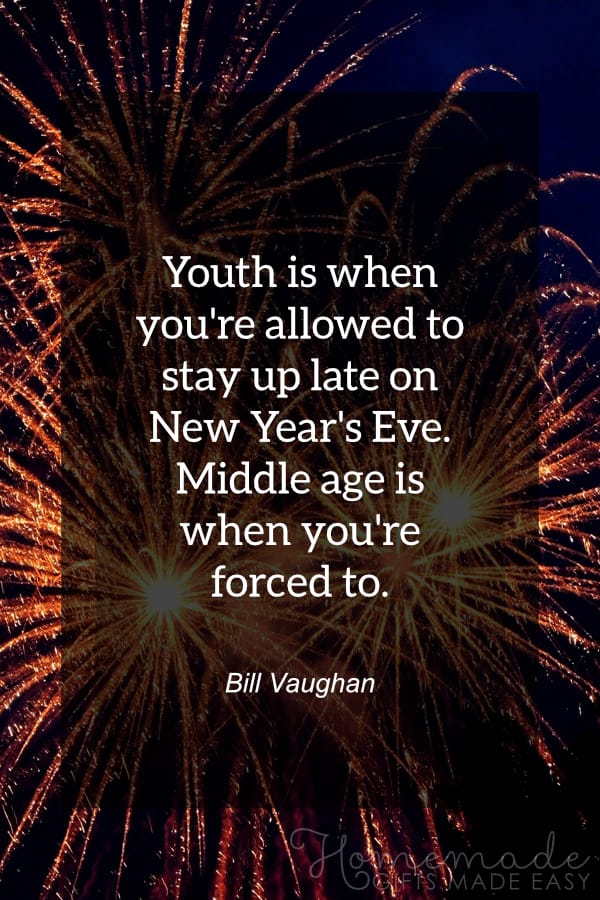 Youth is when you're allowed to stay up late on New Year's Eve. Middle age is when you're forced to.
~ Bill Vaughan