Happy Mothers Day Quotes From Daughter
Happy Mothers Day Quotes From Daughter
Are you looking for the perfect Mother's Day quotes to wish your mom a happy Mother's Day?
Or just some beautiful mother and daughter quotes to celebrate the magical bond that exists between a daughter and her mom?
Then these happy Mother's Day quotes from daughter to her mother are sure to inspire you!
The bond between a mother and daughter is so special.
There is a uniqueness about their relationship that is simply magical, especially when mom's little girl grows up to become a proud mama of her own.
It can be hard to put into words the love that exists between a mother and her daughter, but we think these inspiring Mother's Day quotes and I love you mom quotes capture the bond perfectly.
'Because of you I've never gone a day without knowing I am loved.'
Editor's note: You are welcome to share and use these original happy Mother's Day quotes and images contained below. Please give credit back to our page. Non-commercial use only.
>> You May Also Like: 40 Heartfelt Dad And Daughter Quotes And Sayings
MOTHERS DAY QUOTES FROM DAUGHTER
We recommend putting these Mother's Day quotes to good use by using them to write a beautiful heartfelt Mother's Day message to your mom this Mother's Day, using them to caption your pictures on Instagram, or to perhaps get something inspirational made to hang on her wall.
Either way, these Mother's Day wishes sent from the heart are sure to bring a tear to her eye.
Do you have any favorite inspirational mother quotes?
>> Then head over to our encouraging facebook community and share your favorite mother's day quotes and sayings with some like-minded mamas!
BEST MOTHERS DAY QUOTES FROM DAUGHTER
It can be really hard to find the perfect Mother's Day quotes.
The good news is, we have done the hard work for you and compiled what we think are the best mother quotes from a daughter to help inspire you!
'The older I get, the more I realize that my mother is the best 'best friend' that I could ever have.'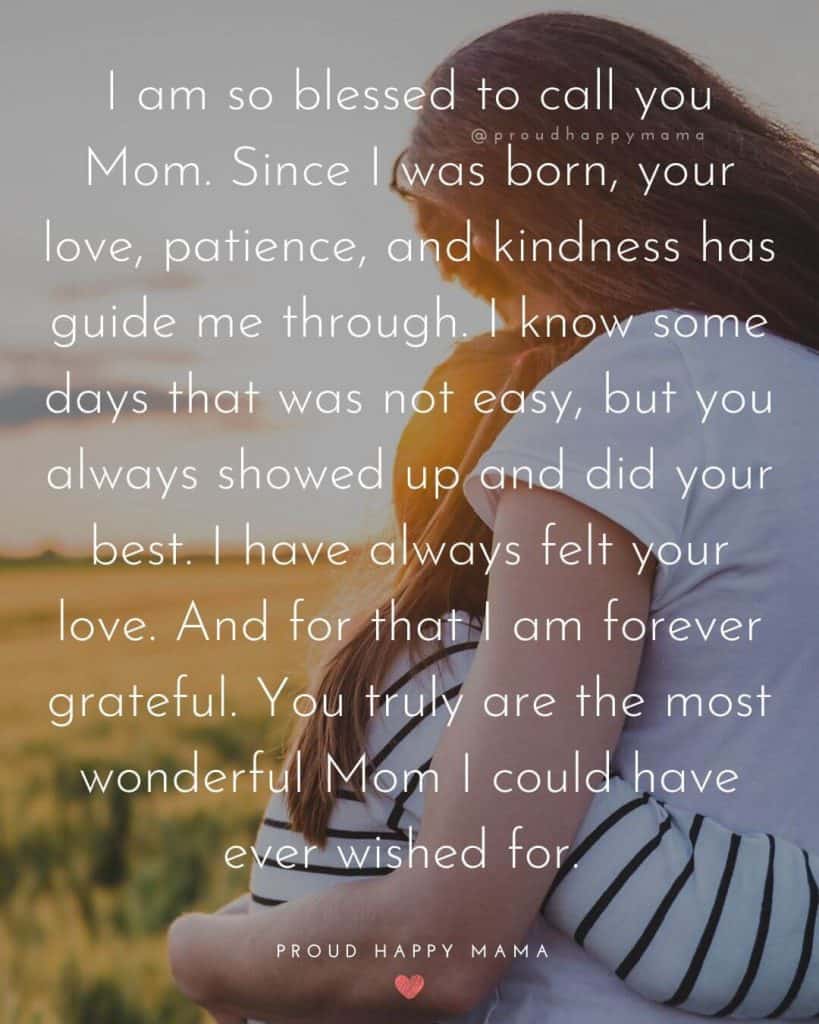 'I am so blessed to call you Mom. Since I was born, your love, patience, and kindness has guided me through. I know some days that was not easy, but you always showed up and did your best. I have always felt your love. And for that, I am forever grateful. You truly are the most wonderful Mom I could have ever wished for.'
'Since I was just a little girl, you have been raising me to be strong and independent. You have been teaching me to believe in myself no matter what. To know my self-worth. To smile in the face of adversity. Because of you, I am the woman I am today. Thank you for everything, and I mean everything. I can only hope that I can raise my daughters with the same strength, love, and wisdom that you have used to raise me.'
Motherhood is hard, so don't go it alone!
Join the Proud Happy Mama email list…We promise no spam just great stories, support & encouragement straight to your inbox.
'I'm so proud to be your daughter.'
SHORT MOTHER'S DAY QUOTES FROM DAUGHTER
Short and sweet here are some beautiful Mother's Day quotes from daughter that are perfect for writing those special Mother's Day card quotes and messages.
'To the whole world, you are my mother. To me, you are my whole world.'
'You will always be my first friend and my forever friend.'
'Because of you, I am everything I am today.'
'If you weren't my mom, I'd ask you to adopt me.'
'Every day I become a little more like my mother, and the truth is, I couldn't be prouder.'
'You're my mother by chance, but my best friend by choice.'
'Sometimes we laugh, sometimes we cry, sometimes we sit silently together and let time fly by… No matter what life brings we will always be best friends, my Mom and I.'
MOTHER'S DAY QUOTES FOR CARDS FROM DAUGHTER
Let your mom know exactly how you feel about her with one of these Mother's Day card quotes:
'You are an amazing Mom. Words seem to be too little to express my gratitude for all that you do.'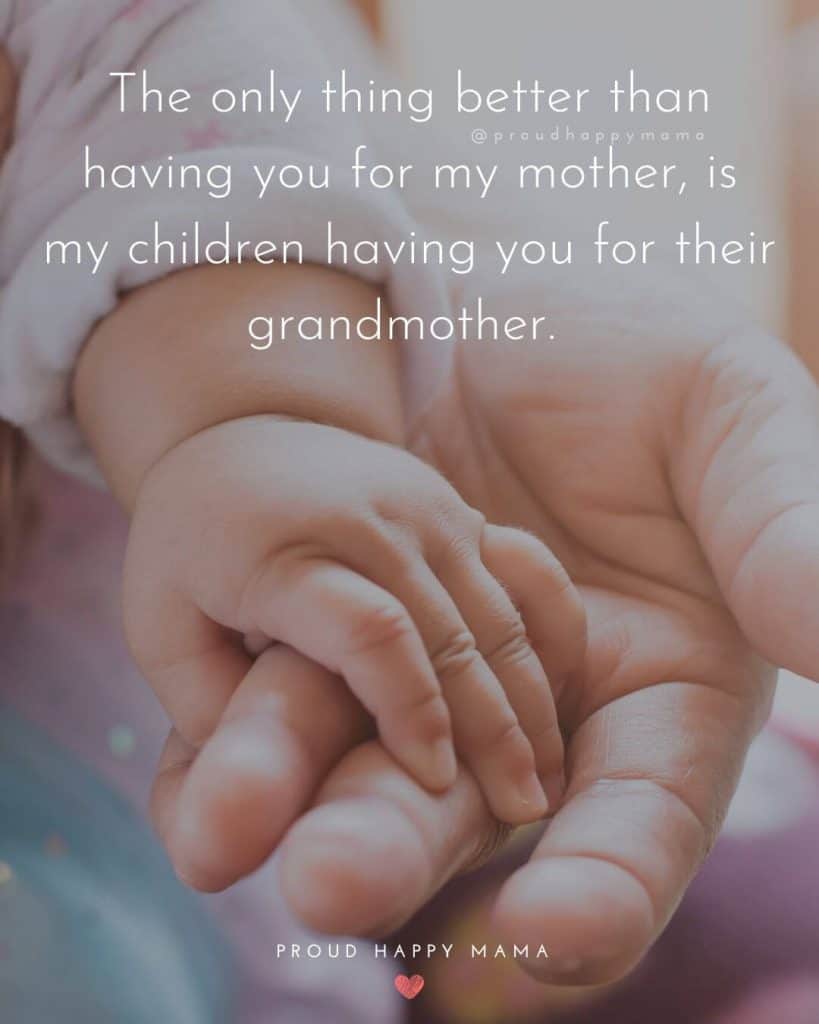 'The only thing better than having you for my mother, is my children having you for their grandmother.'
'If I could wish just one thing for my children, it would be that I become half the mother to them as you are to me.'
'I know as mother and daughter we might not always see eye to eye, but we'll always be heart to heart.'
'Mom, words will never be enough to thank you for the lifetime of things you have done me. No matter what, you have always there for me whenever I have needed you. I am forever grateful to be your daughter.'
'No matter what we go through. No matter how far apart we are. No matter how much we argue as mother and daughter. In the end, you have always been there for me and I will always love you for that.'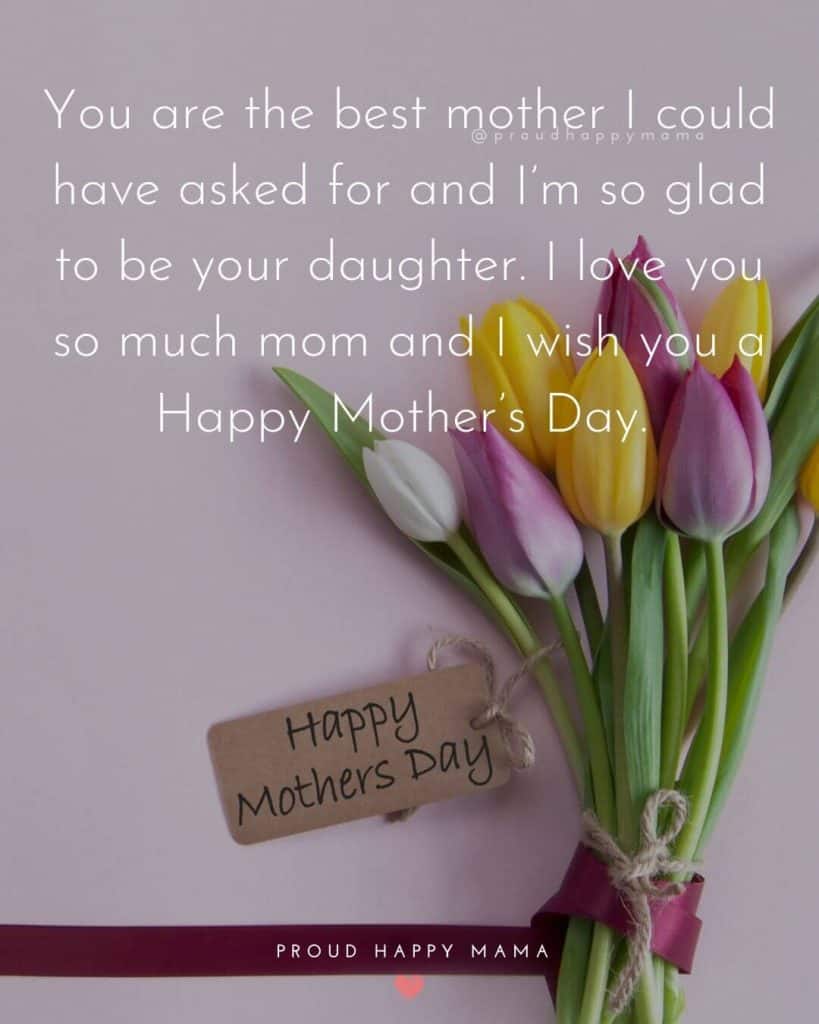 'You are the best mother I could have asked for and I'm so glad to be your daughter. I love you so much mom and I wish you a Happy Mother's Day.'
MOTHER'S DAY MESSAGES FROM DAUGHTER
Want to tell your mom how wonderful she really is this Mother's Day?
Then let her know what a great job she's doing and how amazing you think she is with one of these inspiring happy Mother's Day messages:
'Each and every day I feel so lucky to call you my Mom. Enjoy your special Mother's Day, you deserve it!'
'I love you mom and wish you the best Mother's Day possible!'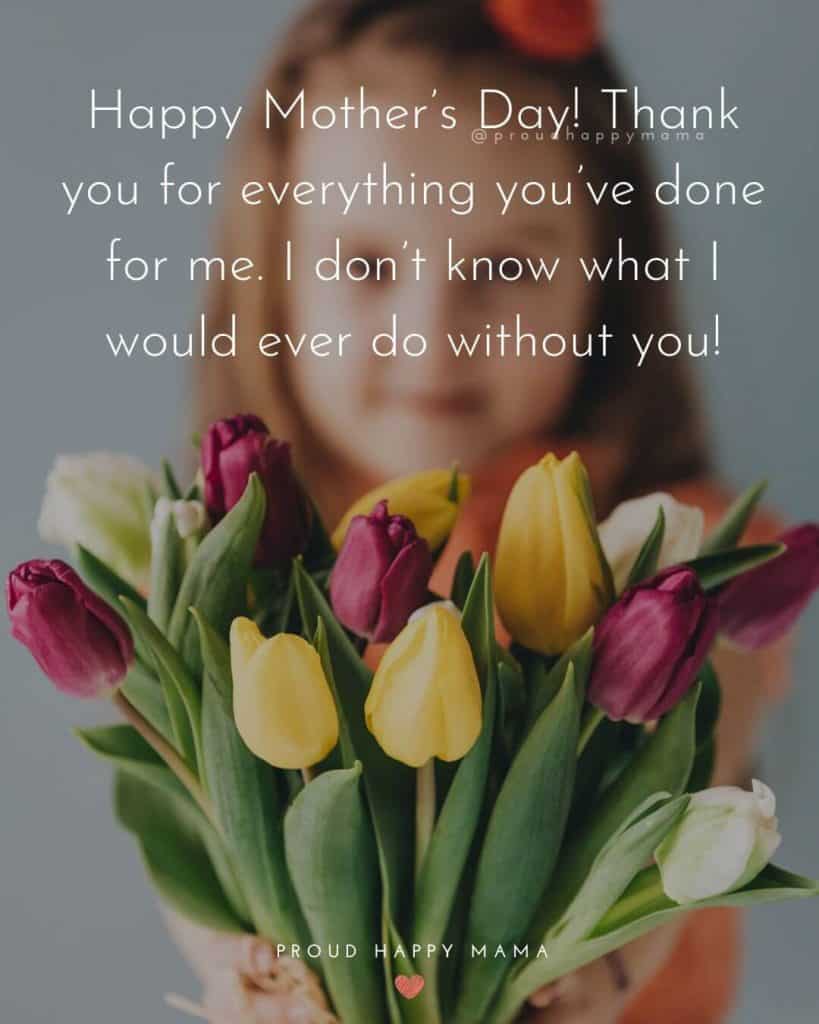 'Happy Mother's Day! Thank you for everything you've done for me. I don't know what I would ever do without you!'
'Thank you for every hug, word of encouragement, and act of love you've given me. You are an amazing mother. Happy Mother's Day!'
'Happy Mother's Day! Thank you for always showing up and loving me unconditionally.'
'I love you to the moon and back, Mom! Thank you for always inspiring me to live, love, and laugh!'
'Happy Mother's Day to the best role model I could have ever asked for!'
SWEET HAPPY MOTHERS DAY QUOTES FROM DAUGHTER
'Happy Mother's Day! If I weren't your daughter, I'd choose you as my friend!'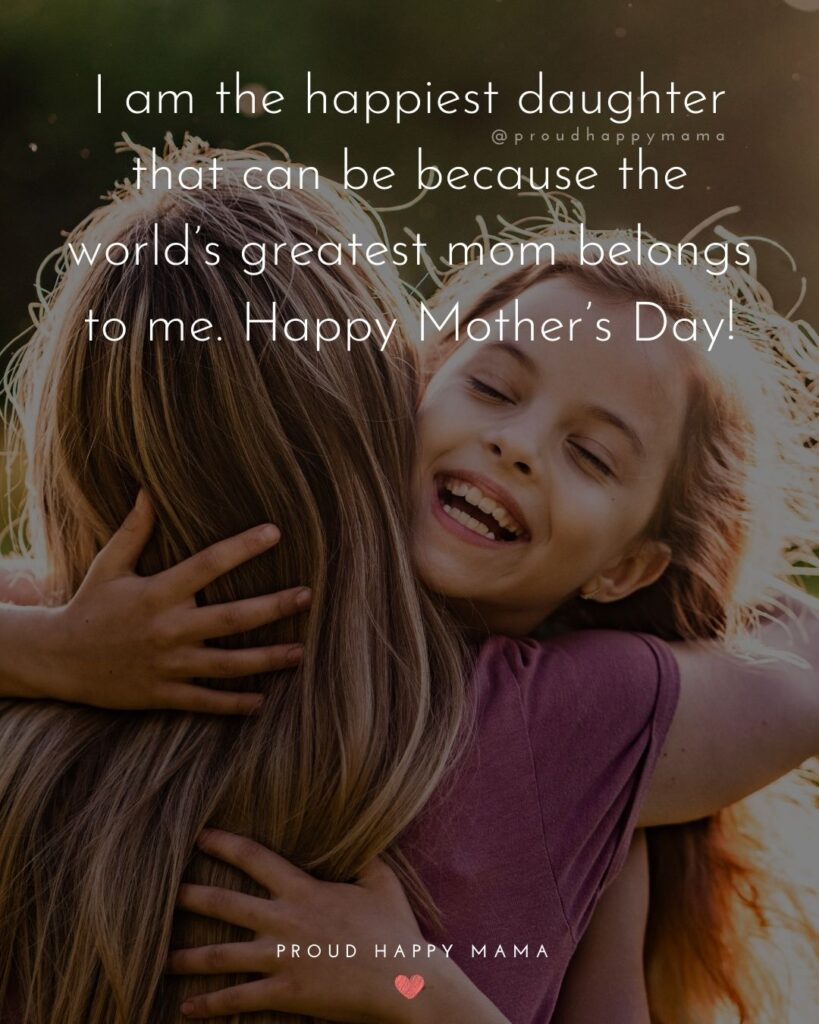 'I am the happiest daughter that can be because the world's greatest mom belongs to me. Happy Mother's Day!'
'You are the best mom a daughter could ever wish for. I love you with all my heart. Happy Mother's Day!'
'Happy Mother's Day! I am so much of what I learned from you. Wherever I go, you'll always be with me, like a handprint on my heart. Love your daughter!'
Happy Mother's Day! I am so grateful I am the lucky one that got to be your daughter.'
QUOTES FOR MOTHERS DAY FROM DAUGHTER
'On this Mother's Day, I wanted you to know what a true blessing having a wonderful mother like you is! Thank you for all that you do. I am so proud to be your daughter!'
'This Mother's Day, I want to wish my beautiful mother a happy Mother's Day. You are my best friend, my confidant, and an incredible mom. You bring so much love and happiness into my life. I am so grateful to be your daughter!'
'Happiness is being your daughter. Happy Mother's Day!'
'Happy Mother's Day! Thank you for being such an important part of my life. I am one very lucky daughter!'
'My beautiful mom, as your daughter I might not tell you every day, but every day I am so grateful for you. You are my inspiration. Happy Mother's Day!'
HAPPY MOTHERS DAY WISHES FROM DAUGHTER
'What an honor it is to be your daughter! Wishing you a day filled with as much love and happiness as you fill my life with every day. Happy Mother's Day!'
'You are the best mother I could have ever asked for and I am so proud to be your daughter. I love you so much and wish you a Happy Mother's Day!'
'You are the best example of how all mothers should raise their daughters! Happy Mother's Day to the best mom I know!'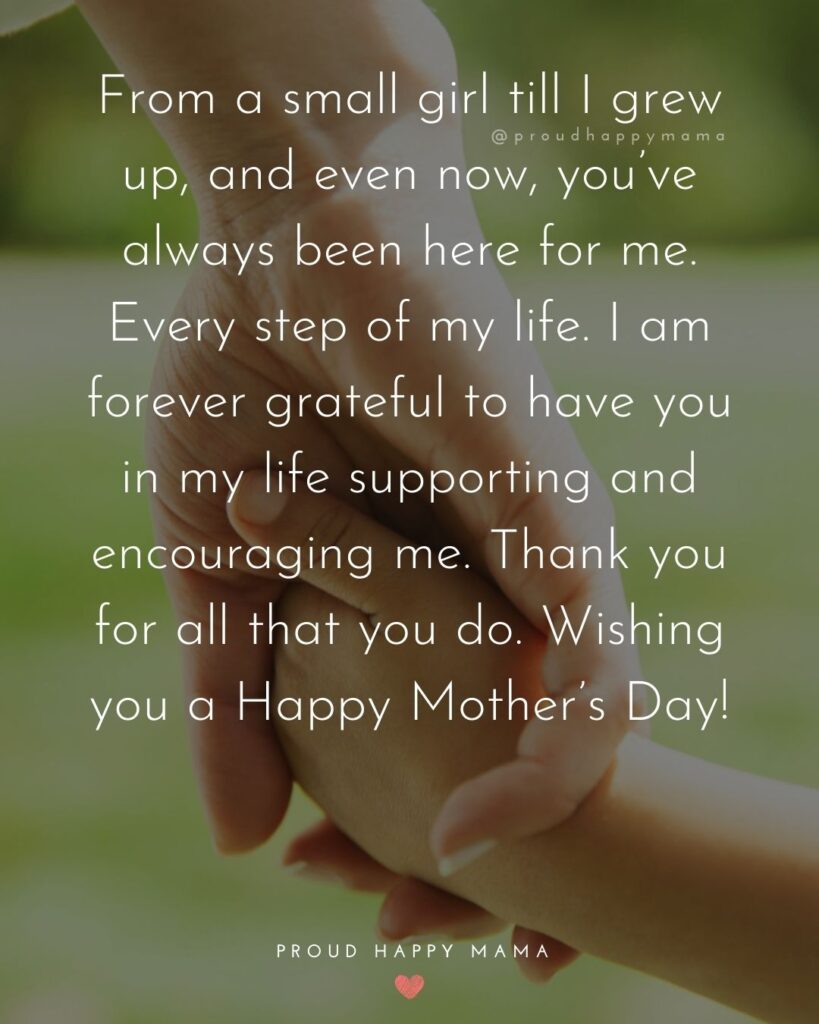 'From a small girl till I grew up, and even now, you've always been here for me. Every step of my life. I am forever grateful to have you in my life supporting and encouraging me. Thank you for all that you do. Wishing you a Happy Mother's Day!'
'If I could choose any mom in the world, it would still be you! Wishing you a very Happy Mother's Day!'
MOTHERS DAY QUOTES FROM DAUGHTERS
'Happy Mother's Day! You are appreciated and very much loved by all your daughters.'
'To my mom, wishing you a very special Mother's Day. Thank you for always being there for me and my siblings.'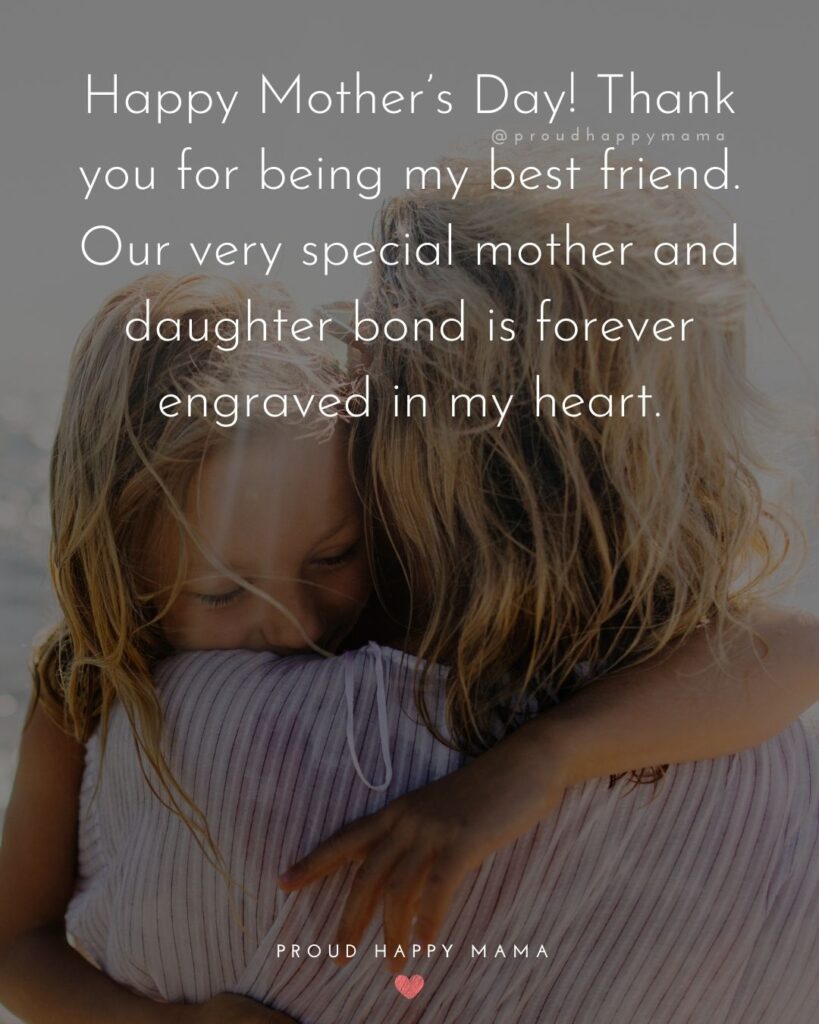 'Happy Mother's Day! Thank you for being my best friend. Our very special mother and daughter bond is forever engraved in my heart.'
'They say mothers and daughters are a powerful force to be reckoned with…and I think they are right! Happy Mother's Day my strong, powerful, and amazing mom!'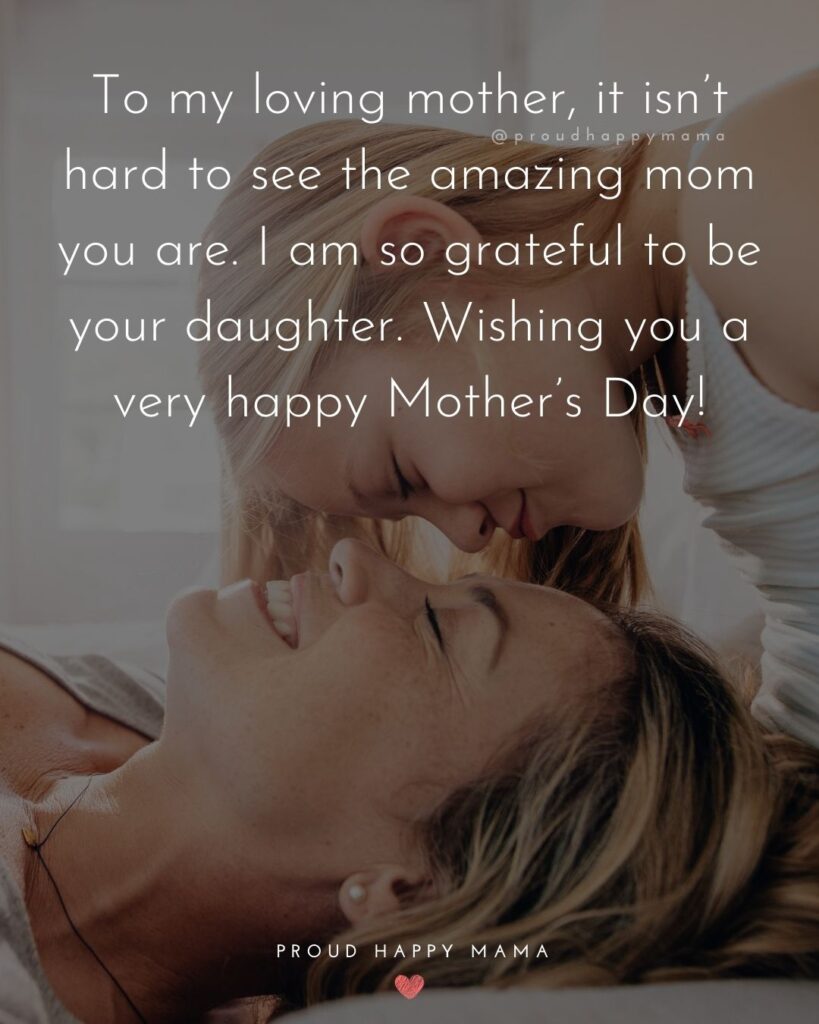 'To my loving mother, it isn't hard to see the amazing mom you are. I am so grateful to be your daughter. Wishing you a very happy Mother's Day!'
QUOTES ON MOTHERS DAY FROM DAUGHTER
'Happy Mother's Day! Today we celebrate you and all that you have given to our family. Because of you I and the person I am today, and I am forever grateful. Love your daughter!'
'There is nothing more special to me than our mother and daughter bond! I love you forever and always. Happy Mother's Day!'
'I am forever grateful that I am your daughter! Happy Mother's Day Mom, I love you!'
'Happy Mother's Day! I know as mother and daughter, we might not always see eye to eye, but we'll always see heart to heart!'
'Happy Mother's Day! You fill all our hearts with love and our lives with happiness. I want you to know how much you mean to me, your daughter, today and always!'