Halloween Wedding Invitations Theme Ideas & Decorations
Halloween Wedding Invitations: When it comes to unique wedding themes, Hallow-weddings—as some are calling them—are not as wacky as your old-school family members might think. You have to admit: The whole "Till death do us part" bit is kind of irresistible. And Halloween wedding invitations are about as personalized as they come. Whether you're proudly goth, passionate about old-school horror movies or just love decorating for Halloween, your choice of Halloween wedding stationery will set the stage for an event that is as unique as your love story. Choose from complete wedding suites that are custom-designed and require up to four months to receive, or buy a digital file to personalize online and text out to the guest list in an instant. Here are just a few frightful favorites to get the pumpkins rolling.
Halloween happens to be one of my favorite times of the year. Pumpkins, ghosts, gouls, and a high scary factor all play into making this annual Fall event a real treat for kids and grownups alike!
When done right, a Halloween wedding can be dark, entrancing, elegant, and super romantic. A few elements you can consider incorporating into your vision include:
Dark color palette
Textured rich fabrics
A moody atmosphere
Black lace accents
Caramel apples
Pumpkin decor
Trick or treat favors
…and candles galore!
Hosting a wedding celebration at Halloween time is a unique affair. Grandma might need more convincing, but I sure don't! Now let's get to the spooky Halloween wedding stationery goodness below.
Halloween Wedding Invite Ideas
Halloween weddings are not the most conventional of themes. You may have to search a little harder to set the right tone, especially when it comes to wedding stationery as Halloween themed invites can be difficult to find.  In fact, our go-to online stationer that we normally suggest (Minted), came up completely short with regards to Halloween wedding invites.
Halloween party invites on the other hand are a completely different story.
If you are stumped with where to start looking, try online shops like PurpleTrail, Zazzle, Etsy and Invitation Consultants.
From the looks of the online Halloween wedding invites we browsed, the design style spectrum ranges from boo-tiful, dark and elegant to throwing a cheesy spooktacular event.
Depending on the soiree you envision, finding something to fit the vision is totally possible. We decided to pull a few of our favorites for a list of top freakishly awesome Hallowedding invite picks.
After all, 'till death do you part' takes on a whole new meaning at Halloween time! 😉
1. Hallowedding Invite
Format: Standard
Dimensions: 5″ x 7″ Paper Size
Envelopes: Included
This Halloween wedding invitation has a little bit of a Nightmare Before Christmas feel.  It would match a fun hallows-wedding bash that plans on incorporating actual Halloween decor elements like pumpkins and spider webs.
2. Gothic Invitation Suite
For a more formal option that's equally eerie, look towards something like this Gothic invitation suite pictured above. A hand-painted dark watercolor design offers a tasteful appearance that still lends itself to the dark side. If you are leaning towards more of a moody, romantic wedding style with a Gothic feel (and less actual Halloween decor), something similar to this invite would do the trick.
Format: Standard
Dimensions:  5″ x 7" Paper Size
Envelopes: Not Included – Digital Product
3. Pumpkin Laser Cut Gatefold Invite
Format: Standard
Dimensions:  5″ x 7" Paper Size
Envelopes: Included
What can I say about this laser cut Halloween invitation suite. For some reason it brings to mind images of Cinderella — perhaps it has something to do with the big iron gate and the pumpkins! Either way, this invite lends itself to something more formal and elegant as opposed to dark and spooky.  If you are planning on having an elegant fall wedding in a more formal space with the beautiful addition of pumpkin decor accents, this invitation could be a beautiful option.
P.S. You can choose between 26 invite paper colors.
Check out this elegant fall wedding featured on our wedding blog, which may suit this Halloween stationery suite quite nicely.
4. Black Rose Invitation Suite
Format: Standard
Dimensions:  5″ x 7" Paper Size
From the outset it appears to be a formal wedding invitation with beautiful design details and a little bit of darkness to it. However, look a little closer and you will see that this formal wedding invite in disguise is for a Hallowedding!
Fitting for an elegant Halloween wedding, don't you think?
5. Til Death Do us Part Halloween Wedding Invite
by WowWowMeow
Format: PDF Printable
Dimensions:  3.3″ x 7" Size
Make Tim Burton proud with this Til Death Do Us Part Halloween wedding invite. A whimsical ticket format and eccentric style fits perfectly into a Halloween wedding. Incorporate black and orange touches, skulls, pumpkins and some goolish favors.
For some fun inspo check out this Halloween Eve Wedding with Tim Burton Style Cake that we featured.
6. Chic Black Stripes Wedding Invitation
by Zazzle
Format: Standard
Dimensions:  5″ x 7" Paper Size
Envelopes: Included
This chic black stripes wedding invitation exudes Kate Spade style. Crisp colors, graphic prints, and playful sophistication are the hallmarks of Kate Spade New York, an your wedding style will similarly match with this invitation.
This suite lends itself to a blank canvas where you can add your own exuberant personal style and have a wedding theme with incandescent charm. Just don't forget to throw in a couple of pumpkins!
This black and white striped real wedding we featured on the blog comes to mind for this invite.
7. Day of the Dead Wedding Invitation
Format: Standard
Dimensions:  5″ x 7" Paper Size
Envelopes: Included
No Halloween invite round up would be complete without a "Dia de los Muertos" (Day of the Dead) themed invite.  Although technically it lands on November 2nd (two days after Halloween), Day of the Dead is still a fun theme that seems to pop up from time to time. Think bright pops of color, sugar skull, masks, and a big celebration.
Check out this Day of the Dead Themed Wedding for some mega inspo!
8. Skeletons
by Katie Zimpel
Format: Standard
Dimensions:   5″ x 7″ Paper Size
Envelopes: Included
Another nod to a Day of the Dead style invitation, this wedding invitation is morbidly playful and includes your pets. The message of Until death do us part may not be to everyone's taste. But for those of us with a quirky personality that embrace all things Hallow's Eve, it definitely has an appeal!
Halloween Themed Wedding Inspiration
Over the years we've featured many fantastic real weddings and styled shoots with Halloween themes. The two styled shoots that instantly come to mind for beautifully incorporating Halloween decor to create a spooktacular masterpiece are here:
Happy Heart Invites Til Death Fall Pumpkin Orange Black Wedding Invitation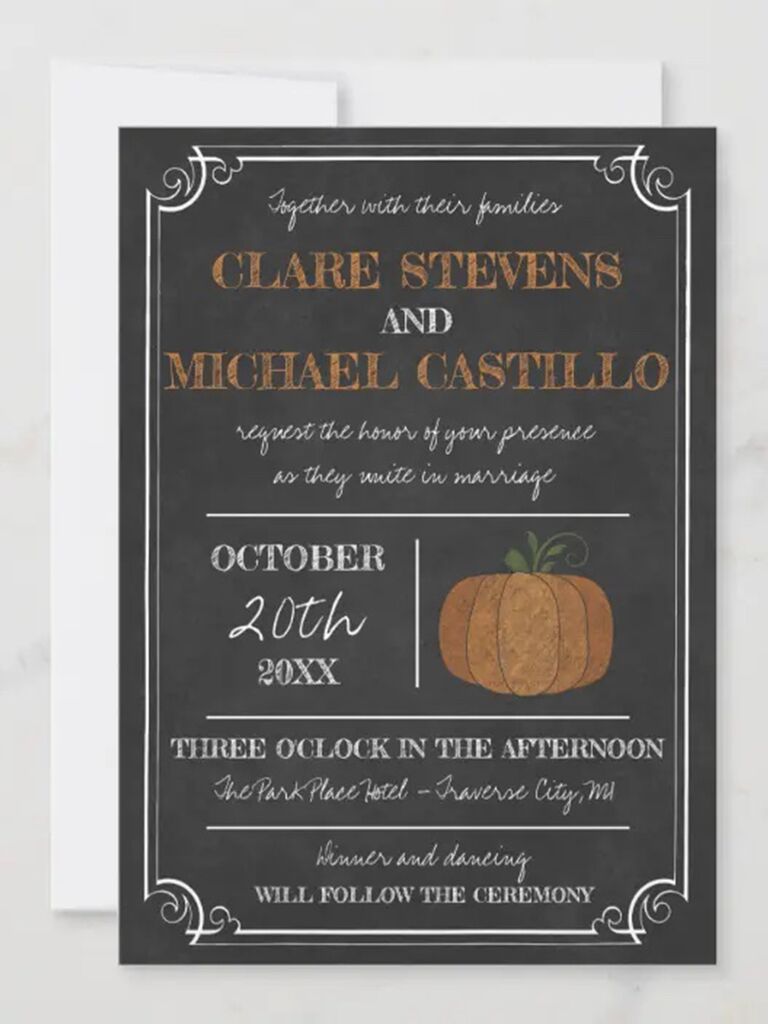 Chalkboard invitations—and chalkboards in general—give an undeniable DIY vibe to any wedding theme. This fall pumpkin chalkboard invitation suite can be purchased as an invitation only, or alongside coordinating RSVP cards for easy tracking. You can also create matching stickers and labels to make favors and programs a breeze.
Designed by Idka Coffin and Red Roses Invitation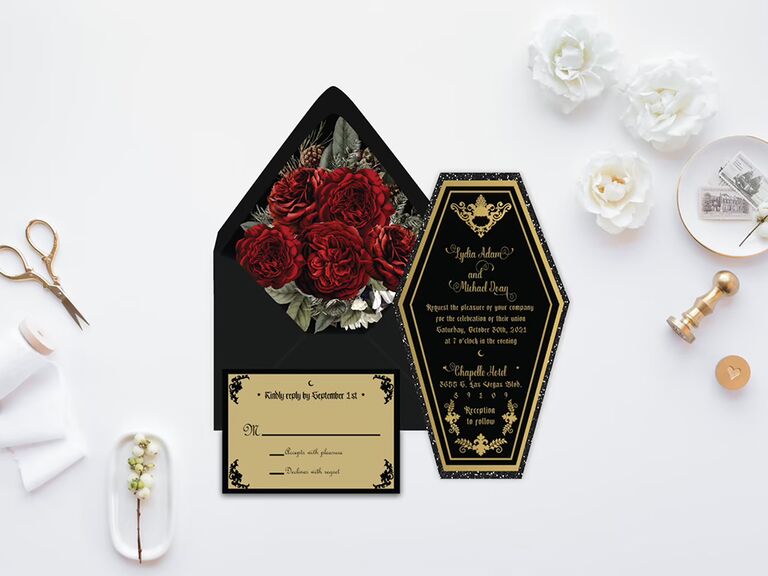 Is it just us, or does Bram Stoker's Dracula comes to mind with this coffin and roses wedding invitation? Matching RSVP cards are definitely a worthy upgrade in our book. Keep in mind—these beauties take three to four weeks to print, so plan accordingly.
Party Peeps Black and Orange Floral Gothic Wedding Invitation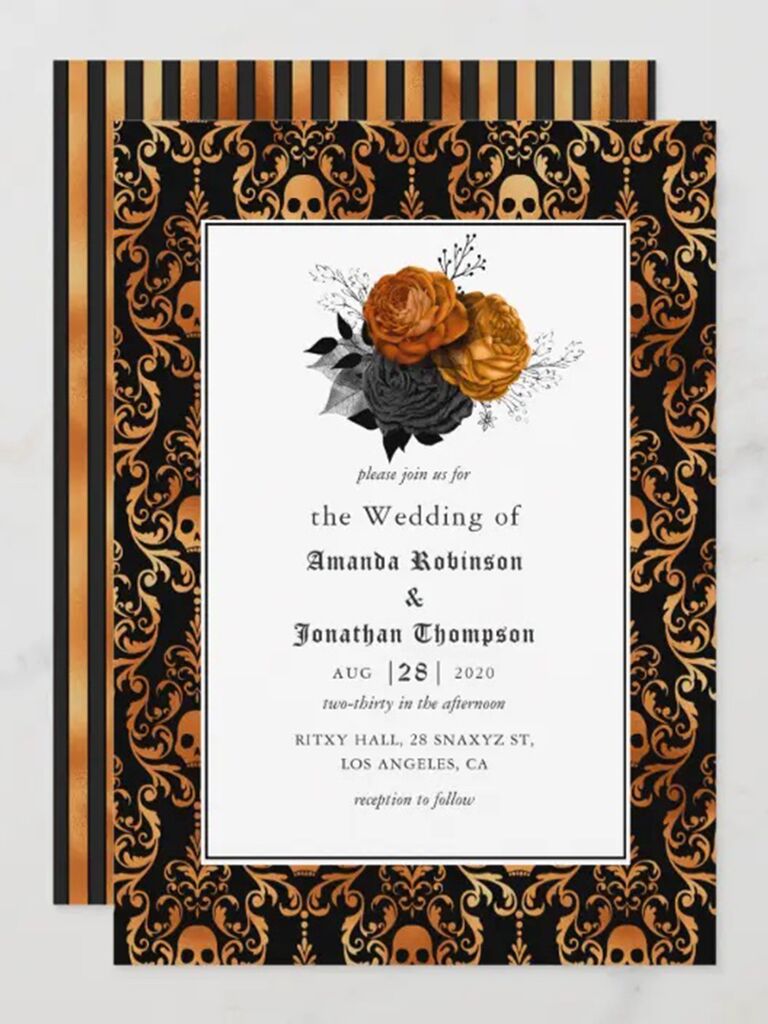 These invitations had us at the skull damask background but won us over with their simplicity, brilliant pricing and speedy two-day shipping. Team them with custom orange envelopes for a truly spooky scene.
Rustic Weddings Pumpkin Elegant Fall Floral Rustic Themed Wedding Invitation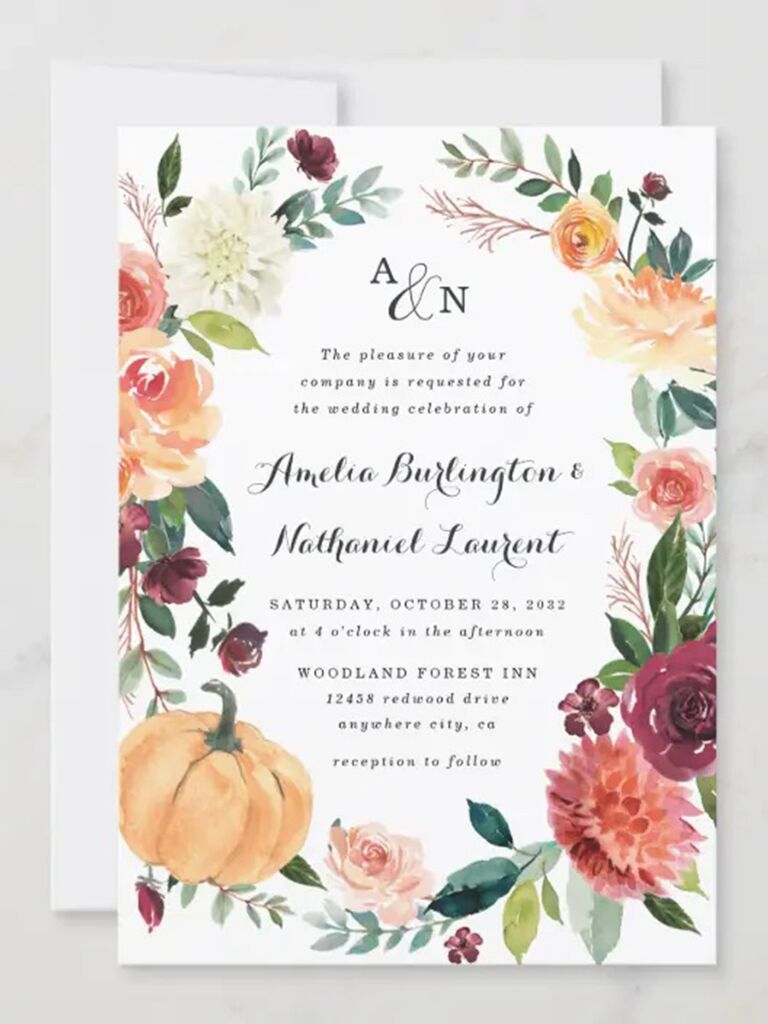 Classic fall florals are anchored with a seasonal pumpkin for a whimsical Halloween harvest-themed wedding. Personalized stickers, napkins, programs, RSVPs, labels and enclosures are also available to coordinate your entire celebration from start to finish.
The Painted Papier Ava Printable Dark Moody Floral Wedding Invitation Template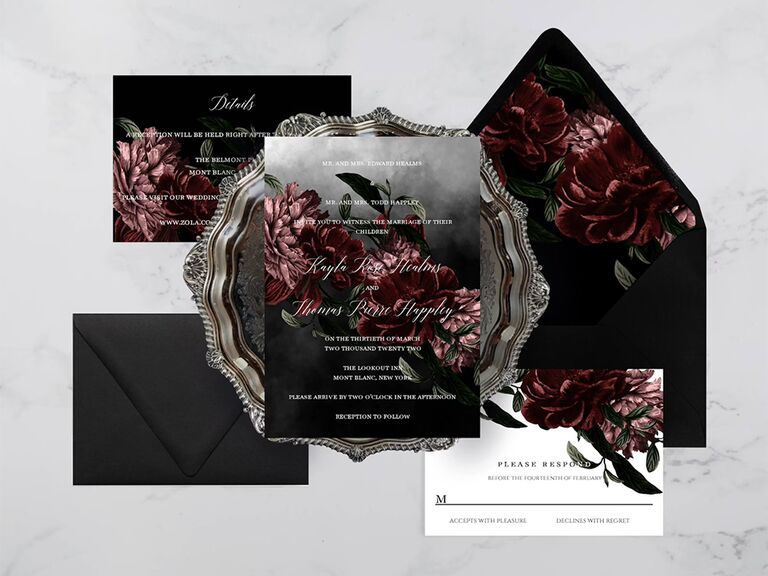 The black and gray background on these invitations makes the deep burgundy-pink peonies pop for a moody, gothic Halloween wedding invitation. No software or apps are needed to customize these beauties—just purchase then personalize the digital design through a special link right online. Download your final invitation, insert and RSVP card creations and print them wherever and however you'd like.
Midnight Revels Gothic Red and Black Invitation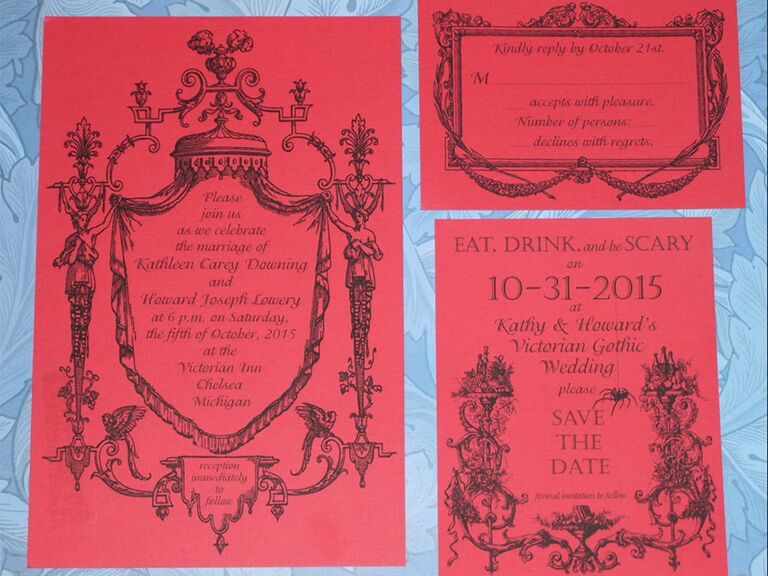 This blood-red linen cardstock and spooky Victorian rococo set includes an invitation plus RSVP card with envelopes and a save-the-date or insert card. Customize each as you see fit but prepare to wait a while to get them. In fact, start this process at least four months before the wedding date to be sure you can get your save-the-dates out to guests several months in advance.
Midnight Revels Haunted House Wedding Invitation
Haunted houses are synonymous with Halloween, making these invitation cards a perfect marriage for a Halloween wedding (pun intended). The matching envelopes feature a cheeky skeleton leaning on a headstone with the address of the recipient inscribed. RSVP cards, save-the-date cards and envelopes complete this frightful suite. Oh, and be sure to check the pricing options—there are a bunch of different package configurations to choose from, including a large scroll!
Color Quarry Halloween Retro Sci-fi Letterpress Wedding Invitation Suite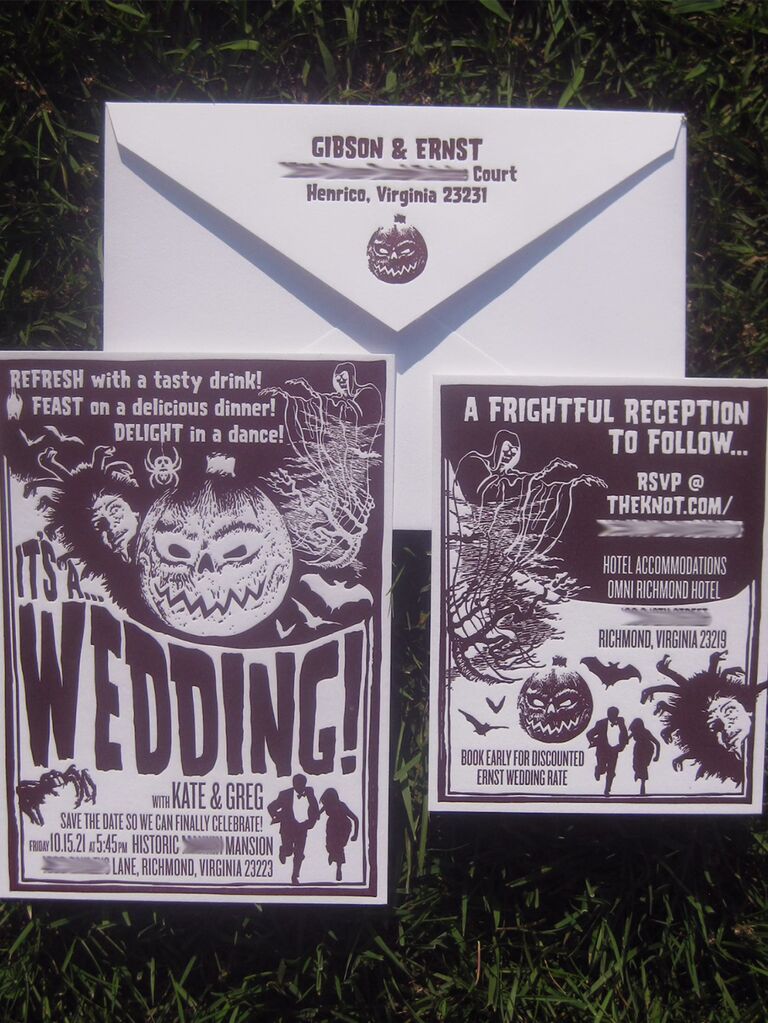 These custom invitations look like a classic monster movie poster and are about as kitschy-cool as wedding invites can get. Plus, the fact that this set is letterpressed on matte paper with ink in any color your Halloween-loving heart desires makes them feel fancy, too. Work directly with the designer to create any additional pieces you can think of, from place cards and menus to maps and lodging cards—you can even feature specific movie characters.
My Design Studio Halloween Wedding Invitation Flat Card Pumpkin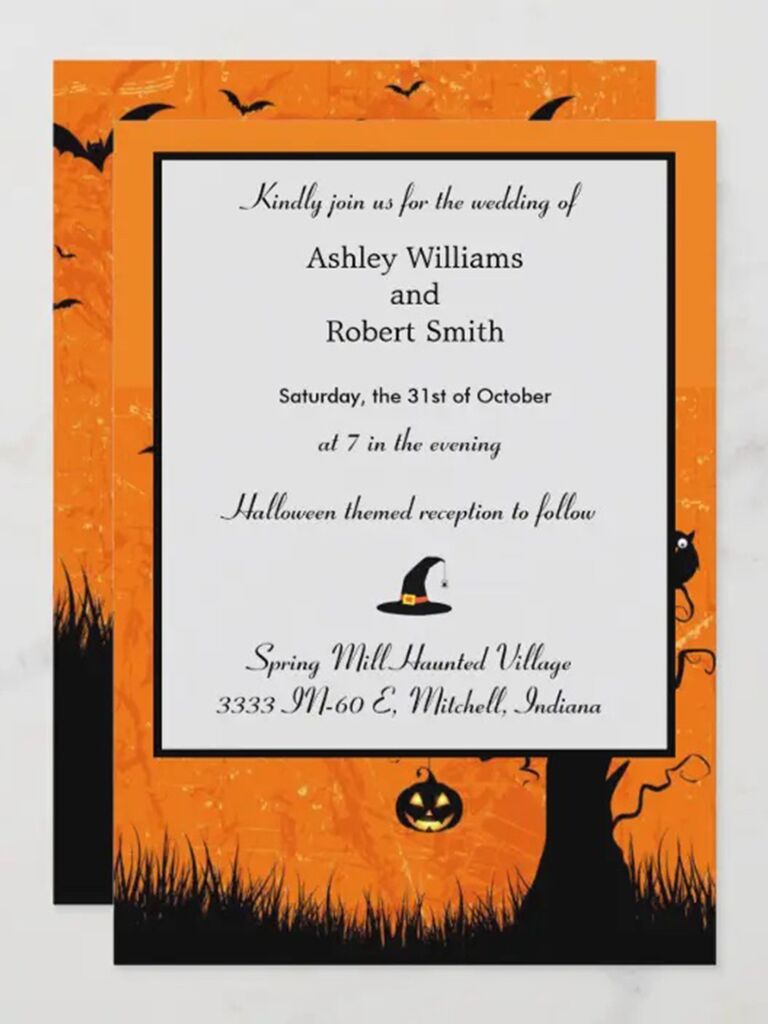 A witch's hat, a jack-o'-lantern, bats and a creepy tree set the stage for this Halloween-themed invitation. Personalize the design with all of the need-to-know details for your monster bash, including how to RSVP and where you've registered.
Designed With Amore Laser Cut Gate Wedding Invitation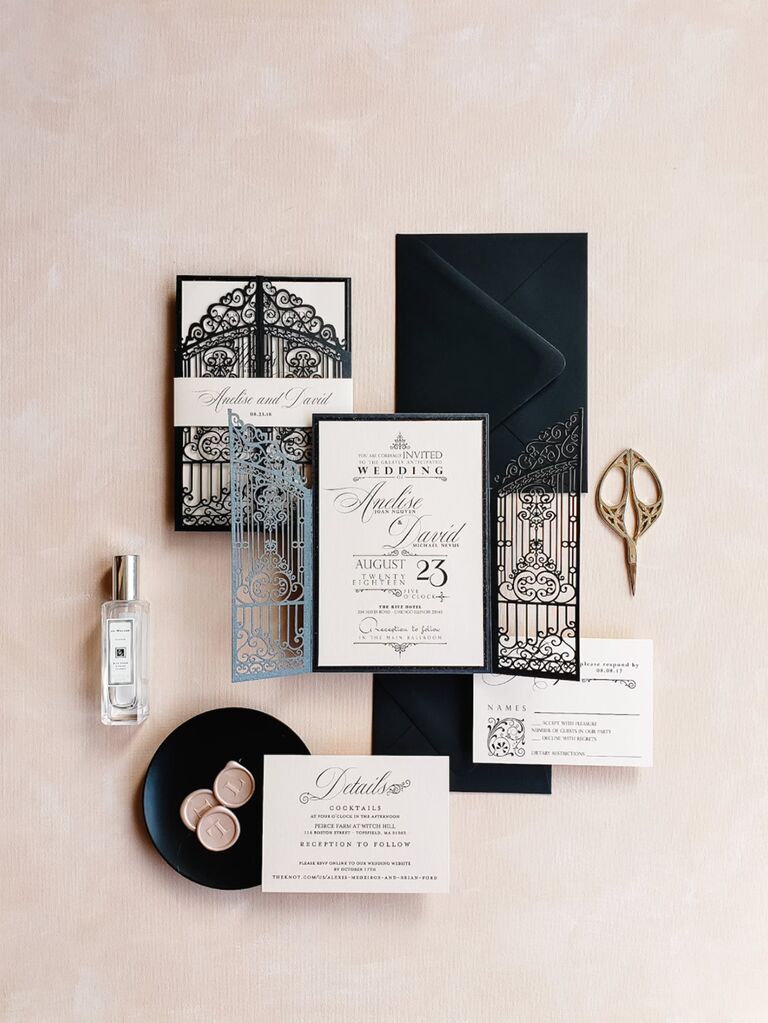 These laser-cut wrought iron gatefold invitations exude all of the romantic gothic cemetery vibes. Did we mention that it comes with a customized wax seal? Upgrade the suite with RSVP cards and info cards and a printed band to wrap around the whole suite, or work with the seller to customize any other coordinating pieces to help your celebration stand out.
Punk Pock Designs Masquerade Wedding Invitations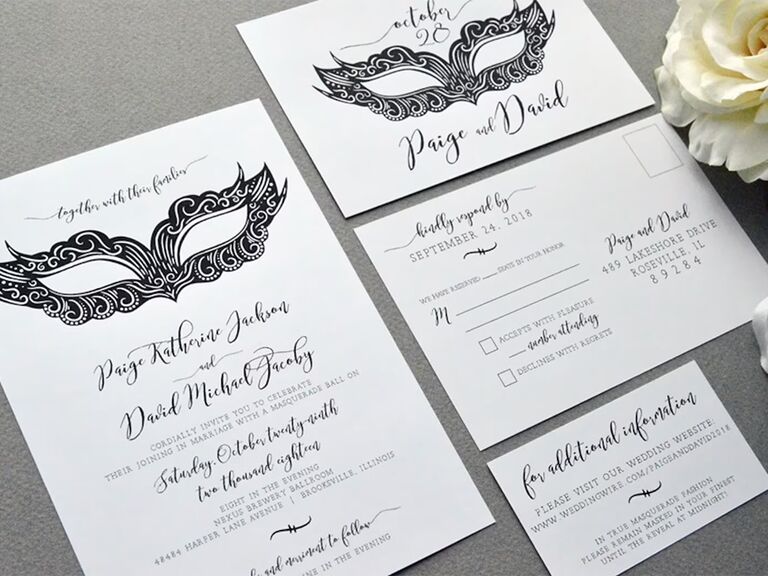 Fancy a masquerade ball? These invites are a great way to get guests excited for your masked bash. Customize the wording and color palette, and add extra pieces of stationery—printed or digital—upon request.
The Knot Invitations Elegant Typography Wedding Invitations
Not to toot our own horns, but we know a thing or two about wedding invitations here at The Knot. So if you choose this minimal black and white invitation, don't let its simplicity deceive you. You can customize the colors and wording, add photos or leave the cards clean and simple. Bonus: The suite comes with several coordinating pieces, like a guest book, gift tags, thank-you cards, envelope liners and more, so tying your whole day together visually is super simple.
Vo Handmade Black and White Wedding Invitation Suite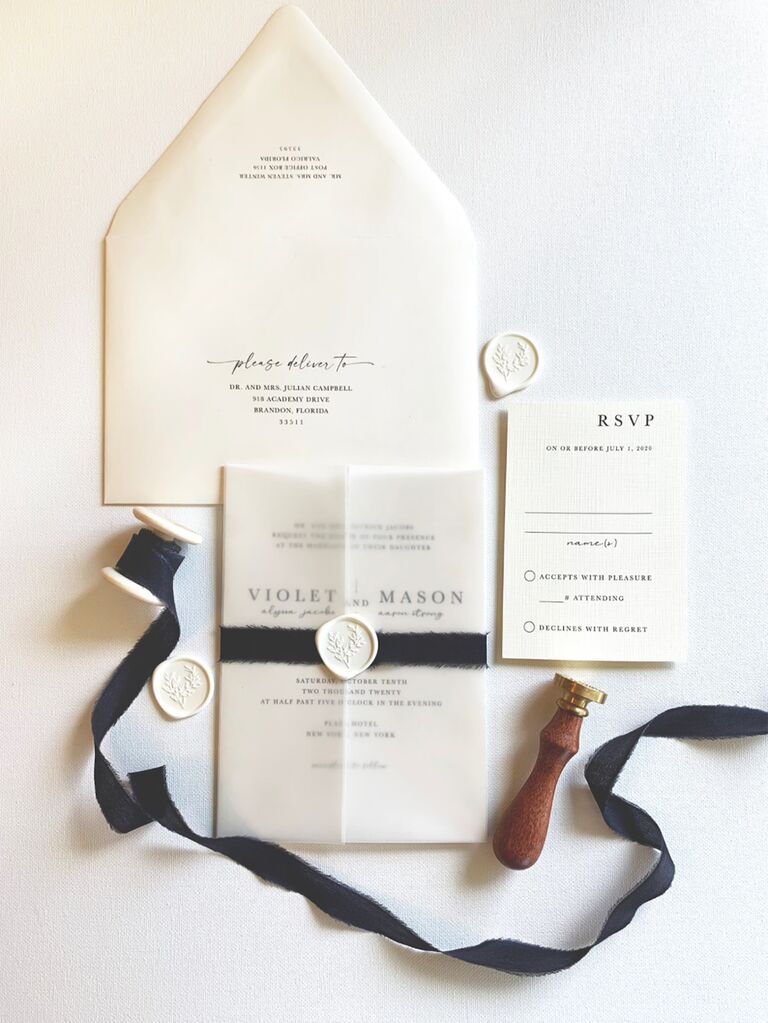 We absolutely love this gorgeous, classy parchment and quill-inspired stationery suite. It's timeless and old-fashioned and would feel right at home at an elegant but eerie Halloween-themed wedding. The included wax seal, frayed black ribbon band and ghostly velum wrap are the final nails in the coffin—in a good way!
Bird House 197 Printable Tarot Card Invitation Sun and Moon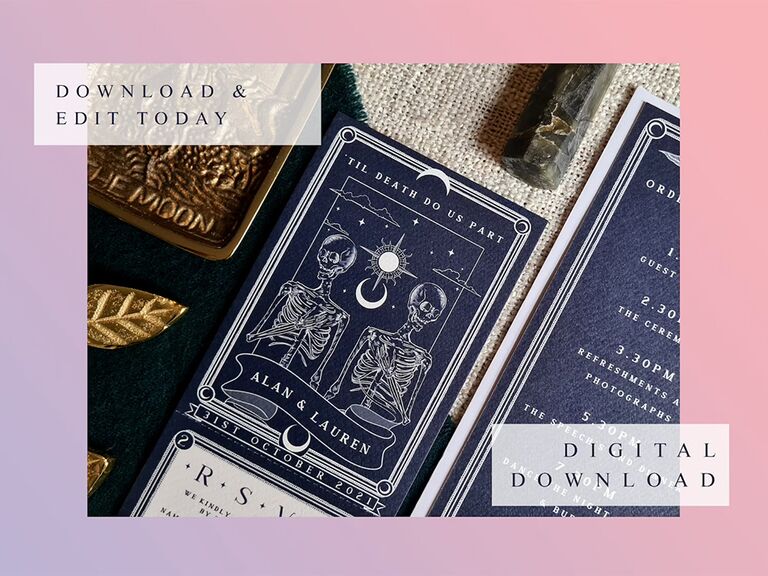 Instantly download these mystical invitations for a goth wedding unlike any other. Four photoshop files arrive in your inbox to fully customize and print as you see fit. Carry the tarot theme to your party by hiring a card reader to entertain guests during cocktail hour.
Chic Paperie Autumn Orange Gray Watercolor Wedding Invitation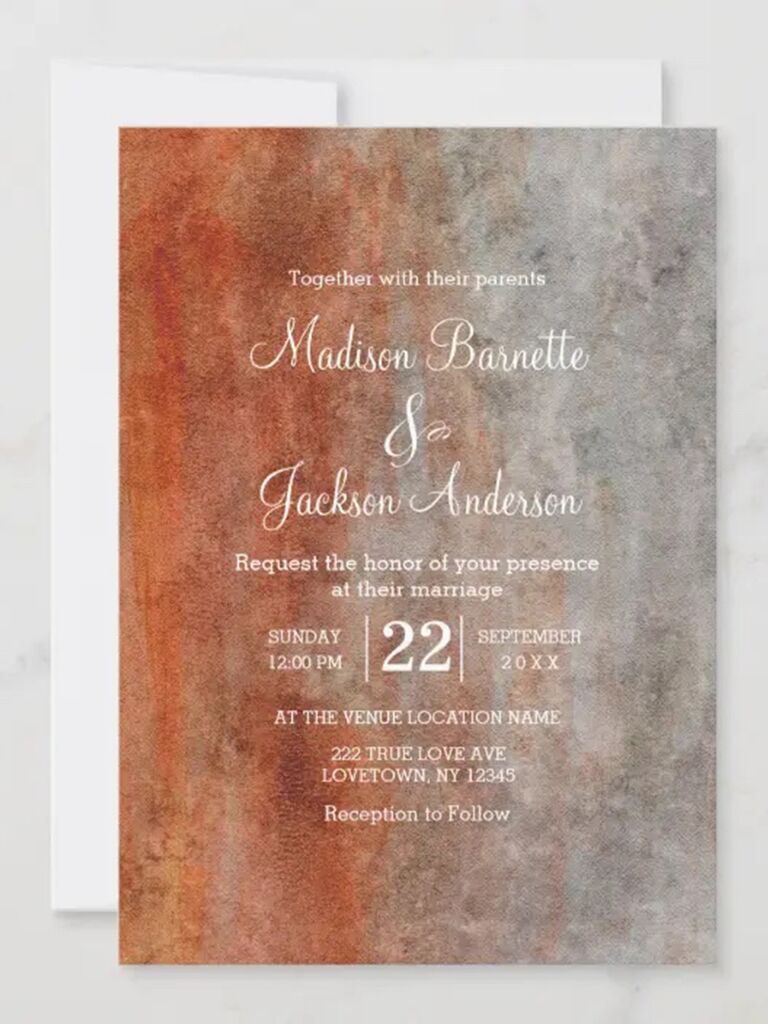 Watercolor wedding invitations are all the rage this year and this Halloween-inspired design lets you go all-in on the trend. You can customize the font style and color as well as a slew of other details including a kraft paper option perfect for the fall season.
Perpetual Dabbler Dark Skeleton Printable Wedding Offbeat Invitations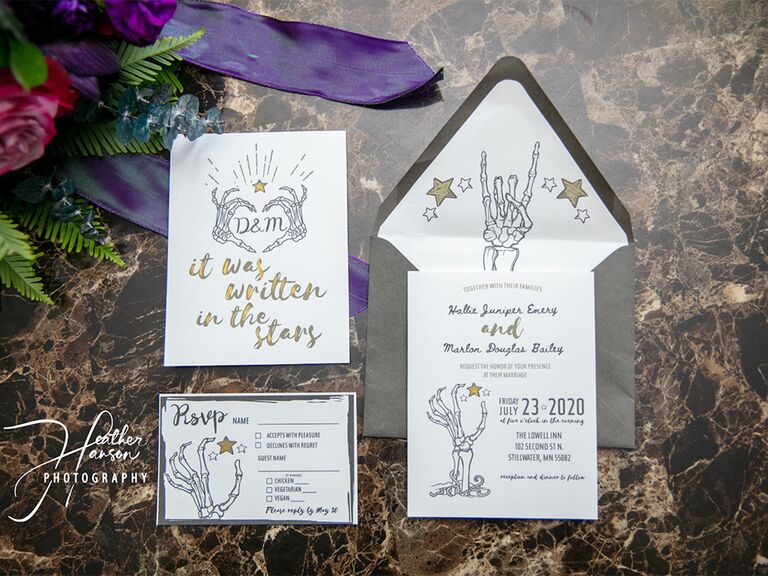 It doesn't get cuter than this skeleton monogrammed suite. Upon purchase, the designer will send two options for the back of the card and an envelope liner design before customizing the invitation and RSVP card with your event details. Once the proofs are approved, you'll get a PDF and JPG to print, post or otherwise spread far and wide.
Design By Wendy2 Gothic Wedding Invitation Suite with Raven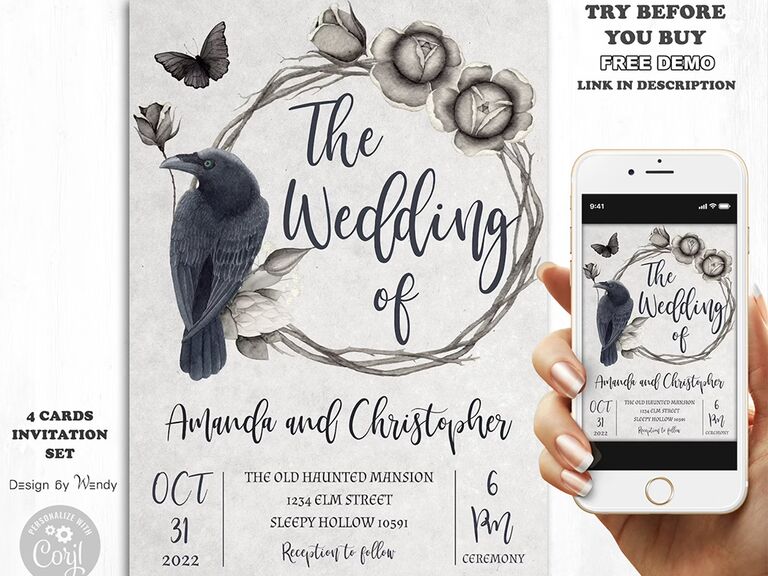 Another printable Halloween wedding invitation gem, this set of instant downloads comes with the ability to personalize and print an invitation front and back, a details card, an RSVP card and a thank-you card. Once the digital files are in your hands, all you have to do is text, post or email them. Or print them on your choice of paper, and send them out the old-fashioned way.
Wow Wow Meow Wedding Invitations Ouija Set Template Tarot Package Printable Invites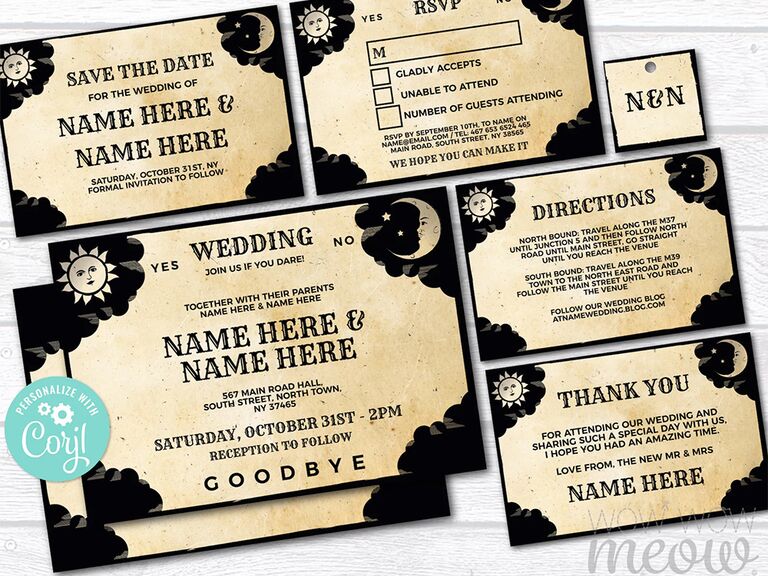 Ouija board wedding invitations are not for the faint of heart. Conjure the spirit of holy matrimony with this digital download suite that includes an invitation card, response card, insert, save-the-date and seemingly endless customizations. The best part? You don't need any special programs to customize these instant downloads. Follow the link you receive after purchasing and start personalizing online, then click for your instant download and print at home or a local print shop for quick invitations with lots of character.
Uniquely Inviting Simply Meant to Be Invitations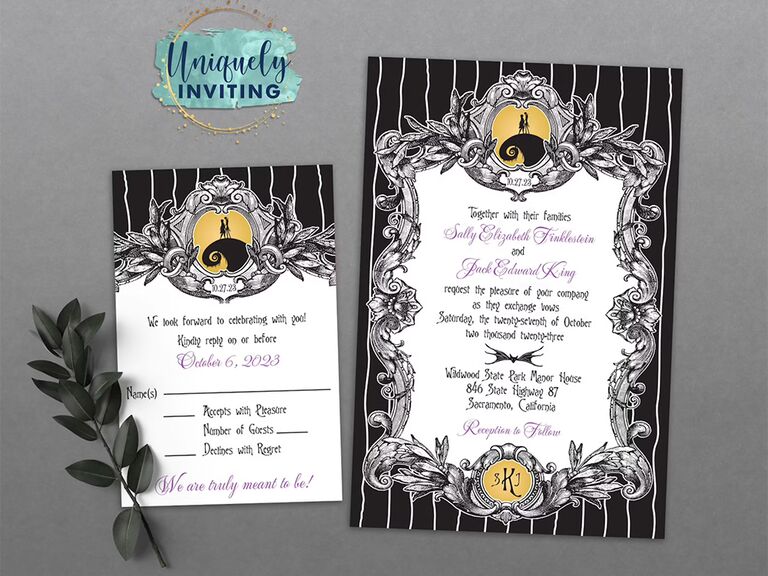 Tim Burton's Nightmare Before Christmas is full of quirky romanticism and so are these invitations. Choose from tons of colors and fonts to give them even more personal flair. The seller also offers loads of options to build out the ultimate Nightmare Before Christmas-themed wedding like favor boxes, programs, labels and beyond.
Uniquely Inviting Frankenstein Invitations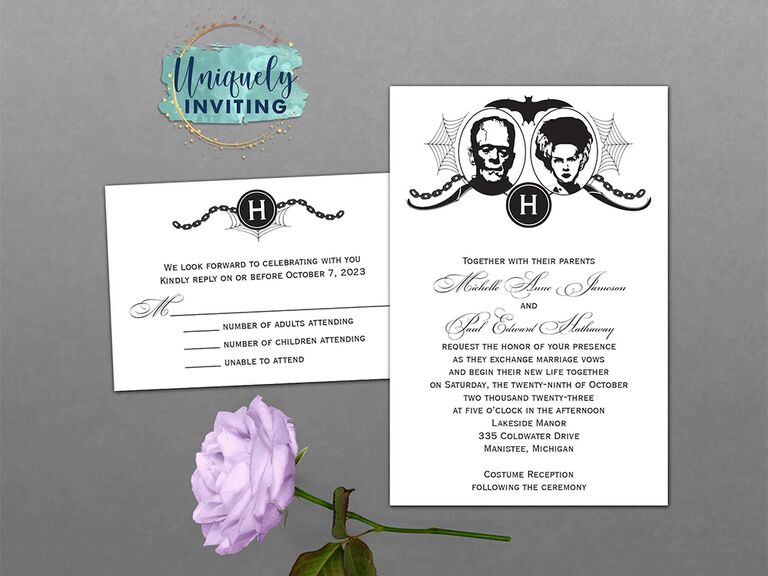 One of the most classic monster romances of all time, Frankenstein, is brought back to life (again) for your costume party wedding inspiration. This clever design features spider webs, bats and chains, along with a classy monogram that can be printed in over 80 colors. The customizable wording can also be designed in so many font options that we lost count, all but ensuring no one will ever have exactly the same invitations as you.
Shimmering Ceremony Day of the Dead Pocket Wedding Invitation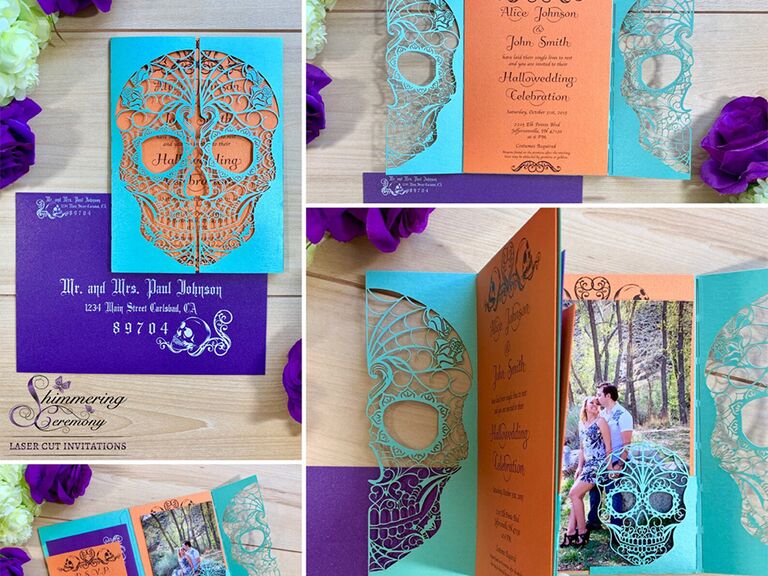 If a more festive and colorful fall wedding feels right, then this Day of the Dead (also known as Dia de Los Muertos) invitation set will set your spirits free. It comes with a personalized laser cut skull pocket folder with mounted invitation and envelope, RSVP card and a details card or photo card. Upgrades abound, as well as customization of colors, papers and fonts.