Halloween Table Decor: Halloween is not age-restricted-even for design enthusiasts. Whether it's a coffee table with a centerpiece and a few decorations scattered about or a long table with plenty of seats for everyone, every gathering needs a beautiful tablescape. Orange-and-black decorations are always festive, but opting for a more elevated look is just as impressive. Are you looking for decor ideas for your Halloween party? Here are some of our favorite Halloween table looks for every style, from dark and eerie to bright and cheery.
This adorable gnome is ready to celebrate the season of spooky! Wearing a long pointed cap adorned in black glitter and a creepy orange spider, he holds up a flag banner that reads "Halloween". Sculpted with a white beard and charming round nose, he's a delightful seasonal addition to a mantel, table or shelf.
It is so fun to decorate tables for any season…but one thing I enjoy about Halloween is that you can get a little whimsical without raising eyebrows!  You can find plenty of ways to dress a tabletop that's perfect for your dinner party, regardless of whether you go all-out spooky or just want to add some festive color!  I'd like to share with you a fun centerpiece idea that uses recycled decorations!  I love recycling, and it can certainly stretch your budget!  To go along with that centerpiece, I have set up a simple and whimsical Halloween table to serve up some holiday sugar…so join me and my 8 legged friends for some sweets!  A spider came along to say hello!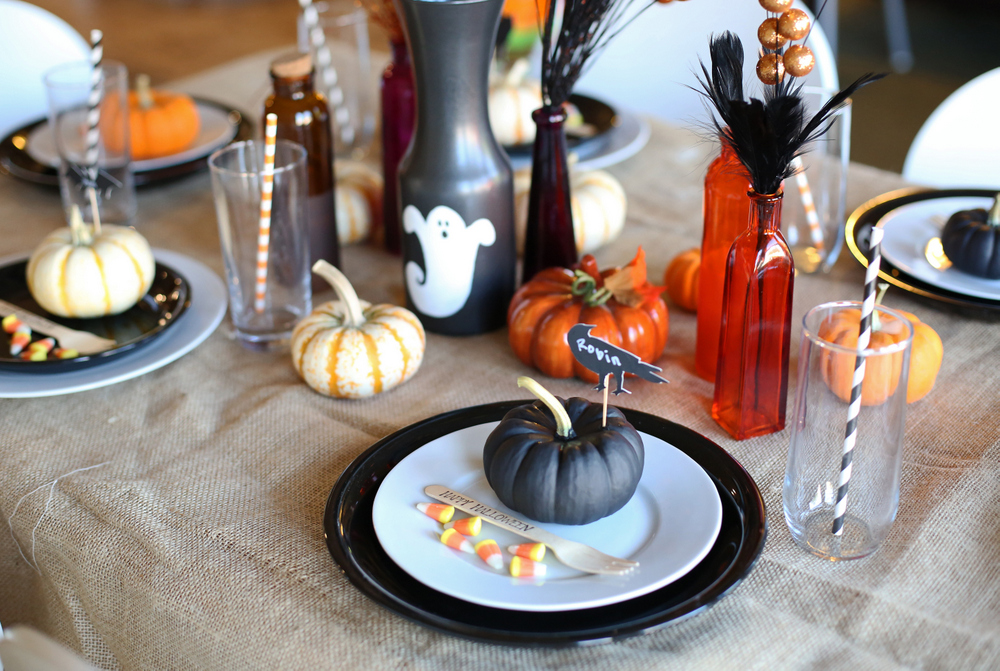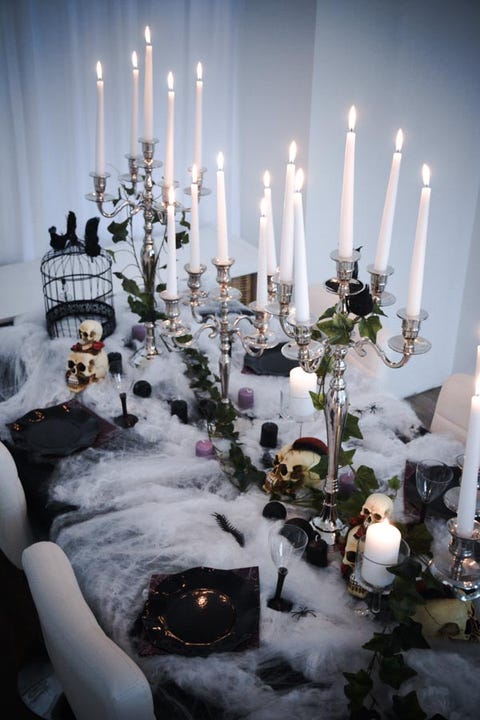 It's time for Halloween treats!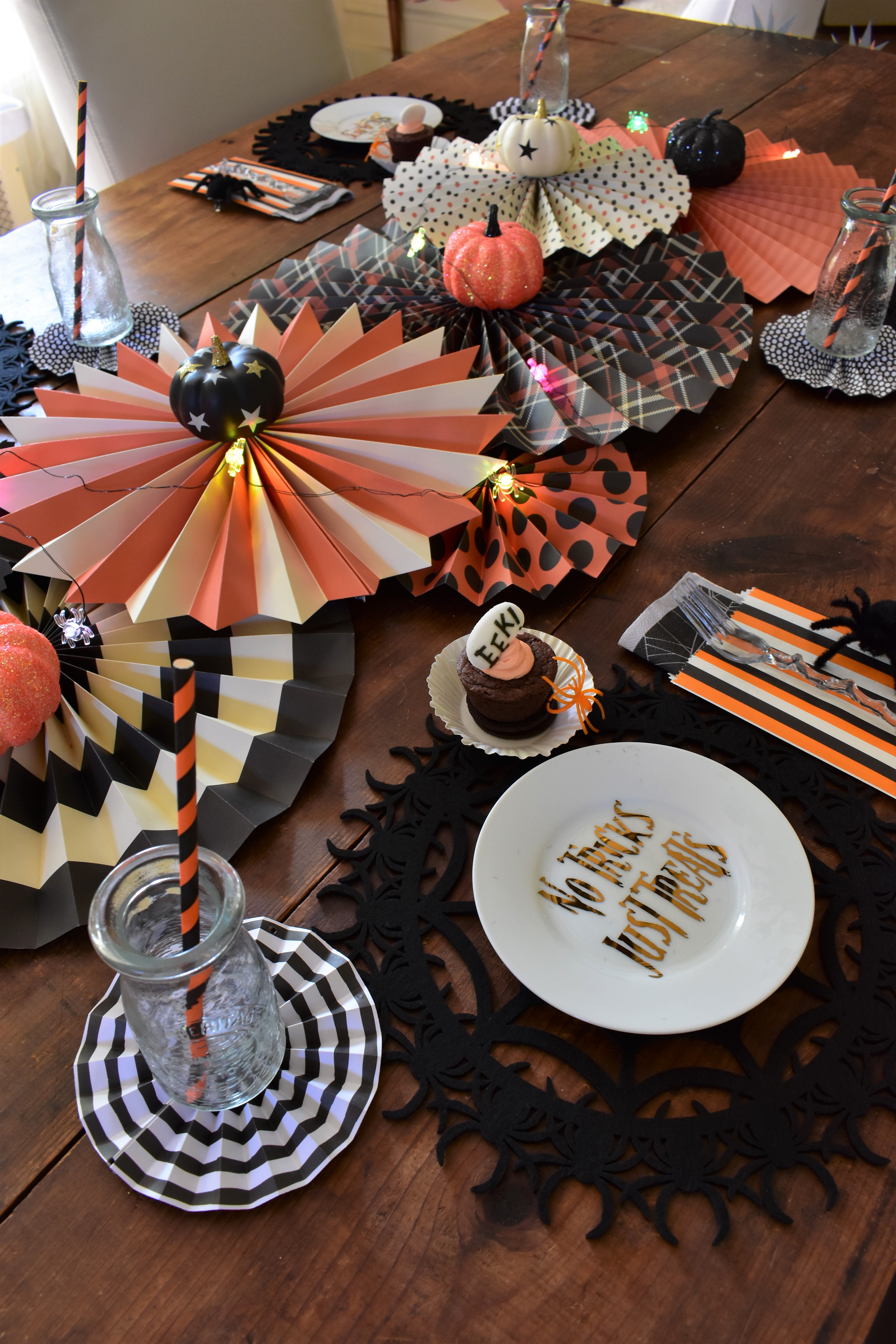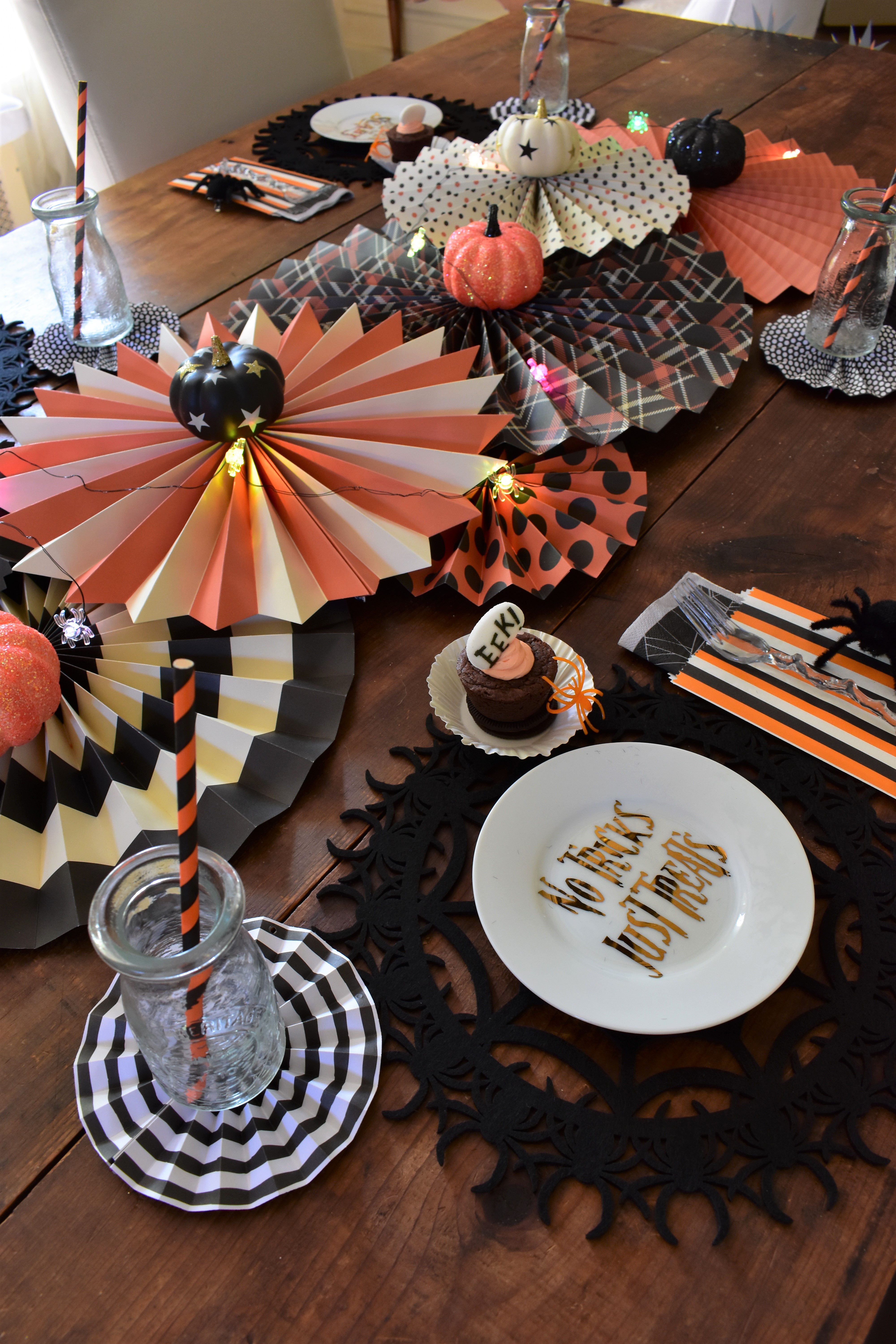 the inspiration for a party theme can come from the simplest thing…these adorable, spiderweb place mats are what got the ball rolling for my table decor!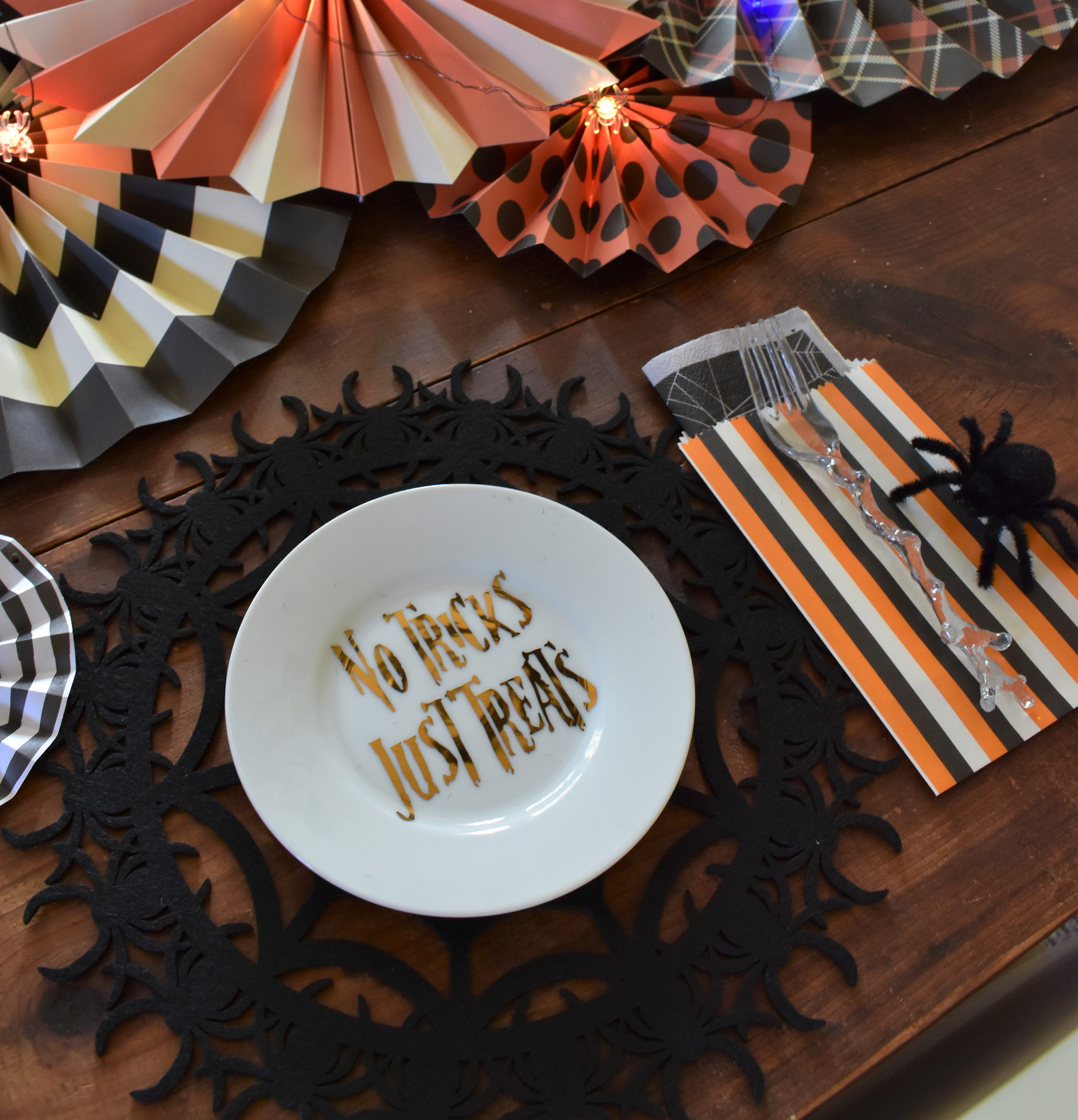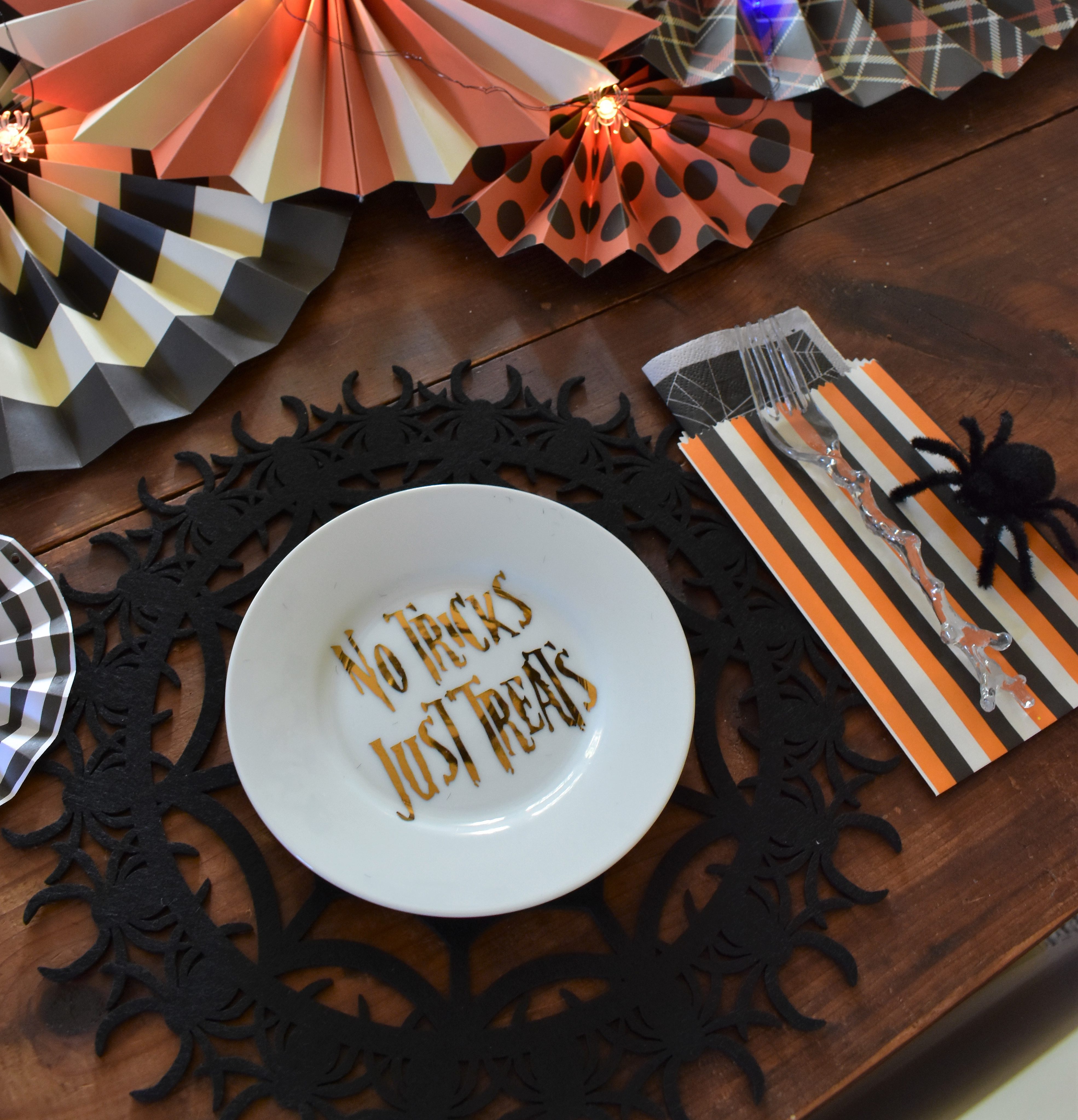 tiny details…
you don't have to go crazy when decorating around a party theme…just a touch or two can get the point across!  i simply attached some fuzzy spider clips to the napkin bags sitting along side the dessert plates…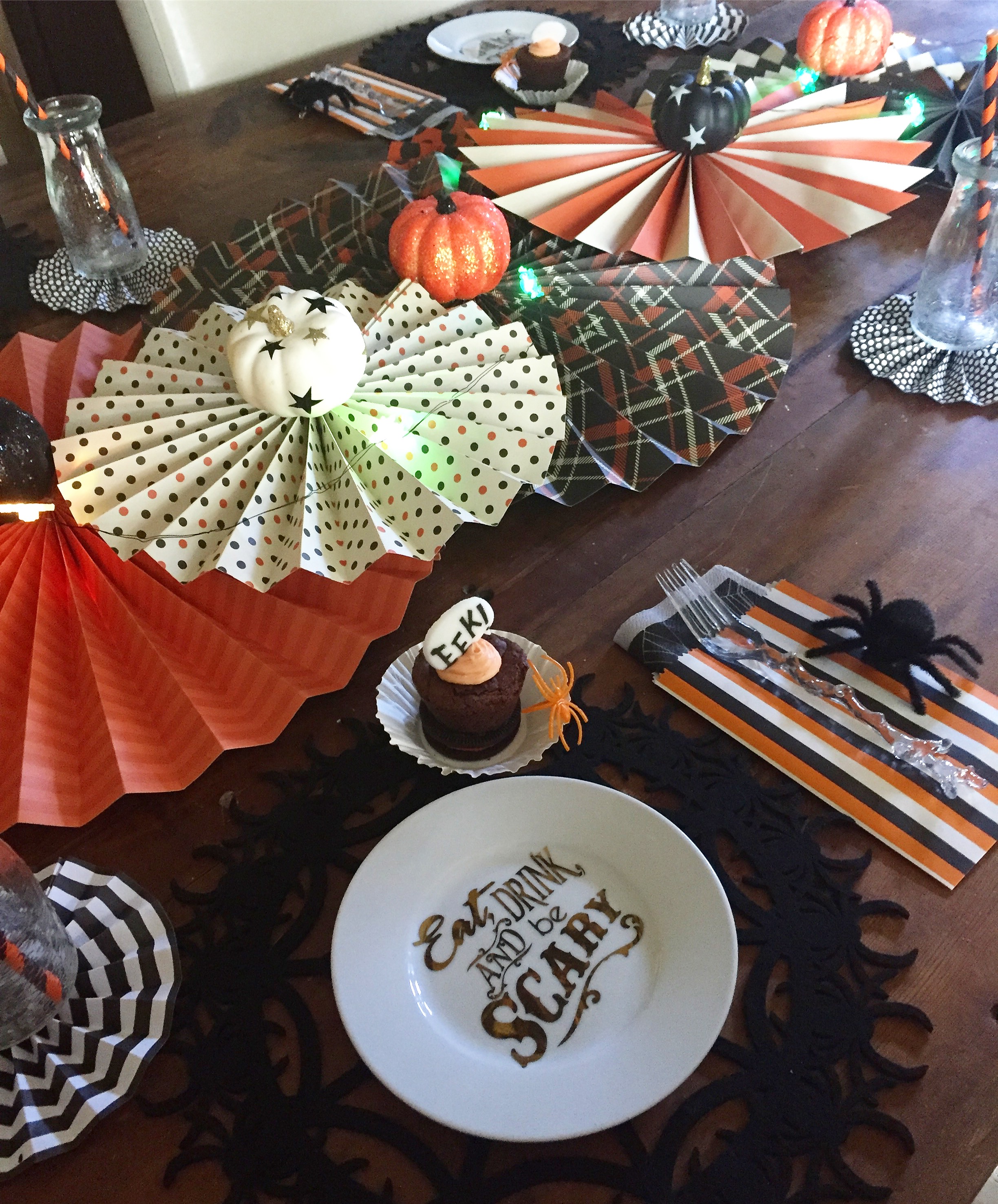 and since it was a dessert "party" an extra sweet bite was placed at each setting!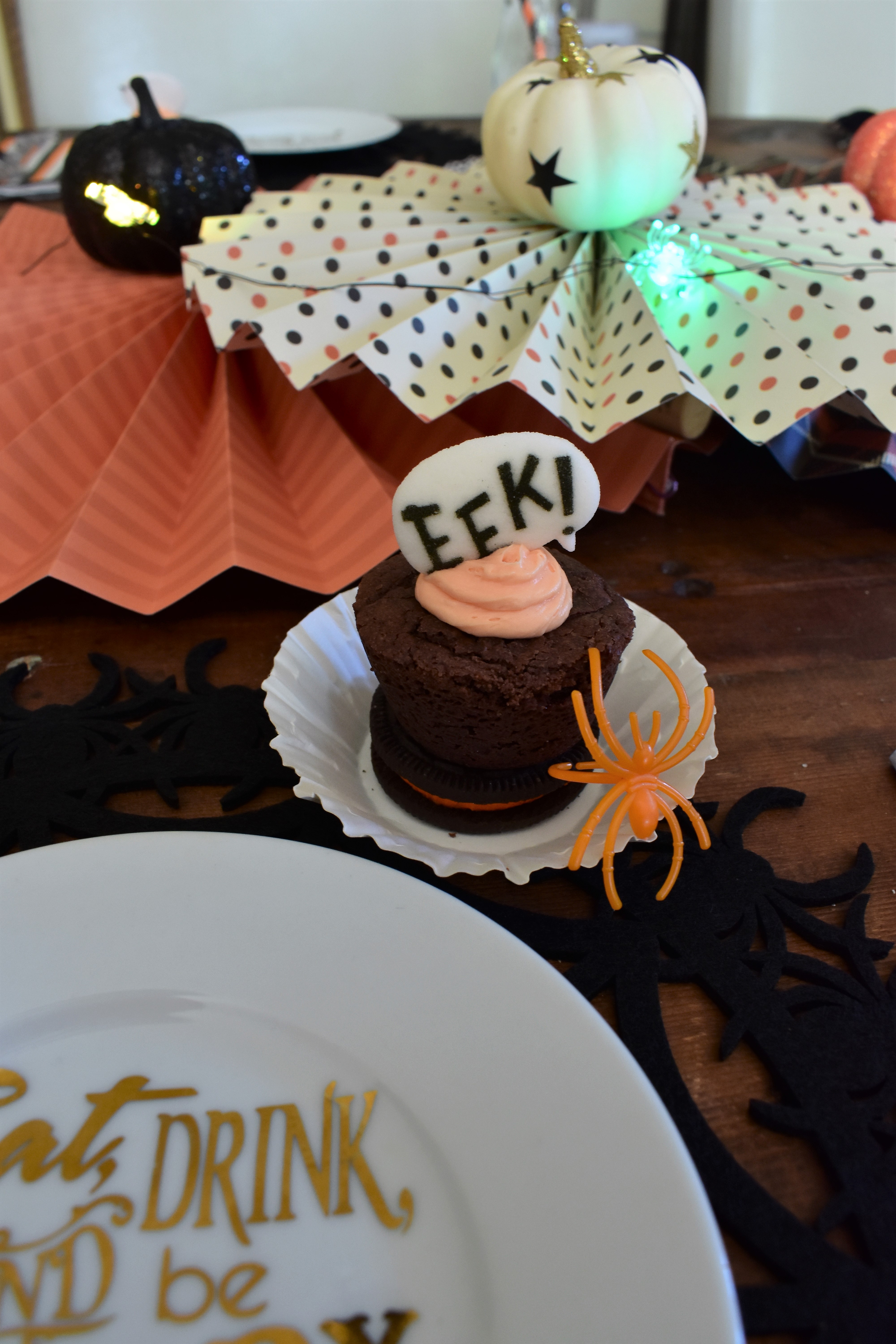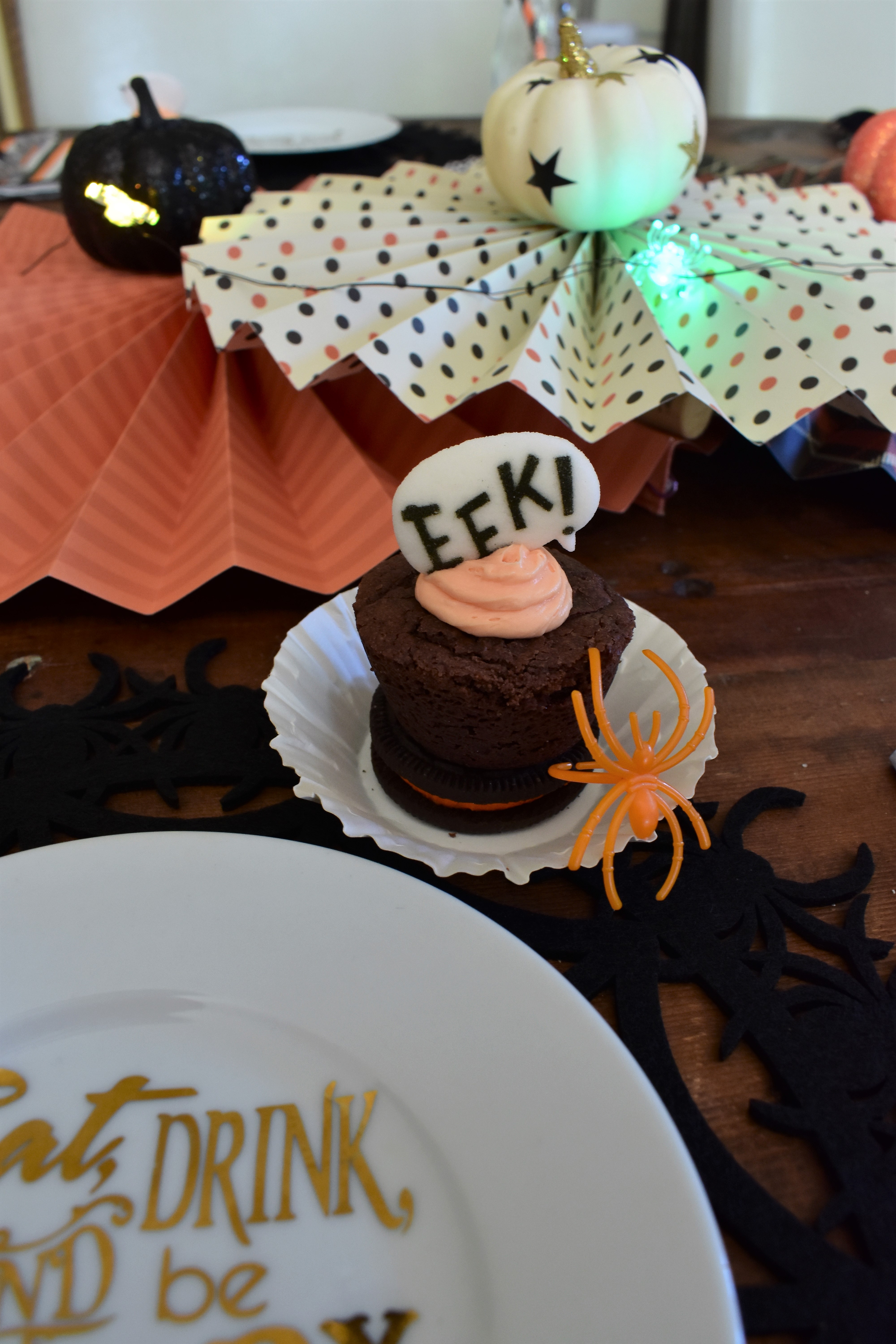 i LOVE the decorative sugars from Lucks…they can make any treat look divine!  i just used a Halloween Oreo in the bottom of a cupcake liner, topped with a brownie bite with a dollop of icing to hold the "eek!" in place!  this little sweet was not the main event of the evening but a fun and whimsical way to set the holiday table with some extra sugar!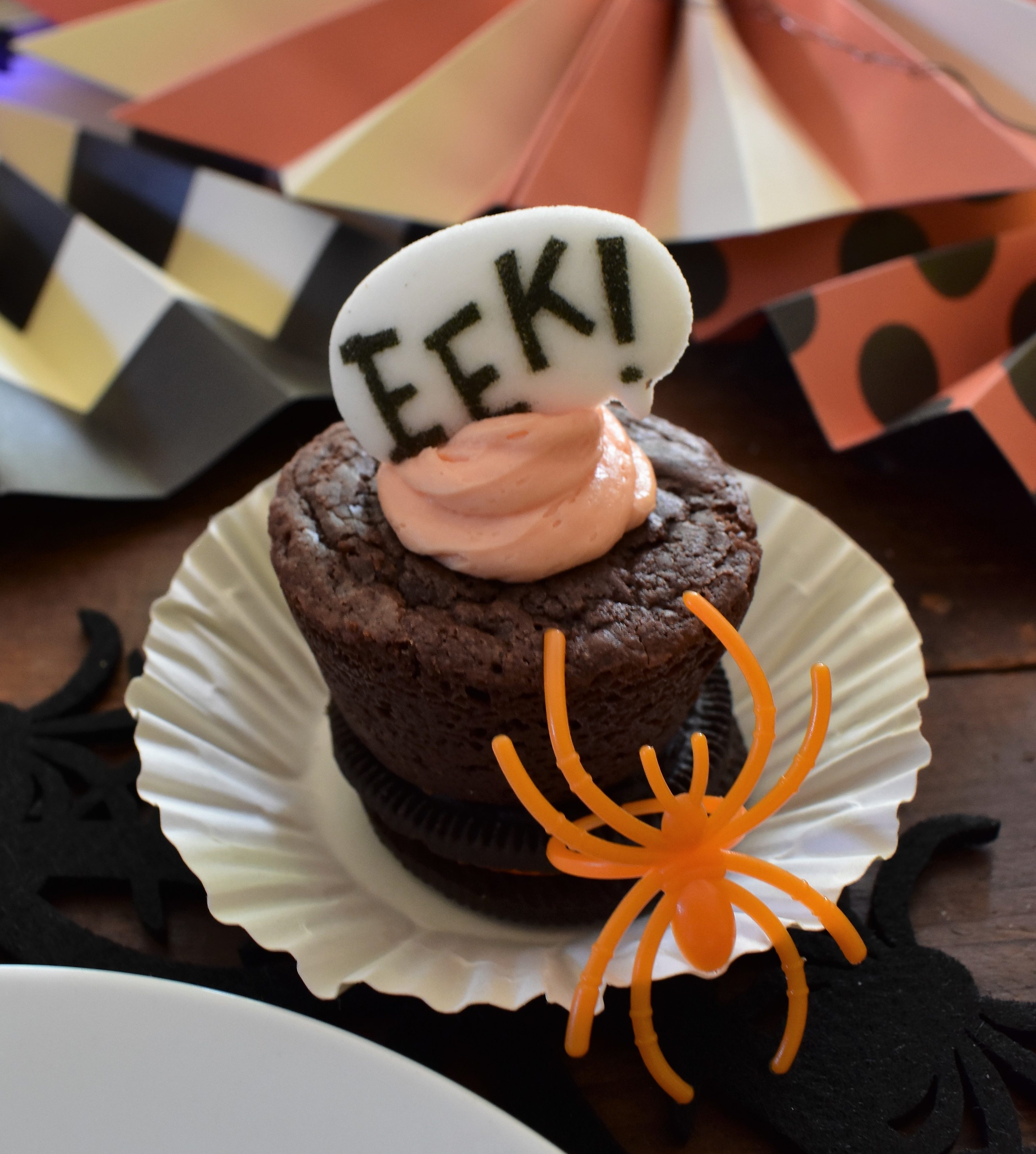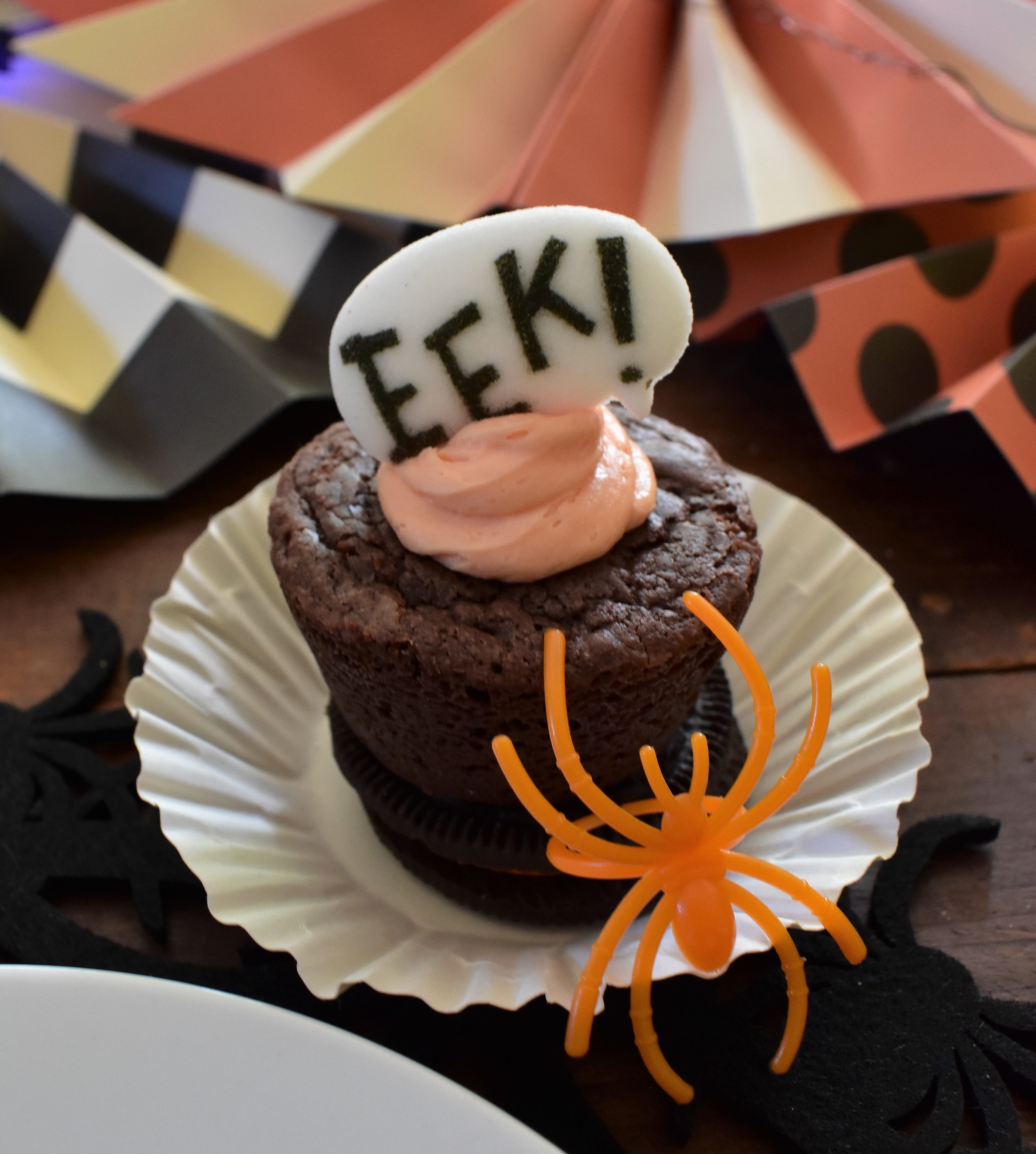 recycled centerpiece!
i mentioned that i recycled my centerpiece…well you might have guessed already but i used paper fans as a table runner!  these beauties were on my mantle last year but now grace the tabletop!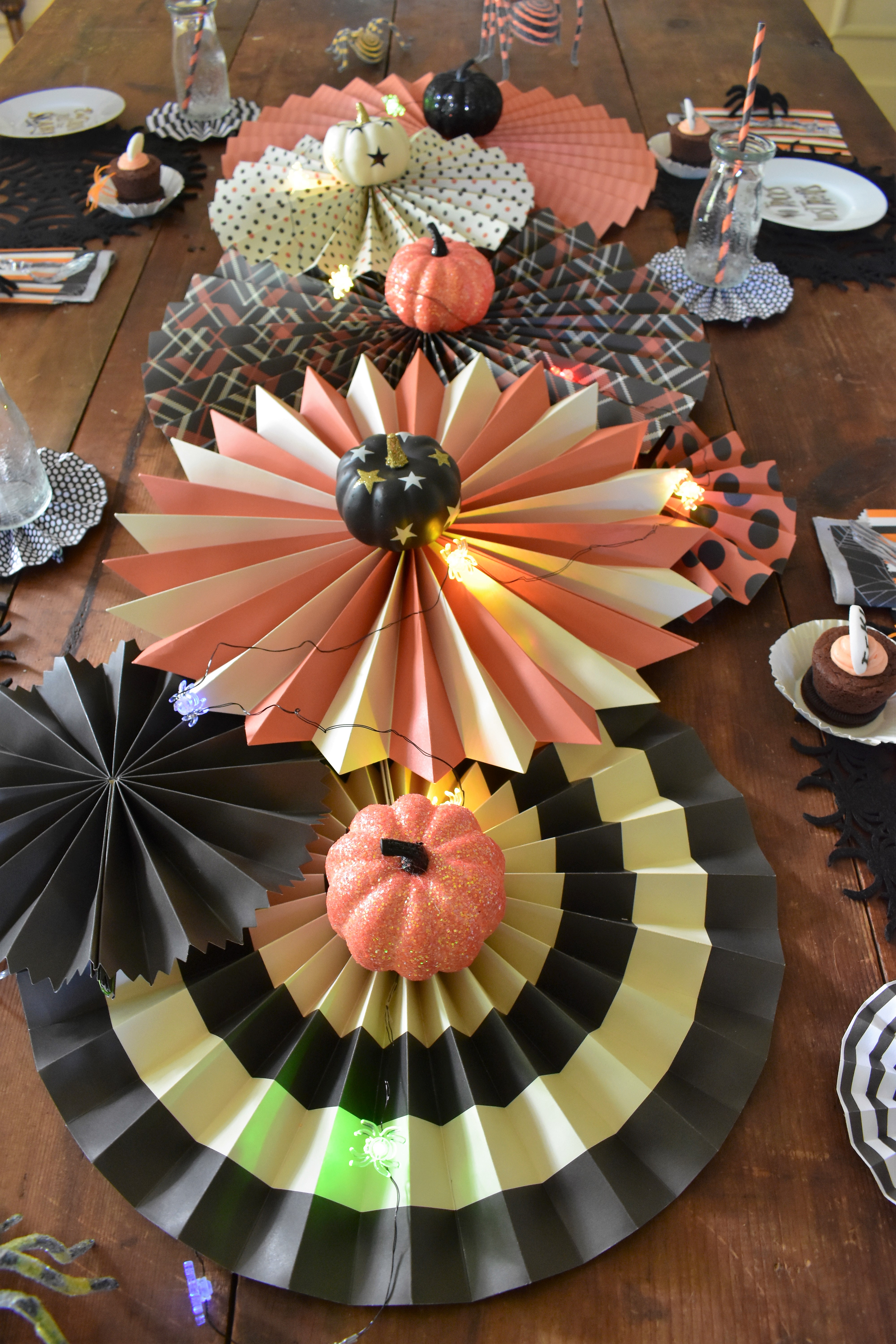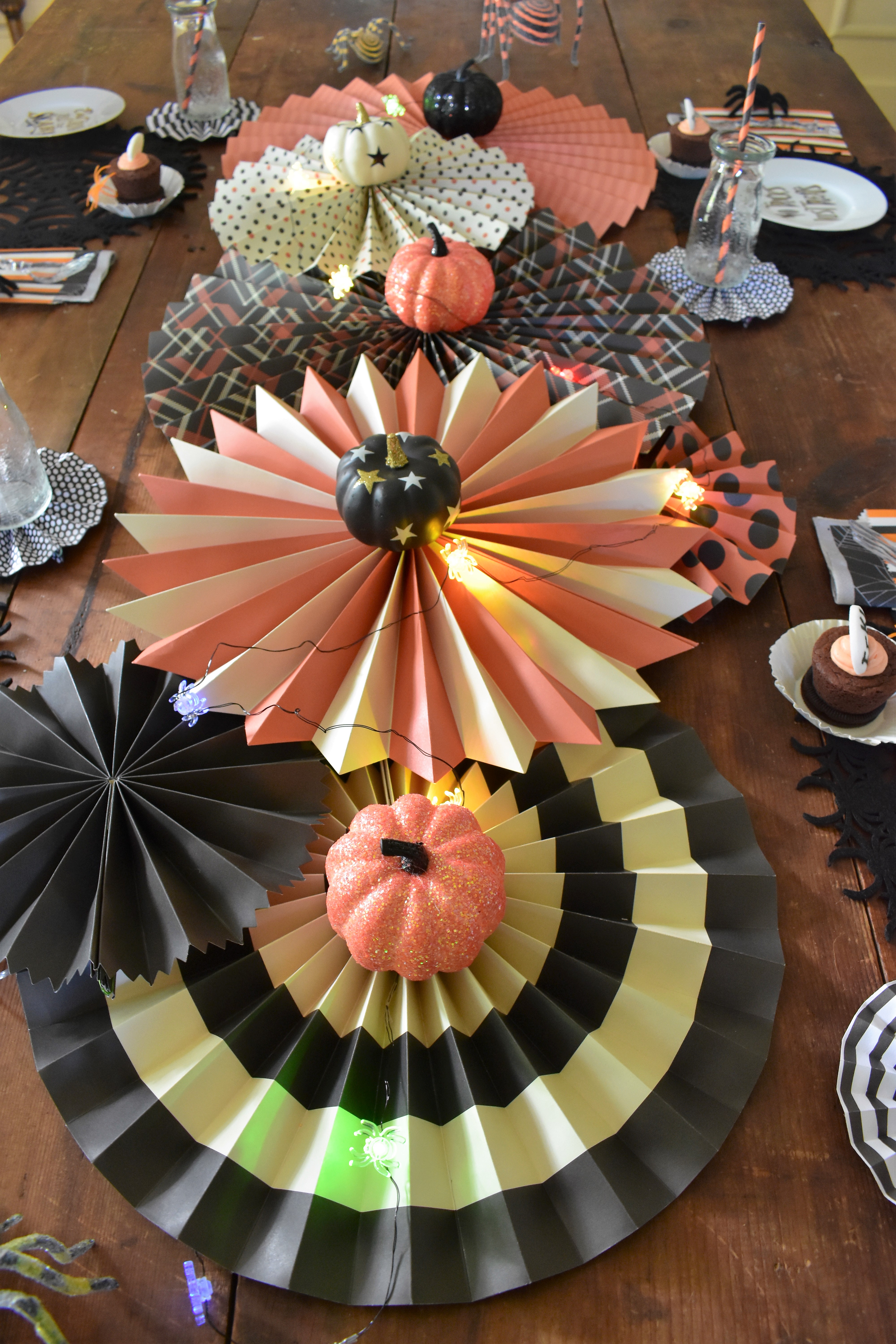 laying them flat is a wonderful way to use them in an unexpected way…and you don't have to dodge tall centerpieces to see your guests around the table!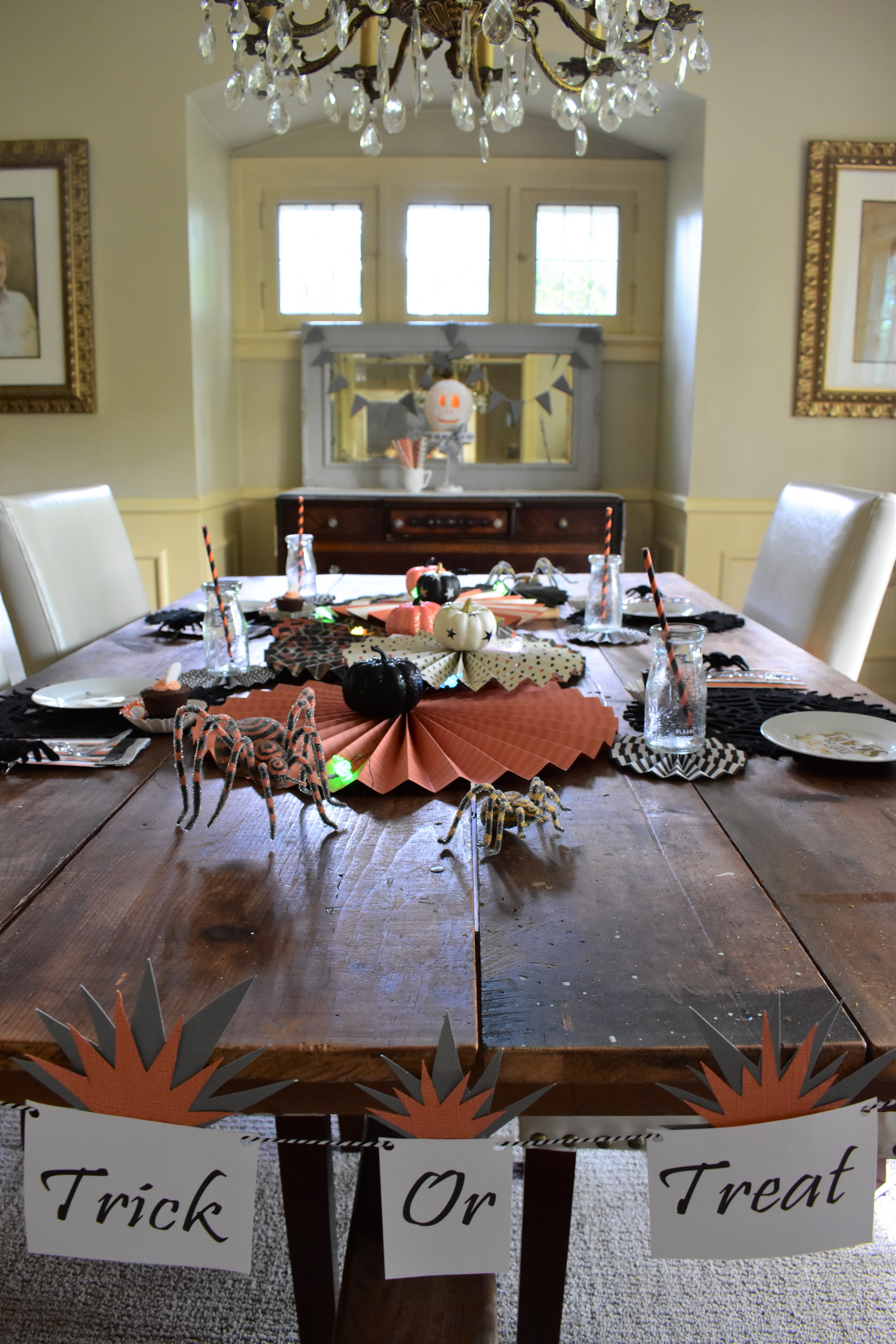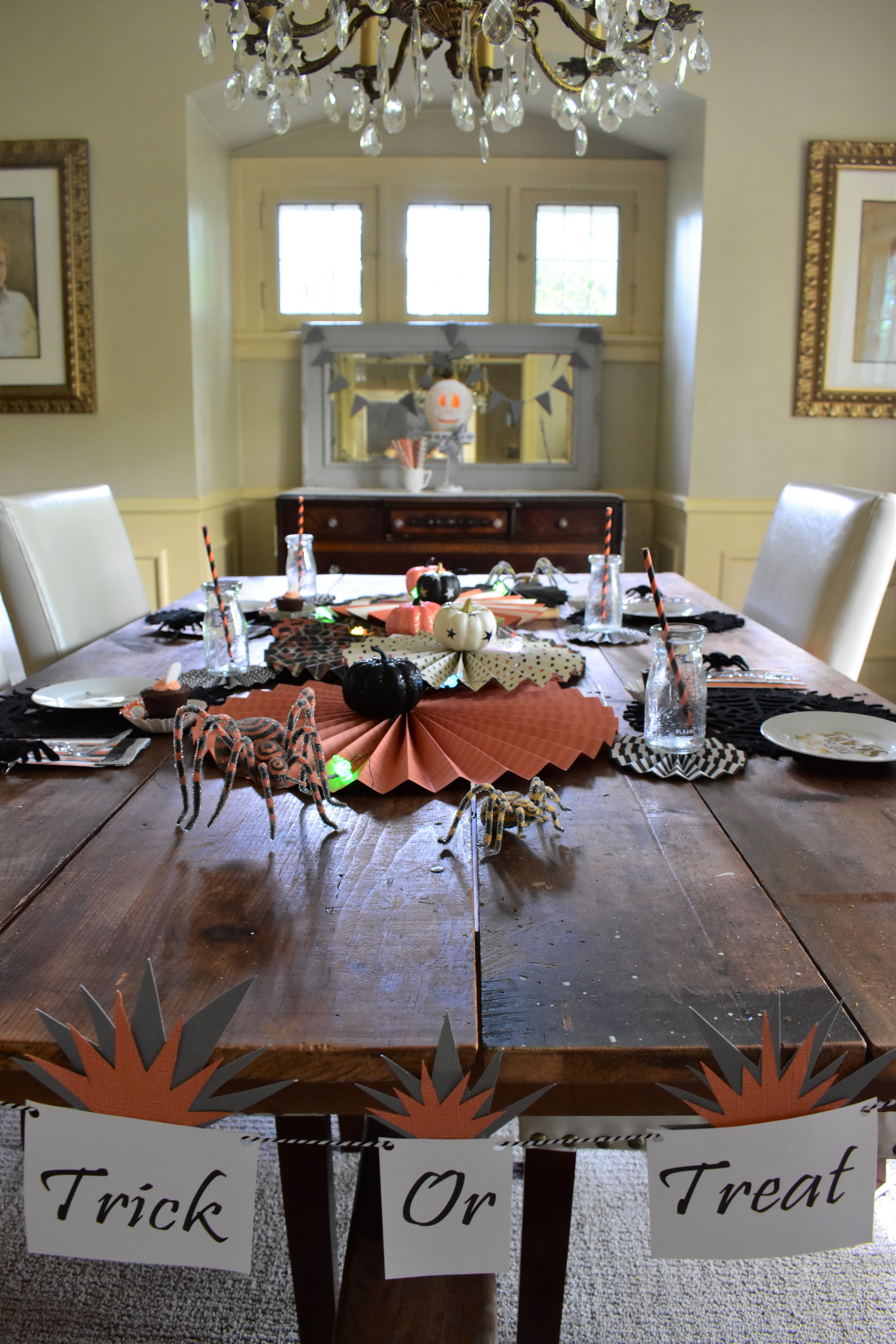 i topped them off with some tiny pumpkins and a strand of spider lights-that gradually change colors…a fun way to make the table come alive!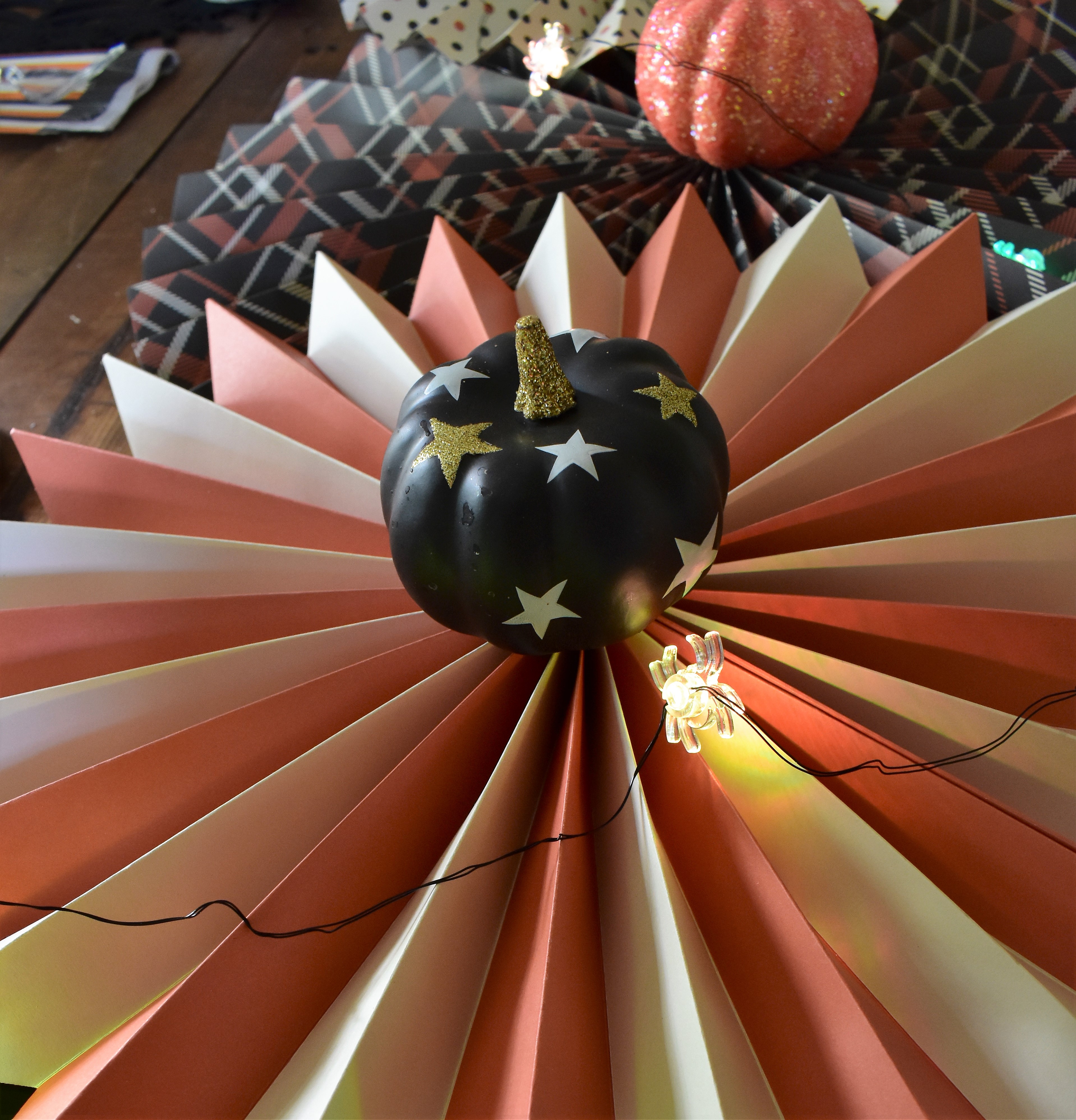 think outside the box…
since i was reusing my fans as a runner, i decided that mini paper fans would make perfect "doilies" under my milk bottles!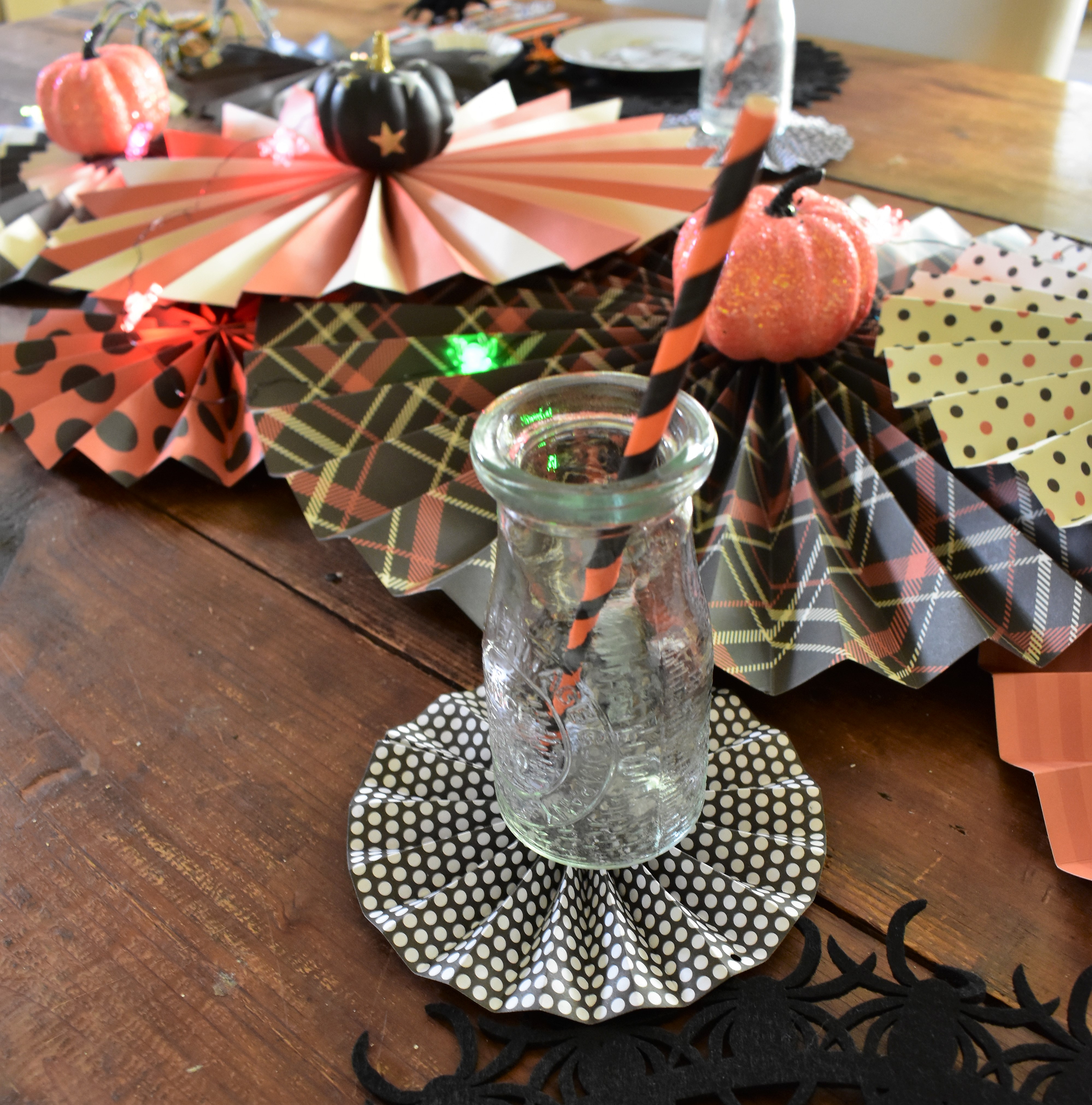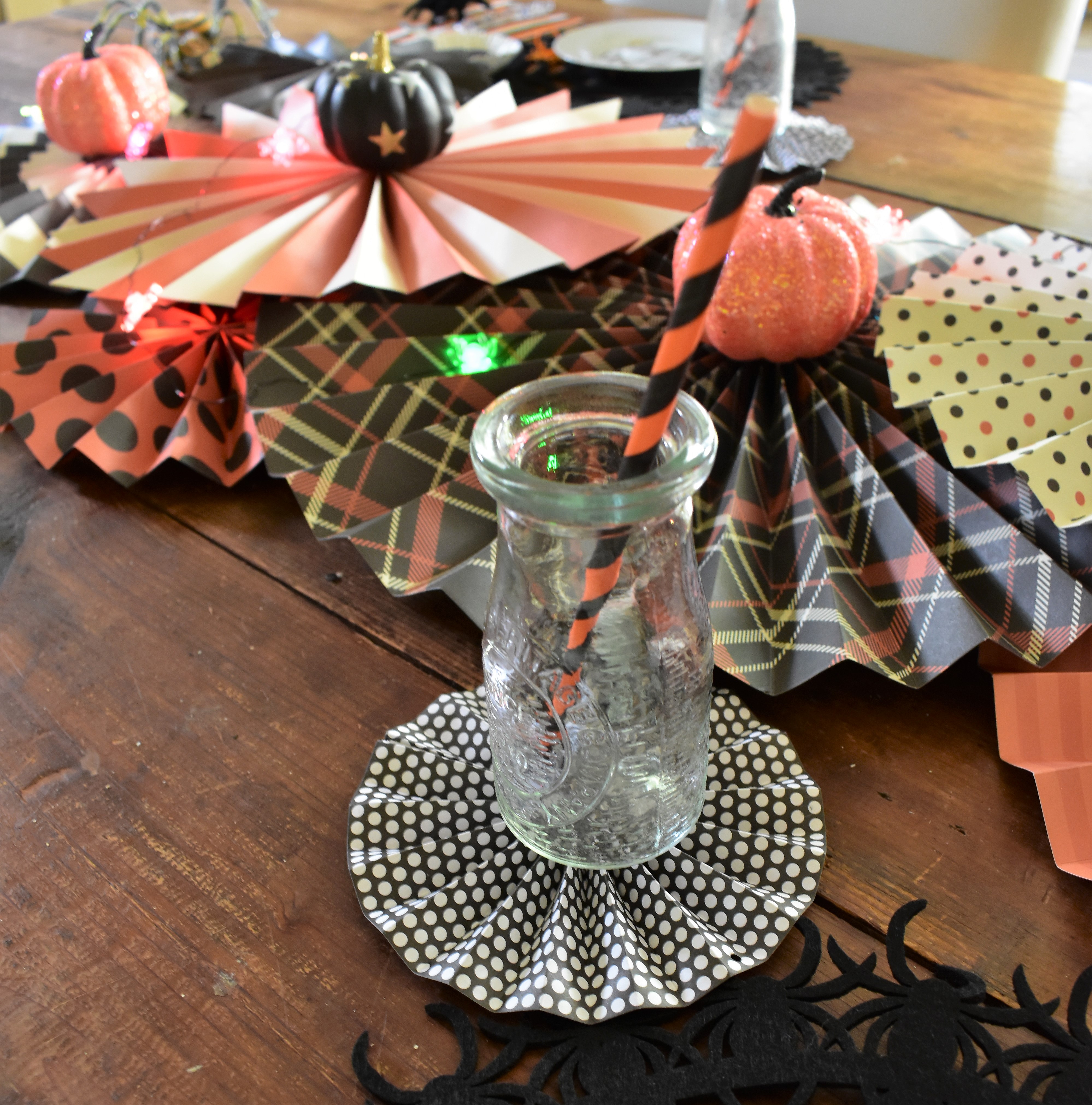 these are actually from a paper fan garland…but who says you have to use it that way?  and when my little party is over, i can string it up and hang it somewhere if i wish!  double duty!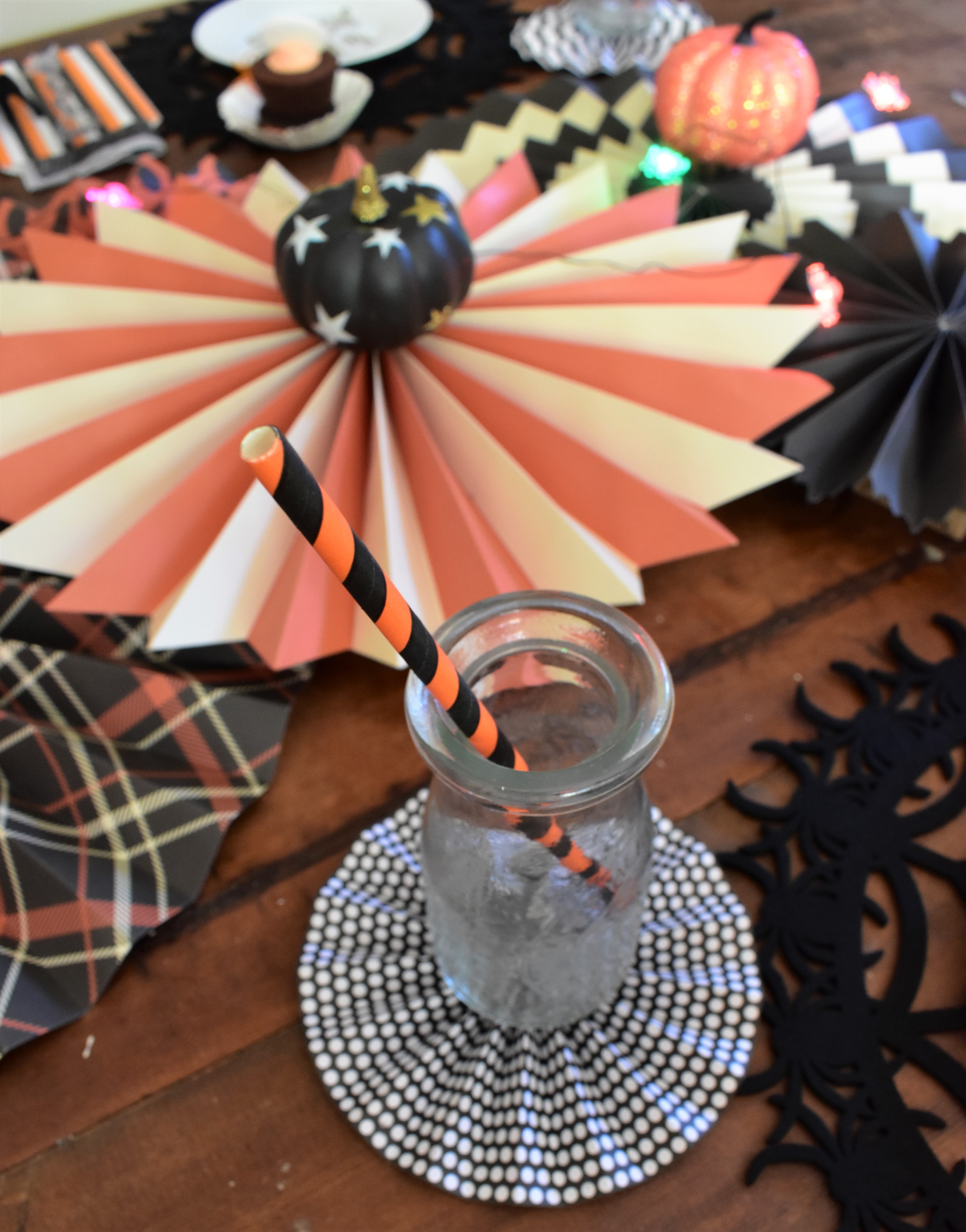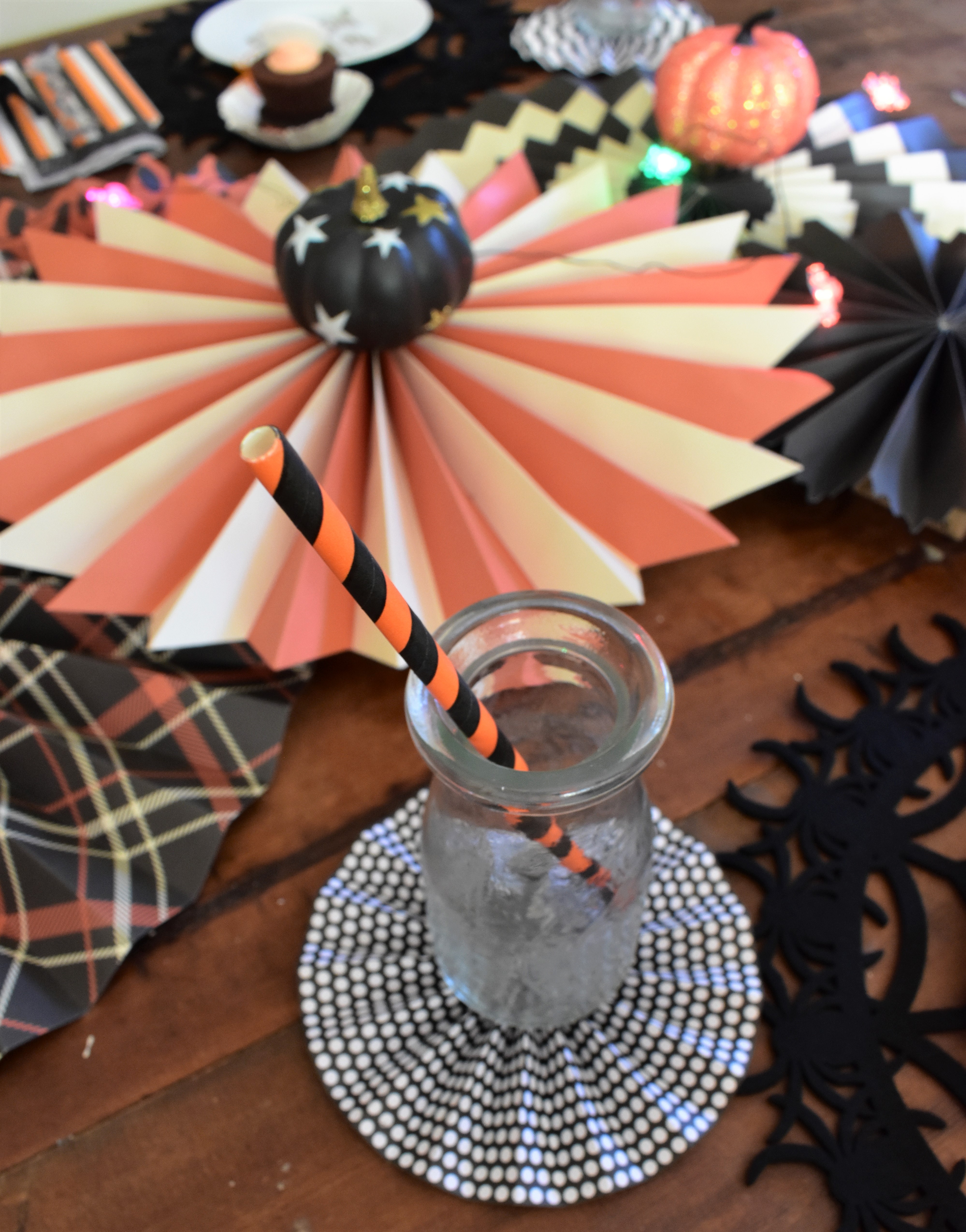 another way to stretch your decoration dollar…pop a piece of kid art on top of a pretty pedestal!  my son made this guy several years ago and he's still one of my favorite decorations!  children's artwork is always a whimsical winner for any time of year…and the most cherished decor of all!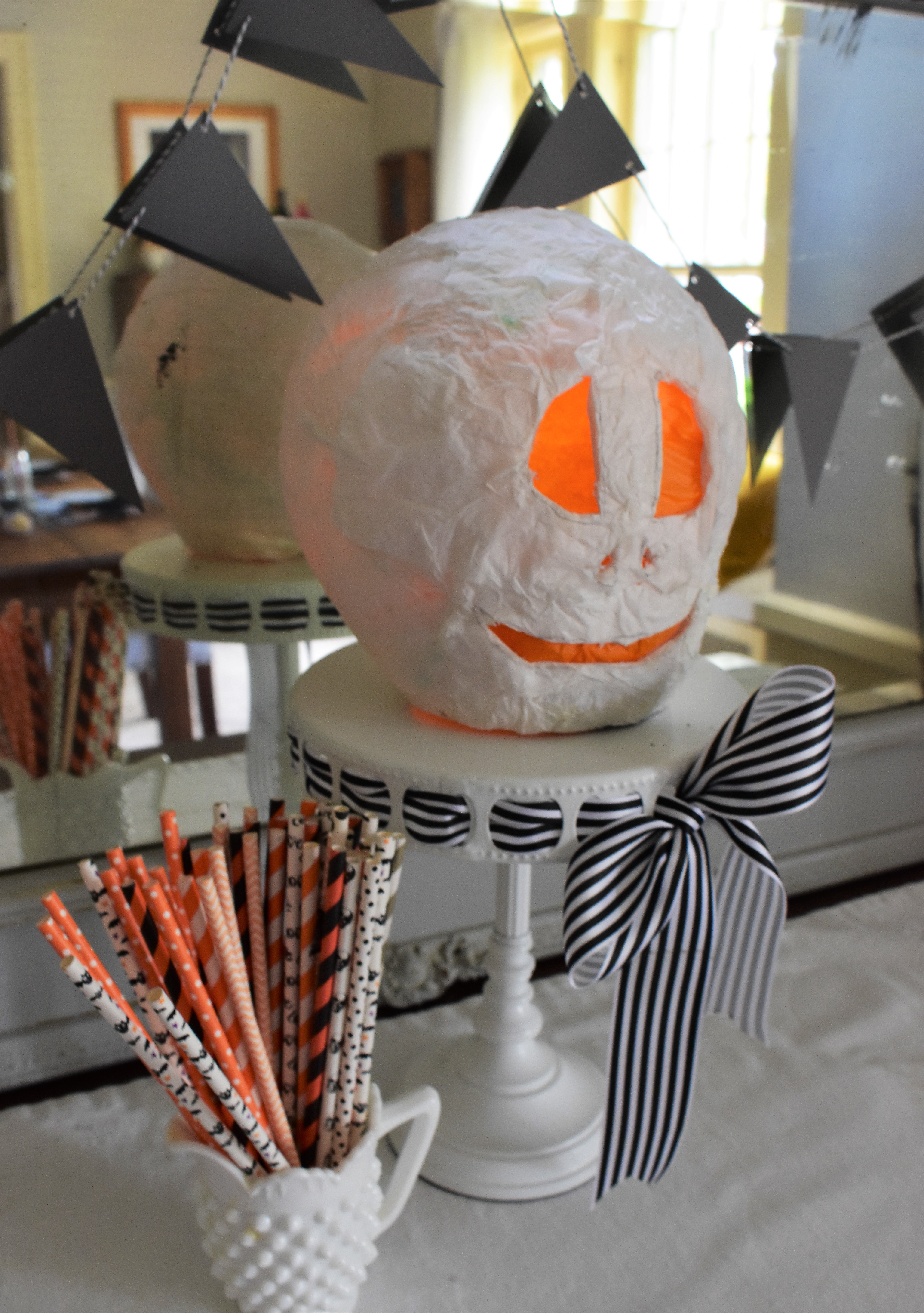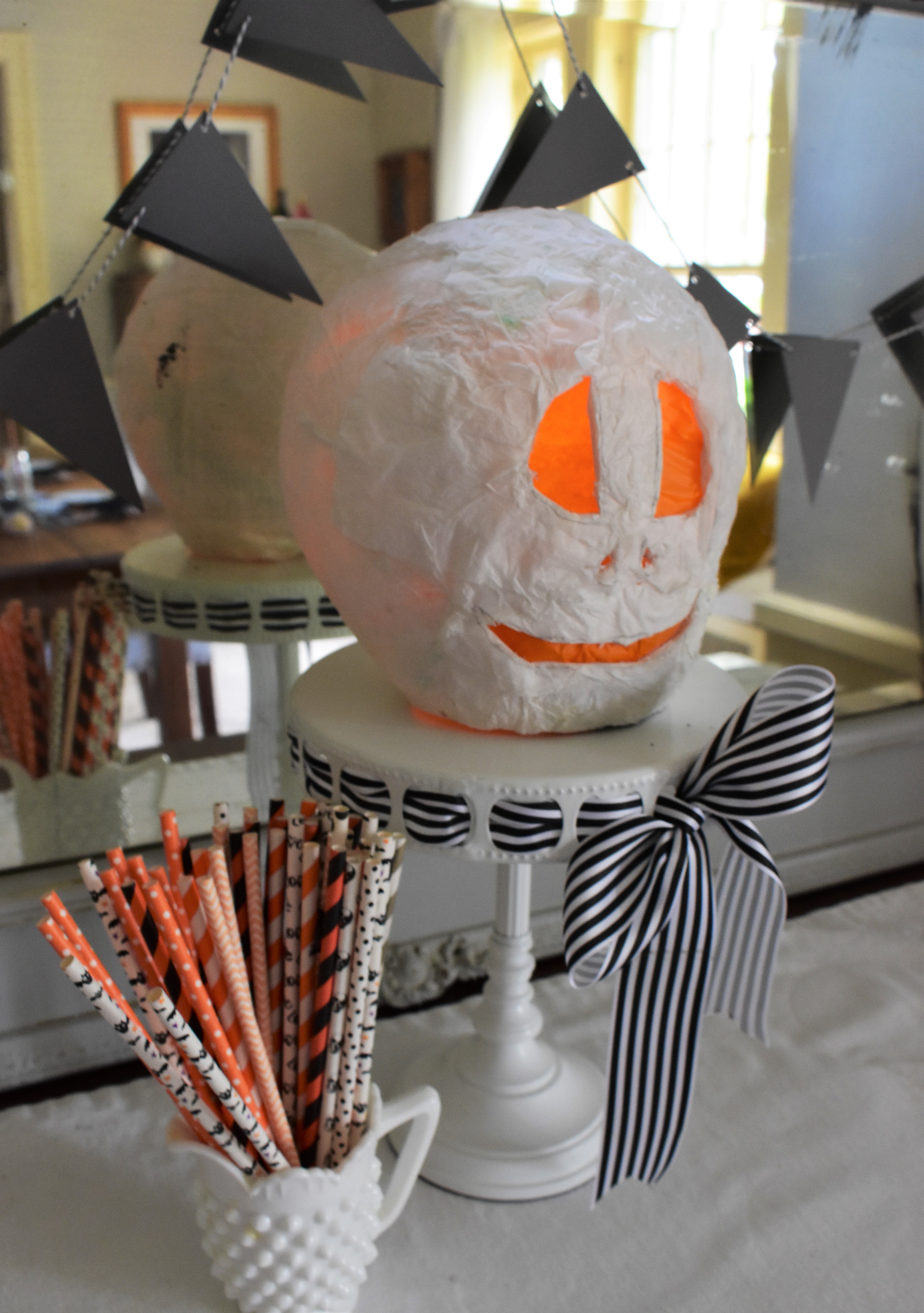 and a couple 8 legged critters scattered about the table are the simple icing on the cake!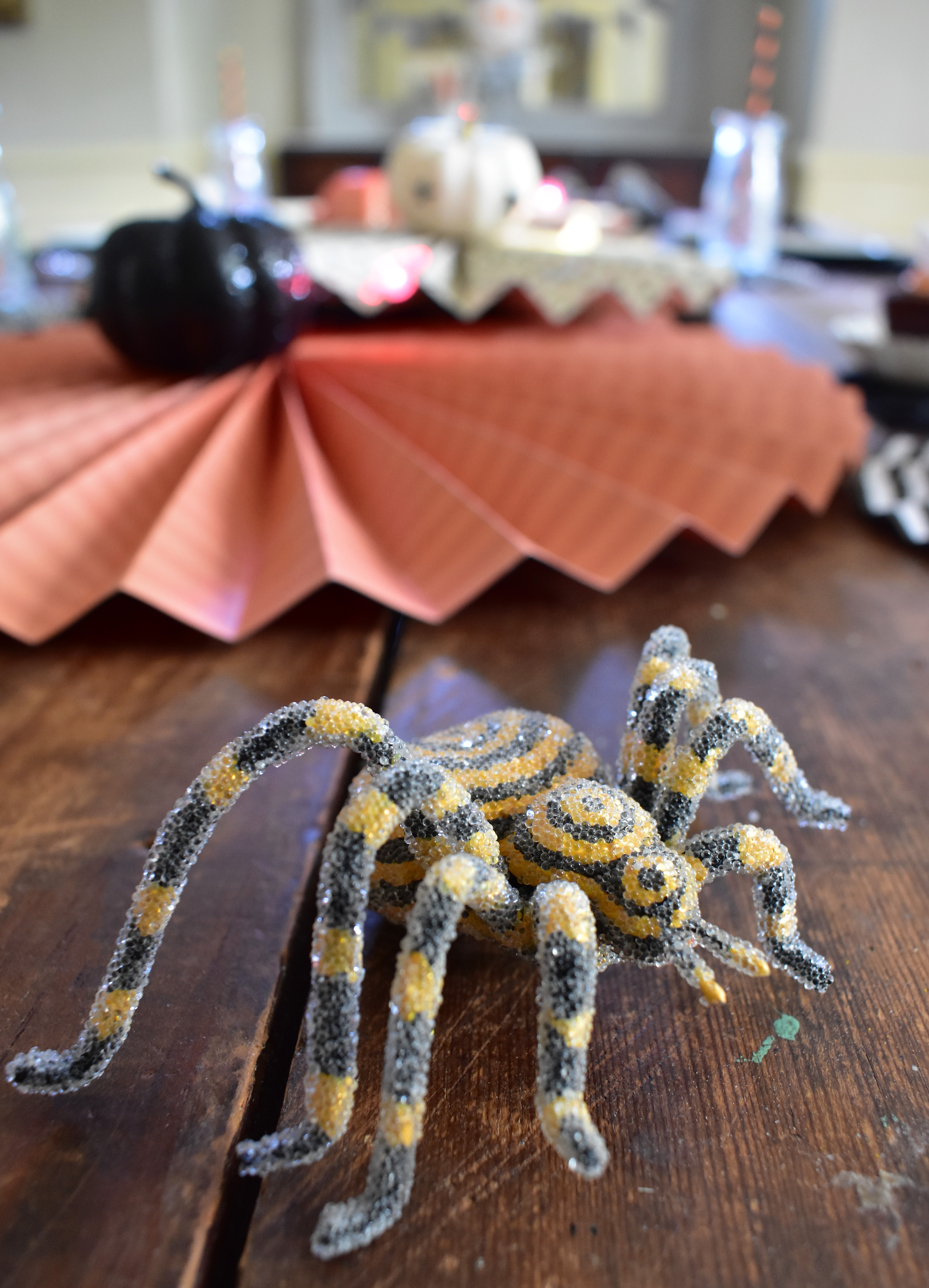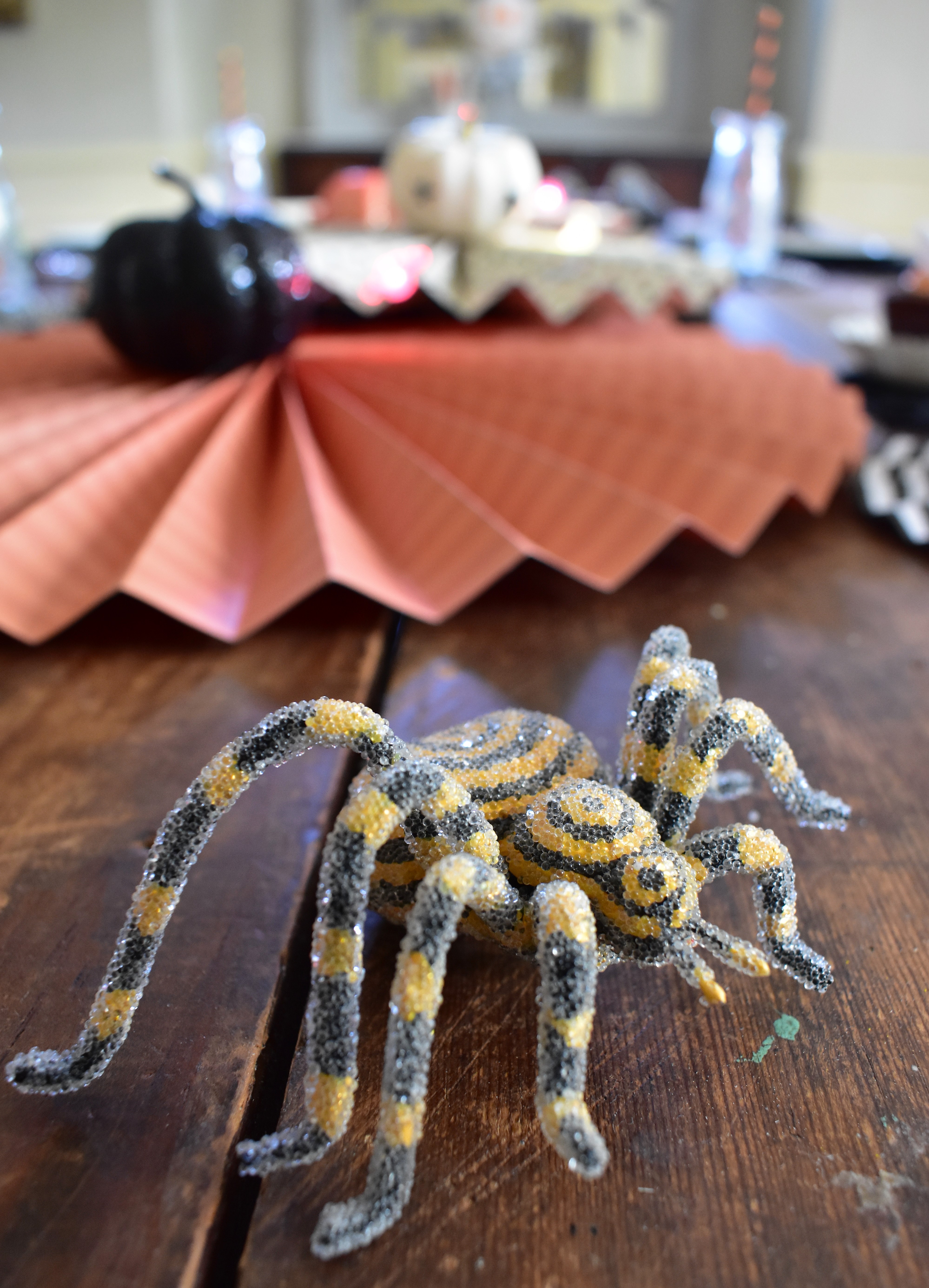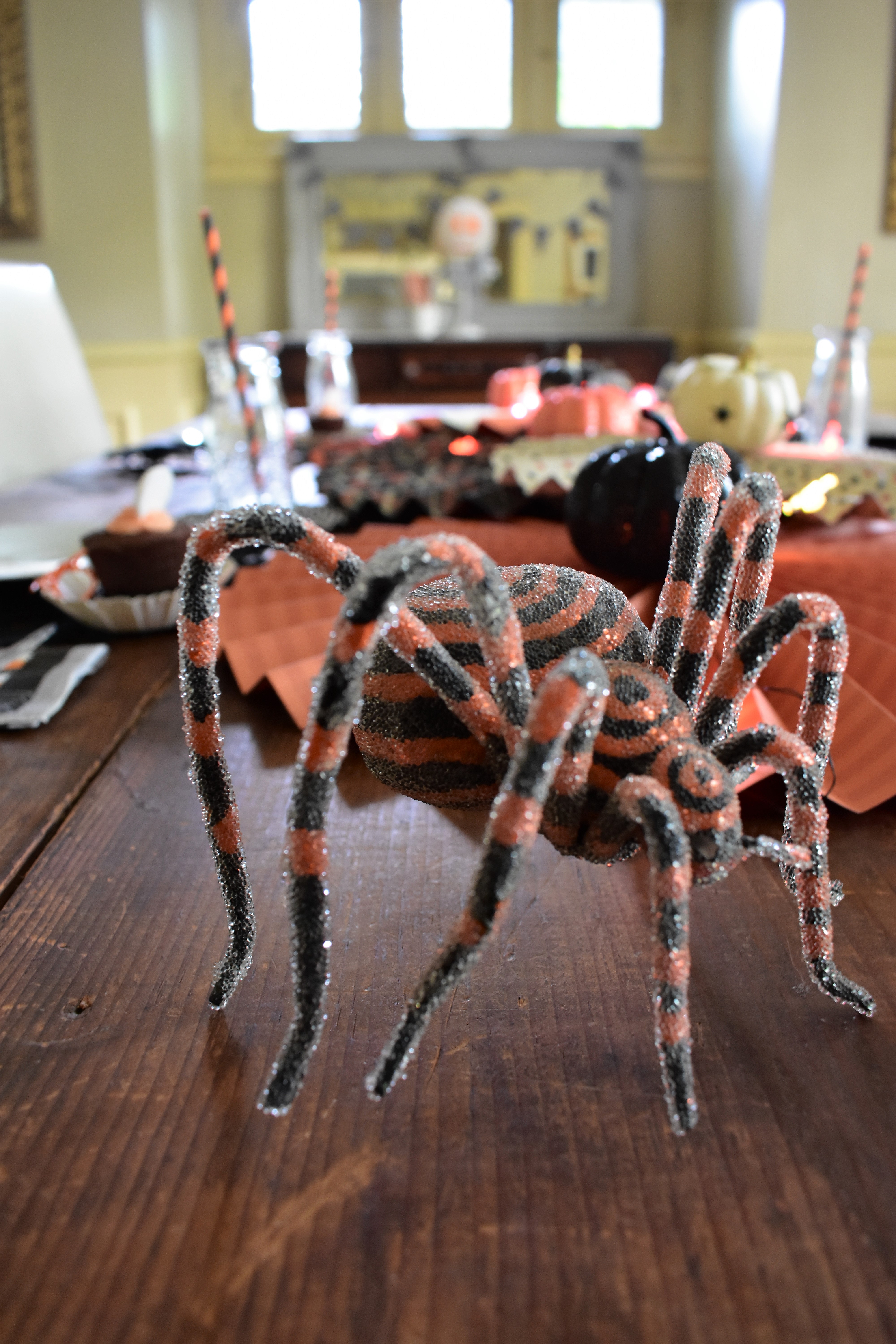 so don't get rid of old decorations…see if you can find a new life for them!  add them to your favorite things and you'll be guaranteed a tabletop win!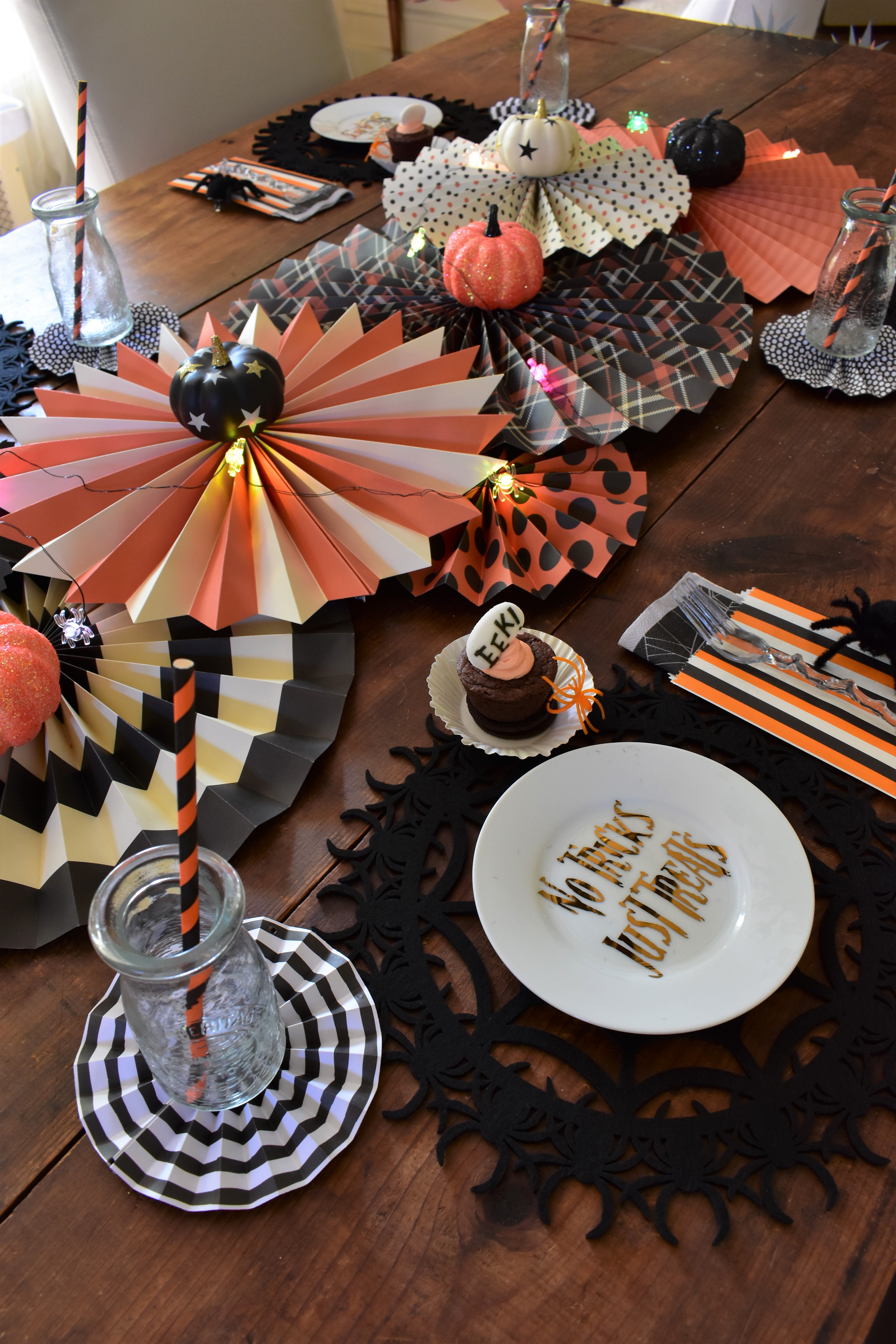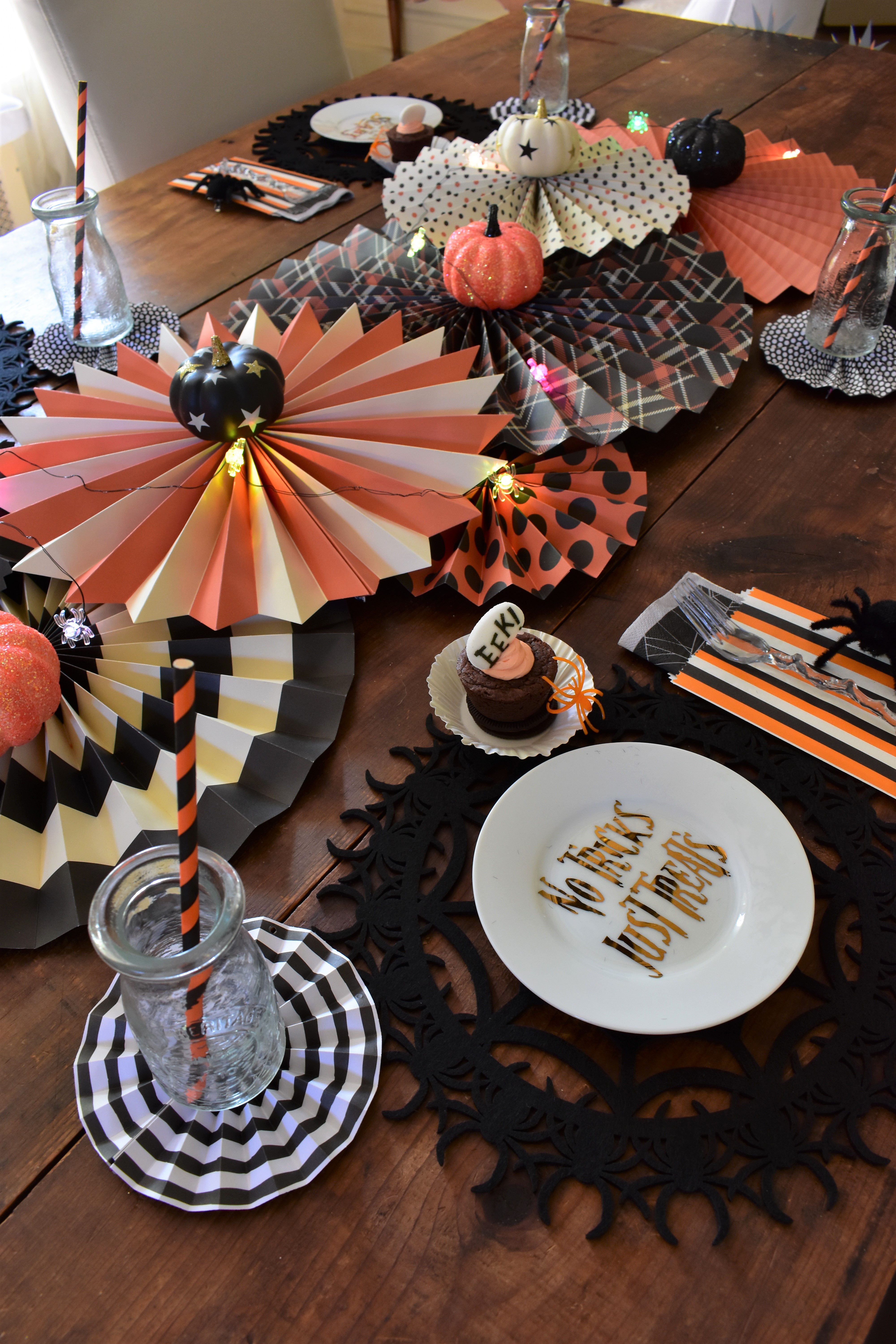 have some fun with your Halloween table!