Next, fill each bag with one of the five included activities. You will want to include any of the printables and/or supplies needed for that game. These are the activities that the family will complete before moving on to our next clue.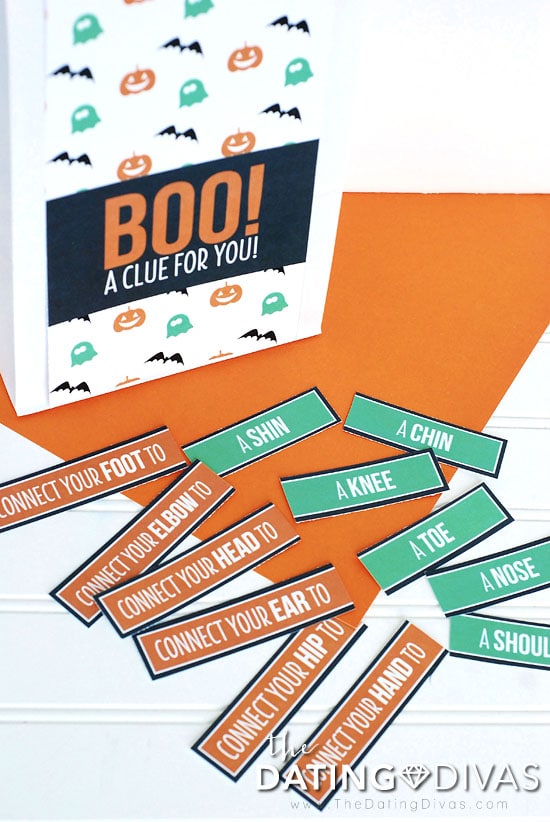 This particular Halloween Scavenger Hunt includes five fun activities. The activities (and supplies needed to place in the bag) include:
Spooky Charades – Try to get your family members to guess the Halloween item on the card without using words or sounds!

Printables: Charade cards
No additional items needed
Halloween Costume Creations – Create a unique costume using unusual materials.

Printables: Activity Description Card
Additional items needed: unique costume supplies such as newspaper, crepe paper, or toilet paper.
Skeleton Scattergories – Test your Halloween vocabulary with a Halloween twist on the game of Scattergories.

Printables: Category Card
Additional item needed: pen/pencil
Spider Races – Using straws (or your mouth) race mini spiders through an obstacle course.

Printables: Instruction Card
Spider Tokens (included)
Optional additional item: straws
Dr. Frankenstein's Evil Twister Game – Maintain unique positions determined by silly card combinations.

Printables: Twister Connection Cards 
No additional items needed
HALLOWEEN SCAVENGER HUNT CLUES

Finally, add clues to the bottom of each bag. Take the five location clue cards and add one to the bottom of each bag. The only clue that will not be placed on a bag is the first note that explains the game and offers the first clue. It starts with:
It's Halloween time and fall is in the air, 
With pumpkins, scarecrows, and tricks – if you dare! 
This Halloween hunt includes clue after clue, 
But before you move on – a task you must do! …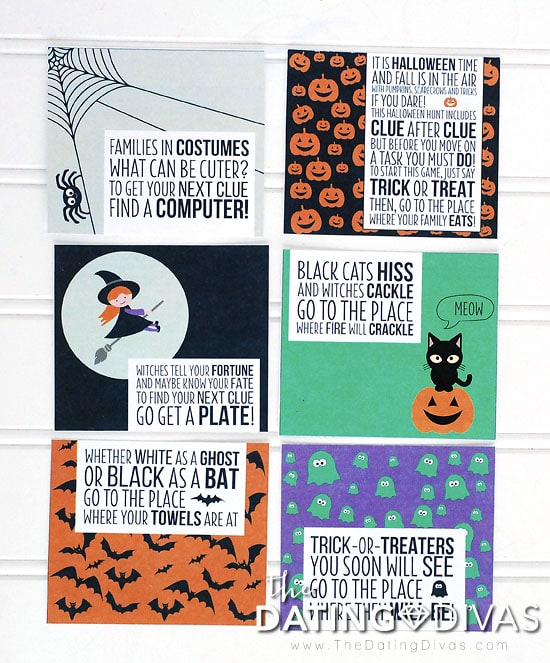 The clues are all written to send your family to places you would find in a typical home including:
The Dinner Table
A Computer
A Towel/Linen Closet
The Doorstep
The Fireplace
A Cupboard