Halloween Car Decorations: What does it mean that you're just decorating your house? This Halloween, deck out the trunk of your car. Whether you're going trunk or treating (i.e. trick or treating in a parking lot – a COVID-safe way to enjoy the holiday! ), you should go all out. Changing the look of your car's back into something spooky, scary, clever, or original is incredibly easy. These insanely fun "trunk or treat" ideas include everything from replicas of fast food restaurants to movie and TV-inspired trunks. The trunk of your car will be Halloween-ready, no matter where you park.
Have you ever thought about decorating your car for Halloween? You've heard about decorating your car for Christmas. The whole family can have a lot of fun working on it together. Not only can you decorate your house, but you can also decorate your car!
Here are a few ideas on how to deck out your car for the upcoming Halloween day.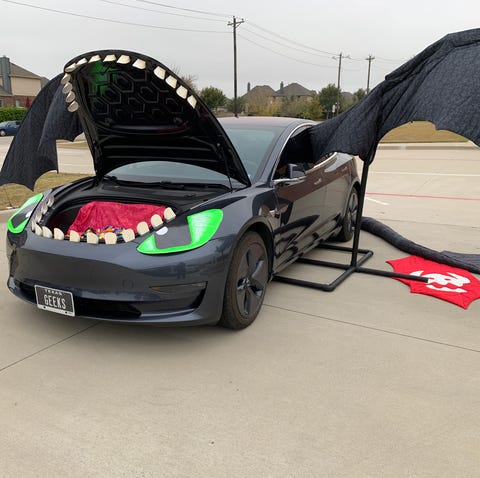 KNOW WHERE TO GO
It's easier than you think to decorate your car for Halloween. If you need some special effects for your project, there are a number of options available to you. Besides Amazon, Dollar Stores and Party Cities have a lot of good ideas for Halloween decorations. Costumes can be found at these locations as well. Car accessories can be purchased at many Halloween stores as well. There are everything from eyelashes for your headlights to bat wings and shark fins for the top of your car.
You can use these or make your own for a fun DIY project. Making your own projects is a great way to get the kids involved and save money. You can decorate with any household item, such as construction paper, cardboard or styrofoam. Some options are
Cutting out scary teeth from white styrofoam or cardboard
Use colored tissue paper to make bouquets
Use hay, leaves or rocks for your decorations if your theme is outdoorsy.
KNOW YOUR THEME
When it comes to themes, to get the most out of decorating your vehicle, make sure you know what you want. Don't be afraid to get creative, pick a theme that speaks to you. Will it be scary, cute, or funny? Depending on what your theme is, make sure you choose the right decorations. If you're doing some decorating on your house, make sure your car matches!
You can decorate your car in any way you like, including a bat mobile, spiderwebs, graveyards, or even a pirate ship. Get some inspiration from Disney movies or your favorite movie characters if you're going the cute route. There are so many possibilities!
MAKE SURE YOUR DECORATIONS ARE SAFE FOR DRIVING.
Contingent upon how you intend to manage your vehicle, your designs might be totally different. Assuming you need to drive with your decked-out vehicle, however, try to pick designs that will not be security risks. They shouldn't deter your view or that of different drivers. They ought to likewise be very much gotten and shouldn't impede your mirrors or windows.
The subsequent stage is to begin rejuvenating your thought. When you have your topic and your design, will deal with assembling it. Here are a few thoughts of how you can do that
Wouldn't it be cool to have a fake limb hanging out of your trunk? Buy some fake blood and fake limbs at your local Halloween store or online. You should close part of the limb in your trunk and leave the rest sticking out. People will definitely stare.
Wouldn't it be cool to have a graveyard in your trunk? If the car is parked in your driveway, or when you're tailgating at a Halloween party, this would be a great idea. The only thing you need to do is buy the graveyard kit and install the spooky lighting. I recommend it for a Halloween party
How about decorating your car to look like a hearse? You can even get a spooky vanity license plate to complete the look (for when the car is parked). All you need is a long car (like a van) and some curtains to make it look like a hearse. How about a skeleton for a passenger? During Halloween, you can purchase a full skeleton to join you on rides.
Also, you can turn your car into a spider's web, complete with a spider on top. Adding a spider and some fake spiderwebs to your car is an easy spooky look, and you can purchase plastic or plush versions of the spiders to create this, or you can make your own with cotton and place the spider on top. Your car has now become a spider's nest!
KEEP IT SIMPLE
You can always just buy stickies for your car if you want to keep things simple. These blood stickers are great and there are spooky pasties, too. You can also buy spooky lights for the interior of your car, placing battery-powered tea lights or Halloween themed string lights. Make sure they are in keeping with your theme. You can even match your costumes with the theme of your car, so you look very Halloween-like.
TRUNK OR TREAT
Trunk or treat is a recent tradition for decorating your car while it is parked, similar to tailgating. From a Hogwarts castle to a dragon, you can decorate your car however you like. Be sure to choose decorations that fit the size of your car. If you want to make it even bigger, put your seats down. Some ideas are
Fill your entire pick-up truck bed with fall leaves to create an autumn scene.
Hang netting from your roof and doors, to create a sea-theme
For a hoedown-themed car, place a small hay bale on the ground in front of your trunk display.
For an even better look, remember to line your trunk as well. A tablecloth, plastic bag, or poster board will do the trick. With your trunk or treat car being stationary, decorate in full. You can design a Starbucks drive-through, a McDonald's storefront, or a pirate ship. For extra fun, consider buying themed candy. How about a cookie monster themed car? Make chocolate chip cookies and hand them out. Put the candy in the pirate ship's treasure chest.
Stunt or-treating isn't only for youngsters, you know! This year, let your vehicle in on the fun—indeed, your car—with these pleasant trunk-or-treat thoughts. In case you're curious about trunk-or-treating, the reason couldn't be more straightforward: A bunch of families meet up, regularly in an everyday schedule parking garage, deck out their trunks with Halloween embellishments, and let their children stroll from one vehicle to another gathering sweets. This Halloween activity has been getting steam as of late and it's not difficult to perceive any reason why—it's a fun, safe, and proficient way for youngsters to give us candy! The most amazing aspect of this everything is, the less distance you need to go between treats means…well, more treats! This movement functions admirably for more youthful children (and let's face it, guardians) who will in general wear out while walking all over the area on Halloween.
There are perpetual Halloween vehicle design topics to look over, however we've gathered together probably awesome of them here, including creepy ideas like an "Egyptian burial chamber" and sweet choices like a retro bite "vehicle bar." Once you're finished enriching, it's an ideal opportunity to pause for a moment and partake in a blaring decent Halloween!
All things considered, a vehicle is more than just a vehicle for the proprietor, as innumerable examinations have displayed as the years progressed. By tracking down the right Halloween adornments for your ride, you can bring the creepiness out and about too, acquire additional cool focuses with loved ones, and ensure you rule as the expert (or fancy woman) of loathsomeness in a hurry.
Best of all, you don't need to wear out your wallet to get every one of the scares – and every one of the treats, ideally.
In case this is your first time designing a vehicle, start little. We're expecting to be that, since you're understanding this, you've done Halloween enhancing previously, essentially with the rest of your personal effects if not on your home. This is the same, so approach it systematically, to chop down the odds of wrecking it and to guarantee most extreme effect.Think of a topic
First of all: you need to know precisely what you need. Think about a topic that fits with the embellishments you as of now have for your home or garden, and your own outfit. On the off chance that you have a group of children, think about their ensembles also.
The topic can be anything from creepy stuff, similar to skeletons, phantoms and zombies, to more R-appraised stuff like animation characters or Disney princesses. The last functions admirably with kids, clearly.
Whenever you've decided, begin considering ordinary things that you can consolidate into the topic. Track down the right music, go through storerooms for raggedy garments, utilize more seasoned Halloween adornments, delve profound into your DIY pack, in the event that you have one. Most things can be utilized innovatively, which will save you money.Think wellbeing
Before you head out to the shops to purchase the stuff you actually need, think about this: whatever you vehicle enhancement, you should consider wellbeing most importantly – yours and others'. Enhancements should not hinder your view as a driver or square other drivers' view. They should not cover your vehicle's lights, rearview mirrors or tags, and they should be secured tight to the vehicle so there is no danger of them falling off while moving.
In case you don't know whether a specific enhancement is road lawful, the most brilliant thing is to contact your neighborhood specialists and get their feedback. You wouldn't have any desire to wind up paying a fine since you made your Halloween enrichments a stride excessively far, right?Stay on a careful spending plan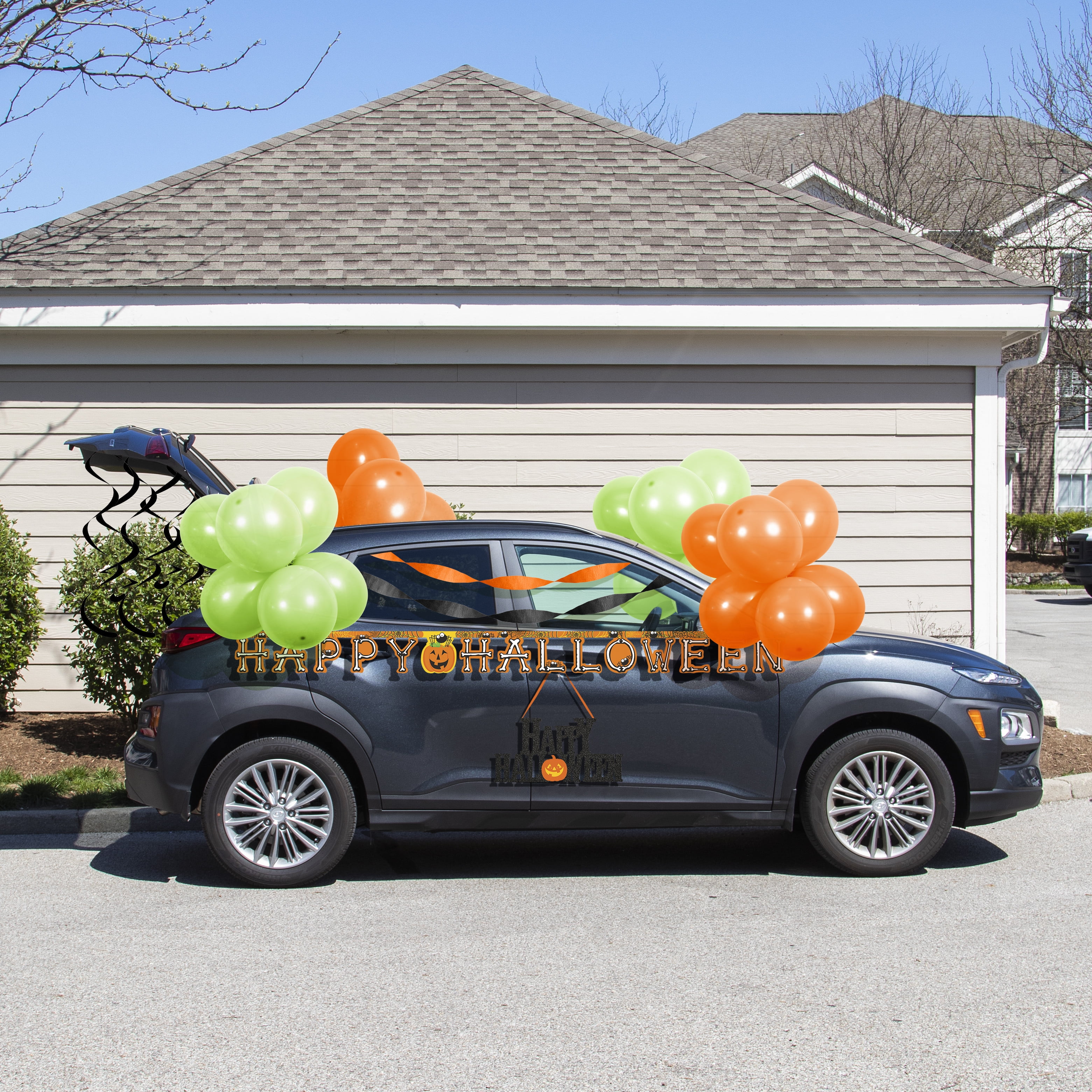 At whatever point we're preparing for a vacation, whatever it very well may be, we will in general get out of hand with the costs. In any case, embellishing your vehicle for Halloween should be possible for barely anything and be similarly as successful as far as conveying the panics, particularly in case you're anticipating proceeding to drive the vehicle while it's in this way brightened.
For example, you can cover portions of it in spider webs, or you can have stuff hanging out from it. Pick bloodied human appendages or zombie parts, or exceed everyone's expectations and spot a phony dead body/skeleton in the front seat. Use stickers and decals with counterfeit blood splashes or other awfulness symbolism for a total image of a vehicle coming straight out of agony, and you will undoubtedly get a lot of looks.
On the off chance that you pick a witch topic, you can utilize the this insidious vehicle adornment of a witch's legs sticking out of the trun from All Hallows Eve. Simply add a couple of pumpkins, snatch your own special witch or wizard ensemble and you're set. Remember about the brush, which you can even fuse into the vehicle. This Halloween Black Crow from Tinksky likewise goes incredible with this subject – and surprisingly better with a Maleficent topic, which your children will unquestionably cherish. On the off chance that you have children, that is.
Decide on a skeleton topic and you can transform your vehicle into the primary concern of fascination, both in case you're anticipating keeping it fixed for the length of the celebrations or continue to drive it. This Skeleton Junk in the Trunk prop from Paper Magic ought to get the job done, in the event that you join it with other unnerving things, similar to some all around put insects or weapons or the like. Or then again, you can get carried away on the skeletons and think about this as a vivified one, as this Skeleton Prisoner from Xena. It incorporates development and lights, as well.
Another topic that permits you to be imaginative and stay on financial plan is the always fun one of the undead. In case you're feeling especially modest, you can purchase several decals or stickers, similar to this realistic Window Zombie from amscan, or something almost identical. Be that as it may, if your spending plan permits you to, overdo it on this and different things like phony blood, cut off appendages to swing from your shut trunk or the hood, and back window designs.
It's not necessary to spend a fortune in order to make your car look awesome for Halloween. There's only one thing you can't do away with: time. You can't do a proper, scary job if you're not willing to sacrifice a few hours from your busy schedule.