Halloween Baking Ideas: Whether you're hosting an elegantly eerie dinner party for adults or throwing a kid-filled costume party, sweet treats are a menu essential. Need a little inspiration? Whether you're an over-the-top baking savant or you prefer some low-key sweet snacks, we've rounded up the sugary delights that will make your Halloween all treat, no trick.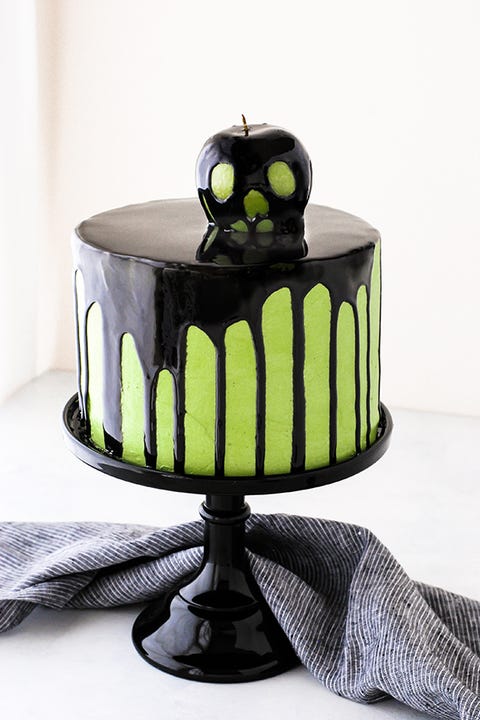 CARRIE SELLMAN FOR THECAKEBLOG.COM
Playful enough for any party but still elegantly minimalist, this poison apple inspired cake will make sure everyone has a deadly good time.
Get the recipe at The Cake Blog.
Pumpkin Doughnuts With Hot Cocoa Glaze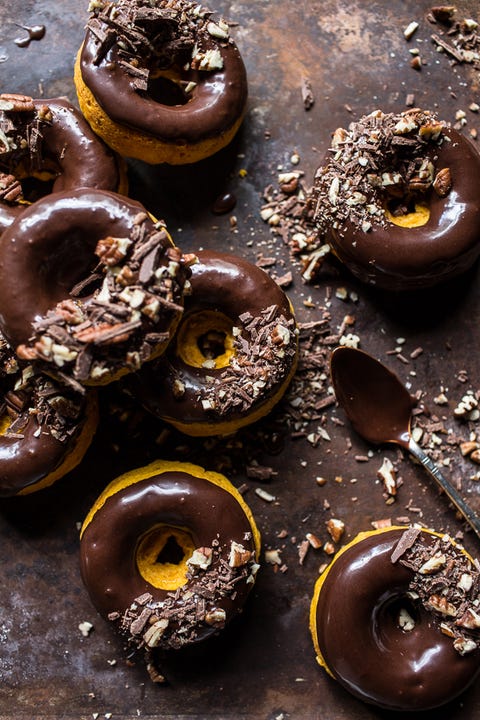 Doughnuts aren't just for breakfast when they're topped off with a hot cocoa glaze and flakes of chocolate and pecan.
Get the recipe at Half Baked Harvest.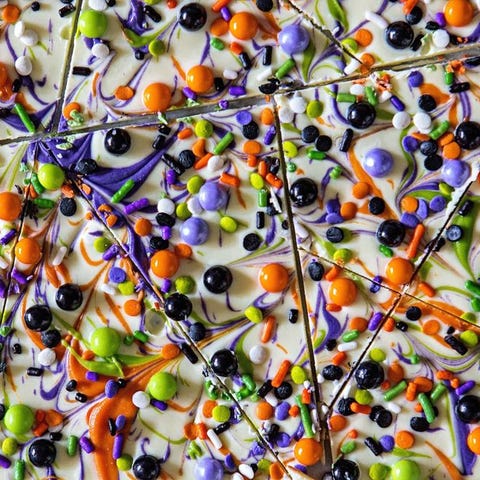 If a nibble is more your sweet speed, crunch on this colorful, fun to make bark filled with white chocolate and sprinkles.
Get the recipe at Delish.
Bloody Red Velvet Cupcakes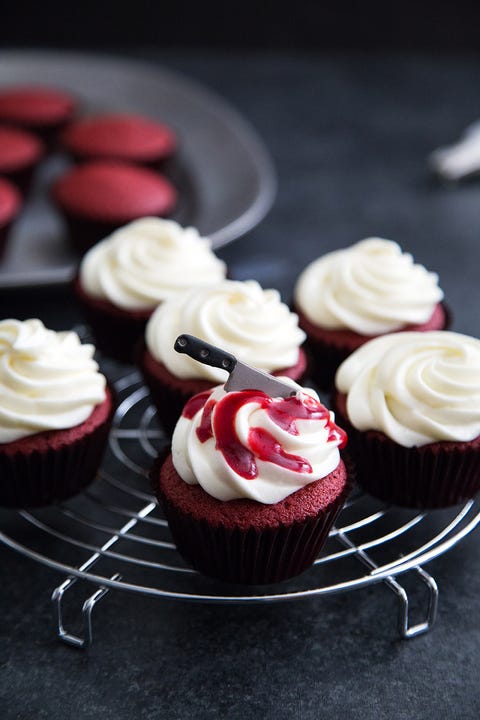 Classic red velvet cupcakes get a scary twist with an added dose of raspberry coulis inside and out.
Get the recipe at The Little Epicurean.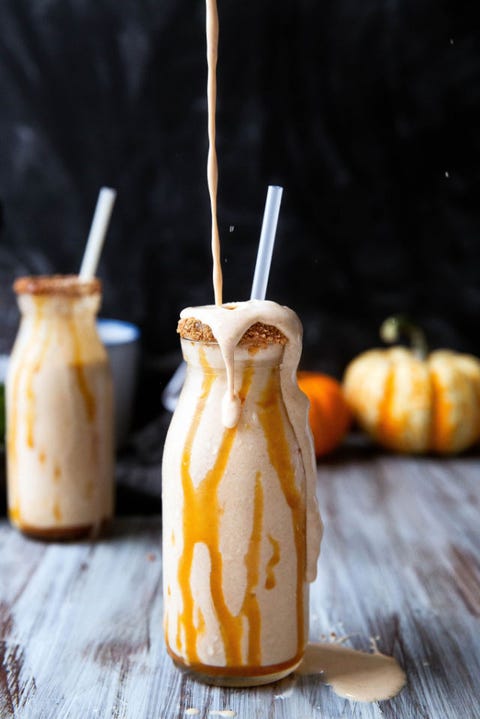 Finished off with a graham cracker rim and caramel drizzle, this bourbon pumpkin milkshake is the ultimate Halloween treat for adults.
Get the recipe at Broma Bakery.
Day of the Dead Candy Party Tray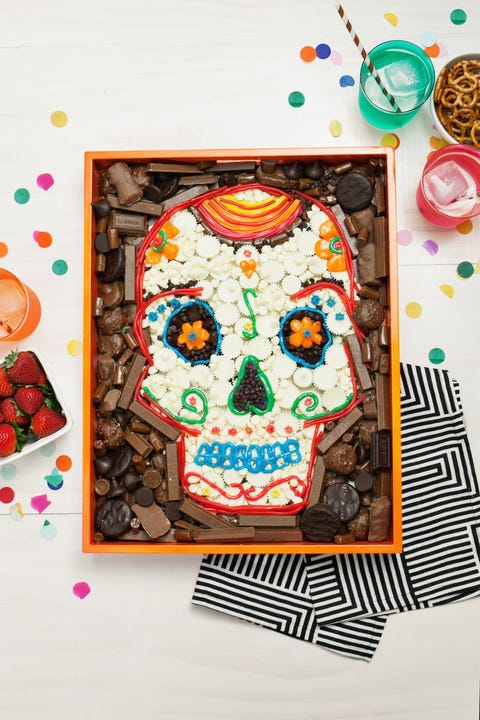 Not a baker? Follow this tutorial for an easy no-bake candy display for your Halloween party dessert table.
Get the tutorial at A Beautiful Mess.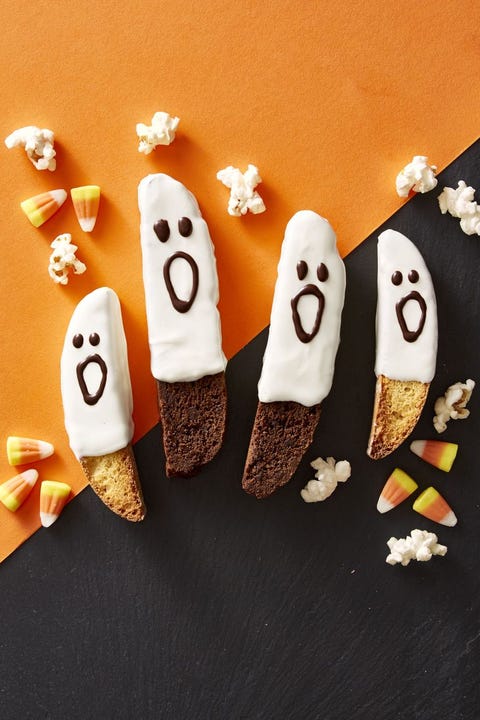 For a grown-up treat that pairs perfectly with coffee, try these adorably dressed up biscotti.
Get the recipe at Good Housekeeping.
Vegan Double Chocolate Halloween "Cheesecake"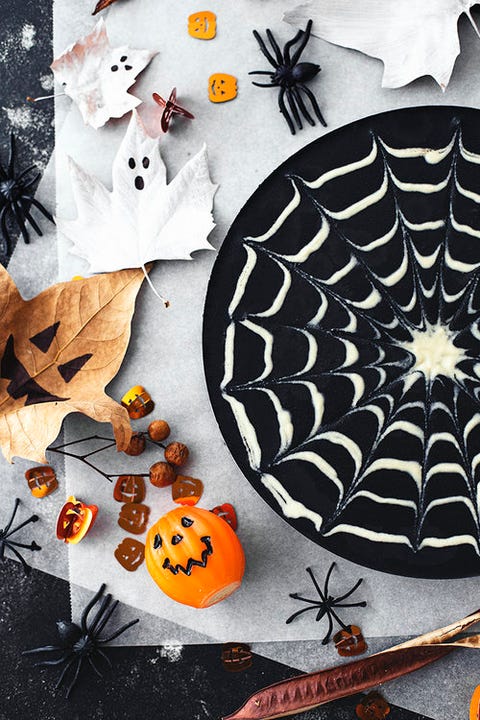 Tasty treats shouldn't exclude those with dietary restrictions. This white and dark chocolate vegan cheesecake makes sure everybody gets a piece of the Halloween fun.
Get the recipe at Cocoon Cooks.
Black Velvet Whoopie Pies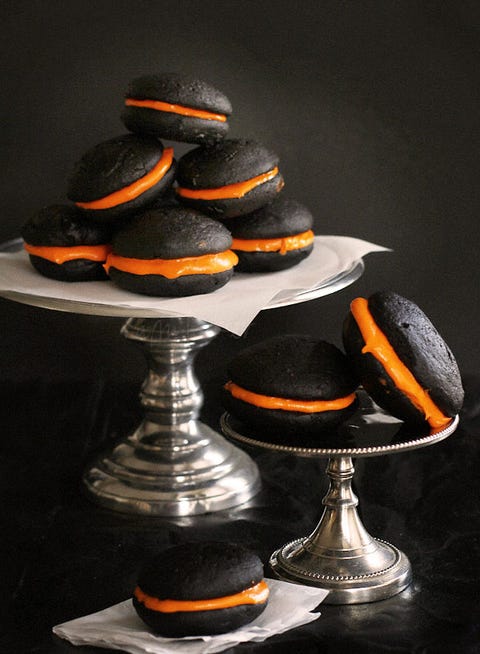 You don't have to be an expert baker to make these Halloween whoopie pies—all you need is a box of German chocolate cake mix and some food coloring.
Get the recipe at I Am Baker.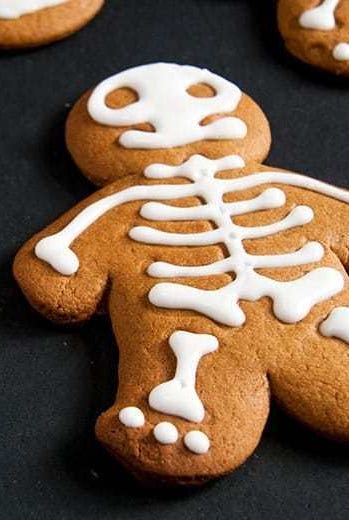 Making some delicious Halloween goodies and getting in some practice for your holiday gingerbread baking? We call that a win-win.
Get the recipe at Crumbs & Corkscrews.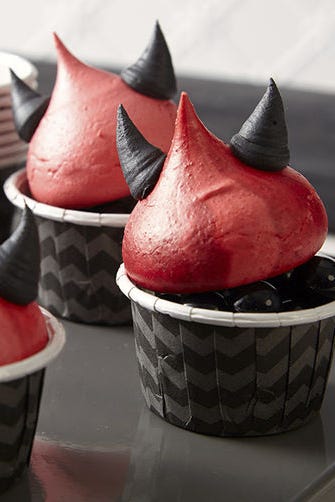 These cookies are so devilishly cute you'll (almost) won't want to eat them.
Get the recipe at Wilton.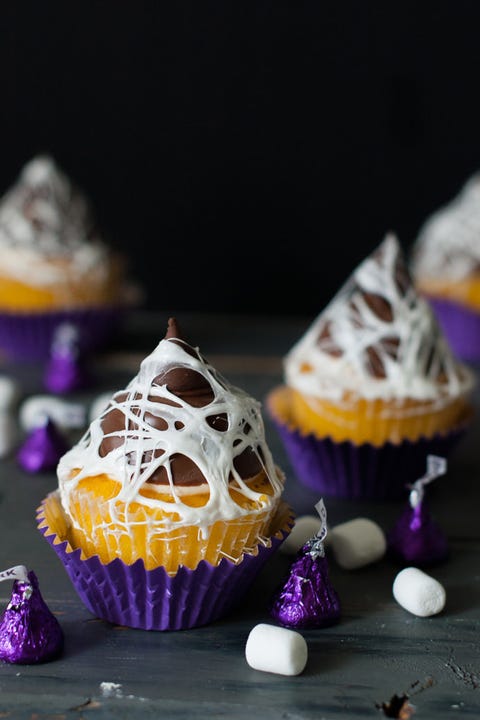 This web-like cupcake topping looks creepy, but it's really just strands of melted marshmallow. (And yes, you can use store bought cupcakes.)
Get the recipe at Handmade Charlotte.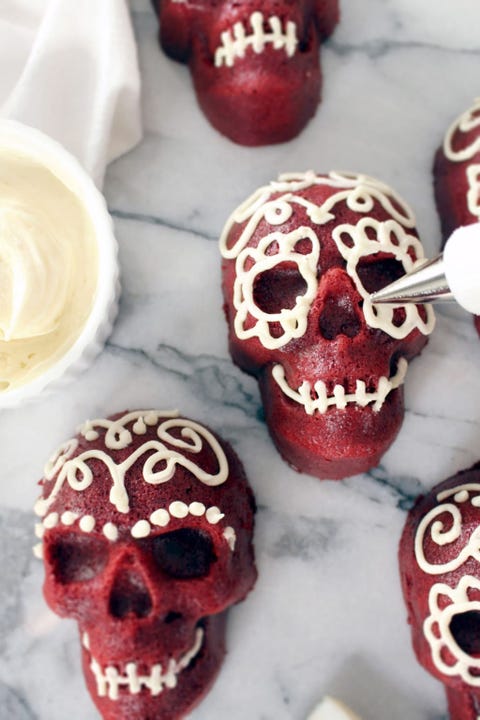 These Day of the Dead-inspired cakelets might look super complicated to make, but if you get this skull pan by Nordic Ware they're actually pretty easy to DIY.
Get the recipe at Shore Society.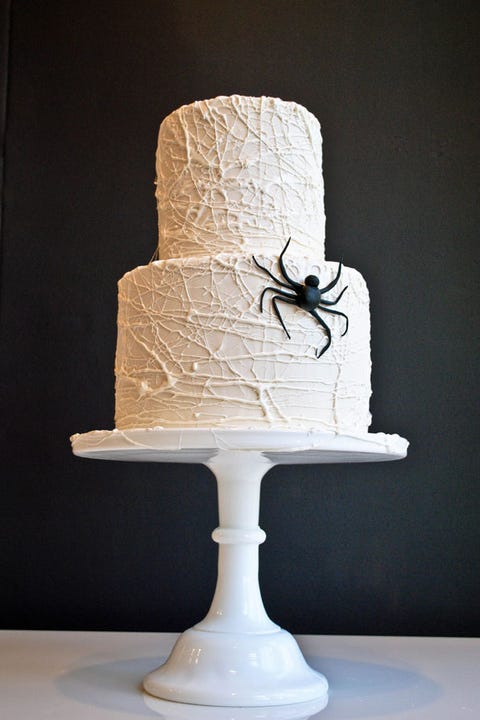 Make this creepy crawly cake by stretching "threads" of melted marshmallow all over a plain white layer cake.
Get the recipe at The Cake Blog.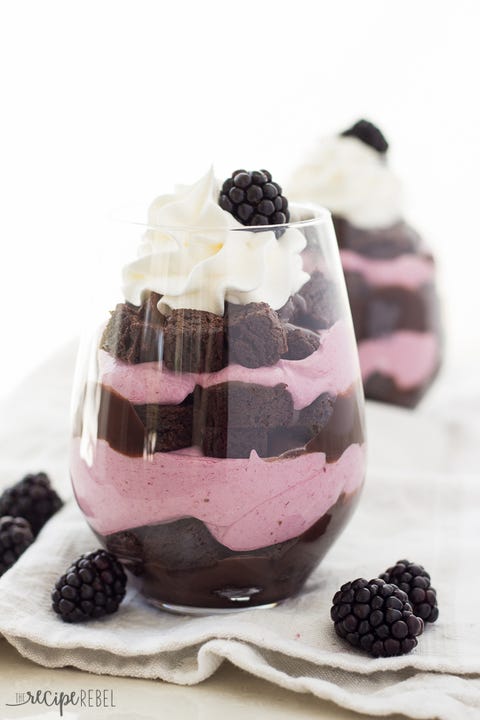 If you're hosting a sophisticated Halloween party for adults, serve these elegant trifles made out of layers of brownies and blackberry cheesecake.
Get the recipe at Recipe Rebel.
More: Halloween Cocktails That Are Scarily Delicious
Glossy Black Candy Apples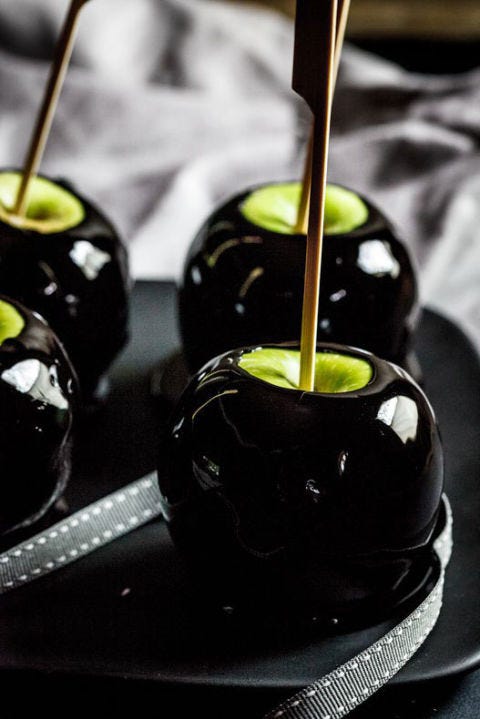 For an elegant twist on the classic candy apple try dipping Granny Smiths in jet black toffee.
Get the recipe at Simply Delicious.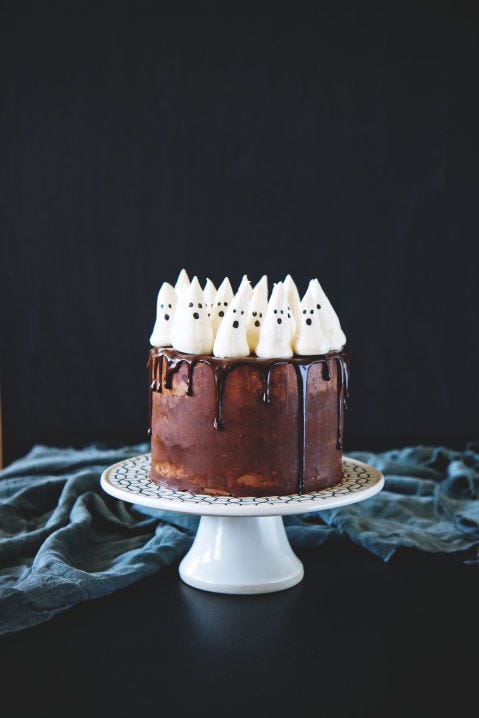 If you prefer cute Halloween desserts to scary sweets, top off a chocolate drip cake with a squad of adorable meringue ghosts.
Pumpkin spice lovers, prepare yourselves. Packed with real pumpkin puree and pumpkin spice (not to mention mix-in friendly) this sweet, chewy treat is like taking a bite of autumn.
This cake looks like something Maleficent would serve at a dinner party AKA perfect for All Hallow's Eve.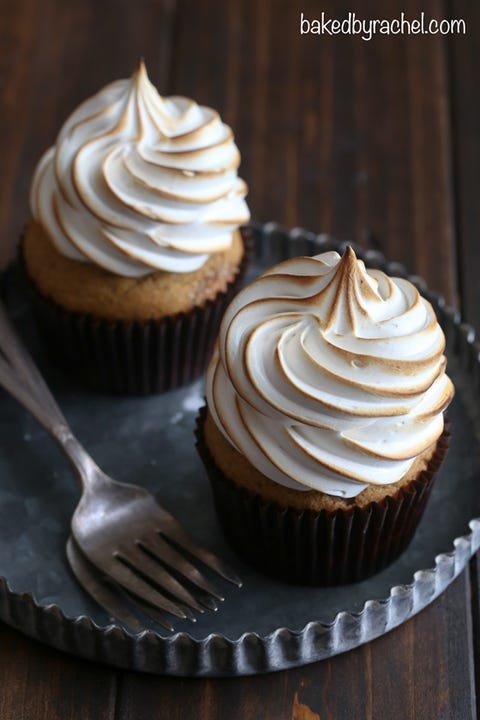 These moist cupcakes topped with brown sugar meringue frosting will be adored by kids and adults alike.
Pumpkin Cheesecake Brownie Bars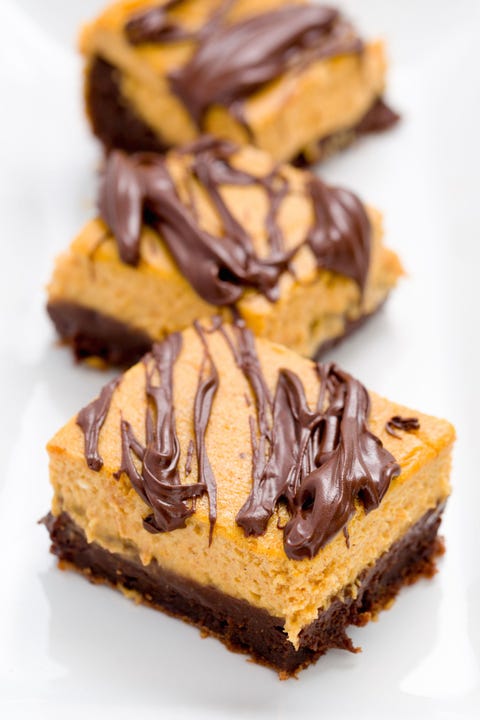 With a decadent brownie bottom, these pumpkin cheesecake bars are a must-bake this Halloween.
Chocolate and Peanut Butter Drip Cake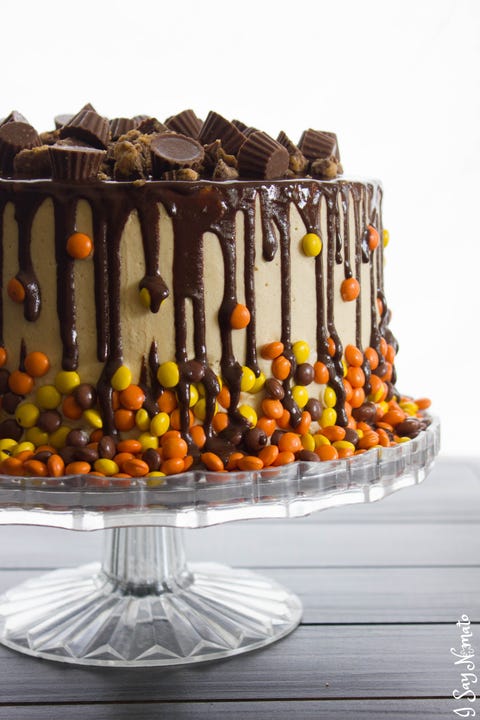 If Reese's Peanut Butter Cups were your favorite Halloween candy as a kid, you have to bake this chocolate peanut butter layer cake this fall.
Spider Web Cheesecake Tart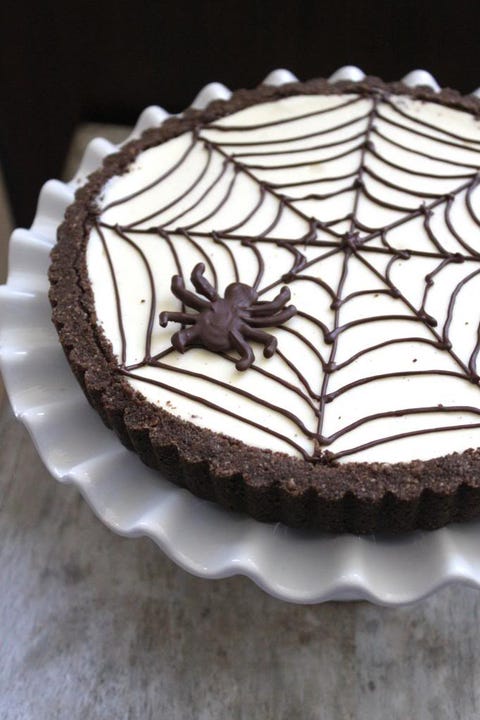 Finish off this classic cheesecake tart with a chocolatey spider web.
Chocolate Monster Halloween Cookies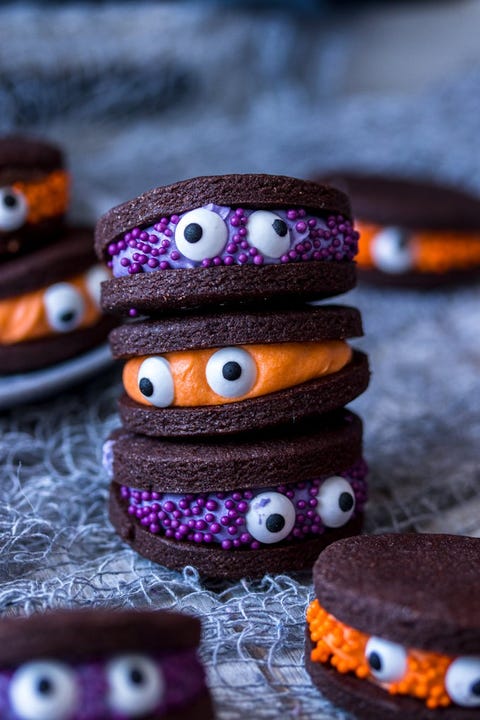 COURTESY OF SALT SUGAR MAGIC
You don't need to be a piping bag artist to make these tasty cookies look to die for. Better yet, they can come together in as littler as 30 minutes, making for a perfect last minute baking option.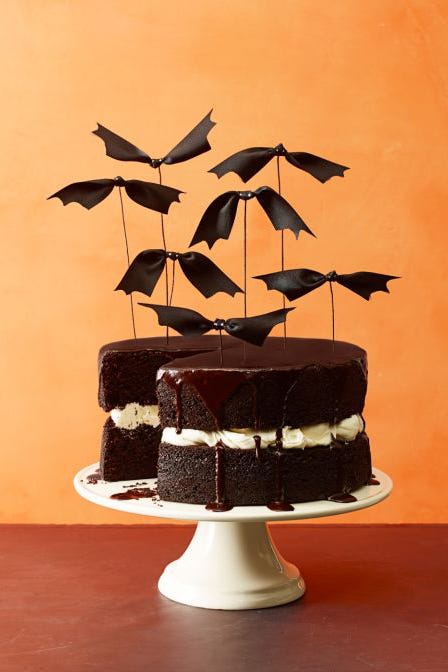 Top off your favorite chocolate cake recipe with tiny bat toppers made from knots of black satin ribbon glued to floral wire.
Browned Butter Pumpkin Cake