Good Friday Prayers And Reflections
Here is the Good Friday confession litany and reflection from my church. Leaders from the church are doing videos for each day of Holy Week, going through our prayerbook liturgy for the day and offering some personal reflections. You can also find the audio version on our podcast.
Litany of Confession
Most holy and merciful Father: I confess to you
that I have sinned by my own fault in thought, word, and deed;
by what I have done, and by what I have left undone.
I have not loved you with my whole heart, and mind, and strength
I have not loved my neighbors as myself.
I have not forgiven others as I have been forgiven.
Have mercy on me, Lord.
I confess to you, Lord, all my past unfaithfulness:
the pride, hypocrisy, and impatience of my life.
I confess to you, Lord.
My self-indulgent appetites and ways,
and my exploitation of other people,
I confess to you, Lord.
My anger at my own frustration,
and my envy of those more fortunate than I,
I confess to you, Lord.
My intemperate love of worldly good and comforts,
and my dishonesty in daily life and work,
I confess to you, Lord.
My negligence in prayer and worship,
and my failure to commend the faith that is in me,
I confess to you, Lord.
My deafness to your call to serve, as Christ served us,
and how I grieve your Holy Spirit,
I confess to you, Lord.
Accept my repentance, Lord.
By the cross and passion of your Son, our Lord,
Bring me with all your saints to the joy of his resurrection.
Lord, have mercy.
Christ, have mercy.
Lord, have mercy.
Amen.
— Adapted from Eastertide, by Phyllis Tickle
~ Silent Confession & Reflection ~
Read
Selection from Mark 15
Then the soldiers led him into the courtyard of the palace (that is, the governor's headquarters); and they called together the whole cohort. And they clothed him in a purple cloak; and after twisting some thorns into a crown, they put it on him. And they began saluting him, "Hail, King of the Jews!" They struck his head with a reed, spat upon him, and knelt down in homage to him. After mocking him, they stripped him of the purple cloak and put his own clothes on him. Then they led him out to crucify him.
When it was noon, darkness came over the whole land until three in the afternoon. At three o'clock Jesus cried out with a loud voice, "Eloi, Eloi, lema sabachthani?" which means, "My God, my God, why have you forsaken me?" When some of the bystanders heard it, they said, "Listen, he is calling for Elijah." And someone ran, filled a sponge with sour wine, put it on a stick, and gave it to him to drink, saying, "Wait, let us see whether Elijah will come to take him down." Then Jesus gave a loud cry and breathed his last. And the curtain of the temple was torn in two, from top to bottom. Now when the centurion, who stood facing him, saw that in this way he breathed his last, he said, "Truly this man was God's Son!"
Practice
On this most somber of days, practice an imaginative reading of this text. See the Prayerbook preface for a more general guide into this practice, or you may use the prompts below to lead you. You may journal through this, but the practice itself is meant to be done in prayerful silence in one's mind over the course of at least 10-15 minutes. Let it take whatever time necessary.
You may use the prompts to lead your imaginative reading.
Become quiet and still. Close your eyes and count your breaths until you feel stilled. This could take 3-4 minutes. Get in touch with your desire to see Jesus.
Read the text slowly and carefully, taking in all the details.
Close your eyes once more and imagine yourself as one of the characters. Imagine the scene as vividly as you can—its light, sound, feel. What do you see, feel, smell, do?
Now turn your thoughts to Jesus' experience. What is it like for Jesus to be abandoned by those he counted on? What is it like for Jesus to find that God is silent? What is it like for him to submit to the aloneness, the pain, the nakedness? What desire drives Jesus to the cross?
Finally, let Jesus summon you into prayer, asking him to reveal to you what the text has for you.
Prayer Meditation for Good Friday
My Most Glorious and Suffering Lord, it is Your Hour.  It is the Hour by which You conquered sin and death.  It is the Hour for which You came into this world, taking on flesh so as to offer Your precious life for the salvation of the world.
May I be with You, dear Lord, in these moments of suffering and death.  May I, like Your Mother, John and Mary Magdalene, stand at the foot of the Cross, gazing upon the perfect Gift of Love.
My suffering Lord, may I see in Your Cross the most perfect act ever known in this world.  May I see Love in its most pure form.  May my eyes and soul look beyond the blood and pain and see Your Divine Heart, pouring forth Mercy upon me and upon the whole world.
Today I kneel in silent adoration of You, my God.  I sit quietly, beholding the great mystery of our faith.  I behold God, beaten, bruised, mocked, tortured and killed.  But in this act, I see all grace and Mercy flowing from Your wounded Heart.  Bathe the world in Your Mercy, dear Lord.  Cover us with Your grace and draw us to new life through Your death.  I love You, dear Lord.  I love You with all my heart.  Jesus, I trust in You.
Good Friday Prayers and Meditations For This Highly Unusual High Holy Day
Good Friday is a day to where Christians reflect on the ultimate sacrifice Jesus made to give humanity life after death. The emotional day is linked to a devastating moment in Christian history: the death of Jesus, the ultimate martyr, who died on the cross to erase the consequence of sin.
The Holy day is considered one of Christianity's biggest observances, and there are a handful of ways you can reflect and celebrate the monumental sacrifice. This year, especially, Good Friday will likely feel different. People around the world have shuttered themselves at home in the wake of COVID-19. Churches are forgoing masses in an unprecedented shift.
One of the best ways to keep in touch with your faith on this Holy day is to pray and meditate on the good works of Jesus, reflect on his death and more. A list of sources have already released the perfect prayers and meditations to bring you closer to God at the start of the Easter weekend.
NEWSWEEK NEWSLETTER SIGN-UP >
Here are some of the best prayers and meditations you can participate in now.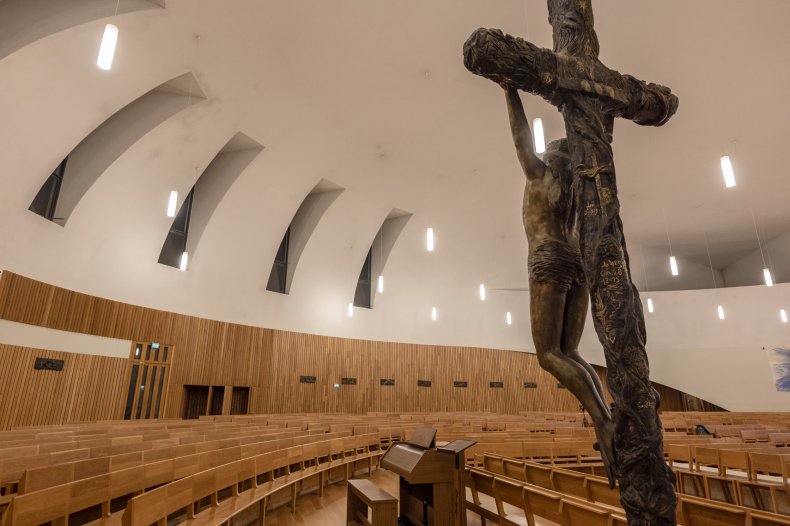 The Stations of the Cross
There are a list of meditations surrounding the Stations of the Cross—a segmented reflection on the walk Jesus took to his death. The Vatican released a specific round of meditations this year that were prepared by " the chaplaincy of the "Due Palazzi" House of Detention in Padua," according to Zenit.org.
NEWSWEEK SUBSCRIPTION OFFERS >
It serves as a joint project of an unlikely group. Prisoners, parents whose daughters were murdered, a prison teacher, and acquitted priest and even a corrections officer come together to reflect on Jesus' last walk.
Each meditation includes thoughts to meditate on personally, along with a description of the fateful events that led to Jesus' death. They also reveal personal struggles with right an wrong, family members incarcerated and more. You can read the full text here.
A Prayer For Good Friday: It Is Finished
This thoughtful prayer written by Debbie McDaniel speaks directly to the death of Jesus, and praises with thankfulness for healing. An adjoining blog post reflects on the entire Lenten season, including Ash Wednesday, which the author reveals is a reminder that "we are bust dust." You can read the deep reflection here.
Bible Verses
If you're looking for a list of related Bible verses, Core Christianity has summed up some of the best short thoughts to tie together your personal thoughts and your reflections on Good Friday. The list begins with a note on our inherent sin: "All have sinned and fall short of the glory of God" (Rom. 3:23)."
From there, the list dives into forgiveness, and the path Jesus took to save humanity from original sin.