Good Friday Origin
Why is it called Good Friday?
It is called Good Friday in some countries but others reference it differently. In some places around the globe, the last workday of the week before Easter is prefixed with words such as Holy, Great, Black, Long and Silent.
What some people might find surprising is that the Bible is does not mention any religious observance on the Friday before a believed resurrection of Jesus on Sunday morning (see our article "Three days and three nights" for more information). In fact, even the name of the day of the week Jesus was believed to be crucified on does not appear anywhere in the Bible. The only day given a name in Scripture is the seventh day (the Sabbath). The names of the other days are first, second, third and so on.
A 1911 Encyclopedia states the following about this day.
"The origin of the custom of a yearly commemoration of the Crucifixion is somewhat obscure. It may be regarded as certain that among Jewish Christians it almost imperceptibly grew out of the old habit of annually celebrating the Passover on the 14th of Nisan" (Nisan, also called Abib, is the first month of the Hebrew year).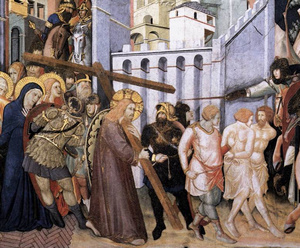 Road to Calvary
Pietro Lorenzetti, c. 1320
This day was made a fast day by the Roman Catholic Church in the 4th century A.D., long after Jesus died. Its purpose is to commemorate the crucifixion and death of Jesus. The following is the Catholic Church's explanation.
"Good Friday is the English designation of Friday in Holy Week . . . (the day) on which the Church keeps the anniversary of the Crucifixion of Jesus Christ.

"From the earliest times the Christians kept every Friday as a feast day; and the obvious reasons for those usages explain why Easter is the Sunday par excellence, and why the Friday which marks the anniversary of Christ's death came to be called . . . Some say it (the term) is from Gottes Freitag; others maintain that it is from the German Gute Freitag, and not specially English." (The Catholic Encyclopedia, Volume VI, 1909).
Another source clarifies why the Catholics called for a fast on this "good" day, how someone might observe it, and when the death of Jesus is actually celebrated.
"The Catholic Church treats (this day) as a fast day, which in the Latin Rite of the Church is understood as having only one full meal (but smaller than a regular meal) and two collations (a smaller repast, two of which together do not equal one full meal) and on which the faithful abstain from eating meat. In countries where (it is celebrated it) is not a day of rest from work, the afternoon liturgical service is usually put off until a few hours after the recommended time of 3 p.m.

"The Celebration of the Passion of the Lord takes place in the afternoon, ideally at three o'clock, but for pastoral reasons a later hour may be chosen. The vestments used (by Roman Catholic priests) are red (more commonly) or black (more traditionally)."
According to Catholic dogma, which has largely been carried over into the Protestant churches, Jesus was killed on Friday and resurrected Sunday morning in 33 A.D. (or some other close date). It is the anniversaries of these dates that are observed as part of the Easter celebration.
The truth is, the origin of what is called Easter has no Biblical basis whatsoever. The early New Testament church neither taught nor observed an Easter holiday. In order to move people away from celebrating the Biblical Christian Passover, the Catholic Church adopted and Christianized a pagan holiday that celebrated the false goddess Ishtar (Astarte). The Babylonians and Assyrians worshipped this goddess. She symbolized fertility, love, war, and sex. The holiday in her honor occurred around the spring equinox.
According to the Bible, Jesus was crucified and died at 3 p.m. on a Wednesday (in 30 A.D.), spent three full days and nights in a tomb (72 hours total), then was resurrected back to life by God just before sunset Saturday. In order to fulfill prophecy Jesus could not have died on "Good Friday!"
Holiday History: The origins of Good Friday
Today is Mourning Friday, Long Friday, Silent Friday, and Holy Friday.
I'm sure you're thinking to yourself: isn't today Good Friday?
They actually are all one and the same—the day Christians remember when Christ was executed, put to death by the power of the state. The other names are used in languages such as German, Swedish, French and Spanish.
Why is it called Good Friday in English? Why would a day on which Jesus was beaten and killed be called good? After all, many churches will hold solemn services today, and some of those will end in darkness in the church.
While there are several theories on the origin of the name, the one that is most widely accepted is that it stems from a time when the word good was used to mean the same thing as pious or holy. So Good Friday has stayed with us since the Middle Ages.
Others think it may come from the expression "God's Friday."
When you think about it, it is a Good Friday for Christians because they know how the story ends. After his death and burial, Christ would rise on the third day, on Easter. Although he was crucified, they see his death as resulting not only from the actions of the authorities, but also because of the sins of each person.
His death and resurrection meant salvation would be available to all mankind. The cross, intended to be a symbol of shame, became a symbol of victory.
For many, Easter itself has become associated with chocolate Easter bunnies (and Peeps), egg hunts, and gifts for children. Good Friday has remained primarily a religious holiday, although it is a government-recognized holiday in a number of countries and several U.S. states.
As with many holidays, there is a traditional food for Good Friday: hot cross buns. While hot cross buns as we know them originated in England, cakes marked with a cross may have been baked in Greece 1,500 years ago. Hot cross buns are still baked and eaten by many people today.
For example, Ree Drummond, known as the Pioneer Woman on her website and TV show, says "friends who gift one another with Hot Cross Buns every year are said to remain friends for life."
Good Friday is part of Holy Week, which began last Sunday with Palm Sunday, a remembrance of Jesus' triumphal entry into Jerusalem.
This year Good Friday and Easter overlap with the Jewish observance of Passover, and it comes just before the beginning of Ramadan (on April 13), the most significant month of the year for Muslims.
Why Is it Called 'Good Friday'?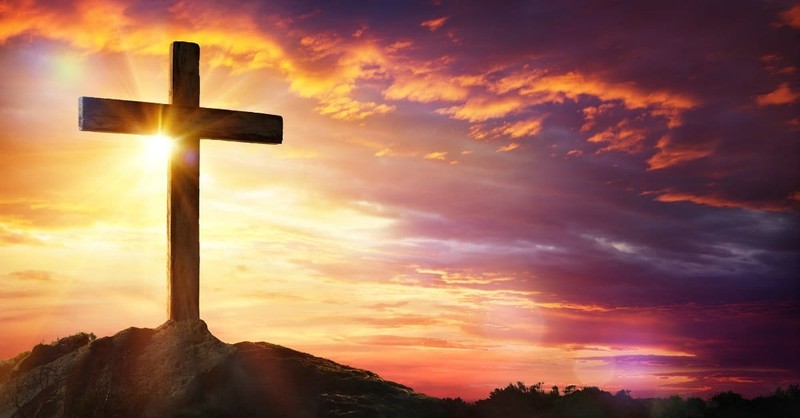 If anyone has viewed the Passion of Christ where the last hours of Jesus are shot in excruciating detail, most would question why Good Friday is called, 'Good Friday.' At least that was my thought between wincing over the lashes and the obvious pain Jesus was experiencing. As a new Christian, the movie came highly recommended to learn about Good Friday and Easter, but I wondered, "Why is it called Good Friday when it's the day Jesus, brutally died?"
Why Is it Called Good Friday?
For Christians, Good Friday is a crucial day of the year because it celebrates what we believe to be the most pivotal day in the history of the world. On Good Friday, Jesus willingly suffered and died by crucifixion as the ultimate sacrifice for our sins (1 John 1:10).
D.A. Carson wrote, "It was not nails that held Jesus to that wretched cross; it was his unqualified resolution, out of love for his Father, to do his Father's will—and it was his love for sinners like me." It is a good day because he traded places for you and for me. It is a good day because it was the day he conquered sin and death so that we will never be apart from God on this side of heaven or the other.
If you had asked his friends, family, and disciples on the day he died, they wouldn't have said it was a good day when all hope seemed lost; evil and death seemed to have triumphed, but their responses would've been very different three days later because the forces of evil had been defeated, death had been destroyed, and from that point on, we all have a way to be free of sin and death.
Still, some have debated where the name of Good Friday originated. Justin Holcomb wrote, "Some Christian traditions do take this approach: in German, for example, the day is called Karfreitag, or "Sorrowful Friday." In English, in fact, the origin of the term "Good" is debated: some believe it developed from an older name, "God's Friday." Regardless of the origin, the name Good Friday is entirely appropriate because the suffering and death of Jesus, as terrible as it was, marked the dramatic culmination of God's plan to save his people from their sin."
It's called Good Friday because, by Jesus' death, he became the final, complete sacrifice for our sins. We couldn't have erased our sins. Our hands would have been forever stained with every single sin for a lifetime. But Jesus broke the bonds of death and sin!
What Happened on Good Friday?
So how did Jesus die for us? What happened that day? The Bible says his disciple and friend Judas betrayed Jesus' whereabouts in the Garden Gethsemane. He was arrested and taken to the house of Caiaphas, the high priest, which was an informal late-night meeting of the Sanhedrin, the Jewish ruling council. They had plotted to put Jesus on trial. They were looking for evidence that would justify putting Him to death, but they could not find any.
Finally, the high priest demanded Jesus, "Tell us if you are the Messiah, the Son of God." Jesus then replied, "I am, and you will see me, the Son of Man, sitting at God's right hand and coming back on the clouds of heaven." Then the high priest said, "You have just heard His blasphemy! Why do we need any more witnesses? What is your verdict?" They all shouted, "He deserves death!" Then they spat in Jesus' face and started beating Him. After he was convicted in their mock trial, they took Him to Pilate because they did not have the authority to put anyone to death under Roman law. They falsely accused Jesus of treason against the Roman Empire for claiming to be the king of the Jews and for urging people not to pay their taxes. However, Pilate knew Jesus wasn't guilty of any crime; yet the mob wanted Him crucified. So he washed his hands of it and did what the crowd wanted.
At the time, crucifixion was the cruelest form of death reserved for criminals and slaves. Jesus, the son of God was flogged and ordered to carry a cross that would he die upon. After he was nailed to the cross, he was given a crown of thorns and the title as "King of the Jews." The cross was placed between two other men who were being crucified that day. The soldiers nailed Jesus to the cross and left Him to die. They put a sign on the cross to mock Jesus that said, "Jesus of Nazareth, the King of the Jews." Jesus struggled on the cross for six hours, and according to the Bible, when he eventually gave up his spirit darkness fell across the land.
Then at noon, strange things began to happen. The sky grew dark for three hours and Jesus cried out, "Father, into your hands I commend my spirit," and then He died. The curtain of the temple was mysteriously torn in two from top to bottom and there was a great earthquake. It was Friday afternoon, and the Sabbath would start at sundown, but it wasn't just any Sabbath! It was during the Passover celebration, making it a very special Passover. After Jesus' body was taken down from the cross, He was wrapped in strips of cloth and laid in a tomb. Roman guards were sent to guard the tomb to ensure no one stole the body or spread rumors that He wasn't dead. Finally, three days later, Jesus rose from the dead and conquered death!
If you haven't read the complete story of the crucifixion recently, today's a perfect day to revisit it. Here are the four Gospel accounts of the story:
Matthew 26:14-27:66
Mark 14:12-15:47
Luke 22-23
John 18-19
Why Is Good Friday Celebrated?
Jesus went through so much for each of us to become heirs of heaven. He became the bridge when there was no bridge. Good Friday is celebrated because deep down, we know the darkness within ourselves. We're aware of the sins we've committed, and we know just how dark our actions and thoughts can be. As we think about the things that have stained our hands, we know deep down, the things we've done are worthy of punishment. Especially when we understand God's holy standards.
The difficulty for us is that living for God requires sinless perfection, and none of us is perfect. Not one, until Jesus came, not until he came and took our place on that Friday so long ago! That is why we need a Savior—and Scripture identifies Him as Jesus Christ (Luke 2:11; Titus 2:13–14). We need the Savior, Jesus, because we need to be made holy: "without holiness no one will see the Lord" (Hebrews 12:14). We need a Savior because we cannot save ourselves. We need a Savior because, without Christ, we are described as "having no hope and without God in the world" (Ephesians 2:12).
Even though the Bible doesn't tell us to celebrate Good Friday, we observe it and call it Good Friday because it was a good day for humankind! God demonstrated his love for us through the perfect sacrifice of Jesus. "But God demonstrates his own love for us in this: While we were still sinners, Christ died for us." 1 Peter 3:18 tells us, "For Christ died for sins once for all, the righteous for the unrighteous, to bring you to God. He was put to death in the body but made alive by the Spirit."
This year, Good Friday will take place on Friday, April 2; no matter how you choose to observe it, knowing the story of Good Friday causes our hearts to cry out to God in humility and thanksgiving. It is a day that is holy and makes us holy because God was drawing the world to God's self in Christ.
Prayer for Good Friday
Father God, we thank you for your love and the plan you have for all of mankind. From the beginning, you loved each of us so much that you sent your son to us. We thank you for his ministry. We thank you for the life he led, and we are deeply grateful for his sacrifice on the cross.
As we go into the weekend, help us remember with wonder and awe how he suffered for us; how he paid the price, and it was at such a great cost. Through the crowns of thorns and scourging, and through the cross, you carried our sins. We pray to remember to carry our cross and heed your call to follow you.
May we never forget what Christ did for us. Like a lamb to the slaughter, clothed in humility and grace, he willingly offered himself to death so that we might live forever. We are truly thankful for the extent of his love, stretched out on a cruel wooden cross. We come to you in repentance and reconciliation and forgiveness. Through the power of the cross, you have redeemed us. May we not dwell on our sufferings but leave them at your feet, trusting that You know what's best for us.
Heavenly Father, how great and how gracious your great redemption plan for mankind. We thank You greatly as we walk through this day and commemorate the great love and sacrifice of Your beloved Son Jesus.  In Christ's name, we pray, amen!