Good Friday Night Movies
How many times have you come out of a theater after seeing a great movie and said,"oh I want to see that again!?" We all have our favorites that we return to time and time again. Friday night always seems the perfect time too. You're relaxing after a week of school, activities and work and you unwind with a comfortable favorite film.
MEATBALLS Four words – "It Just Doesn't Matter!"
THE BURBS Hilarious cast, suburbanites Tom Hanks, Rick Ducummon, Bruce Dern and Carrie Fisher, made up Joe Dante's comedy about the unusual neighbors next door (Yes, we all have 'em) is required watching, along with munching on popcorn, as you head into any weekend.
THE MALTESE FALCON After watching current films all week, we sometimes like to get back to an old black and white classic from the Golden Age of Hollywood. This quinessential film noir – one of the films to establish the type – is full of plot twists, mystery, shady characters and fine photography. Humphrey Bogart's Sam Spade is the perfect private eye, setting the type, and everything exists in moral shades of grey in this black and white world. While packed with unforgettable characters and strong acting, the contrast between Spade's loyal secretary and the mysterious, irrestible Brigid O'Shannessy (we don't even know if that is her real name) are particularly memorable. A film we enjoy seeing over and over.
FASTER PUSSYCAT, KILL KILL! Opening with a narrator intoning "Ladies and gentlemen – welcome to violence!", FASTER PUSSYCAT, KILL KILL! (1966) tells the sordid tale of a trio of bisexual amazon go-go girls on a neck-breaking crime spree in the Californian desert. Director Russ Meyer's audacious sense of eroticism, comic timing, and social satire is off the charts in FASTER PUSSYCAT, KILL KILL!, a movie John Waters once described as "The best movie ever made, and possibly better than any movie that will ever be made."
SIGNS "Swing away, Merrill. Merrill, swing away." Perfect for a Friday night, Joaquin Phoenix goes mano a mano with Alien invaders in M. Night Shyamalan's sci-fi creeper.
GALAXY QUEST Once you've finished with SIGNS, this is the next movie you'll want to pop in and wish there had been a sequel – at the very least a weekly TV show about the intergalactic voyages of the NSEA Protector.
THAT THING YOU DO The "OH-NEEDERS", better known as the one hit WONDERS, is a musically fun romp back to the 60's for a Friday evening. Directed by Tom Hanks, and starring Tom Everett Scott, Liv Tyler, Johnathon Schaech and the hilarious Steve Zahn, the film shows a simpler time when being famous was a ton of fun and records were released.
SLUMBER PARTY MASSACRE 2 If I'm staying at home on a Friday Night… Slumber Party Massacre 2… Do you love Andrew Dice Clay and the Fonze mixed with a serial killer with a fringe jacket? Then this film is for you! Add the fact that his name is "the driller killer", as well as one liners such as "I can't get no… Satisfaction!" and you've got yourself a party!!!!
NATIONAL LAMPOON'S ANIMAL HOUSE The perfect flick to kick off the weekend just may be that comedy classic from 1978 NATIONAL LAMPOON'S ANIMAL HOUSE. It's the greatest R-rated (for raunch) ultimate movie showdown between the slobs (our heroes at Delta) and the snobs("Douggie and Greggy, and assorted other Hitler youth). It transformed John Belushi from late night TV star to comedy legend. Toga!! Toga!!
JURASSIC PARK Director Steven Spielberg's masterpiece is one of the most successful films in worldwide box office history and remains a compelling and spectacular experience. This thrilling adventure features Sam Neill, Laura Dern, Jeff Goldblum and Richard Attenborough. Featuring incredible special effects and action-packed drama, Jurassic Park takes you to a remote island where an amazing theme park with living dinosaurs is about to turn deadly, as five people must battle to survive among the prehistoric predators.
RAIDERS OF THE LOST ARK Speaking of Spielberg, no Friday night is complete without tag teaming JP to RAIDERS. Show it for the first time to a friend or family member who may still be in need of their Geek card, and watch their face light up during the famous golden idol and boulder scene. The ultimate scene is the showdown in the marketplace between the sword and gun.
DAZED AND CONFUSED Director Richard Linklater's follow-up to Slacker takes an autobiographical look at some Texas teens (including Ben Affleck and Matthew McConaughey) on their last day of school in 1976, centering on student Randall Floyd (Jason London), who moves easily among stoners, jocks and geeks. Floyd is a star athlete, but he also likes smoking weed, which presents a conundrum when his football coach demands he sign a "no drugs" pledge.
STAR WARS Hollywood prodigies George Lucas' and Steven Spielberg's films were in a continual state of one upping each other at the Box Office during the 1970's. The Grandfather of all Summer Blockbusters, JAWS, was released in 1975 and was a huge hit with audiences and at the Box Office – until STAR WARS came along in May 1977. With too many familiar quotes to count, this is the ultimate Friday Night Movie. "If you strike me down, I will become more powerful than you can possibly imagine," is still so gut-wrenching to watch.
Best Movies For Your Friday Night
Got plans tonight? No? We don't either.
Like much of the country, you'll likely be spending your rainy, Friday night glued to the sofa. And you're dead right, too.
Rather than aimlessly scrolling through Netflix for something to watch, (lucky for you) we've rounded up a list of the best movies on the telly tonight.
So light that scented candle, throw on the jammies and feast your eyes on our Friday night movie menu:
1. My Best Friends Wedding (1997)
Romance/rom-com (1h 45m)
Film 4 – 18:40
'Julianne is shocked when she learns that her best friend Michael is soon getting married. Overcome with a surge of mixed emotions, she makes up her mind to sabotage his wedding and make him her own.' – Google reviews
Watch trailer
2. Harry Potter 20th Anniversary: Return to Hogwarts (2022)
TV Special (1h 42m)
Sky Max – 19:00
'Cast members from all "Harry Potter" films reunite in a retrospective special to celebrate the anniversary of the first film, including interviews and cast conversations.' – IMBD
Watch trailer
3. The Call (2013)
Thriller/crime (1h 36m)
Virgin Media One – 21:00
'When a veteran 911 operator takes a life-altering call from a teenage girl who has just been abducted, she realizes that she must confront a killer from her past in order to save the girl's life.' – IMBD
Watch trailer
4. The Other Woman (2014)
Romance/comedy (1h 49m)
Comedy Central 21:00
'After discovering her boyfriend is married, Carly soon meets the wife he's been betraying. And when yet another love affair is discovered, all three women team up to plot revenge on the three-timing S.O.B.' – IMBD
Watch trailer
5. Collette (2018)
Drama/history (1h 51m)
RTÉ2 21:30
'Colette is pushed by her husband to write novels under his name. Upon their success, she fights to make her talents known, challenging gender norms.' – IMBD
Watch trailer
6. David Bowie: Five Years (2013)
Documentary (1h)
BBC Four 22:50
'A documentary covering five of the most important years of the influential rock star David Bowie's career.'
Watch trailer
Image via Hot Press
Best Movies With Friday in the Title

Have you ever noticed how many movies there are with Friday in the name? This list ranks the best movies with Friday in the title, regardless of genre or rating. What is your favorite movie with Friday in the name? This is kind of an odd way to categorize movies, but that's also why it's so fun! There are probably one or two movies with Friday in the title that you instantly think of, but you might be surprised how many others there are too as you scroll through this list.
1

Friday

Ice Cube, Chris Tucker

Actors: Ice Cube, Chris Tucker, Nia Long, Tommy "Tiny" Lister, John Witherspoon
Released: 1995
Directed by: F. Gary Gray

Friday is a 1995 American stoner buddy comedy film directed by F. Gary Gray in his directorial debut, and starring Ice Cube, Chris Tucker, Nia Long, Bernie Mac, Tiny 'Zeus' Lister Jr, and John Witherspoon. The film revolves around 16 hours in the lives of unemployed slackers Craig Jones and Smokey, who must pay a dealer $200 by 10:00 PM that night. The film spawned two sequels: Next Friday and Friday After Next, with a fourth film, Last Friday, currently in development.

2

Next Friday

Ice Cube, Mike Epps

Actors: Ice Cube, Mike Epps, Justin Pierce, John Witherspoon, Don "D.C." Curry
Released: 2000
Directed by: Steve Carr

Craig (Ice Cube) bails his friend out of trouble, survives a climatic confrontation with Debo, the neighborhood bully, and ends up with the girl. In "Next Friday" the bully is back as Debo, who spent two years behind bars, is released from prison. Fearing for his sons safety, Craig's father (John Witherspoon) sends his son to live with Uncle Elroy (Don "D.C." Curry). However, Craig soon learns that trouble can find you no matter where you live.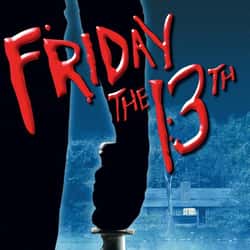 Friday the 13th
Betsy Palmer, Adrienne King
Actors: Betsy Palmer, Adrienne King, Harry Crosby, Laurie Bartram, Mark Nelson
Released: 1980
Directed by: Sean S. Cunningham
Friday the 13th is a 1980 American slasher film directed by Sean S. Cunningham and written by Victor Miller. The film concerns a group of teenagers who are taken out one by one while attempting to re-open an abandoned campground, and stars Betsy Palmer, Adrienne King, Harry Crosby, Laurie Bartram, Kevin Bacon, Jeannine Taylor, Mark Nelson and Robbi Morgan. It is considered one of the first "true" slasher movies.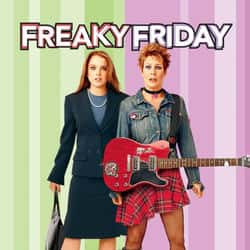 Freaky Friday
Jamie Lee Curtis, Lindsay Lohan
Actors: Jamie Lee Curtis, Lindsay Lohan, Mark Harmon, Harold Gould, Chad Michael Murray
Released: 2003
Directed by: Mark Waters
Single mother Tess Coleman (Jamie Lee Curtis) and her teenage daughter Anna (Lindsay Lohan) couldn't be more different, and it is driving them both insane. After receiving cryptic fortunes at a Chinese restaurant, the two wake up the next day to discover that they have somehow switched bodies. Unable to switch back, they are forced to masquerade as one another until a solution can be found. In the process, they develop a new sense of respect and understanding for one another.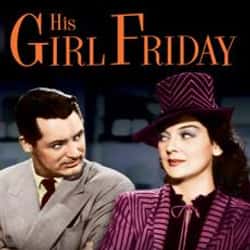 His Girl Friday
Cary Grant, Rosalind Russell
Actors: Cary Grant, Rosalind Russell, Ralph Bellamy, Gene Lockhart, Helen Mack
Released: 1940
Directed by: Howard Hawks
His Girl Friday is a 1940 American screwball comedy film directed by Howard Hawks, from an adaptation by Charles Lederer, Ben Hecht and Charles MacArthur of the play The Front Page by Hecht and MacArthur. The major change in this version, introduced by Hawks, is that the role of Hildy Johnson is a woman. The film stars Cary Grant as Walter Burns and Rosalind Russell as Hildy Johnson and features Ralph Bellamy as Bruce Baldwin. The film was #19 on American Film Institute's 100 Years…100 Laughs and has been selected for preservation in the United States National Film Registry. Due to a failure to renew the copyright registration, the film entered the public domain in 1968; the 1928 play it is based on remains under copyright until 2024.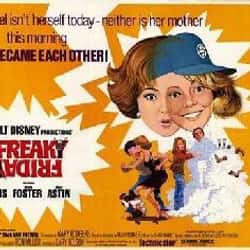 Freaky Friday
Barbara Harris, Jodie Foster
Actors: Barbara Harris, Jodie Foster, John Astin, Patsy Kelly, Vicki Schreck
Released: 1976
Directed by: Gary Nelson
Annabel Andrews (Jodie Foster) and her mother, Ellen (Barbara Harris), don't always see eye to eye. After a particularly frustrating argument on Friday the 13th, the two simultaneously wish they could switch places — and suddenly their wish is granted. Each discovers how difficult it is to be in the other's shoes, with Ellen causing chaos at Annabel's school, and Annabel unable to deal with her mother's domestic duties. The two learn a lot about themselves and their relationship in the process.
7

Black Friday

Boris Karloff, Bela Lugosi

Actors: Boris Karloff, Bela Lugosi, Stanley Ridges, Anne Nagel, Anne Gwynne
Released: 1940
Directed by: Arthur Lubin

As Dr. Ernest Sovac (Boris Karloff) makes his way to the electric chair, he recalls the events that landed him on death row. After placing brain matter from a violent gangster into the mind of a dying teacher named George Kingsley (Stanley Ridges), Sovac watches his patient take on violent tendencies. When Sovac learns, through an almost-possessed Kingsley, about a hidden stash of mob money, the doctor entices the criminal in Kingsley to come out — with murderous results.

8

Friday the 13th Part 3: 3D

Dana Kimmell, Paul Kratka

Actors: Dana Kimmell, Paul Kratka, Tracie Savage, Richard Brooker, Catherine Parks
Released: 1982
Directed by: Steve Miner

The third installment in the "Friday the 13th" series picks up on the day after the carnage with homicidal maniac Jason Voorhees (Richard Brooker) stealing some clothes and killing a local store owner. Meanwhile, Chris (Dana Kimmell) and her sometimes boyfriend, Rick (Paul Kratka), are hosting a group of teenage friends at Chris' lake house. Despite a run-in with a local biker gang, they enjoy an amiable weekend together — that is, until Jason begins knocking off kids and bikers alike.

10

Friday the 13th: The Final Chapter

Kimberly Beck, Peter Barton

Actors: Kimberly Beck, Peter Barton, Corey Feldman, Crispin Glover, Barbara Howard
Released: 1984
Directed by: Joseph Zito

A carefree lakeside vacation is interrupted by the re-emergence of killer Jason Voorhees (Ted White). After he escapes from a morgue, leaving bodies in his wake, Jason travels to Camp Crystal Lake where a group of friends is staying. The teens meet some locals: Tommy (Corey Feldman) and Trish (Kimberly Beck), as well as secretive hiker Rob (Erich Anderson). As the group of teenagers engages in drunken debauchery, their numbers begin to dwindle, and pieces of the past resurface.

11

Friday

Cathy Tyson, Bhasker Patel

Actors: Cathy Tyson, Bhasker Patel, Richard Driscoll, Reece Noi, Karen Seacombe
Released: 2012
Directed by: Sebastian Rice-Edwards

Friday is a 2011 short drama film written by Anna Symon and directed by Sebastian Rice-Edwards.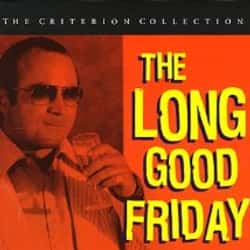 The Long Good Friday
Bob Hoskins, Helen Mirren
Actors: Bob Hoskins, Helen Mirren, Eddie Constantine, Dave King, Bryan Marshall
Released: 1980
Directed by: John Mackenzie
The Long Good Friday is a British film starring Bob Hoskins and Helen Mirren. It was completed in 1979 but, because of release delays, it is generally credited as a 1980 film. It was voted at number 21 in the British Film Institute's list of the top 100 British films of the 20th century, and provided Bob Hoskins with his breakthrough film role.