Good Friday Holiday In US
Good Friday Holiday In US
Good Friday in 2022 is on the Friday, 15th of Apr (4/15/2022).
Good Friday is on the 105th day of 2022. There are 260 days left in the year.
Good Friday Facts
Date: Apr 15, 2022
National / Religious
Also Called: Holy Friday, Great Friday, Black Friday, Easter Friday
Celebrations: No traditional celebrations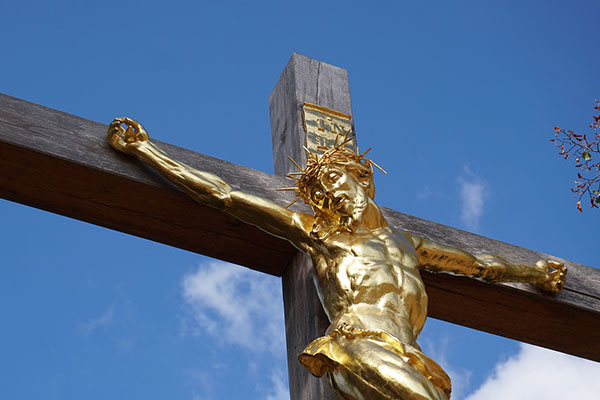 Good Friday is a Christian's holiday that commemorates Jesus Christ's crucifixion and death as narrated in the Holy Book, The Bible. The Good Friday holiday is celebrated in the Holy week, two days before Easter Sunday. In most cases, this day coincides with the Jewish Passover holiday. Other names used to refer to the Good Friday celebration include Black Friday, Great Friday, and Holy Friday. All Christians observe the holiday across the globe.
What Is The Good Friday History?
Good Friday accounts for the trial, torture, conviction, and the crucifixion of Jesus Christ. Before this day of suffering, Jesus had been betrayed by Judas Iscariot on the day of Last Supper also called Holy Thursday. It is this betrayal that led to Christ's arrest at the Garden Of Gethsemane. The soldiers took Jesus to Caiaphas the High Priest and teachers of the law who convicted Jesus on blasphemy charges. Jesus was then forwarded to Pontius Pilate, the Roman governor, for execution. Upon learning the humiliation Jesus was going through, Judas was seized with remorse and returned the thirty silver coins he had earned for betraying Christ. Judas then hanged himself early on Friday morning.
Jesus stood in front of Pontius Pilate and he did not deny any of the charges leveled against him. Pontius Pilate opted to get the crowd's approval on whether to crucify Jesus or release him. Surprisingly, the crowd asked their governor to crucify Christ and release one of the notorious criminals at the time called Barnabas. With no option, Pilate handed Jesus over for crucifixion.
The soldiers took Jesus to the Roman courtyard, stripped him, set a crown of thorns on his head and proceeded to abuse him physically. He was then forced to carry the cross to Golgotha where they crucified him. Immediately he passed away; unusual events took place. Darkness came over for three straight hours, there was an earthquake and the curtains at the temple in Jerusalem tore into two. Jesus was then buried later in the day by a man called Joseph of Arimathea, who wrapped him in a clean linen cloth and placed his body in a tomb.
Why Do We Call It Good Friday?
It's difficult to understand the goodness of the Good Friday following the suffering Christ went through. Some religious personnel suggests that the day is a corruption of God's day.' Others argue the day is good because it is holy. Most Christians, however, believe that by Christ's death on this Friday, Jesus saved them from sins. Therefore, despite the dark events that took place on that day, they see it as a blessing to them and hence a Good Friday. Christians find it ideal for taking part in Good Friday Fasting, as this shows their appreciation for Christ's sacrificial deed.
Why Do We Celebrate Good Friday?
The day marks Jesus' crucifixion and death at Calvary. Through his death, Christians believe that all their sins were forgiven. Indeed, it is Christ's sacrifice for the welfare of humanity that saved them from punishment from God the father. Christians, therefore, celebrate this selfless sacrifice on Good Friday.
Can You Eat Meat On Good Friday?
According to the Roman Catholic laws, all Christians who have reached puberty should not eat meat from land animals during Lent and on Good Friday. Meat is a worthy sacrifice because of its association with feasts and celebrations. Christians, however can comfortably eat fish on this day since it is not a land animal flesh.
Which Activities Are Prohibited On Good Friday?
Different countries observe Good Friday differently. Some activities are therefore considered illegal in some parts of The world. Until 2008, gambling shops were not supposed to open on Good Friday in Britain. In Ireland, bars shut down as the Irish people are supposed to abstain from alcoholic drinks on this day. In Germany, Christians should not go horse riding or dance on Good Friday and clubs that break this law are subject to fines.
Which date is Good Friday?
The date of Good Friday changes every year. However, the day is always observed on the sixth day of the Christians' Holy Week and two days before Easter Sunday. On this day, Christians take part in Good Friday prayers and reconcile with others.
Is Good Friday A Public Holiday?
In the United States of America, Good Friday is not a federal holiday. However, most Christians close their businesses to observe the day. Most banks, government offices, public schools, and financial markets are open on Good Friday but closed on Easter Sunday.
How to Celebrate Good Friday?
As a Christian, you can observe Good Friday by attending the Good Friday service held in churches on Friday afternoon from noon to 3 pm to coincide with the time of Christ's crucifixion. It is also worth sending an inspiring Good Friday Message to your friends and family members.
Popular Holiday Pages In USA
2022 Australia Holidays

2022 Canada Holidays

2022 Hong Kong Holidays

2022 India Holidays

2022 Indonesia Holidays

2022 Malaysia Holidays

2022 Philippines Holidays

2022 Singapore Holidays

2022 South Africa Holidays

2022 Thailand Holidays

2022 UAE Holidays

2022 UK Holidays

2022 Buddhist Holidays

2022 Christian Holidays

2022 Islam Holidays

2022 Hindu Holidays

2022 Jewish Holidays

2022 Sikh Holidays
List of National and Regional Public Holidays of United States in 2022
| DAY | DATE | HOLIDAY |
| --- | --- | --- |
| Saturday | Jan 01, 2022 | New Year's Day |
| Monday | Jan 17, 2022 | M L King Day |
| Monday | Feb 14, 2022 | Valentine's Day |
| Monday | Feb 21, 2022 | Presidents' Day |
| Friday | Apr 15, 2022 | Good Friday |
| Sunday | Apr 17, 2022 | Easter Sunday |
| Sunday | May 08, 2022 | Mother's Day |
| Monday | May 30, 2022 | Memorial Day |
| Friday | Jun 03, 2022 | National Donut Day |
| Sunday | Jun 19, 2022 | Father's Day |
| Monday | Jul 04, 2022 | Independence Day |
| Monday | Sep 05, 2022 | Labor Day |
| Monday | Oct 10, 2022 | Columbus Day |
| Monday | Oct 31, 2022 | Halloween |
| Friday | Nov 11, 2022 | Veterans Day |
| Thursday | Nov 24, 2022 | Thanksgiving Day |
| Sunday | Dec 25, 2022 | Christmas |
Federal Holidays Calendar​ US
| | | |
| --- | --- | --- |
| New Year's Day | December 31* | Friday |
| Martin Luther King, Jr. Day | January 17 | Monday |
| George Washington's Birthday** | February 21 | Monday |
| Memorial Day | May 30 | Monday |
| Juneteenth | June 20* | Monday |
| Independence Day | July 4 | Monday |
| Labor Day | September 5 | Monday |
| Columbus Day | October 10 | Monday |
| Veterans Day | November 11 | Friday |
| Thanksgiving Day | November 24 | Thursday |
| Christmas Day | December 26* | Monday |
More about Federal Holidays
In addition to the eleven annual federal holidays, Inauguration Day is a twelfth holiday designated by Congress for observance every four years on January 20 following a U.S. presidential election. It is only observed by government employees in Washington D.C. and the border counties of Maryland and Virginia.
Though not technically accurate, U.S. federal holidays are often referred to as "public holidays" or "legal holidays" because of their wide spread observance. Bank holidays are usually the same as federal holidays since most banks follow the holiday calendar of the U.S. Federal Reserve.
Public holidays in the United States 2022-2026
As an originally Christian country, the holidays in the U.S. are also largely Christian – or at least oriented to Christian events such as Easter or Christmas. On the other hand, the range of Christian holidays is quite smaller as it is in many other countries. Easter consists almost only of Good Friday, and Pentecost seems to be dispensed with entirely. Even Christmas, which is a holiday with several days off elsewhere, is limited to just one day in the USA.
On the other hand, the U.S. has a number of national holidays, such as Independence Day, and a large number of regional holidays that only apply in individual states.
Non-movable holidays
Non-statutory holidays are written in gray.
| date | holiday |
| --- | --- |
| Jan, 1st | New Year's Day |
| Feb, 12th | Abraham Lincoln Day |
| Mar, 17th | St. Patrick's Day |
| Jun, 14th | Flag Day |
| Jul, 4th | Independence Day |
| Sep, 11th | Patriot Day |
| Sep, 17th | Constitution Day |
| Oct, 31st | Halloween |
| Nov, 11th | Veterans Day |
| Dec, 15th | Bill of Rights Day |
| Dec, 25th | Christmas Day |
| Dec, 31st | New Years Eve |
Moving Holidays in the United States
| holiday | 2022 | 2023 | 2024 | 2025 | 2026 |
| --- | --- | --- | --- | --- | --- |
| Martin Luther King Day | Jan, 16th | Jan, 15th | Jan, 21st | Jan, 19th | Jan, 18th |
| Presidents' Day | Feb, 21st | Feb, 20th | Feb, 19th | Feb, 17th | Feb, 16th |
| Fat Tuesday | Mar, 1st | Feb, 21st | Feb, 13th | Mar, 4th | Feb, 17th |
| Good Friday | Apr, 15th | Apr, 7th | Mar, 29th | Apr, 18th | Apr, 3rd |
| Easter Sunday | Apr, 17th | Apr, 9th | Mar, 31st | Apr, 20th | Apr, 5th |
| Mother's Day | May, 8th | May, 14th | May, 12th | May, 11th | May, 10th |
| Memorial Day | May, 30th | May, 29th | May, 27th | May, 26th | May, 25th |
| Father's Day | Jun, 19th | Jun, 18th | Jun, 16th | Jun, 15th | Jun, 21st |
| Labor Day | Sep, 5th | Sep, 4th | Sep, 2nd | Sep, 1st | Sep, 7th |
| Columbus Day | Oct, 10th | Oct, 9th | Oct, 14th | Oct, 13th | Oct, 12th |
| Thanksgiving Day | Nov, 24th | Nov, 23rd | Nov, 28th | Nov, 27th | Nov, 26th |
Shifting holidays to Mondays
A special feature goes back to President Richard Nixon in 1971, who during his term in office moved most national holidays to the nearest Monday. Thus, a public holiday is also a day off work for large parts of the population. This does not, of course, include anniversaries such as Independence Day, New Year's Day or Christmas, which by their nature cannot be celebrated on other days. Despite the dates set by the federal government, the individual U.S. states have wide-ranging freedom in scheduling. Each state can arbitrarily move a holiday for its territory or even skip it altogether. For example, President's Day is not celebrated in 11 states. Columbus Day is also celebrated in only 34 states. In addition, there are countless dates for regional holidays.
Independence Day
Probably the best known U.S. holiday from numerous movies is Independence Day on July 4. This day dates back to 1776, when the Declaration of Independence was signed. In it, the name "United States of America" was also recorded for the first time, to which the previous 13 British colonies united. The USA did not receive its legal existence until about 12 years later with the adoption of the Constitution. Nevertheless, 1776 is considered the year of its founding. Today, the day is celebrated throughout the country with picnics, parades and fireworks. In many places, things are much more patriotic than in Europe, for example. Countless U.S. flags bathe entire streets in a sea of white, red and blue.
Thanksgiving
While in most parts of the world the Thanksgiving holiday is celebrated almost exclusively in rural areas, in the USA there is a real hustle and bustle on the fourth Thursday in November. Originally proclaimed by George Washington in 1789, the holiday was still celebrated on October 3 until 1862. It was not until Abraham Lincoln that Thanksgiving Day was moved to the day at the end of November. The reason for this move was purely economic: the additional bridging day on the following Friday and the extended weekend at the beginning of the Christmas season were intended to boost sales. As a result, the day known today as Black Friday came into being, on which retailers overflowed with discounts.