Good Friday Canada
Good Friday occurs two days before Easter Sunday. It is the day when Christians commemorate the crucifixion of Jesus Christ, which plays an important part in the Christian faith. It is also a statutory holiday in all Canadian provinces and territories except Quebec, where it is partially observed.
Is Good Friday a Public Holiday?
Good Friday is a public holiday. It is a day off for the general population, and schools and most businesses are closed.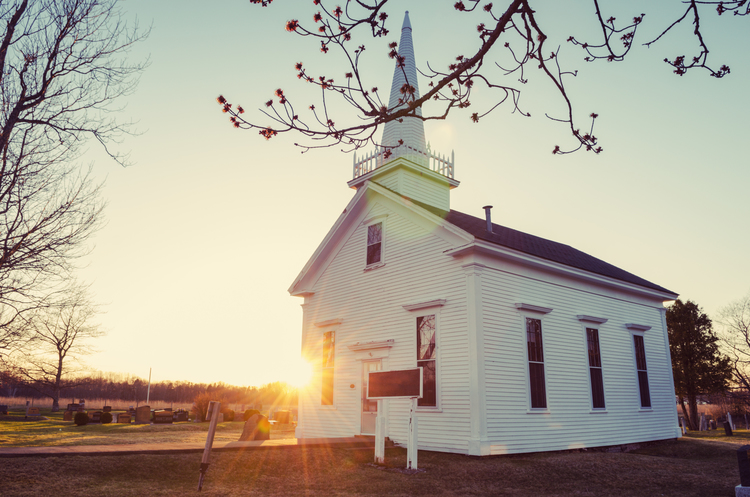 What Do People Do?
Christians may attend special church services, even if they do not attend church regularly during the rest of the year. Good Friday is a day of mourning and quiet prayer among many Christians. The candles are often extinguished and statues, paintings and crosses may be draped in black, purple or gray cloth. Some Catholics observe a partial fast on Good Friday and do not eat any meat.
Hot cross buns are a traditional treat on Good Friday. These are small bread-like buns, made from dough that contains raisins, currants and other dried fruit. The top of a hot cross bun is marked with a cross and covered with a sugar glaze. The cross may be cut into the bun or marked with a special dough that remains pale even after it has been baked. Hot cross buns may be eaten as they are, split and spread with butter or toasted.
For Canadians who are not Christians Good Friday is the start of a three or four-day weekend. This is a welcome spring break, which some people use to visit family or friends. It is also a popular time to take a short vacation.
Public Life
Good Friday is a public holiday at a national level in Canada. Schools and many businesses and organizations are closed and many people have a day off work. Post offices are closed and in some areas, particularly in the provinces of Manitoba, Ontario, Quebec, New Brunswick, Prince Edward Island and Newfoundland and Labrador, stores are closed or have restricted opening hours. Public transport services many run to their usual or restricted timetables. In rural areas, public transport may close down completely.
In Quebec, Good Friday or Easter Monday are a statutory general holidays at the option of the employer. Schools and post offices are closed. Public transport services many run to their usual or restricted timetables. In rural areas, public transport may close down completely.
Background
Good Friday is the day when Christians commemorate the crucifixion and death of Jesus Christ. This is an important event in Christianity, as it represents the sacrifices and suffering in Jesus' life. The crucifixion was the culmination of a number of events in Holy Week, including: the triumphal return of Jesus to Jerusalem on Palm Sunday; the washing of the disciples' feet by Jesus; and the Last Supper on Maundy Thursday. The Easter date depends on the ecclesiastical approximation of the March equinox.
On Good Friday in 1964 (March 27), a large earthquake occurred when a fault between the Pacific and North American tectonic plates ruptured. The epicenter of the earthquake was near Prince William Sound in Alaska, USA, but also caused a tsunami. This damaged or destroyed more than 400 homes in communities on the west coast of Vancouver Island, including Port Alberni and Zeballos.
Symbols
The most important Good Friday symbol is the crucifix, or cross, which represents the way Jesus died. Some crosses bear a figure of Christ. Other symbols of Good Friday include black cloth used to cover the cross, paintings and statues in churches and some homes to signify mourning. In addition, some people deliberately create a bare appearance in their homes and churches by removing all flowers and shiny objects.
About Good Friday in Other Countries
Read more about Good Friday.
Good Friday Observances
| Year | Weekday | Date | Name | Holiday Type |
| --- | --- | --- | --- | --- |
| 2017 | Fri | 14 Apr | Good Friday | Statutory Holiday |
| 2018 | Fri | 30 Mar | Good Friday | Statutory Holiday |
| 2019 | Fri | 19 Apr | Good Friday | Statutory Holiday |
| 2020 | Fri | 10 Apr | Good Friday | Statutory Holiday |
| 2021 | Fri | 2 Apr | Good Friday | Statutory Holiday |
| 2022 | Fri | 15 Apr | Good Friday | Statutory Holiday |
| 2023 | Fri | 7 Apr | Good Friday | Statutory Holiday |
| 2024 | Fri | 29 Mar | Good Friday | Statutory Holiday |
| 2025 | Fri | 18 Apr | Good Friday | Statutory Holiday |
| 2026 | Fri | 3 Apr | Good Friday | Statutory Holiday |
| 2027 | Fri | 26 Mar | Good Friday | Statutory Holiday |
Good Friday in Canada in 2022
When is Good Friday?
Many countries observe Good Friday as a national holiday on the Friday before Easter. The day commemorates the crucifixion and death of Jesus Christ.
Some countries observe the Orthodox calendar in which Good Friday may occur on a different date.
What is Good Friday?
The most important events in Christianity are the death and later resurrection of Jesus Christ, who Christians believe is the Son of God, and whose life and teachings are the foundation of Christianity.
After the last supper, Jesus was arrested in the Garden of Gethsemane, put on trial, sentenced to death. He was then tied and nailed by the wrists and feet to a large wooden cross and left to die. This is why the cross is used as a symbol of the Christian faith.
Good Friday is a day of mourning. During special Good Friday services Christians meditate on Jesus's suffering and death on the cross, and what this means for their faith.
Why is it called 'Good Friday'?
At first glance, it seems a strange name for a day that marked such a terrible event as a crucifixion, but when we look at the origin of the name it becomes clearer… or it would if there was one origin that people could agree on. As it stands, you can take your pick from the following:
Some say it comes from the use of "Good" as an adjective applied to the day, which is an Old English synonym for "holy."
Others believe it stems from a corruption of the word "God," in much the same way that "Good Bye" comes from the phrase "God be with ye." So the name may be derived from 'God's Friday'.
Undoubtedly most Christians perceive the day as "good" because the message of Easter is of Christ's victory over sin, death, and the devil. Indeed, the New Testament is also known as the Gospel, which is Greek for 'Good News'.
Also, it also worth noting that this confusion over the name is mainly confined to Western European and North American Christians. Eastern Orthodox Christians call it "Great and Holy Friday. Around the rest of the world, it's known as Holy Friday in most Latin nations, 'Great Friday' by the Slavic peoples, "Friday of Mourning" in Germany and "Long Friday" in Norway.
Good Friday Traditions
Many Church services are held in the afternoon, usually between noon to 3pm, to remember the hours when Jesus was crucified on the cross.
Some churches observe the day by re-enacting the process of the cross in the rituals of stations of the cross, which depicts the final hours of Jesus' life. Other churches may participate in Veneration of the Cross, a short ceremony in which Christians kneel before the cross and affirm their faith.
In Jerusalem, Christians follow in Jesus' footsteps and walk Via Dolorosa, the traditional path that led to the site of the crucifixion. Many who participate try to ritually bear the same weight Jesus did by carrying crosses on their backs.
Though it's not a public holiday in the Vatican or Italy, the Pope will say a mass at the Vatican before leads an annual public prayer of the Stations of the Cross at the Colosseum in Rome. A procession is then made to the Palatine Hill, accompanied by a huge cross covered in burning torches.
Alfombras in Central America
In some Central American countries, including Guatemala, El Salvador and Honduras, the streets are decorated with vividly hued designs along the route of Good Friday processions. The tradition of creating these "alfombras," Spanish for carpet or rug, originated in Spain's Andalusia region. The practice crossed the pond with missionaries more than 400 years ago. The patterns often depict religious or natural images, created from brightly coloured sawdust. Alfombras are not meant to endure. The patterns disappear beneath the feet of the marchers and spectators.
Hot Cross Buns
A traditional Good Friday treat in the UK, Canada and Australia. Only available at this time of year, these sweet buns are made from a yeast dough augmented with raisins, currants and sometimes a little citron. They're decorated with a cross made of light frosting, two strips of plain dough, or just a knife imprint. The hot cross buns tradition is savoured by cultures around the world, going back to at least the 16th century when Queen Elizabeth I is said to have forbidden their sale except on Good Friday, Christmas or for burials. The last two occasions have fallen by the wayside: Once Good Friday is over, you're unlikely to see the treats until next year.
Good Friday in Canada
Good Friday is on April 15 in 2022 and Easter Monday is on April 18.
Good Friday is the Friday before Easter Sunday and it is a federal statutory holiday across Canada.
It's a complicated but precise formula that determines the day Easter Sunday is celebrated: It is the first Sunday after the first full moon in spring (after March 21st) which can occur as early March 22 and as late as April 25.
Good Friday marks the death of Jesus Christ according to the Christian religion. It is a fundamental part of Christianity along with the resurrection of Jesus on Easter Sunday. Many agree that this is a more important holiday than Christmas since it is the ultimate proof that Jesus is the son of God because he came back from death.
In provinces where Family Day, Islander Day and Louis Riel Day are not observed Good Friday is the first stat holiday after New Years Day.
In Quebec employers can choose to give the day off either on Good Friday or Easter Monday.
Bunnies & eggs
Easter is a highly commercialized holiday when tons of chocolate is sold in the form of easter eggs and easter bunnies. The Easter Bunny brings a basket full of goodies to children for Easter. Sometimes the gifts are hidden so children have to look for them – this is called an egghunt.
Rabbits and eggs are symbols of fertility and were first mentioned in German literature as early as the 1600s.
Easter traditons
There are several traditions for this time of the year. Egg painting is very popular and easy to do. Egg paint kits can be purchased in stores but you can also dye hard boiled eggs using a jar of beet juice! To give eggs extra shine you can rub them with fat – bacon is perfect for this. You laugh now but once you try it you'll see how well this works!
Petting zoos are popular around Easter, too, where kids get a chance to pet and feed bunnies and other animals. Some people even buy pet bunnies but you should only do this if you are ready to truly commit to having a pet – no impulse shopping please.
Family get-togethers are also part of the Easter weekend. After Christmas and Thanksgiving the Easter weekend meal is the third largest meal nationwide.
Lent
In the Catholic religion there are 40 days of fasting preceding Easter. The lent starts on Ash Wednesday and ends on holy Saturday. It is observed to imitate the 40-day fast of Jesus before his death. Generally only one meal a day is allowed and meals shouldn't include meat or fish. Exceptions apply for children and the elderly. The day after the lent period ends people eat a rich breakfast – break the fast – which consists of eggs, ham, bread and fish followed by games throughout the day.
Do you want perfume? A tradition of "sprinkling" in Hungary
A unique Easter tradition in Hungary is the sprinkling of women with parfume or cologne on Easter Sunday.
Men and older boys get up early in the morning and visit girls and women in their families (they are supposed to arrive when women are still sleeping) and sometimes even walk from house to house to visit strangers in the neighbourhood and sprinkle scented water (parfume) on their heads.
According to tradition this keeps women beautiful until next Easter. They usually recite a "sprinkling poem" and ask for permission to sprinkle the ladies. Some fun-loving (and brave) men sometimes use a bucket of cold water instead of perfume 😉
In return for the sprinkling women give them hand painted eggs, home-made cake, a shot of liquor and even money.