Good Friday Banks Open
Good Friday is a Christian holiday that commemorates the crucifixion of Jesus Christ, a holy day that takes place right before Easter. While there are several ways to observe Good Friday, some of the most common customs include eating a fish dinner, going to church and taking the day to reflect on the true meaning of the season.
This year, Good Friday falls on April 15th, 2022, and is recognized in several parts of the world and celebrated with unique traditions. For example, kites are flown in Bermuda and eggs are marked with a holy cross in Ireland. Although several participate in this holy day, it's not considered a Federal holiday, instead, it's observed in several states across the country. Currently, Good Friday is recognized as a holiday in 12 states: Connecticut, Delaware, Florida, Hawaii, Indiana, Kentucky, Louisiana, North Carolina, North Dakota, New Jersey, Tennessee and Texas. Although openings will vary from state to state, these 12 states will close state offices, courts, banks, governments buildings, public libraries and schools for Good Friday.
However, if you live in a state that wasn't mentioned and are wondering what is open on Good Friday, we are sharing which establishments are keeping their doors open so you can run last-minute errands, grab groceries for Easter dinner or even buy craft supplies for a few festive Easter decorations!
Here's what's open on Good Friday:
Note: The following information doesn't apply to the 12 states that recognize Good Friday as a holiday. As a general rule, always call your local establishments to confirm hours, no matter where you live.
Banks
Banks will be open on Good Friday, but some may have modified hours. Call your local branch before you visit.
U.S. Post Office
The U.S. Post Office will be open on Good Friday and Easter. UPS and FedEx will also be open on Good Friday, but both will be closed on Easter Sunday.
Government Offices
City, state, and federal government buildings, including courthouses will remain open. Many, however, have reduced hours.
Public Schools
There isn't a hard and fast rule for public schools on Good Friday, especially amid the coronavirus pandemic. Most public schools will carry on with teaching, but some students may be remote learning at home. Others may include Good Friday in their spring recess, or spring break. It's very common for Catholic schools and other religious institutions to be closed on Good Friday, so students and staff can observe the holy day.
Stock Market
U.S. stock markets will be closed on Good Friday. This includes the New York Stock Exchange Market and Nasdaq, which means all trading activity must be finished by Thursday or moved to the following Monday.
Public Libraries
Select libraries around the country will be closed on Good Friday. Check your local library to see if they remain open or not. Regardless, you can access your library's range of e-books, audiobooks, and more through apps like Libby.
Stores and Restaurants
Most grocery stores, convenience stores, and pharmacies will be open on Good Friday. Many restaurants and fast food chains, including Starbucks, McDonald's, and Olive Garden are also open for curbside pickup, delivery, and dine-in eating. Dining rooms in select states remain closed or are only open to a limited capacity.
Are Banks Open on Good Friday?
Good Friday marks the Crucifixion of Jesus Christ, and many of those observing will be fasting and engaging in religious ceremonies. Some may also be asking, are banks open on Good Friday? The answer is, most likely. Good Friday precedes Easter as a major holiday in the Christian faith. However, the government doesn't observe it as a Federal Holiday. And it's not typically recognized as a bank holiday. But that doesn't mean every single bank in the U.S. will be open on Good Friday. Read on to learn more.
Which Banks Will Open on Good Friday?
In 2019, Good Friday lands on April 2. However, most banks have not announced whether they will open that day. Nonetheless, most major banks, including Chase, Bank of America and TD Bank, rarely close their doors on Good Friday.
In fact, below is a list of big banks that stayed open on Good Friday 2018:
Bank of America
Capital One Bank
Chase Bank
Citibank
Huntington Bank
People's United Bank
PNC Bank
TD Bank
U.S. Bank
Wells Fargo
However, some smaller banks may close their doors. Others, including major banks, occasionally leave that decision up to individual branches. In any case, it's always important to contact your bank's local branch directly before you make the trip.
Which Banks Will Close on Good Friday?
And while the government doesn't designate Good Friday as a federal holiday, some states observe it as a state holiday. The following states recognize Good Friday, so it may be a bank holiday there as well.
Connecticut
Delaware
Hawaii
Indiana
Kentucky
Louisiana
New Jersey
North Carolina
North Dakota
Tennessee
Texas
What to Do If Your Bank Closes on Good Friday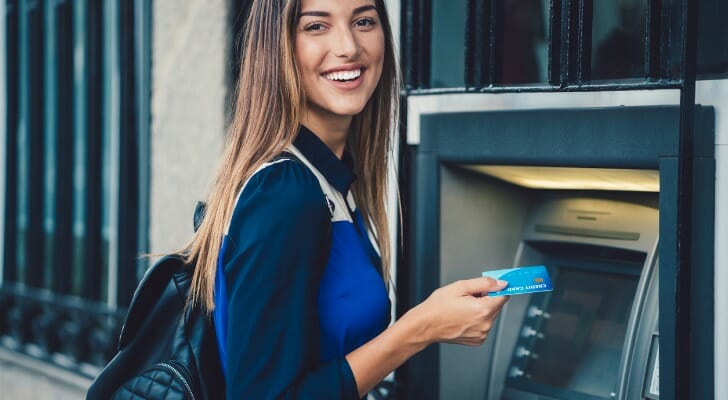 In the rare case that your bank closes its doors on Good Friday, you still have access to your funds. For instance, many banks allow you to use your debit card to enter their ATM lobbies even when the branch is closed.
In addition, most banks offer 24/7/365 online and mobile banking features. So mobile check deposit, bill pay, money transfer and other digital features should still work.
What Are the 2022 Bank Holidays?
Virtually all banks, including major ones, close their doors on most federal holidays. Some may open but close early. Below, you can view a list of the 2021 confirmed bank holidays:
New Year's Day, January 1
Martin Luther King Jr. Day, January 18
President's Day, February 15
Memorial Day, May 31
Independence Day, July 5 (observed)
Labor Day, September 6
Columbus Day, October 11
Veterans Day, November 11
Thanksgiving Day, November 25
Christmas, December 25
Tips for Banking on Good Friday
Call your branch ahead of time. Most banks will remain open, but some may close a little early. Make sure you prepare ahead of time to handle your banking needs if you have something in particular you need to handle that requires the help of a brand representative.
Make sure you you take a holistic glance at your financial needs, not just your banking arrangements. Beyond knowing when your bank is open, you need to make intelligent decisions about where you keep your money and what investments you have. Going it alone can be stressful, so if you want some expert guidance, check out SmartAsset's free financial advisor matching tool. Simply provide some quick information about your financial situation and goals, and we'll connect you with up to three financial advisors in your area who can cater directly to your needs.