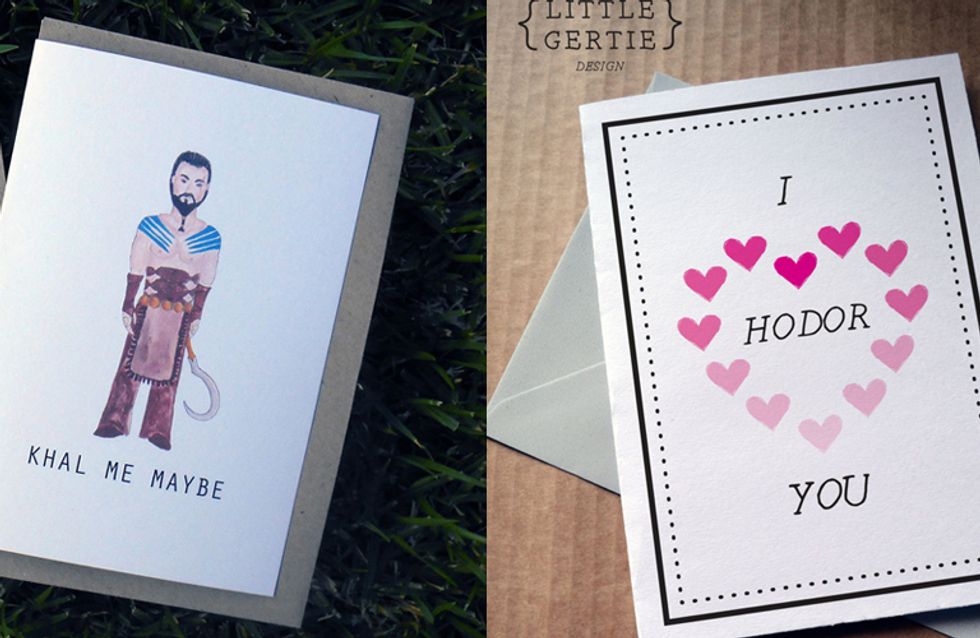 With Valentine's Day just around the corner, Game of Thrones doesn't seem like the obvious choice to celebrate your big day of love with. After all, things aren't great in the Westeros romance department, are they? Brothers and sisters hook up, most marriages are arranged and a wedding without at least three deaths is considered a very dull affair. But if it's something you and your partner enjoy, they'll definitely appreciate these hilarious GoT Valentine's Day cards…
"I Hodor You"
If they love a good pun and like most of us, Hodor is their favourite character, chances are they'll love this card.
Wildling You Make My Heart Sing
What? It rhymes!
I love you like a brother
We all know that in Westeros, that means anything BUT a platonic relationship. Especially if you're a Lannister. Or a Targaryen. Or a Greyjoy. Ewww George RR Martin why so much incest?!
"I love you like George RR Martin loves killing off characters."
A lot. He loves doing that A LOT. #NeverGettingOverRedWedding
"I've fallen harder for you than Bran Stark."
Slightly harsh, but it really does show how much you love someone. Bran went FLYING off that tower…
"There was a raven."
Forget the Royal Mail altogether and just send a raven with a scroll. It'll arrive on time, we're certain…
"I was born to rule your world"
If sending this card, also sign off with an inappropriately long, ridiculous title that'll take your SO five minutes to read.
"You're the Khal Drogo to my Daenerys Targaryen."
Also known as the greatest love story Game of Thrones has ever known, complete with cutesy pet names and horse heart-eating. Wait, what?!
Khal Me Maybe
Even if you don't have a partner, just give this to all of your friends, because it is a pun and a half and it deserves recognition!
When life gets you down, I'll be there to carry you
As reliable as good old Hodor is a promise ANYONE would appreciate.
One in a Tyrion
We admit that the creator of this card WAS reaching with the puns when they thought this one up. That might be why it's so darn good.
You know nothing, Jon Snow
A little more sincere, and actually pretty darn sweet.
White Walker love
It's a nice interpretation of that TERRIFYING arm raise the White Walker did to Jon Snow last season.
I heart you
How to be adorable the Dothraki way.
"I would conquer the Seven Kingdoms for you"
As we all know from five seasons of watching, this is NO small feat (seriously Daenerys, WHEN are you getting to Westeros?)