Funny Happy Mothers Day Quotes
Funny Happy Mothers Day Quotes
Looking for funny Mother's Day quotes and card messages? On this page, you'll find a fabulously funny selection of Mother's Day sayings that will make you and your mom laugh out loud! …or at least reassure her that she's not alone – the quote about lack of sleep certainly rings true for me right now! We've also written some funny card messages you can write to your mom on Mother's Day.
This collection of funny Mother's Day sayings are a great addition to any card message for your own mom, your wife or partner, or a friend who is a new mom. Use these links to jump to a particular section, or scroll down the page to view all the funny Mother's Day quotes and messages:
Funny Mother's Day Quotes & Sayings
These funny Mother's Day quotes and sayings are for moms who don't take themselves too seriously! Some are humorous reflections on motherhood. Others are about how amazing moms are and how much they sacrifice for their children.
Mother (n). One person who does the work of twenty. For free. See also: Saint, Wonder Woman.
"I'd like to be the ideal mother, but I'm too busy raising my kids."
~ Unknown
"Silence is golden. Unless you have kids, then silence is just suspicious"
~ Unknown
"Nothing is really lost until your mom can't find it."
~ Unknown
"Sometimes I open my mouth and my mother comes out."
~ Unknown
"It just occurred to me that the majority of my diet is made up of the foods that my kid didn't finish…"
~ Carrie Underwood
"If evolution really works, how come Mothers only have two hands?"
~ Milton Berle
"Insanity is hereditary; you get it from your children!"
~ Sam Levenson
"My mother had a great deal of trouble with me, but I think she enjoyed it."
~ Mark Twain
"The most remarkable thing about my mother is that for thirty years she served the family nothing but leftovers. The original meal has never been found."
~ Calvin Trillin
"Setting a good example for your children takes all the fun out of middle age."
~ William Feather
"If at first you don't succeed, try doing it the way Mom told you to in the beginning."
~ Unknown
"My mother told me a million times not to exaggerate."
~ Unknown
"A mother is a person who seeing there are only four pieces of pie for five people, promptly announces she never did care for pie."
~ Tenneva Jordan
"I want my children to have all the things I couldn't afford. Then I want to move in with them."
~ Phyllis Diller
"When my kids become wild and unruly, I use a nice, safe playpen. When they're finished, I climb out."
~ Erma Bombeck
"If your kids are giving you a headache, follow the directions on the aspirin bottle, especially the part that says 'keep away from children'."
~ Susan Savannah
"I love to play hide and seek with my kid, but some days my goal is to find a hiding place where he can't find me until after high school."
~ Unknown
"Children are a great comfort in your old age – and they help you reach it faster, too."
~ Lionel
"When your mother asks, 'Do you want a piece of advice?' it's a mere formality. It doesn't matter if you answer yes or no. You're going to get it anyway."
~ Erma Bombeck
"OMG My mother was right about everything!"
"Working mothers are guinea pigs in a scientific experiment to show that sleep is not necessary to human life."
~ Unknown
"The one thing children wear out faster than shoes is parents."
~ John J. Plomp
"The days are long, but the years are short."
~ Gretchen Rubin
"My mother's menu consisted of two choices: Take it or leave it."
~ Buddy Hackett
"There is only one pretty child in the world, and every mother has it."
~ Chinese Proverb
"Mirror, mirror, on the wall, I am my mother after all!"
~ Unknown
"Mother Nature, in her infinite wisdom, has instilled within each of us a powerful biological instinct to reproduce; this is her way of assuring that the human race, come what may, will never have any disposable income."
~ Dave Barry
"Ma-ma does everything for the baby, who responds by saying Da-da first."
~ Mignon McLaughlin
"Sweater, n.: garment worn by child when its mother is feeling chilly."
~ Ambrose Bierce
"A suburban mother's role is to deliver children obstetrically once, and by car forever after."
~ Peter De Vries
"Parenthood is the passing of a baton, followed by a lifelong disagreement as to who dropped it."
~ Robert Brault
"It is never easy being a mother. If it were easy, fathers would do it."
~ Unknown
"Children are natural mimics who act like their parents despite every effort to teach them good manners."
~ Unknown
"Life doesn't come with a manual. It comes with a mother."
~ Unknown
Daughter: "Mom, what's it like to have the greatest daughter in the world?" Mom: "I don't know honey, you'll have to ask Grandma."
An ounce of mother is worth a ton of priest.
~ Spanish Proverb
Funny Happy Mother's Day Messages for Cards
These funny Mother's Day quotes for card messages are fabulous for moms who enjoy a laugh! They work well as a Mother's Day message or to send your mom a quick SMS to let her know you're thinking of her.
I'm so lucky to have you as my mother… I'm sure no one else would have put up with me this long. Happy Mother's Day!
Only a mother as perfect as you… could have a (daughter/son) as perfect as me. Happy Mother's Day!
Mom, I got all my best qualities from you. Aren't we lucky that you had enough for both of us?
Happy Mother's Day to a woman who deserves a medal… for putting up with me all these years!
Mom, I know it's hard for you on Mother's Day… to hide the fact that I'm your *favorite* child. Happy Mother's Day!
Happy Mother's Day Mom! Love, your *favorite* child.
Don't you think it's funny that you're still my mother? You deserve to have been promoted by now!
Happy Mother's Day Mom! Thank you for looking after us so well, I know it's not always easy! I love you!
Thanks for letting me be a parasite in your body for 9 months… followed by another 18 years as a parasite outside your body.
You're a very special mom so I'd like to give you a very special gift. You can have either a hug or a million dollars, whichever you prefer.
**BIG HUG!**
Do I know you well, or what!?
Thanks for giving me the best things in life: Your love, your care, and your cooking. Happy Mother's Day!
And these next funny Mother's Day quotes are for families in lockdown or social distancing because of the coronavirus pandemic in 2022. Sometimes a little light-heartedness can lift the mood during these challenging days.
I can't wait to be less than 6 feet away from you! Happy Mother's Day Mom!
Wishing you a very happy Mother's Day from a safe and appropriate social-distance! We miss you and can't wait to see you again soon.
Keep Calm and Stay Safe… and have a very Happy Mother's Day!
Funny & Hilarious Mothers Day Quotes
If you are looking for funny quotes for Mother's Day, you have ended up in the right place because you will find everything you need to make your mom laugh out loud. Choosing this kind of witty greetings for mothers is not for everyone: many, in fact, prefer to bet on those with effect or on very deep ones, which however fill the heart with joy but do not tear a smile like those you will find below. And, after stressful days of work and studded with various problems, mothers also want to have little fun with funny messages sent by their very nice son or daughter.
Funny & Hilarious Mothers Day Quotes, Memes & Images
Here are some beautiful and funny happy mothers day quotes, images and memes for Whatsapp and Facebook.
To my favorite mother … best wishes for Mother's Day! Of course you're my favorite because you're the only one and I haven't been given more mothers to choose from … Despite this, I wouldn't change you for anyone else in the world, even if you have too many defects.
Happy Mother's Day, to you who are always in my thoughts … Especially when i bunk my classes!
Behind a GOOD SON there is always a GREAT MOTHER. Congratulations mommy
Dear Mom, today is your day, and for this you have to be quiet. I know that it is difficult for you to do it and that you like very much lecture, but if you give me your word, at 11:59 pm I'll give you a nice present. Seen "I also know how to blackmail, and I learned from the number one!", "Mom, I always understand when you complain: you have lost all patience in making a work of art like me!
"Mom, like you there is no one, you are the only one in the world … And luckily! Happy birthday!"
"I never told you, and on the occasion of Mother's Day I will make a great confession: I want you … I want you … to tease!"
To you, only to you, dear mother, I give my soul, my heart, my smile, my pocket money … By the way, this month I will receive double, right? Greetings to the most generous mother in the world! Thank you!
I took my wishes, I wrapped them in a paper made of sweetness and fortune, and put them on the wings of an angel … Haven't you arrived yet?
"Mom, you are just like wine: the older you get the better, since you no longer have the same strength as before: think, now I can finally run free around the house, without being hit by a flying slippers! Ah, I forgot: so many best wishes!"
"Mom, you always say that there is a crisis: best wishes … My wishes end here. I have to save the jigs on Whatsapp!"
"Mom you occupy a special place in my heart … Right next to the Playstation!"
"I was never a mother's boy, even though I was an only child" (Thomas Berger)
"Mothers often forget that the umbilical cord is cut at birth" (Vera Caspar)
I am glad that you are my mother: a stranger would not have borne me so long.
God couldn't have been everywhere. So, mom, he had to create you.
There is only one mother … and thankfully. Joke! I love you.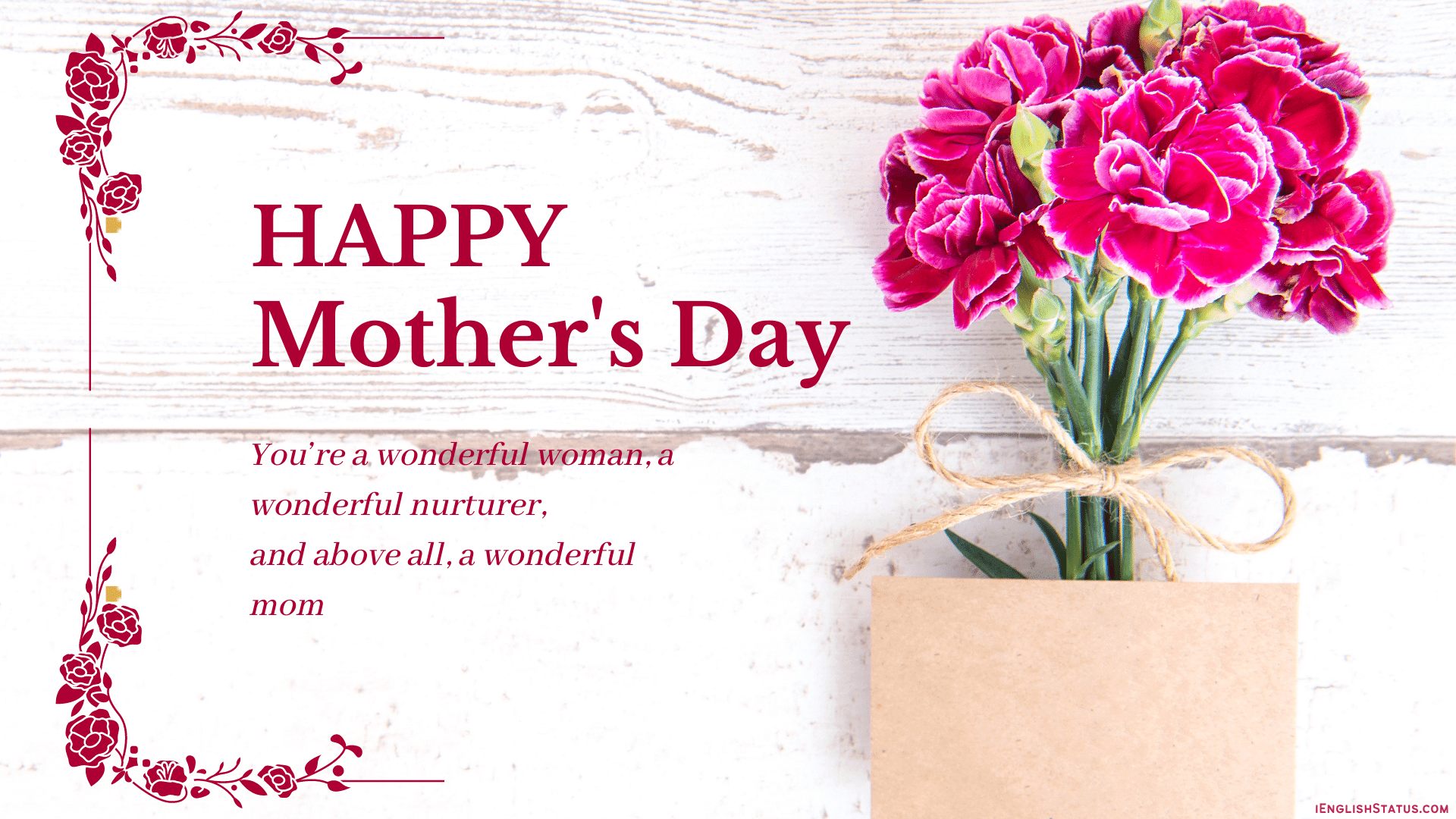 Mom, you taught me everything, even logic: "Because I say so, and that's it".
You're like the Nutella, Mum: what world would it be without you?
Everyone wants to save the Earth; no one wants to help mom make dishes..
Madness is hereditary; you take it from your children!
Dear mother, I love you so much, but just so much … I would love you even more if I increased my little pocket money!
It is not easy to be a good mother, always be patient and never lose your temper, cook delicious things every day, be compliant and never complain … it's hard to be a perfect mom, so don't worry, we know you are doing your best!
Dear mum, today is your party, so relax and rest at least for a day: this way I can assure you that it will be a feast for everyone at home, not just for you!
"If my father was my mother, I would have two mothers and no father."
On this day I would like to give you the most beautiful gift, but that God gave it to you when he sent me as your daughter … Happy Mother's Day, Mom!