Funny Christmas Wishes: Christmas is the perfect time to feast like crazy, spread joy and jolly vibes everywhere, and immerse yourself in the festive spirit. There is no harm in rib-tickling the funny bones of your guests when they are looking for something to amuse them. When it comes to lightening up the mood of your guests at the Christmas party, nothing can compare to the charm of good old funny Christmas wishes and Funny Merry Christmas Messages 2021.
We have a collection of rib-tickling funny Christmas quotes and funny Christmas 2021 wishes that will make them laugh until they drop.
Funny Christmas Wishes 2021
Children and adults alike savor Christmas vibes until the monthly bill arrives and leaves them in tears. Have a wonderful holiday season!
Don't worry about how much money you splurge and how you will pay the credit card bill, Santa Claus doesn't care how much money you spend. Merry Christmas to you!
The Christmas festival may shower so many blessings on you that you end up becoming the uncle Scrooge of the Ducktails. Have a wonderful holiday season!
I don't understand why people decorate the Christmas tree so much when they end up throwing it somewhere in the garbage. I will be like damn my 500$. Merry Christmas and God bless you!
Once a wise man said, "keep your relatives close and your purchase bills closer on Christmas." I couldn't agree more on this. May Christmas keeps you happy and warm!
I genuinely wish that Santa Claus gives me a luxurious Cruz as a Christmas gift so that I can disappear somewhere in the ocean. Jokes apart, merry Christmas wishes to you and your family!
There is no fun greater than snatching mouth-watering candies from the little kids on Christmas. Have a delightful Christmas celebration!
Christmas is the only festival when you buy gifts for your loved ones this year and pay for them till the last month of the next year. Merry Christmas!
Sending beautiful Christmas cards with touching wishes to your friends and family members simply means you are out of money to invite them for a Christmas party. Merry Christmas everyone!
Christmas has become the kind of festival when all your near and dear ones gather at one place to upload selfies on the different social media platforms and stay glued to their cell phones.
Funny Christmas Messages
Christmas is about helping the needy, spreading happiness, and celebrating the festival with loved ones, let them be that way. For me, it's about eating and drinking. Merry Christmas all!
Whether you are a subtle person or an intransigent one, Santa Claus is not going to give you gifts. Sip your drink, get tipsy, and pretend it's the greatest Christmas festival ever. Merry Christmas, everyone!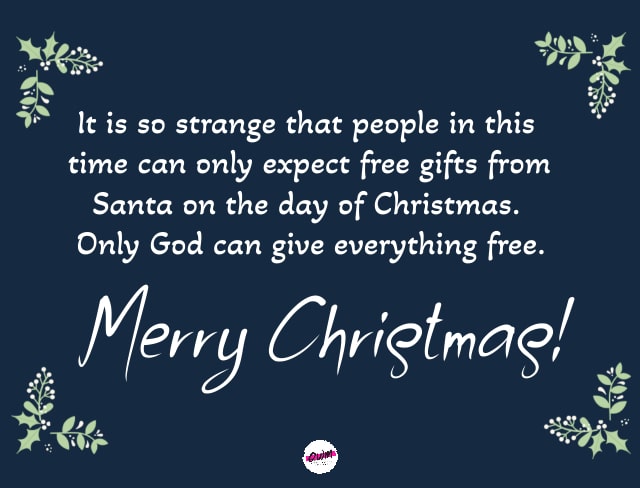 I wish my Christmas festival turns out to be a completely eco-friendly affair. All green cash and no trash by my side. Wishing Merry Christmas to all my near and dear ones!
In today's time, on Christmas, Nobody remembers the commemoration of Jesus' birth but only wine, dine and flirting with pretty girls. I guess the lord must be sobbing in a corner right now. Merry Christmas!
There was a time when Christmas was about opening your heart and helping hands for needy ones. Now, Christmas is majorly about popping up champagne bottles and getting tipsy till you wobble. Have a cheerful Christmas everyone!
It is so strange that people in this time can only expect free gifts from Santa on the day of Christmas. Only God can give everything free. Happy Christmas!
Happy funny Christmas to you my friend! Just don't pretend that your girlfriend has wished you too. I know she didn't.
It is funny you waiting for miracle to happen on the day of Christmas. While the thing is you are miracle. Wishing you happy Christmas!
These days girlfriends, when you take them on Christmas, they want Christmas to celebrate like valentine day. They just need your pocket. Oh man, serious real fun. Happy Christmas!
I just want to tell you that Christmas is a religious festival. It is not beer and dance party. Happy Christmas!
Funny Christmas Wishes For Him
Hey sweetheart, sending you oodles of love and hugs on the auspicious of Christmas. Sorry, no gifts this time for you because I am out of cash as I bought some pretty dresses for myself. Merry Christmas, honey!
May you have plenty of cheese balls to eat on Christmas but no snowballs to throw at me. Merry Christmas to the cutest boyfriend ever!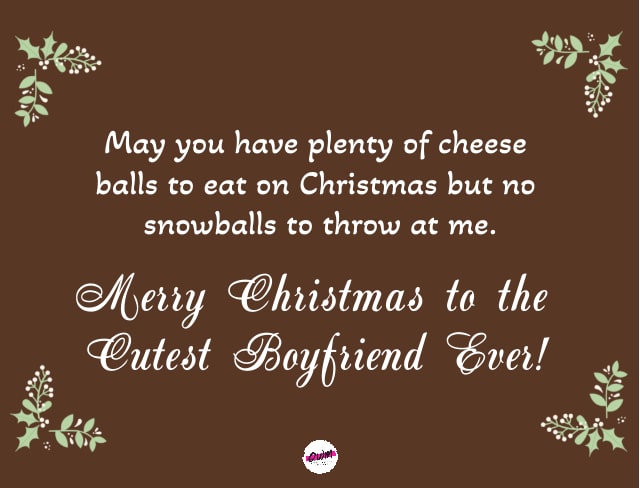 I don't know about others but Christmas is undeniably the cleanest festival for you. Because it cleans up all your savings and the credit card limit as well. Jokes apart, merry Christmas to my love!
I have heard that the best Christmas gifts are the blessings and love of someone. So, no fancy Christmas gifts for you but my pure love and blessings are there. Merry Christmas and God bless you!
May the festival of glitter and spine-chilling cold fills your bank balance with mammoth money so that you can at least think about getting some nice Christmas gifts for me. Merry Christmas to you!
Now we can save money on Christmas. You can become a Santa because you are old now and have long beard! Happy Christmas dear!
Christmas is the only day of remembering God and I thought it is every day. Happy Christmas!
You are a good man. Phew! I don't know why I have to say this on every Christmas! Happy Christmas dear!
I just want to cut you down into two pieces. Your body is bread for me and your blood is wine for me. Although I every day drink your blood and its taste is like lemon. Happy Christmas!
Actually on the day of Christmas I want to break up with you but you just have got promotion! Happy Christmas dearest!
Funny Christmas Wishes For Her
Why do you constantly shiver in spite of being covered from head to toe, while I endure the cold wearing a thick backless dress on Christmas? Merry Christmas to my beautiful girlfriend!
As you believe in Santa Claus so much, I have decided not to bring any gifts for you this Christmas since Santa Claus will surely bring your coveted presents. Merry Christmas, my darling!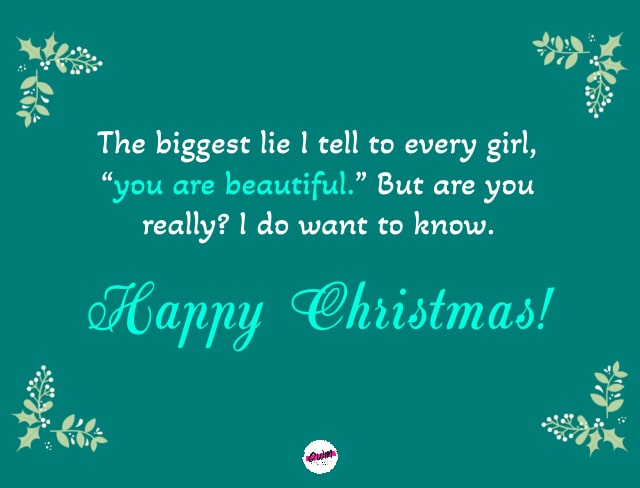 Time is always more valuable than money. Because of this, you will have my full attention on Christmas, but I will not be able to spend a dollar. Merry Christmas, darling!
Sweetheart, your age doesn't prevent you from spending your Christmas at an extravagant club. Merry Christmas, sweetheart, and save some money to buy some nice presents for me.
For Christmas, I'm cutting off all the things that are harmful to you. That includes the Christmas cake. So we don't run out of money for Christmas gifts. Because the weather is quite turbulent outside, we are planning a trip to an exotic location on Christmas. Merry Christmas and I love you!
The biggest lie I tell to every girl, "you are beautiful." But are you really? I do want to know. Happy Christmas!
Boys need to have bank balance. While they get into true love thing wasting their whole life! Girls are wise. Happy Christmas dear!
Girls spend a lot amount on makeup and it stays just for moments. But they still look the same. Happy Christmas!
Rare are girls who are simply stylistic. While they buy costly clothes for it! Wishing you happy Christmas!
Actually I want to say without your hairs braid you look like a ghost to me, like Santa's abandoned sister. Happy Christmas!
Funny Christmas Wishes For Friends
Hey buddy, my humble advice for you on Christmas is that don't eat like a monster after watching delectable dishes was you are already on the verge of bursting out. May Jesus cut your fat and food intake. Merry Christmas, buddy!
Your witty one-liners and not so funny Christmas jokes actually make my Christmas celebration perfect. I just can't wait to laugh hard on them. Merry Christmas, friends!
As old friends are like fine wines, I want you all to prove this proverb right by gifting me the most expensive wines in the world. Wishing marvelous and stellar Christmas to my lovely friends!
They say, friends are the sweetest blessings of any individual's life. But whenever I look at you, I never get that feeling. Anyways, have a joyful Christmas celebration buddy!
The first thing on Christmas to do is to commemorate the birth of Jesus Christ but all you guys do is gobble free food and get tipsy. Shame on you! Merry Christmas, buddies!
Having a true friend in today's time? It is so funny. Happy Christmas Friend!
These days it is friends for need, not need for friend. Wishing you happy Christmas my friend!
Money speaks the language of friendship these days. Those days were cool when you share a chocolate and became friends. Happy Christmas dear friend!
I wish that you come out my true friend. And May our friendship never break! Happy Christmas friend!
Don't make the promise of ever-lasting friendship, only just make it for true. Happy Christmas my friend!
Funny Christmas Wishes For Wife
It really squeezes my heart when you eat up all my year-long savings in a moment. I can't do anything about it except blaming myself for the bad decisions. Merry Christmas to my sweet wife!
This Christmas, I want to confess all my sins in front of Jesus as well as you. My biggest sin is falling for your charm and Jesus said right, never fall for the external beauty. I love you wife and merry Christmas to you!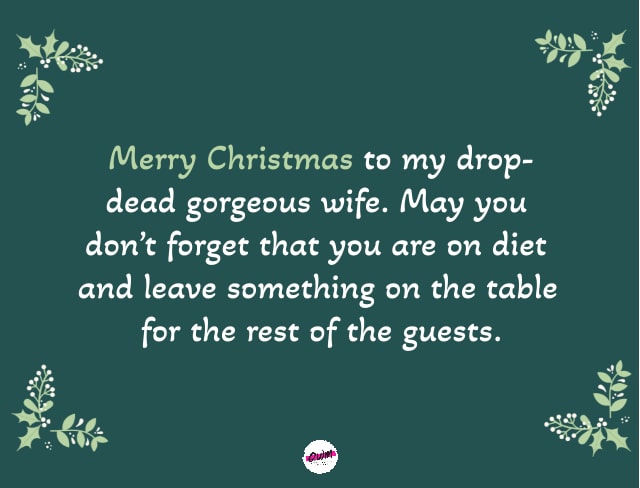 Merry Christmas to my drop-dead gorgeous wife. May you don't forget that you are on diet and leave something on the table for the rest of the guests.
The only unattractive thing about you on Christmas is the massive credit card bill that I have to clear up with my savings while shedding tears. Merry Christmas to my beautiful wife!
Christmas is one of those festivals where all the husbands of the world want to disappear for the entire week and I am no exception. This is the only way to protect me from going broke. Merry Christmas to my stunning wife!
You are my wife. How funny it is! That's great funny. Happy Christmas dear wife!
Wife, why don't you leave me for some weeks! Wishing you happy Christmas dear wife!
You have a good sense of humor but I don't know why I laugh pretensciously on your talk. Happy Christmas wife!
The real name of wife is having a trouble! Happy Christmas dear wife!
Keep your wife near and all your fears go. Wishing you happy Christmas!
Funny Christmas Wishes For Husband
Hey husband, you are free to run away from me on Christmas but don't forget to give all your credit cards to me before you go wherever you want. I love you and Merry Christmas husband!
You were experiencing the beautiful facades of life, you were living the life happily and recklessly, and then Jesus sent me in your life and game over. Merry Christmas husband and don't forget to bring lovely presents!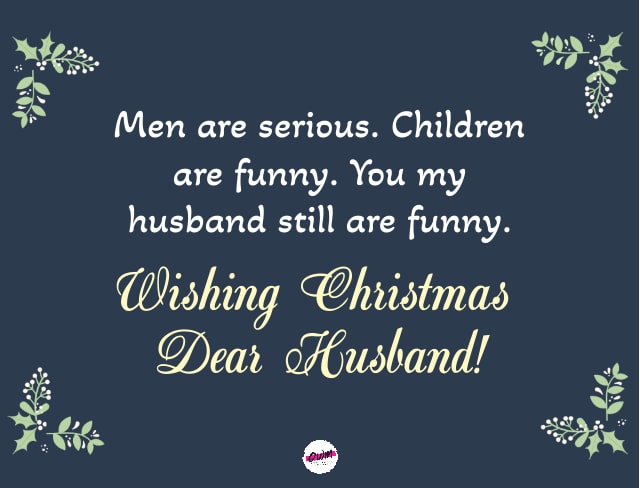 May Santa Claus and your boss give huge money to you so that I can take it all and go to a classy parlor, buy sexy dresses, and get some beer for you. Merry Christmas to the love of my life!
May Santa Claus makes you smarter and open-minded so that you can get a promotion quickly, earn more money, and I know well what to do with the extra money. Wishing Merry Christmas to my sweet husband!
Christmas eve is pretty close to my heart because my caring husband ropes in a lot of touching gifts for me, even if he doesn't buy anything for himself and I really don't care about it. Merry Christmas, husband!
You are not funny. You are boring! Wishing happy Christmas friend!
Men are serious. Children are funny. You my husband still are funny. Wishing Christmas dear husband!
Husband should marry and then should cook for their wife for whole life. Wishing happy Christmas my lovely husband!
Husbands always regret after marriage that why they didn't say no at that time! But this time I regret. Wishing happy Christmas husband!
You are good and that is biggest lie! Happy Christmas my husband!
Funny Merry Christmas Greetings
The real fun of the Christmas celebration is when you have a lot of cash, old wines, and good friends to rock the occasion. Unfortunately, the first two I don't have at all, and the last one I have in surplus. Merry Christmas, good luck, and God bless you!
All the glitter and frisky vibes of the Christmas celebration fade in an instant when the credit card bill shows up. May your credit card bill be as small as possible. Merry Christmas!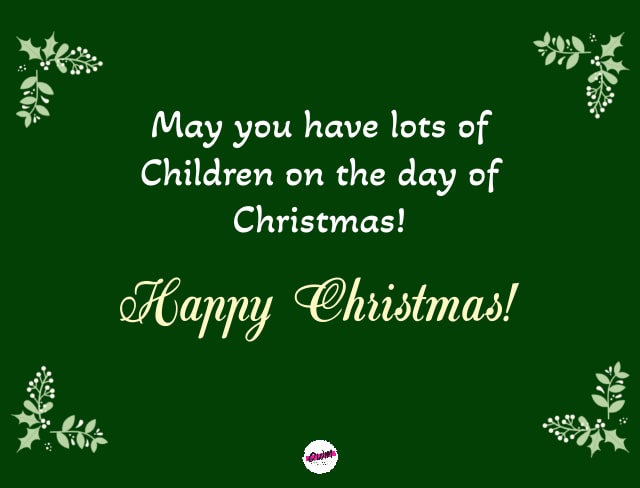 At the rate at which you are getting plump, you will without a doubt outperform Santa Claus by next Christmas. Try not to make Santa descend here and ridicule your greasiness. Happy holidays and have an amazing one!
The day isn't far when you will be welcomed in the schools to turn into the Santa Claus and make little chuckles with your activities. Take care of your weight or, more than likely Santa Claus will begin ridiculing you. Have a wonderful Christmas festivity!
I don't believe in the notion that women are equal to men. I have never seen a single woman paying up all the fat bills of the Christmas shopping. Merry Christmas to you and your family!
May you have lots of Children on the day of Christmas! Happy Christmas!
May Jesus come and tell you that you have lots of amount of bitcoin! Happy Christmas!
May on the day of Christmas Santa come and give you an NFT in the gift! Wishing happy Christmas!
May someone love you real, not a bot! Wishing happy Christmas dear!
Funny you live, long you live. Serious you live, short you live. Happy Christmas!
Funny Christmas Quotes
I get a little behind during Lent, but it comes out even at Christmas.- Frank Butler
Keep your friends close, your enemies closer, and receipts for all major purchases.- Bridger Winegar
I haven't taken my Christmas lights down. They look so nice on the pumpkin. – Winston Spear
"The worst gift is a fruitcake. There is only one fruitcake in the entire world, and people keep sending it to each other." — Johnny Carson
"Christmas: It's the only religious holiday that's also a federal holiday. That way, Christians can go to their services, and everyone else can sit at home and reflect on the true meaning of the separation of church and state." — Samantha Bee
"It's always consoling to know that today's Christmas gifts are tomorrow's garage sales."— Milton Berle
"Christmas is a box of tree ornaments that have become part of the family."— Charles M. Schulz
"We celebrate the birth of one who told us to give everything to the poor by giving each other motorized tie racks." — Bill McKibben
I stopped believing in Santa Claus when I was six. Mother took me to see him in a department store and he asked for my autograph." -Shirley Temple
"That's the true spirit of Christmas; people being helped by people other than me." – Jerry Seinfeld
A lovely thing about Christmas is that it's compulsory, like a thunderstorm, and we all go through it together. -Garrison Keillor
I love Christmas. I receive a lot of wonderful presents I can't wait to exchange. – Henny Youngman
Although it is pleasant to think about poison at any season, there is something special about Christmas, and I found myself grinning. – Alan Bradley
Christmas is the season when you buy this year's gifts with next year's money. – Author Unknown
He who has not Christmas in his heart will never find it under a tree. – Roy L. Smith
"Nothing says holidays like a cheese log." — Ellen Degeneres
"The Supreme Court has ruled that they cannot have a nativity scene in Washington D.C. This wasn't for any religious reasons. They couldn't find three wise men and a virgin." — Jay Leno
"There's something about a Christmas sweater that will always make me laugh." — Kristen Wiig
"I hate the radio this time of year because they play 'All I Want For Christmas Is You' like, every other song. And that's just not enough." -Bridger Winegar
"There are 17 more shopping days until Christmas. So, guys, that means 16 more days till we start shopping, right?" – Conan O'Brien