Your dad may talk a big game and say that he doesn't want anything special for Father's Day, but you know better. After all, he taught you to always celebrate the people who matter most to you — whether they like it or not. And if there's a moment to pull out all the stops for the guy you've always looked up to (quite literally), it's Father's Day.
But finding a great gift for your dad is no easy feat, especially if you want to deliver something unique that won't just collect dust in a drawer somewhere (been there, done that). Luckily, you've come to the right place: We've rounded up the best Father's Day gifts for dads of all kinds, including presents for your stepdad, father-in-law and grandpa, too. That's right, these ideas are tailored to all of the important men in your life — your brother who just became a new dad, your husband who is a real-life superhero and your friend who is expecting a new baby any day now. As you browse, decide whether or not you want to go for something that leans into the sentiment of the holiday, taps into his funny bone or recognizes his passions (whether that's tech gadgets, grilling or golfing).
Oh, and if you waited until the eleventh hour, we made sure to include tons of affordable last-minute Father's Day gift ideas too, from monthly subscription boxes to virtual presents.
FOR THE DAD WHO'S ALWAYS ON HIS PHONE
Cell Phone Stand With Wireless Bluetooth Speaker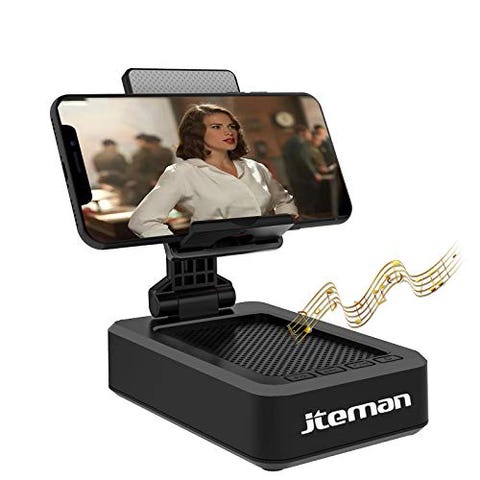 With over 1,ooo five-star Amazon reviews, shoppers say the Bluetooth-compatible speaker on this cell phone stand has "surprisingly great sound quality" and that's it's "very easy to use."
CHEAP GIFT THAT KEEPS ON GIVING
Cooling Pint Glasses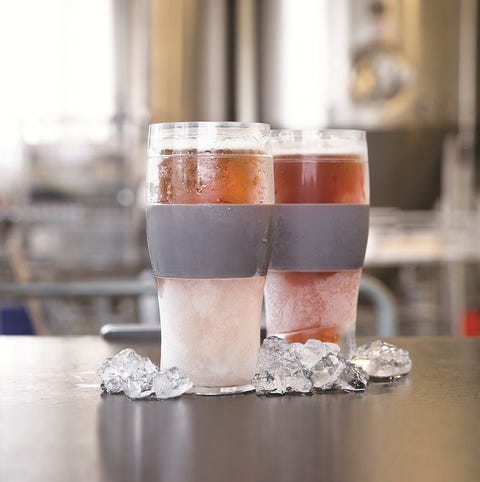 A guy as great as him shouldn't settle for lukewarm beer. As long as he keeps these glasses in his freezer, he can nurse a chilled lager, ale or another fresh pint for hours on end.
A TECH GIFT HE'LL ACTUALLY USE
Wireless Charging Station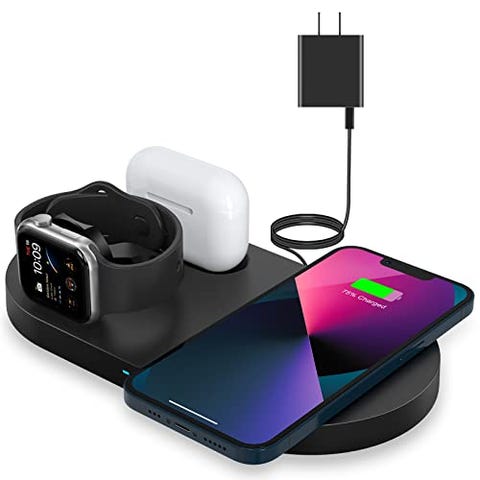 At this rate, he has every device imaginable: a smart phone, smart watch, wireless headphones, you name it. This ultra-sleek charger rests on any flat surface and can charge all compatible devices without any cables or plugs.
SO UNIQUE, WE BET YOUR DAD DOESN'T HAVE IT YET
Magnetic Wireless Power Bank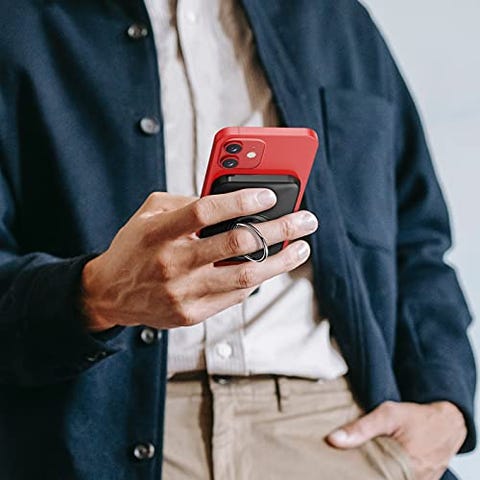 No wires here: He can just attach this magnetic power bank to the back of his phone to give it instant juice. It even comes with a pop-out ring, so he can keep a firm grip when he's out and about.
HELP HIM FALL ASLEEP FASTER
Sleep Aid Device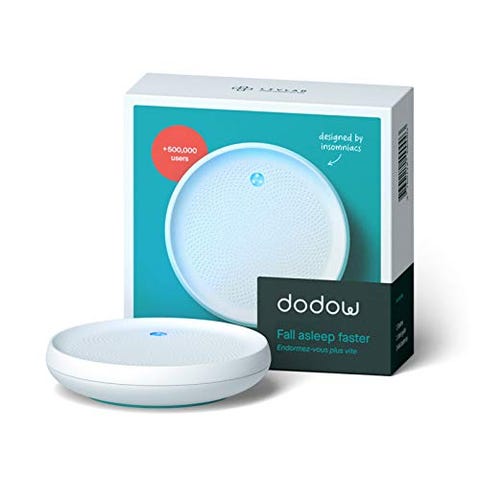 With a touch of a button, this little gadget helps him fall asleep naturally in eight or 20 minutes, depending on his current sleep habits.
FOR THE DAD WHO LOVES MOVIES
100 Movies Scratch Off Poster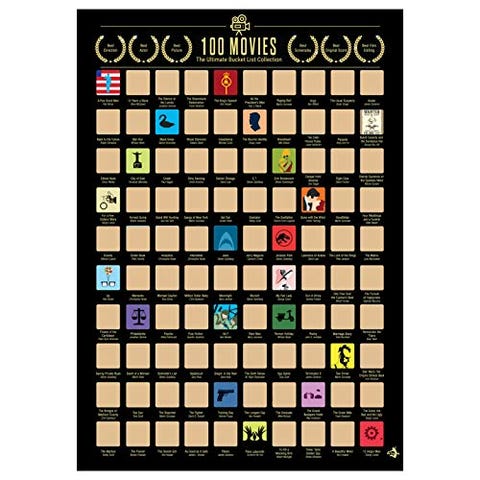 Encourage your dad to watch all of the Hollywood classics, from Pulp Fiction to Fight Club, scratching the squares as he goes. The entire family may want to join in on the fun!
FOR THE MAN WHO LOVES BEER
Beer Subscription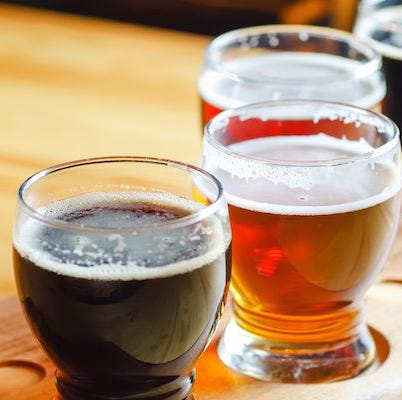 Sure, you could show up with a six-pack and win Father's Day. But if you want to go the extra mile, sign him up for a monthly, bimonthly, or quarterly shipment of 12 or 24 craft beers.
RELATED: All the Best Gifts for Beer Lovers
FUNNY GAG GIFT TO GET DAD LAUGHING
Best Farter Ever Mug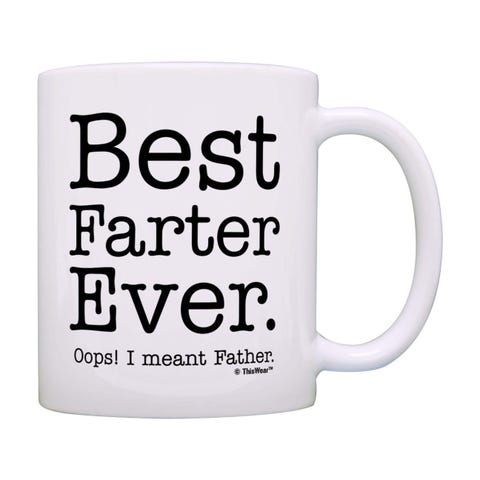 Nobody appreciates a good pun quite like your dad. But once he leans into the joke, he'll see the sweet sentiment behind this fart-tastic mug.
RELATED: 47 Best Father's Day Gifts You Can Get on Amazon
SONS AND DAUGHTERS, IT'S TIME TO GET SENTIMENTAL
What I Love about Dad Journal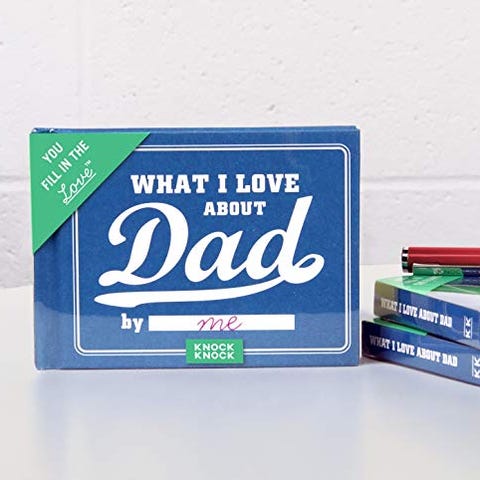 You know what's better than a Father's Day card? A whole book that captures your best memories together, the characteristics of his that you admire most and just about everything else that makes your relationship what it is.
FOR THE DAD WHO HAS EVERYTHING
Concrete Fire Pit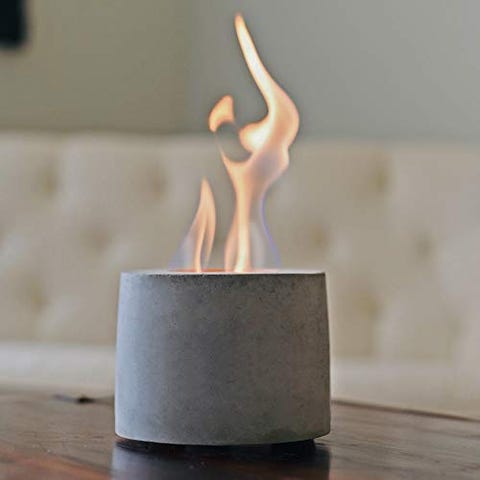 Stick this mini fire pit on a flat surface, coat it with a thin layer of rubbing alcohol and then soak up the warmth. It's safe to take inside, making it a great way to set the mood for date nights, family dinners and late-night hangs.
SWEET GIFT TO DAD FROM BABY
Best Dad Ever Boxes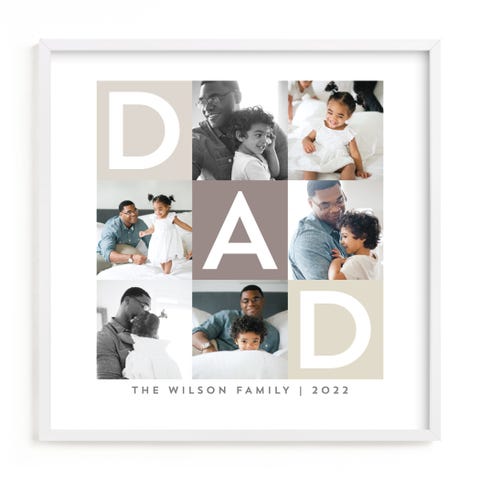 Help him show off his favorite family pics by uploading six cute shots to be turned into this sentimental art print — choose from six sizes and a dozen frame options.
VIRTUAL GIFT YOU CAN BUY AT THE LAST MINUTE
Annual Membership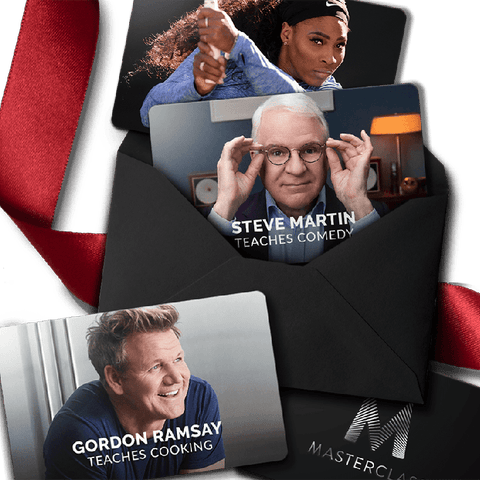 He always says he wants to try a cooking class or learn how to play the guitar, but he just hasn't got the time. Masterclass lets him learn from pros like Gordon Ramsay and Carlos Santana on his own schedule.
GREAT LAST-MINUTE GIFT IDEA
Beef Jerky Subscription Box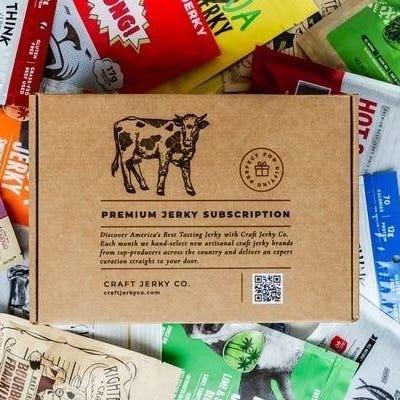 He takes his jerky very seriously, which is exactly why a monthly subscription is a no-brainer. Each month, Craft Jerky Co. will send him two, four, six or eight bags of artisan beef jerky in a range of flavors and spice levels.
FOR THE DAD THAT LOVES TO JOKE AROUND
The Very Embarrassing Book of Dad Jokes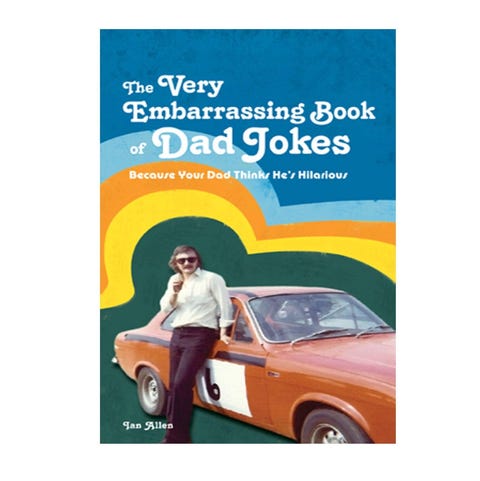 If he's a master pun-maker but needs some new material, this book of dad jokes might just earn him a few genuine LOLs.
RELATED: 30 Funny Father's Day Gifts to Give Dad a Good Laugh
PERFECT GIFT TOR THE WORKING MAN
Magnetic Wristband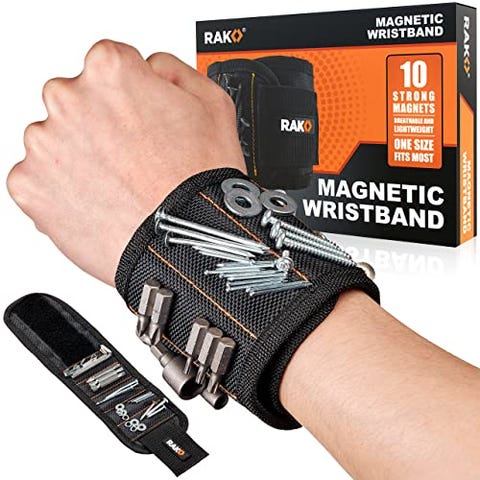 He's already doing the work, but this magnetic wristband will make hours of hammering and drilling less of a chore. It's the perfect size for storing all of the screws, nails, bolts, washers and drill bits that he needs to complete the task at hand.
UNIQUE GIFT IDEA
American Mountains Rocks Glasses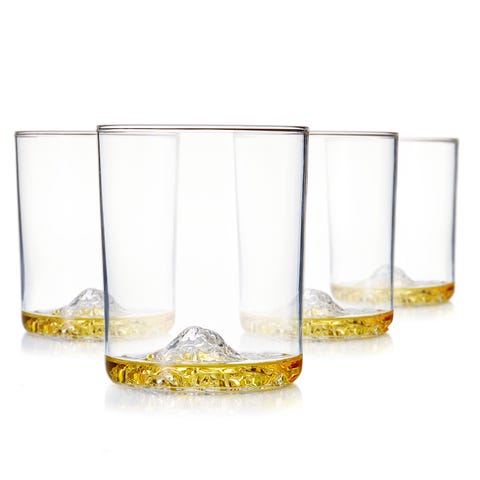 He'll find inspiration with every sip, no matter if he takes it neat, straight-up or on the rocks. Once he polishes off his glass, he'll get a clearer view of some of the country's most majestic peaks, including Half Dome, Denali, Mt. Rainer and Mt. Whitney.
FOR THE DAD WHO HATES A MESSY GRILL
Automatic Grill Cleaning Robot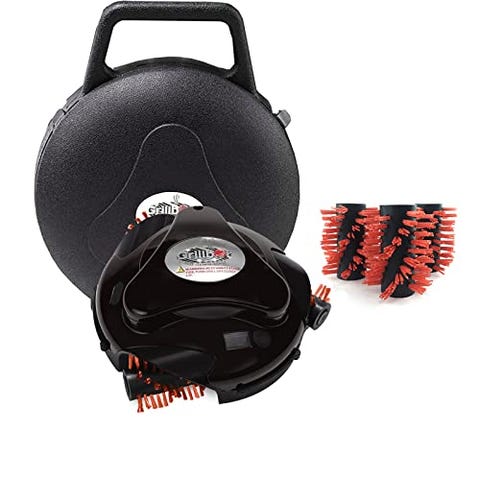 If he hates to clean, but loves to grill then this is the gift for him. Once the food is ready, all he has to do is place this mini robot on the grill grates and it'll be clean by the time dinner is over.
FOR THE DAD WHO LOVES TO WATCH SPORTS
Hometeam Snack Box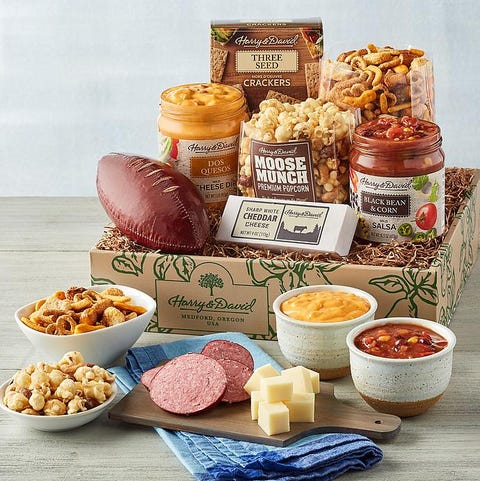 Sausage, cheddar cheese, crackers, salsa, queso, snack mix — thanks to this jam-packed gift box, he'll be ready for an epic game-watching session.
A LUXURY GIFT HE'LL APPRECIATE
Hopper® M20 Backpack Soft Cooler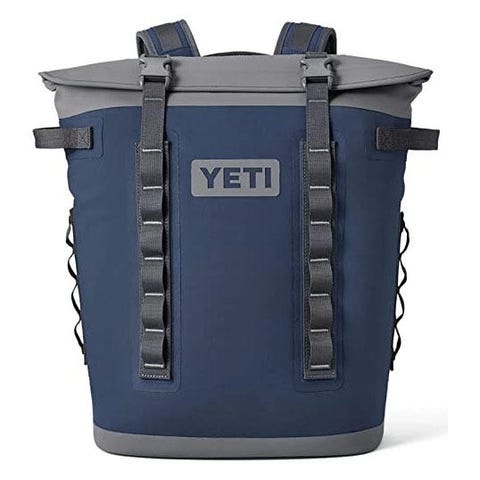 This state-of-the-art cooler can fit up to 26 cans without ice, making it an essential pick for hiking or camping trips. Comfortable, padded straps make it easy to carry, too.
FOR THE DAD WHO LOVES STEAK
American Wagyu Staples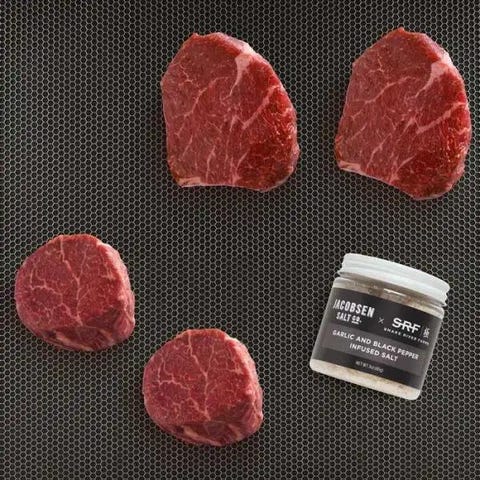 If dad loves a hearty chunk of red meat, he won't be able to resist this gift set, which includes two six-ounce cuts of top sirloin and two six-ounce cuts of filet mignon, plus a jar of garlic- and black pepper-infused salt for seasoning.
SENTIMENTAL PERSONALIZED GIFT
Personalized Men's Bracelet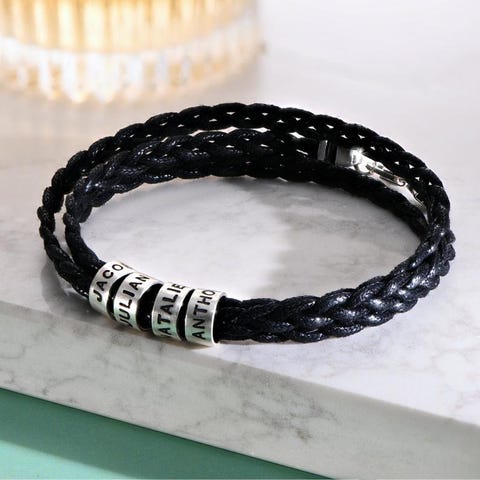 The braided bracelet will suit his everyday attire — plus, with the seller's help, you can get all of his children's names engraved onto the beads. Just note that each bead comes at a cost.
IF HE'S ALWAYS COMPLAINING ABOUT ACHES AND PAINS
Massage Gun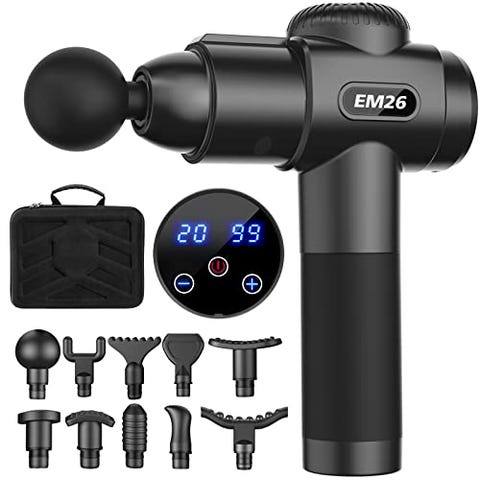 Switch out the massage heads and adjust the speed levels to work out any tight muscles, kinks or soreness. Each massage head targets a different trouble spot: calves, arm muscles, shoulders and other common pain points.
A LAST-MINUTE GIFT THAT KEEPS ON GIVING
Sock Subscription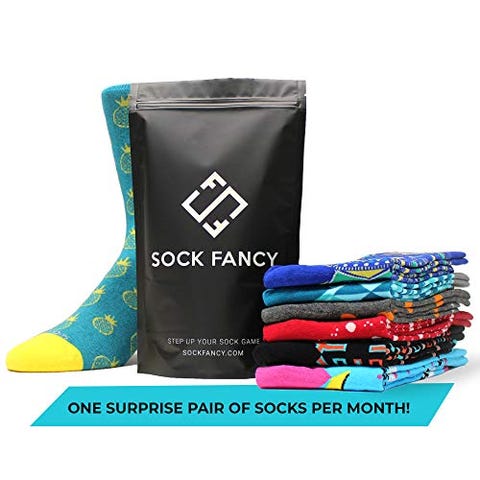 Each month, a funky pair of crew or no-show socks will arrive at his door. So, be prepared for your dad to comment on his "fancy feet" from now until … well, forever.
FOR THE ABSENT-MINDED FATHER
Tile Sticker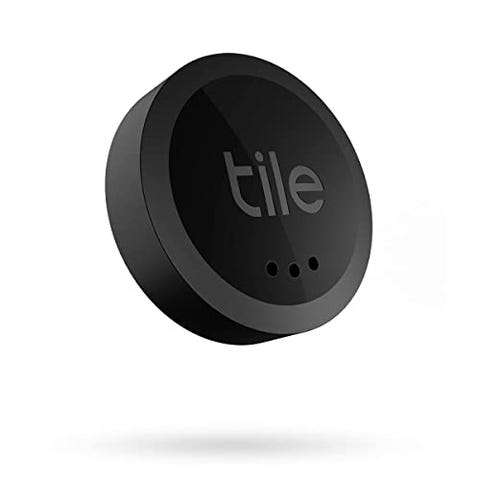 Somehow, he always seems to misplace the things he needs most (think: his phone or wallet). But if he sticks this tracker on them, he'll be able to use the Tile app to hunt them down in minutes.
FOR THE DAD THAT LOVES COMFORT
ABC Pant Slim Warpstreme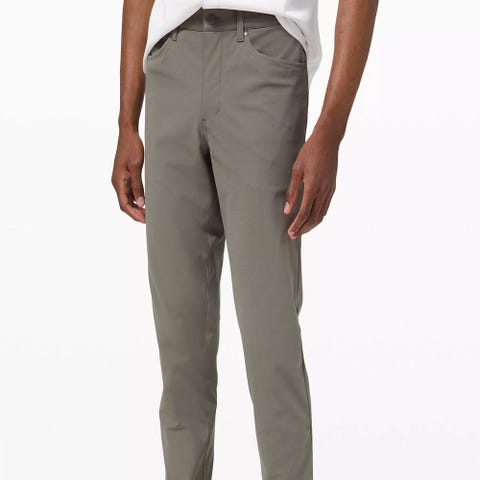 They may look like a typical pair of jeans, but these tapered picks from Lululemon are made with ABC™ technology, giving him the comfort and freedom to move as he pleases. Like athleisure, but appropriate enough for work.
FOR THE DAD WHO WEARS GLASSES
Leather Eyeglass Holder (Set of 3)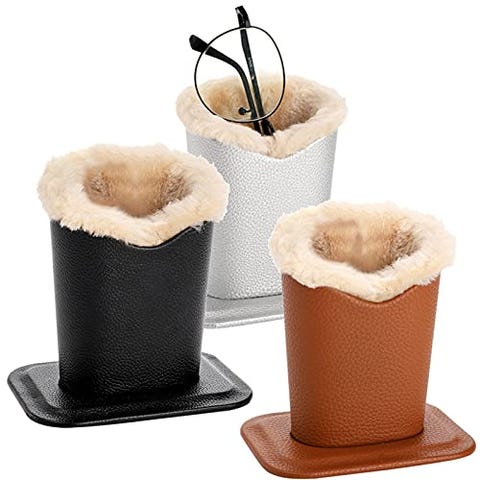 Dad can protect his glasses from scratches by placing one of these upright leather cases in all the important spots around the house — his nightstand, by the TV and on his desk.
FOR THE DAD WHO LOVES TO COOK
Pizza Maker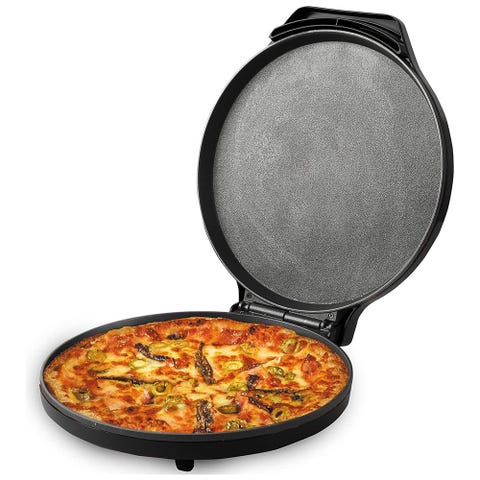 Every night will be pizza night in his house. All he has to do is roll out a 12″ pie, pile on the toppings and let it cook until it's crispy.
FOR THE HISTORY BUFF
History By Mail Six-Month Subscription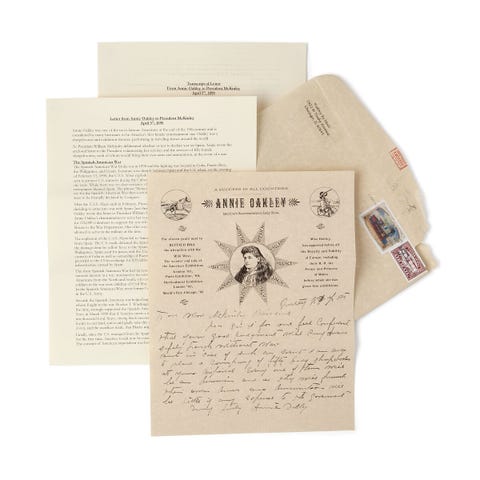 Tucked inside each envelope, he'll find copies of history's most fascinating documents, like when Albert Einstein wrote to FDR about his new, life-changing invention. Each month, he'll get a new envelope a.k.a. another excuse to do a historical deep-dive.
VIRTUAL GIFT IDEA
Coffee Subscription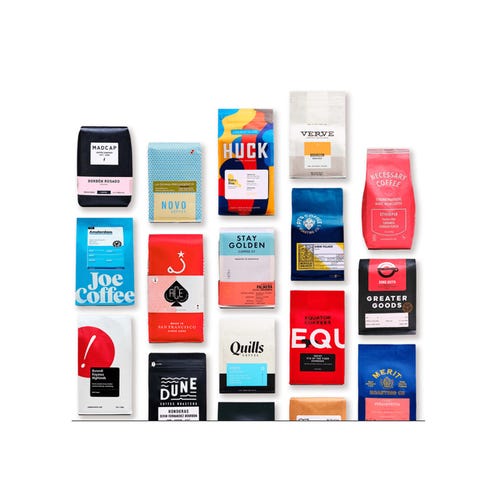 Sign him up for a coffee subscription and then he'll take a quiz to find the best blends for his palette and machinery. At this point, they can nail down their order frequency, grind setting and coffee selection.
FOR THE DAD THAT LOVES TO HIKE
100 Hikes of a Lifetime: The World's Ultimate Scenic Trails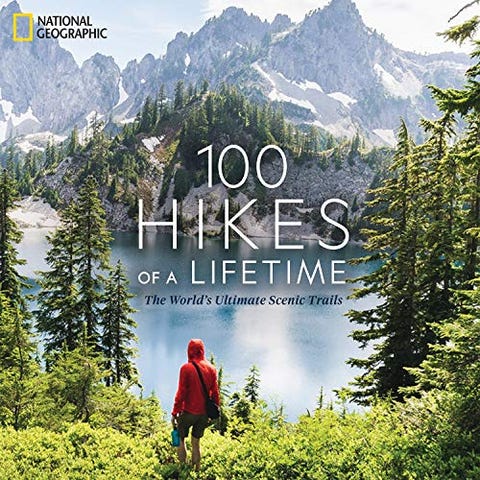 The next time he's ready for an adventure, he can flip to a random page in this book to find one of the world's most beautiful hiking trails. There are 100 trails to pick from — some are more well-known (the Appalachian Trail), others are off-the-beaten-path (Six Waterfalls Hike).
GOOD GIFT IDEA FOR YOUR STEPDAD
Bluetooth Shower Speaker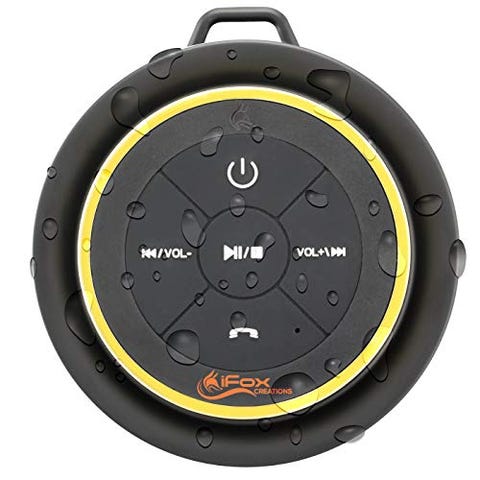 The shower will become his stage once he suctions this waterproof speaker to the wall. It easily connects to any Bluetooth device, so he can jam out to his favorite karaoke songs while getting clean.
FOR THE PICKLE CONNAISSEUR
Pickles Every Month Gift Subscription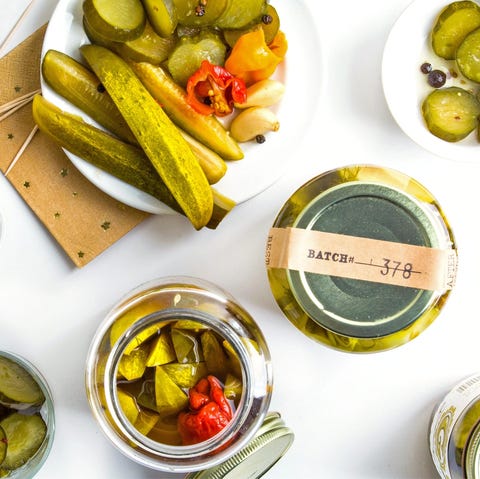 Choose from a one-, three-, six- or 12-month subscription, and he'll receive a box filled with artisan pickles on his doorstep every month. Or, if you don't want to go the subscription gift route, select one of Mouth's beautifully curated pickle-themed gift boxes.
MORNING PICK-ME-UP
Invigorate Shower Steamers Gift Set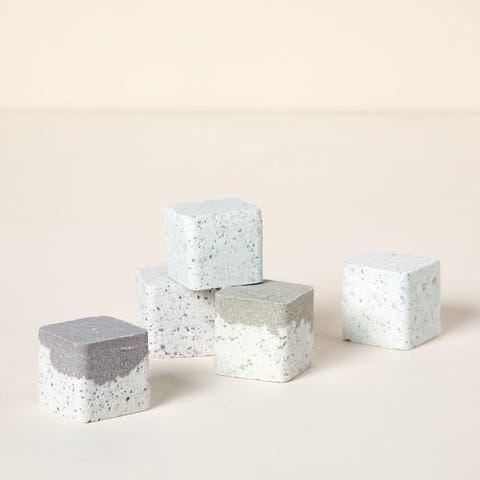 Packed with energizing essential oils and aromatherapy scents, he can toss one of these cubes into his morning shower to wake himself up, pronto.
SUSTAINABLE RUNNING SHOES
Men's Tree Dasher 2 Sneakers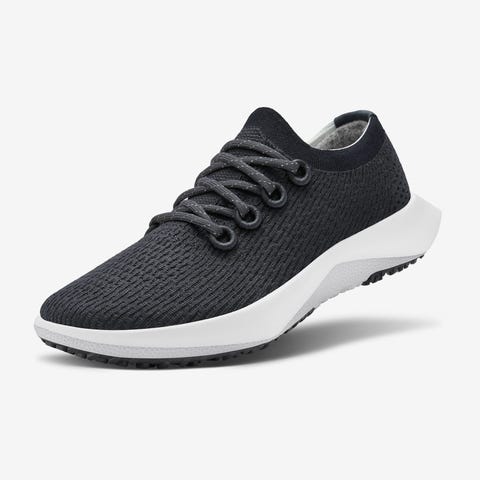 Our product experts are fans of Allbirds sneakers, and for good reason: They're exceptionally comfortable and machine-washable, too. Upgrade dad's footwear with a pair of the brand's Tree Dashers, a breathable, slip-on running sneaker that offers stability on top and extra cushioning on the bottom.
CHEAP BUT COOL GIFT FOR DAD
Meat Tenderizer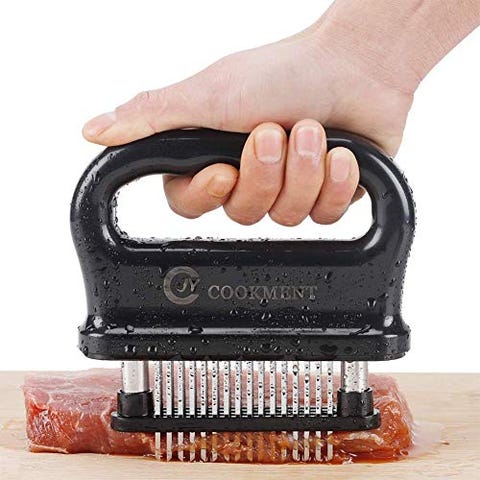 Like its name implies, a meat tenderizer will soften the fibers, making it easier to chew and digest. Plus, it'll allow marinade to absorb better, so you can get delicious flavor in each bite.
GIVE DAD A GOOD CHALLENGE
New York Times Custom Front Page Puzzle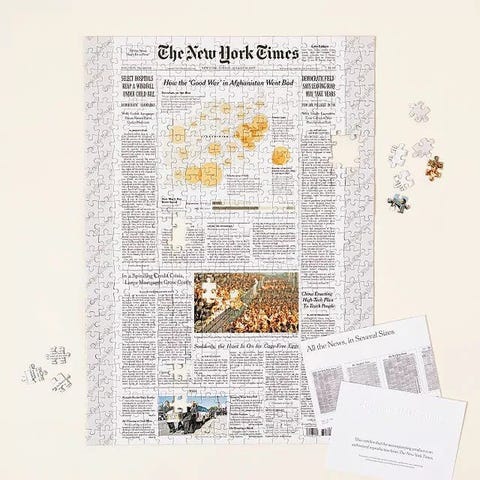 Keep his mind sharp with a puzzle that'll take him weeks to finish — choose the front page from his birthday or another meaningful date in his life.
A PRACTICAL GIFT HE'LL APPRECIATE
Universal Waterproof Phone Case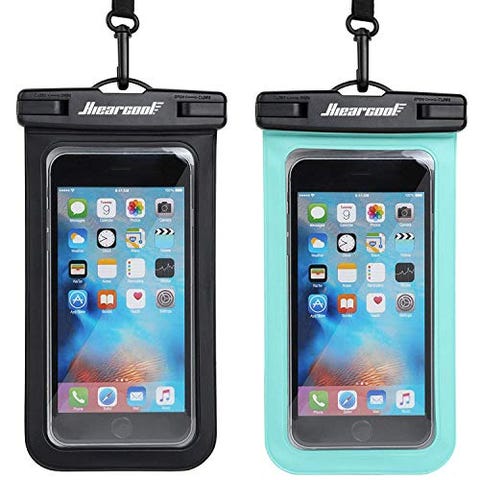 The concept might seem simple, but these phone cases could be incredibly useful for a dad who loves fishing or boating. The transparent cover won't tamper with his camera, and he can use the volume buttons to easily snap photos.
LIVEN UP HIS HOME OFFICE
Red Prayer Plant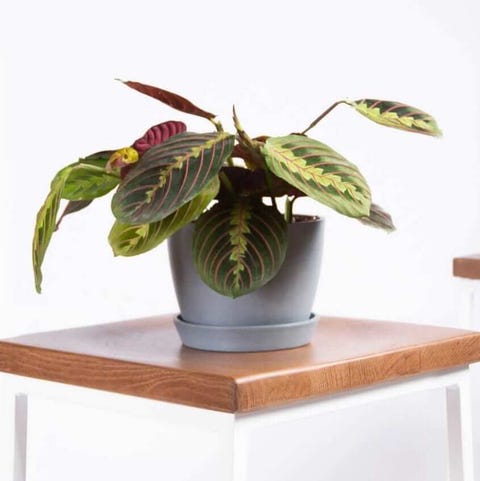 Plants are a hot commodity with dads, too. This one's pretty low- maintenance and thrives without light. Plus, it's non-toxic to dogs and cats.
PERSONALIZED TO HIS SPICE LEVEL
Make Your Own Hot Sauce Kit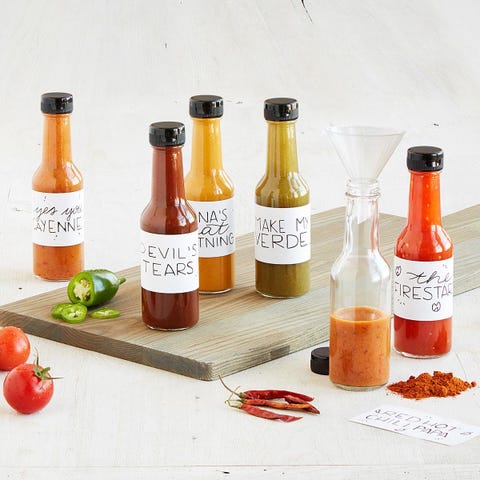 He can never have enough spice. But now? Well, he can mix six different concoctions that match his desired heat level and bottle 'em up, so he can have them ready to go when he wants to kick things up a notch.
GET TO KNOW DAD BETTER
The Dad's Bucket List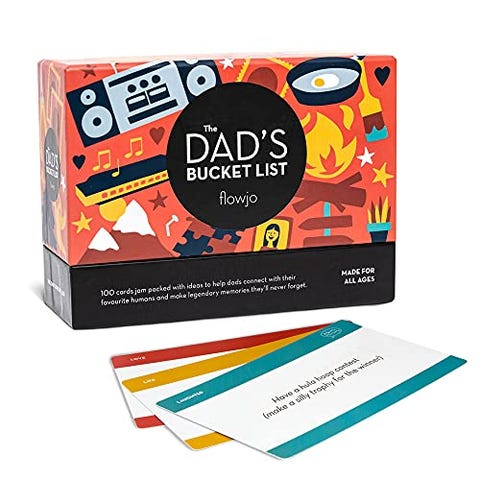 With 100 cards featuring conversation starters, games and activity ideas, this is a great way for any son or daughter to bond with dad.
SOMETHING NEW DELIVERED EACH AND EVERY MONTH
Watch Subscription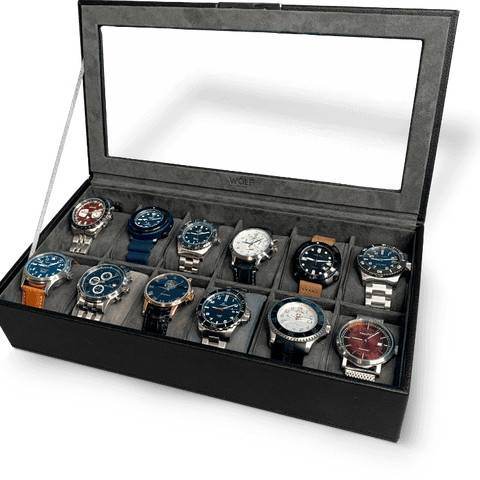 He's slowly (but surely) becoming a watch collector. That means, the best gift you can give is a monthly or quarterly Watch Gang subscription. Each delivery will be a welcome surprise, introducing him to trendy timepieces from top brands — some well-known, others less so.
A NEW DAD'S RITE OF PASSAGE
Dad's Spot Throw Pillow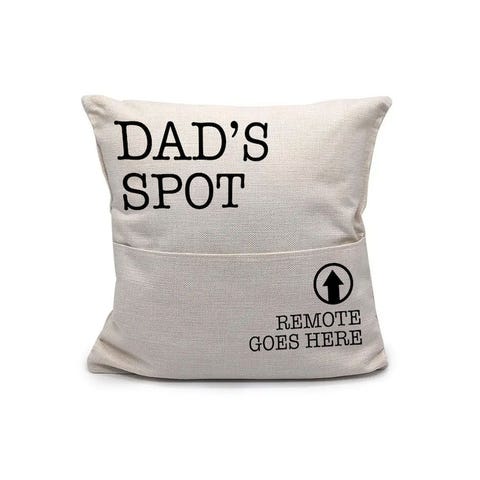 Here's one way to make it official. When placing your order, tack on a pillow insert for an additional $5, so you can have it ready and waiting for your dad to make his way to the couch.
A GIFT GRANDPA WILL LOVE
Microsuede Slippers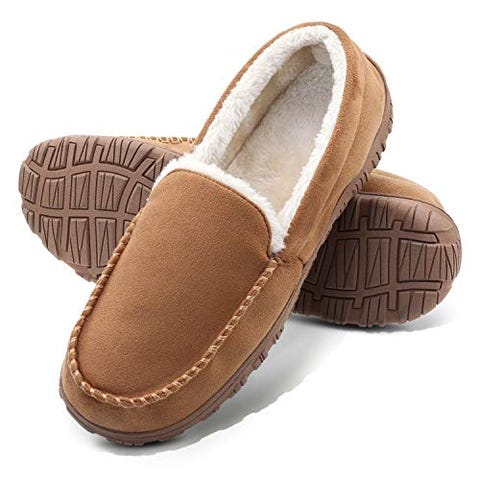 His slippers have seen a lot of wear in the last year, which means Father's Day is the perfect time to give his beloved house shoes a refresh. Along with the anti-slip grip, this pair has a memory foam insole and fur lining for maximum comfort.
PERSONALIZED GIFT IDEA
Engraved Pocket Knife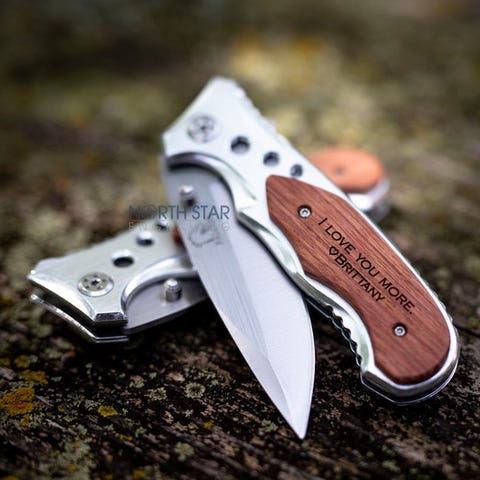 Pocket knives are handy for opening an envelope, cutting loose threads, or slicing a steak when he's out camping. This one is more personal than the one you'd pick up at the hardware store — engrave it with his name or a date or quote that has significance to the two of you.
FOR THE COFFEE FIEND
Deluxe Cold Brew Coffee Maker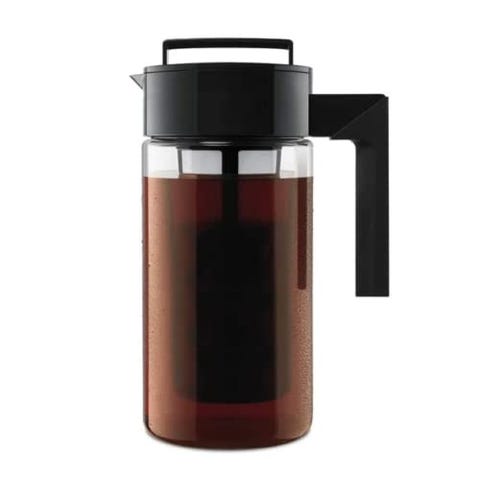 Some like it hot — but he doesn't. Simply place any type of coffee grounds in the mesh filter, let it steep in water for 24 hours and enjoy up to four servings of homemade cold brew.
THE BEST FIRST FATHER'S DAY GIFT
The Dad Hoodie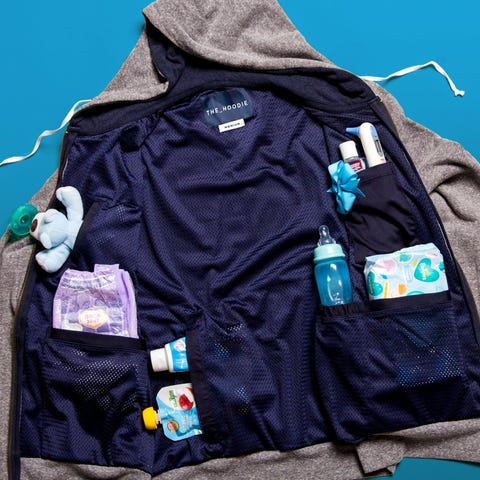 Dad not into the diaper bag look? This hoodie features several secret inside pockets designed to store baby bottles, toys, snacks, diapers, wipes, and more. It comes in a few colors and runs up to size XXL to give the new dad ultimate comfort.
IF DAD LOVES A GOOD WHODUNNIT
"Death at the Dive Bar" Immersive Murder Mystery Game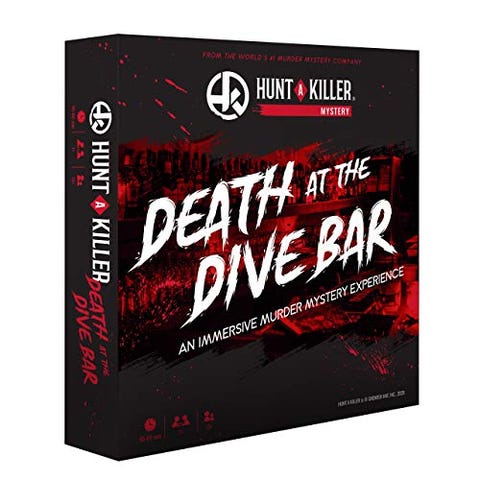 For the dad that loves a brain teaser, he'll appreciate the chance to level up family game night with this murder mystery game.
A UNIQUE GIFT HE WON'T BE EXPECTING
Scotch-Infused Toothpicks Gift Set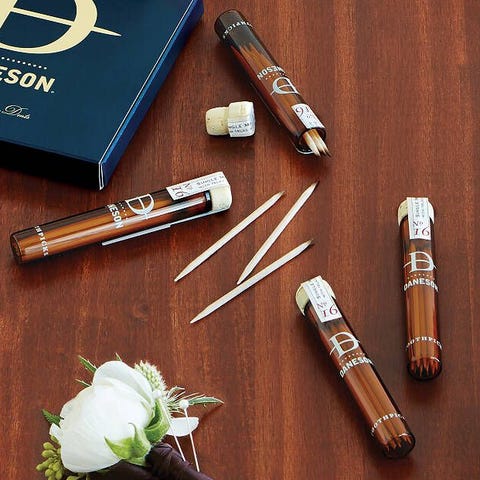 He can make dental hygiene fun with these toothpicks that taste like whisky. The set comes with four bottles, each containing a dozen toothpicks.
CLASSY GIFT IDEA FOR FATHERS
Leak-Free Ice Molds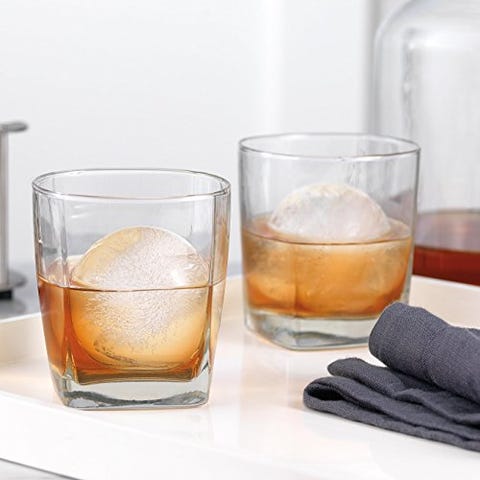 Whiskey lovers already know that the round ice isn't just for looks — it chills liquor more evenly and melts slower, preventing dilution. Pair this gift with an extra-nice bottle of whiskey to really wow him.
2-IN-1 GIFT IDEA
Multitool Coasters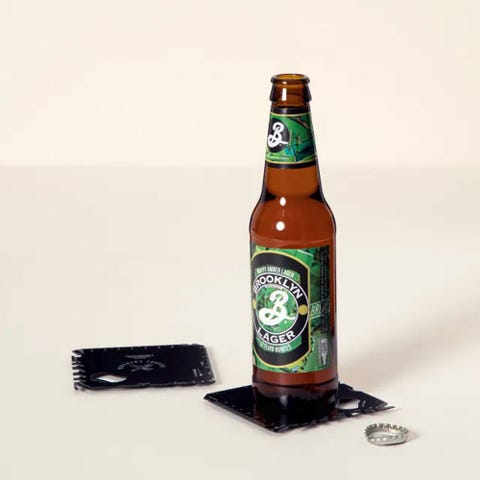 These aren't your average coasters: Along with protecting tables from water rings and spills, they boast 20 handy features. That's right, each steel square doubles as a cutter, screwdriver, bottle openers, wrench and so much more.
FOR THE 'YELLOWSTONE' FANS
Yellowstone Dutton Ranch T-shirt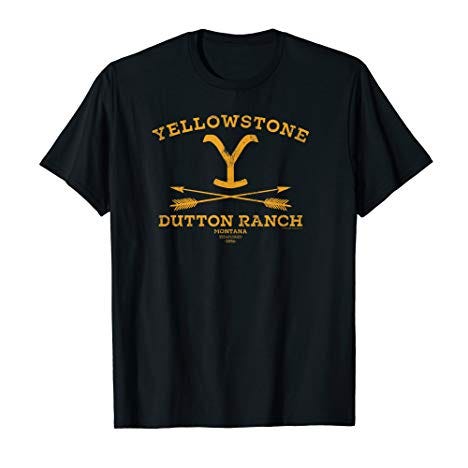 Even though he has a few more months until the show returns for season 5 (maybe? possibly?), get him ready for even more drama at Dutton Ranch with this official Yellowstone t-shirt.
UPGRADE HIS HOME BAR
Whiskey Decanter and Rocks Glasses Set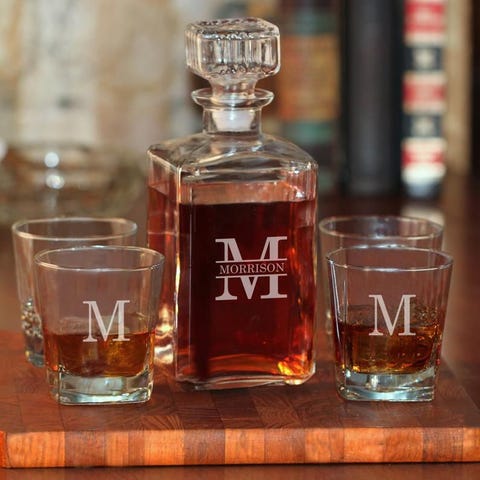 If you don't want the whole set, you can choose to purchase only the decanter, or the decanter and two glasses. It makes the perfect gift for dads who like to celebrate with a little whiskey every now and then.
IF HE DOESN'T LIKE TO GET UP FROM HIS RECLINER
Sofa Essentials Side Pocket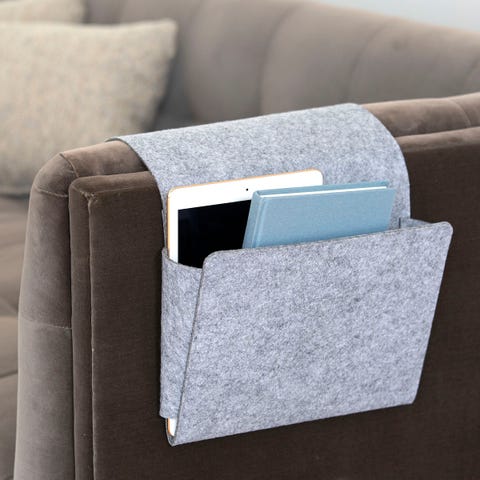 When your dad watches TV, he typically has his iPhone or tablet in hand (or both). He can keep them tucked away in this convenient pouch, along with the TV remote and his blue light glasses.
PERSONALIZED GIFT FOR FOOTBALL FANS
NFL Acacia Valet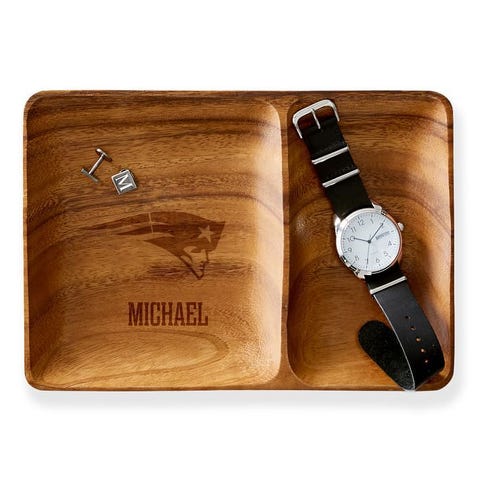 Football isn't just reserved for Monday nights; your guy cheers on his team 24/7, 365 days a year. This wooden catchall puts his team spirit front and center because it's engraved with his name and favorite NFL team's logo.
FOR FATHER-SON STORY TIME
Personalized Super Dad Book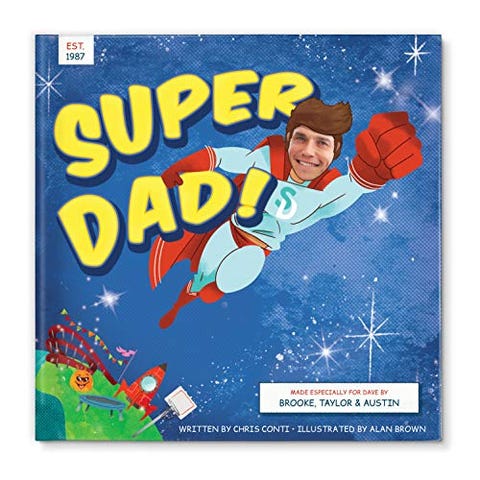 There's no question that he's a superhero in his own right, but this picture book, customized with his name and photo, will make it even more official. In this book, your #1 guy saves the day — kind of like in real life, no?
A DNA TEST HE HASN'T TRIED YET
Genetic Ethnicity + Traits Test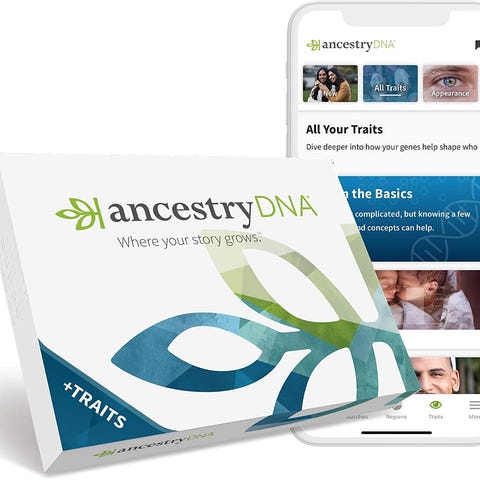 DNA kits do more than just tell him about which countries his family is from — they also help build surprising connections and help him understand his roots more. This particular edition lets him discover more about how his genes influenced his appearance and provides a more precise ethnicity estimate.
FOR THE DAD WHO LOVES TO GRILL
CUBE Portable Charcoal Grill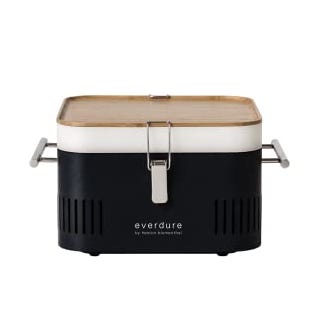 Weighing in at just under 16 pounds, he can take this compact portable grill anywhere — its bamboo lid even doubles as a cutting board.
GREAT FOR HIS MORNING COMMUTE
Rambler Travel Mug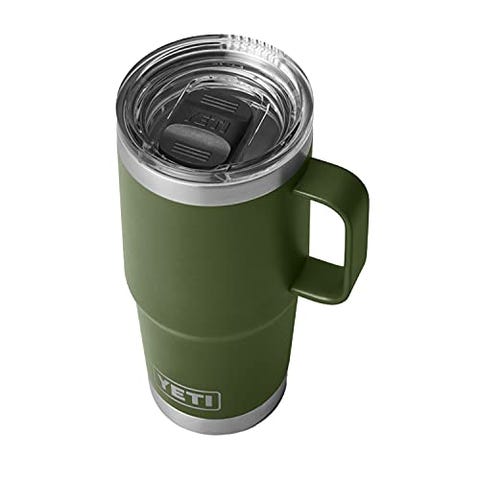 When he's camping or on carpool duty, this 20 oz. travel mug will keep his morning beverage perfectly hot, cold or just right.
SMART TECH GIFT IDEA
Wi-Fi Light Bulbs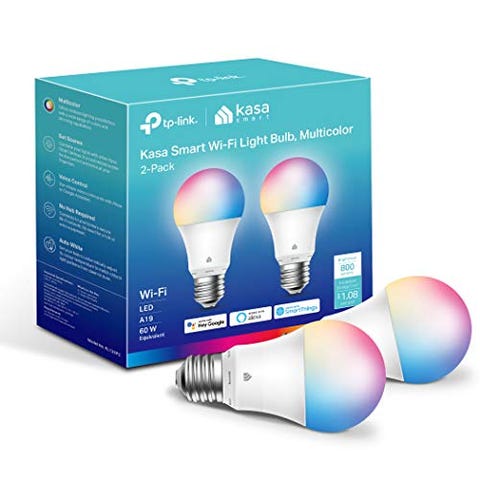 Okay, hear us out on this one: Any gadget lover will get a thrill out of turning these smart lightbulbs on and off from the comfort of their bed, the couch, wherever. Connect it with Google Home or Amazon Alexa to dim, turn on or off, or change the colors.
FOR WHEN HE GETS BORED
Desktop Golf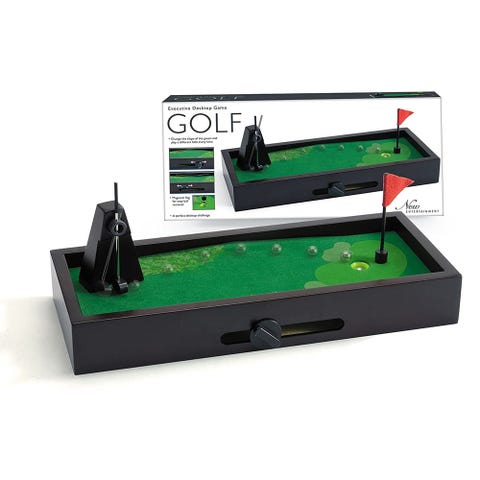 Even if he's still kicking it at home, he can turn his makeshift office space into a non-exclusive golf club. There's no better way to blow off steam than with a quick game of golf, right?
FOR THE DAD WHO LIKES TO RELAX WITH A COLD ONE
Beer Preserver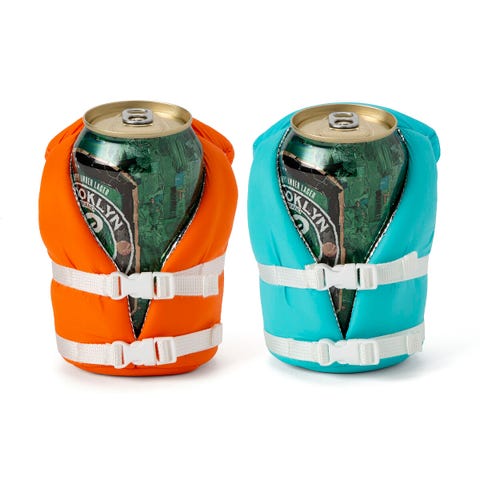 He can slip this insulated life jacket on his beer or soda can to keep it cool and sweat-free on a hot summer's day.
LEVEL UP HIS NIGHTSTAND
Echo Dot (4th Gen)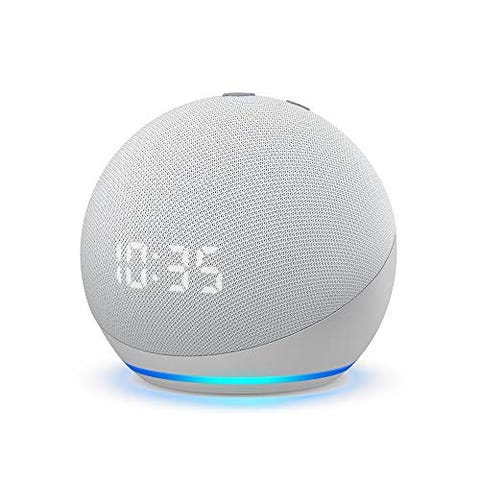 He can use the Amazon Echo Dot for playing music, getting the news, or even ordering a pizza — all by asking "Alexa." It even displays the time, alarms, and timers with an LED display.
FOR THE DAD WITH A BEARD
Ultimate Beard Collection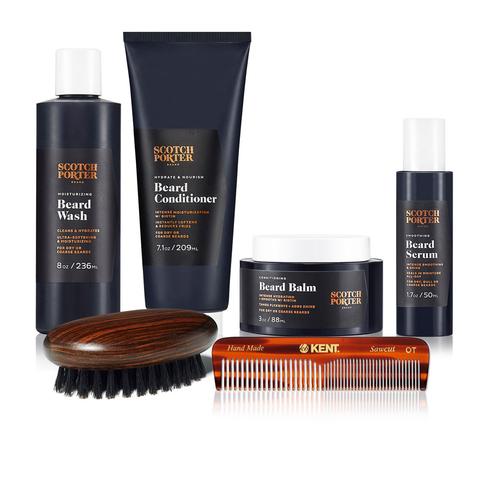 Give him everything he needs to take care of facial hair. Made specifically with beards in mind, this six-piece set will help stay clean, conditioned and styled.
GIVE THE GIFT OF A GOOD NIGHT'S SLEEP
Weighted Blanket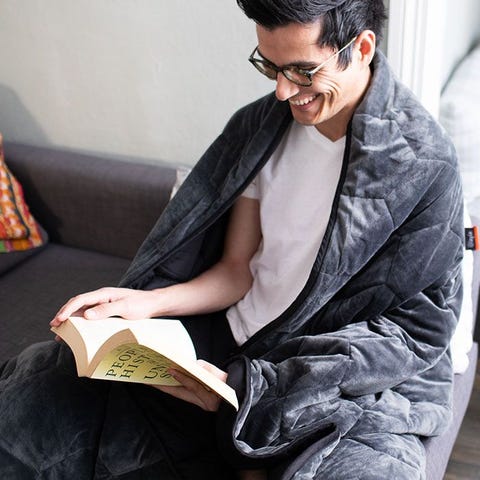 After all he's done for you, your dad has certainly earned some rest (especially after all of the sleepless nights you've given him). This weighted blanket feels almost like a human hug, easing any feeling of restlessness.
UPGRADE HIS KITCHEN GAME
The Trio of Knives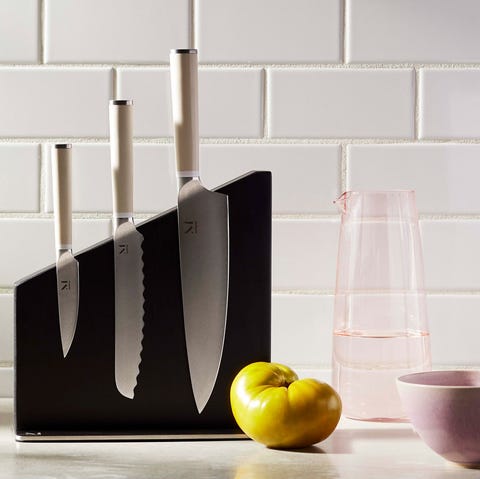 With all the cooking that he does, your dad needs a top-notch knife set. This trio from Material is as good as it gets: It comes with a 4″ knife for detailed cuts, a 8″ knife for everyday use and a serrated 8″ knife for cutting bread.
FOR THE HEALTH-CONSCIOUS DAD
Versa 3 Smart Watch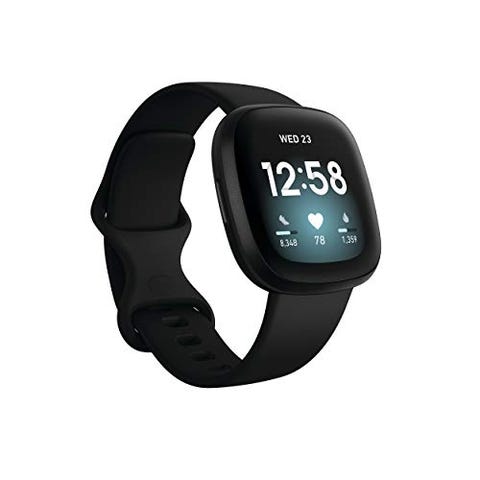 This smart watch will motivate him to accomplish his fitness goals, big and small. It even reminds him to get up from his desk every few hours and go to bed on time, which he needs now more than ever.
A GIFT WITH HEIRLOOM POTENTIAL
Personalized Cutting Board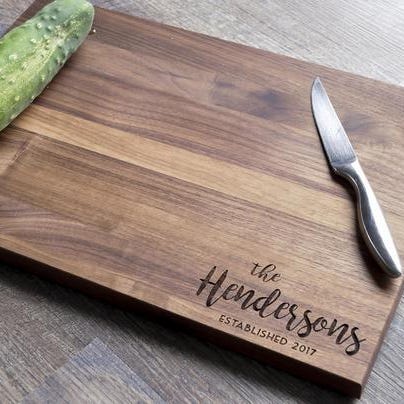 Gift him a quality cutting board that he can use to prepare family meal, or carve the annual Thanksgiving turkey.
LEVEL UP HIS SHAVING KIT
Shaving Kit for Men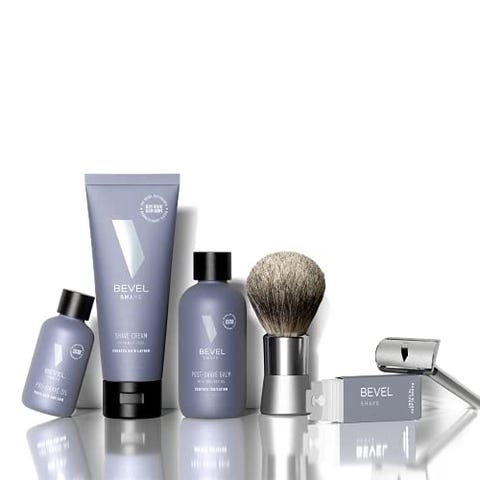 Refresh his shaving stash with this do-it-all starter kit. It comes with everything he needs for a clean shave, including a safety razor, priming oil, shaving cream, restoring balm, shaving brush and 20 refillable blades.