While it's always nicefathers day craftsfrom his favorite store, there are other ways to make his day special. You can dive into fun Father's Day activities or try making creative DIY Father's day gifts with the kids. And while crafting is an engaging way to bring the family together for quality time, finding the perfect craft to match the day can be a hard decision to make. With our roundup of easy Father's Day crafts, you'll find ideas to bring the imagination of your littlest makers and tweens to life.
The projects we feature celebrate any type of Dad — from the superhero lovers and show bingers to the handymans of the house and kings of the grill. Plus, these crafts can be done with kids of all ages — with some being as simple as needing just two supplies. If that wasn't good enough, ost of them actually can double as gifts!
Whichever idea you choose, don't forget to pair the craft with a Father's Day card — and if you're struggling with writing the right message, we have a few thoughtful phrases that are absolutely perfect.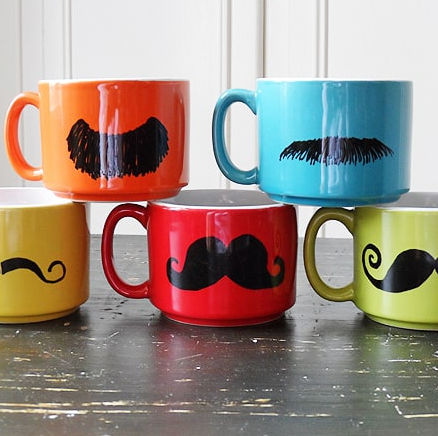 Whether or not Dad has a mustache of his own, he'll cherish the silly one his kids drew when sipping his coffee in the morning.
Get the tutorial at Crafts by Amanda »
SHOP PORCELAIN BRUSH PEN SET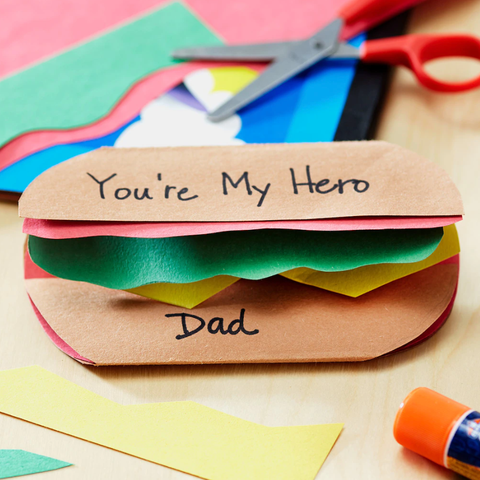 If Dad is a lover of puns and sandwiches, this card will leave him laughing and craving a hero for lunch.
Get the tutorial at Michaels »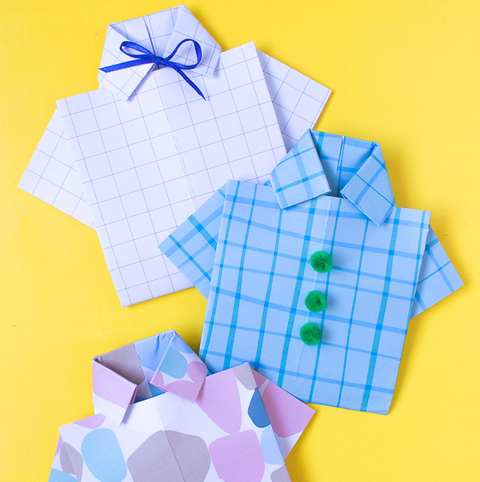 With your help, the kids can make these adorable shirt cards in just five minutes.
Get the tutorial at Club Crafted »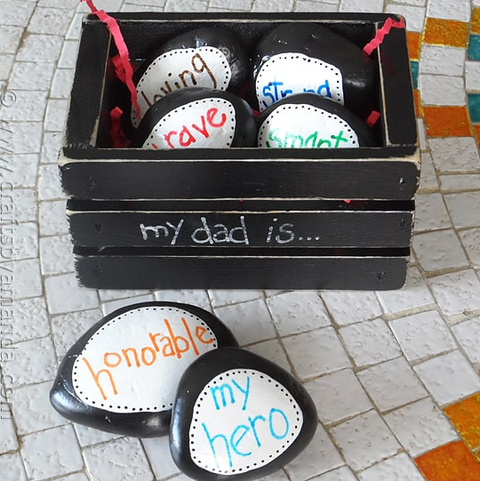 What makes Dad so great? Have your kids write their thoughts on rocks, which he can easily display in his office or bedroom.
Get the tutorial at Crafts by Amanda »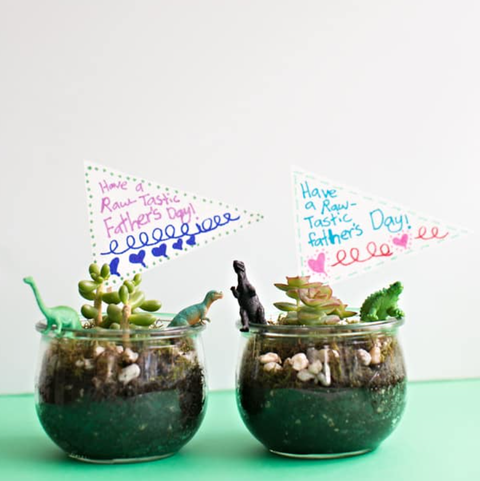 After they're done making the terrarium, let the kids write "Have a Raw-Tastic Father's Day!" on small paper flags for a Dinosaur-themed touch.
Get the tutorial at Hello Wonderful »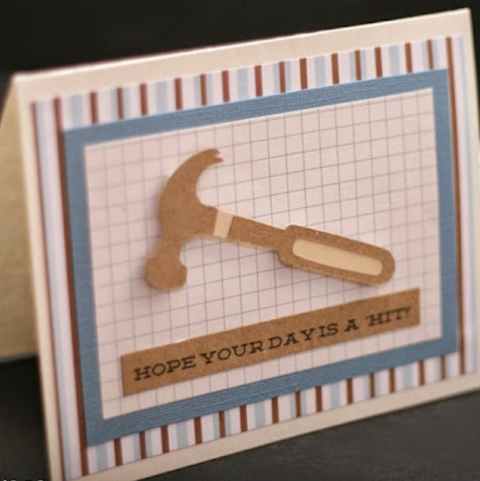 REAL CREATIVE REAL ORGANIZED
If Dad is the handy person of the house, he'll appreciate this DIY card — featuring one of his trusty tools on the front.
Get the tutorial at Real Creative Real Organized »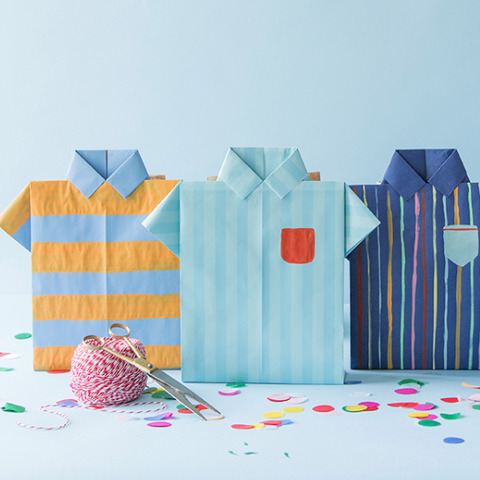 THE HOUSE THAT LARS BUILT
Help the kids turn brown grocery bags and lunch sacks into colorful bags to hold your Father's Day gifts.
Get the tutorial at The House That Lars Built »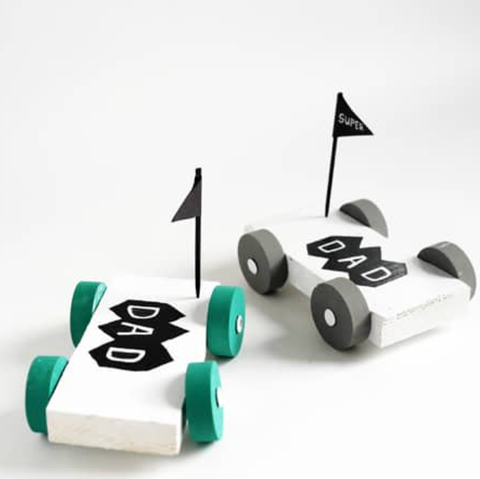 Give your kids a helping hand making cool cars. Putting them together will be worth the time, especially if Dad has a thing for cars.
Get the tutorial at Hello Wonderful »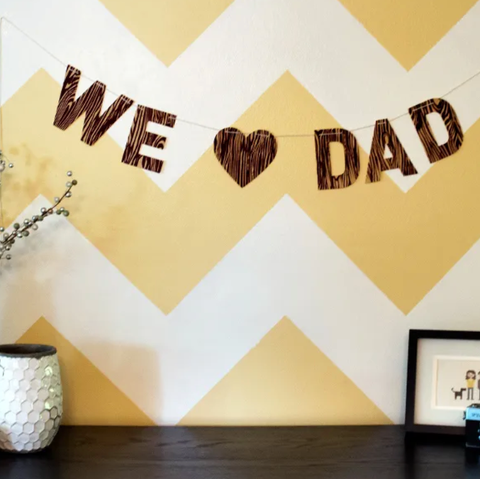 You'll need contact paper, double-sided tape, cardstock and a banner template to make this thoughtful sign.
Get the tutorial at Sarah Hearts »
SHOP CONTACT PAPER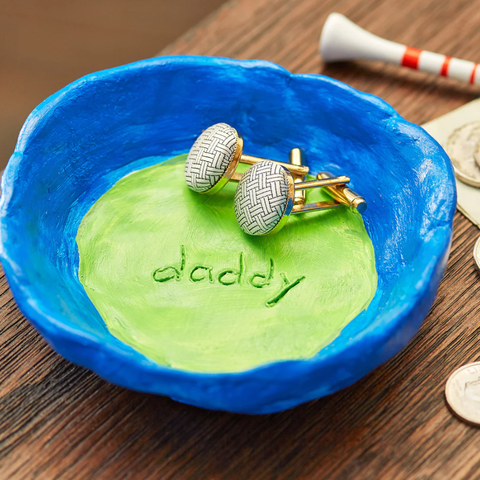 He can store all of his small items and accessories in this dish.
Get the tutorial at Michaels »
Washi Tape Crafts Stick Frames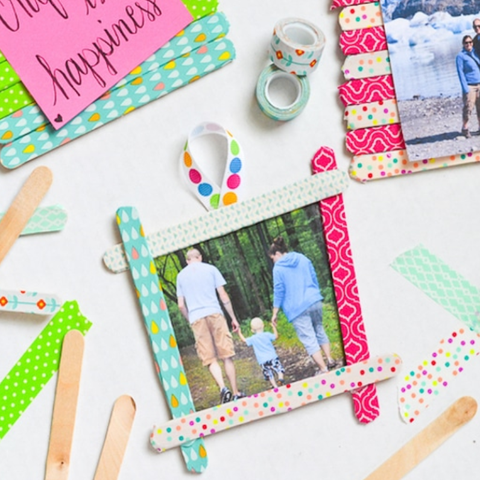 Let the kids pick their favorite pictures with Dad to frame using crafts sticks and colorful washi tape. It'll become an instant keepsake.
Get the tutorial at Typically Simple »
SHOP WASHI TAPE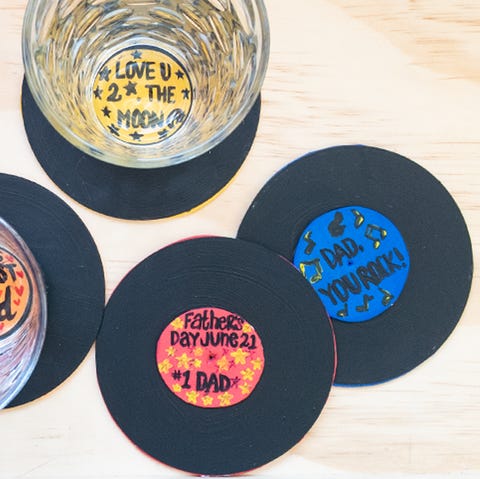 For the audiophile dads out there, this craft lets him know he's a hit! Plus, they're functional, doubling as coasters.
Get the tutorial at Craft Project Ideas »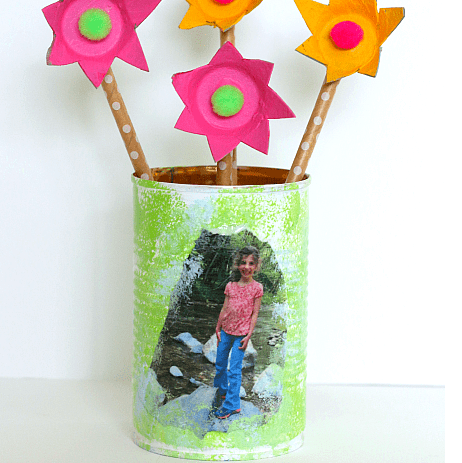 You can upcycle an old tin can (make sure there are no sharp edges!), paint it and personalize it with a photo. Then Dad can use it for pencils, flowers or anything else he might need to store.
Get the tutorial at Buggy and Buddy »
Dad Face Rocks Paperweights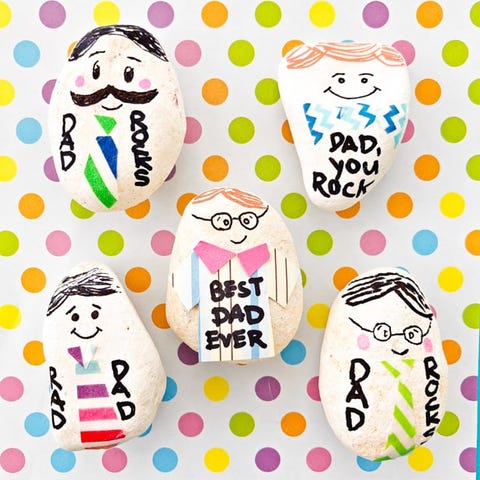 Dad rocks — literally. Collect rocks on your next walk, and re-create the members of your family for Dad to keep on his desk.
Get the tutorial at Hello, Wonderful »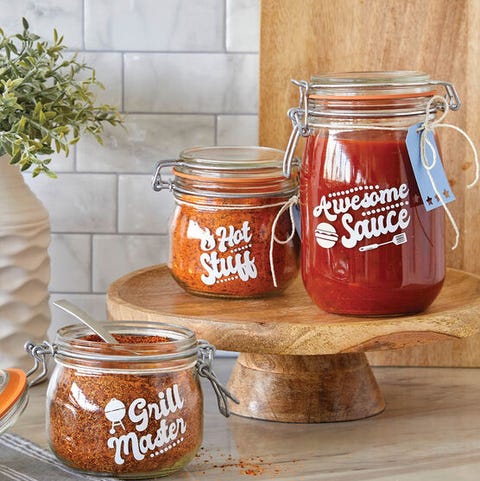 This is a bit advanced, since it requires a Cricut. But if you've got one, you can make personalized jars for all his favorite sauces and spices.
Get the tutorial at JOANN »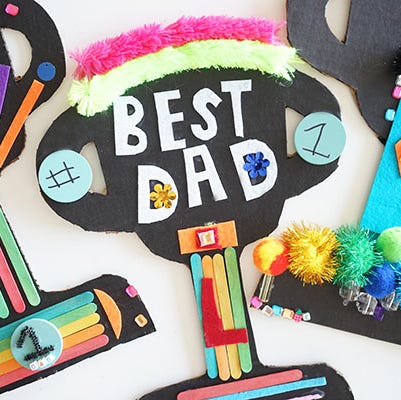 These trophies let kids totally unleash their creativity. Let them loose in the art-supply bin and have them go wild!
Get the tutorial at Meri Cherry Art Studio »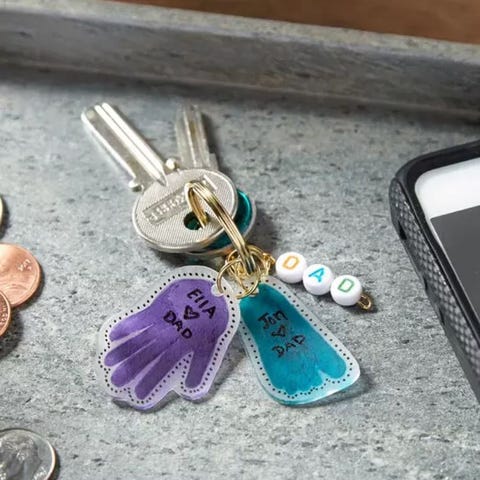 It's a handprint craft — but shrunk down so Dad can keep it with him always. If you make it a yearly tradition, you can have fun comparing how much they've grown.
Get the tutorial at JOANN »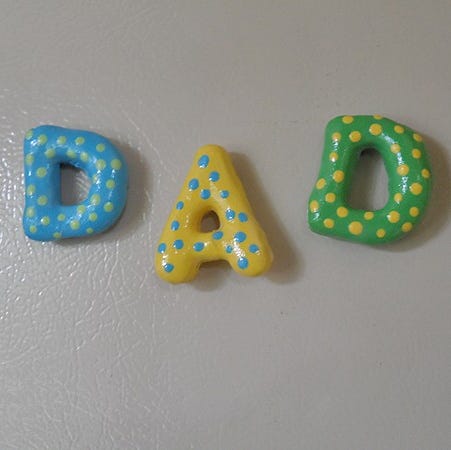 This craft looks like something you picked up at a cute gift shop — but it's really from homemade salt dough. Deck them out in Dad's favorite colors
Get the tutorial at Crafts by Amanda »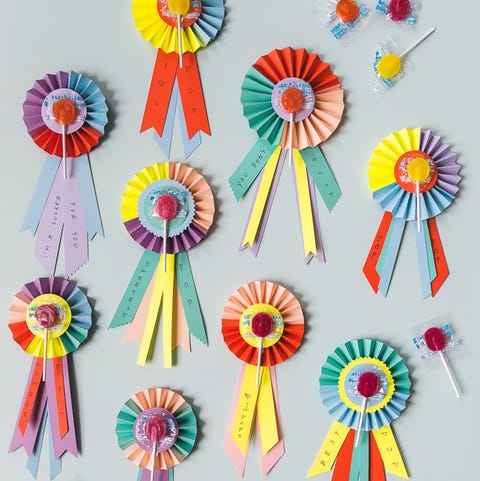 JANE MERRITT/THE HOUSE THAT LARS BUILT
He's so sweet, so give him a sweet! These prizes are colorful and easy to assemble, and you can write your messages on the ribbons.
Get the tutorial at The House That Lars Built »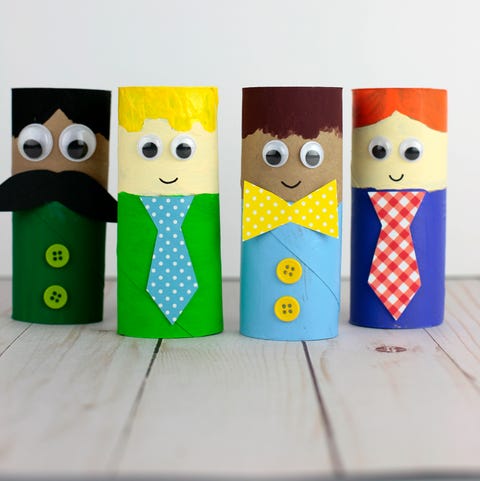 For a one-of-a-kind dad, you need a one-of-a-kind gift — like a paper tube roll dressed up to look just like him. You can even make his favorite outfit!
Get the tutorial at Non-Toy Gifts »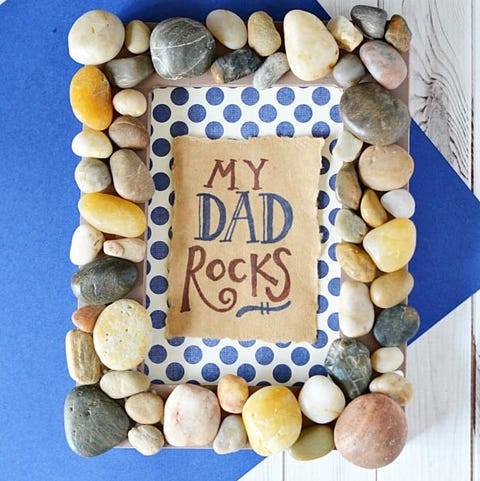 KARI STROSCHEIN/MOMMY MOMENT
It's a card, craft and gift in one! Make sure you take a Father's Day picture together so he has a new photo to put in this frame.
Get the tutorial at Mommy Moment »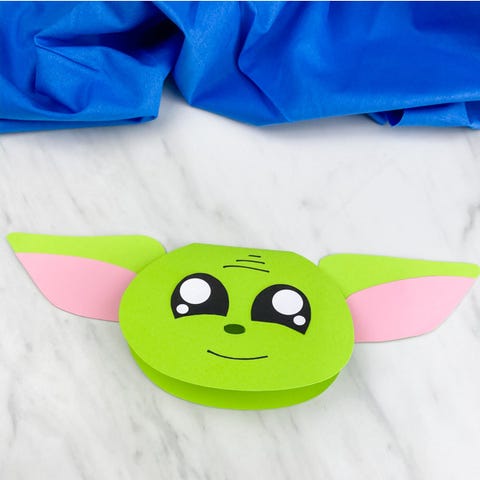 Dad is wise like Yoda. Your kids are cute like Grogu. It just makes sense that they'd give him a card that says, "Yoda best."
Get the tutorial at Simple Everyday Mom »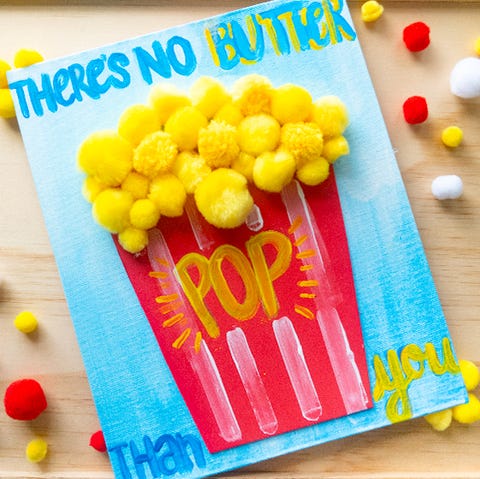 If Dad is a movie buff, this card will bring him good cinema memories without all the sticky butter. Pom-poms transform into popcorn kernels with just a little creativity.
Get the tutorial at Craft Project Ideas »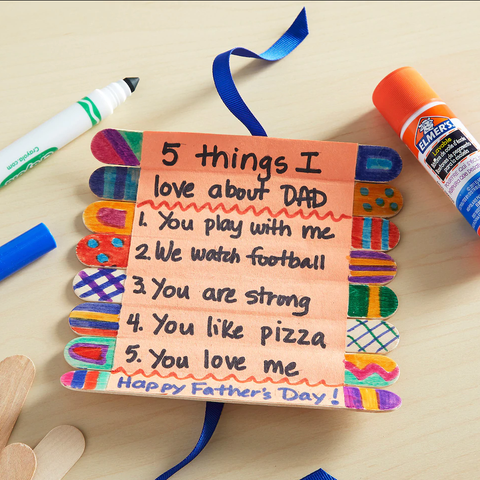 He could hang this card up in his office so all his coworkers know the coolest things about him.
Get the tutorial at Michaels »
Daddy & Daughter Scrabble Frame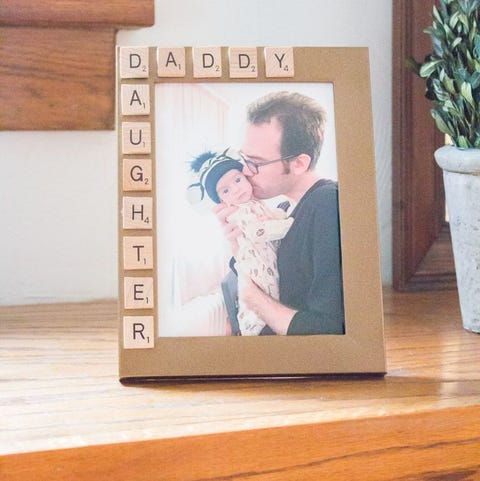 With just a picture frame, Scrabble letters, a hot glue gun and some craft paint, you'll have a picture-perfect present for dad in under 15 minutes.
Get the tutorial from Practically Functional »
Handmade Superhero Craft Card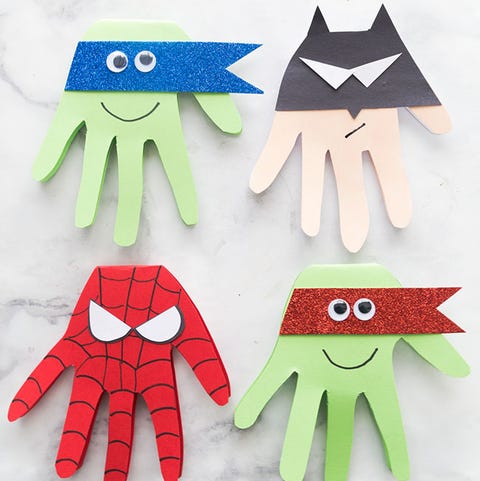 It's the cutest way for the young superhero fan to show their love for the big superhero in her life.
Get the tutorial at The Best Ideas for Kids »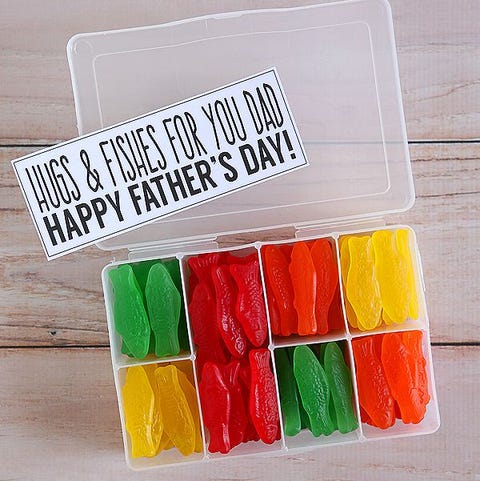 Perfect for dads who love to fish, or love to eat Swedish fish! Make this cute craft into a hands-on learning experience by having kids sort the fish by color into different boxes.
Get the tutorial from Eighteen25 »
LEGO Building Memories Jar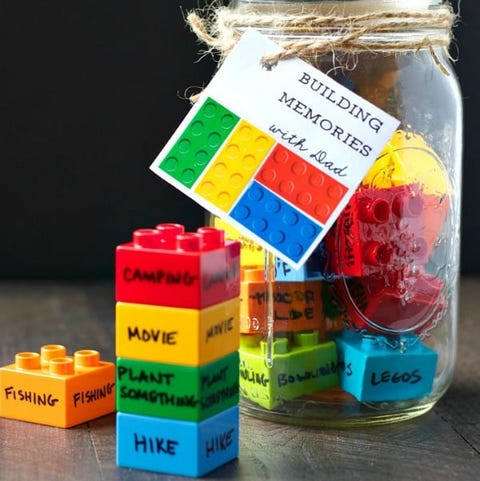 Jot down a favorite activity of his on each LEGO, then pick them out of a mason jar when you need a fun weekend activity. When you're done with a few ideas, stack the legos on top of on another to represent the memories "built."
Get the tutorial from The Seasoned Mom »
I Love You This Much Hand Card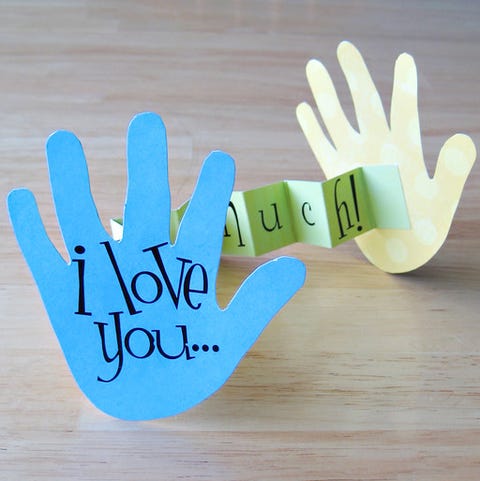 This one's definitely one of the easier crafts on this list! Kids trace their hands, and you help them cut out of a strip of paper to fold in accordion style. Add some letter stickers and you're done!
Get the tutorial from Day in my Life »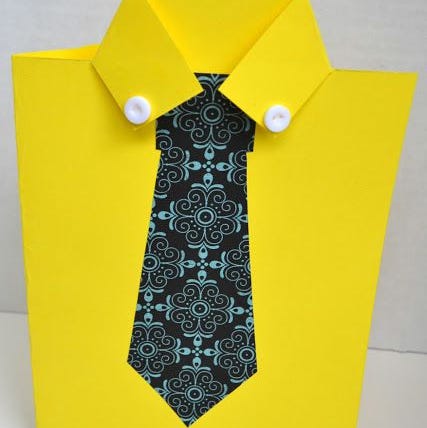 If he wears ties every day, it's only fitting he gets a card with his staple style. Real tie not included.
Get the tutorial from East Coast Mommy »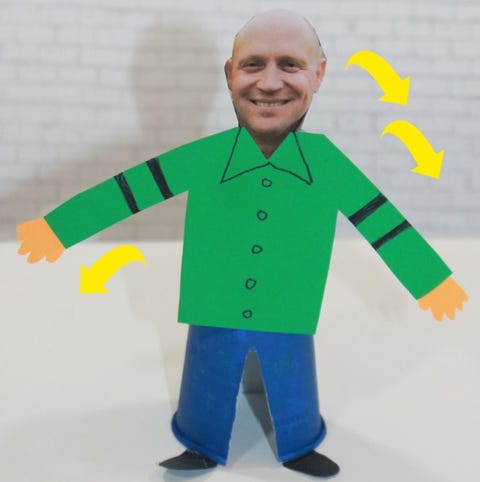 A mini version of him with a cutout of his face is sure to bring the whole family a few laughs and giggles.
Get the tutorial at The Pinterested Parent »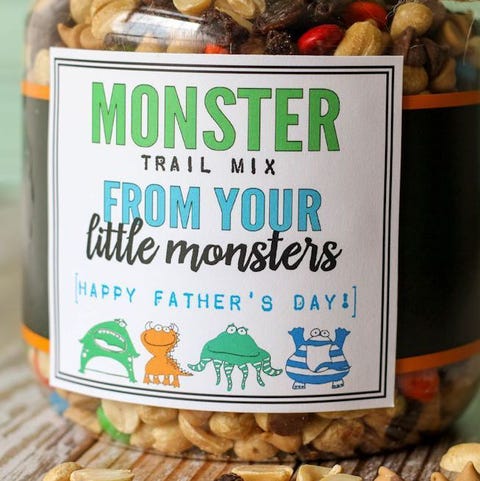 Even the littlest monsters can help construct this healthy snack for dad. The blogger includes a printable to decorate the jar perfectly for the holiday.
Get the tutorial from Lil Luna »
Hands Down Best Dad Ever Frame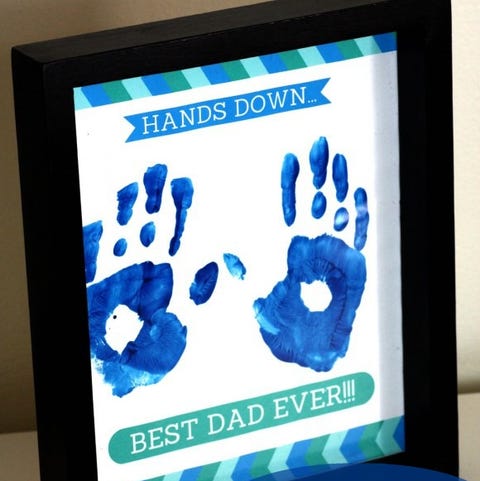 This one already comes with a printable, so all you have to do is grab some blue tempera paint and get your kids to start stamping their hands.
Get the tutorial from Catch My Party »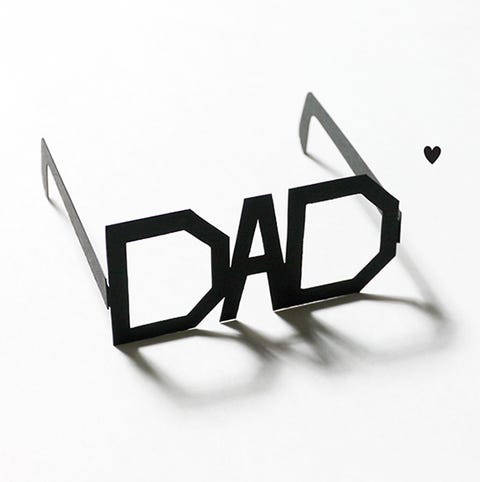 Simply print the template onto some sturdy cardboard in his favorite color. Make sure to help the little one when using the craft knife or scissors.
Get the tutorial at Mr. Printables »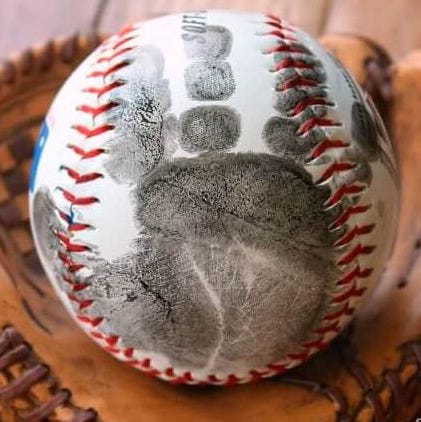 If Dad loves throwing the ball around with the kids, grab one from the toy basket and ink a handprint on top. Done!
Get the tutorial from Sunny Day Family »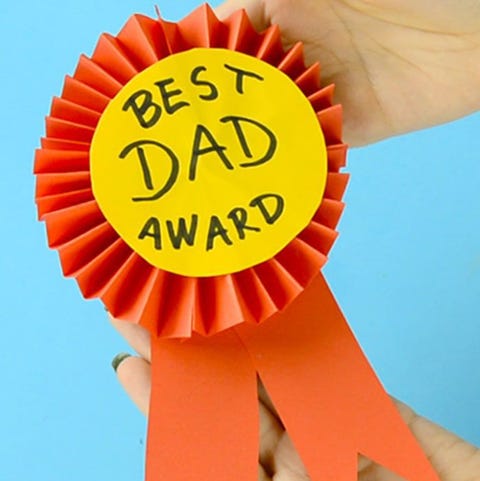 This gift idea doesn't require complicated skills to show dad that he's #1. When you're done with it, stick a safety pin on the back so he can wear it all day Father's Day!
Get the tutorial at Easy Peasy and Fun »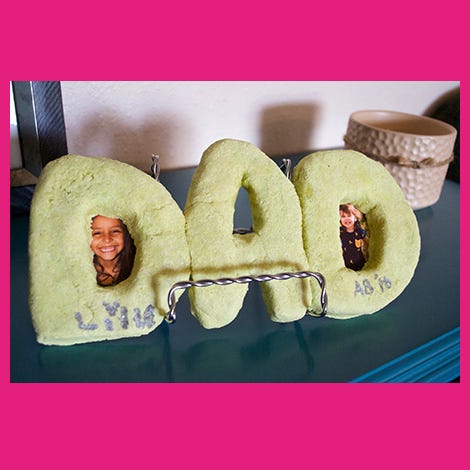 Here's one that multiple kids can work on together — "Dad" is the perfect word for a picture frame with two (or three!) photos.
Get the tutorial at The Soccer Mom Blog »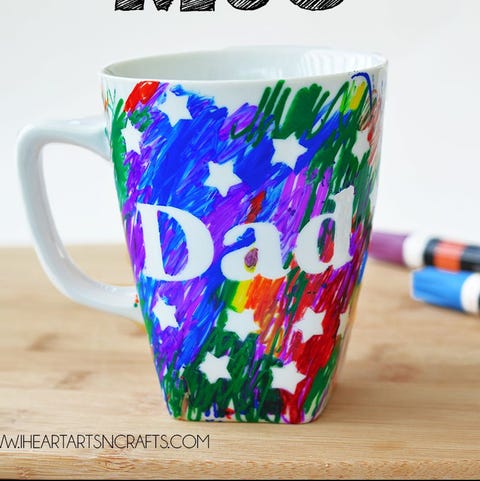 Here's a craft that's pretty forgiving when it comes to kids that love to scribble! Simply apply decorative stickers on a blank, ceramic mug, then let your child scribble away in various colors.
Get the tutorial from I Heart Arts and Crafts »
Love You to Pieces Picture Frame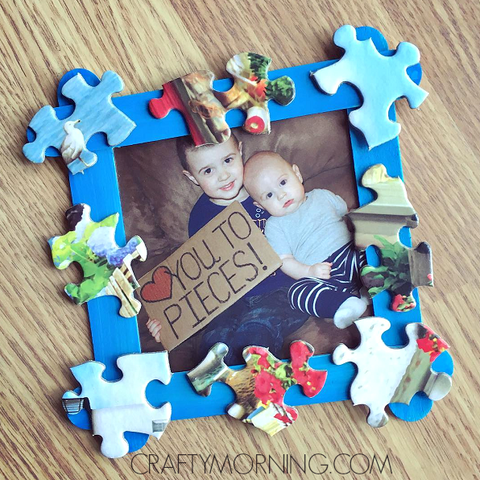 Building the frame is easy: All you need is some cardboard, a few spare puzzle pieces, and some popsicle sticks. The hard part will be choosing which picture to frame.
Get the tutorial from Crafty Morning »
Following in Dad's Footsteps Card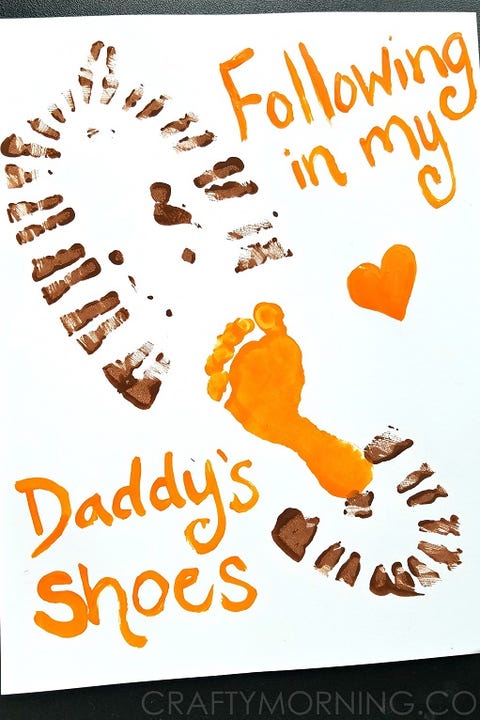 Grab one of dad's shoes (preferably an old and unused one) and dip it into some paint to make a shoe print. Follow the same process with baby's footprint, and you have an adorable card he'll hold on to for years to come.