Father's Day is the perfect chance to thank your dad for the love and support he's given you and your siblings throughout the years. From the silly (yet sometimes old school) jokes he makes to the handy tools he carries when fixing the house, you can't help but appreciate all that he does. While you may spend most of your time looking for a special Father's Day gift, don't forget to complete the present with one of these Father's Day card ideas.
Along with finding a fun activity to keep him engaged and cooking up your Father's Day brunch or dinner menu, DIYing a Father's Day card from you and the kids can brighten Dad's (and Grandpa's) day. Our list includes an array of free card ideas — from cute downloadable printable templates you can follow to origami shirt and selfie cards that are as creative and unique as Dad (just don't forget to write a sweet message). And if your kids love these homemade cards, add in a Father's Day craft — to make that can double as a homemade gift!
1Craft Stick Roll-up Card
Kids can write five things they love about Dad on construction paper before cutting and gluing it to decorated craft sticks.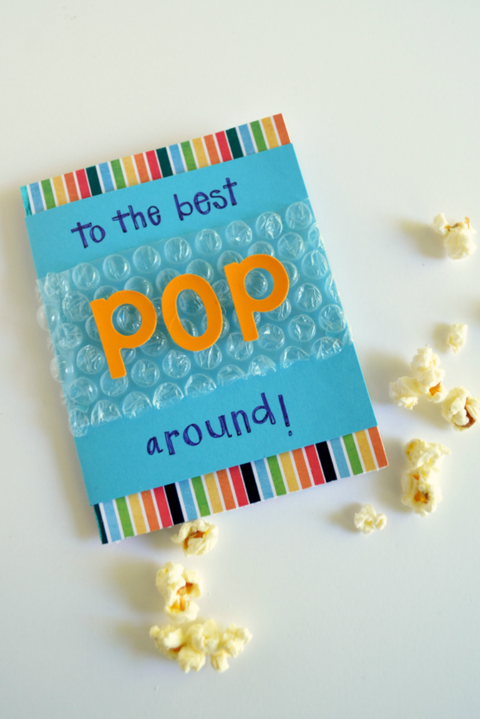 You'll need bubble wrap, glue dots, assorted paper, scissors, pens and letter stickers to make this "POP" card. Just make sure the kids don't pop all the bubbles before the card is actually made.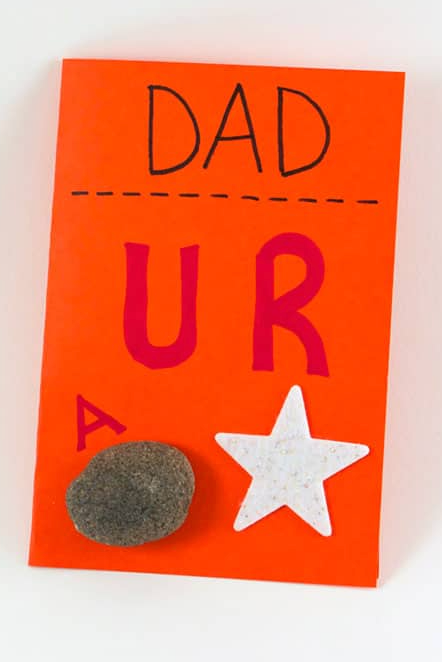 This card is a fun play on words using an actual rock and star cutout to show Dad just how much of a rock star he truly is.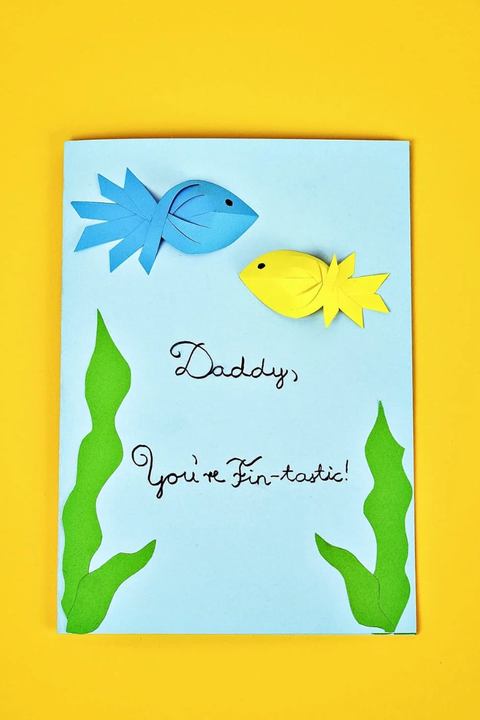 After creating small and large paper fish, glue them to your card for an ocean-themed look.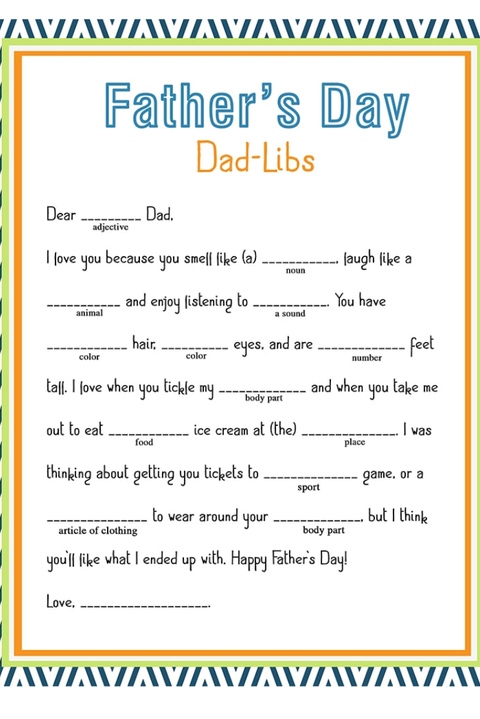 Print out this Father's Day Dad-libs card and have the kids fill in the blanks. We're sure this will have Dad LOLing for days.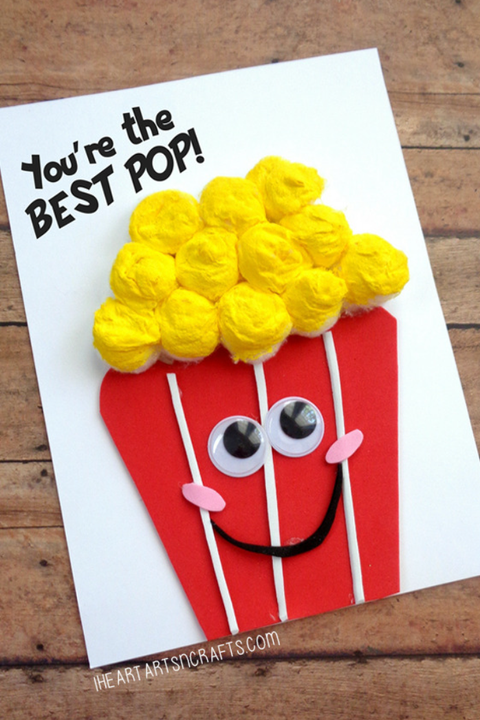 If he loves puns, this is the card for him. Cotton balls, yellow paint and foam sheets are the only materials needed.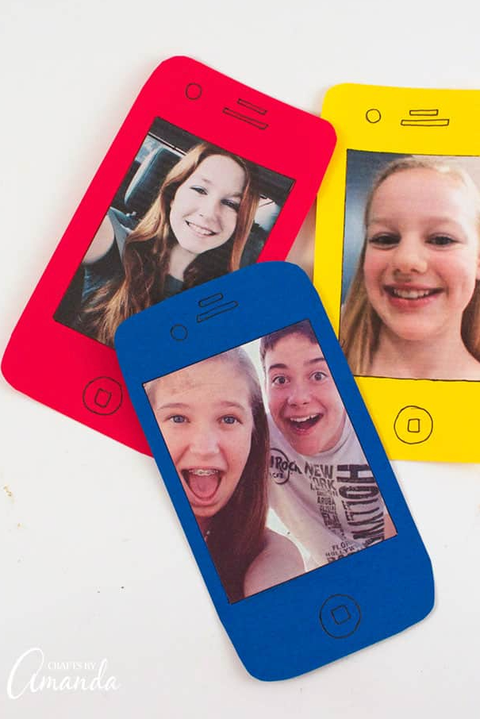 Let's admit it, your kids are living in an era of cell phone pictures and selfies. Make use of the obsession by attaching their selfies to cell phone-shaped cards to gift Dad and Grandpa.
This suit and tie card combination is a colorful, easy and simple craft for kids as young as 3-years-old.
9Father's Day Coloring Card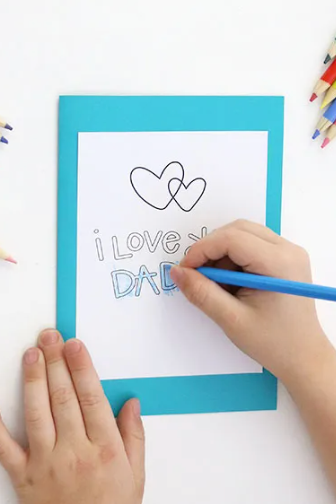 Assemble this printable Father's Day card before letting your little ones color the front and inside. It also includes a fill-in-the-blanks note for kids to write their message.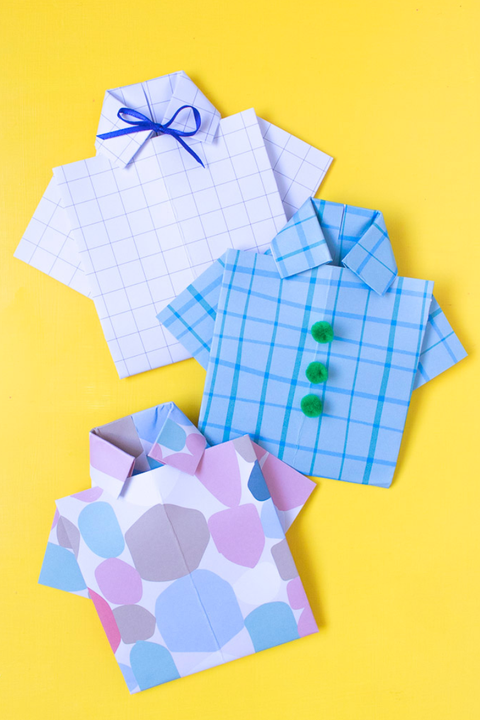 Choose your favorite pattern and add-on to DIY origami shirt cards for Dad. This craft can take up to five minutes using any sheet of paper.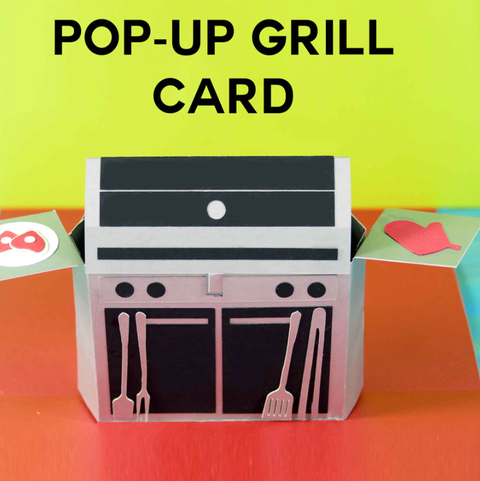 Is your dad the king of the grill? If so, let him know how much you appreciate those BBQ days with a handmade pop-up grill card. This one is a bit difficult for younger kids so take the lead and guide them through it.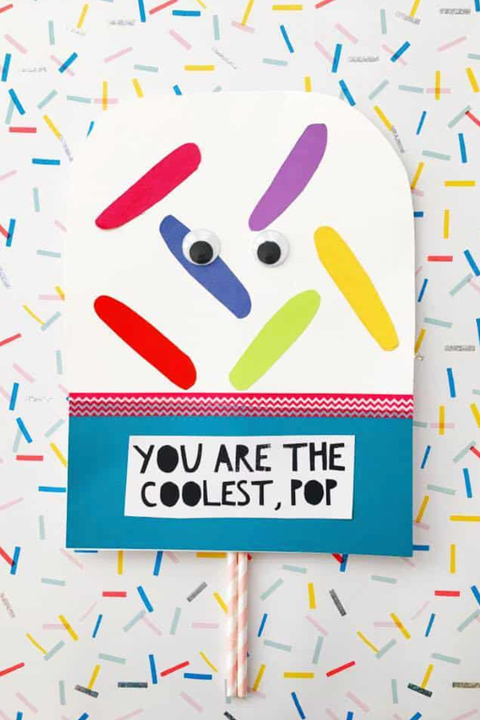 How cool is your pop? Let him know he's the greatest with a goggle-eyed popsicle stick made of cardstock and washi tape.
13Super Dad Father's Day card
Not all heroes wear capes. Some wear polo shirts and high socks. Michaels gives you step-by-step instructions on how to make this superhero card using a Cricut machine.
14Daddy You're Dino-Mite Handprint Card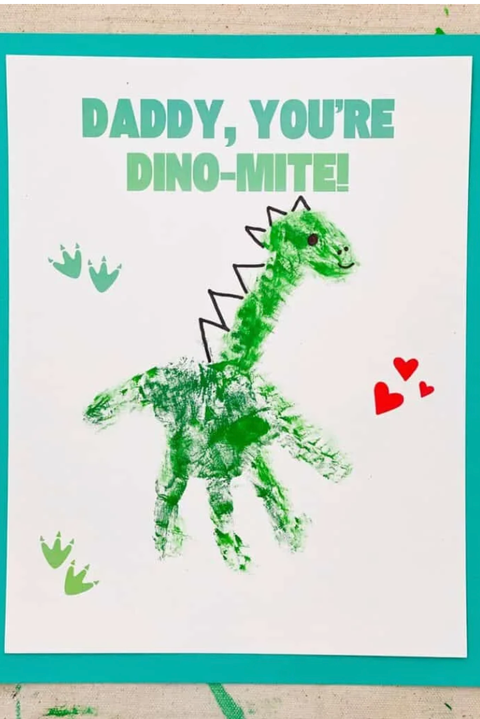 Turn your child's handprint into a dinosaur. Have them add features and spikes using a black marker before taping it to cardstock.
15Blue Collar Uniform Shirt Card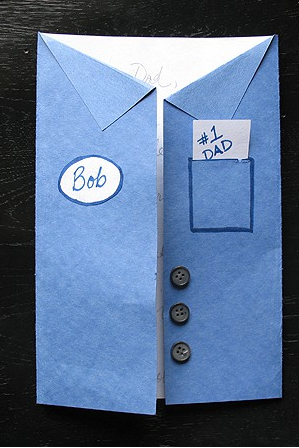 Not all dads wear a suit to work. That's why this card is the perfect match for all the blue-collar dads. Add some buttons, a fake pocket with a little note and their name for personalized details.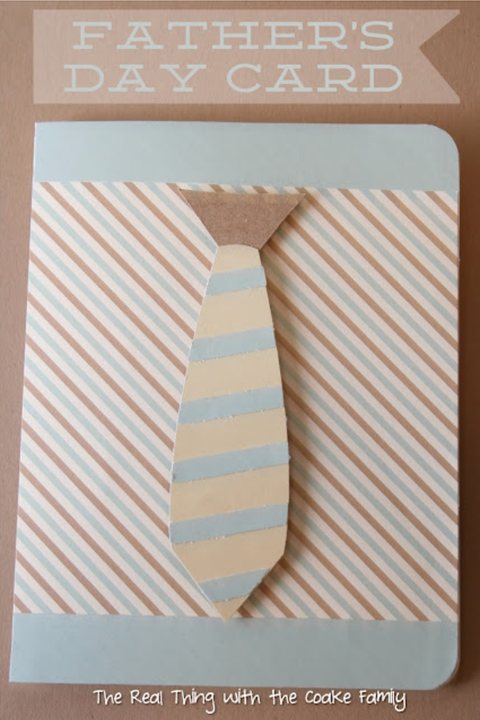 REAL CREATIVE REAL ORGANIZED
Help the kids make a suit tie card for Dad and decorate it to match his usual tie design.
17LolliPOP Prize Ribbon Card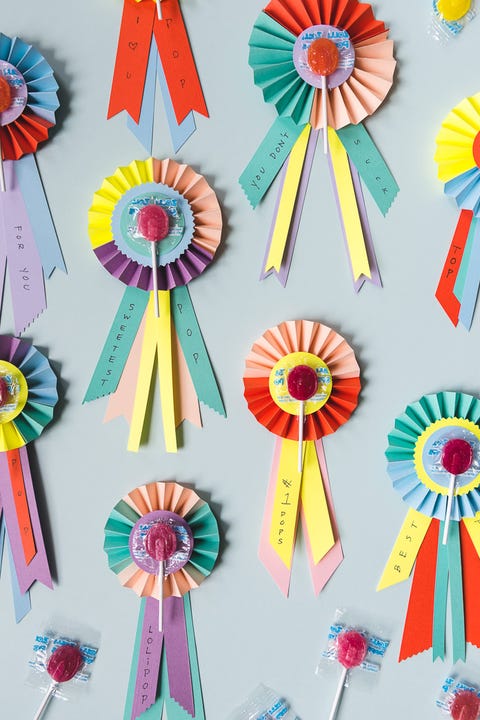 THE HOUSE THAT LARS BUILT
Your dad is the sweetest guy there is — and these paper ribbons with a lollipop center are the cutest way to tell him exactly that.
18I Love You to Pieces Card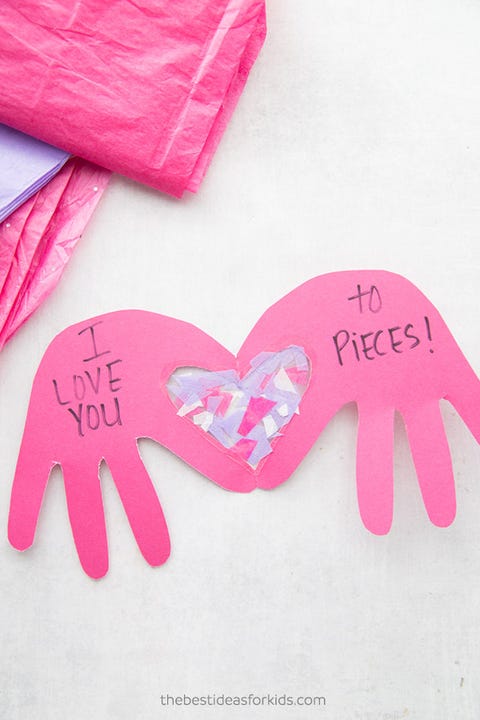 Once you trace and cut their handprints, have your kids fill the heart-shaped space with tissue paper, a fun way to express just how much they love dad.
19Constellation Father's Day Card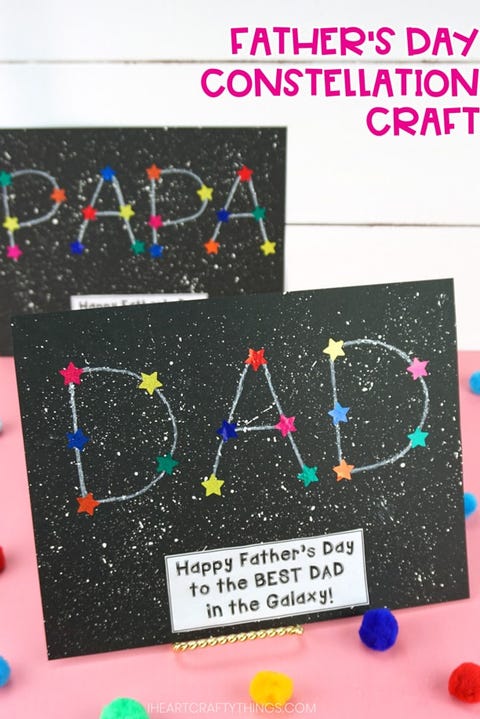 Play into the fact that your dad is really out of this world by making a card inspired by a star-filled sky.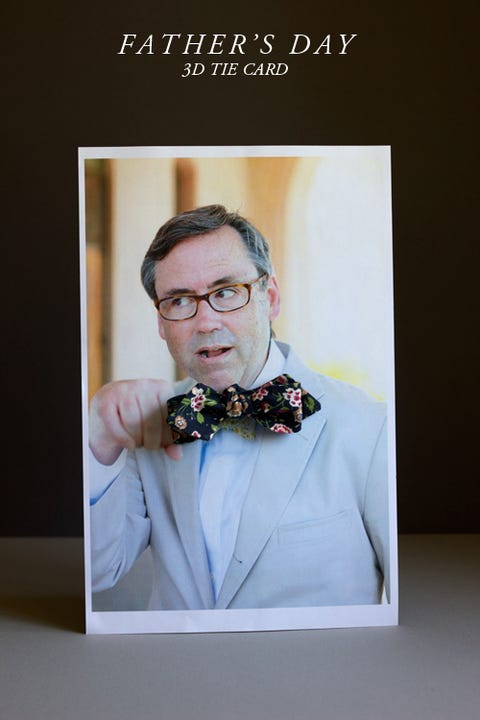 THE HOUSE THAT LARS BUILT
Give this homemade card a 3D effect by affixing an actual bow tie to the front. Pick one with a floral pattern or funky print, so it really pops against dad's understated look.
21Robot Father's Day Card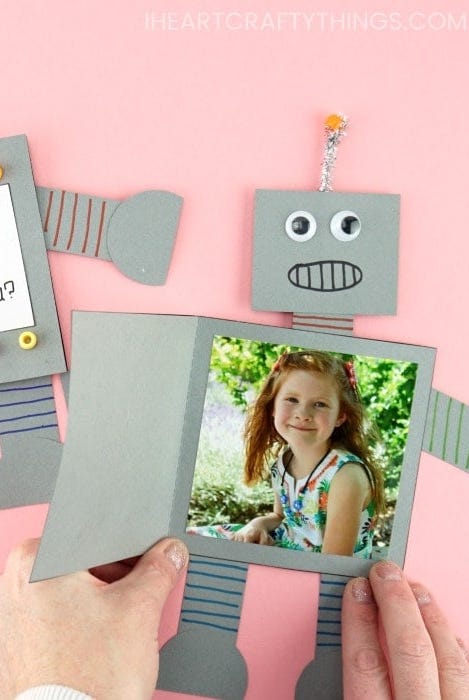 "Beep, beep, beep" is a robot's way of saying "I love you." In this case, a paper robot gives your dad a sweet surprise: a picture of his favorite human.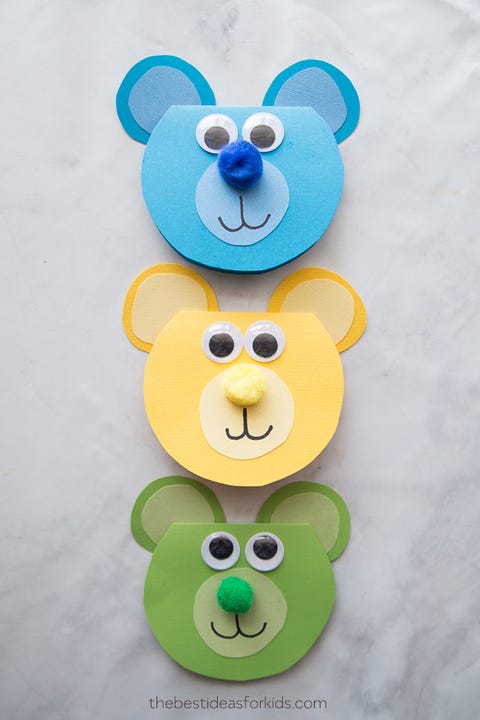 Perfect for Papa Bear, have your kids write a special message inside about why they love dad so beary much.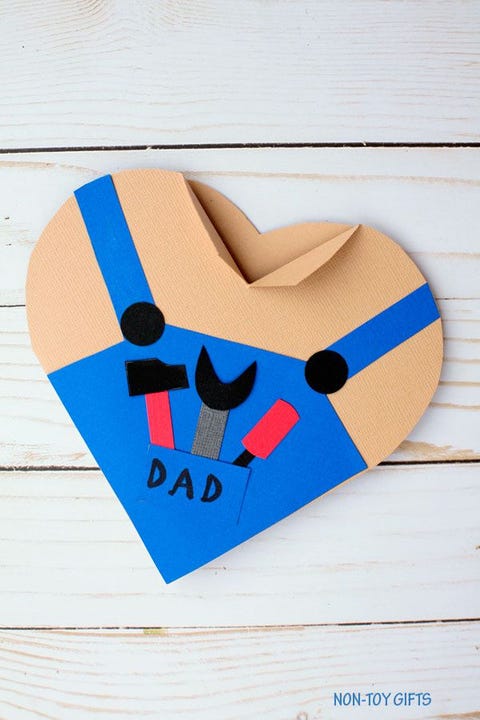 Even Mr. Fix It has a soft side. Give the guy that mends everything, from loose floorboards to broken hearts, a card that shows him just how much you care.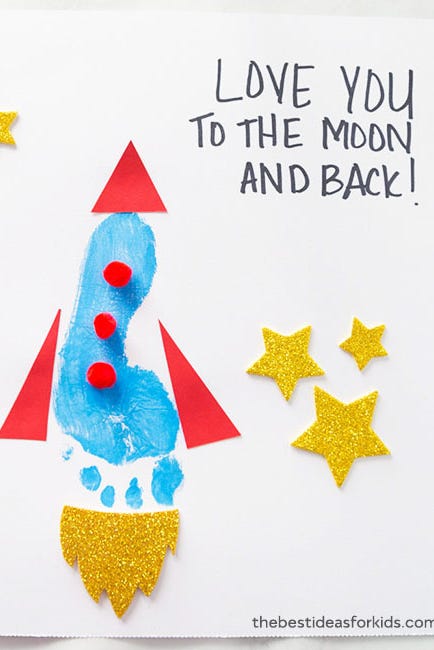 The only moment where you actually want your kids to cover themselves in paint. The result? Seriously sweet painted footprints.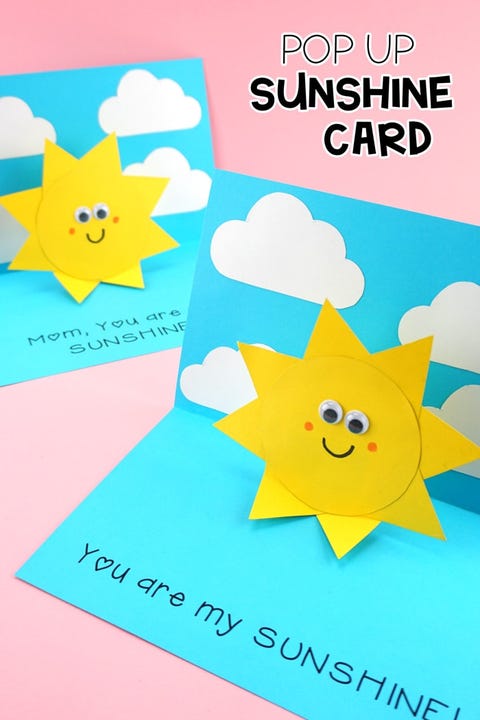 Without him, life would be dull and gray. With this sunny card, shower him with the same cheer that he brings to your life day in and day out.
26Fruity Father's Day Card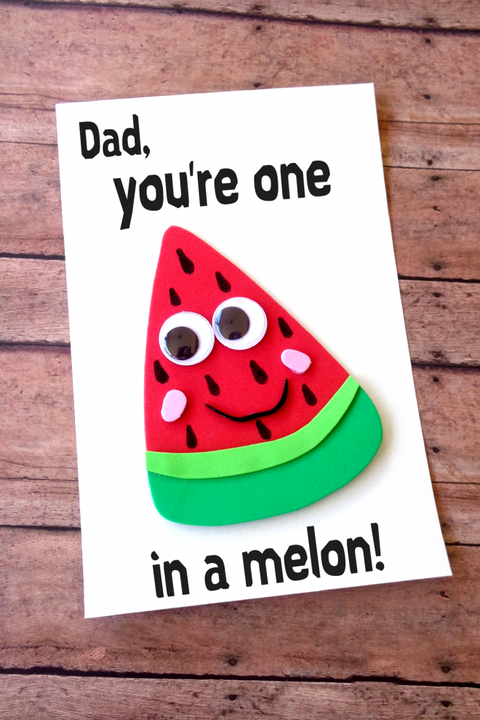 COURTESY OF FRUGAL MOM EH
Remind dad how special he is with this goofy — yet truthful — card.
27Punny Father's Day Card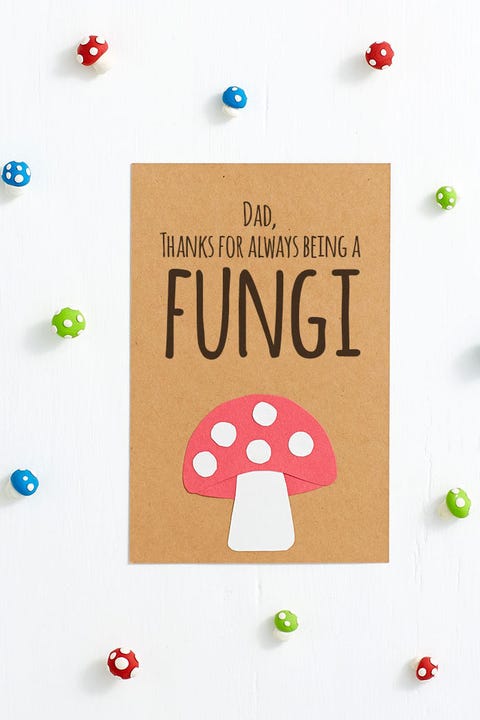 Admit it: You love his corny jokes. That's what dads are spore! (Sorry, we had to.)
28Fill-in-the-Blank Father's Day Card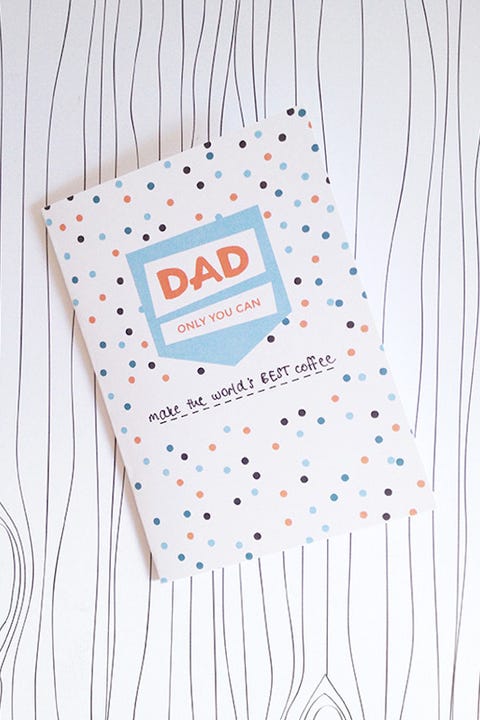 Your message to dad should be front and center. Here, you can acknowledge his superpowers right on the front.
29Sandwich Father's Day Card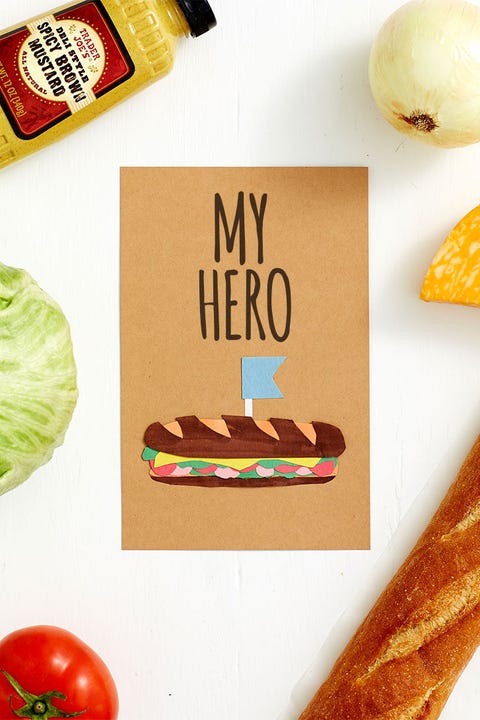 This pun isn't substandard by any means. Cut out each sandwich ingredient and glue them together to nail a 3D effect.
30Simile Father's Day Card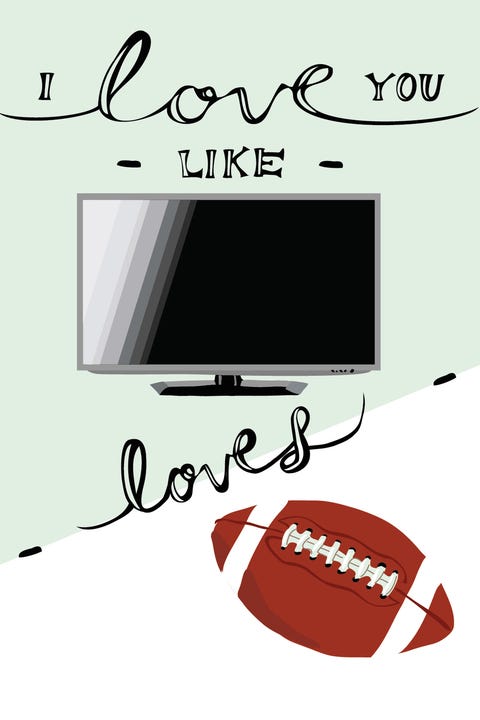 Some things just go together. This stationary series (all free!) references his favorite pairings — whiskey and ice, anyone?
31Minimal Father's Day Card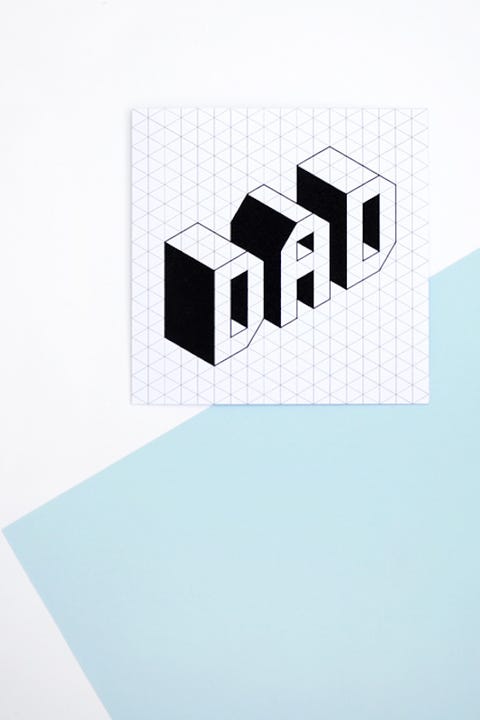 The isometric font stands out on its own, but you'll really wow dad if you add a pop of color with neon markers.
32Questionnaire Father's Day Card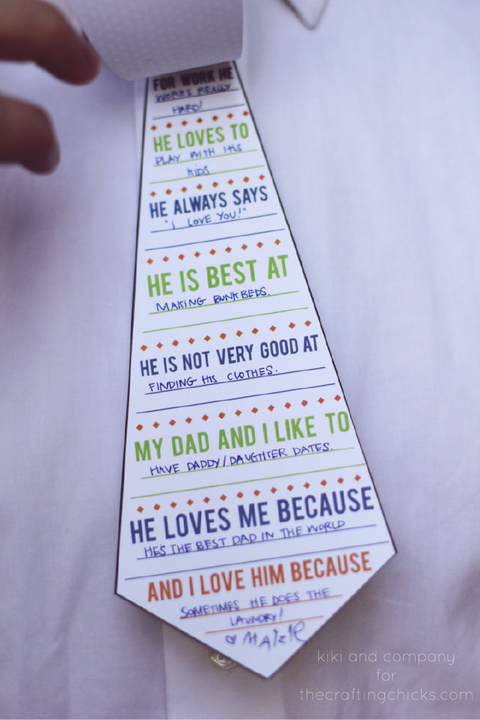 Get the kids involved by filling out this tie-shaped survey. You're guaranteed to get at least one funny answer … and a few heartfelt ones, too.
33Grandpa's Father's Day Card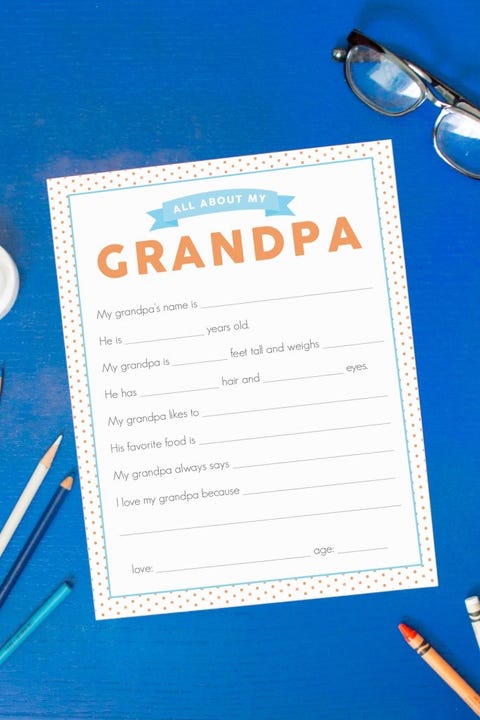 Don't forget about grandpa! Print this quiz before he comes over for Father's Day and let kids come up with their own zany answers.
34Glasses Father's Day Card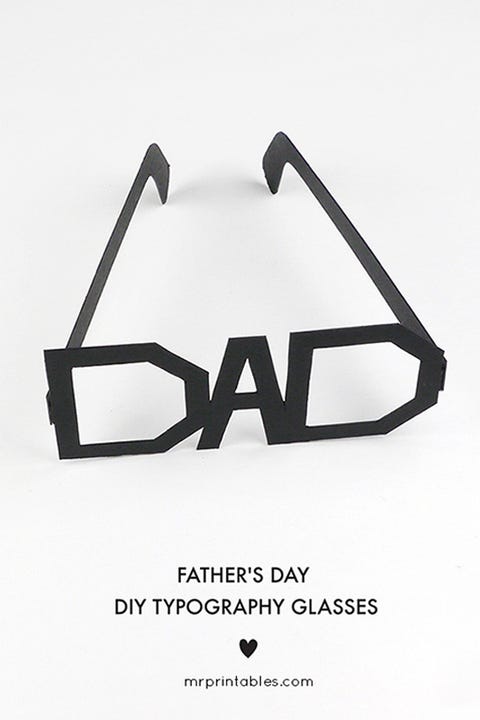 Trace this design on to a piece of colored cardboard or cardstock, and you know he'll put it on for a silly photo.
35Wordy Father's Day Card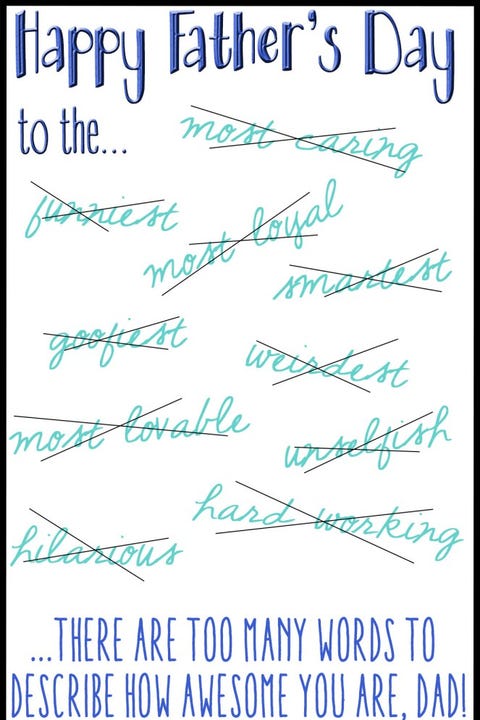 COURTESY OF THE GARLIC DIARIES
Your dad is so great, it can be hard to find the right words to describe him. Luckily, this card's got you covered.