Father's Day is June 19—which means it's right around the corner. Check out our carefully curated Father's Day gift guide, peruse some Father's Day cards (you can even add a good dad joke inside), and then plan out your ultimate Father's Day brunch. But skip the crowds! You can make a wow-worthy spread in the comfort of your own home. (And Dad will love it.) We've compiled a big list with all of Dad's favorite sweet and savory breakfast and lunch dishes. Trust us, any one of these is sure to impress.
Eggs Florentine with Homemade Hollandaise
Poached eggs, toasty English muffins, rich, creamy sauce… It's classic brunch food done right.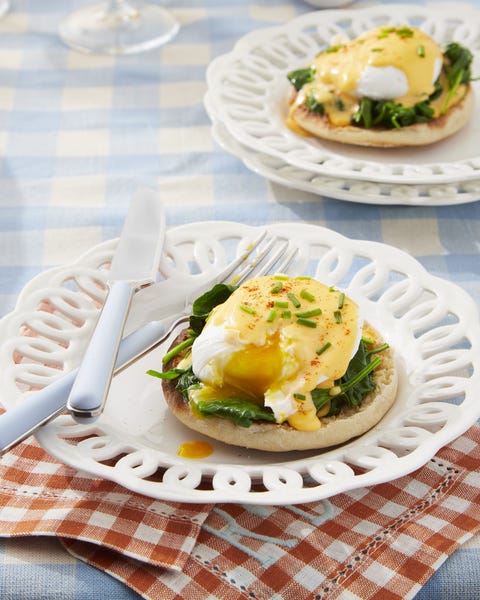 French Onion Flatbread
We took the best parts of your dad's favorite soup—the richly caramelized onions and the hearty gruyère cheese—and turned them into a pizza. You're welcome.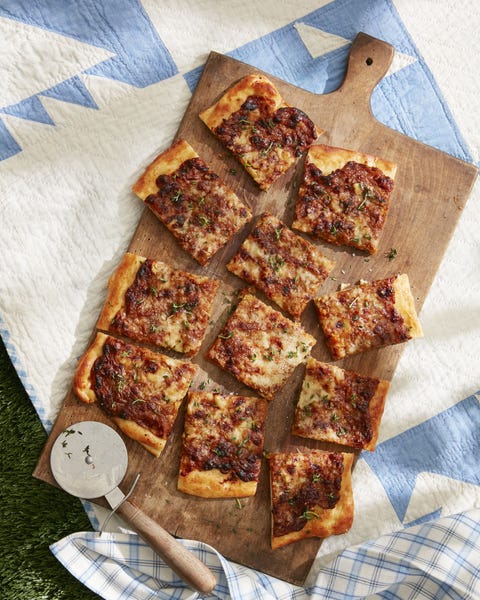 Brown Sugar and Rosemary Glazed Bacon
This isn't just bacon—it's bacon done right.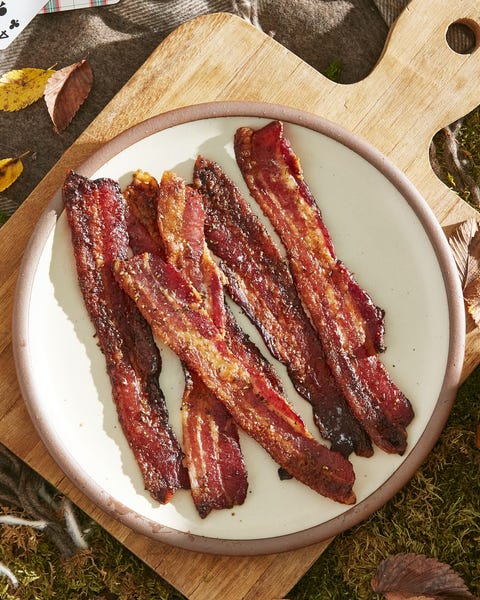 Overnight Pancakes
This overnight batter gives the pancakes a surprising amount of flavor — and saves time the next morning! Serve them up with some extra special Caramel-Maple Syrup.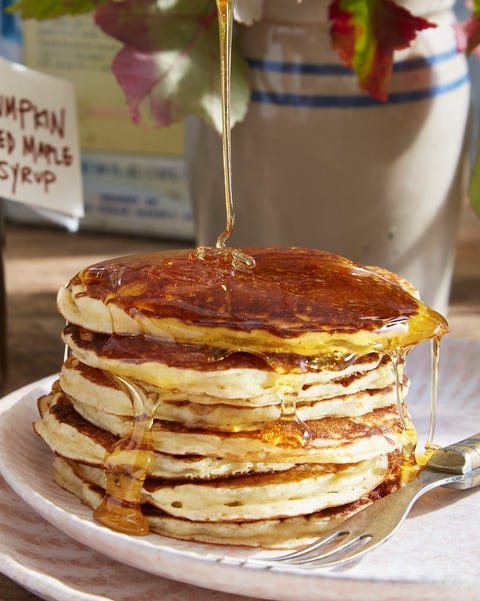 Tomato & Fresh Basil Frittata
Need to feed a crowd for Father's Day brunch? Try this casserole-style frittata.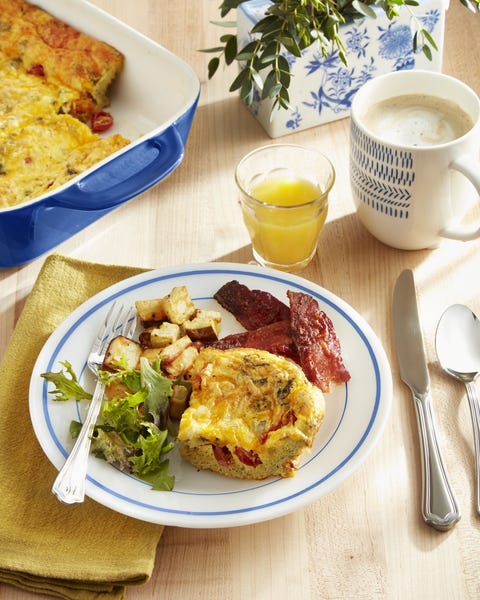 Loaded Breakfast Sandwiches
Stacked high, these breakfast sandwiches have everything Dad is craving: fennel sausage, eggs, and roasted tomatoes!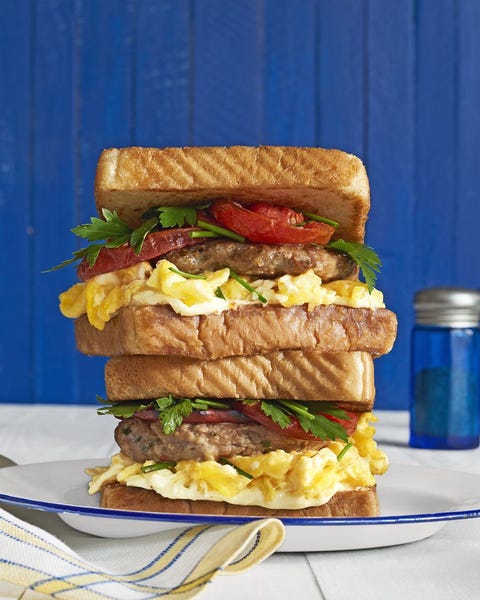 Pimento Cheese Bar
What dad doesn't love a) snacks, and b) buffets? This build-your-own cheese dip offers the best of both worlds.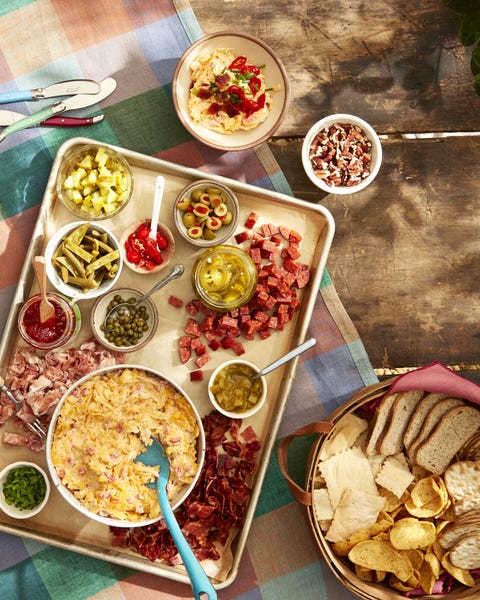 Beef Burgers with Jalapeños, Cheddar, and Crispy Pepperoni
Is dad a heat hound? Then break out the grill and heat up one of these burgers for him!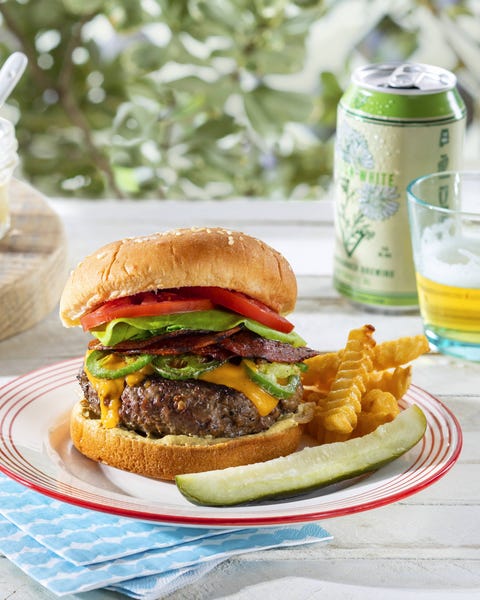 Ham and Cheese Pinwheels
Similar to ham and cheese croissants, these pinwheels are perfect for a celebratory brunch.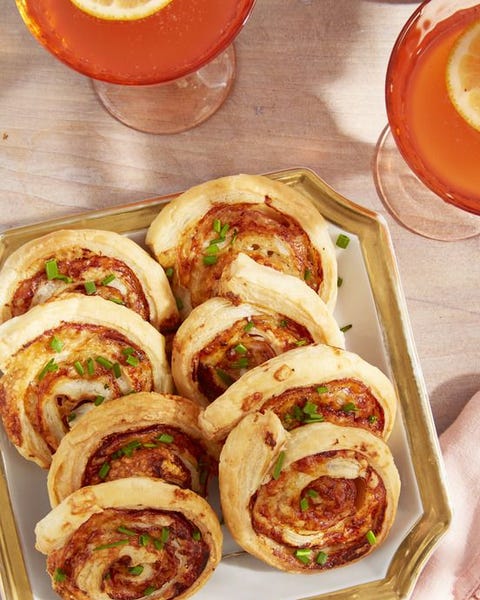 The Old Man and the Sea Cocktail
Hoist one to your own Old Man (especially if he's a Hemmingway fan) with this bright, refreshing cocktail. Dad not into imbibing? Swap the rum for more grapefruit juice. It makes a very tasty mocktail.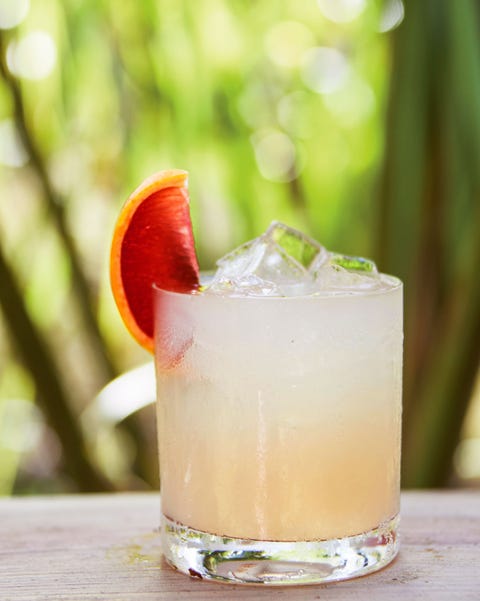 Lowcountry Shrimp Boil
Want to feast dad in casual style? Make him this classic Louisiana-style outdoor feast.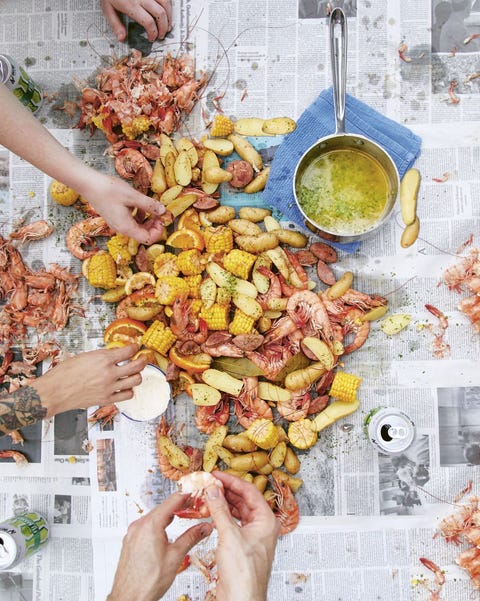 Chicago Deep-Dish Pizza
If Dad's a fan of Da Bears, the Blues Brothers, or any other part of the Windy City's charm, he may appreciate a homemade slice of their famed pizza. It's easier than you think!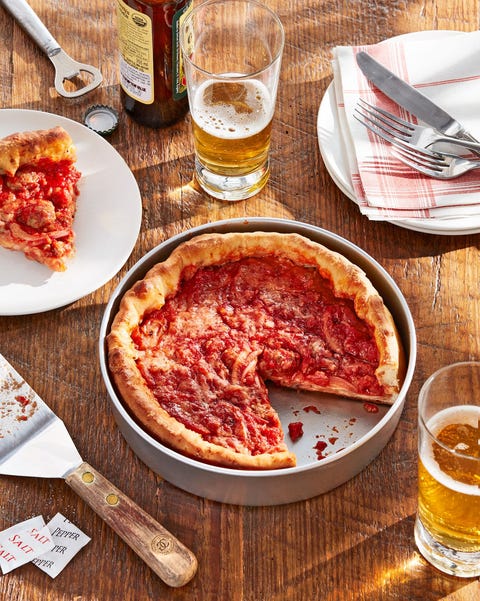 Twisted Sticky Caramel-Pecan Roll
If Dad's got a sweet tooth, wake him up this with deliciously decadent caramel-pecan roll. (You might want to make two, since he'll probably want seconds.)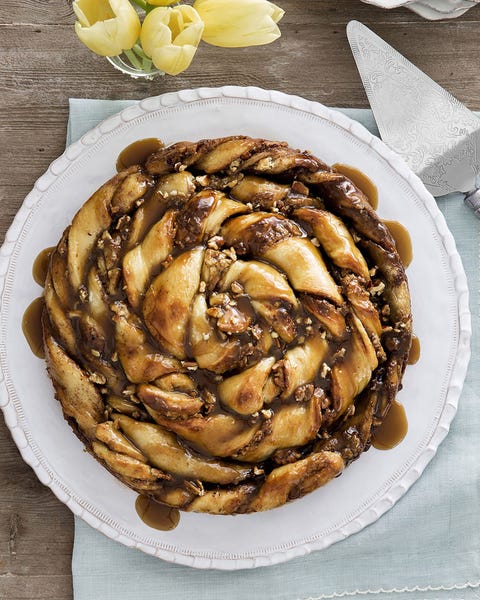 Chicken and Corn Bread Pancakes with Spicy Syrup
What dad wouldn't want to wake up to a stack of chicken and cornbread pancakes?!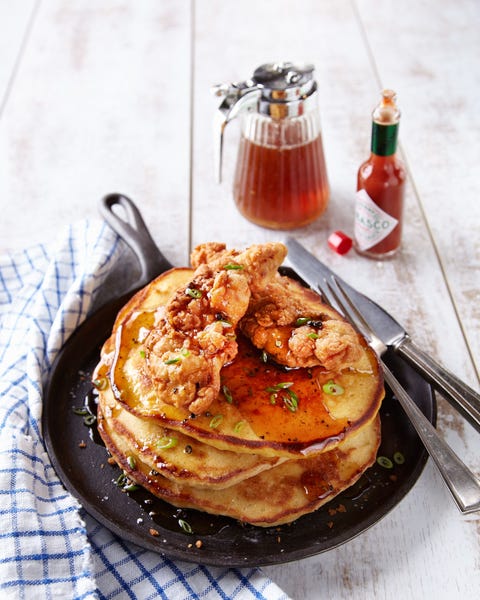 Mushroom and Asparagus Pizza
If dad loves pizza for breakfast, then give him a slice of something wow-worthy. Bonus: Make it in the outdoor pizza oven that you're giving him for Father's Day!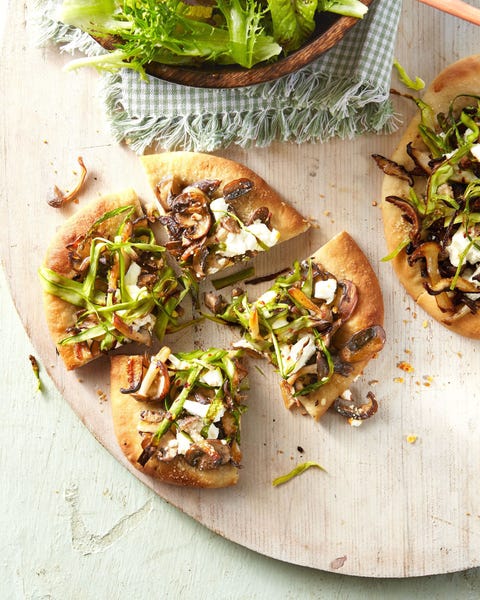 "Nashattan" Aged Manhattan Cocktail
On Father's Day, it's always five o'clock somewhere. You'll need about a month's lead time to make this—or just get dad an aging barrel, and let him make his own!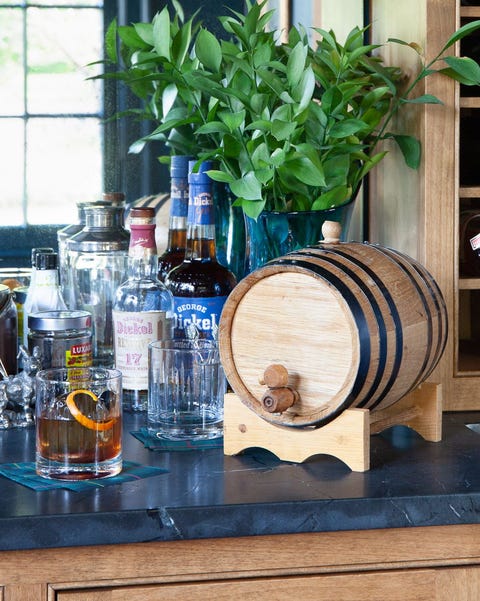 Croque Madames
Forget the name (or call it a croque monsieur with a fried egg), because this sandwich is everything dad wants: ham and cheese on rustic sourdough, drizzled in a rich sauce, grilled to perfection, and topped with everyone's favorite breakfast.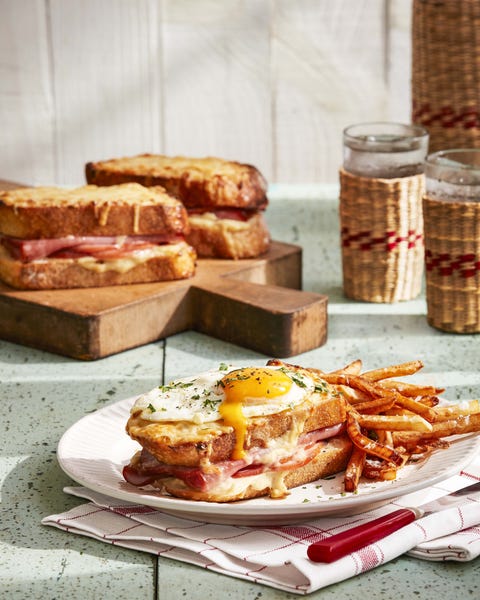 Mile-High Biscuit Sandwiches with Sweet Heat Hot Chicken
A sweet heat hot chicken flanked by two halves of a flaky bun? It's what every dad dreams of eating for breakfast.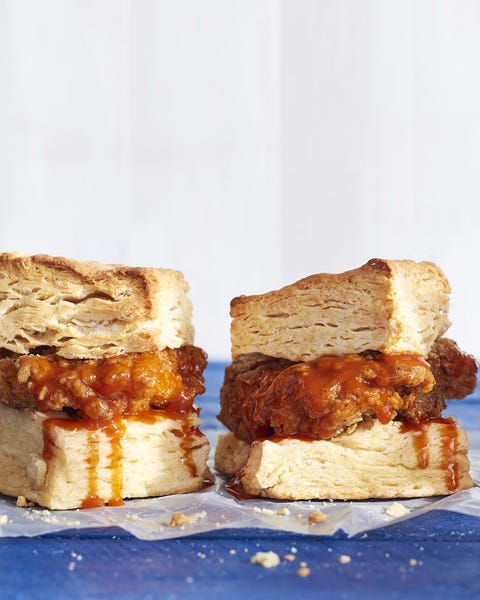 Blueberry-Pecan Pancake Bread Pudding
A frugal dad may appreciate the use of leftover pancakes, but every dad will love that this make-ahead casserole is packed with flavor.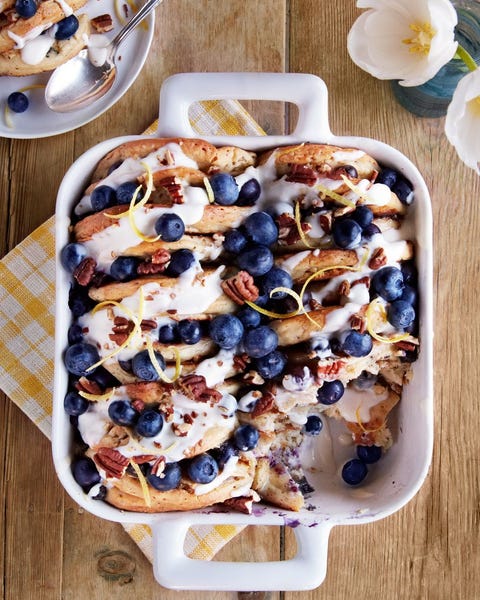 Cornflake-Crusted Baked Chicken
The cornflake covering counts as breakfast, right? This almost-like-fried chicken is perfect: crunchy and delicious.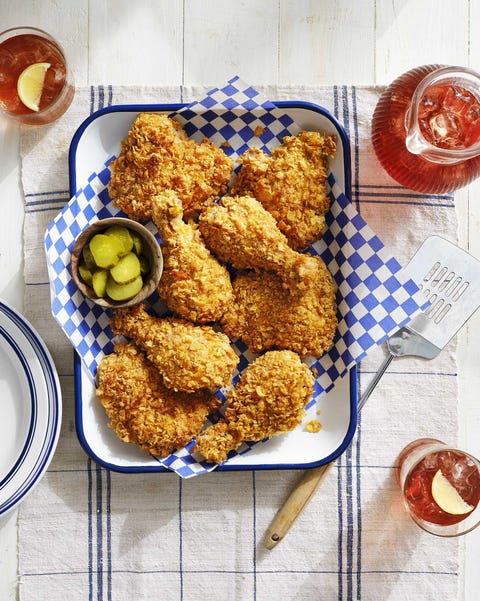 Country Ham French Toast
Just add a slice of ham to this classic French toast recipe to give a savory kick to all the sweetness.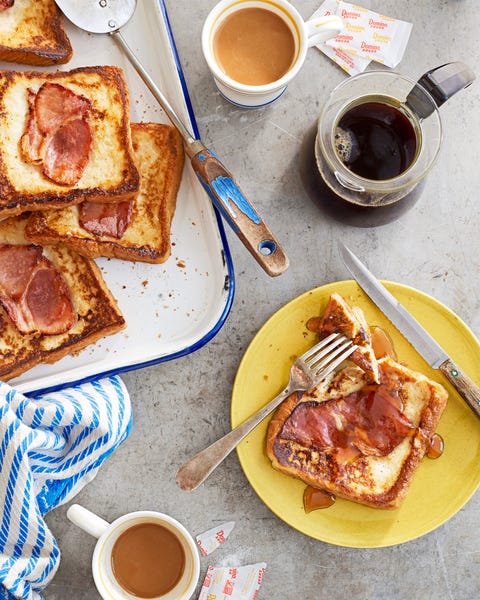 Anchor Steam Mac and Cheese
Savory and rich this baked pasta combines two of Dad's favorite things—beer and pasta.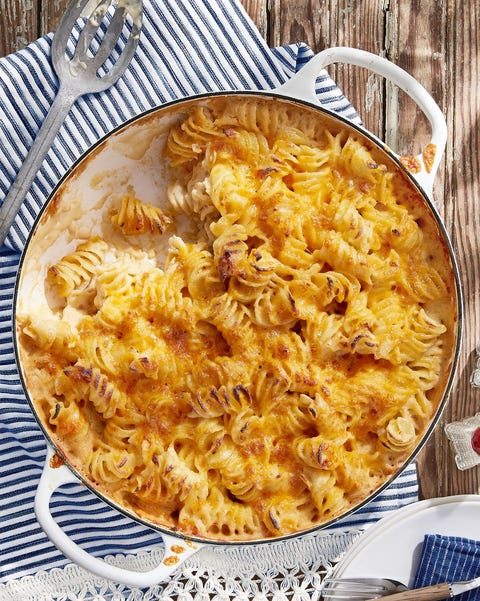 Tomato-Cheddar Strata with Broccoli
If you're feeding a crowd (or just some big eaters) bake up this easy strata. It's loaded with French bread, tomatoes, and broccoli, and topped with both Cheddar and ricotta cheeses, so it's sure to fill everyone up.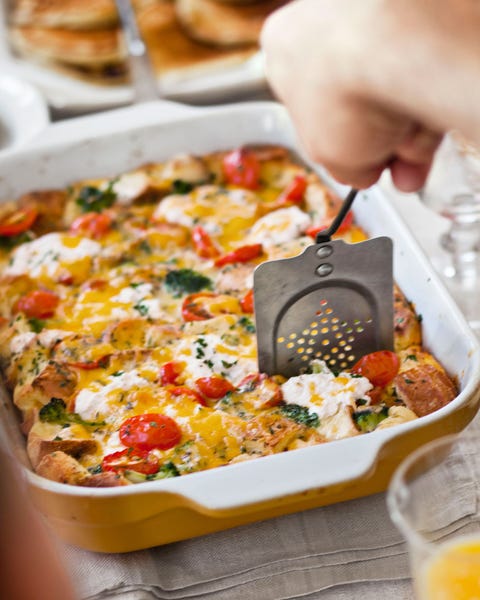 Parmesan Egg-in-a-Hole
Fry up sunny-side-up eggs in thick slices of Texas Toast for a rich satisfying start to the day.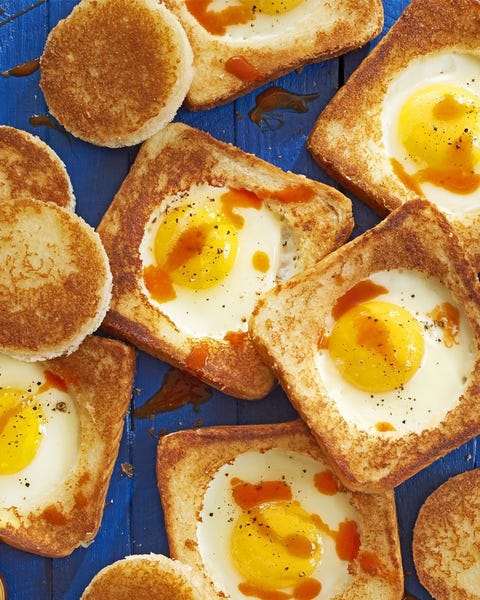 Roasted Mushroom and Bacon Dutch Baby
Here's a sophisticated dish packed with down-to-earth flavors, perfect for a dad who enjoys something unexpected.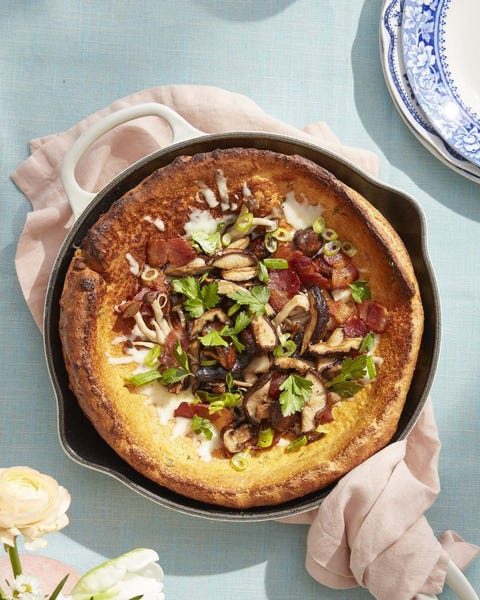 Chocolate-Cherry Cinnamon Rolls
Savory bittersweet chocolate and sweet cherries take these cinnamon rolls to the next level. Bonus: They can be made the day before.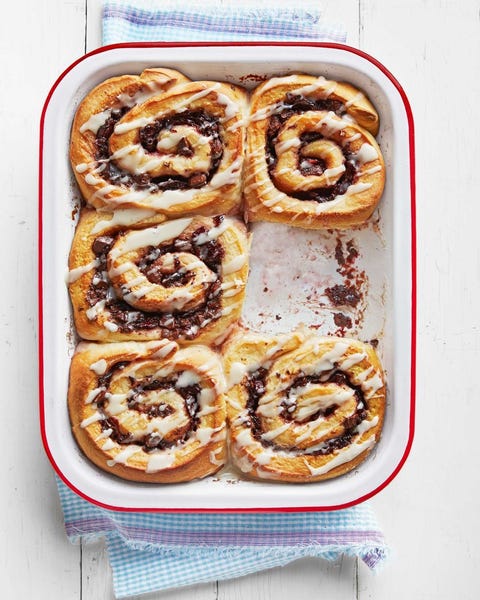 Grab and Go Spinach and Ham Egg Bakes
These make-ahead egg cups are super simple to whip up and chock-full of Dad's favorites: ham, spinach, eggs, and cheese!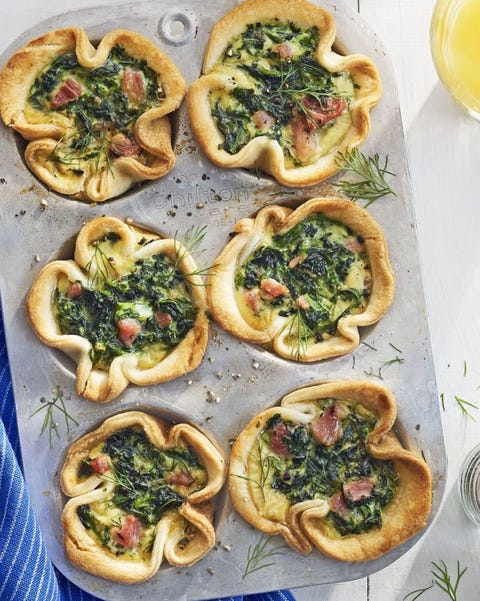 Meyer Lemon-Blueberry Cake
Individually sized blueberry Bundt cakes make a perfect ending to a spectacular Father's day brunch.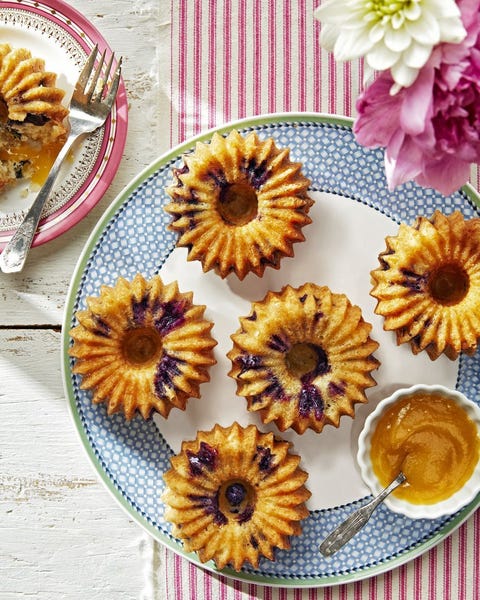 Old-Fashioned Lemonade
As easy as 1, 2, 3—sugar, fresh lemon juice, and water—are all it takes to whip up a batch of good 'ole fashioned lemonade. Add vodka or gin for an adult kick.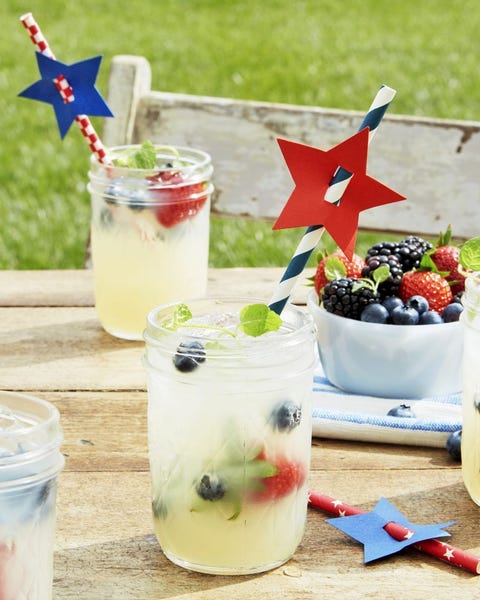 Ham Biscuit Sandwiches with Apricot Mustard
Buttery biscuits get a boost from sliced ham, apricot jam, and sharp cheddar cheese. Trust us: You won't be able to eat just one.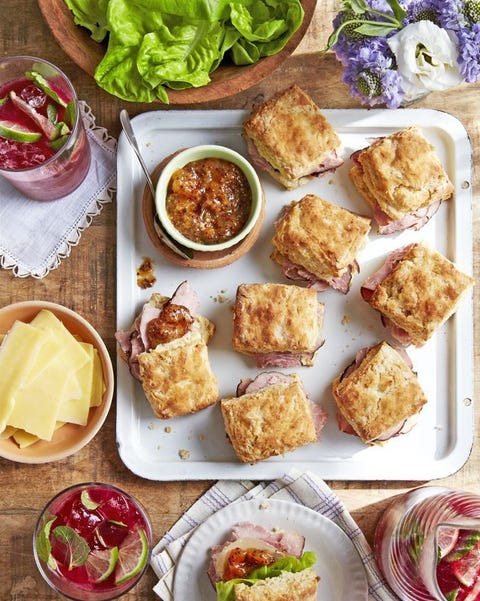 Vegetable, Ham, and Goat Cheese Frittata
This brunch-ready dish can easily feed a crowd (or just one very hungry dad).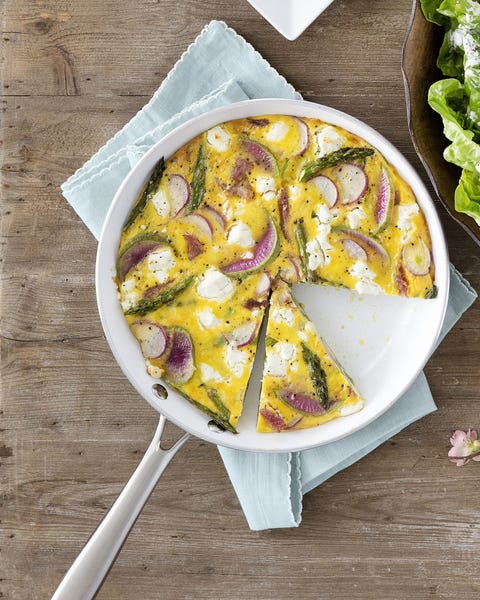 Honey Nut Cheerio Turnovers
Use dad's favorite breakfast to make dad's other favorite breakfast! 🤯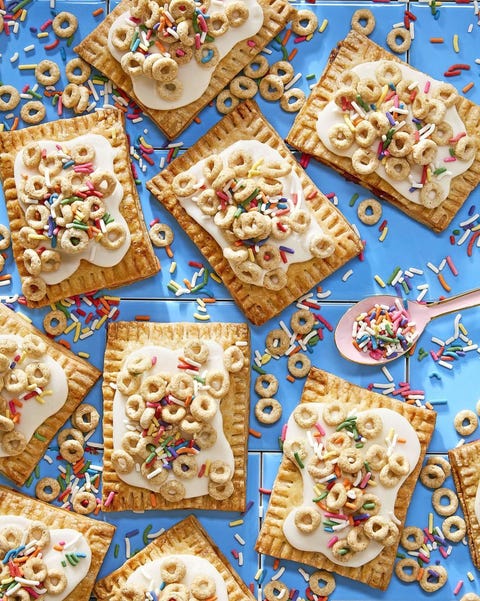 Herbes de Provence Shrimp with Basil and Pea Couscous
This is an ideal brunch meal. Grains, vegetable, and protein all together. Add a glass of wine, and you've got the perfect meal.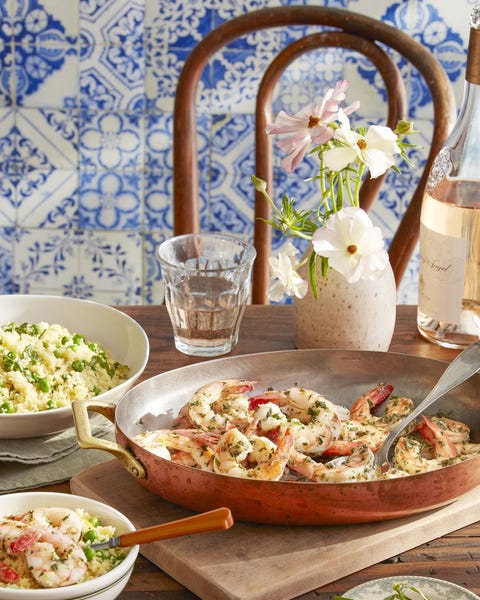 Earl Grey Crème Brûlée
If Dad loves all things British (and has a sweet tooth) try this recipe. Traditional crackly-topped custard gets infused with Earl Grey tea for a fancy treat. Make it fancier by cooking it in vintage teacups.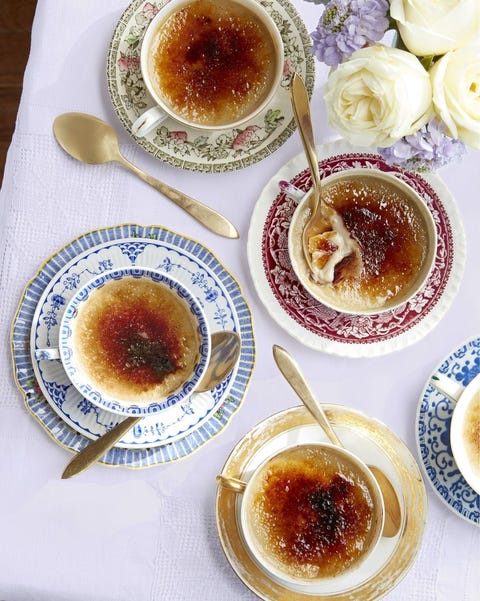 Curry Chicken Salad
Tender poached chicken breast gets tossed with curry powder, cilantro, raisins, and of course mayo. Serve with crackers, toast, or pita.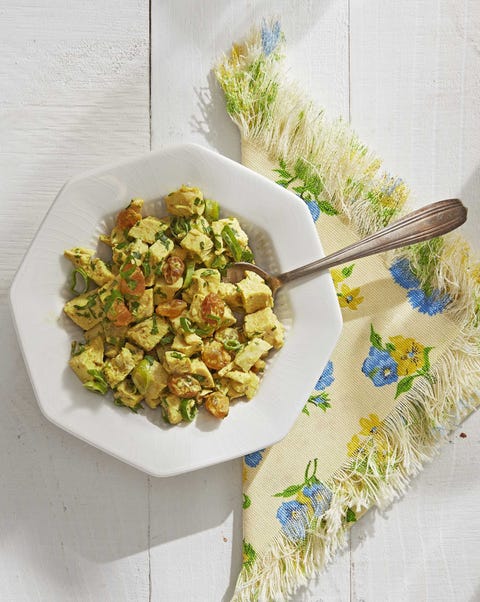 Crepes with Strawberries and Lemon Curd
Transport dad back to that European vacation with homemade crepes served with tart lemon curd and fresh strawberries.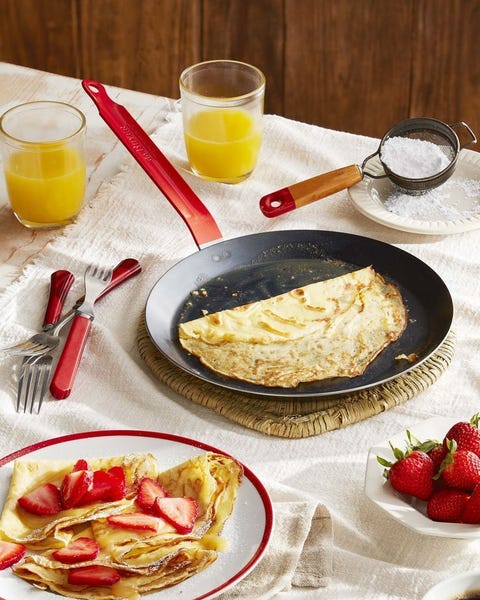 Chocolate-Matcha Swirl Pound Cake
This sophisticated pound cake is a looker! Green-tea batter and chocolate batter get swirled together to create a sweet, slightly bitter flavor combo.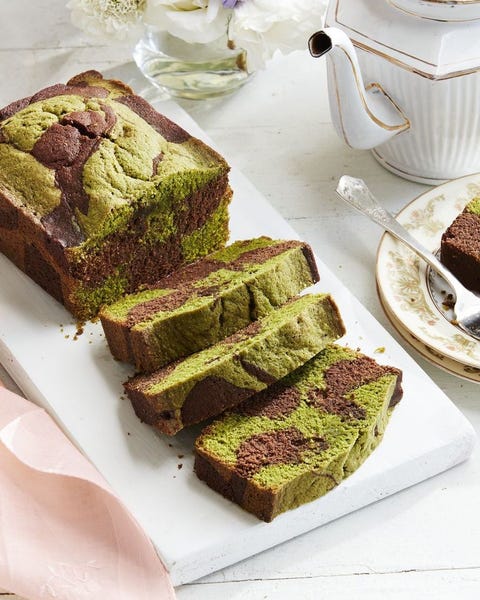 Spicy Beet Bloody Marys
Nothing says "Happy Father's Day" like a spicy, loaded cocktail.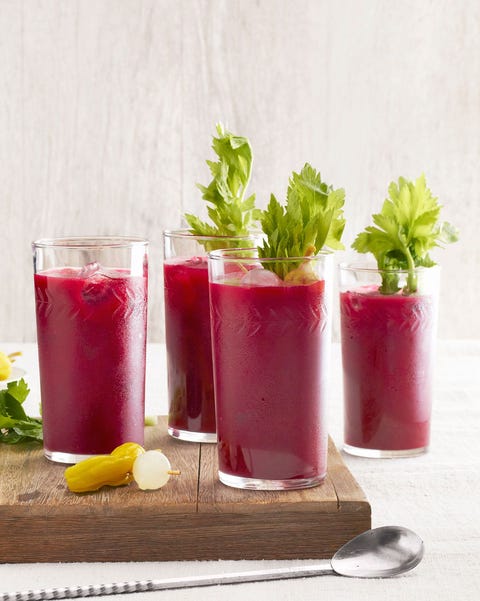 Glazed Blueberry Rolls
Opt for fresh blueberries instead of frozen with these gooey glazed rolls that you can prepare the night before your big brunch.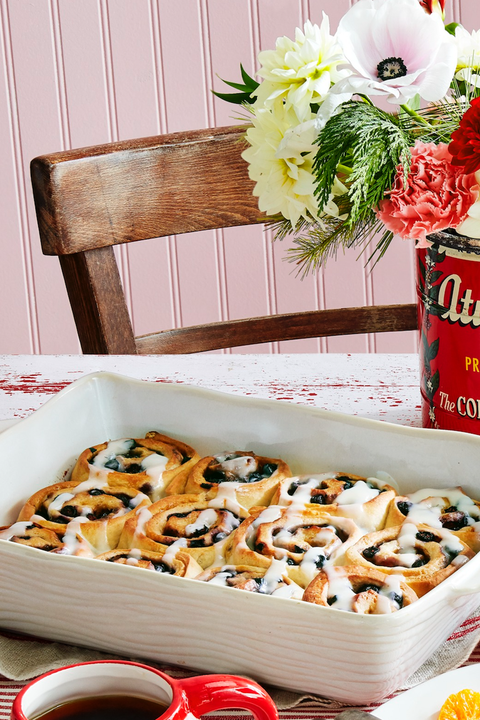 Blackberry Tart
Serve up this fruity tart for a bite that's both tart and sweet, thanks to the mascarpone, lime, and blackberry filling.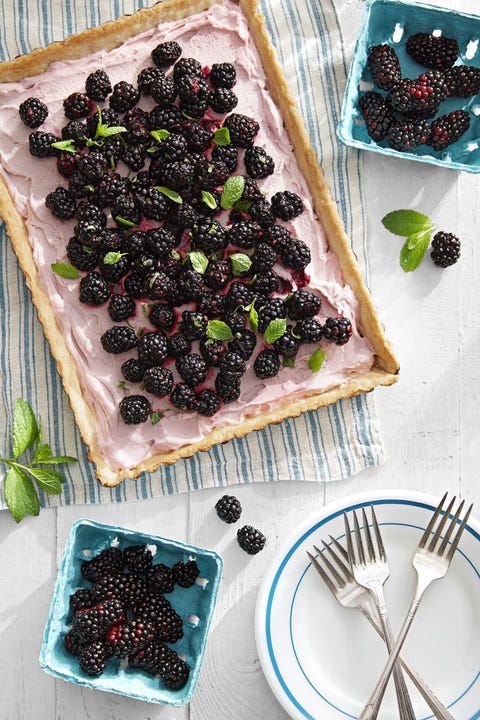 Rooibos-Blueberry-Glazed Donut Holes
Dad will love having one (or a few!) of these perfectly-sized bites. The hint of lemon combined with the burst of blueberry makes for a super-fresh sweet.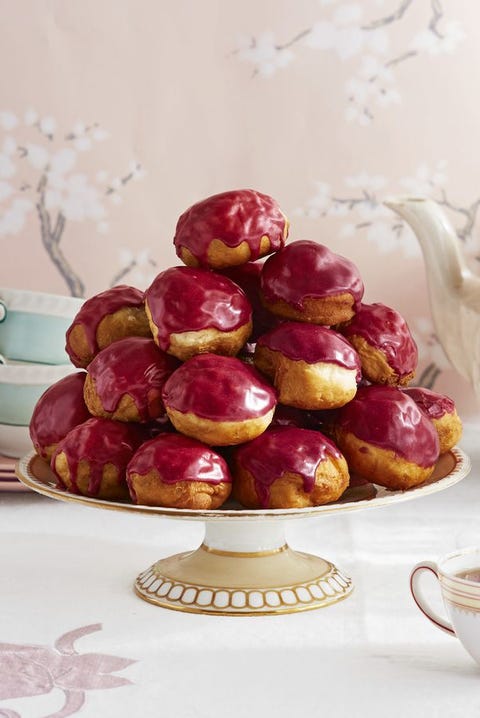 Banana Bread Flapjacks
Toasted pecans give these banana-filled pancakes a sweet and satisfying crunch.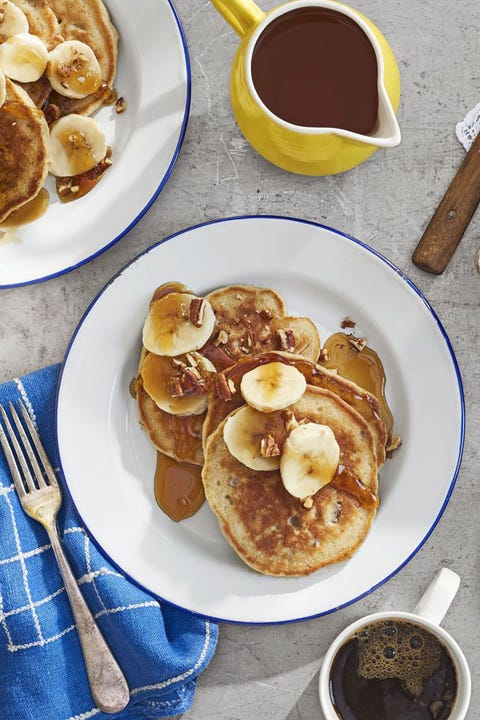 Deep-Dish Bacon and Leek Quiche
Filled with fluffy eggs, crispy bacon, and Gruyère cheese, this dish is hearty enough to feed the whole family.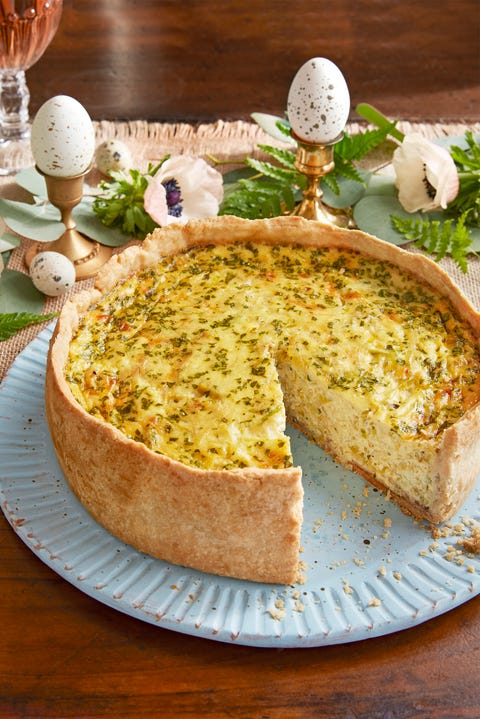 Pancake Breakfast Sandwich with Sausage and Avocado
Take your breakfast sandwich to the next level by using pancakes as bread.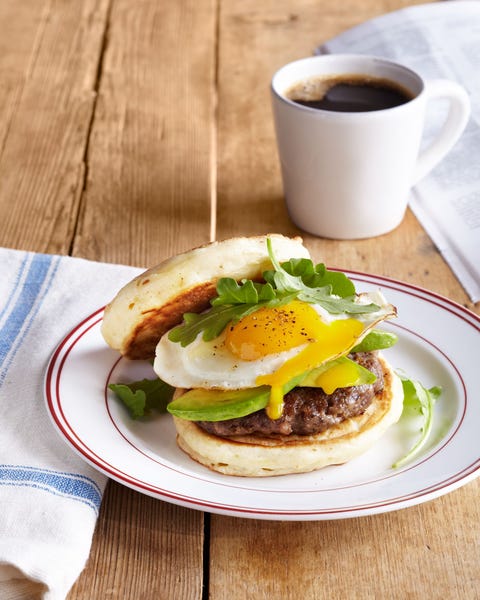 Spanish Tortilla with Manchego and Green Olives
Dense with veggies, this one-skillet wonder will totally hit the spot.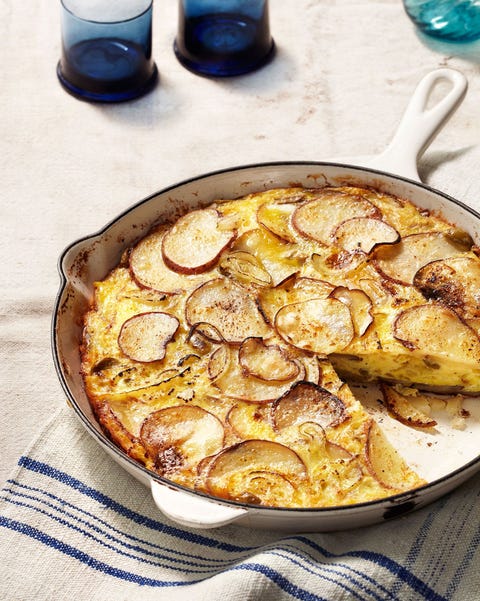 Raisin-Walnut Coffee Cake
Who doesn't love cake for breakfast? This sweet cinnamon coffee cake filled with crunchy walnuts is a crowd-pleasing favorite.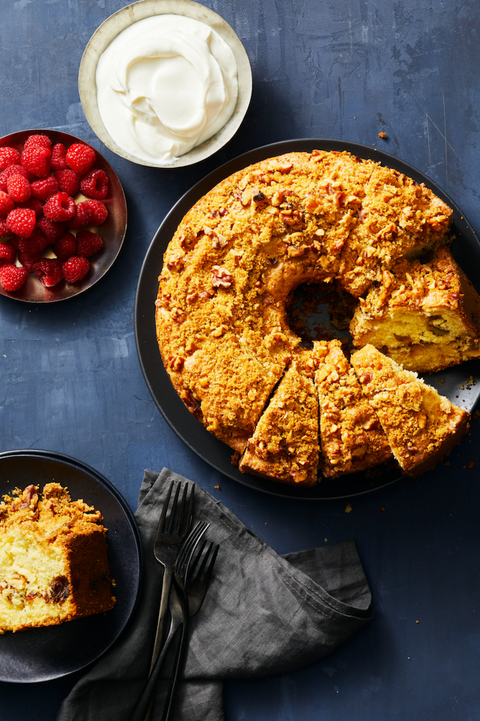 French Toast
Learn how to make the best French Toast ever with our go-to recipe. Dad will be impressed!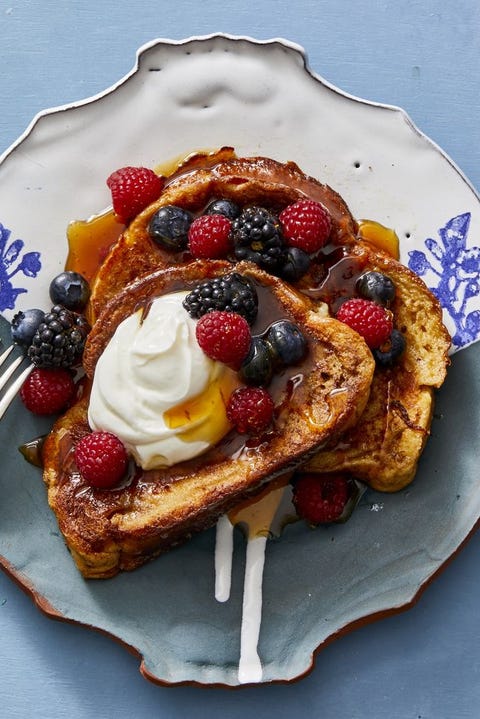 Roasted Potato and Chorizo Hash
Serve up this savory hash loaded with spicy chorizo, cheese and flavorful potatoes for a hearty and filling brunch dish.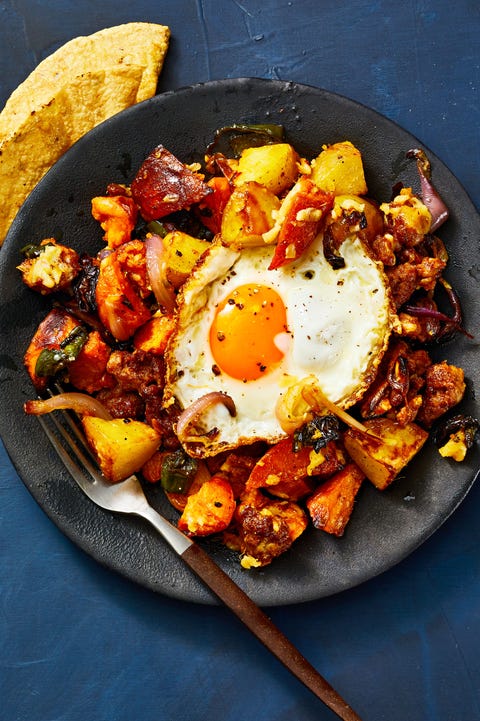 Lemon-Almond Poppy Seed Muffins
These not-too-sweet muffins are the perfect treat to surprise Dad with on his special morning.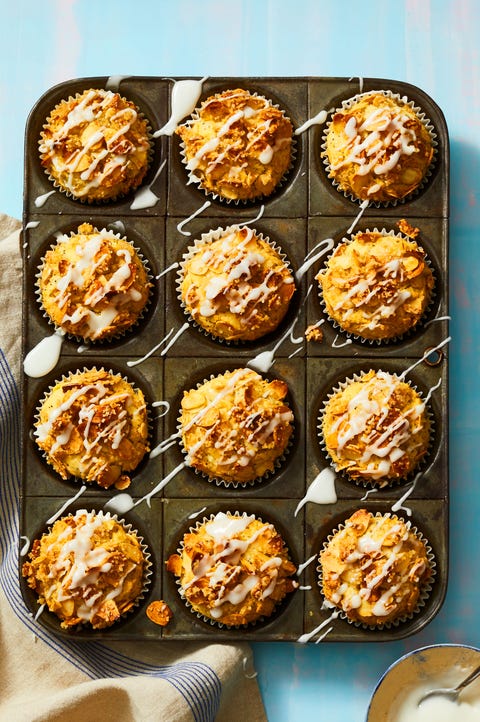 Jammy Egg Toasts
Pair crispy toast with not-too-runny eggs and a shallot vinaigrette for a delicious and savory start to Dad's day.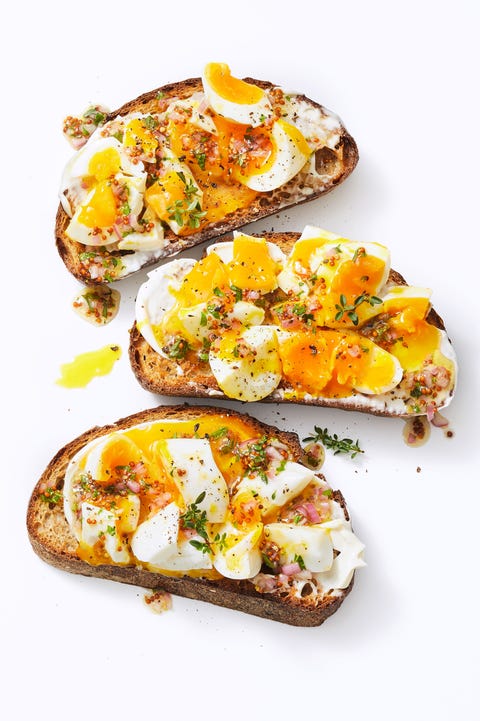 Pecan Sticky Buns
These sweet sticky buns will have the whole fam up and ready to celebrate Dad in no time.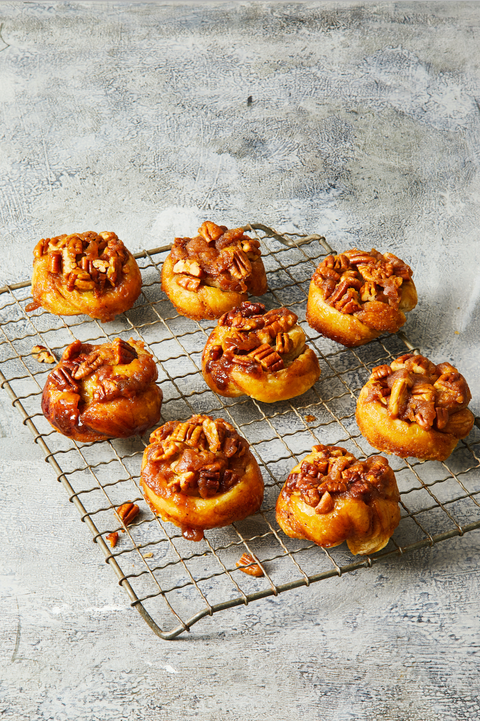 Gruyère, Bacon and Spinach Scrambled Eggs
Fancy-up basic scrambled eggs with this delicious recipe (that isn't much harder than the classic!).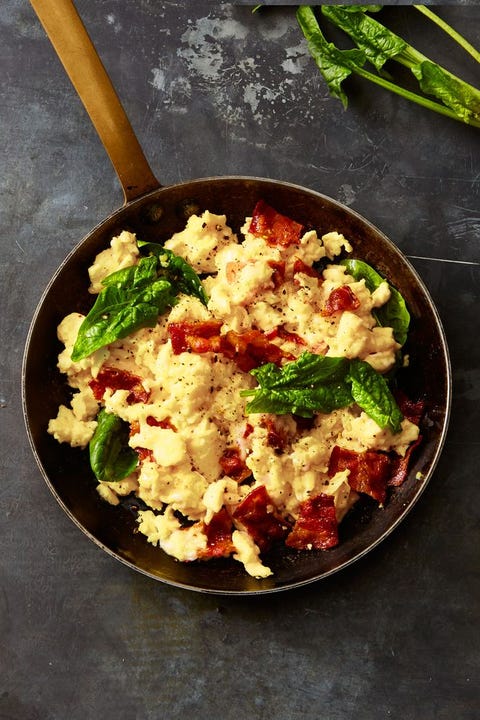 Greek Yogurt Pancakes
Add an extra dose of protein to your pancakes with greek yogurt!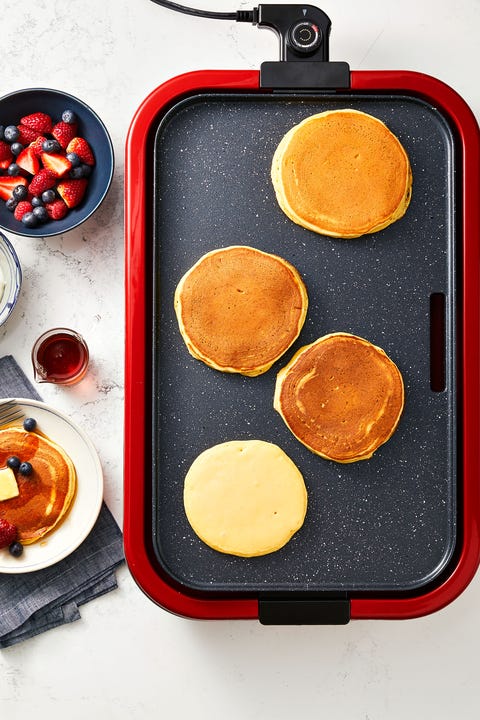 Classic Omelet and Greens
A side of greens dressed with lemon juice and Parmesan makes brunch extra healthy … so you can save room for Father's Day cake later.
Sheet Pan Sausage and Egg Breakfast Bake
For all the hungry dads, this one-pan breakfast features mushrooms, tomatoes, sausage, eggs and bacon.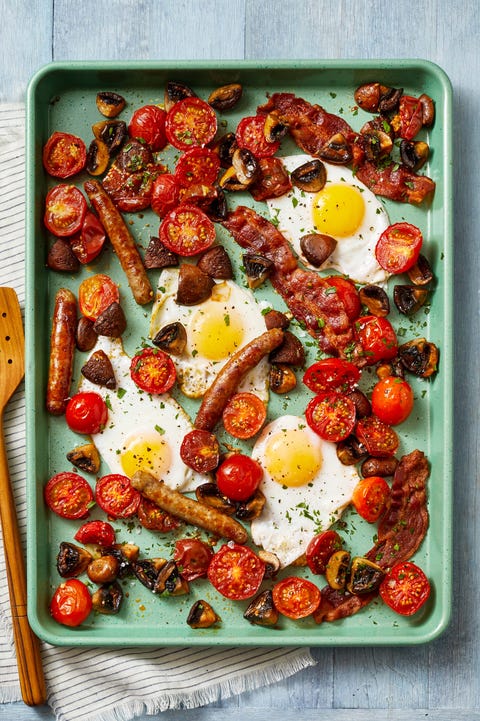 Pumpkin Chocolate Chip Bread
Fresh ginger stirred right into the batter makes this pumpkin recipe extra special — and spicy!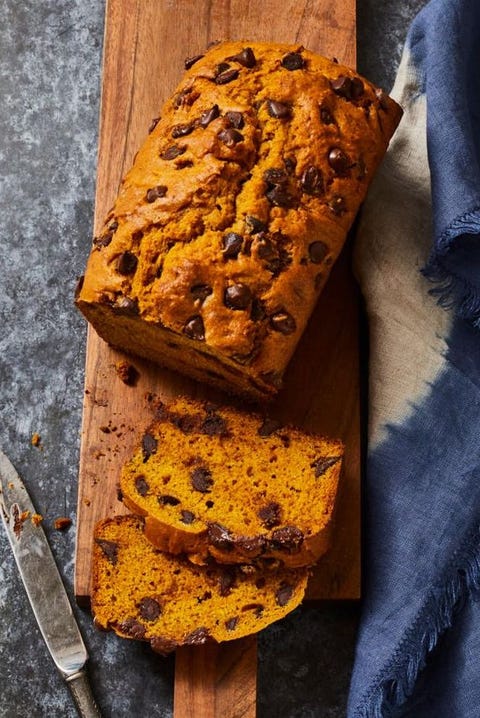 Shakshuka
Serve this with a hunk of bread for dunking in those delicious, tomato-y juices.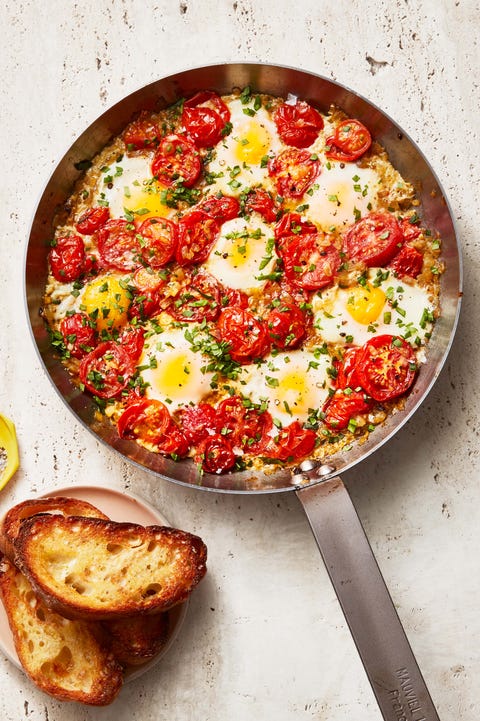 Mini Sesame Zucchini Loaves
Make 'em mini so Dad gets his own loaf. Don't forget the butter!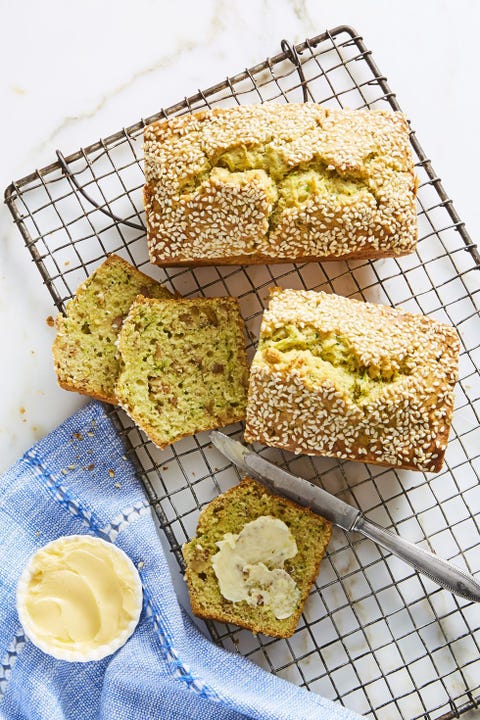 Potato Chip Omelet
Yepp, there are crushed potato chips (use them in a pinch if you don't have potatoes!) stirred right into the omelet batter for extra heft that Dad will eat right up.