This year, the first day of Eid al-Adha will be on 8th or 9th July 2022 (dependent on moon sighting).
What is Qurbani?
Qurbani, or Uḍḥiya as it is known in Arabic, is the practice of sacrificing an animal for Allah (swt). Every year, on the days of Eid al-Adha (from 10th to 13th of Dhul Hijjah), Muslims around the world sacrifice an animal to mark the completion of Hajj. This practice commemorates the sacrifice of Ibrahim (as) thousands of years ago, who was prepared to sacrifice his beloved son for Allah's sake (read his story below).
Qurbani is not simply the slaughtering of an animal and the distribution of its meat, and it is more than a commemorative ritual. The word 'Qurbani' is derived from the Arabic, 'qurban', which has its root in the Arabic word 'qurb' – meaning 'nearness'. The purpose of offering Qurbani is to draw near to Allah. Through Qurbani, we reaffirm what we sometimes forget in the hustle and bustle of everyday life – that we completely submit to Allah, and we are willing to sacrifice whatever is asked of us to be close to Him and gain His pleasure, just as Prophet Ibrahim (as) did so many years ago.
Thus, an important part of Qurbani is remembering to hold onto our sincere intentions and striving to be closer to Allah through this symbolic sacrifice.
The First Known Sacrifice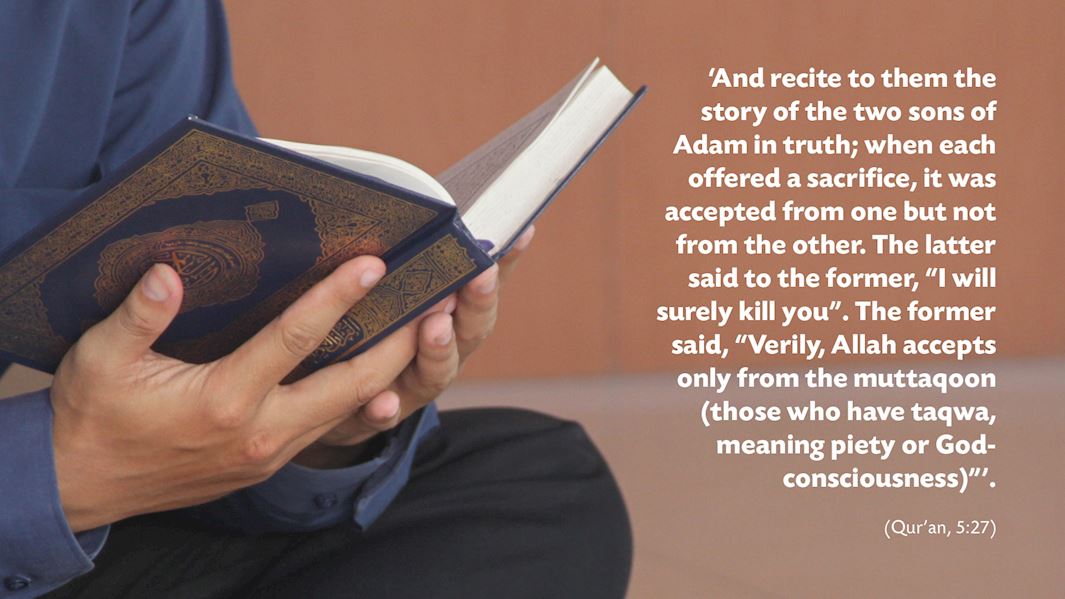 Allah tells us in the Qur'an the story of two sons of Prophet Adam (as), Habil and Qabil. To resolve a difference between them, Adam (as) asked them both to make a sacrifice; whoever's sacrifice was accepted would be the clear winner.
Since Habil was a shepherd, he offered a ram to be sacrificed. Qabil tilled the land, so he offered some produce grown from the land. It is understood that Habil took care to select the best animal, one which was healthy and well-fed, whereas Qabil wasn't willing to offer the best of his produce. Allah accepted Habil's sacrifice, ascending it to heaven, and He rejected Qabil's sacrifice.
Habil explained to his brother that Allah only accepts from those who have taqwa. Qabil had clearly not made his sacrifice with sincerity, and Allah was aware of that. However, Qabil was jealous of the way Habil had been favoured over him and he killed his brother.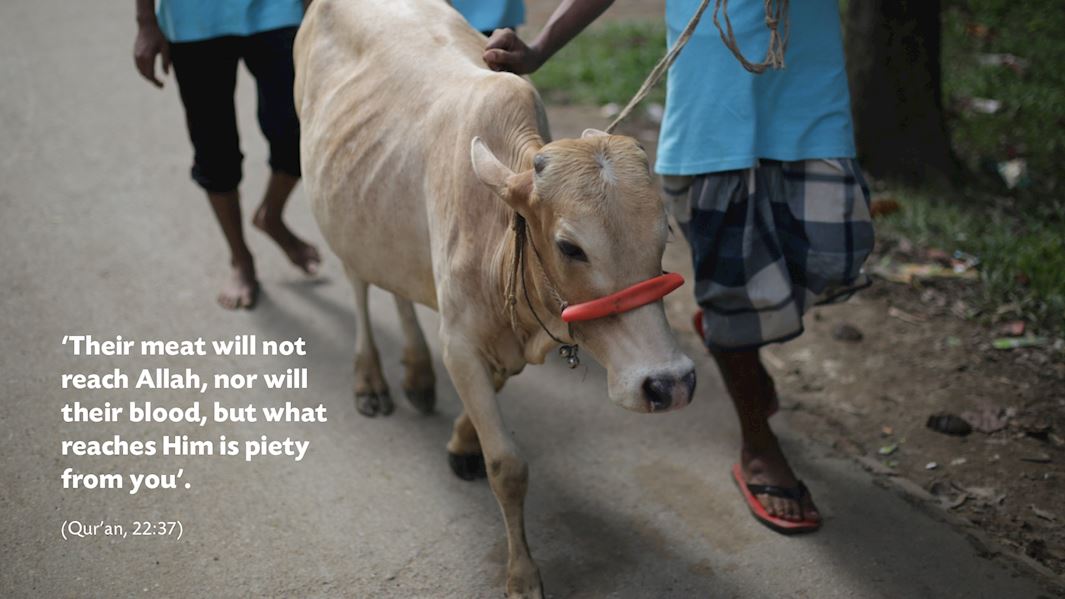 The story of Habil and Qabil illustrates that sincerity and purity of intention are the most important part of the Qurbani. Part of this is selecting a worthy sacrifice as Habil did and to ensure it is well-treated and sacrificed in an Islamic way. It is also about understanding that, like Zakat, Qurbani is not an annual task or tax that we should tick off a to-do list; it is a deeply spiritual activity and a chance to draw closer to Allah.
The Sacrifice of Ibrahim (as)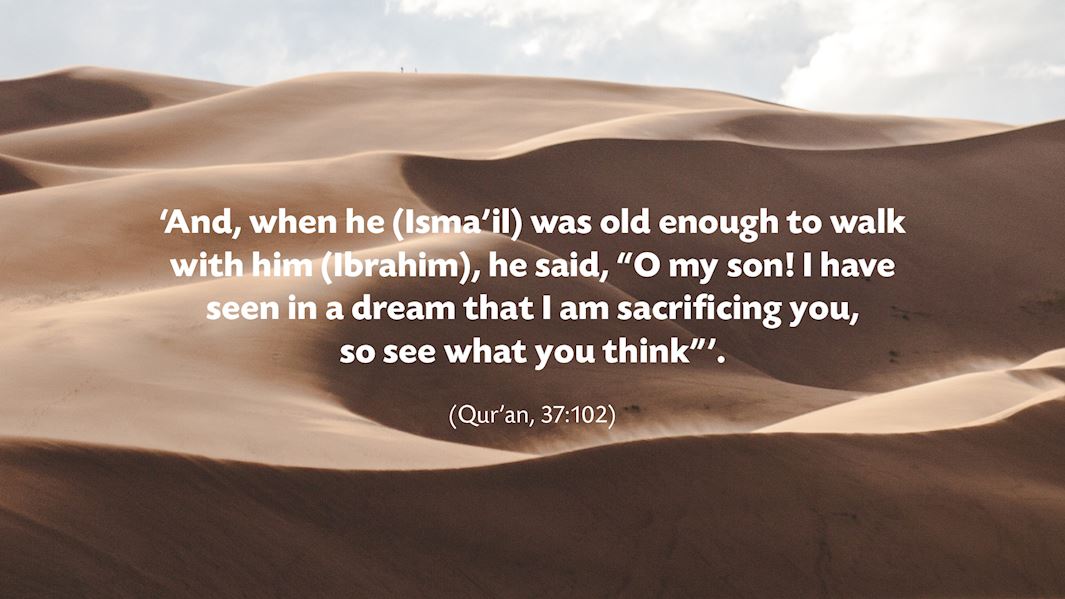 When Ibrahim's (as) firstborn son, Ismail (as) was old enough to walk around with his father and work with him, it was revealed in a dream to Ibrahim (as) that he must sacrifice his son. Ismail (as) did not question this command, just as his mother Hajar (as) had not questioned it when Allah commanded Ibrahim (as) to leave her and her baby son in the desert all those years ago.
'He (Ismail) said, "O my father! Do as you are commanded. If Allah wills, you shall find me of the patient"'. (Qur'an, 37:102)
Both father and son were prepared to sacrifice Ismail's life, but Shaytan wanted to dissuade them.
In this narration, Ibrahim (as) stoned Shaytan three times; in other narrations, Shaytan appeared separately to Ibrahim, Hajar and Ismail (as). Each time, he tried to convince them that Ibrahim (as) was about to commit a terrible crime; each time, they attested that if it was from Allah they must accept it. Each of them stoned Shaytan. (Tabari and Hakim)
It seems impossible to us that someone could be prepared to sacrifice their beloved child, the person most dear to them in the world, especially when obstacles have been placed in their way on three separate occasions. However, the family of Ibrahim (as) were so forceful in their rejection of disobeying Allah that they threw stones at Shaytan. It is this stoning that we remember at Hajj.
As Ibrahim (as) prepared a knife to sacrifice his son and a shroud to bury him in, he couldn't face Ismail (as), so he turned his son's face away. According to Ibn Kathir's tafseer, they both remembered Allah and testified their faith in Him – Ibrahim because he was about to make a sacrifice, and Ismail because he was about to die. Then Ibrahim prepared to sacrifice his son – and when the knife was at Ismail's neck, he heard a voice calling to him to stop.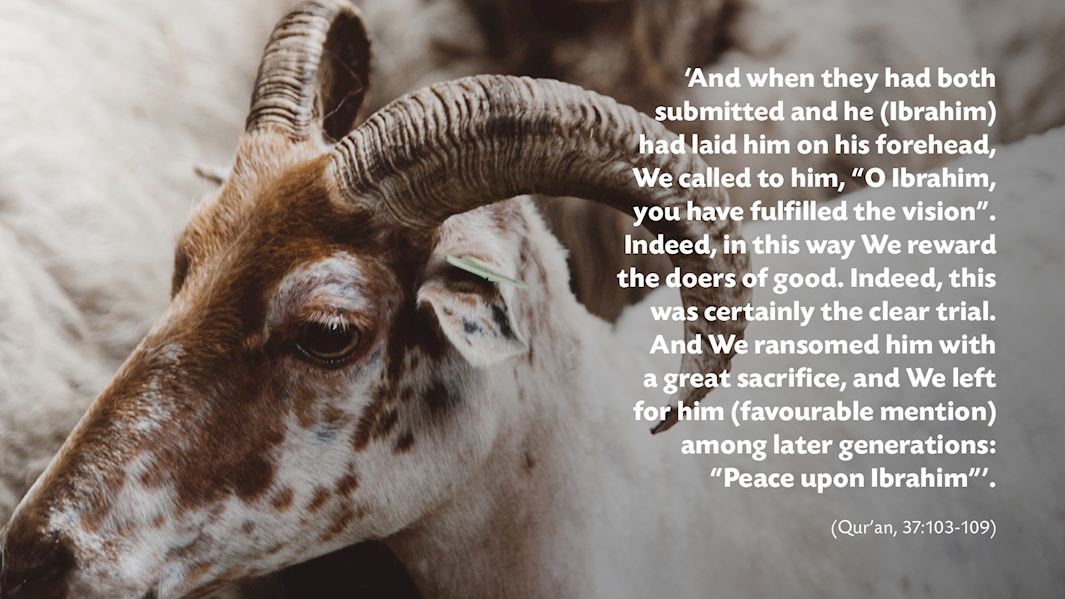 Ibrahim (as) sacrificed a white, horned ram instead of his son and, like the stoning of the pillars, we remember this sacrifice every year at Hajj. It represents the devotion of Ibrahim (as), who was ready to sacrifice his beloved son for Allah's sake, and the reward and blessing they received from Allah as a result of their submission. Remembering this journey every time we do Qurbani should bring us closer to Allah; again, it is not the animal that matters, but our willingness to submit wholeheartedly to Allah.
The Ram of Paradise
As you can see above, Allah refers to the ram He sent down to Ibrahim (as) as "a great sacrifice". Allah even used the word 'adheem to describe the sacrifice, while one of Allah's names is Al-'Adheem. So what was so special about this ram?
Ibn Abbas (ra) said it was, 'A ram which had grazed in Paradise for forty years'. (Tabari)
In Al-Jalalayn's tafseer, he reports that the ram Allah sent down to Ibrahim (as) was the same ram that Habil had sacrificed – meaning Allah had ascended that ram to heaven, and then sent it back down to Ibrahim (as) to be sacrificed.
Fun fact: the horns of this ram were passed down through Ismail's (as) descendants and were kept hanging in the Ka'bah by the Quraysh as an important relic. After the Prophet (saw) conquered Makkah, the ram's horns were kept in the Ka'bah, though they were covered up.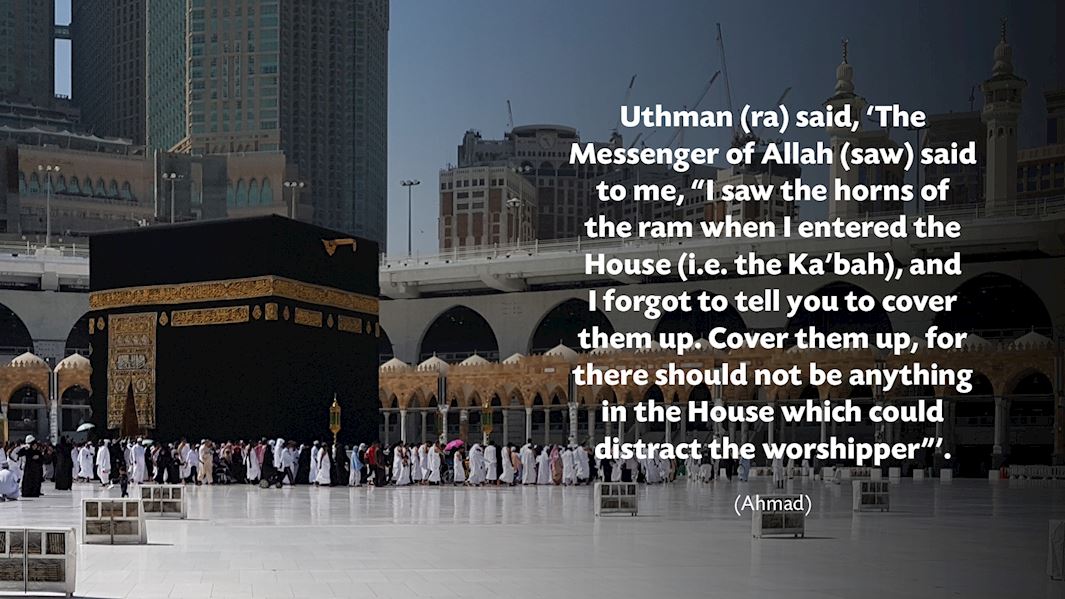 The ram horns remained there until the Ka'bah was damaged by fire in the Siege of Makkah in 683; the horns were burned and lost in this battle.
The Prophetic Qurbani
Finally, we come to the last part of the history of Qurbani – the Qurbani of our Prophet Muhammad (saw).
This is the Qurbani we still practice today every Eid al-Adha and it is important for us to not only make our intentions sincere, but also to keep in mind the rich history behind Qurbani. Our heritage should be valuable to us, as shown by the Prophet (saw) keeping the horns of the ram Ibrahim (as) hanging in the Ka'bah. The family of Ibrahim (as) are a particularly important part of our history, as we learn every year at Hajj when we commemorate their actions.
The Messenger of Allah (saw) even said, 'I am the son of two sacrificed people' (Hakim), referring to the fact that both his father Abdullah and his ancestor Ismail (as) were almost sacrificed for Allah's sake, emphasising his connection with Ismail (as).
He (saw) also used to look for rams similar to the one Habil and Ibrahim (as) sacrificed – white, horned rams – to offer as Qurbani on Eid al-Adha. (Ahmad)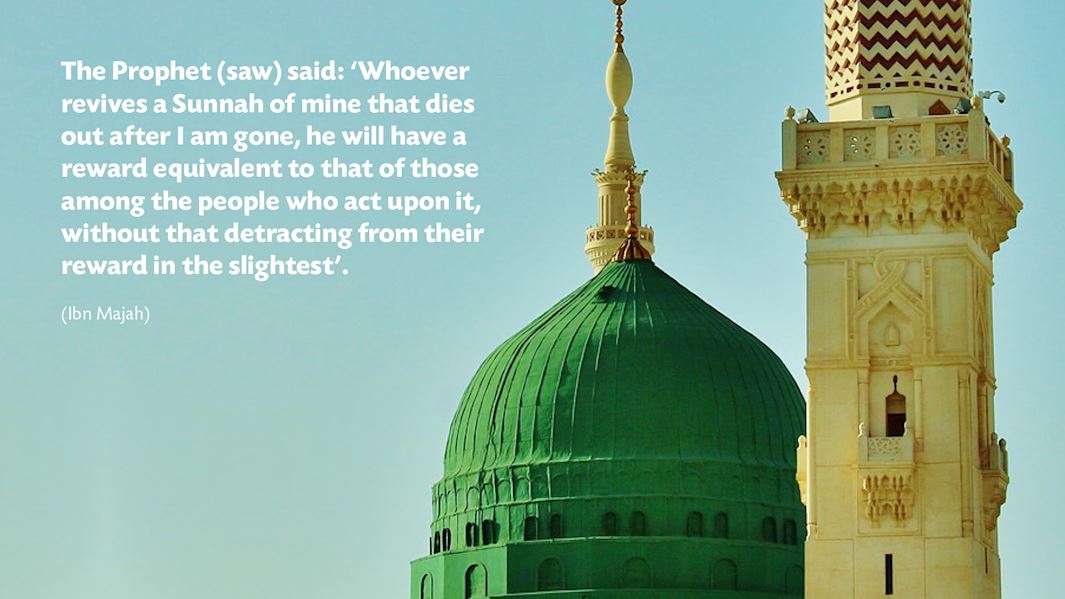 An element of the Prophetic Qurbani which we should definitely be keeping alive is the practice of sacrificing a second animal on behalf of those who can't afford it:
'The Prophet (saw) sacrificed for the one who could not sacrifice from his ummah, one who bore witness to the Oneness of Allah and [his] Prophethood'. (Tabarani and Ahmad)
This was a Sunnah his Sahabah also used to follow, as Anas bin Malik said, 'The Prophet (saw) used to sacrifice two rams, and I also sacrifice two rams'. (Bukhari)
This Dhul-Hijjah, why not revive this beautiful Sunnah and give an extra Qurbani? There is wisdom in everything the Prophet (saw) did and immense reward in reviving his Sunnah. Furthermore, giving an extra Qurbani means even more families in need will benefit. In poverty-stricken communities, meat is an unaffordable luxury and so it is a joyous occasion when they can enjoy the generosity of a Prophetic Qurbani. So not only will you be doubling your reward by giving a Prophetic Qurbani, you will also be doubling your impact.
Eid al-Adha is an important 3-day holy festival celebrated worldwide by Muslims to honour the willingness of Hazrat Ibrāhīm (A.S) (Abraham). It is celebrated to sacrifice his first son Ismā'īl (R.A) (Ishmael) as obedience before God intervened to provide him with a ram to sacrifice instead. Eid means the solemn festival, while The Arabic word "Adha" means "sacrifice", having its root in the word "duha", which also means "light" or "illumination". Eid al-Adha is the festival of sacrifice. It is also called Feast of the Sacrifice, the Major Festival, and the Greater.
Eid
The word "Eid" appeared in Surah e Maida verse 114, meaning "solemn festival."
قَالَ عِيسَى ٱبْنُ مَرْيَمَ ٱللَّهُمَّ رَبَّنَآ أَنزِلْ عَلَيْنَا مَآئِدَةً مِّنَ ٱلسَّمَآءِ تَكُونُ لَنَا عِيدًا لِّأَوَّلِنَا وَءَاخِرِنَا وَءَايَةً مِّنكَ ۖ وَٱرْزُقْنَا وَأَنتَ خَيْرُ ٱلرَّٰزِقِينَ

 "Said Jesus, the son of Mary: "O Allah our Lord! Send us from heaven a table set (with viands), that there may be for us – for the first and the last of us – a solemn festival (Eid) and a sign from thee; and provide for our sustenance, for thou art the best Sustainer (of our needs)."

(AlQuran 5:114)
The basis of Eid al-Adha
The basis of Eid al-Adha comes from this verse of the Holy Quran,
وَأَتِمُّوا۟ ٱلْحَجَّ وَٱلْعُمْرَةَ لِلَّهِ ۚ فَإِنْ أُحْصِرْتُمْ فَمَا ٱسْتَيْسَرَ مِنَ ٱلْهَدْىِ ۖ وَلَا تَحْلِقُوا۟ رُءُوسَكُمْ حَتَّىٰ يَبْلُغَ ٱلْهَدْىُ مَحِلَّهُۥ ۚ فَمَن كَانَ مِنكُم مَّرِيضًا أَوْ بِهِۦٓ أَذًى مِّن رَّأْسِهِۦ فَفِدْيَةٌ مِّن صِيَامٍ أَوْ صَدَقَةٍ أَوْ نُسُكٍ ۚ فَإِذَآ أَمِنتُمْ فَمَن تَمَتَّعَ بِٱلْعُمْرَةِ إِلَى ٱلْحَجِّ فَمَا ٱسْتَيْسَرَ مِنَ ٱلْهَدْىِ ۚ فَمَن لَّمْ يَجِدْ فَصِيَامُ ثَلَٰثَةِ أَيَّامٍ فِى ٱلْحَجِّ وَسَبْعَةٍ إِذَا رَجَعْتُمْ ۗ تِلْكَ عَشَرَةٌ كَامِلَةٌ ۗ ذَٰلِكَ لِمَن لَّمْ يَكُنْ أَهْلُهُۥ حَاضِرِى ٱلْمَسْجِدِ ٱلْحَرَامِ ۚ وَٱتَّقُوا۟ ٱللَّهَ وَٱعْلَمُوٓا۟ أَنَّ ٱللَّهَ شَدِيدُ ٱلْعِقَابِ

"And complete the Hajj and 'umrah for Allah. But if you are prevented, then [offer] what can be obtained with ease of sacrificial animals. And do not shave your heads until the sacrificial animal has reached its place of slaughter.

And whoever among you is ill or has an ailment of the head [making shaving necessary must offer] a ransom of fasting [three days] or charity or sacrifice. And when you are secure, whoever performs 'umrah [during the Hajj months] followed by Hajj [offers] what can be obtained with the ease of sacrificial animals. And whoever cannot find [or afford such an animal] – then a fast of three days during Hajj and of seven when you have returned [home].

Those are ten complete [days]. This is for those whose family is not in the area of al-Masjid al-Haram. And fear Allah and know that Allah is severe in penalty."

(AlQuran 2:196)
The history behind the great festival; Eid al-Adha
The history behind Eid al-Adha follows the story of the faithful Hazrat Ibraheem (A.S). he was instructed in a dream by Allah to raise the foundations of the holy Kaaba, a black stone, the most sacred Muslim shrine in Mecca. Immediately responding to the Lord's call Hazrat Ibraheem (A.S) set off for Mecca along with his wife and son, Ishmael.
Hazrat Ibraheem (A.S) had to face a lot of hardships in his way. However, he supplicated Allah's commands uncomplaining. He also saw himself sacrificing his son Ishmael for Allah's sake in a divine dream. When he told this to Ishmael, the latter immediately asked his father to carry out Lord's commands without faltering and assured him that he was completely ready to give up his life for God.
Abraham could not bear to watch his son die, so he covered his eyes with a blindfold. When he cut Ishmael's throat and removed the blindfold, miraculously enough, he was astonished to see that Ishmael was unharmed. Instead, he found a dead lamb which was slaughtered, And this is what Abraham ultimately sacrificed. In remembrance of this outstanding act of sacrifice (Qurbani) by Prophet Abraham(R.A), people sacrifice a lamb, goat, ram, or another animal on Eid al-Adha and give the meat to friends, neighbours, relatives and the needy. People away from the holy pilgrimage, Hajj, also carry out this traditional sacrifice.
This is mentioned in surah e As-saffat.
رَبِّ هَبْ لِى مِنَ ٱلصَّٰلِحِينَ

"O, my Lord! Grant me a righteous (son)!" 

فَبَشَّرْنَٰهُ بِغُلَٰمٍ حَلِيمٍ

So We gave him the good news of a boy possessing forbearance. 

فَلَمَّا بَلَغَ مَعَهُ ٱلسَّعْىَ قَالَ يَٰبُنَىَّ إِنِّىٓ أَرَىٰ فِى ٱلْمَنَامِ أَنِّىٓ أَذْبَحُكَ فَٱنظُرْ مَاذَا تَرَىٰ ۚ قَالَ يَٰٓأَبَتِ ٱفْعَلْ مَا تُؤْمَرُ ۖ سَتَجِدُنِىٓ إِن شَآءَ ٱللَّهُ مِنَ ٱلصَّٰبِرِينَ

And when (his son) was old enough to walk and work with him, (Abraham) said: O my dear son, I see in vision that I offer you in sacrifice: Now see what your view is!" (The son) said: "O, my father! Do what you are commanded; if Allah wills, you will find me one practising patience and steadfastness!" 

فَلَمَّآ أَسْلَمَا وَتَلَّهُۥ لِلْجَبِينِ

So when they both submitted and he threw him down upon his forehead, 

وَنَٰدَيْنَٰهُ أَن يَٰٓإِبْرَٰهِيمُ

We called out to him, saying: O Ibrahim! 

قَدْ صَدَّقْتَ ٱلرُّءْيَآ ۚ إِنَّا كَذَٰلِكَ نَجْزِى ٱلْمُحْسِنِينَ

You have fulfilled the vision; surely thus do We reward those who do good. 

إِنَّ هَٰذَا لَهُوَ ٱلْبَلَٰٓؤُا۟ ٱلْمُبِينُ

Most surely, this was a manifest trial. 

وَفَدَيْنَٰهُ بِذِبْحٍ عَظِيمٍ

And We ransomed him with a momentous sacrifice.

وَتَرَكْنَا عَلَيْهِ فِى ٱلْءَاخِرِينَ

And We perpetuated (praise) to him among the later generations.

سَلَٰمٌ عَلَىٰٓ إِبْرَٰهِيمَ

"Peace and salutation to Abraham!" 

كَذَٰلِكَ نَجْزِى ٱلْمُحْسِنِينَ

Thus indeed do We reward those who do right. 

إِنَّهُۥ مِنْ عِبَادِنَا ٱلْمُؤْمِنِينَ

Surely he was one of Our believing servants.

(AlQuran 37:100–111)
As a reward for this sacrifice, God then granted Abraham the good news of the birth of his second son, Ishaaq (Isaac)
وَبَشَّرْنَٰهُ بِإِسْحَٰقَ نَبِيًّا مِّنَ ٱلصَّٰلِحِينَ

"And We gave him the good news of Ishaaq, a prophet from among the righteous."

(AlQuran 37:112)
Abraham had shown that his love for God superseded all others: that he would lay down his own life or the lives of those dearest to him in submission to God's command. Muslims commemorate this ultimate act of sacrifice every year during Eid al-Adha.
The Eid prayers
According to Islamic law, men (who are residents of a particular area) must offer Eid prayer, while for women, it is optional to offer Eid prayers.
The Eid al-Adha prayer is performed on the 10th of Dhul Hijjah anytime after Sunrise before the time of Zuhr.
Muslims are encouraged to prepare themselves for the occasion of Eid Al-Adha, keeping in view the tradition of Prophet Muhammad (SAW): the Sunnah. They should make waddu (ablution) and offer fajr prayer before Sunrise. They are also encouraged to wear the best clothes available and take proper care of their cleanliness.
The spirit of Eid al-Adha
The spirit of Eid al-Adha directly results from the number of sacrifices we make before it. In other words, investing our time, money, and wealth translates into self-contentment and a successful and joyous Eid. Thus, it is not surprising that even though we do not put in as much effort as we should in the month of Ramadan, the little that we do has an impact on ourselves and makes us feel deserving of celebration when Eid al-Adha comes around.
The spirit of Eid al-Adha should be to help those who can't offer Qurbani (sacrifice), so they can also be joyous on this occasion of Eid.
From all of us AlQuranClasses, we wish you a very happy and joyous Eid. Remember all of us on the holy occasion of Eid al Adha.
EID MUBARAK ?