Like all other Islamic festivals, Eid al-Adha is also celebrated with much zeal among the natives of Oman. This festival is basically about commemorating Ibrahim's (also known as Abraham) inclination towards following Allah's (God's) command to sacrifice his son. Not only in Oman but Eid al-Adha is observed extensively all over the world by the Muslim population.
Eid al Adha 2022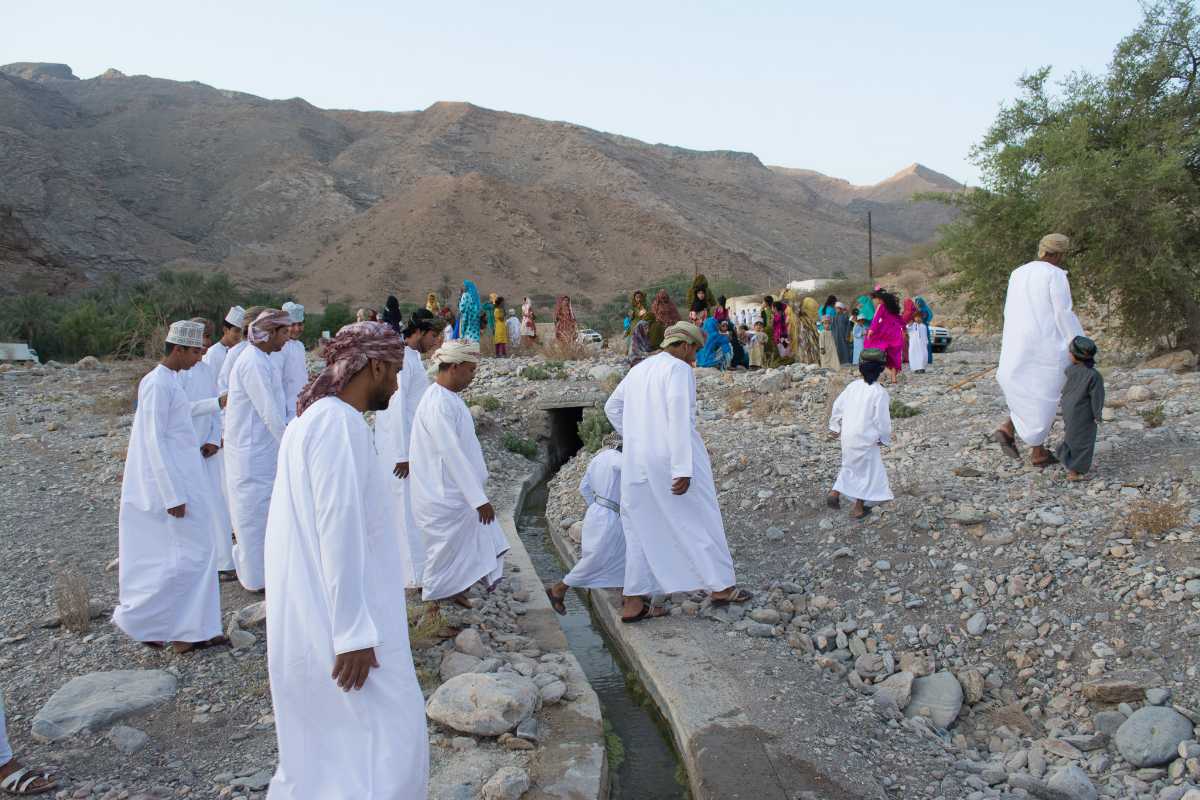 Devotees on the way to the prayer site
The festival lasts for five days and is generally observed during the last three days of Hajj. However, the dates might differ and can only be confirmed by the end of July or the first week of August. This festival is celebrated around 70 days after Ramadan, which falls on the 10th day of the Dhu al-Hijjah, as per the Islamic calendar.
Lunar and Gregorian Calendar Criteria
The Islamic calendar is based on the lunar calendar, and it has just 355 days; thus, Eid al-Adha generally falls on different dates every single year. As per the Gregorian calendar, however, the exact date of the holiday is determined by the moon position.

Major Islamic Holidays
In Islam, there are two major Eid holidays: Eid Al Fitr and Eid al-Adha; the latter one is believed to be more sacred.
Common Phrases and Greetings During Eid (and their meanings)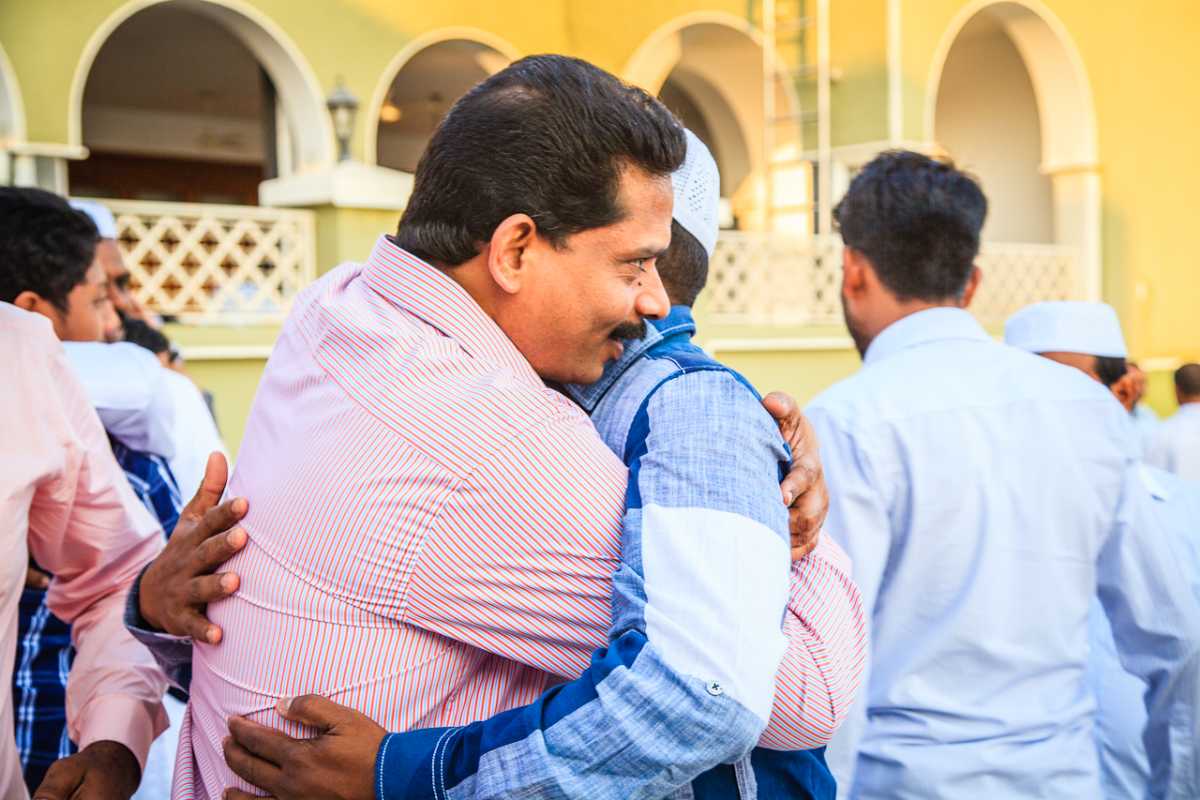 Merry greetings during Eid al Adha
1. Eid Mubarak –
 Have a blessed Eid
2. As Salaam u Alaikum –
 May peace be unto you
3. Kul' am wa enta bi-khair – 
May every year finds you in good health
4. Eid Saeed –
 Happy Eid
5. Taqabbala Allahu minna wa minkum – 
May Allah accept from us, and you
The Eid al Adha Celebrations
Ceremonial Prayers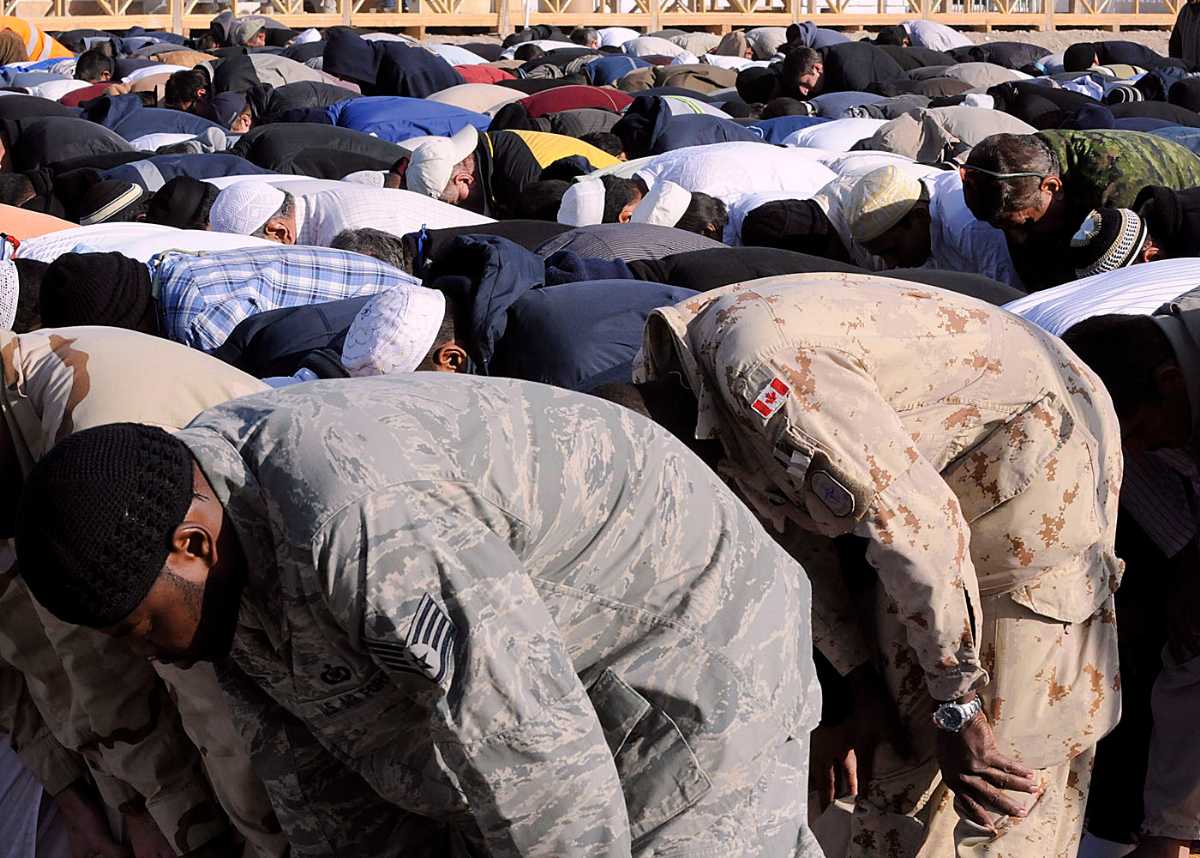 Devotees paying their rituals during the festival
Usually, during Eid al-Adha, Muslims spend a few hours in praying and listening to sermons at mosques. They also buy and wear new clothes, visit other family members and friends, and give gifts to small children.

Mecca and Hajj Formalities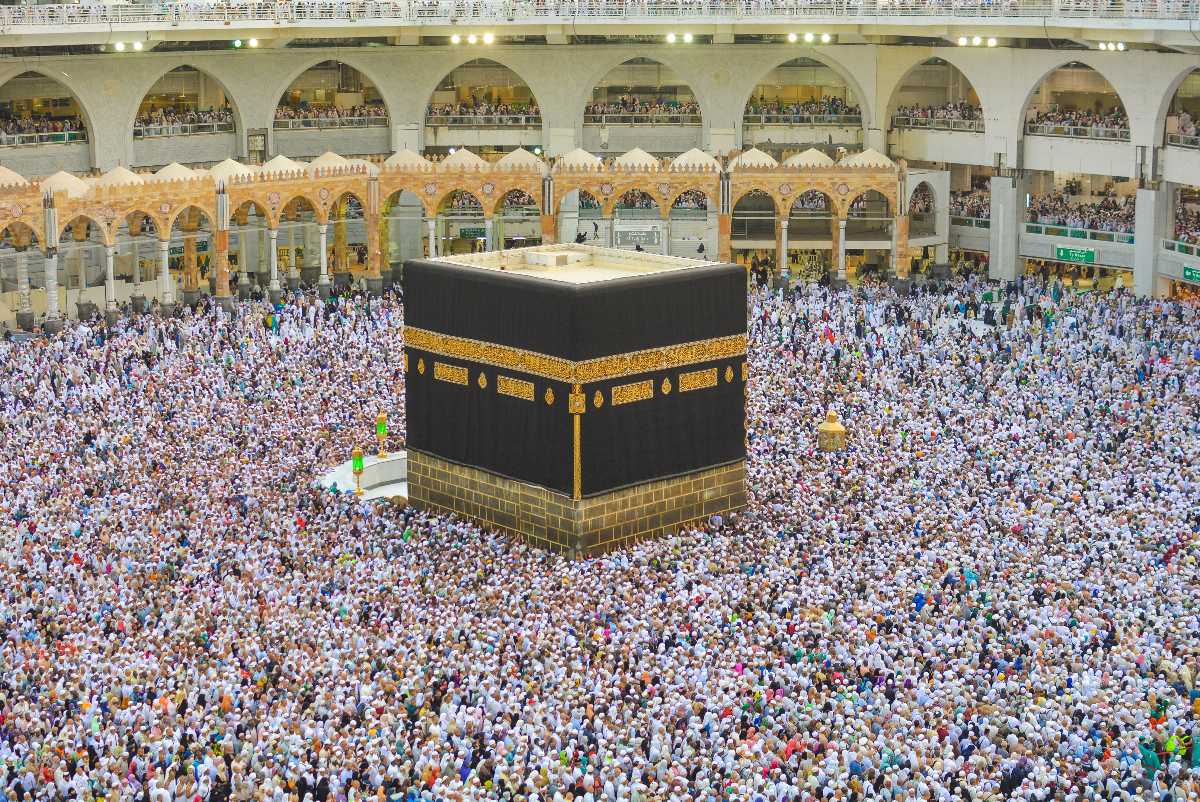 Gathering at Hajj
Devotees are expected to at least perform Hajj once in their lifetime if they are financially and physically able to do so. Many Muslims save all over the year to travel to Mecca and other surrounding areas in Saudi Arabia to perform Hajj. The government organises several package tour itineraries for the same.
When Hajj Is Not Possible
However, if visitors are not able to perform Hajj during this festival, they are encouraged to fast on Arafat Day, which marks the last sermon by Prophet Muhammad. 
Religious Offerings During Eid
Muslims also donate money and clothes to the poor and also ensure that they can have a meat-based meal during Eid al-Adha, as it is believed to bring good fortune.  
The Sacred Sacrifice – Gurbani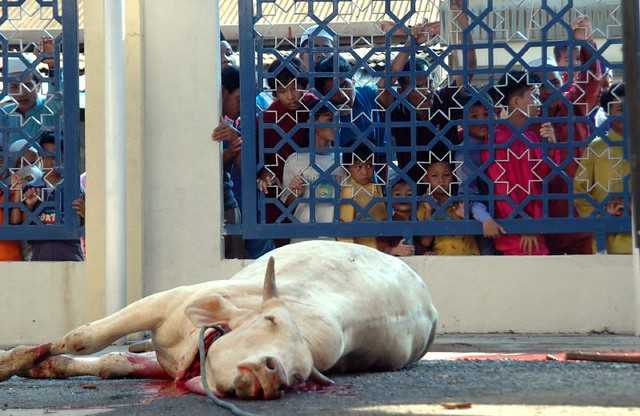 The ceremonial GurbaniIn some of the most traditional Muslim countries, a few families together buy an animal, mostly a sheep or a goat, and sacrifice the same to Allah. This process is known as Gurbani, and the animal is termed as Udhiya, as per the rituals. This animal resembles the one which Ibrahim had sacrificed as per the folklore.  
When Gurbani is Prohibited The process of Gurbani is, however illegal in several countries and hence, not shared amongst all Islam followers worldwide. So, in such a case, groups of people usually purchase a carcass of an animal from a slaughterhouse or a butcher or buy some generous amount of meat from a store and prepare a communal meal during the festival.
When is Eid al-Adha?
Known as Eid al-Adha, Eid ul Adha, Id-ul-Azha, Id-ul-Zuha, Hari Raya Haji or Bakr-id; the 'Feast of Sacrifice is the most important feast of the Muslim calendar.
The festival may also be known as Al Eid Al Kabeer, which means the 'Grand Eid'. It has this more important status as in religious terms as this Eid lasts for four days whereas Eid Al Fitr is one day, even though most countries observe about the same number of public holidays for both Eids.
This festival is celebrated throughout the Muslim world as a commemoration of Prophet Abraham's willingness to sacrifice everything for God.
Eid al-Adha falls on the 10th day of Dhu al-Hijjah, the twelfth and final month in the Islamic calendar.
As the exact day is based on lunar sightings, the date may vary between countries.
Traditions of Eid Al Adha
Eid al-Adha concludes the Pilgrimage to Mecca. Eid al-Adha lasts for three days and commemorates Ibrahim's (Abraham) willingness to obey God by sacrificing his son.
The same story appears in the Bible and is familiar to Jews and Christians. One key difference is that Muslims believe the son was Ishmael rather than Isaac as told in the Old Testament. Eid Al Lahma, which means the 'meat Eid'
According to the Quran, Ibrahim was about to sacrifice his son when a voice from heaven stopped him and allowed him to make something else as a 'great sacrifice'. In the Old Testament, it is a ram that is sacrificed instead of the son.
In Islam, Ishmael is regarded as a prophet and an ancestor of Muhammad.
During the feast of Eid Al Adha, Muslims re-enact Ibrahim's obedience by sacrificing a cow or ram. The family will eat about a third of the meal a third goes to friends and relatives, and the remaining third is donated to the poor and needy.
The giving of charity in the form of money, food or clothes to the homeless or poor is another key tradition of Eid al Adha.
Eid al Adha 2022 in Oman: When and How to Celebrate?
The Prophet Ibrahim had a profound dream-vision on a stroke of midnight. In his dream, God Almighty showed up to Ibrahim and instructed him that as a show of loyalty and obedience, he need to sacrifice his beloved son Ismail.
Because Ibrahim's love for God was unwavering, he brought Ismail to the summit of Mount Arafah and prepared to make the sacrifice. But, just as he was about to slay Ismail, the archangel Jibril arrived in front of the patriarch, accompanied by a lamb. Ibrahim's faith had been confirmed, and the lamb was to be sacrificed as a ransom for his son, according to Jibril.
Muslims all across the world have celebrated Eid Adha as the Day of Sacrifice in remembrance of Ibrahim's obedience, loyalty, and surrender. Here are the dates, schedules, and information for celebrating Eid Adha 2022 or, or  Al Eid Al Kabeer in Oman as we get closer to the celebration of this remarkable event.
Eid Adha 2022 in Oman date
In Oman, Eid Adha 2022 will last for three to four days on the 10th day of the holy month Dhulhijjah. Islam uses the lunar calendar, so the dates may vary each year. However, Eid Adha is expected to fall on the 9th of July 2022 after the moon sighting of Dhulhijjah.
#عاجل

ثبوت رؤية هلال شهر ذي الحجة لعام ١٤٤٣هـ.#العُمانية pic.twitter.com/4V4YKRSp4Q

— وكالة الأنباء العمانية (@OmanNewsAgency) June 29, 2022
Eid Adha 2022 public holiday in Oman
Eid Adha is one of the public holidays in Oman. Therefore, most public sectors will be expected to close for the celebration of Eid Adha for four days.
How is Eid Adha celebrated in Oman?
To commemorate the Feast of Sacrifice, Omani people would gather in the mosque on the first day of the celebration to perform an Eid prayer in the morning. During Eid Adha, people would greet each other by saying "Eid Mubarak" or in English "Have a blessed Eid" or "Eid Sa-Eid" or in English "Happy festival".
The Eid prayer is always followed by the act of sacrifice, where the animals such as cows, goats, camels, and sheep. The meat would be donated to the people in need, and distributed to the nearby neighborhood. Omanis would cook some delectable meals by the meat that they received during the Eid Adha on the 1st and 2nd day. Shuwa, an underground grill and mashakeek, a barbecue are two of the most cooked meals during Eid Adha in Oman.
Omanis would also dress with their brand new clothings to celebrate the Eid Adha. Men in Oman would wear a kind of gown called dishdasha and a kummah, a head cap or massar, a head turban. The women would put on their colorful dresses and they would decorate their hands with henna tattoos.
In the third day of celebration, Omanis would visit their relatives and families to spend quality time together to dine, go out, or some other family activities. Omani families would cook the meals differently, but the most popular dish served during Eid Adha is Ursiyah, a bowl of mashed rice that cooked together with chicken and other meats. The kids would also receive a gift money called 'Eidiyah' from their relatives.
On Eid al-Adha, Muslims demonstrate their obedience to Allah by sacrificing an animal. The holiday is inspired by a story from the Quran that is also known to Christians and Jews.
Is Eid al-Adha a Public Holiday?
Eid al-Adha is a public holiday. It is a day off for the general population, and schools and most businesses are closed.
In 2022, it falls on a Saturday, and some businesses may choose to follow Saturday opening hours.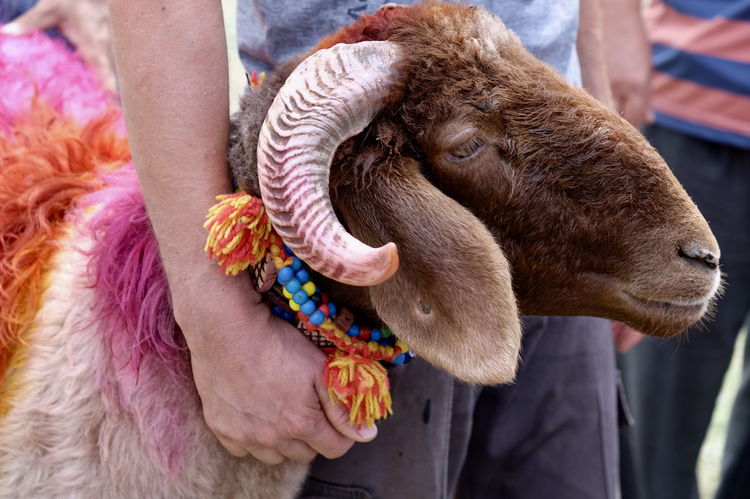 About Eid al-Adha
Read more about Eid al-Adha.
Eid al-Adha Observances
| Year | Weekday | Date | Name | Holiday Type |
| --- | --- | --- | --- | --- |
| 2019 | Sun | 11 Aug | Eid al-Adha | Public Holiday |
| 2020 | Fri | 31 Jul | Eid al-Adha | Public Holiday |
| 2021 | Tue | 20 Jul | Eid al-Adha | Public Holiday |
| 2022 | Sat | 9 Jul | Eid al-Adha | Public Holiday |
| 2023 | Wed | 28 Jun | Eid al-Adha (Tentative Date) | Public Holiday |
| 2024 | Mon | 17 Jun | Eid al-Adha (Tentative Date) | Public Holiday |
| 2025 | Fri | 6 Jun | Eid al-Adha (Tentative Date) | Public Holiday |
| 2026 | Wed | 27 May | Eid al-Adha (Tentative Date) | Public Holiday |
| 2027 | Mon | 17 May | Eid al-Adha (Tentative Date) | Public Holiday |