Eid Ul Adha Activities For Preschoolers
Countdown the days until Eid ul-Adha with these fun and educational activities, art and crafts. Eid-ul-Adha countdown calendars are a good motivational and educational tool for parents and caregivers to teach their children about hajj, the Kabaa, story of Zamzam and the divine sacrifice of Ibrahim (as), etc. Make learning inspiring and exciting time by using these fun Hajj and Eid-ul-Adha activities for kids.
Please check back this post for links to activities and template for day 3, 4, 8 and 9 as we release them each day.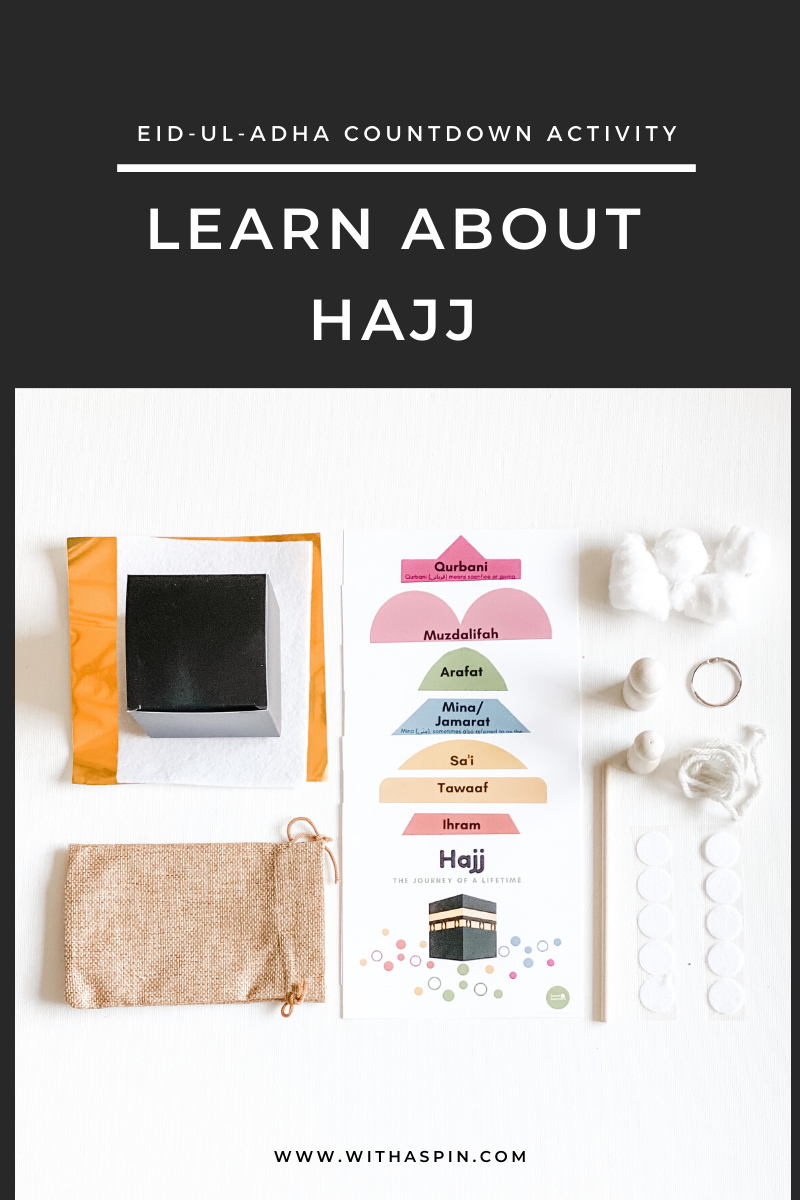 1. Learn about Hajj
Start day 1 by teaching your children the meaning and importance of hajj. Read some of these hajj and Eid-aul-Adha books and look through hajj photos. Whether you have a toddler, pre-schooler, grade-schooler or a teen, use this list of ideas to teach children about hajj in an age-appropriate manner. Use this highly visual and interactive hajj kit for an ihram activity and more so children can learn about Hajj in a fun way.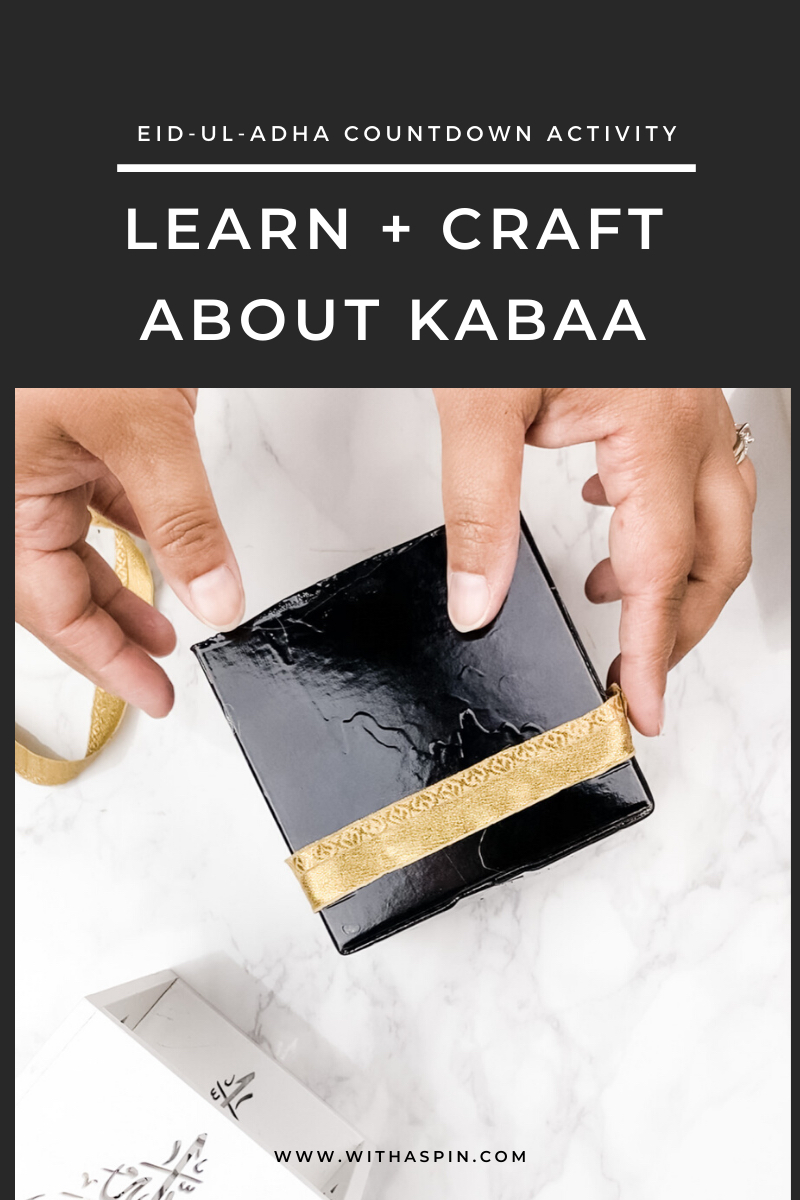 2. Find Interesting Facts About The Kabaa + Make A Kabaa Craft
Explore day 2 helping your child(ren) learn about amazing facts about the Kabaa while they make an easy 3d Kabaa craft. Simply search online for amazing Kabaa facts or start here.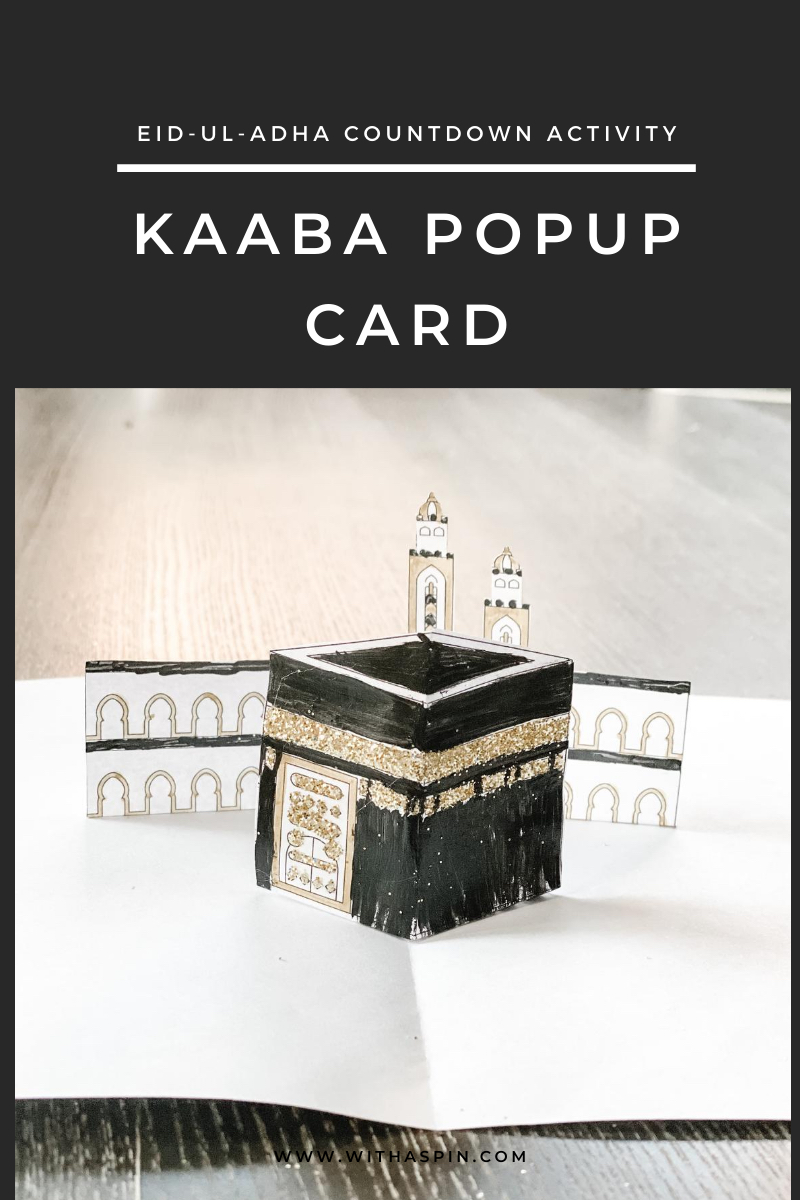 3. Create A Kabaa Pop Up Card
On Day 3 review and continue to learn about the Kabaa and the kiswa, the black cloth that covers the Kaaba. Create a beautiful pop up kabaa card. Ask your child to perform a good deed by sending the card to a friend or family.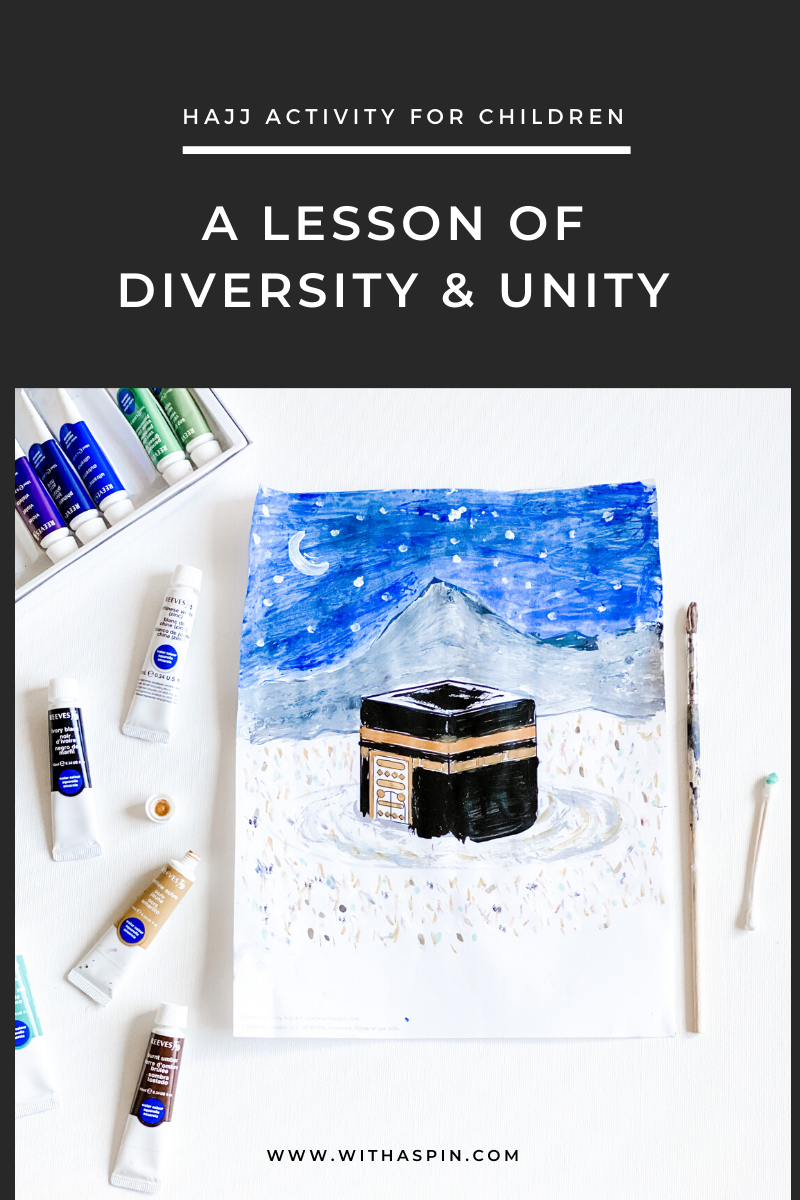 4. Hajj Diversity & Unity Art
Hajj, the 5th pillar of Islam, is a powerful symbol of diversity and unity in our divided world. Create a Hajj art and teach your children to appreciate differences – and recognize that everyone is the same and created by Allah swt. Find instruction and template of the Hajj art here.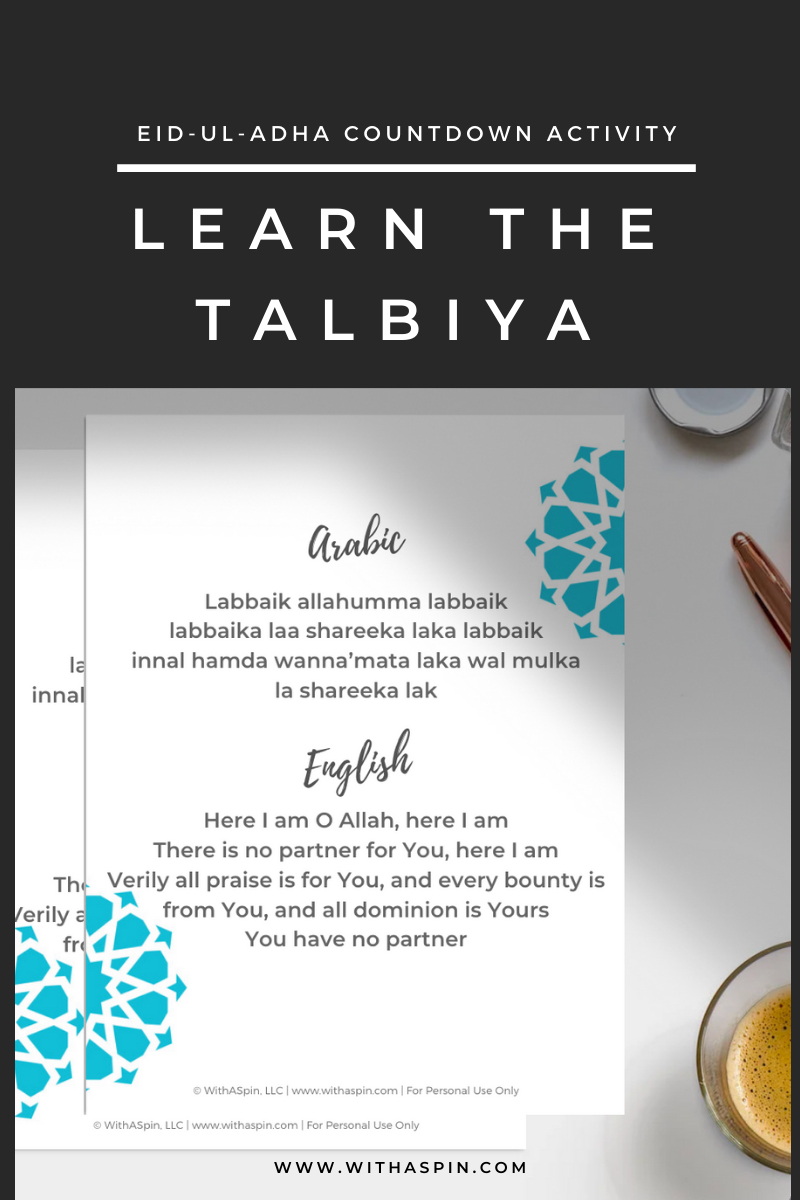 5. Learn the Talbiya
"There is no (pilgrim) who recites the Talbiyah but that which is to his right and left also recites it, rocks and trees and hills, to the farthest ends of the earth in each direction, from here and from there."

[At-Tirmidhi, Ibn Khuzaymah, and al-Bayhaqi]
Let your children imagine and feel all of the creation around them joining as they learn, recite and repeat. Feel the partnership of all of the creation around you joining them as they recite the Talbiya! Download and practice with your children with this free printable of the talbiya and its meaning here.
6. Story of Zamzam + Water Well Craft
Learn about the story of Hajar (ra) and how Zamzam was create. Make a water well craft while learning about Zamzam.
7. Join A Hajj Simulation
Many masjids organizes Hajj simulations for kids. Check with your local masjid if they are hosting one where your children can join. With Covid19, many masjids are hosting online hajj simulation for children. If you cannot find one, designate different parts of your house for different hajj rituals and teach your kids how to put on the Ihram, perform Tawaf, when to recite the Talbiya, etc.
8. Bake Cookies
Bake cookies using these cute lamb and camel cutters. Find a cookie recipe from here. Read about the divine sacrifice of Ibrahim (as) while the cookies are in the oven.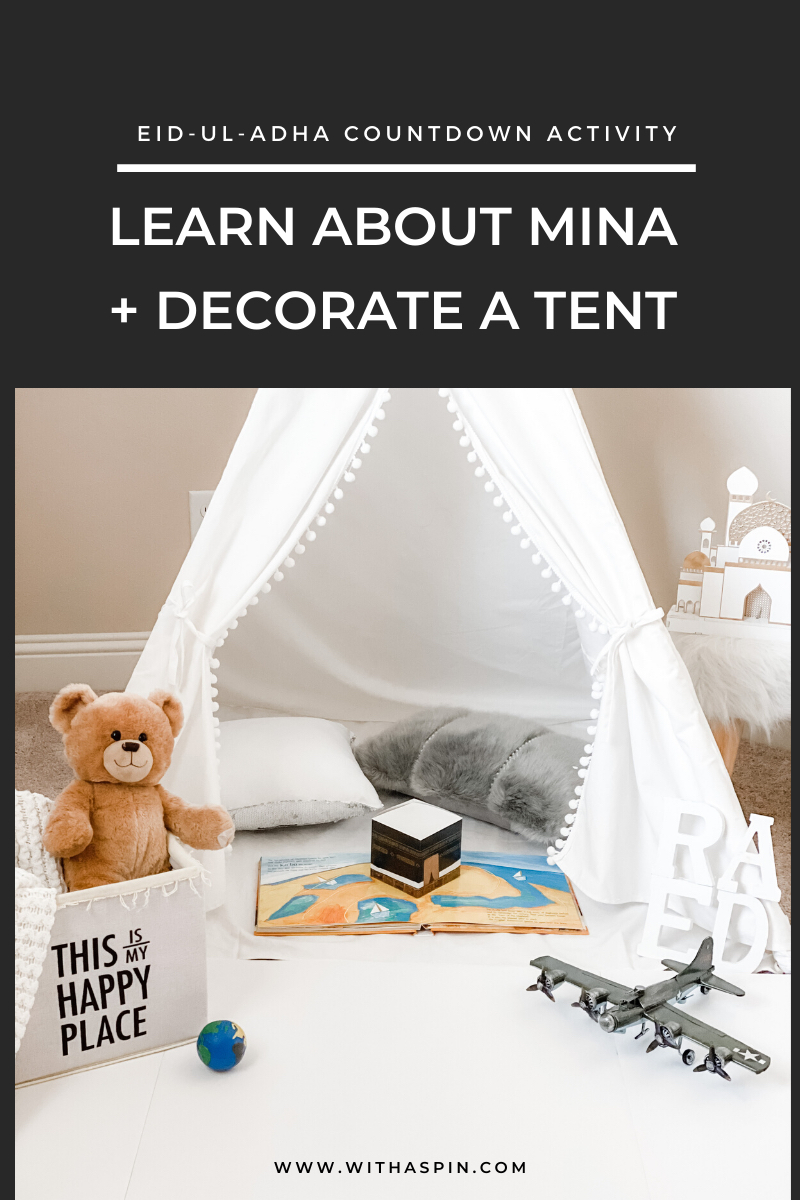 9. Decorate a tent  or Decorate for Eid

A large part of the Hajj is spent in Mina, where more than 100,000 tents are provided for pilgrims. To mimic the stay in Mina, decorate a tent with your children while you tell them about the tent city of Mina. Then spend the day decorating your home as well in preparation of Eid. Shop Eid decor here.
10. It's Eid
Eid al-Adha falls on the tenth day of Dhu al-Hijjah. Have colorful special prayer rugs for children ready for the kids to get thrilled about EId salah. Spend the day together as a family feasting, exchanging gifts in a fun filled day. Find ideas about how you can celebrate Eid here.
More Eid Al Adha and Hajj Crafts for Kids
The month of Dhu al-Hijjah comes, and people go to Hajj and look at us at home for the upcoming Eid Al-Adha. That is why we have collected for you kids a set of beautiful ideas for Eid al-Adha and simple Hajj crafts with children to help identify the importance of Hajj and this special month.
Let's show videos DIY steps…
Eid Al Adha and Hajj Crafts for Kids
The card of the Prophet's Mosque and the Kaaba for children was made Islamic activities about eid
Eid Al Adha and Hajj Crafts for Kids
SHOW KAABA CARD  CRAFT BY VIDEO STEPS
Easy paper Sheep Craft For Kids
Sharing this super simple and cute sheep craft for kids ..DIY activities for kindergarten
watch the video: how to make cute sheep paper bit by bit for your kids
Eid al Adha craft activities – Cute Sheep Puppet
Simple and cute sheep craft paper for kids ..DIY activities for preschool
watch video how to make cute sheep puppet paper craft step by step
Eid ul Adha Sheep Craft Activities for Kids
How to make a foam lamb for Eid al-Adha and gifts for children. A wonderful and simple idea using paper plates and foam glitter.
Show how to make Foam Sheep Craft by steps
Kaaba Craft –  Hajj and Eid Ul Adha Activity
Make Kaaba Craft – Perfect Hajj and Eid Ul Adha Activity for your children
Celebrate Eid al-Adha with this easy  Kaaba at Mecca.
 show video: papercraft project Kaaba craft eid
Sheep Craft: DIY Popsicle Stick Puppets for kids
Sheep craft is fun to make, and fun to play with your kids, using their popsicle stick, and show this craft to make sheep with ice cream stick easily
Eid al Adha children's crafts – popcorn sheep
Using popcorn to make a gift sheep craft to your kids,
show video: how to make cute gift ship for eid al Adha
Eid Al Adha and Hajj Crafts for Kids
How To Make Eid Card – DIY Pop Up Mosque Card  for your kids
DIY Mecca craft, show steps Handmade Greeting Card For Eid
Eid al Adha craft ideas – Make popcorn sheeps
Using popcorn and paper to make a gift sheep craft to your kids, show video: Make Eid Al Adha Sheep with popcorn  easily
 Eid Adha sheep craft
PaperSheep Craft: Make this cute and easy sheep paper puppet craft with your kids for eid al Adha Mubarak
show video step by step how to make Adha sheep craft for preschool
Eid ul Adha arts and crafts – Diy sheep craft
make paper cute sheep art crafts for eid al Adha  show with
show video easy steps DIY sheep crafts
Creative Mosque Foam Craft
A different creative idea here, This idea is very enjoyable and a great way to help enhance the identity of your children as Muslims – ideal for Eid al-Adha, a fun way to introduce children to the mosque and Islamic faith- show video how to make mosque with foam glitter step by step
Balloon craft idea for kids – balloon sheep
Make balloon sheep craft for Eid Adha and decorate your kid's room with creative DIY in eid
show video on how to make balloon sheep craft
Muslim Kids Crafts – Hajj Crafts for Kids
How to make easy glitter Islamic craft for kids step by step, show video Hajj Crafts for Kids
Islamic arts and crafts ideas
Using foam glitter to make simple Islamic craft and activities, a show video tutorial to learn how to make easy Islamic arts idea
Eid Al Adha and Hajj Crafts for Kids 2022
Show video on how to make easy Islamic craft for kids
You may like: ( Free Eid Al Adha Coloring Pages Printable )