Easter Sunday Traditions
Ah, Easter Sunday. For hundreds of years, followers of the Christian faith have closed out Lent by attending church services and gathering with friends and family for spring-inspired celebrations. There are many classic Easter traditions you can incorporate into your holiday, and this year we're honoring them with a nod to the past.
Along with this list of 32 Easter traditions both secular and religious, we've gathered nostalgic Easter photos from previous generations that exemplify each one. So this year, as we cook that delicious Easter brunch or dinner, create DIY Easter baskets, or embark on an epic egg hunt, it will be with a deeper connection to our shared traditions and the people who celebrated them before us.
From getting your feet washed on Holy Thursday to donning your best Easter bonnet to baking hot cross buns, there's guaranteed to be a moment you remember in this sweet list. Some traditions, like visiting with the Easter bunny or attending a pastel-drenched parade, may already be a part of your holiday. Others, such as sending Easter lilies, decorating an Easter tree, or heading outside to fly a kite on Good Friday, may be new fodder for your celebration. But either way, these photos are sure to give you the warm and fuzzies. So grab a seat and prepare for a stroll down memory lane.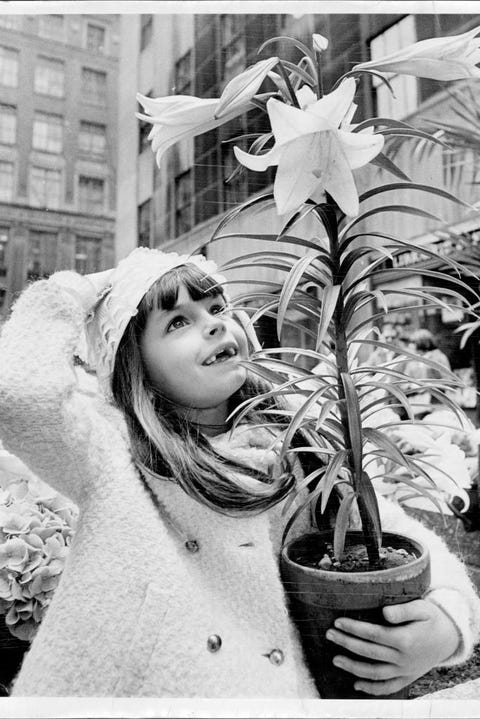 NEW YORK POST ARCHIVES / GETTY IMAGES
GETTY IMAGES
Symbolic of purity and hope, Easter lilies are steeped in meaning in cultures around the world. The flowers are believed to have sprouted where Christ's blood and tears fell during crucifixion, as well as in the Garden of Gethsemane after his betrayal.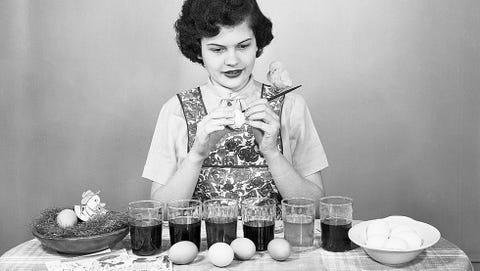 There's a reason we're still dyeing Easter eggs today: Our predecessors passed down the fun activity at Easter time. Just look at this young woman busy at work painting holiday decorations in this old photograph (and peep the chick on her shoulder!). Put your own twist on this tradition with these cute Easter egg decorating ideas.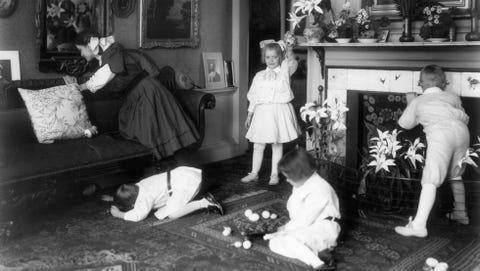 Again, some things never change. Here, children in the United States scour their living room in the early 1900s.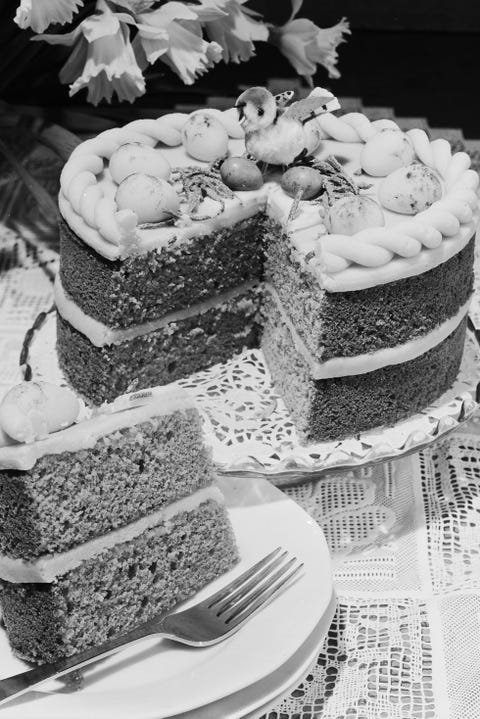 CHALONER WOODS
GETTY IMAGES
This is the one non-negotiable Easter tradition. There should always be Easter cake. And if your grandma is anything like ours, her Easter dessert is usually carrot-flavored in honor of the bunny.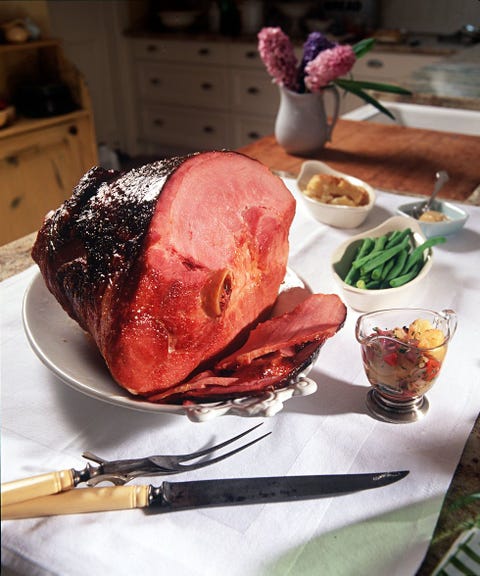 We're talking traditional Easter dishes like ham or lamb chops, deviled eggs, and carrots.
6Eat Hollow Chocolate Bunnies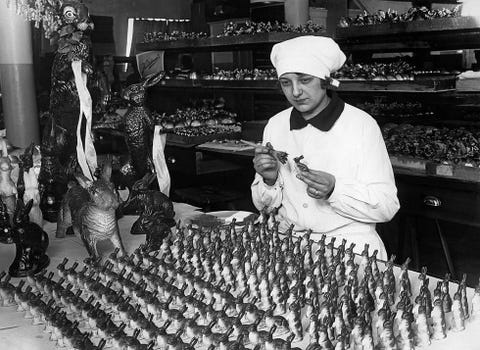 Ever wondered why this Easter candy must-have usually has an empty filling? According to one of the oldest chocolate bunny confectionaries, R.M. Palmer, there's a method to the madness: dental health. "If you had a larger-size bunny and it was solid chocolate, it would be like a brick; you'd be breaking teeth," Mark Schlott, executive vice president of operations, explained to Smithsonian.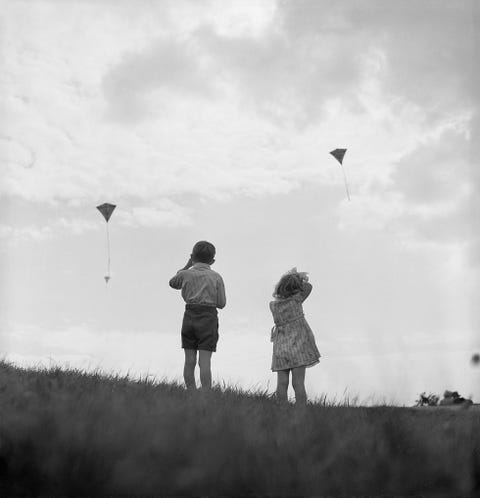 This Good Friday tradition initially gained traction in Bermuda, where it's believed that a local schoolteacher used a kite to demonstrate Jesus's ascension into heaven for his students. Since then, Bermudians have flocked to Horseshoe Bay Beach for the annual Good Friday Kite Festival.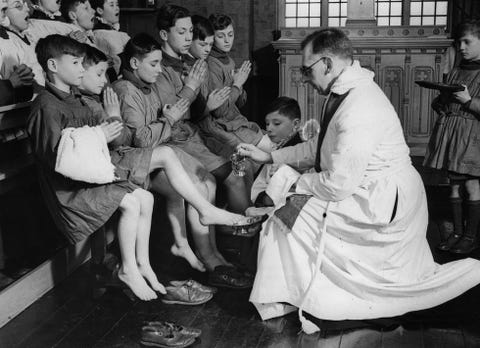 The origin of this Christian Holy Thursday practice goes back to the Bible. In the Gospel of John, Jesus chose to wash his disciples' feet during Passover, so members of the congregation were invited to have their priest do the same. Up until 2016, though, only men could receive the symbolic gesture.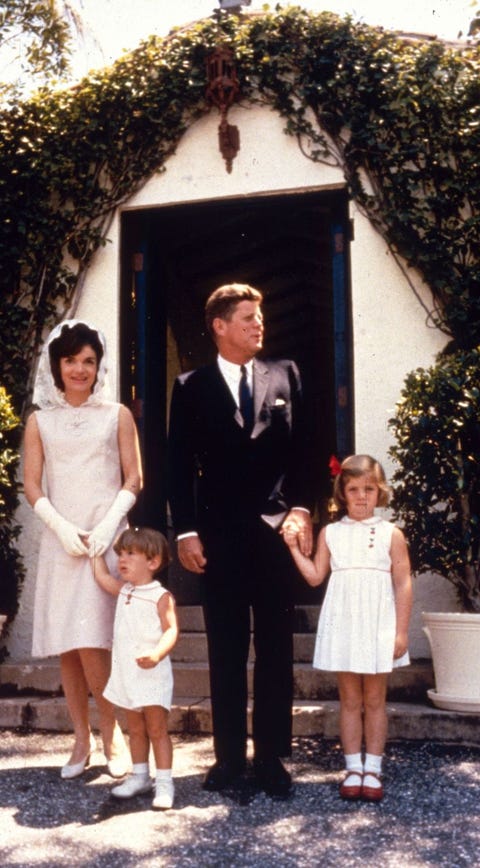 After all, it is the reason for the season. Pictured are John F. and Jackie Kennedy at Easter mass with their kids, Caroline and John, in 1963. Others might recall Easter Vigils or Easter sunrise services. Speaking of, these early morning masses date back to 1773 and symbolize Mary visiting Jesus' empty tomb at dawn following his resurrection.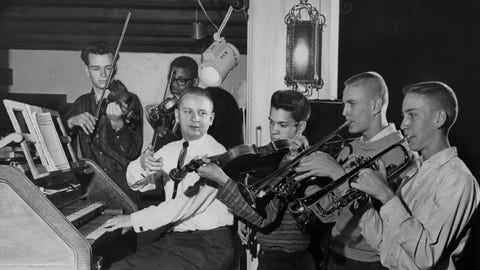 Chances are, your gram and gramps were part of the choir or band for church services or the local Easter parade.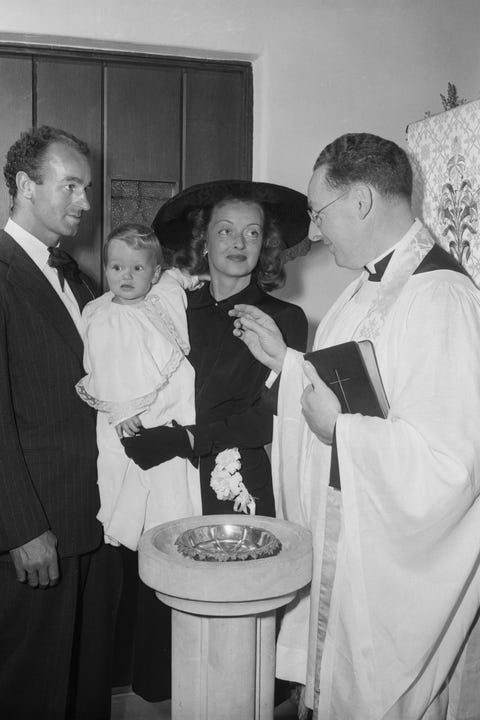 Many Christian churches will hold a christening during services on Easter Sunday for an extra meaningful ritual. Bette Davis and William Grant Sherry baptized their daughter, Barbara Davis Sherry, on Easter 1948.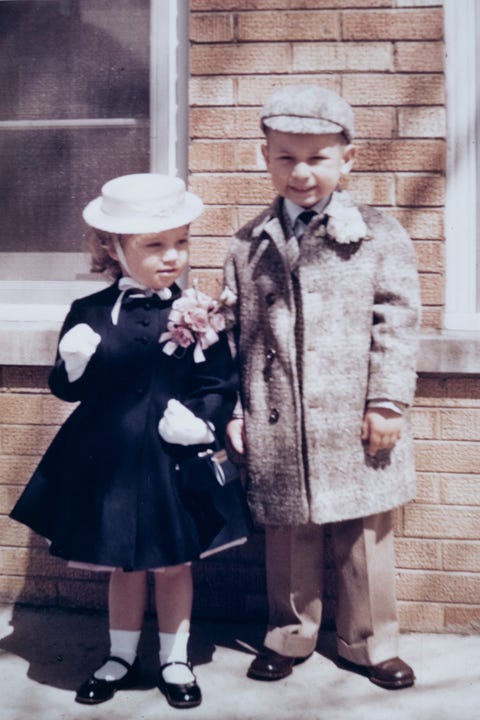 The whole family had to look sharp on Easter Sunday, especially if you went to church…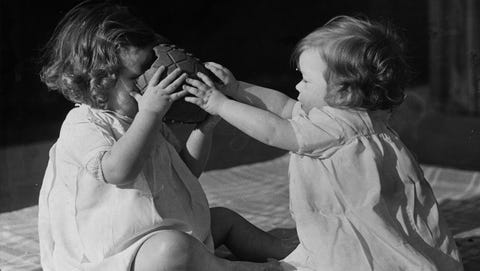 Some things (such as chocolate) never get old. One of the most popular Easter candies, the history of chocolate eggs goes all the way back to the 1800s.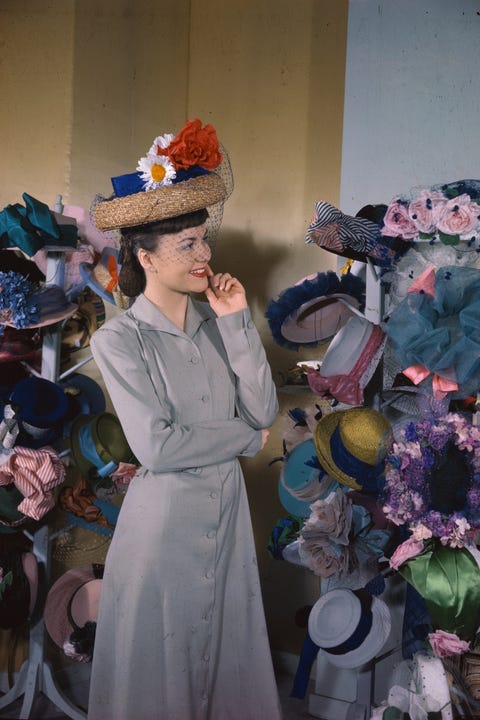 … with all the frills upon it! As the 1933 Irving Berlin song goes: "You'll be the grandest lady in the Easter parade."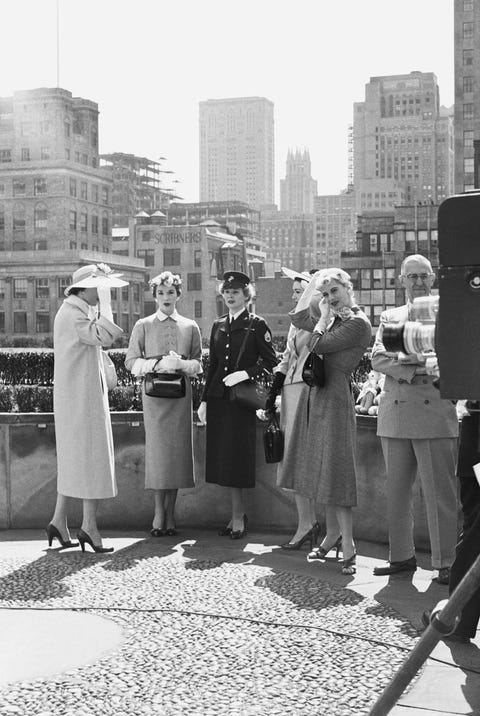 Like the ones modeled here by lovely ladies at New York's Easter parade on 5th Avenue in 1953.
16Pin on an Easter Corsage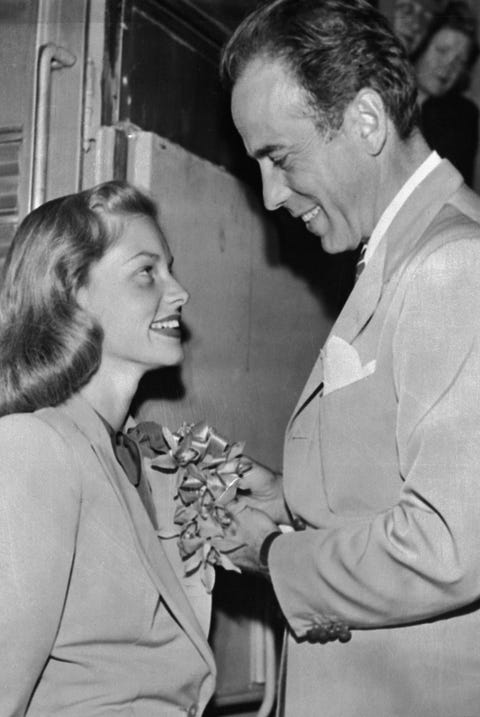 Women would wear dress corsages on Easter, typically given to them by their children or husbands. Here, Humphrey Bogart presents the floral accessory to Lauren Bacall (albeit not on Easter, in this instance!).
17Gather 'Round the Table…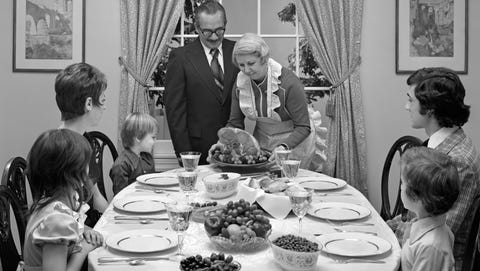 Whether they hosted a casual brunch party or the traditional Easter dinner, our elders understood the importance of gathering around the table.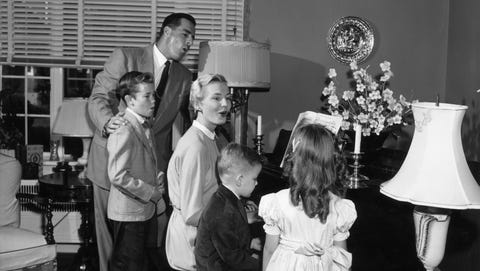 Instead of television, parents turned to this instrument for more interactive entertainment.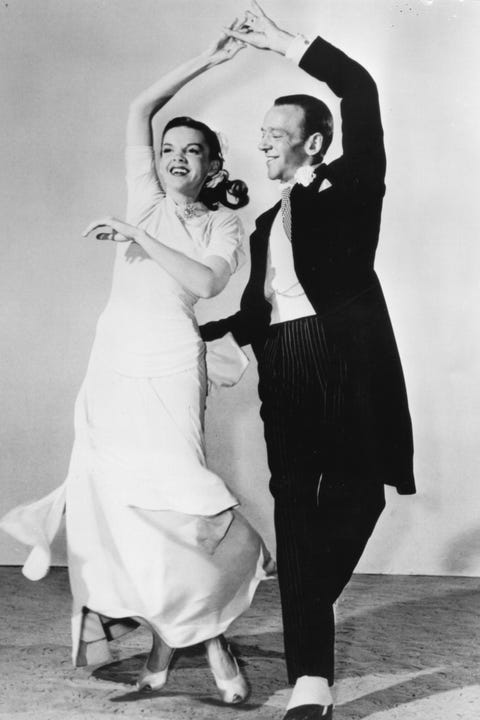 If you must watch something, make it a classic family film, like one of our favorite Easter movies, 1948's Easter Parade, starring Judy Garland and Fred Astaire.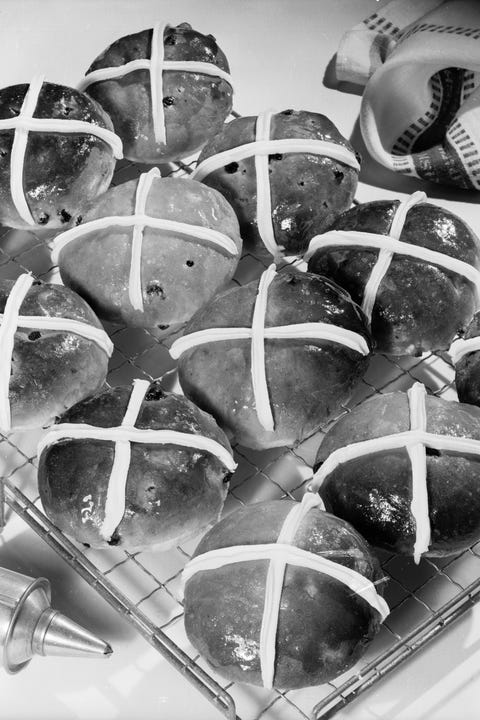 Adorned with crosses as a religious reminder, the traditional Easter treat has been made and enjoyed on Good Friday or Easter Sunday for decades.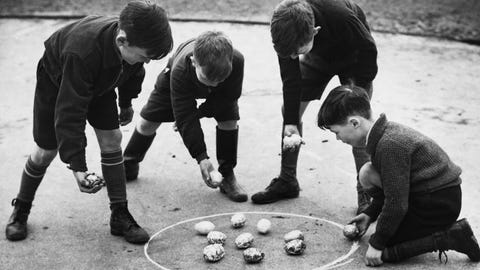 Easter hunts aren't the only games to play on Easter. Back in the day, parents swapped Easter eggs for marbles, as the young English boys are doing here, or played "Tap the Egg." Also known as "egg-knocking" or "egg-tapping," the traditional Easter game involves tapping your hard-boiled egg against other players' in an attempt to break theirs but keep yours intact.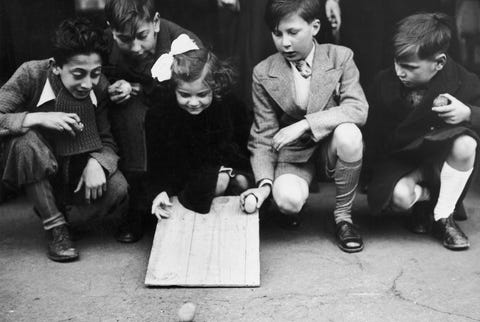 The White House is known for its annual Easter Egg Roll competition, but variations on the practice of egg rolling have been done around the world.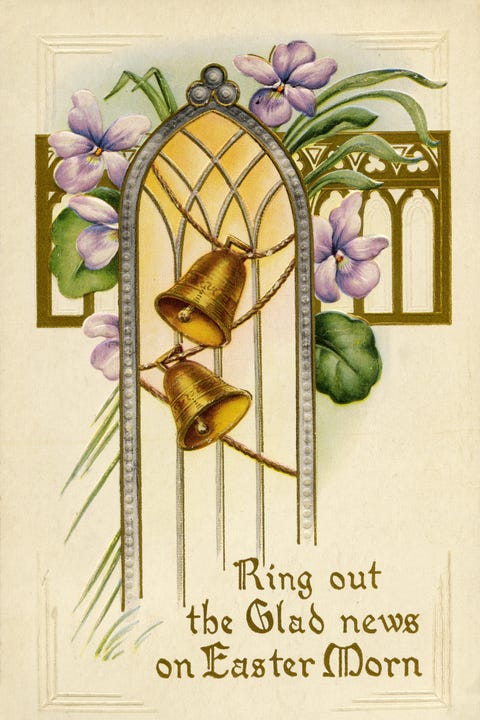 Greeting cards aren't solely for Christmas and Valentine's Day. People used to send sweet Easter messages and blessings by way of cards too.
24Attend an Easter Parade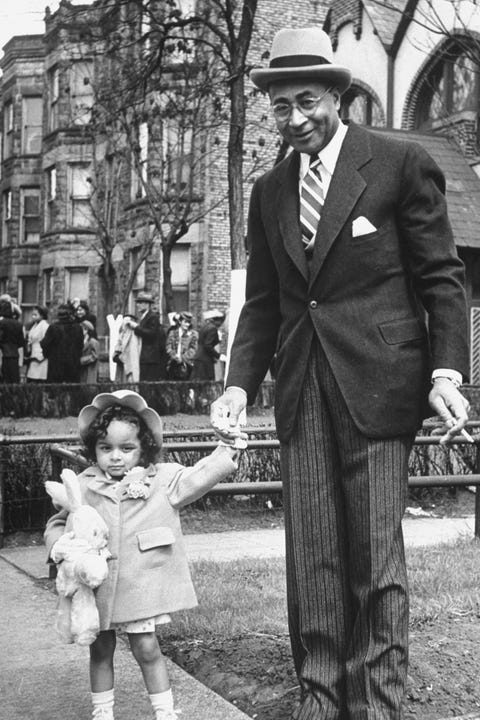 Plenty of towns still put on an annual Easter parade, and it's tons of fun for attendees old and young.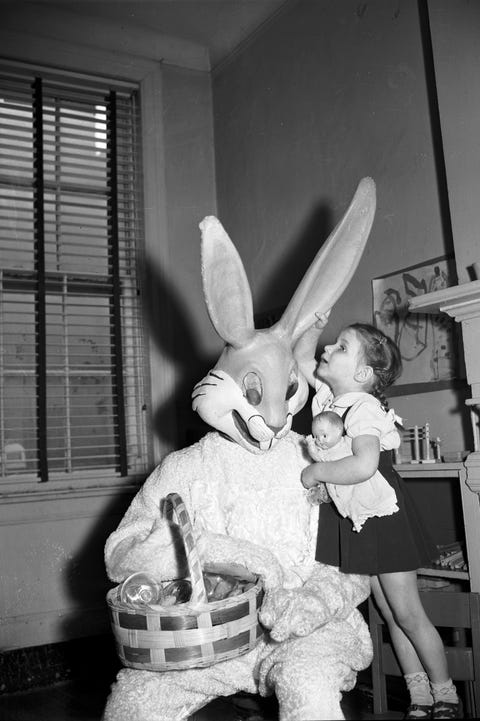 …although ideally one that's not quite so scary. Some theories link the origin of the Easter bunny to pagan roots, but our modern version only began to emerge in the 1600s. (Suffice it to say, the shopping mall visits came later.)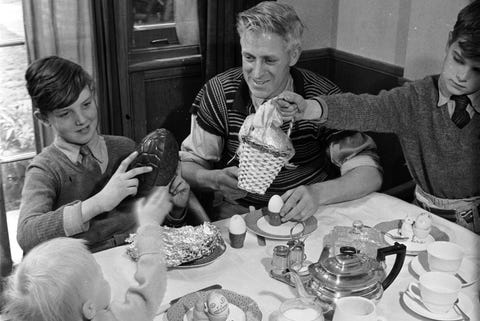 Some have memories of waking up with wonderment on Easter morning. That's thanks to some great Easter basket ideas that a certain bunny filled with candy.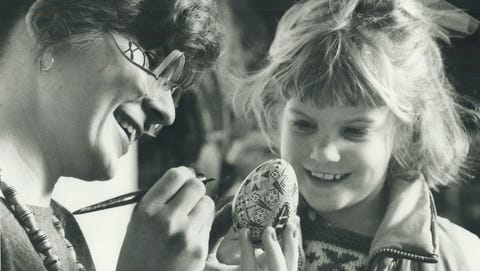 For example, the pysanka is the old Ukrainian tradition of adding ornate designs to eggs using beeswax. Meanwhile, those in Florence, Italy, light fireworks; children in Finland dress up and beg for chocolate eggs; and people in Poland have playful water fights, to name just a few Easter customs.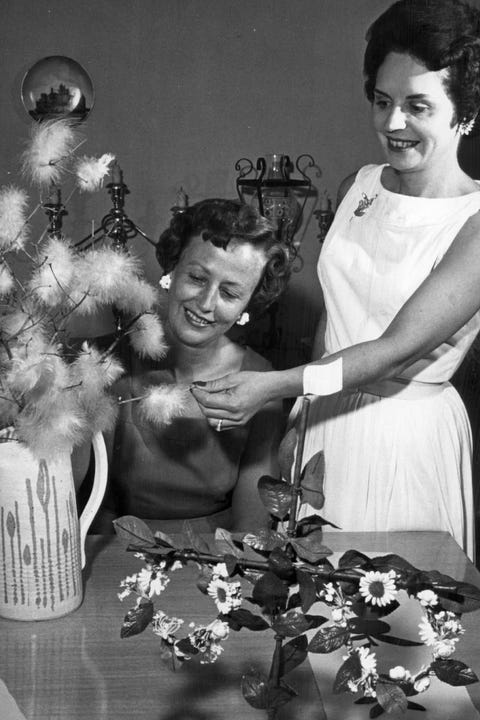 Yes, Easter trees are a thing. The Swedish women shown here are decorating theirs with feathers in 1961.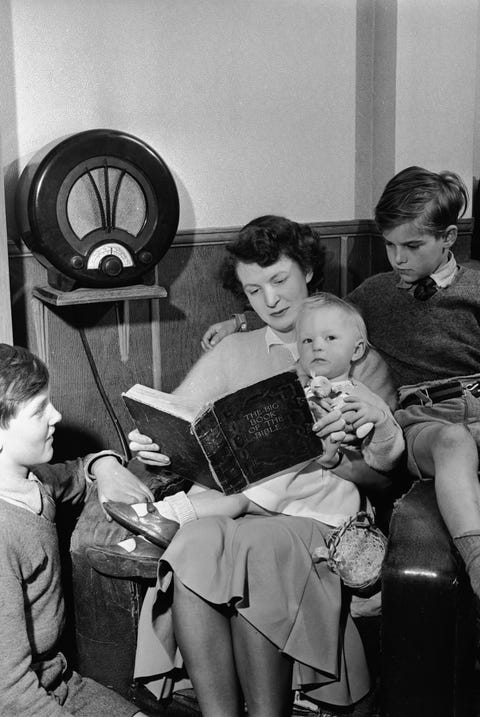 Easter candy and hunts are nice, but earlier generations remembered to reflect on the Easter story in the Bible, too.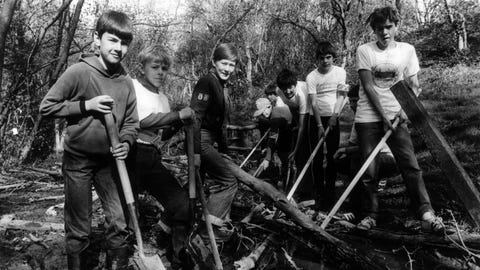 The long Easter weekend is a perfect time to show you care for your community. Take a cue from these Boy Scouts, who used the holiday as an opportunity to clear litter from the woods in 1981.
31Visit Those Who Have Passed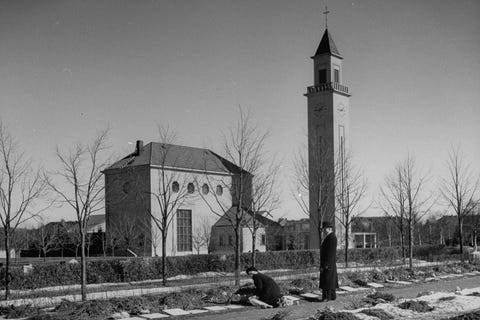 Jesus is said to have risen on Easter Sunday, so it's fitting that many make time to visit cemeteries on the special holiday.
32Hold Your Loved Ones Close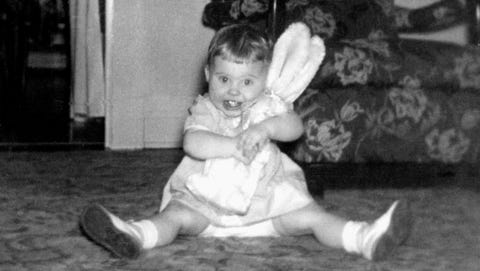 Above all, the thing our grandparents probably did better than anybody else is appreciate each other and savor the moment.
Easter Traditions for Families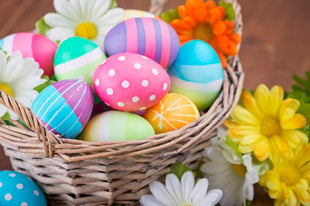 Cherished traditions are what keep a family together. Easter is a wonderful time to celebrate family, create lifelong memories, and build on those traditions. Here are 20 fun ways for your family to start and carry on some special family times for years to come.
1. Plant an Easter Garden
It's no secret that Easter ushers in the arrival of spring. Brighten your yard with an array of blooming plants. Consider pansies, tulips, marigolds, and petunias.
2. Egg Time Machine 
Have your kid write a letter to him or herself that can be placed inside a plastic egg to open next year on Easter. Your child can read about what they were thinking and doing when they were a year younger. It's a fun way to read how they have grown in a year.
3. Decorate an Easter Egg Tree 
Make a trip to the craft store and purchase some foam or plastic eggs and decorations. This is a fun activity and lets the kids get creative. Attach a matching colored ribbon to each egg and hang from a live or artificial tree.
4. Journey to Easter through Scripture
Easter is a deeply religious holiday for many, packed with significance in the resurrection of Christ. Research related scripture that can be shared throughout the weeks leading up to the holiday that tell the story of Easter.
5. Gather Round the Table 
Many families have a big Easter brunch or dinner, often featuring ham as the main course. Coming together over a grand meal provides families a time for fun, food, and fellowship. Inviting extended family members will bring generations together.
---
---
6. Baking, and More Baking
Put an apron on and break out the mixing bowls! Bunny, chick or egg-shaped cookies are perfect shapes to bake and decorate for this holiday. Feeling ambitious? Try an annual bunny shaped cake decorated with icing, coconut, and candies. Go traditional and serve hot cross buns on Good Friday; they fill the kitchen with spicy, sweet, and fruity aromas!
7. Observe Lent
Lent is a season leading up to Easter where some may choose to "give up" something they treasure as a reminder of the 40 days of praying and fasting observed by Christ. Others may take on something new as a challenge – an act of service or healthy new habit to work into each day.
8. Attend an Easter Parade 
Many cities offer Easter parades on Easter Sunday or a day around Easter. Have kids put on an Easter hat, hit the streets, and watch the excitement. Marching bands, colorful floats, and fire trucks are often the highlights for little ones.
9. Decorate Easter Eggs 
A tried and true tradition! Dipping eggs in a brightly colored dye and watching it take hold is a delightful experience for kids of all ages. Decorate with glitter, paint, and stickers and use them to decorate the house or Easter baskets. If you want to up the ante, plan an Easter egg decorating competition, complete with prizes, in your neighborhood.
10. Egg Relay Race 
After the fun of decorating Easter eggs, give them a second act by using them as the focal point in an egg relay race. Divide participants up into teams. Give every team a hard-boiled egg and a spoon. Blow the whistle and the players balance an egg on the spoon while walking or running to a given point and back and then hand off to the next team member. The first team to finish wins the game.
11. Shell Crack Game 
Here's a great Easter game to play year after year! This time each person gets his own hard-boiled Easter egg and pairs up with one other participant. The contest is to have each pair smash the small ends of their eggs together. The person with the unbroken shell advances to the next round where they pair up and do it again. The one who has the last uncracked egg wins.
12. Easter Basket Scavenger Hunt  
Instead of just placing the Easter Basket out on Easter morning, add a fun twist with a scavenger hunt! For little ones, draw a map with picture clues. For older children, use written clues. For active ones, let them hop to it by placing an Easter Bunny footprint trail on the floor that will lead them to their basket.
13. Treats for the Easter Bunny 
This tradition is similar to leaving cookies and milk for Santa, but make it a rabbit-friendly treat. Put carrots and water out before bedtime.
14. Plant a Jelly Bean Garden 
Plant a handful of jellybeans in the dirt outside the night before. Replace each one with a lollipop while little ones sleep. In the morning, eyes will grow wide as they see each jellybean has grown into a magical lollipop treat!
15. Egg the Neighbors 
Spread Easter joy by egging the neighbors with an Easter basket filled with goodies. Leave the basket on their front porch and ring the doorbell before running back home. Make sure the basket contains a "You have been egged" sign and maybe a clue about your family to help them guess who left it. This is one kind of egging your neighbors won't mind.
16. Easter Basket Puzzle Hunt 
Start with a white, blank puzzle (you can buy one at a craft store) with pieces small enough to fit inside plastic eggs. With the puzzle still together, write a message about where their Easter basket is hidden. Then, break up the pieces and divide between the eggs. After all the eggs are found, the children will have to put the puzzle together to find the location of their Easter basket.
---
Want to plan an Easter Egg Hunt? START HERE!
---
17. New Easter Clothes
Having new clothes for Easter is deeply rooted in European customs and led to the same practice here in America. Wearing a brand new outfit for Easter Sunday has become one of the most commonly celebrated traditions for families.
18. Resurrection Eggs
Explain the Resurrection story in an interactive way to your children by using 12 numbered colorful plastic eggs. Each egg contains a small object that tells a part of the story of Jesus' death, burial, and resurrection. Use items such as donkey, money, and sword. Hide the 12 eggs in your home or yard. Once your children have found all the eggs, gather everyone around, and open the eggs in numbered order as you read about the Resurrection story.
19. Attend Easter Service at Church
For many families, Easter wouldn't be complete without attending a worship service at their church. Some churches host an early sunrise service and others hold a Saturday night Easter vigil.
20. Egg Rolling
In many towns, egg rolling is an important part of the Easter tradition that usually takes place on Easter Monday. Decorated, hard-boiled eggs are rolled down a hill to see which egg can go furthest without breaking.