Easter Sunday Hashtags
For you, celebrating Easter may come with a few traditions, including brunch with the fam, Easter egg hunts, exchanging chocolate bunnies, and everyone getting decked out in pastel. I'm loving all of the floral dresses everyone's wearing, the decor taking over store windows, and cannot wait for more to be posted on the 'Gram. Along with your punny bunny captions and adorable spring emojis, you'll also need some Easter hashtags for Instagram when you want to post your pics.
No matter the reason, you'll need help picking out the right one. Instead of searching the internet like the way you used to search your backyard for all the eggs the Easter bunny hid, I've made things much simpler for you. Here's a list of 95 Easter hashtags to choose from. Use one, or use them all. They'll come in handy for your virtual brunch pics, or when you get together with your siblings to dye Easter eggs. Of course, you also need to stop and smell the spring flowers, and grab yourself a super bloom selfie in your Easter dress.
1. #HappyEaster
2. #HoppyEaster
3. #ShoutOutToAllMyPeeps
4. #EggcellentDay
5. #YouCrackMeUp
6. #JustDontCarrotAll
7. #EggscuseMe
8. #EveryBunnyNeedsSomeBunny
9. #DyeingToKnowWhatsUp
10. #SundressSelfie
11. #EasterBest
12. #EasterBunnyBae
13. #WheresMyEasterBasket
14. #ILoveEasterChocolate
15. #HaveAnEggcellentEaster
16. #EasterSundayFunday
17. #ThatsAllYolks
18. #EggshaustedFromEasterFun
19. #LookingOnTheSunnySide
20. #EasterHunt
21. #TheHuntIsOn
22. #WhereAreTheEggs
23. #TheresNoBunnyLikeYou
24. #HavingAGoodHareDay
25. #EggcitingEasterDay
26. #EggstraSpecialEaster
27. #EasterSpecial
28. #ICarrotWaitForEaster
29. #EasterBrunch
30. #BrunchBunnies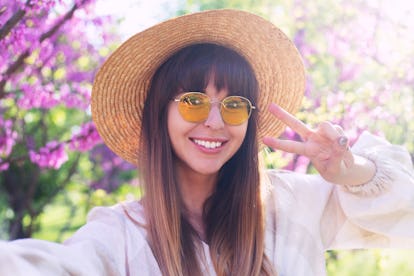 31. #EasterEggspert
32. #SomeBunnyWhoIUsedToKnow
33. #IWhipMyHareBackAndForth
34. #EasterSunday
35. #EasterParade
36. #EasterWalkInThePark
37. #SpendingEasterWithFamily
38. #Bunnies
39. #DontWorryBeHoppy
40. #HopToIt
41. #HippityHoppinEastersOnItWay — Gene Autry, "Peter Cottontail"
42. #SomeBunnyNeedsChocolate
43. #ImSoEggcited
44. #OneGoodEgg
45. #GiveMeAllThePeeps
46. #OverEasyLikeSundayMorning
47. #HeyThereHopStuff
48. #EasterIsToDyeFor
49. #DyeingEggs
50. #ATisketATasketAGreenAndYellowBasket — Ella Fitzgerald, "A-Tisket, A-Tasket"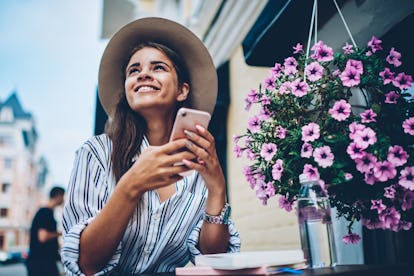 51. #IWannaDanceWithSomeBunny
52. #IFoundTheEggs
53. #BunnyKissesEasterWishes
54. #EasterEggs
55. #InstaEaster
56. #EasterBonnet
57. #EasterDress
58. #EasterSelfie
59. #EasterFoodie
60. #EasterChocolate
61. #ChocolateBunny
62. #Eggcellent
63. #JustEggstatic
64. #EggstremeEaster
65. #Eggstatic
66. #PastelPink
67. #ThinkPink
68. #BunchOfBunnies
69. #BidOnMyBasket
70. #IBelieveInEasterBunnies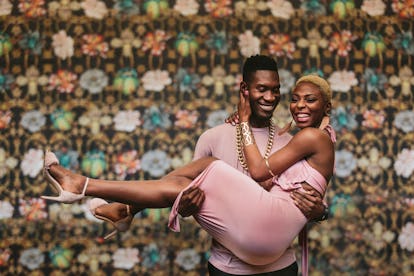 71. #NoBunnyCanStopMe
72. #ILoveSomeBunny
73. #IHaveSomeBunnyWhoLovesMe
74. #EasterTraditions
75. #EasterBunnyBeliever
76. #EasterFlowers
77. #EasterHope
78. #SpringHasSprung
79. #SpringIntoEaster
80. #PuttingAllMyEggsInOneBasket
81. #MyEasterBasket
82. #EggHunts
83. #FloppyEars
84. #YoureAGoodEgg
85. #MyFavoriteEaterEgg
86. #WaitingForDiscountChocolate
87. #EasterCandy
88. #OhHoppyDay
89. #HoppyHoppyJoyJoy
90. #HappyEasterEveryone
91. #HappyEasterToYou
92. #EasterSpellsOutBeauty — S.D. Gordon
93. #AdultEasterEggHunt
94. #EasterIsHere
95. #ItsEasterDay
Easter Hashtags
Are you looking for Easter hashtags to boost likes and followers on your Instagram post? If Yes, then you have reached at right place because this page has a collection of hand picked latest Easter Hashtags for Twitter, Facebook, Tumblr, Youtube which are updated in 2022. These Easter hashtags peoples are widely using with their instagram post to get more likes and followers, Following are the list of Easter hashtags which you can copy and paste with your instagram, facebook, twitter post or even your youtube videos to get quick likes and followers.
Following are the some popular Easter hashtags for your instagram story, facebook and twitter news feed to get more likes and follower quickly, just copy above hashtags and paste on your instagram, facebook, twitter with your status or photos.
| S.No. | Hashtag | Popularity |
| --- | --- | --- |
| 1 | #Easter | |
| 2 | #Easter2017 | |
| 3 | #Easteregg | |
| 4 | #Easterbreak | |
| 5 | #Springbreak2017 | |
| 6 | #Easterbreak2017 | |
| 7 | #Chocolate | |
| 8 | #Followforfollow | |
| 9 | #Eastersunday | |
| 10 | #Topliketags | |
| 11 | #Easterbunny | |
| 12 | #Likesreturned | |
| 13 | #Eastereggs | |
| 14 | #L4l | |
| 15 | #Easterweekend | |
| 16 | #Easteregghunt | |
| 17 | #Likesforlikes | |
| 18 | #Holidays | |
| 19 | #Break | |
| 20 | | |
| 21 | #Likeforlike | |
| 22 | #Spring | |
| 23 | #Warm | |
| 24 | #Easterholidays | |
| 25 | #Instalikes | |
| 26 | #Springfun | |
| 27 | #Noschool | |
| 28 | #April | |
| 29 | #Likes4likes | |
---
Where to use these Easter hashtags?
Instagram Easter Hashtags

 – You can use these popular Easter hashtags with your instagram post and story to get instant likes on your photos and videos

TikTok Easter Hashtags

 – Are you making Easter related videos on tiktok and not getting enough views then you can simply copy these popular Easter hashtags with your tiktok video to get quick likes and followers.

Twitter Easter Hashtags

 – Twitter popularity getting high day by day, If you choose right hashtags with your tweet then you can quickly get lot's of followers, Suppose you are twitting about Easter and looking for Easter related hashtags then you can copy above Easter hashtags and paste with your tweets.

Facebook Easter Hashtags

 – Facebook is one of the popular social network worldwide, Do you have facebook page on Easter related topic then you must choose above popular Easter hashtags and include with every photo video you share on fb page to get quick followers on your facebook page.

Youtube Easter Hashtags

 – Have you started new youtube channel about Easter and not getting views on your newly uploaded videos then copy these best Easter hashtags with your youtube video and increase your youtube channel subscriber superfast
These Easter hashtags populated from many social network sites as popularity wise, These all Easter trending hashtags in 2022, Which you can use ay social network site like, Tumblr, ello, tiktok, twitter, linkedin etc.
Easter Hashtags
Easter is one of the major marketing holidays. This is especially so for chocolate and candy makers (looking at you Peeps), egg suppliers, and even hat makers. But a smart business can figure out tons of fun ways to work the Easter holiday into their Instagram marketing. If you are marketing on Instagram on Easter, it is imperative that you use the right hashtags in order to get the most organic traffic, engagement, and likes. We've put together a list of the top Instagram Easter Hashtags. Take a few seconds to copy and save these hashtags, and then read on to learn tips on getting the most out of your Easter hashtags.
Instagram Easter Hashtags
Post Daily
Instagram rewards those who give it love. That means posting daily. If you can't post daily, try to post every other day. An easy way to remember to post daily is to use an Instagram scheduling calendar such as Socialdraft. It will SMS you with the image and write up at the exact time you want to publish. You can even have your whole team working on creating content and you can assign different people to publish.
Engage your audience
When you publish, grab yourself a cup of tea and spend 15 minutes to a half hour engaging. That means finding people creating content with your same hashtags, liking their posts and following them. This tactic will improve your engagement and reach. Best part, you can do this from Socialdraft – great if you've got big fingers or long nails (so much easier to engage on desktop).
Use Location Hashtags
Using Easter Hashtags will get you seen by a lot of people and help you get more likes. These likes, however may not convert  if you are a local brand, business, or service provider. In this case, you need to mix in a few location hashtags. This way, when people are browsing the hashtag for your area, they have the chance of being exposed to your image and learning about your promotions for the Easter holiday. The Metropol Palace in Belgrade knows this, check out their hashtags.
Don't forget Industry Hashtags
Your business is not like every other business, so while using Easter hashtags will make you associated with the holiday, you need to use hashtags that are related to your industry in order to attract people who can convert. International chocolatier Neuhaus knows this. Their post is tagged not just with the #Easter hashtag, but also with #chocolate and #EasterEggs both of which will give them a more targeted audience.
Chances are no matter what you're marketing there are brands, businesses, or associations that you're working with. It is a smart move to use their hashtags in relevant posts. Take Milliner Sarah Sokol. Her Instagram Easter post for 2016 shows her and her dogs at the Easter parade with one of her creations. She tags #MillinerGuild, a guild of hat makers. This means that those who are interested in the guild and browse it on Instagram have a chance to be exposed to her post. This increases her chance of an engagement from someone interested in her industry. Whenever you post, think about how you can push this type of hashtag out on Instagram.
Branded hashtags are awesome. Just check out this example from Time Out New York. They included the #TimeOutNewYork hashtag on their Easter parade post. When you click to their profile, you see they have created 1893 pieces of content. But when you click over to their custom hashtag, you see it has been used almost 100,000 times. That's a lot of content being created by their community pushing out their brand,
Once you come up with the perfect combination of hashtags, you will see a much higher engagement rate, and if you do things right, higher conversions. Don't forget, tools will help you…so take Socialdraft for a trial today, it costs you nothing to test us out and could change how you market your business on social media.