Easter Sunday Egg Hunt
As far as traditions go, Easter egg hunts are one of the most thrilling activities for everyone involved—the participants, egg hiders, and spectators alike! Whether you're having a small get-together this year or are already planning next year's hunt, we've found creative egg hunt ideas you'll want to consider. From egg hunts that involve using your phone to ones that require tying eggs to balloons, any one of these ideas will make the experience worthwhile for babies, toddlers, teens, and even adults. Happy [egg] hunting!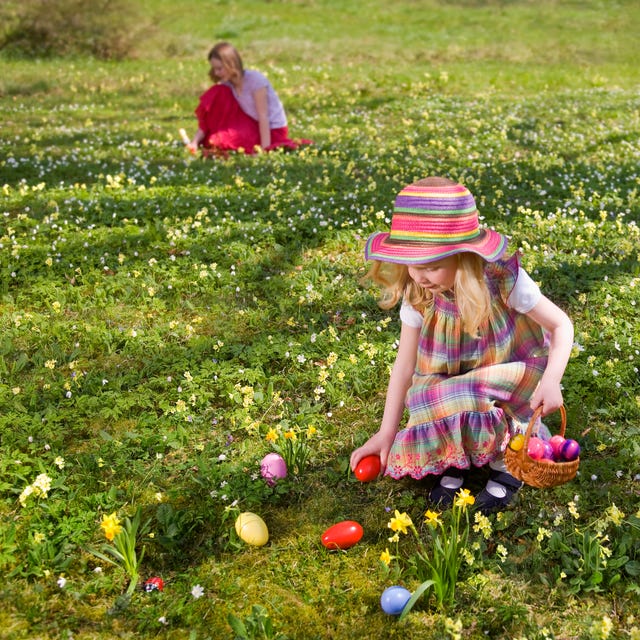 Egg Garland
Incorporate any extra Easter eggs into your decor with this festive garland. You could even have participants make the garland as a fun post-hunt activity.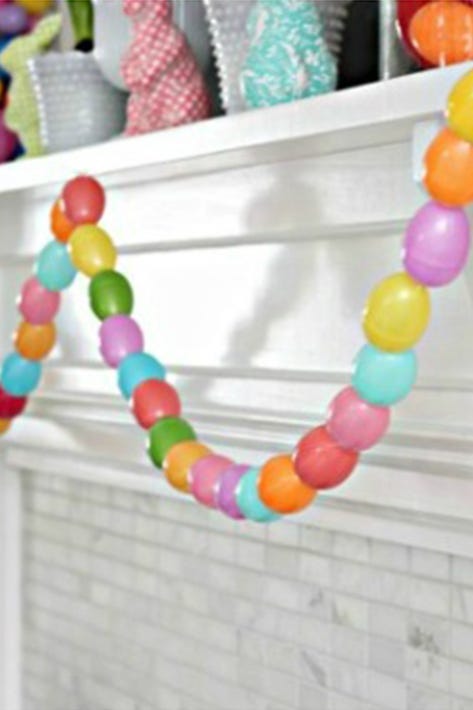 Camouflage Eggs Using Twine
There's no denying that an Easter egg hunt is much easier when the eggs are bright and colorful—so, changing things up and camouflaging them with twine will make things more interesting!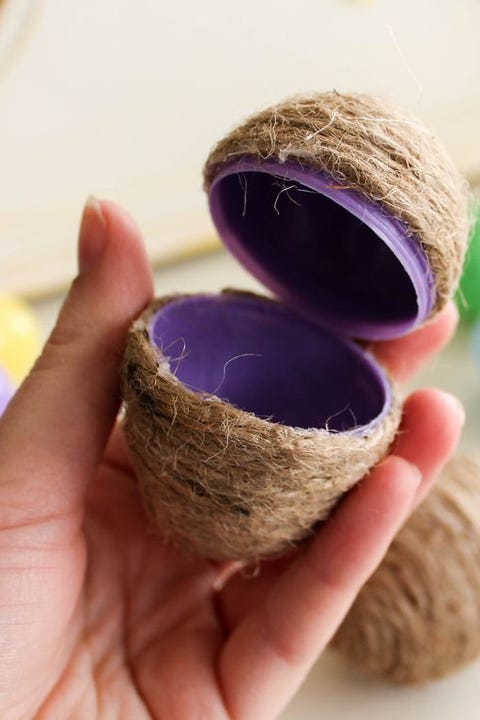 Easter Hunt Trophies
Bring another incentive into the mix besides candy: trophies. You can even make them for everyone involved so that no one will be left out—even if they got the fewest eggs!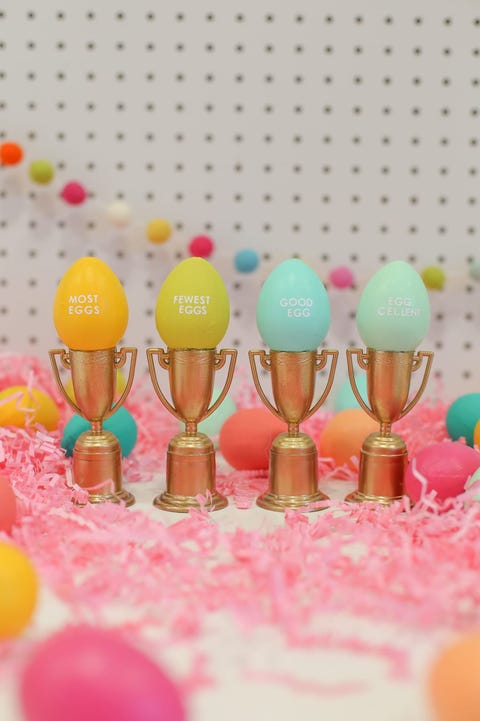 Indoor Easter Egg Hunt
Keep the party inside! Hide eggs everywhere from the fridge to under their pillows (if you're willing to risk it!).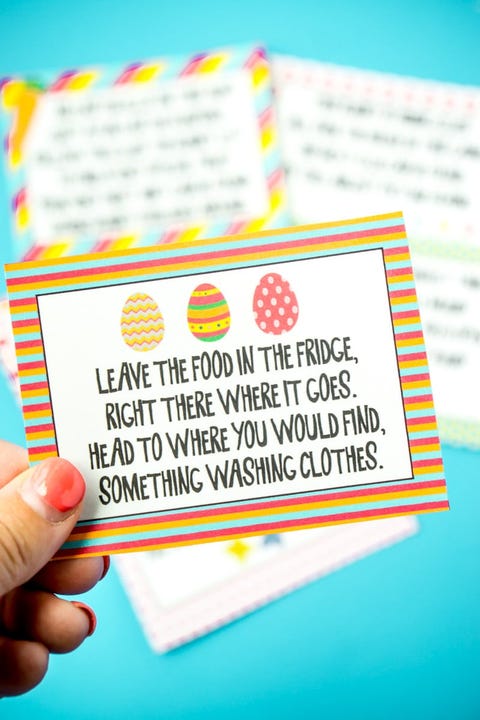 Easter Egg Bowling
After the hunt, play a game of Easter egg bowling. Whoever's colored egg makes it the closest to the white egg wins! Of course, you can make sure there's a prize for the winner.
Easter Egg Counting Game
Help younger kids with their counting skills by making them find plastic eggs and fill buckets up with the correct number.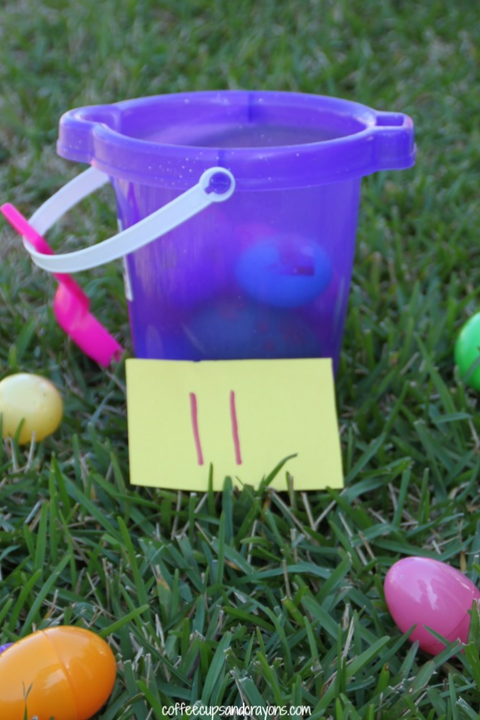 Elegant Easter Bags
Instead of a basket, have everyone create their own personalized Easter bag using craft supplies like tissue paper, scrapbook paper, and finger paint.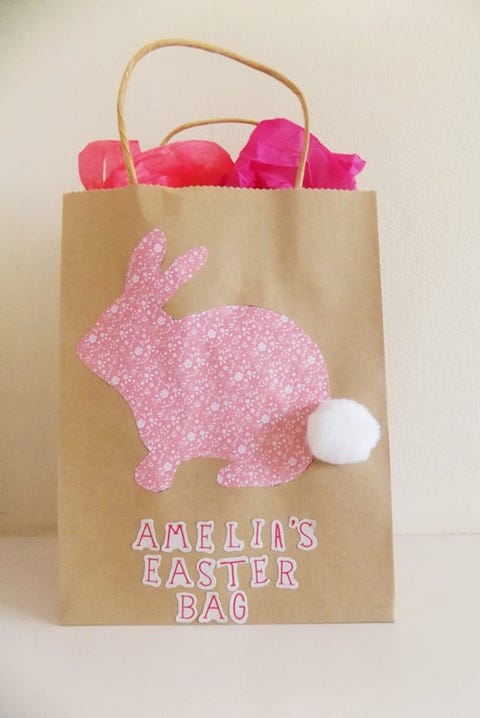 Easter Egg Hunt Clues
As your kids get older, make Easter morning more exciting by challenging them to a scavenger hunt to find their basket of goodies.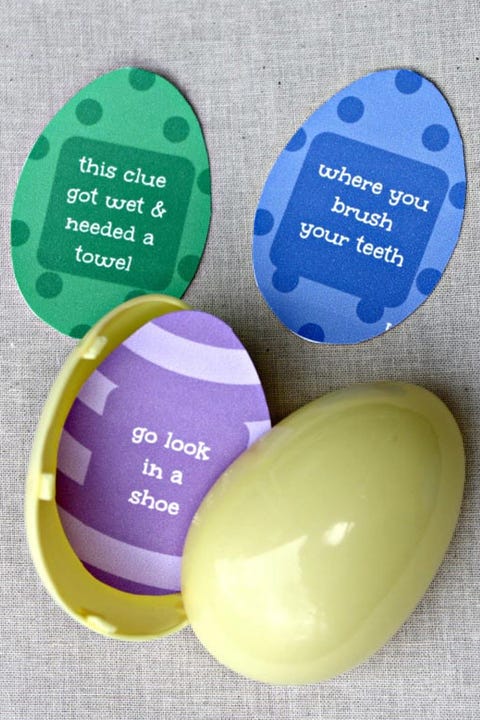 Bunny Easter Eggs
Put an even cuter spin on your eggs by drawing an adorable bunny face on them using a Sharpie.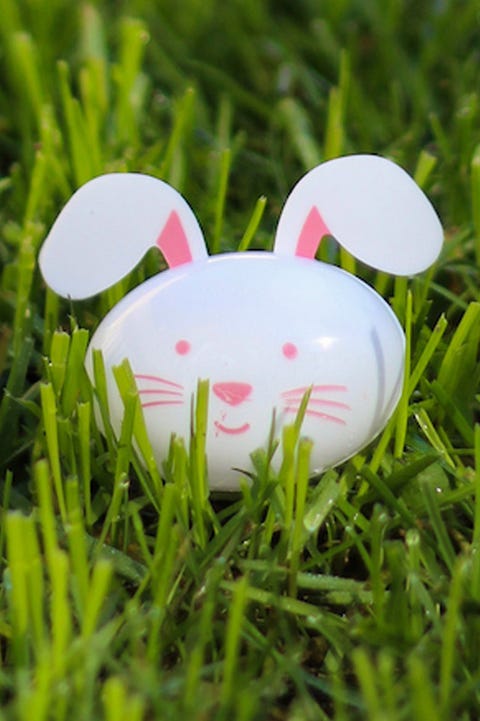 Carrot Bubble Wands
These adorable DIY bubble wands will have everyone in the Easter spirit.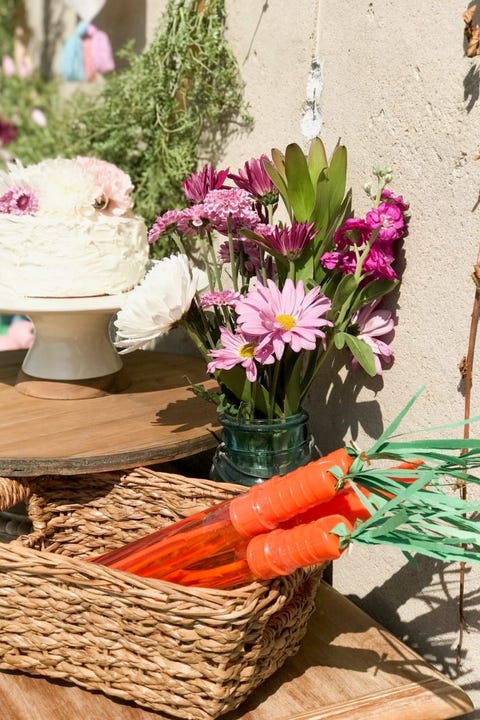 Eco-Friendly Easter Eggs
Make your egg hunt sustainable this year (and every year!) with these DIY wooden eggs.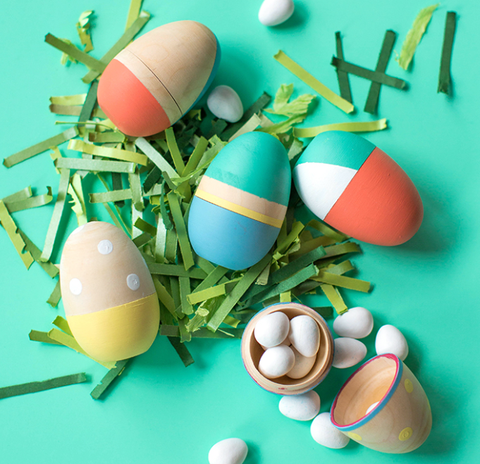 Eggs in Bloom
Best for wee egg hunters, these egg flowers are "plantable." Stick pipe cleaner stems, topped with a goodie-filled egg, into your garden and encourage little ones to uproot them.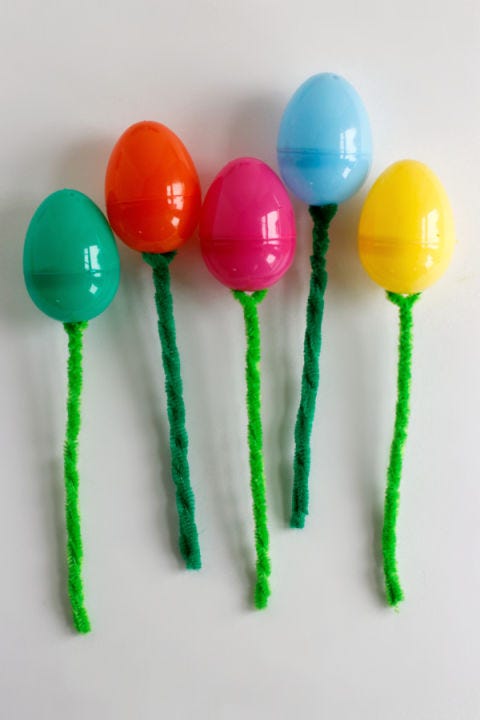 QR Codes and Smartphones
The teens (and honestly, the grown-ups too) will definitely be excited about this high-tech twist on the classic egg hunt.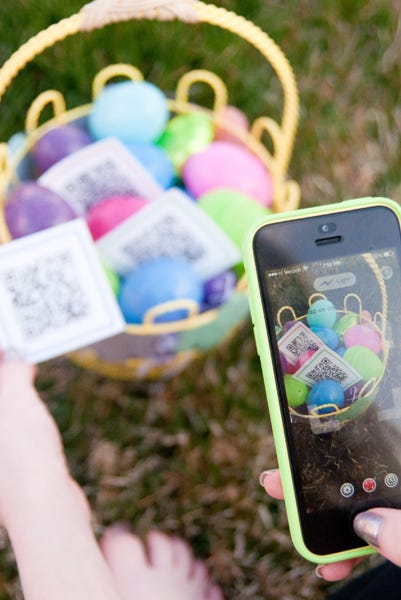 Egg Hunt Checklist
There can be so much more to the search than simply collecting eggs. Ask participants to locate flowers, backyard creatures, and eggs in a specific variety of colors.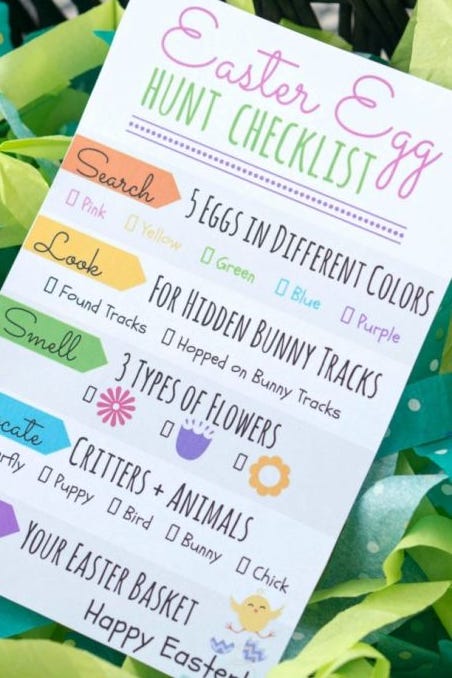 Easter Bunny Trail
Leave the eggs out in plain sight for younger kids and lay them out in a trail so they lead to Easter baskets.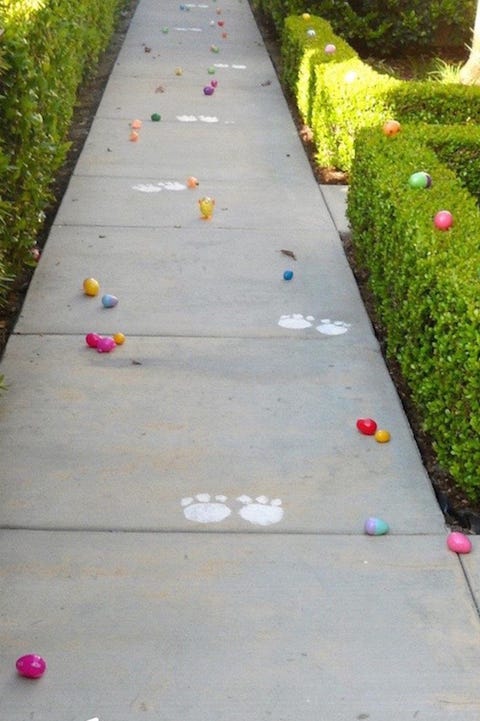 Bunny Crowns
Give your little ones bunny crowns to wear as they search for eggs.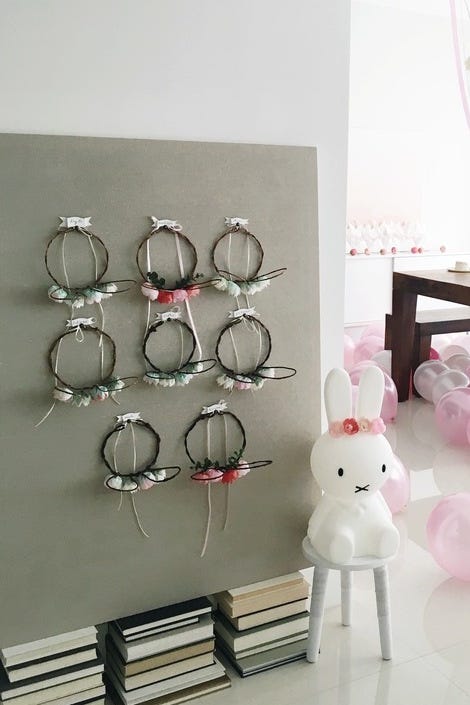 Eggs with a Special Reward Inside
Candy doesn't have to be the egg hunt prize. Opt for "privilege" notes instead, which offers children special time with mom and dad, an extra 15 minutes before bedtime, or the last slice of pie.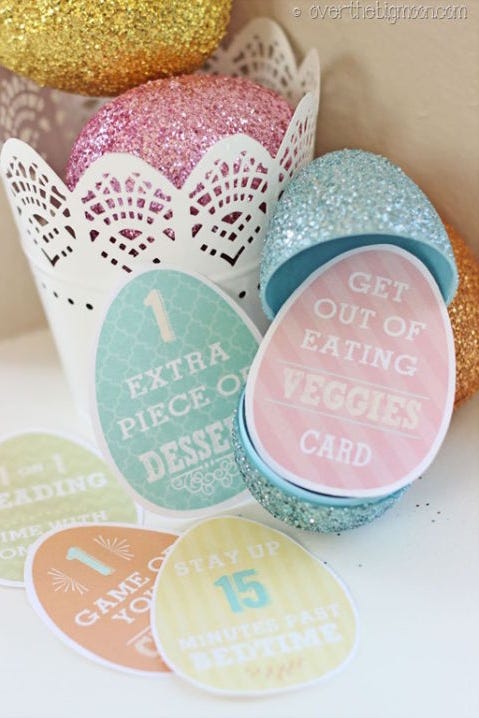 Egg Crates
Before the hunt, place egg crates on the kids' table and encourage participants to bring them to the starting line. The first person to fill every egg slot wins something extra special. The last hot-cross bun, perhaps…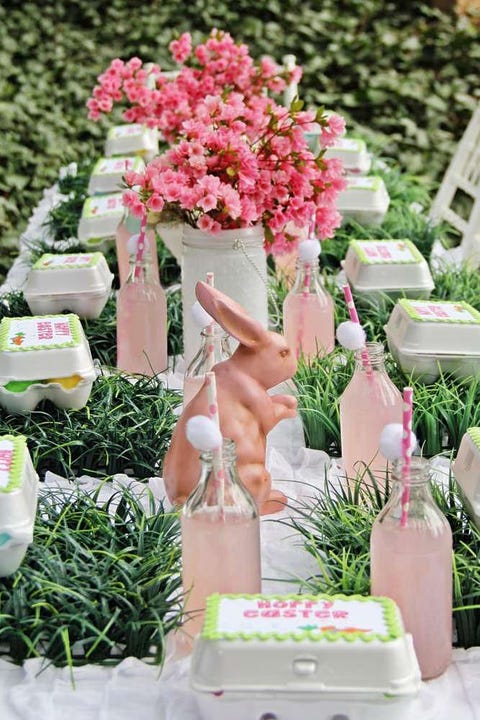 Floating Eggs
Perfect for the littlest egg hunters, using balloons as markers makes finding eggs (and yummy treats) a breeze.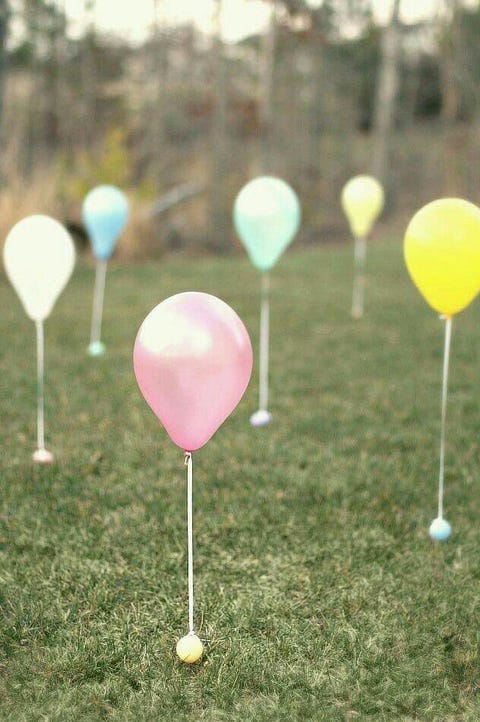 The Golden Egg
Even if you're dedicated to a more traditional hunt, throwing a special egg into the mix can't hurt. Whoever finds the golden egg wins serious bragging rights—and an extra special treat!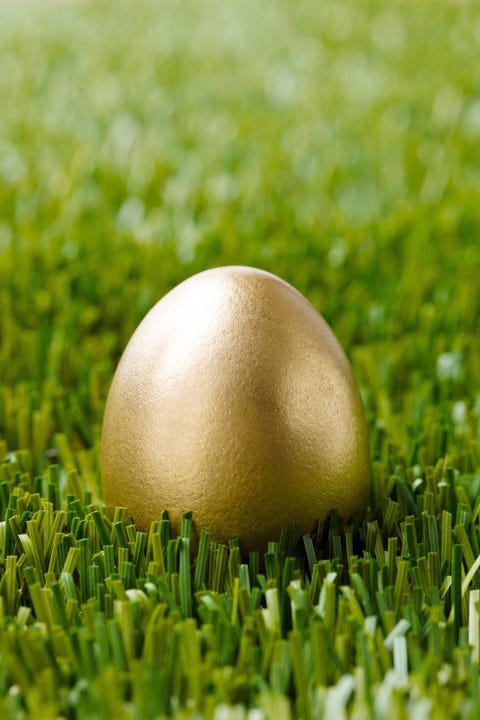 Egg Poppers
If you favor the untraditional, consider hanging egg poppers from a tree. Give each child a specific color and telling them to pull, twist and pop to their hearts' content. Another bonus: These colorful eggs look like candy!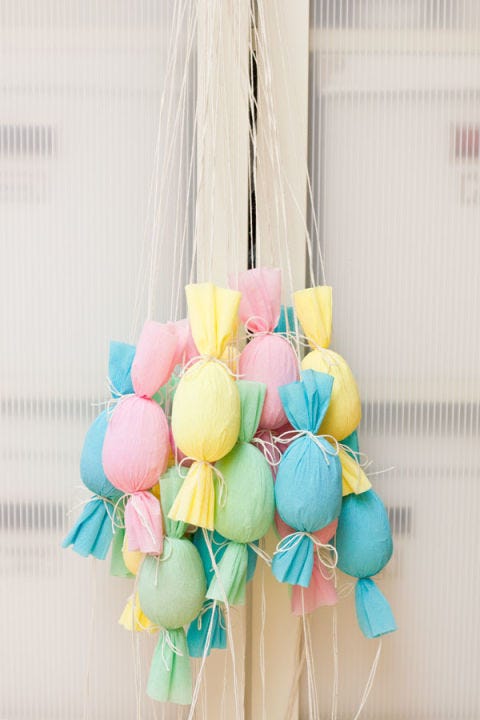 Pretty Printables
Give little clues in the form of these adorable (and free!) printables. Simply mount them on a stick and stick them into the ground where necessary.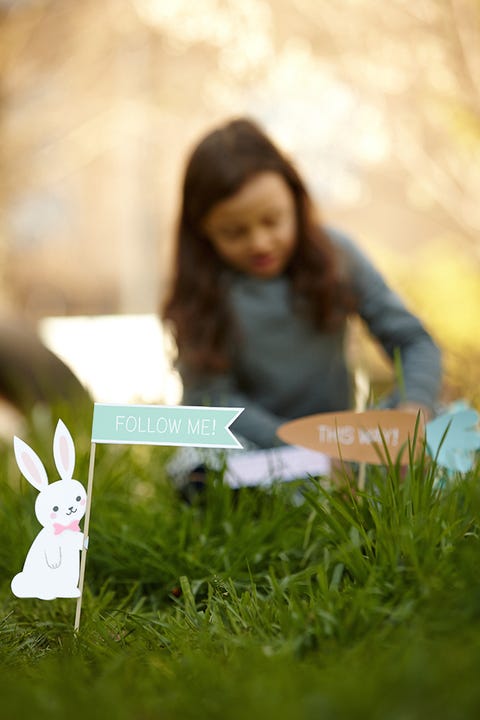 Crack the Egg Hunt
Feeling really ambitious this year? This one will take some time and planning, but it will have the kids in true detective mode. Roll up clues inside hollowed out eggs (we're talking about the real kind!) by poking a hole in the base of the egg with a needle. Hide the eggs and tell kids to crack them when they find them to receive their next clue, which will lead them to the next egg. How fun is that?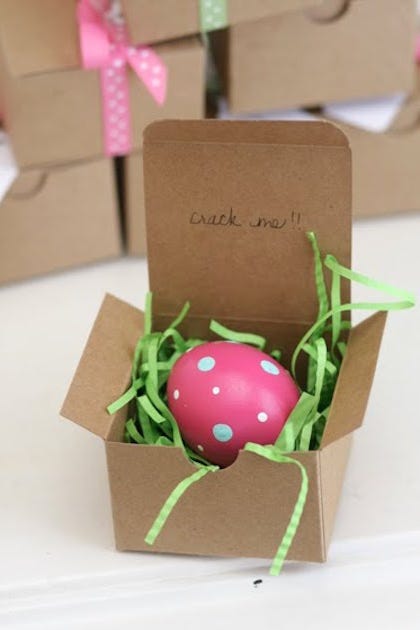 Festive Photobooth
Set up a quick and easy photo booth to capture family moments during the egg hunt. Place a bunch in front of a pretty tree, hang paper flowers, and offer guests props like these elegant picture frames. Now strike a pose!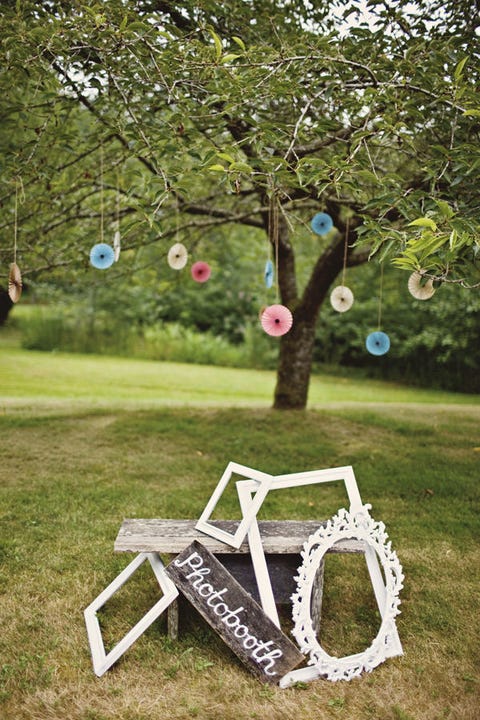 Garden Party Invite
If you're feeling fancy this year, consider creating a formal egg hunt invitation. Throw a garden party and encourage everyone (little ones included!) to dress in their Sunday best. It'll make the egg hunt feel much more special this year.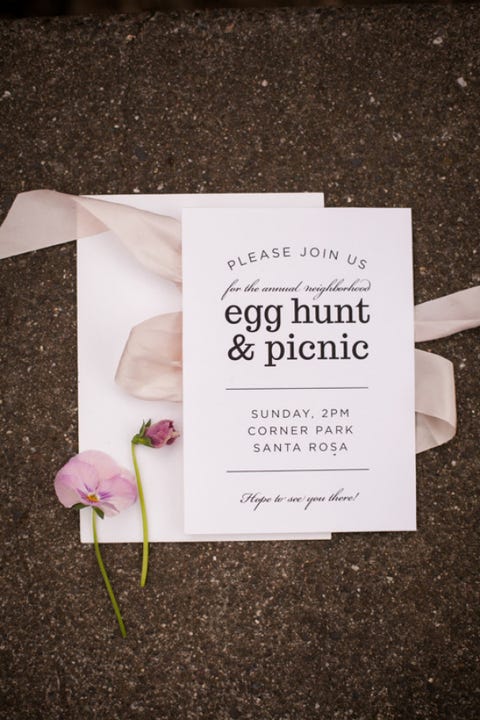 Turn it Into a Raffle
Easter egg hunts are classic, but why not throw a raffle into the mix as well? Anyone who wants to take part in the raffle will have the chance to win toys, stickers, more candy, and anything else you'd like to add!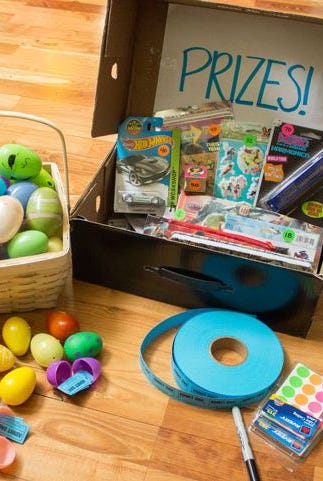 Easy Steps to Pulling Off an Epic Easter Egg Hunt
Ask any kid, egg hunts are the best part of Easter celebrations. There's candy, outdoor activity, colorful eggs, a little light-hearted competition, and best of all, prizes. While you're probably familiar with the modern Easter game of hiding hard-boiled eggs or plastic eggs filled with candy for kids to collect, versions of this particular Easter tradition appear to have been around for centuries. According to History.com, sources suggest the concept of the Easter bunny may initially derive from lore about an egg-laying hare, introduced in America by 18th century German settlers in Pennsylvania. Children would set out homemade nests, in which this ancestor of the Easter bunny could lay its pretty-colored eggs.
These days, it's the perfect excuse to get outside for some springtime air and watch kids young and old search for hidden treasure. Whether you're stepping up to host the annual Easter hunt extravaganza for the first time, or you're plotting a small-but-spirited at-home hunt for the little ones in your immediate family—just follow these easy steps for pulling off a classic Easter egg hunt like a pro.
1. Set the Date for Your Egg Hunt
Of course it's traditional to have an Easter egg hunt on Easter Sunday, but it's certainly not required. In fact, you may be attending a few in your neighborhood, in addition to hosting your own, so realistically not all egg hunts can happen on the same day. An ideal timeframe would be Easter weekend, or even the weekend before. If you're planning to host outdoors, have a back-up location (or a backup date) in case of rain or chilly weather.
2. Pick a Location
Whether the hunt is taking place in your front yard or the grounds of the community center, make sure the location works for your group. Pick an area that's large enough for your hunters, but not too large that it's impossible to find the eggs. You'll also want a spot where you can clearly define the boundaries, you have plenty of hiding options, and it's set far away from roads, bodies of water, and other hazards. If you're hosting inside, try to limit the adventures to one floor so there are no stairs in the mix.
3. Stock Up on Eggs
Quite possibly the most important part of an Easter egg hunt. While some hosts prefer to hide real eggs, it's often safest to use plastic eggs, especially if there are a lot of little kids invited to your hunt. (Bonus: You can fill each plastic egg with candy, tiny treats, and even coins, if you're feeling generous!) You're also welcome to use a mix of both—the more eggs the merrier. If you're not sure about how many to have on hand, we'd suggest hiding about 10 eggs per child, depending on the age group.
4. Have Easter Baskets, Buckets, and Pails at the Ready
You could host a BYOB (Bring Your Own Basket) Easter egg hunt—and it would be great if everyone showed up with baskets—but play it safe and assume you'll need to have egg-collecting gear for all your hunt attendees. Plan to have at least one vessel for goodies for every guest invited. Easter baskets are the traditional option, but tote bags, beach pails, or even cute small boxes are fun Easter basket alternatives.
5. Hide the Easter Eggs
Before you start hiding anything, count the eggs. (You'll thank yourself later.) Choose hiding spots that make sense for the ages of the kids invited. You'll want some eggs in more obvious locations (right on the open lawn) for little ones, and others hidden in more challenging spots, like tucked inside a mailbox, in a plant bed, or hidden behind the stump of a tree for older participants.
6. Ready, Set, Hunt
If you're hosting many kids of all different ages, think about letting kids start in rounds by age group or range. To be fair, let the the littlest hunters have first dibs on eggs. Once they go, start a countdown of a minute to 30 seconds (any longer and you'll probably make some enemies) before giving the older age groups the go-ahead to join in.
7. Count the Eggs
When you're certain that all the eggs have been found (this is where counting them before hiding them comes in handy), it's time to make the final tally. Sometimes even the egg hiders forget about those clever hiding spots. If you choose to reward the all-star gatherers—beyond the goodies inside their bounty of plastic eggs—now's the time to offer up festive Easter prizes.