Easter Sunday Decorations
Easter Sunday Decorations
Decorating for Easter Sunday should be easy, fun, and something to look forward to—not a complicated chore that you dread. So to provide inspiration we've compiled our very favorite Easter decoration ideas. These super-simple, inspired projects will have your home looking pastel pretty in as little as an hour. Cheerful Easter colors, fresh spring flowers, and cute Easter crafts abound here, along with bunny shapes, Easter egg motifs, and pom-poms galore. What's more, you'll be glad to know that at lot of these DIY ideas can double as excellent Easter gifts. If you've been looking for something extra to slip into your little ones' Easter baskets or to tote along to a family Easter brunch, we've got you covered. Another bonus, many of these ideas can be used from year to year! Put together the moss and faux topiaries once and they will take pride of place on the mantel year after year. And a bouquet of tulips crafted from fabric will never wilt.
But our favorite aspects of these fun projects would have to be how kid-friendly many of them are. Even the more sophisticated options—from bunny garlands to outdoor Easter decorations for your porch and a few Easter egg decorating ideas thrown in for good measure—can be made with your children by your side. So what are you waiting for? These easy Easter decorations are certain to make your holiday a whole lot hoppier. So lets head to the craft closet and get crafting!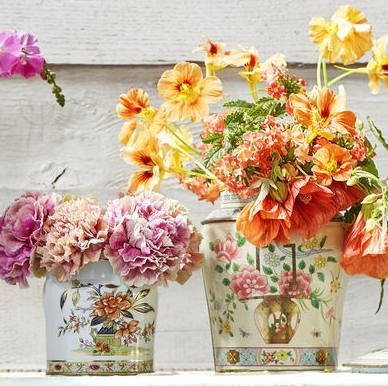 Egg Tree
The German tradition of decorating trees dates back centuries. To make this version, fill a tea tin with floral foam and insert blooming branches (here, dogwood). Hang dyed blown or painted wooden eggs using a length of ribbon looped around the egg and held in place with a wooden craft bead.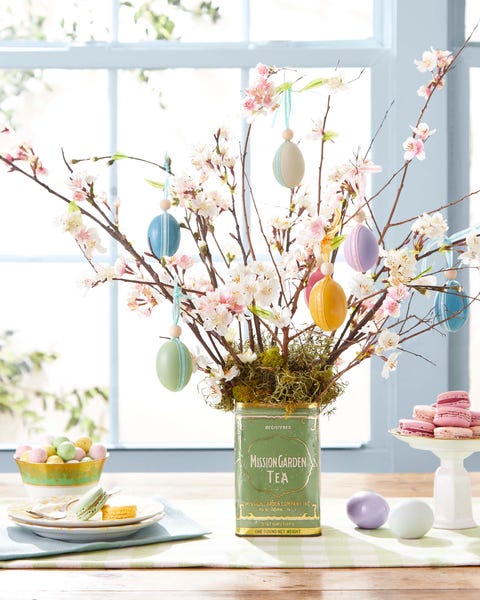 Easter Basket with Frilly Flair
Give a tired Easter basket the Sunday-best treatment by adding a trio of fabric ruffles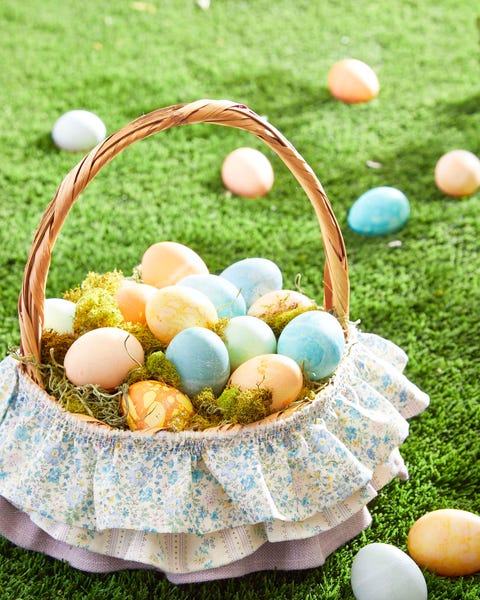 Mossy Nest Wreath
Adorn the door with this in season beauty.
To make: Wrap a wire wreath form in ribbon and loop an additional piece around the top for hanging. Attach tart tins, moss, and quail eggs with hot-glue.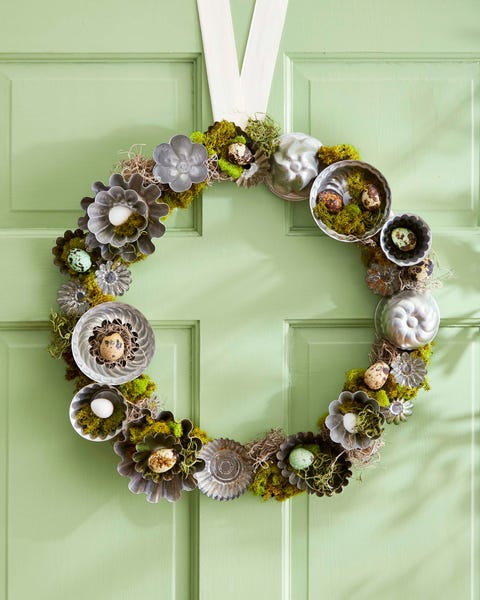 DIY Candy Stands
Serve seasonal candy and cookies on DIY pedestals.

To make: Set decorative plates or shallow bowls on overturned (or upright) footed dishes, candlesticks, or sugar bowls. Use museum wax to hold the pieces together.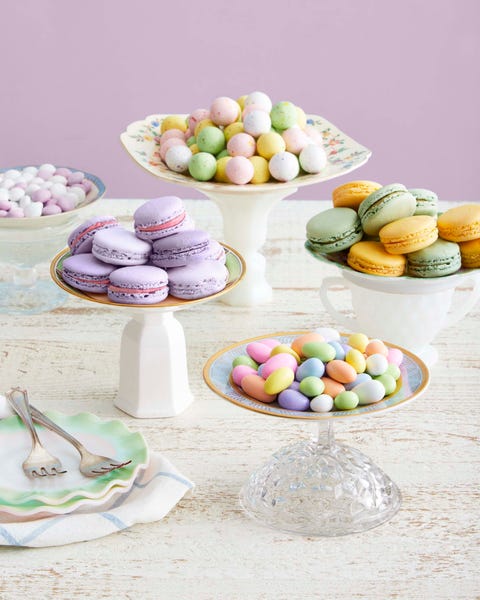 Carrot Garland
Transform orange fabric scraps (or even flannel shirts) into seasonal swag. Trace templates onto fabric, cut out, and sew together as instructed on template. Wrap twine around the neck of the carrots and hang from a buffet or mantel.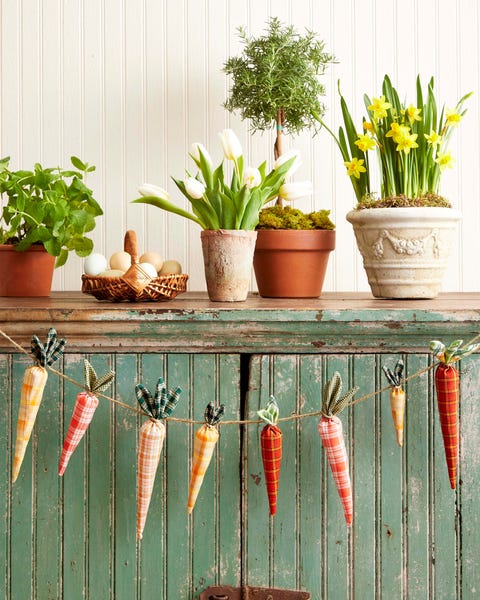 Bunny Napkins
Cute a a pink button nose, these bunny napkins can be assembled in 10 minutes flat and will add so much charm to your Easter table.

To make: Paint small wooden craft beads pink, allow to dry completely. Fold a napkin in half, corner to corner, then roll up, starting from the point. Fold the rolled napkin into a U-shape. Loop a length of raffia around the napkin and through the craft bead. Fray raffia to create whiskers.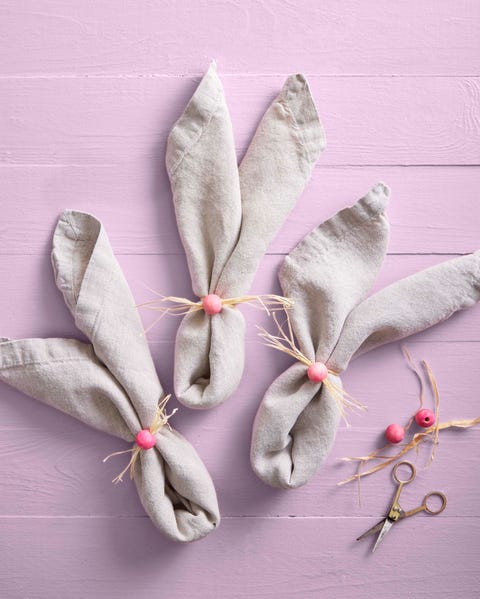 Button Eggs
Head the the sewing basket and grab the spare buttons to create these jewel-like beauties.
To make: Start by dying eggs the same colors as the buttons. Once dry, hot-glue buttons to the eggs, either covering completely or in a center band.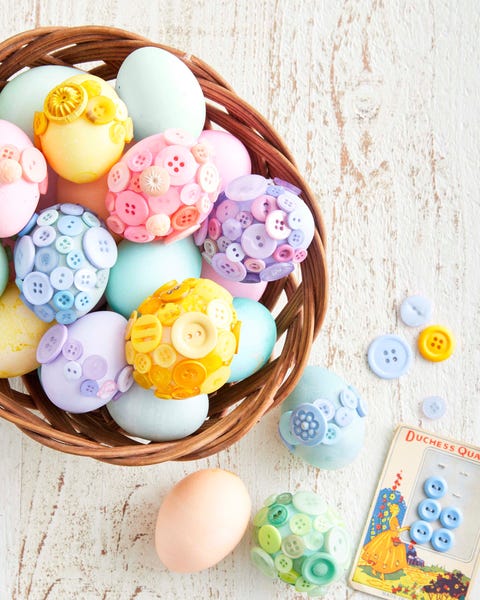 Brass Candlestick Egg Display
Place decorative eggs in a mix of sizes and colors on vintage brass or glass candlesticks to create a festive sideboard display. Keep eggs secured using museum wax.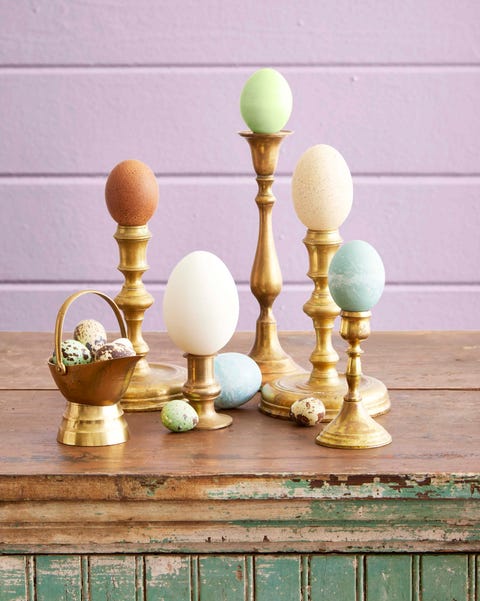 Brass Bunny Tablescape
Create a welcoming fluffle (that's the name of a group of rabbits!) by anchoring placecards under the paws of small brass bunnies. For added appeal, create a "rabbit runner" down the length of the table.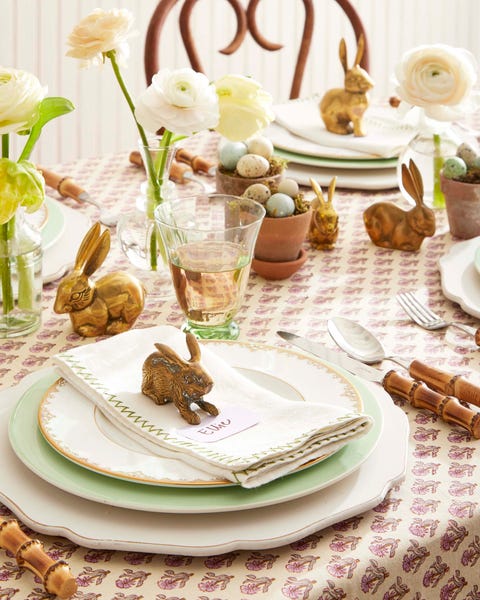 Radish Eggs
Good enough to eat, these radish eggs can either be painted or dyed.
To make: Paint or dye three-quarters of a blown-out white egg pink. Create roots by attaching pieces of off-white twine to the bottom with hot-glue. Roll up light green crepe paper to create a stem; seal seam with glue. Cut leaves from crepe paper; wrap around stem, and attach with glue. Glue stem to top of egg.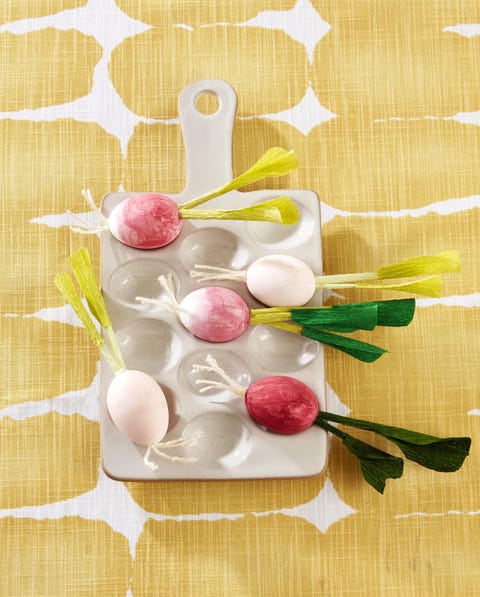 Parsnip & Carrot Napkin Rings
Made from mini wooden craft beads, these napkin rings mimic bunnies favorite foods, root veggies!
To make: Dye wooden craft beads orange or white. Arrange eight beads small to large in a row, and thread a piece of twine in a corresponding color through beads; knot on both ends. Wrap a wooden craft ring with twine, and tie between the beads for the napkin holder. For the stems, attach lengths of preserved grass or green crepe paper to the top with hot-glue.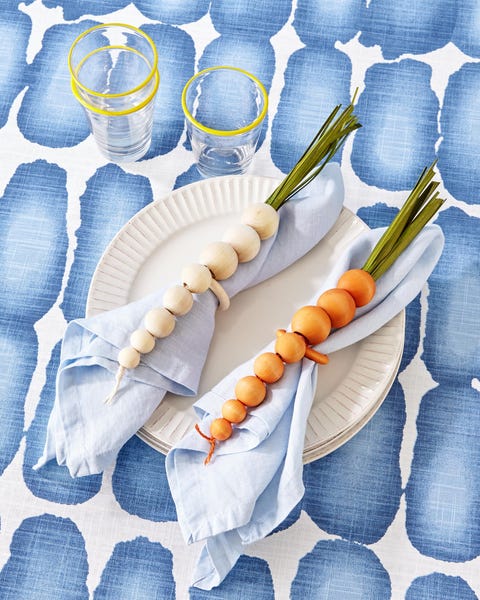 Vintage Egg Basket Vase
A vintage French egg collecting basket filled with colorful wooden eggs makes the perfect home for displaying your abundant spring bouquet (here are lilacs, anemones, Scabiosa lavender, allium, and ranunculus).
To make: Dye or paint wooden eggs white or robin's egg blue. You can also leave a few natural. Place a vase inside the basket and surround with eggs. Fill vase with water and flowers.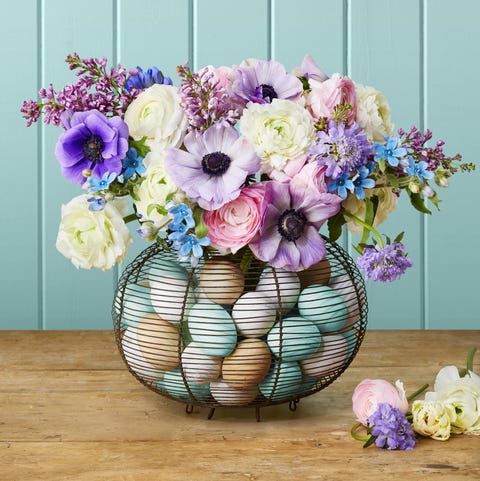 DIY Stem Straws
Including these "stem straws" on your Easter table isn't just a fun way to enhance your guests' drinking experience. It also heightens the overall look over your tablescape.
To make: Cut dogwood-shaped flowers from watercolor paper, then decorate the edges with watercolor pens. Punch a single hole in the center of the flower and slip the straw through the hole.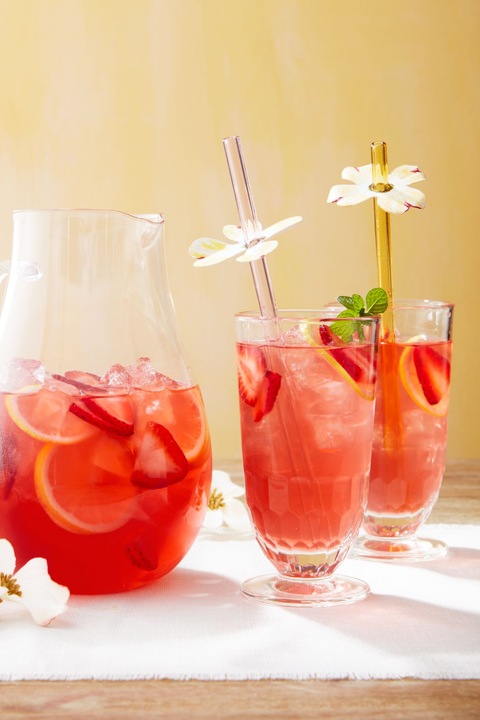 Easter Grass Display
Make this display in less than 5-minutes flat!
To make: Simply plant wheatgrass (available at garden stores or flower shops) in milk glass vessels such as the sugar dish, goblet, and vase shown here. Water as necessary to keep fresh. Sugar dishes also make for sweet placecard holders; simply tie a card to each handle.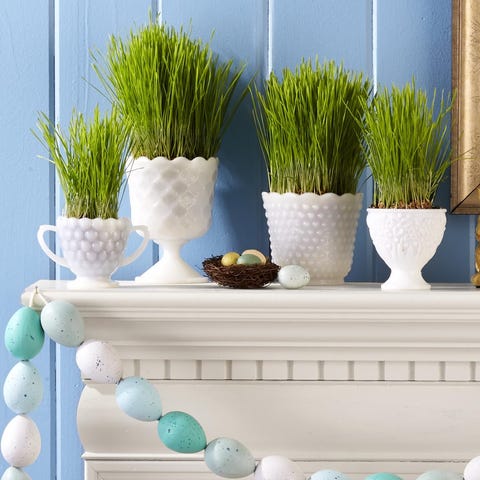 Pom Pom Bunny Wreath
Soft and plush, this wreath can be made with homemade or store-bought pom-poms.
To make: Make or buy 17 large white pom-poms. Attach to a 12-inch craft ring with hot-glue. Cut ears from white and pink felt; use glue to attach together and then to the back of the craft ring.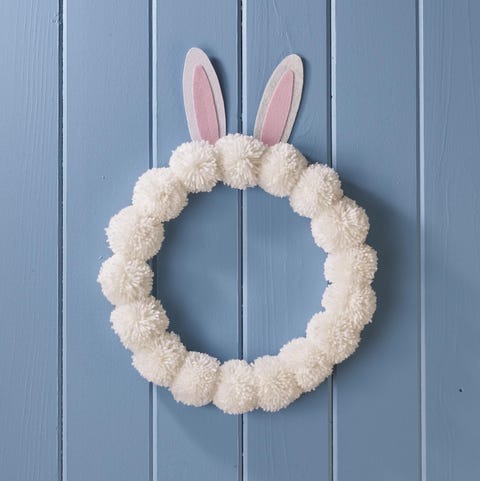 Dip-Dyed Baskets
A simple dyed cotton basket will add pops of color for storing candy or utensil on the Easter Table.
To make: Dip the top quarter of a cotton basket in desired color of fabric dye. When dry, fill with moss and Easter eggs or candy.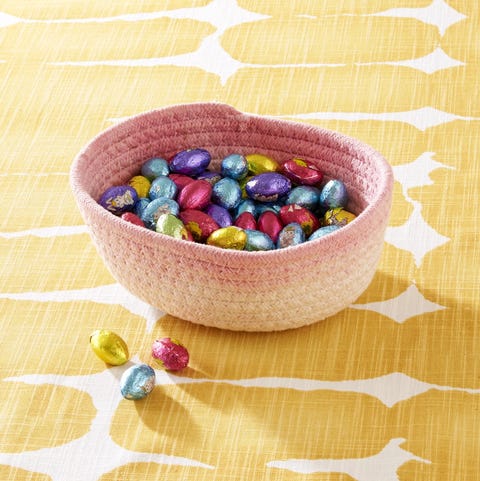 Mini Egg Topiaries
Made from moss and faux boxwood, these topiaries make the perfect focal point for your Easter table.
To make: Using hot-glue, attach preserved green sheet moss and fake mini boxwood greenery to a round Styrofoam ball until covered. Nestle faux robin's eggs in moss, attaching with glue. Fill a clay pot with floral foam. Poke a stick into bottom of topiary, and insert into floral foam; cover foam with moss.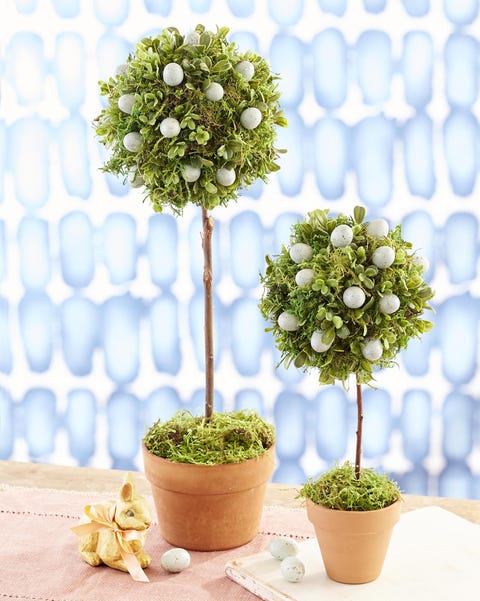 Coffee Filter Flowers
Make these flowering candy dishes with an item you probably already have in your house: coffee filters.
To make: Submerge regular-size white coffee filters (you'll need four to six for each flower) in a watered-down Rit Dye solution (here, Petal Pink); dry completely. Cut into flower shapes of various sizes, and stack largest to smallest. Attach at centers with craft glue. Glue a papier-mâché or store-bought candy cup to center of each. Fill with candy.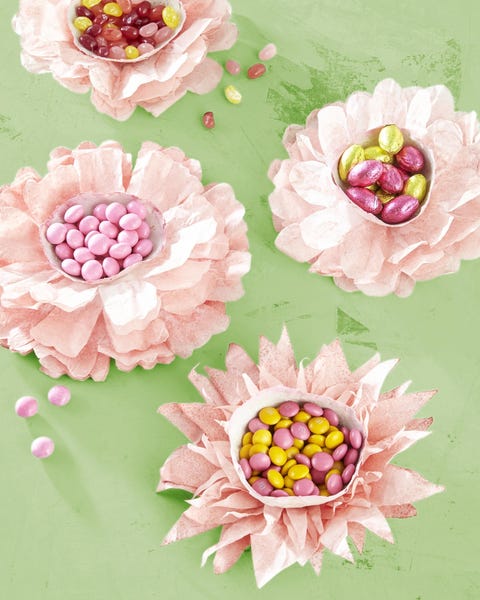 Egg Carton Wreath
Made from the common paper egg carton this wreath will look spectacular displayed on a covered door or over the mantel.
To make: Cut individual egg cups from paper egg cartons. Notch and cut decorative edges with scissors. Dye or paint cups desired colors. Attach cups and craft paper leaves to a painted craft ring with hot-glue.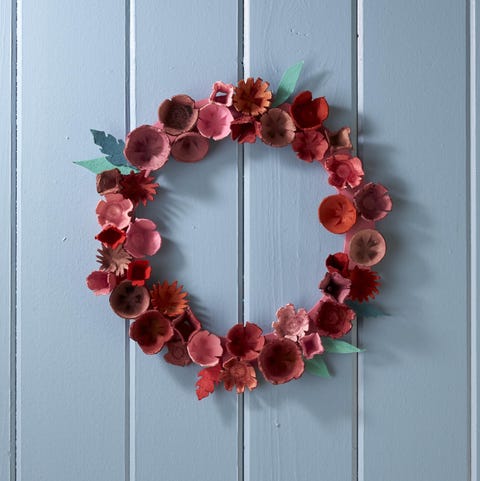 Speckled Egg Garland
Display this simple to make garland year after year.
To make: Use an awl to poke holes in ends of papier-mâché eggs, then paint eggs white, robin's-egg blue, and turquoise with acrylic paint. Once dry, spatter with dark blue paint. Thread twine through holes, and hang, adding a tassel detail, if desired.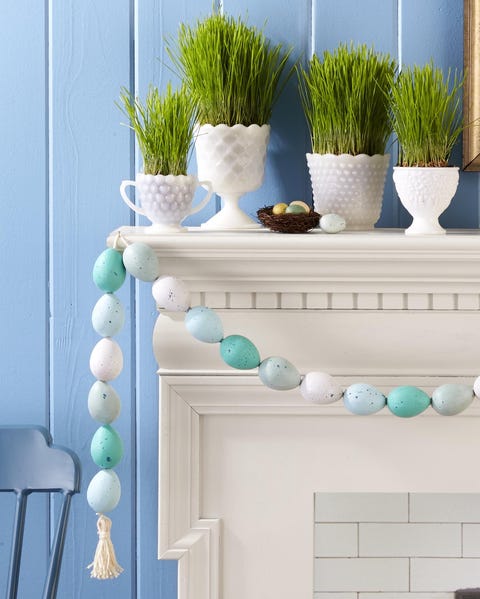 Daisy Napkin Rings
Created from grosgrain ribbon and vintage or new buttons, these sweet DIY napkin rings will brighten up any table.
To make: For each napkin ring, cut 3/8-inch-wide white grosgrain ribbon into five 3-inch-long pieces; round ends. Glue one piece on top of the next, offsetting as you go to create a flower shape. Glue a yellow button in center and a length of green twine to back for tying.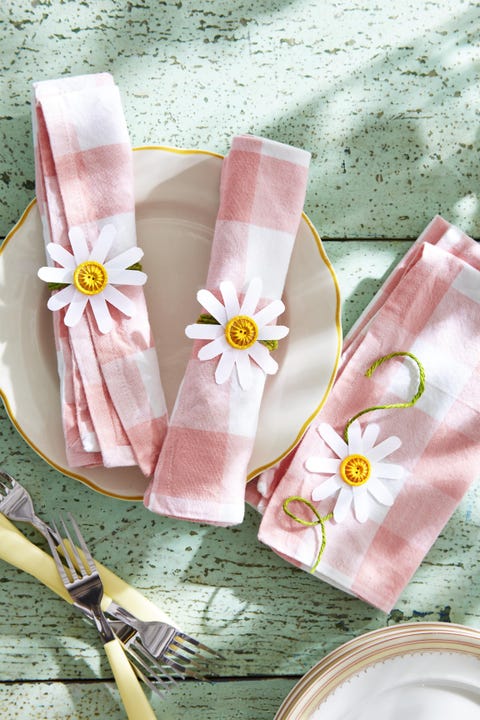 "Egg" Vases
These papier-mâché vases are ideal for serving candy or holding a beautiful bouquet.
To make: Blow up a large and a medium balloon. Cover each with white papier-mâché craft paper, leaving bottom quarter to third uncovered and edges rough. Let dry. Pop balloons, and remove. Set a vase inside each, and fill with water and flowers.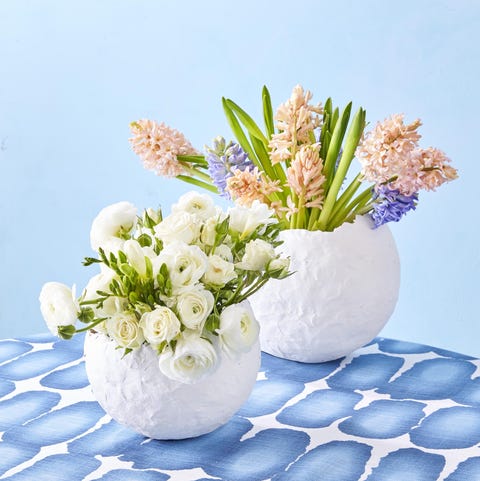 Jordan Almond Wreath
Egg-shaped Jordan almonds make an especially sweet spring decoration.
To make: Take a 12-inch Styrofoam wreath form, and beginning with the inside circumference, hot-glue the almonds in place, overlapping a few of them to add dimension. Continue in a circular pattern until the entire front and inner and outer edges of the wreath are covered. Hang with a sturdy piece of cotton ribbon, or oversize rickrack trim as shown.To store the wreath, wrap it in paper, place flat in a box, and keep in a cool, dry spot. It should last for one to two years.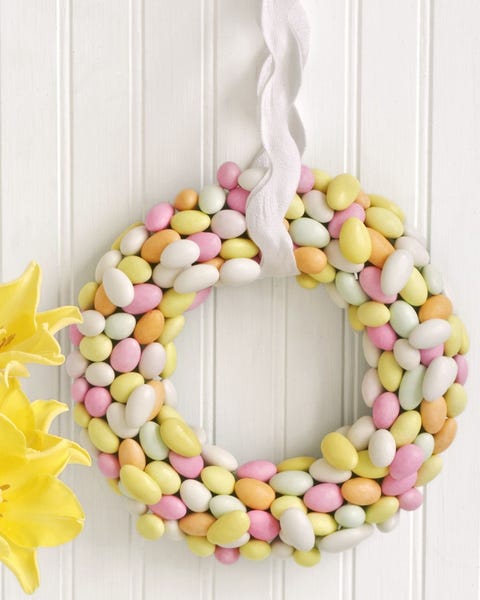 Perfume Bottles
Don't throw out those empty perfume bottles sitting on your vanity! Lilies of the valley look beautiful arranged in these glass vessels, and they're perfect for Easter.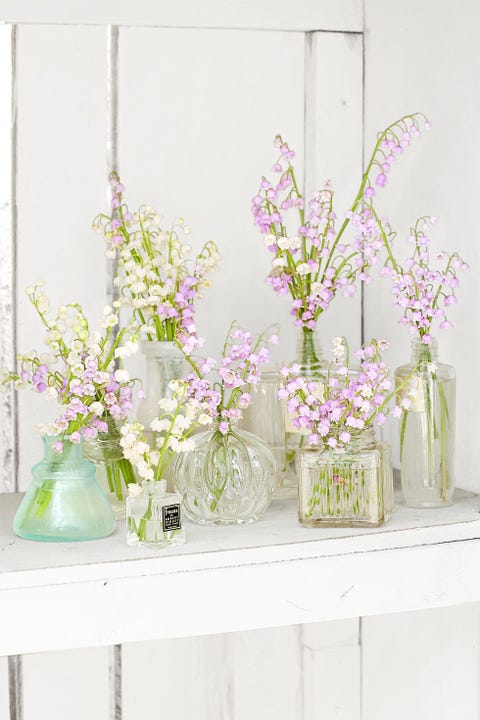 Easter Bunny Decoration
Why throw out old party decorations? A generic crepe paper ball can become an Easter bunny with the addition of craft paper ears, eyes, and whiskers, plus pom-poms for the nose and eyes.