Easter Sunday Brunch
Some people say the best part about of Easter is the egg hunts, while others say it's the Easter baskets filled with chocolate bunnies and Easter candy. But if you think the best part of Easter is the food, it's hard to disagree. Easter dinner gets a lot of the attention, but if you're partial to pastries, fluffy pancakes, and gorgeous quiches, then brunch is definitely a good option. For that reason, we've rounded up the best Easter brunch recipes for everyone to enjoy on Sunday!
Brunch can include everything from egg dishes to bright salads to decadent Easter cakes. And of course, you can whip up a batch of brunch cocktails (or mocktails) to make it a real party. We've also included options for guests who prefer vegetarian dishes or gluten-free options. And of course, many of these meals can be adapted as vegan Easter recipes as well, so everyone's belly will be satisfied.
After you are fueled up with delicious brunch foods, we also have you covered with tons of recipe ideas to go along with your Easter dinner. From Easter appetizers to side dishes and Easter desserts, all of these are sure to be crowd-pleasers.
Sausage and Egg Sandwiches
Everyone loves a breakfast sandwich. And they'll especially love these ones made with pickled peppers, extra-sharp cheddar cheese, and perfectly runny egg yolks.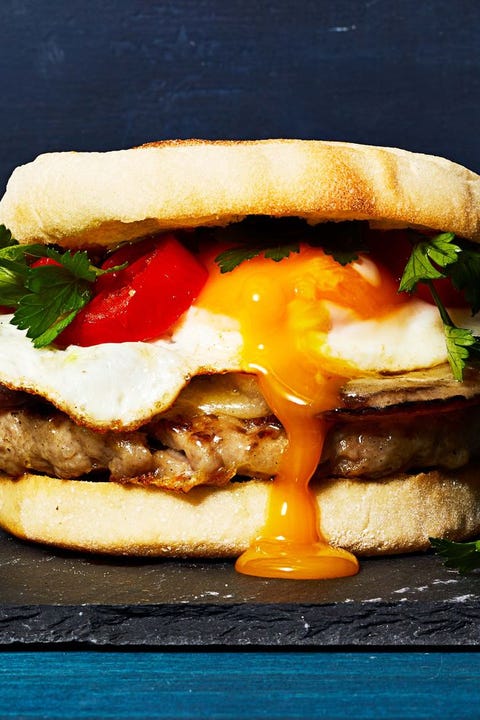 Lemon-Almond Poppy Seed Muffins
This dish brings together tangy lemon icing, crunchy almonds, and fluffy muffins for an Easter brunch offering everyone's sure to love. This recipe makes 12 muffins, perfect for if you're serving a crowd.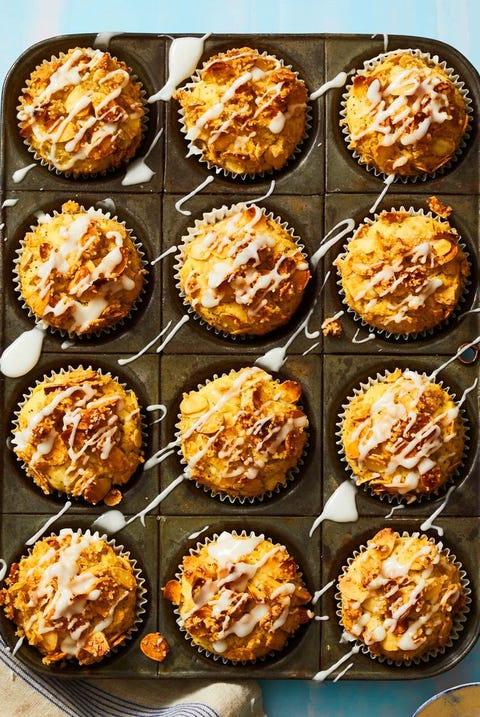 Roasted Strawberry Tart
This tart with flaky puff pastry, fluffy whipped cream, and gorgeous roasted strawberries might just be the star of the show.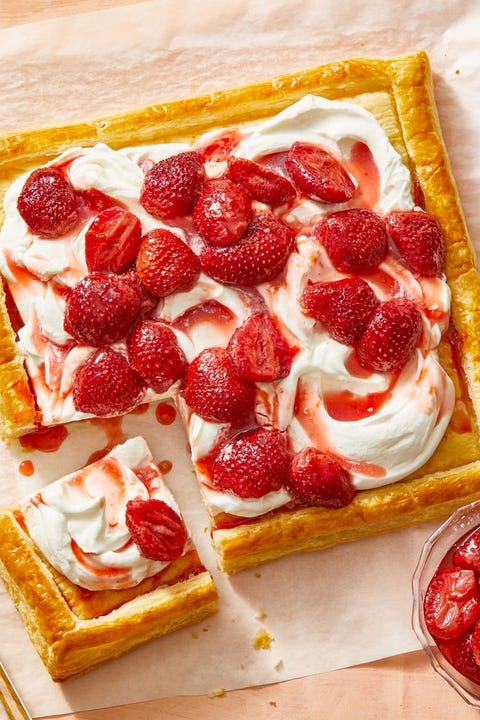 Scotch Eggs
You can tell everyone at your table the fun fact that Scotch Eggs aren't actually from Scotland. They're actually traditional British fare. With runny yolks wrapped in ground beef, these are sure to be a hit.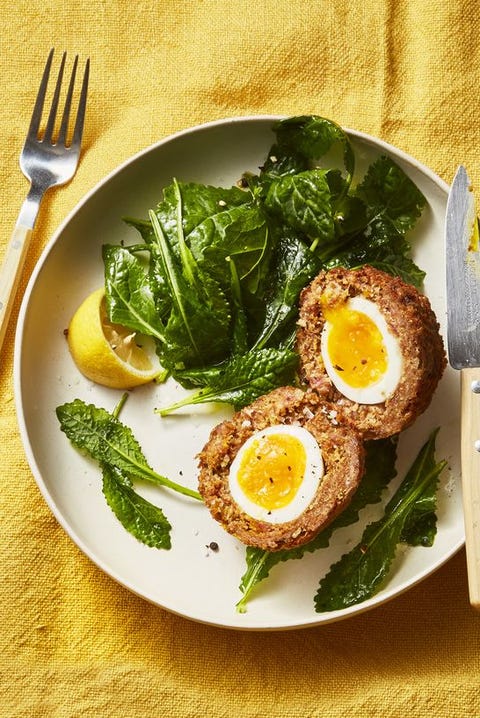 Breakfast Shortcakes
These fluffy shortcakes topped with fresh fruit are the perfect addition to any Easter brunch.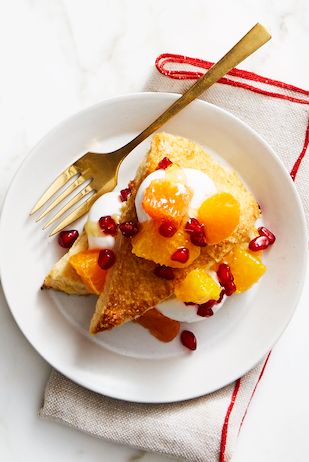 Raisin-Walnut Coffee Cake
This coffee cake gets an oh-so-satisfying crunch from the walnut, brown sugar, and cinnamon mixture. Your Easter guests will definitely be returning for seconds.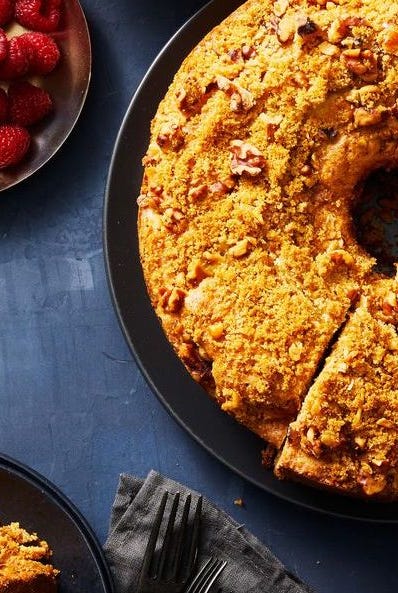 Jammy Egg Toasts
This is what brunch dreams are made of. Jammy eggs topped with parsley and cracked pepper, all atop toasted country bread. And best of all, it only takes 15 minutes to throw these together.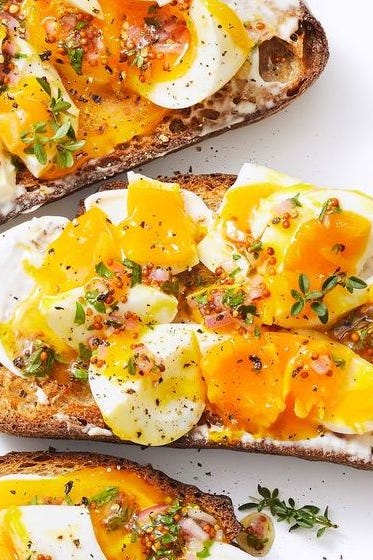 PB Chocolate Sheet Pan Pancake
It couldn't be easier to make these sheet pan pancakes for Easter brunch. And with bittersweet chocolate and a dollop of yogurt and maple syrup on top, they also couldn't be more delicious.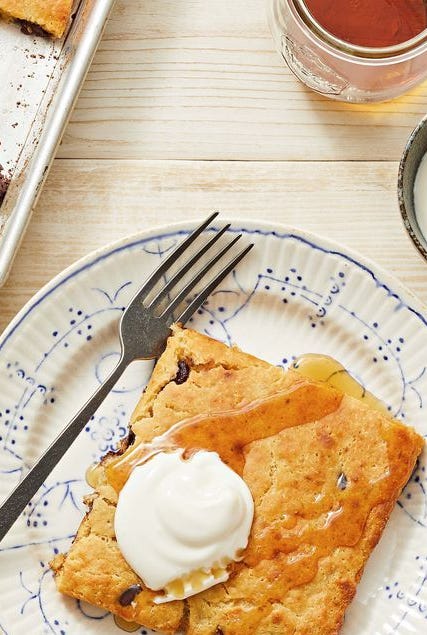 Blueberry Crème Fraîche Semifreddo with Pecan Crumble
For an elegant dish, whip up this sweet, creamy dessert. It's made with heavy cream, crème fraiche, vanilla beans and topped with blueberry and finely chopped pecans.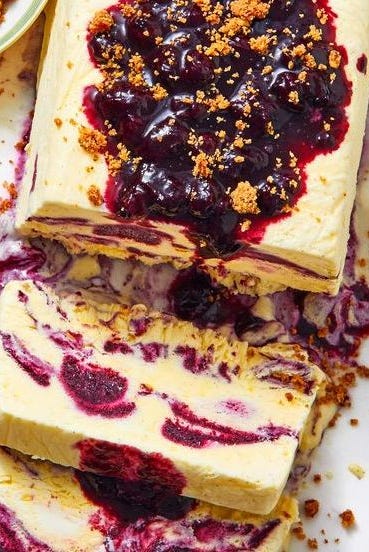 Twice-Baked Citrus Almond Brioche
Welcome spring to your table with this fancy French toast that features almond slices and citrus fruit.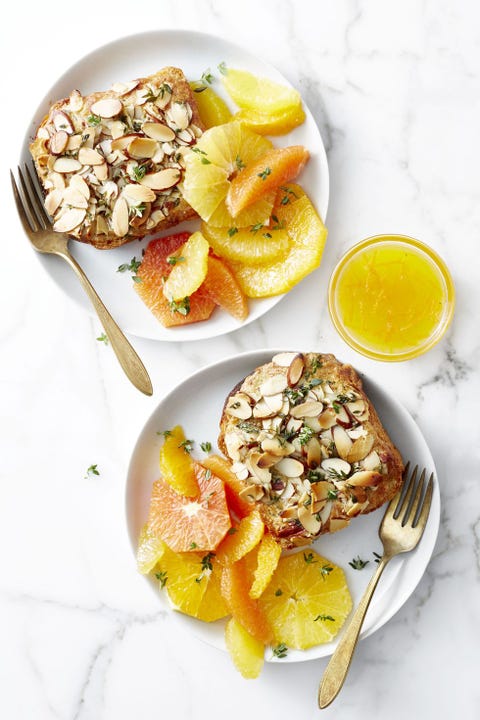 Spinach and Cheese Breakfast Pockets
The secret to these cheesy pockets? Refrigerated pie crust that you can buy at the grocery store.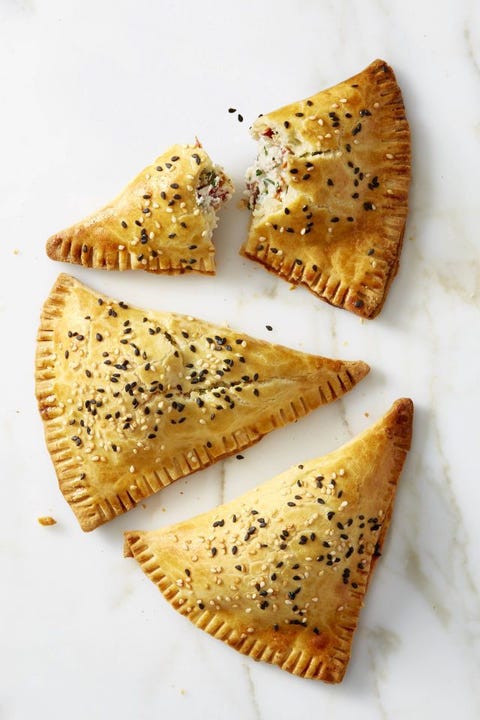 Greek Yogurt Pancakes
Add a fluffy stack of homemade pancakes to the center of your Easter spread. They will be devoured, we promise.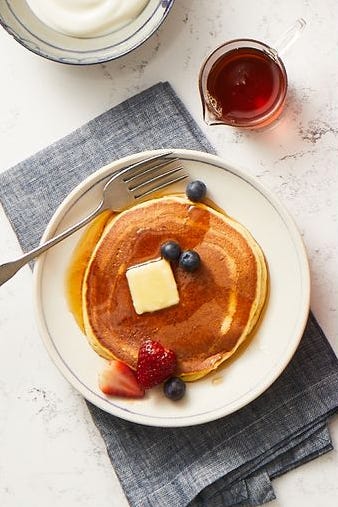 Mexican Breakfast Chilaquiles
Nothing says brunch like chilaquiles. Plus, this egg, cheese, nacho, and avocado recipe is way easier to make than it lets on.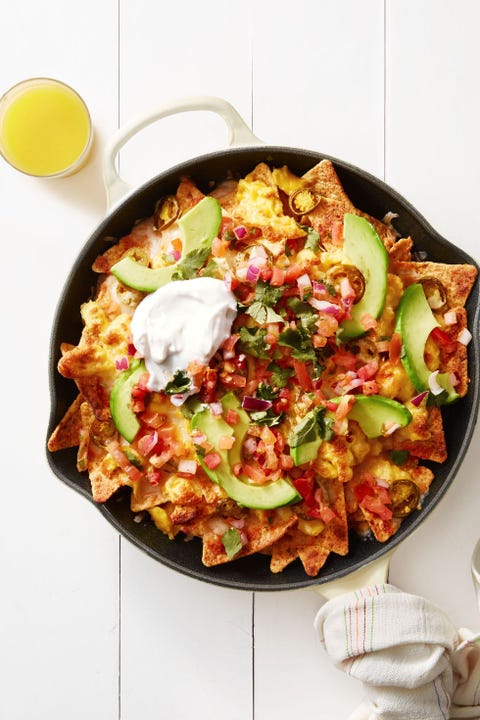 Bacon French Toast Bake
Our favorite brunch recipes are the ones you can prepare the night before — like this delicious, syrupy bake. Now, all you have to do on Easter morning is mix the mimosas.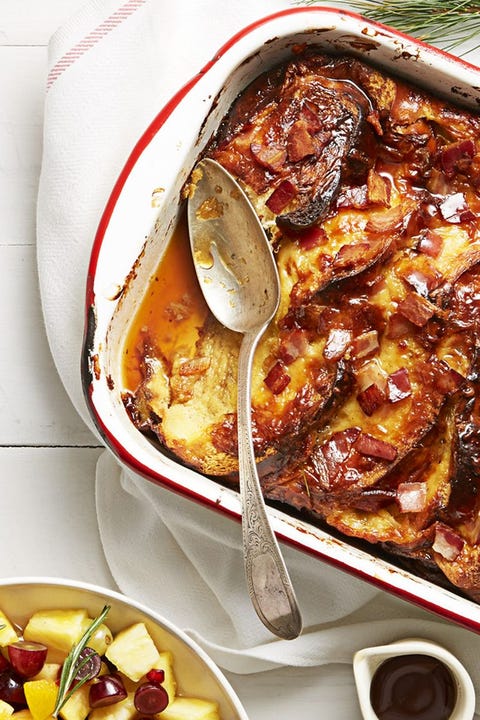 Pimento-Cheese Deviled Eggs
This southern-style spread gives deviled eggs a major upgrade.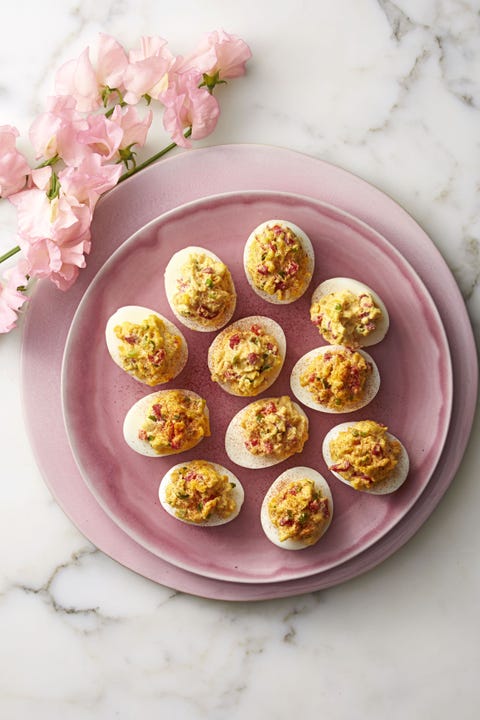 Raspberry Cheesecake French Toast
Dessert for breakfast? You can do it on Easter with this cheesecake-inspired brunch recipe.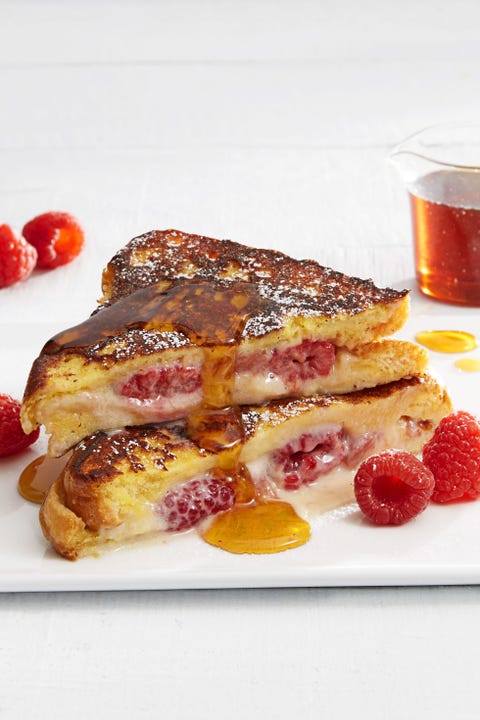 Spiced Banana-Chocolate Muffins
Made with old-fashioned oats and whole wheat flour, these yummy muffins are actually pretty healthy (just don't tell the kids).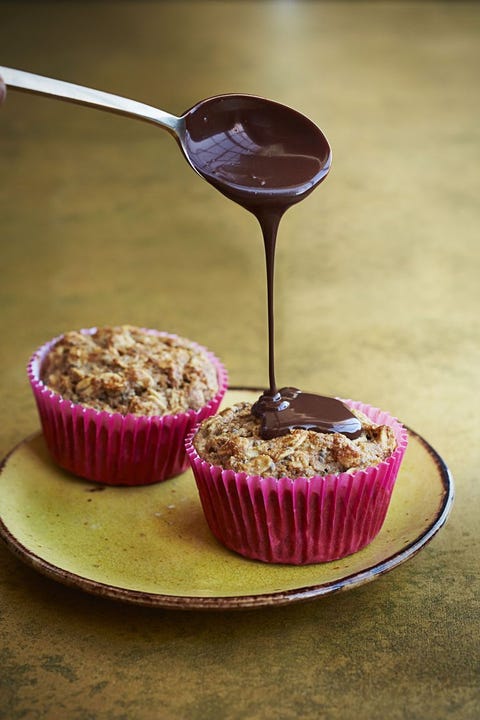 Spanish Potato Omelet
Since you know you're going to pair your eggs with potatoes, you might as well combine 'em in one easy dish.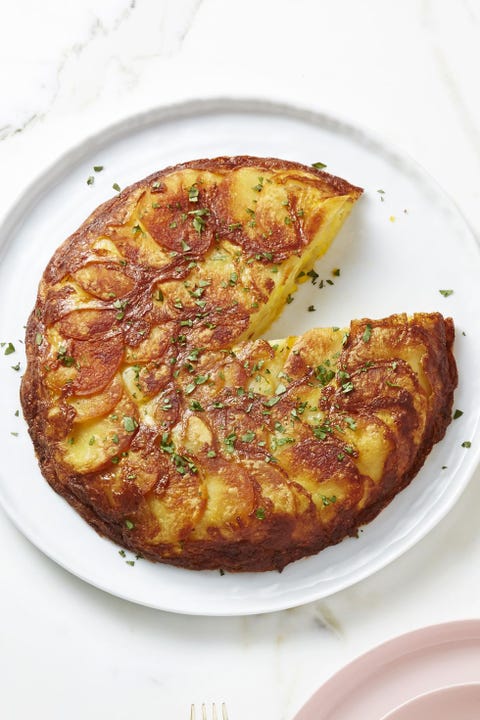 Bacon Cheese Popovers
Sneak even more bacon onto your plate with these cheesy, bacon-stuffed popovers that are deceptively easy to make.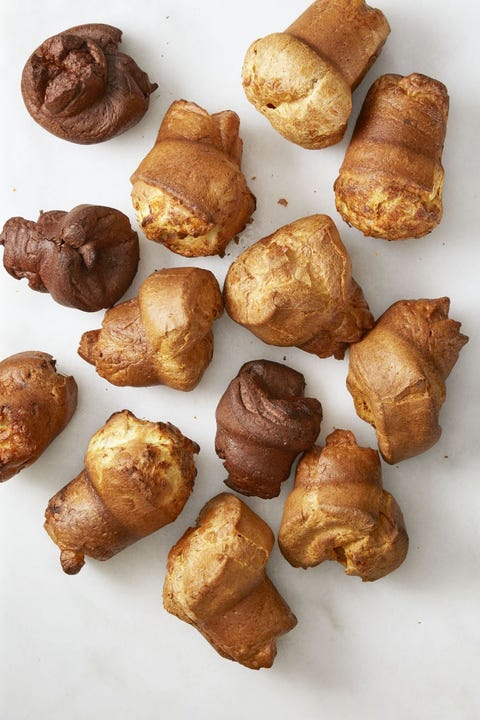 Glazed Berry Breakfast Tarts
It's a holiday, which means it's time to try making your kid's favorite breakfast treat from scratch. But let's not get ahead of ourselves, these beauties only take 30 minutes to make.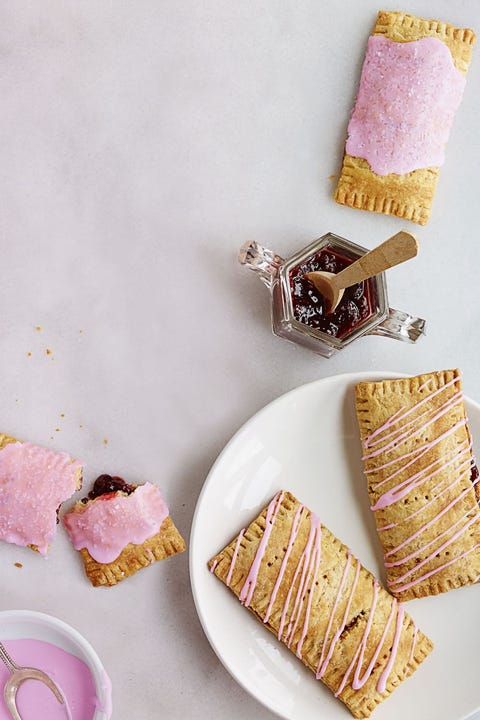 Pimento Cheese Finger Sandwiches
Because a tray of finger sandwiches lets you have a taste of everything, from spicy cheese to minty peas.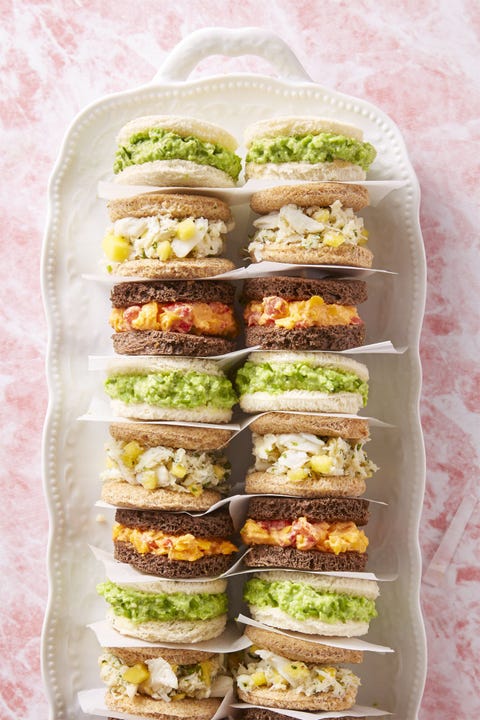 Raspberry Swirl Rolls
If you're bored with traditional cinnamon rolls, try this fruity version instead. And don't worry, there's still plenty of frosting.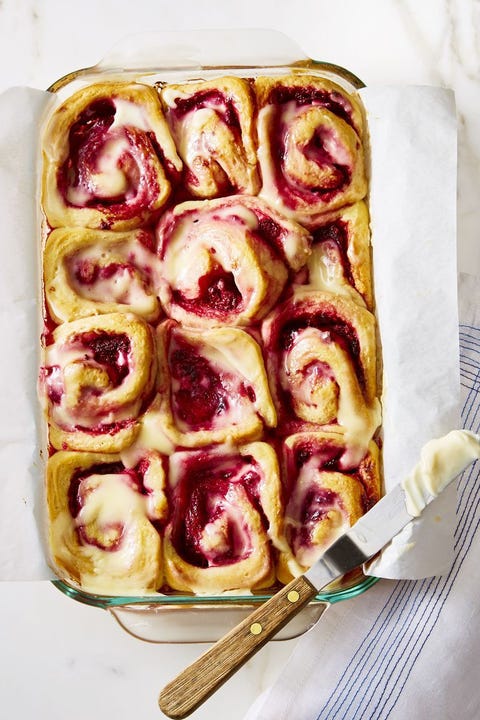 Sweet and Sticky Apricot-Glazed Ham
If you're serving up a late-afternoon brunch, don't be afraid to include a main dish. Ham is an Easter classic for a reason — and this sweet and sticky beauty is a must-try.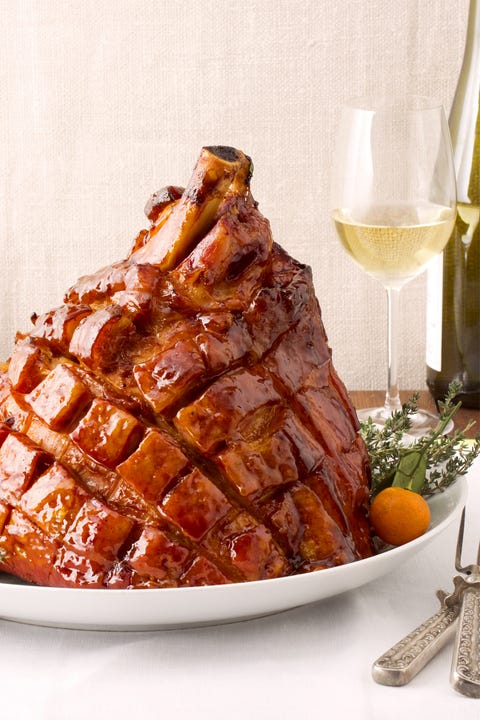 Sheet Pan Pancake with Blueberry Syrup
No griddle here: Cook a family-size pancake all in one pan and then top with an array of fruits and spreads. It's as customizable as it gets!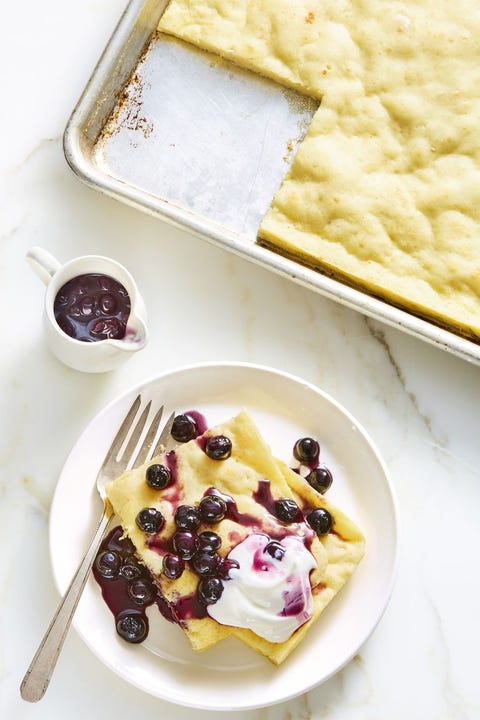 Crustless Quiche Lorraine
This bacon and Gruyère cheese quiche was made for Easter (and, well, brunch in general).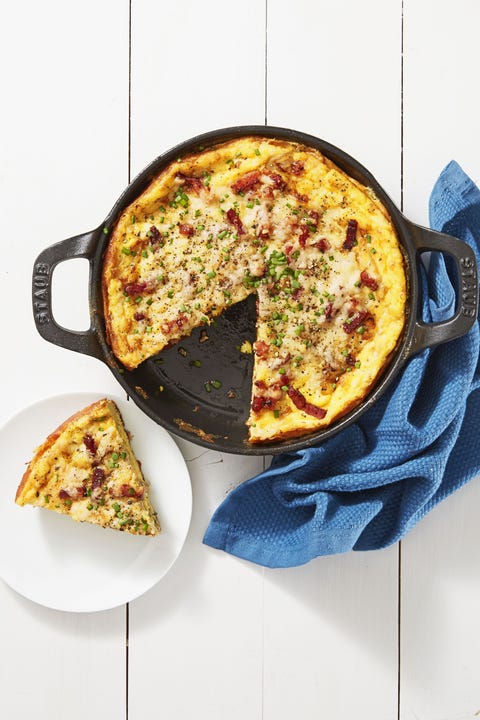 Brie and Apple Tart
Hear us out: You can actually make this stunning tart with frozen dough. Plus, it's got everyone's favorite fruit and cheese flavor combo.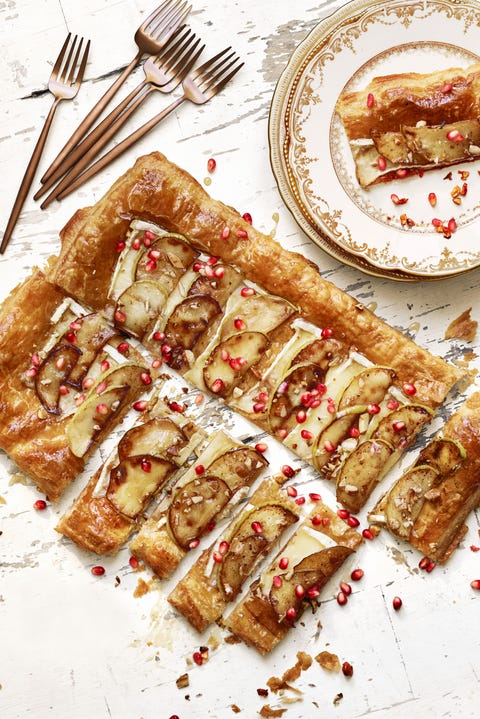 Chard and Gruyère Eggs in the Hole
Now this is how you plate eggs and toast.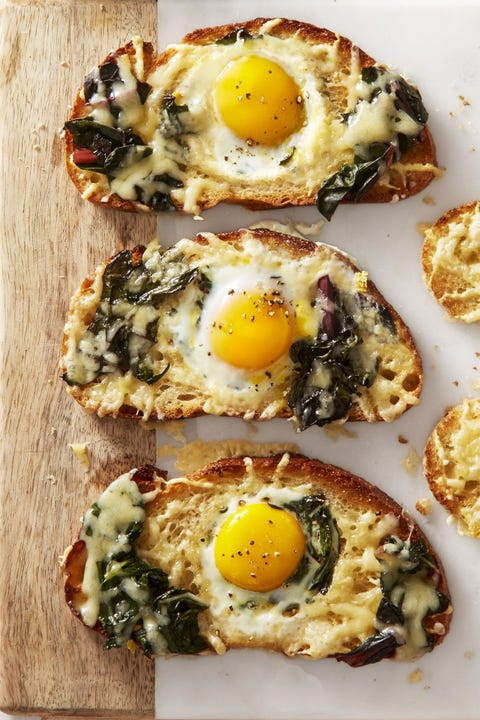 3-Ingredient Banana Pancakes
Super cute and delicious, these banana pancakes will be hit for kids and adults alike. Make them in a bunny shape for extra points from your little ones.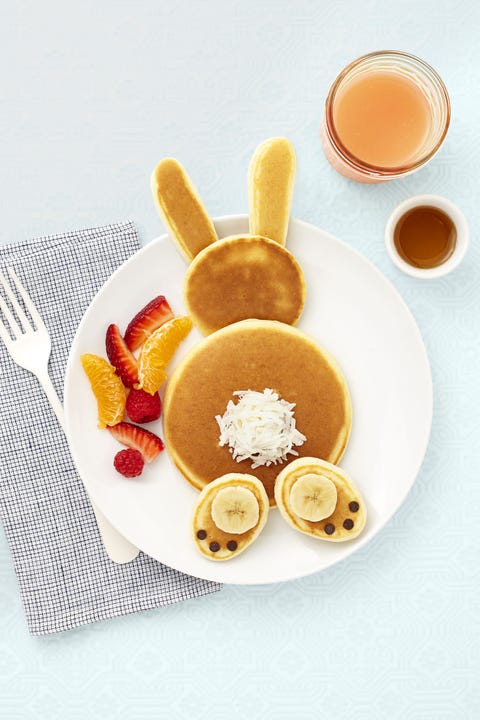 Mint-Pesto Baked Eggs
Freshen up this egg dish with a spoonful of homemade mint-pesto.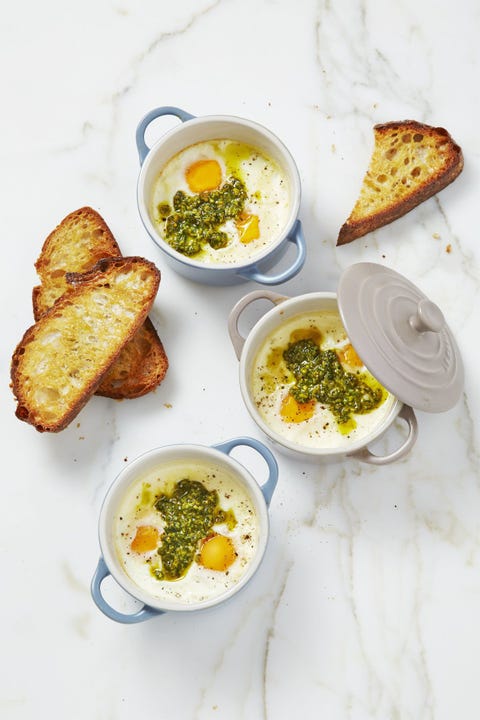 20-Minute Cauliflower Soup
Whisk together this veggie soup while your ham is roasting away.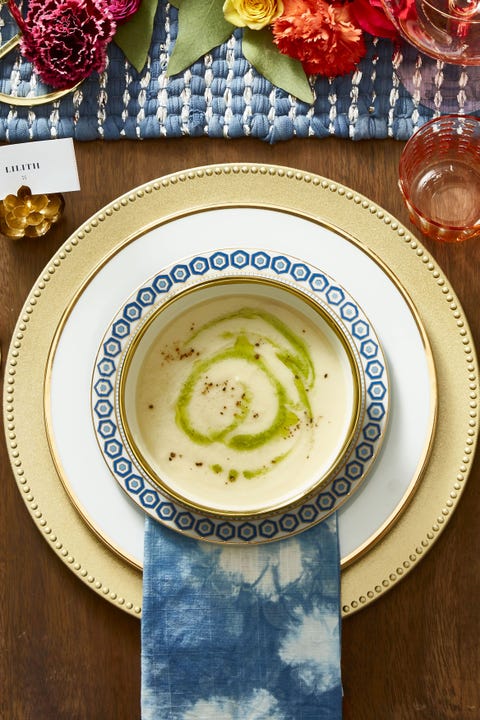 Spinach and Prosciutto Frittata Muffins
Mini fritattas à la muffin pan couldn't be simpler. Feel free to play around with fillings.
Iced Hot Cross Buns
Hot cross buns — eat 'em on Good Friday and beyond!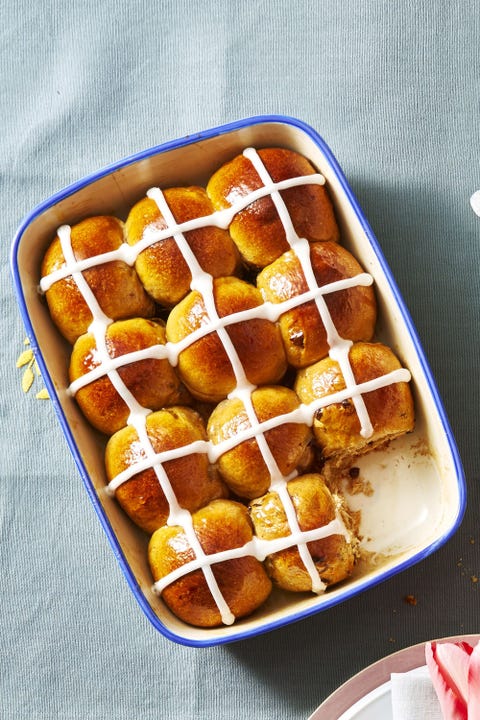 Roasted Asparagus and Ricotta Tart
These green veggies are the ultimate tart topper — spring is asparagus season, after all.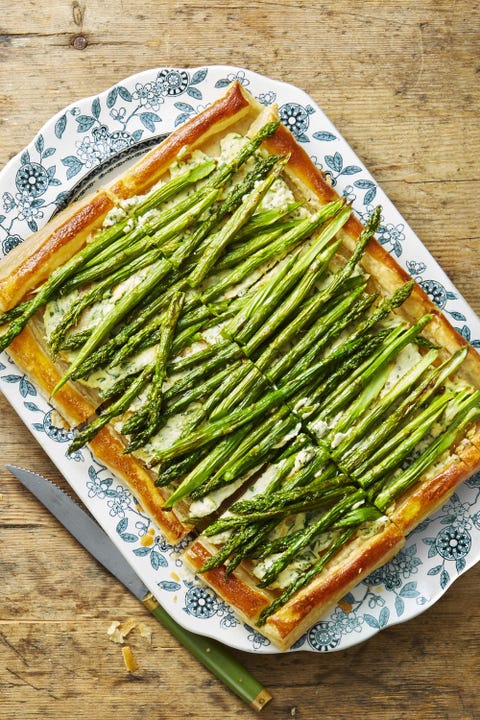 Spiced Plum and Quinoa Muffins
These refined sugar-free muffins taste are packed with so much natural flavor that you'll forget how healthy they are.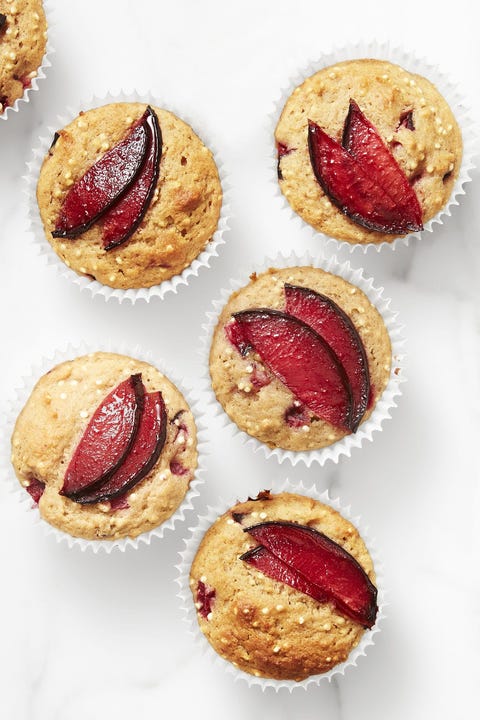 Bacon Gruyére Breakfast
If you need an excuse to eat pizza for breakfast, here it is.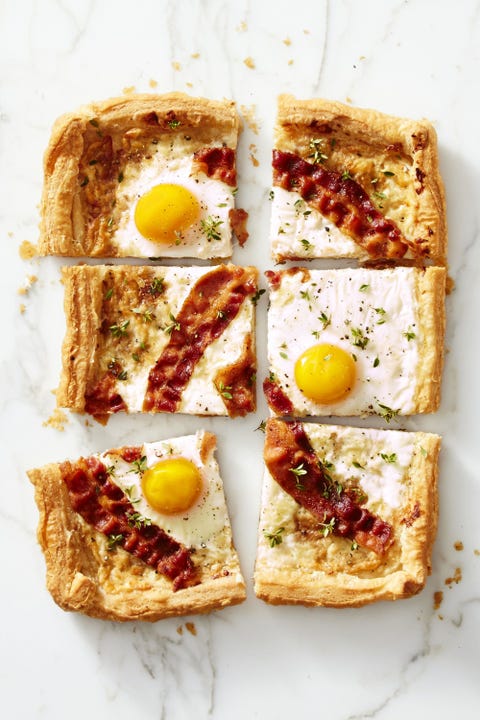 Deviled Chicks
Want to make your buffet kid-friendly? Create these adorable critters.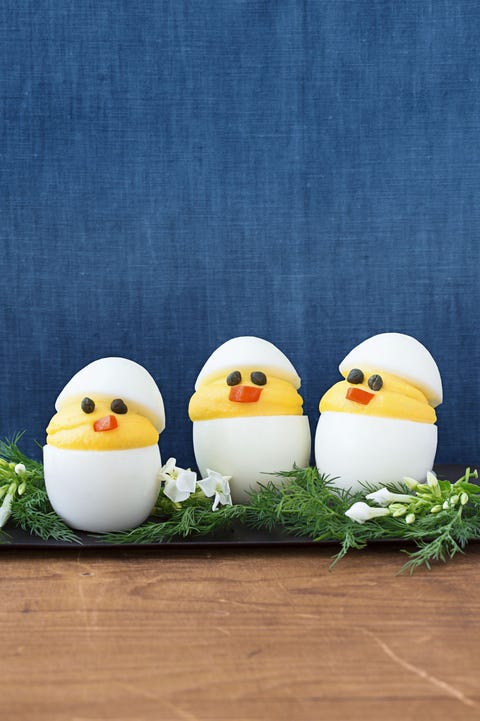 Lemony Brussels Sprout Salad
If you eat all these greens, you deserve an extra chocolate bunny. You just do.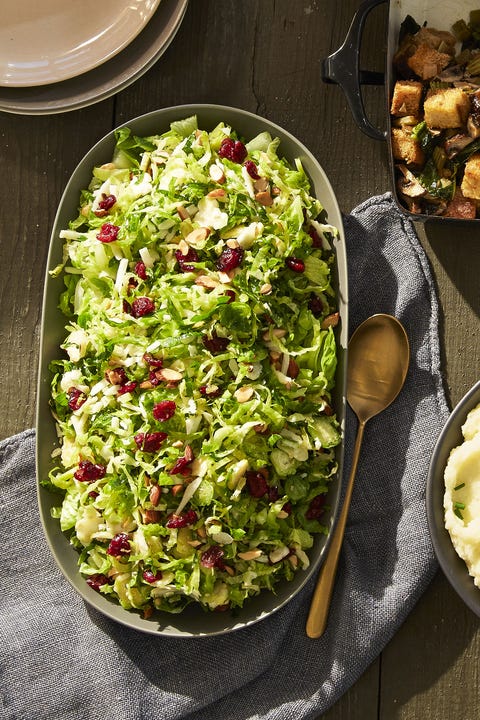 Chilled Asparagus Bisque
Packed with greens — asparagus, leeks and spinach — this chilled soup will balance the rich flavors on your Easter table.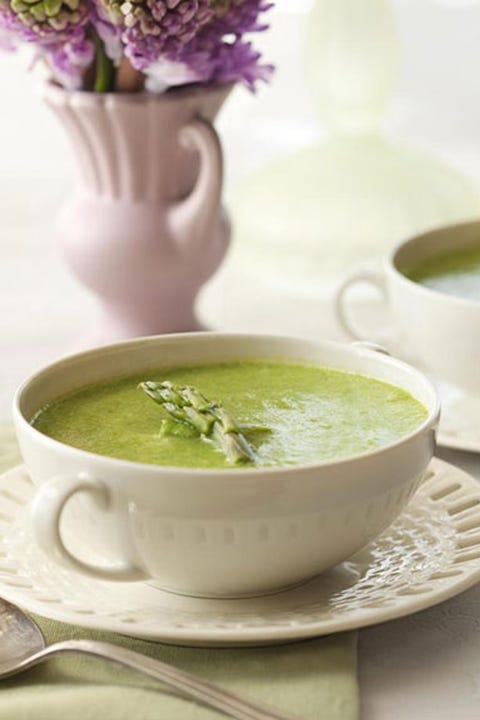 Raspberry Lemon Pound Cake
This is the ultimate lazy host's cake: It takes just one bowl to whip up the simple batter.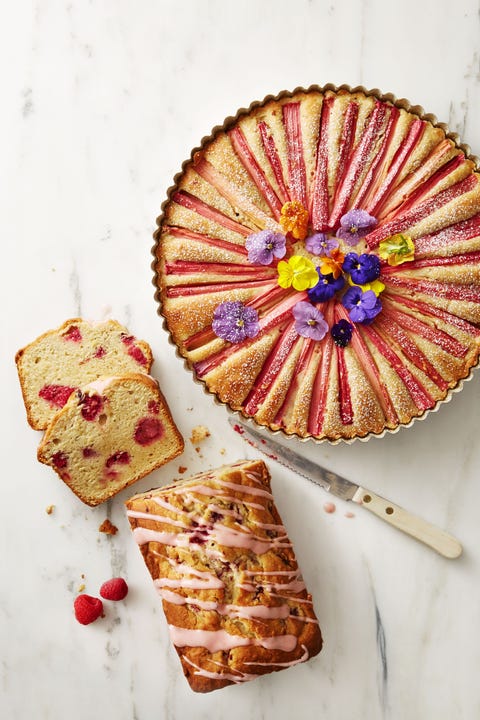 Easy Potato Latkes
What's fried, greasy, and delicious all over? These latkes, that's for sure.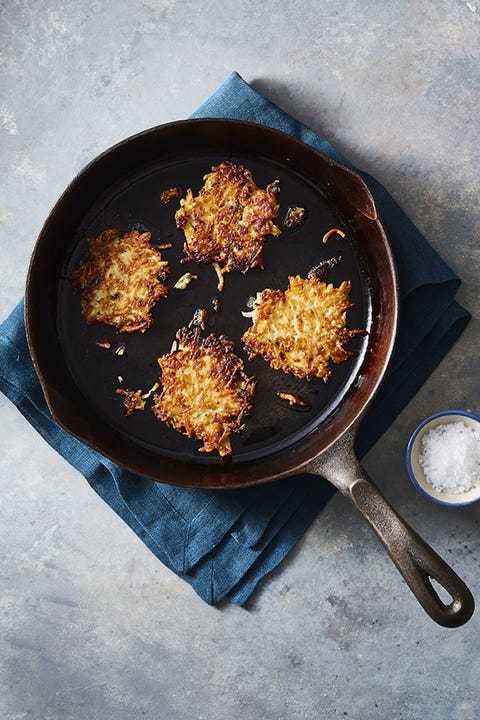 Apricot-Mustard Ham with Herb-Roasted Root Vegetables
Finger-lickin' good and perfect for stuffing in your homemade biscuits.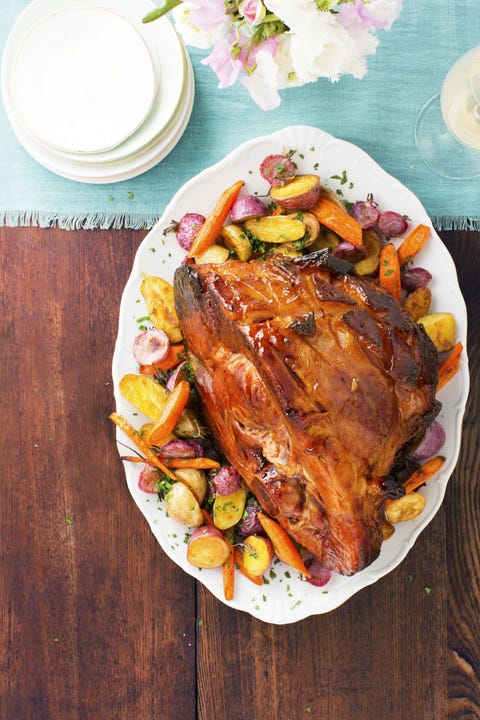 Green Eggs and Ham 'Wiches
Forget dainty tea sandwiches: Stuff buttery croissants with green eggs and ham for a savory bite.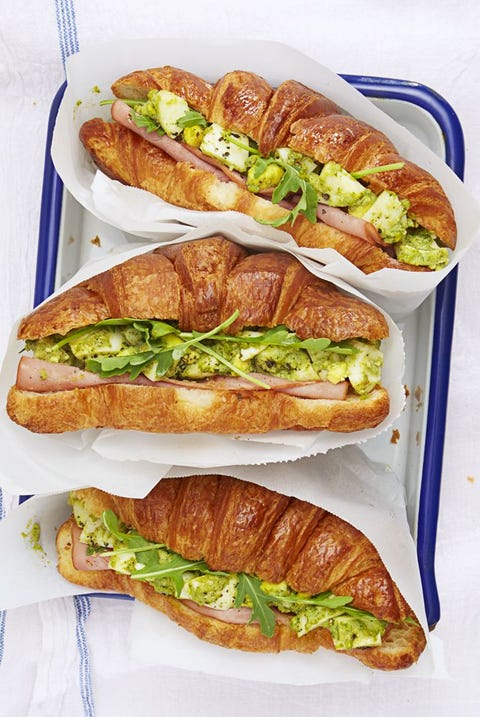 Raspberry Oat Scones
A dollop of jam will do wonders for these healthy(ish) oat scones.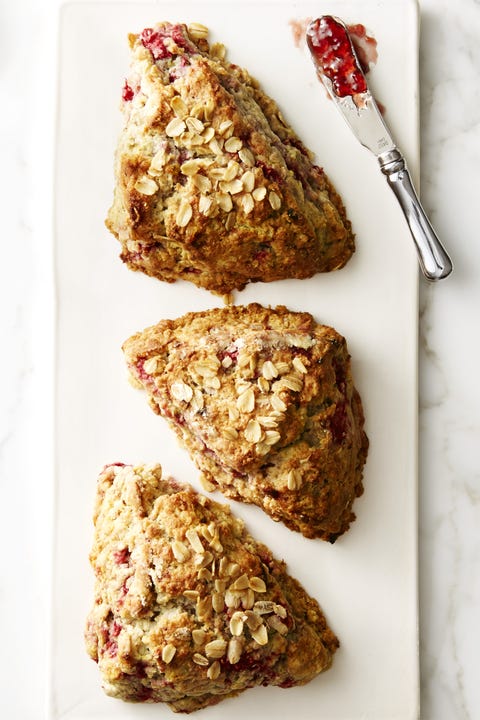 Mushroom Ragu and Polenta Egg Bake
Okay, enough with the salads and cutesy apps. Let's focus on the goods, like these cozy eggs nestled in creamy polenta.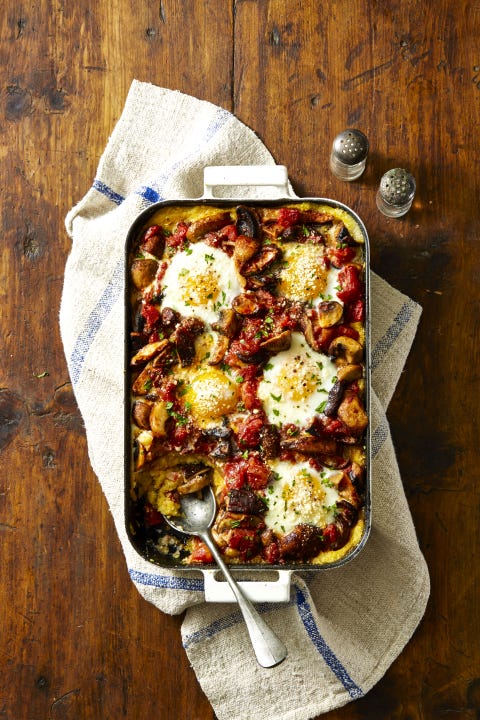 Crispy Beet and Mozzarella Salad
Not a fan of beets? Bake them until they're crispy and then tell us how you feel. Don't forget the red-wine vinegar dressing, either.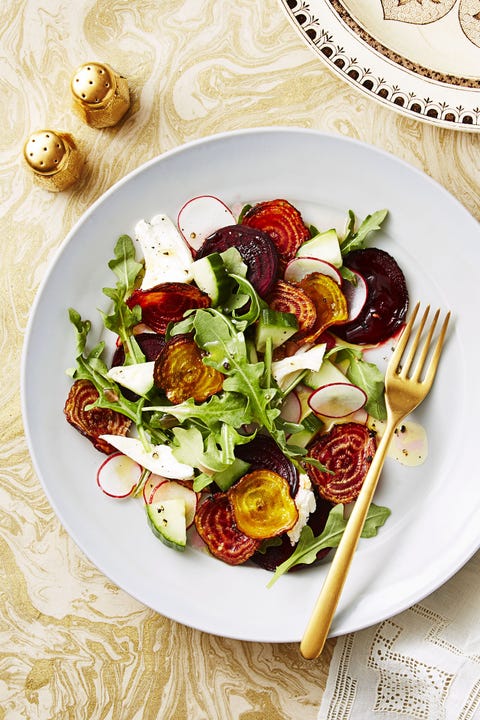 Bagel Breakfast Bake
Pop this delicious dish in the oven for the perfect lazy, carb-loaded brunch. It's got a heavenly mix of bagels, eggs, bacon and cheese.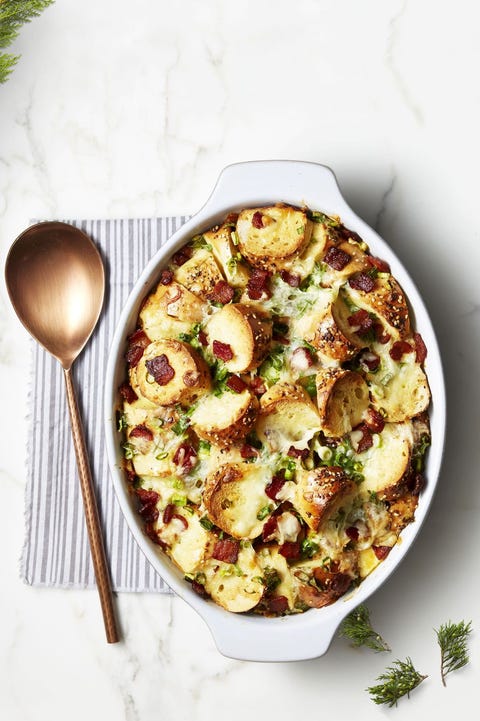 Best-Ever Buttermilk Biscuits
What good are all those over-easy eggs without some warm, fluffy biscuits to eat them with?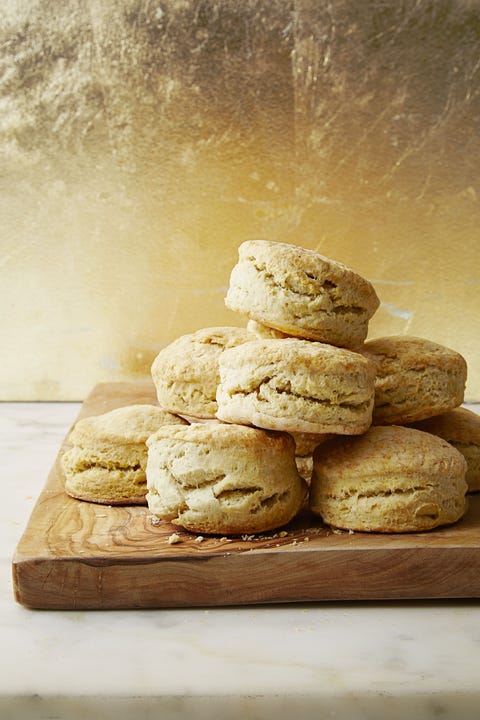 Sweet Beet Soup
This vibrant pink soup makes a statement on even the most well-dressed table.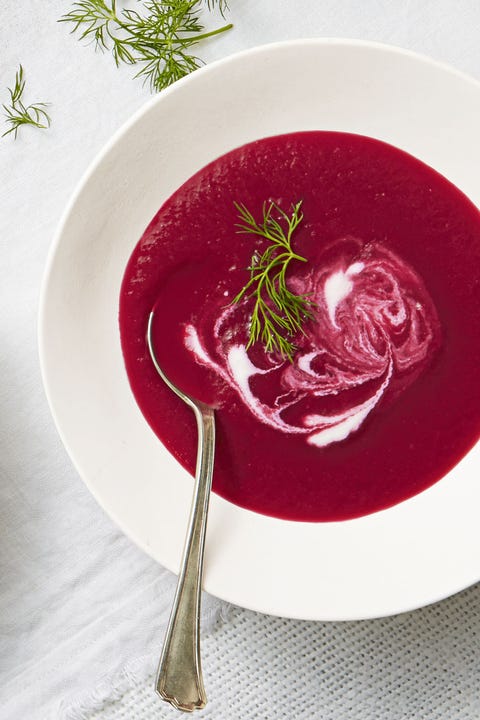 Apricot-Pistachio Salad
The mix of salty pistachios, dried apricots and snow peas give this salad a taste of spring.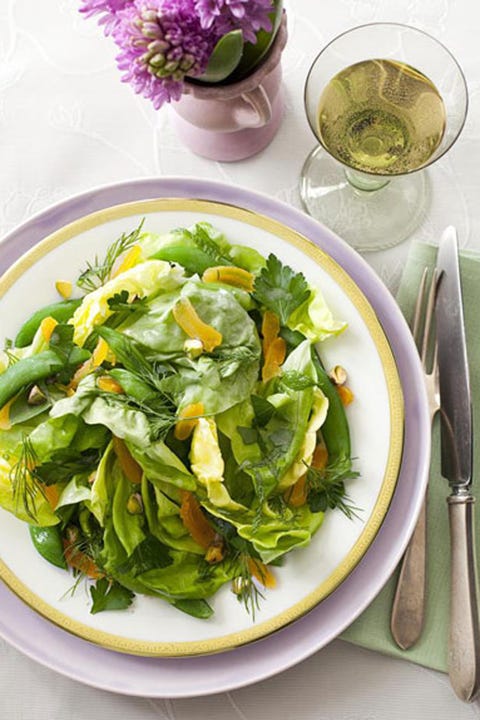 Deep-Dish Bacon and Leek Quiche
The crust! The cheese! The bacon! This quiche is all of your brunch favorites rolled into one.