Diwali Greetings: Diwali Wishes in English and How to Say Happy Diwali in Hindi
Diwali Wishes in English While Diwali is a cause for massive celebration in India, Hinduism is a minority religion in the United States. So, when it comes to acknowledging the holiday, people may be wondering, "What's the appropriate message?"
Diwali, also known by the Sanskrit word Deepavali, is a five-day festival and one of the most important Hindu festivals in India. Over the years, the holiday has become one that's celebrated across India by Hindus, Sikhs, Jains and some Buddhists. Often called the "festival of lights," the holiday celebrates the victory of light over darkness and good over evil.
Occurring annually on the 15th day of the month of Kartik on the Hindu calendar, this year, celebrations began on Friday, but the main day is Sunday. Deepavali means "rows of lighted lamps," according to BBC, and during Diwali, houses, shops and public places will be decorated with small oil lamps called diyals.
Given the joyous nature of the holiday, if you chat with friends who observe Diwali, it's perfectly appropriate to wish them a "Happy Diwali."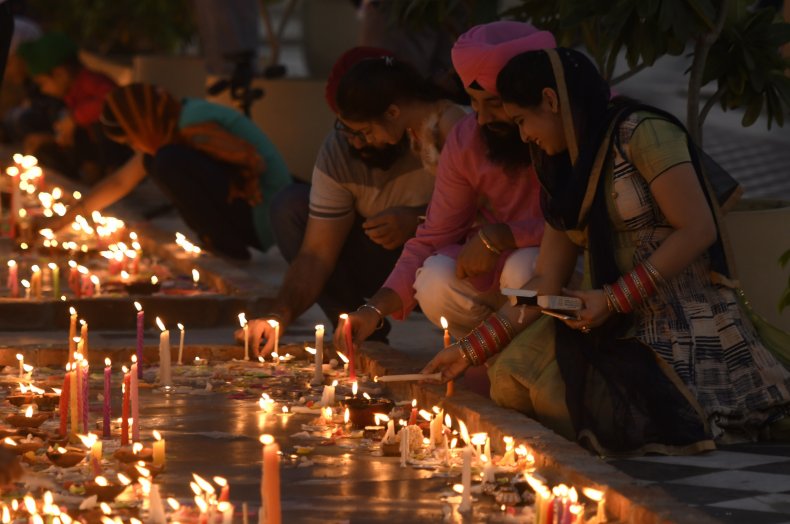 If "Happy Diwali," is a bit simple for your style and you're looking for something with a little more oomph to it, try one of these recommendations from the Times of India:
May this Diwali your life be as colorful and bright as the lights of Diwali. Joy and gaiety surround you and your family forever. Happy Diwali!
May the light of the diyas guide you toward the way of wealth and prosperity. Happy Diwali!
May these illuminating Diwali lights surround you and your loved ones with happiness and positivity. Happy Deepawali!
May the Diwali lights brighten your life and Rangoli add more colors to it. Have a blessed Diwali!
This Diwali, illuminate your life, home, and surroundings with lights and colors. Have a safe and green Diwali!
Another greeting option to send is "Shubh Diwali," meaning "Happy Diwali" in Hindi, one of the two official languages of India.
The story of Diwali varies based on location, according to National Geographic, although every tale plays into the theme of good triumphing over evil. In Northern India, its origin goes back to Rama, a major deity, defeating Ravana, a demon-king. People in Southern India celebrate it as the day the god Krishna, defeated the demon Narakasura. In Western India, Diwali is the day the god Vishnu sent the demon king Bali to rule the netherworld.
For Sikhs, Diwali is a day to celebrate the release of the Sixth Guru Hargobind from captivity, according to the Hindu American Foundation. Jains consider the day that Lord Mahavira achieved enlightenment. Some Buddhists also commemorate the occasion as the day Ashok Vajiayadashami embraced Buddhism as his faith.
Although Diwali lasts five days, the main celebration occurs on the third day, known as Lakshmi Puja. On that day, people prepare to welcome Lakshmi, the Hindu goddess of wealth, by keeping their homes spotlessly clean, according to the Times of India. People will also deliver sweet treats and gifts to their friends and family.