DISNEY HALLOWEEN QUOTES: Looking for Disney Halloween movie quotes? We have rounded up a collection of some spooky Disney Halloween, quotes, sayings, captions, status messages (with images and pictures) for your next photos this Halloween.
Halloween 2020 is on Saturday, October 31st. This quarantine whether you are making a Cinderella transformation at home or wondering about the Monster Mas in Disney, you can always use these Disney quotes to make amazing captions on your pics.
So which is your favorite Disney character and who will you dress up like this Halloween? Disney Halloween themed movies are great to get yourself in the mood to celebrate Halloween. These all time famous in Hollywood Disney movies as scary and fun.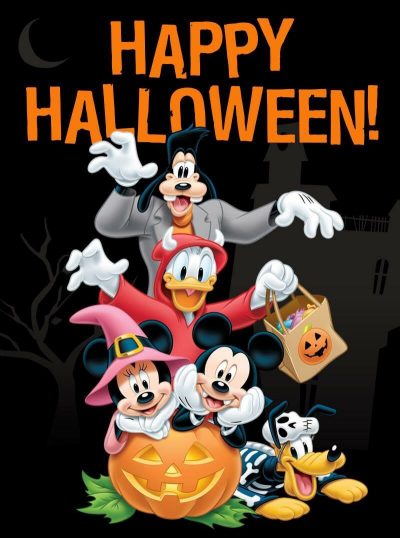 SPOOKY DISNEY HALLOWEEN QUOTES AND CAPTIONS (2020)
"Talk spooky to me."


---

"Meet me at the Mansion."


---

"Felt wicked… Might delete later."


---

"The cutest pumpkin in the patch."


---

"Have a scary good time this Halloween!"


---

"Halloween is cool."— Halloweentown


---

"I'm rotten to the core!"— Descendants


---

"Chillin' like a villain."— Descendants 2


---

"You are not a witch."— Halloweentown


---

"Just creepin' it real on Main Street, U.S.A."


---

"Amuck, amuck, amuck!!"— Hocus Pocus


---

"Sugar, (pumpkin) spice, and everything nice."


---

"It's just a bunch of hocus pocus."— Hocus Pocus


---

"I am beautiful! Boys will love me!"- Hocus Pocus


---

"Damn, damn, damn, double damn!"- Hocus Pocus


---

"You poor unfortunate soul."— The Little Mermaid


---

"Bubble, bubble, toil, and trouble."— Halloweentown


---

"Being normal is vastly overrated."— Halloweentown


---

"Ghouls are crawling, leaves are falling, Disney's calling!"


---

"Trick or treat, Disney sweets, give me Mickey Bars to eat!"


---

"I'm getting that déjà vu feeling again!"— Halloweentown


---

"Beware of hitchhiking ghosts!"— The Haunted Mansion


---

"I wanna help you fight the bad thing!"— Halloweentown


---

"Let's go down to Halloweentown and do the Oogie Boogie!"


---

"I've put a spell on you, and now you're mine."— Hocus Pocus


---

"I got friends on the other side."— The Princess and the Frog


---

"It's the burning rain of death! Come, you fools!"–Hocus Pocus


---

"Why? Why was I cursed with such idiot sisters?"- Hocus Pocus


---

"Yo-ho, yo-ho, a pirate's life for me!"— Pirates of the Caribbean


---

"Oh, look. Another glorious morning. It makes me sick!"- Hocus Pocus


---

"Grim grinning ghosts come out to socialize."— The Haunted Mansion


---

"Mirror, mirror on the wall… Who's the baddest of them all?"— Descendants


---

"Welcome, foolish mortals, to the Haunted Mansion."— The Haunted Mansion


---

"Come little children, I'll take thee away into a land of enchantment…"— Hocus Pocus


---

"So this world wide web I've heard about… Does it involve spiders?"— Halloweentown


---

"Would you like to put down the chicken wing and help me protect the girls?"- Twitches


---

"We have 999 happy haunts here — but there's room for 1,000."— The Haunted Mansion


---

"I have my reasons, and I will explain them to you when you're… taller."— Halloweentown


---

"I mean, nobody around here really appreciates my taste in weird stuff."— Halloweentown


---

"Don't get your knickers in a twist! We're just three kindly old spinster ladies."- Hocus Pocus


---

"Three of a kind, birds of a feather, now and forever!"— The Nightmare Before Christmas


---

"You know, I've always wanted a child. And now I think I'll have one on toast!"- Hocus Pocus


---

"You've poisoned me for the last time, you wretched girl!"-The Nightmare Before Christmas


---

"I need someone who believes that anything is possible. Do you believe that?"— Halloweentown


---

"Oh, that's so sweet, do you think we should have told them they're marked for death?"- Twitches


---

"I just walked through some '70s wallpaper that will leave me seriously scarred for life!"- Twitches


---

"Just because I cannot see it, doesn't mean I can't believe it!"-The Nightmare Before Christmas


---

"For it is plain, as anyone can see. We're simply meant to be."-The Nightmare Before Christmas


---

"Serpents and spiders, tail of a rat, call in the spirits, wherever they're at!"— The Haunted Mansion


---

"Other than acquiring some decent bladder control, things haven't changed all that much."– Twitches


---

"Come with us and you will see. This, our town of Halloween."— The Nightmare Before Christmas


---

"You've just crossed over into… The Twilight Zone." *insert dramatic music*"— The Tower of Terror


---

"You poor simple fools. Thinking you could defeat me. Me! The mistress of all evil!"— Sleeping Beauty


---

"In this town we call home, everyone hail to the pumpkin song!"— The Nightmare Before Christmas


---

"Sisters, All Hallow's Eve has become a night of frolic, where children wear costumes and run amok!"- Hocus Pocus


---

"Welcome, foolish mortals, to the Haunted Mansion. I am your host, your ghost host."— The Haunted Mansion


---

"Amidst the glitz and the glitter of a bustling young movie town at the height of its golden age…"— The Tower of Terror


---

"And since I am dead, I can take off my head to recite Shakespearean quotations."— The Nightmare Before Christmas


---

"I am the shadow on the moon at night, filling your dreams to the brim with fright."- The Nightmare Before Christmas


---

"Jack, please, I'm only an elected official here, I can't make decisions by myself!"- The Nightmare Before Christmas


---

"This is Halloween, this is Halloween. Pumpkins scream in the dead of night."— The Nightmare Before Christmas


---

"Magic is really very simple, all you've got to do is want something and then let yourself have it."— Halloweentown


---

"I'm a master of fright and a demon of light, and I'll scare you right out of your pants."- The Nightmare Before Christmas


---

"How are we supposed to grow up if we're not allowed to go into the world, try new things, and take some risks?"— Halloweentown


---

"There's children throwing snowballs instead of throwing heads. They're busy building toys and absolutely no one's dead!"- The Nightmare Before Christmas


---

"You've messed with the great and powerful Max! Now you must suffer the consequences! I'm going to summon the burning rain of death!"- Hocus Pocus


---

"You can't tell what's in a monster's heart just by looking at 'em. I mean, sometimes, some of the slimiest, raunchiest, ugliest little monsters turn out to be the nicest."— Halloweentown


---

"When the crypt doors creak and the tombstones quake, spooks come out for a swinging wake. Happy haunts materialize and begin to vocalize. Grim grinning ghosts come out to socialize!"— The Haunted Mansion


---

"If there's anything that I know, it's that love is infinite. You can always make more when you need it. And just because you wanna give some to somebody else, doesn't mean that you'll take any away from me."- Twitches


---

"When hinges creak in doorless chambers, and strange and frightening sounds echo through the halls. Whenever candlelights flicker where the air is deathly still. That is the time when ghosts are present, practicing their terror with ghoulish delight!"— The Haunted Mansion
Read More
HALLOWEEN DISNEY QUOTES, IMAGES AND PICTURES