DIMPLES QUOTES: Looking for some quotes on dimples and smiles? We have rounded up some cute smiles and dimples quotes, sayings, status (with images and pictures) to dedicate your girl/guy with the dimples on their cheek.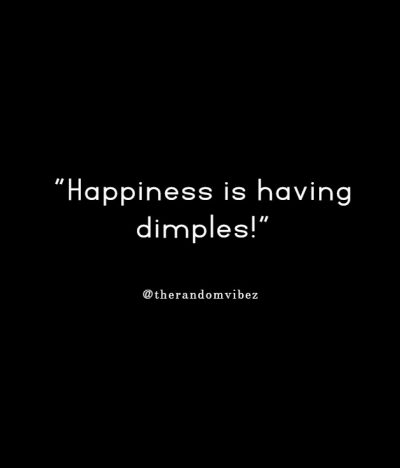 CUTE QUOTES ABOUT DIMPLES ON CHEEK
"A dimple on the chin, the devil within." – Pope Paul VI


---

"Dimples on the face of a girl are more sweeter than sugar."


---

"People with dimple have a divine role in this universe: smile!" – Toba Beta


---

"If you have dimples when you smile, I automatically think you are 10x more attractive."


---

"A woman could do a lot of crazy things for a pair of fine-looking dimples." – Amy Andrews


---

"If there is love, smallpox scars are as pretty as dimples." – Japanese Proverb Stephen King


---

"Then she smiles, and it turns out she has dimples, and it's all over." ― Amie Kaufman, These Broken Stars


---

"Love is not about the Dimples on the Cheeks but it is about the Heart that Beats." – Anamika Mishra


---

"This time, I know all of his tricks: dimples, divots, smiles, and cute eye-crinkle things. Bring it on. " – Anne Eliot


---

He had the kind of smile that inhabited every part of his face his eyes, his cheeks; there was even a dimple." – Kristin Hannah


---

"Wherever there is power, there is age. Don't be deceived by dimples and curls. I tell you that babe is a thousand years old." – Ralph Waldo Emerson


---

"Dimples should come with a warning: Dangerous! Could knock your world off its axis, categorized as a weapon, proceed with caution." – Adriana Law


---

"I feel about mothers the way I feel about dimples: because I do not have one myself, I notice everyone who does." – Letty Cottin Pogrebin


---

"Dimples crinkle up the skin near his lips. I will not look at his lips. How can he never have used those? That's a crime against humanity right there." ― Carrie Jones, Need


---

"There are a good many real miseries in life that we cannot help smiling at, but they are the smiles that make wrinkles and not dimples. " – Oliver Wendell Holmes


---

"Where's the church, who took the steeple, Religion's in the hands of some crazy ass people, Television preachers with bad hair and dimples, The God's honest truth is, it's not that simple. "  – Jimmy Buffett
Read More
60 Mother's Day Desserts
70 HAPPY FATHER'S DAY IN HEAVEN WISHES, QUOTES, MESSAGES
22 HALLOWEEN QUOTES FOR SPOOKY SOCIAL MEDIA POSTS
70 INSPIRATIONAL KOBE BRYANT QUOTES ON HARD WORK FOR SUCCESS
FUNNY DIMPLE QUOTES, CAPTIONS & STATUS MESSAGE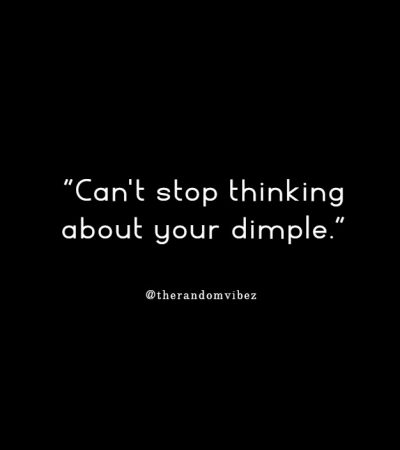 A smile with a dimple on the cheeks can makes a girl/guy look sweeter and more charming. It can take brings you joy, happiness and give you a feeling that comes from the bottom of your heart. These short quotes and one-liners are great to use of captions and status messages on Instagram, Facebook, Whatsapp, Tumblr, and dedicate it to your girl or boy with those cute and irresistible dimples.
"That dimple is illegal!"


---

"Happiness is having dimples!"


---

"Girls with dimples are the cutest"


---

"Can't stop thinking about your dimple."


---

"You can't be angry at someone with dimples."


---

"Why are people with dimples so attractive.?


---

"Girls with dimples make them ten times beautiful."


---

"Can dimples wink? Because I felt like his just did."


---

"I'm not a complicated girl. I'm simple with dimple." – Heart Beat


---

"He's trying not to laugh, but the telltale dimple gives it away." – Nicola Yoon


---

"Many a man in love with a dimple makes the mistake of marrying the whole girl."


---

"If you are stressed you get pimples if you cry you will get wrinkles, so why don't you smile and get dimples."
FAMOUS DIMPLESQUOTES AND SAYINGS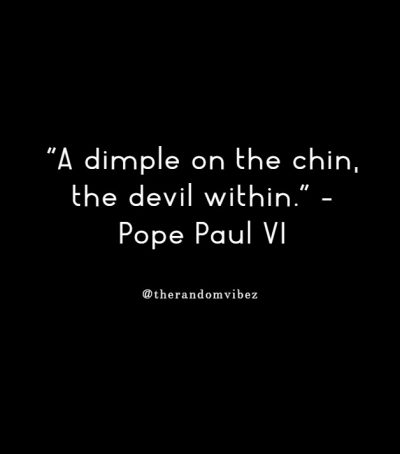 "The merry green eyes and a roguish dimple." – C.S. Harris


---

"All you have to do is flash those blue-green eyes and show your dimple and it's all over with." – Jenna Harte


---

"He has dimples. He's easily the most beautiful thing I've ever seen. And I wish I'd never seen it." ― Tahereh Mafi, Unravel Me


---

"You should never tell someone they have a nice dimple because maybe they were shot in the face with a BB gun." – Mitch Hedberg


---

"The dimple in his left cheek was ironic-it gave the impression that he was sweet as a cupcake." (Dark City Lights) – Elaine Kagan


---

"I want to rob a bank with a BB gun. "Give me all your money or I will give you a dimple! I will be rich, you will be cute. We both win." – Mitch Hedberg


---

"Dimples should come with a warning. Dangerous! Could knock your world off its axis, categorized as a weapon, proceed with caution." – Adriana Law


---

"If valleys are the dimples on the face of the earth, as Steven King once said, then Silicon Valley is the deepest, most sparkling dimple of them all." – Betty Dravis


---

"It's funny, ma'am, how sometimes you're so sarcastic but it doesn't sting." "Because of my dimples. Dimples are a get-out-of-jail-free card" ― Dean Koontz, Deeply Odd


---

Eli grinned, a dimple appearing on one cheek. "Could it be you're starting to care whether Lance Rathbone lives or dies? Miracles and wonders abound." "Shut up –  Mindee Arnett


---

"God, there's nothing sexier than a nice strong jawline and a movie-star-quality chin dimple. It's my own personal kryptonite. – SINGLE-MINDED – Lisa Daily


---

"Dimples should come with a warning: Dangerous! Could knock your world off its axis, categorized as a weapon, proceed with caution." ― Adriana Law, Falling for a Bentley


---

"The dimple appeared. " I like staring at you." my brows rose. he chuckled. " that kind of sounded creepy, didn't it? What I meant is that … well, yeah, I like staring at you. So it is as creepy as it sounds." – Jennifer L. Armentrout


---

"Love at infancy is the strongest and purest of all, it is mixed with infatuation and deep happiness. A persistent smile brings out hollow dimples, and persistent frowns bring out hollow wrinkles." ― Michael Bassey Johnson


---

"Oh, sweet thy current by town and by tower, The green sunny vale and the dark linden bower; Thy waves as they dimple smile back on the plain, And Rhine, ancient river, thou'rt German again! – Horace Binney Wallace


---

"I don't care if we only have a few days together, I want to spend every second by your side. I want to memorize every curve of your face, and I want to see you smile and kiss that dimple in your cheek. – Lisa Kessler


---

"She didn't see him at first. She was watching the dancers. Her color was high, and there were deep dimples at the corners of her mouth. She looked nine miles out of place, but he had never loved her more. This was Willa on the edge of a smile. – Stephen King


---

"I'd lived for her smile and I would've done anything to make her laugh. It always made me feel like I'd accomplished something when that dimple appeared in her cheek. Things were different now, but that didn't mean that I couldn't help her out this once. – Komal Kant


---

"But you have such dimples," said Anne, smiling affectionately into the pretty, vivacious face so near her own. "Lovely dimples, like little dents in cream. I have given up all hope of dimples. My dimple-dream will never come true; but so many of my dreams have that I mustn't complain. Am I all ready now?" ― L.M. Montgomery, Anne of Green Gables


---

"He started to pull away again but she called his name so he stopped. "Yeah?" "Before you go, give me the dimples," she demanded. That thing in his throat prickled and Hawk dipped his head and kissed the indentation at the base of his wife's throat. Then he lifted his head and smiled at her. Her hand came to his face and he felt the pad of her thumb in one of his dimples. Then her eyes moved from her thumb to his and she smiled back. " ― Kristen Ashley, Mystery Man
BEST DIMPLE QUOTES, PICTURES, IMAGES