Delicious New Year's Eve Dinners
Whether you're throwing a household New Year's Eve bash or staying up late to watch the ball drop in Time Square, you'll need some fun and festive New Year's Eve dinner ideas to get you ready for the night ahead. From belly-filling casseroles to vegetable-focused vegetarian ideas, we rounded up tons of delicious mains to keep you satisfied 'til the clock strikes midnight. No matter your New Year's Eve food traditions, we've got something for you. Feeling fancy? Try a spotlight-stealing steak dinner crowned with a pat of butter, or a whole-roasted salmon recipe that doubles as a stunning centerpiece. Start the year off right with colorful, filling salads or celebrate your cravings for carbs, carbs and more carbs (such as pasta, gnocchi and risotto, to name a few).
Radicchio Salad With Roasted Fennel and Shrimp
Fennel, lemon, onion, and— wait for it— 6 strips of crispy bacon give major flavor to this protein-packed salad that's even heartier on a slice of toast.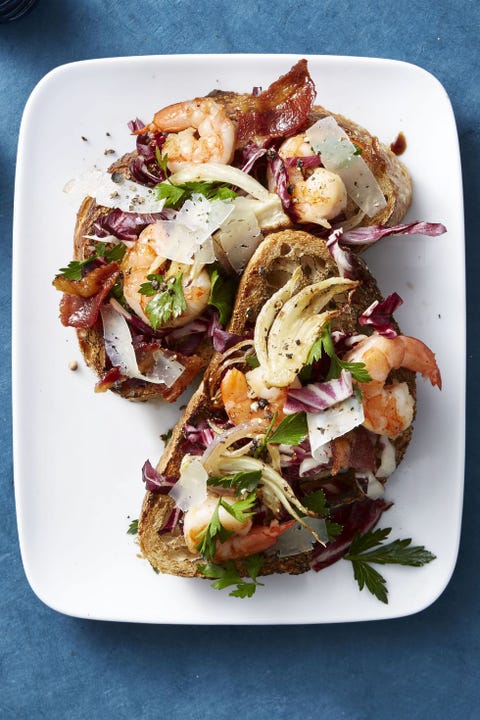 Pork Tenderloin With Quinoa Pilaf
Quinoa studded with pomegranate seeds adds a festive touch to perfectly cooked pork.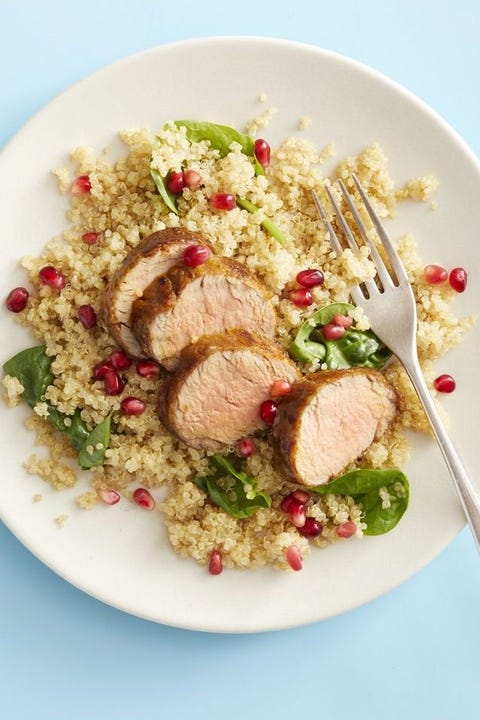 Sheet Pan Chickpea Chicken
You're just 5 ingredients away from this one-pan, smoky, Spanish-inspired dinner.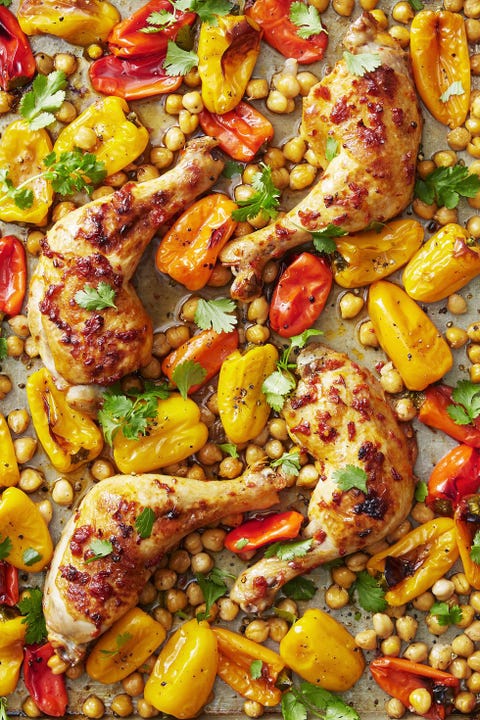 Mushroom and Brussels Sprouts Pizza
Mushrooms and Brussels sprouts are tossed in balsamic vinegar before topping off this restaurant-worthy pie.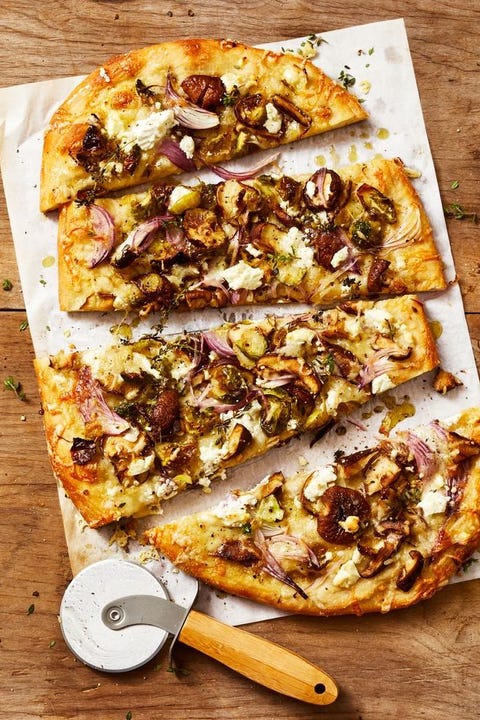 Pork Chops With Rosemary Truffle Sauce
It's New Year's Eve, break out the truffle butter! It'll be worth it to make a rich and creamy sauce.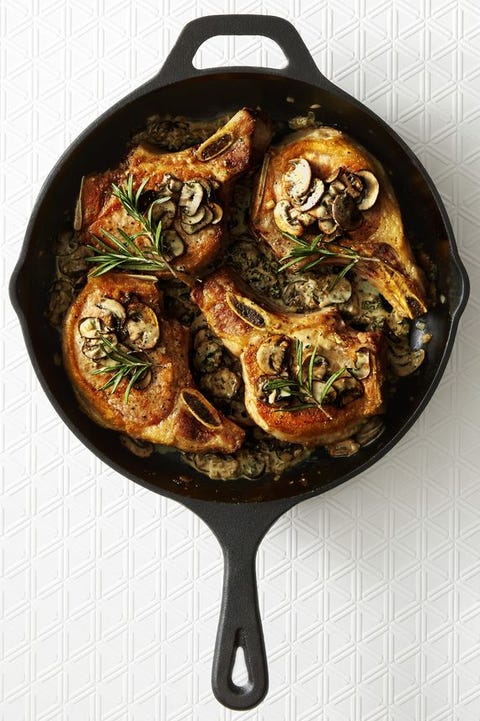 Pomegranate-Honey Glazed Chicken and Squash
Pomegranate juice mixed with honey and balsamic vinegar creates a sweet-tart sauce that really amps of the flavor of your average chicken breast.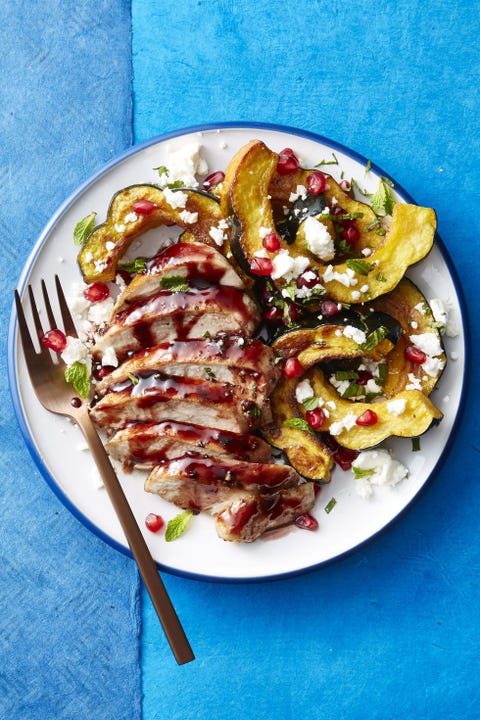 Chicken With Creamy Spinach and Artichokes
Browned artichoke hearts and garlicky greens (tossed in delicious sour cream!) dress up this weeknight staple.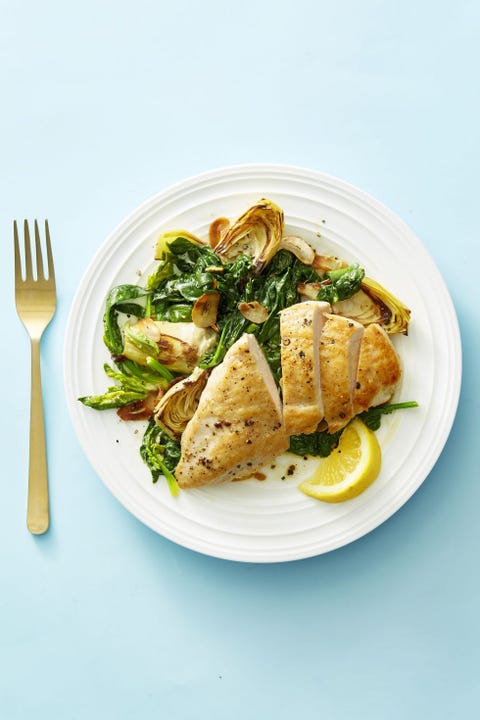 Roasted Salmon With Tomatoes and Green Beans
Take a trip to the Mediterranean with this easy fish and veggie dinner that gets a major flavor boost from Kalamata olives.