Christmas Nail Ideas to Get You in the Holiday Spirit
Christmas Nail one of the most special times of the year, which is why it's a perfect opportunity to treat yourself to a  fabulously festive manicure. Whether you're inspired by cute winter creatures, Santa and his elves, or the classic colors of Christmas, there's a wide variety of stunning manicures to help you capture the festive spirit. Just think how amazing your fingertips will look as you open your presents!
1. Baby Blue Christmas Nails
One of the biggest nail color trends during the fall was blue, and the trend continues for the Christmas season. Baby blue brings to mind icy mornings and winter skies, and it suits any nail shape. Give your manicure a festive twist by adding extra details in complementary shades – think white, silvery glitter, and black.
2. Christmas Decorations Nails
If your favorite part of Christmas is decorating the tree, why not give your fingertips some festive decorations? Starting with a neutral base coat, add tiny colorful baubles to your nails. Dainty and cute, the look is one of the more subtle holiday manicures – but it will put you in the Christmas spirit in seconds!
3. Christmas Red And Gold Nails
An elegant and classic option for your Christmas manicure is red and gold nails. The combination is instantly festive, bringing to mind Santa, Rudolph, holly berries, and a roaring fire. Colour block red and gold nails will give your fingertips a 'wrapped present' look, while a red manicure with a gold feature nail and star accents looks sophisticated yet celebratory.
4. Christmas Reindeer Nails
A quick and easy way to give your standard manicure a Christmas makeover is with a character feature nail. And what's cuter – or more festive – than a reindeer? Make sure you add antlers and a sprig of holly, so everyone knows your adorable animal is one of Santa's helpers. You could also add sleigh bells and a red nose to turn your reindeer into Rudolph himself.
5. Christmas Wrapping Paper Nails
Inspiration for your Christmas nail art can be found anywhere – even under the tree! Use the patterns on the wrapping paper as a guide to creating a unique and multi-dimensional manicure. Think stripes, glitter, holly sprigs, and ribbons. Your nails will look good enough to unwrap.
6. Pastel Christmas Nails
While classic Christmas colors like deep red and vibrant green are always in style during the festive season, some prefer a more understated and chic effect. For lovers of white and neutral shades, pastel Christmas nails are ideal. Because the colors themselves are muted and simple, ensure you add one or two feature nails with wrapping paper-inspired patterns, and perhaps a tiny touch of glitter.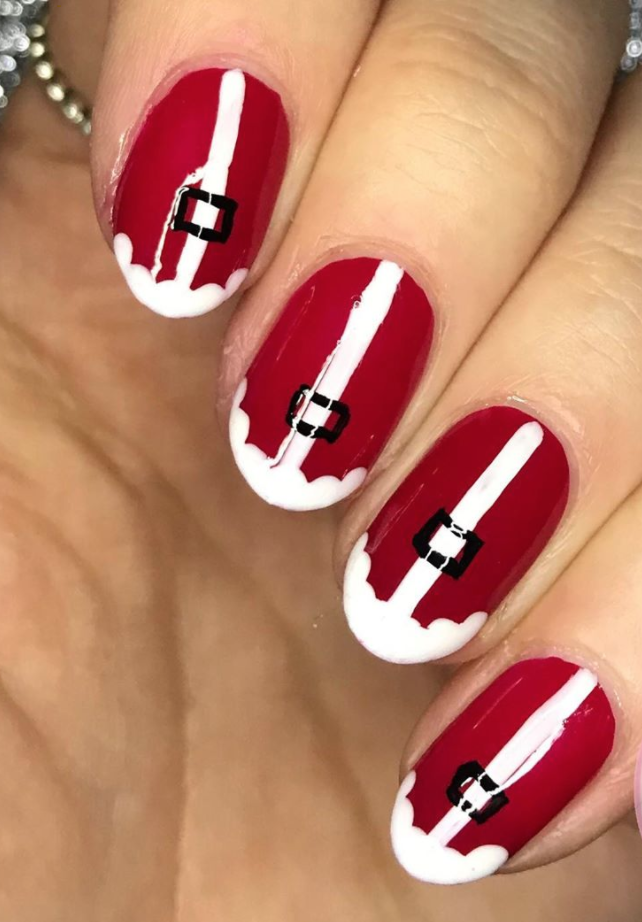 7. Santa Christmas Nails
Christmas only comes once a year, so if you love the season, make the most of it and try Santa Christmas nails. Make Mr. Claus the focus of your feature nail, and add other Santa-inspired accessories like a sleigh, present, mitten, or boot to your other nails. Alternatively, keep the jolly character as the center of attention by contrasting with a classic cherry red manicure.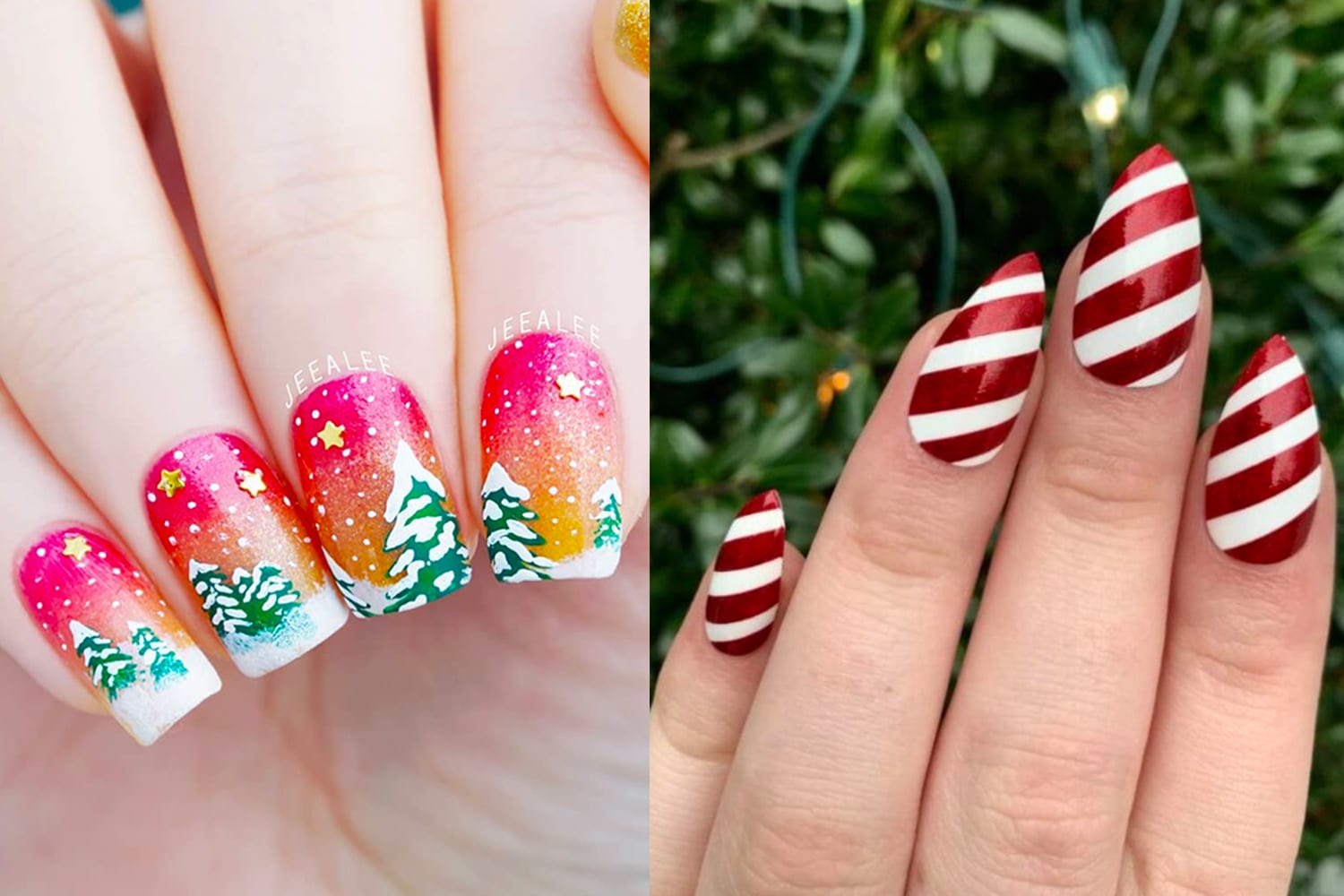 8. Stars Christmas Nails
Stars don't just belong on top of your Christmas tree – they look great on your nails too! Modern and understated, yet sparkly and playful, a stars manicure has a youthful appeal without overdoing it. The look adds a touch of glittery fun and works on any nail length, from natural to stiletto.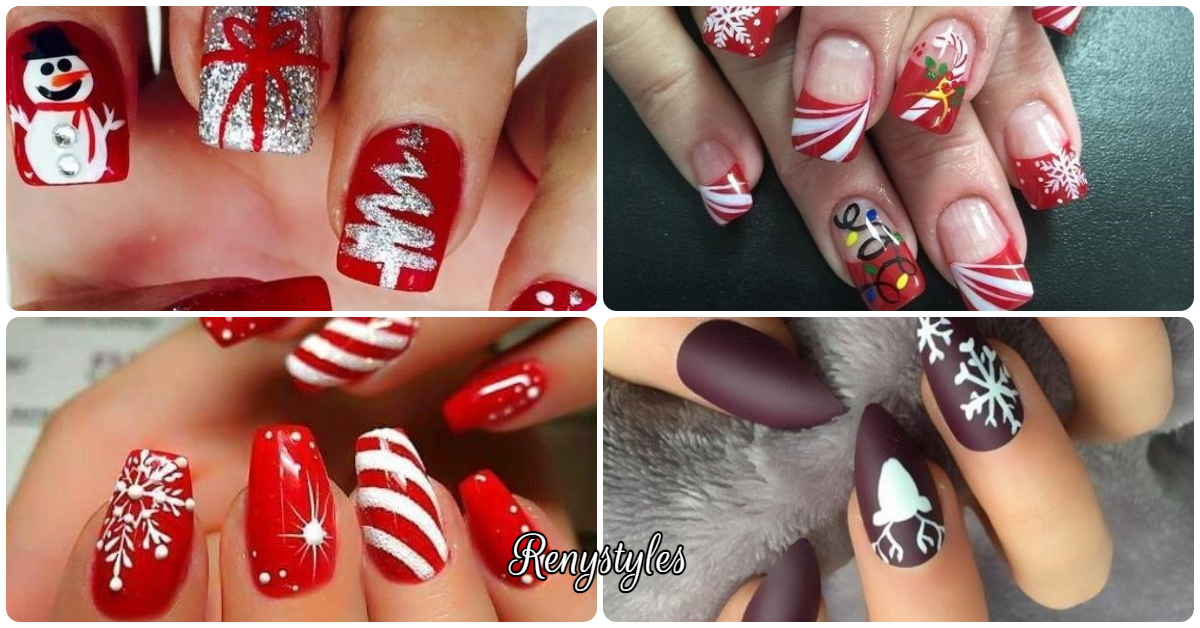 Another gorgeous and stylish option for neutral lovers is grey Christmas nails. Frosty and elegant, this hue has a Snow Queen vibe that pairs perfectly with a sexy feminine shape like a mountain peak or coffin nails. Fresh white accents like snowflakes look great against a grey base, but there are no limits. Use the pale hue to offset a character feature nail, or add a wash of silver glitter for an extra festive touch.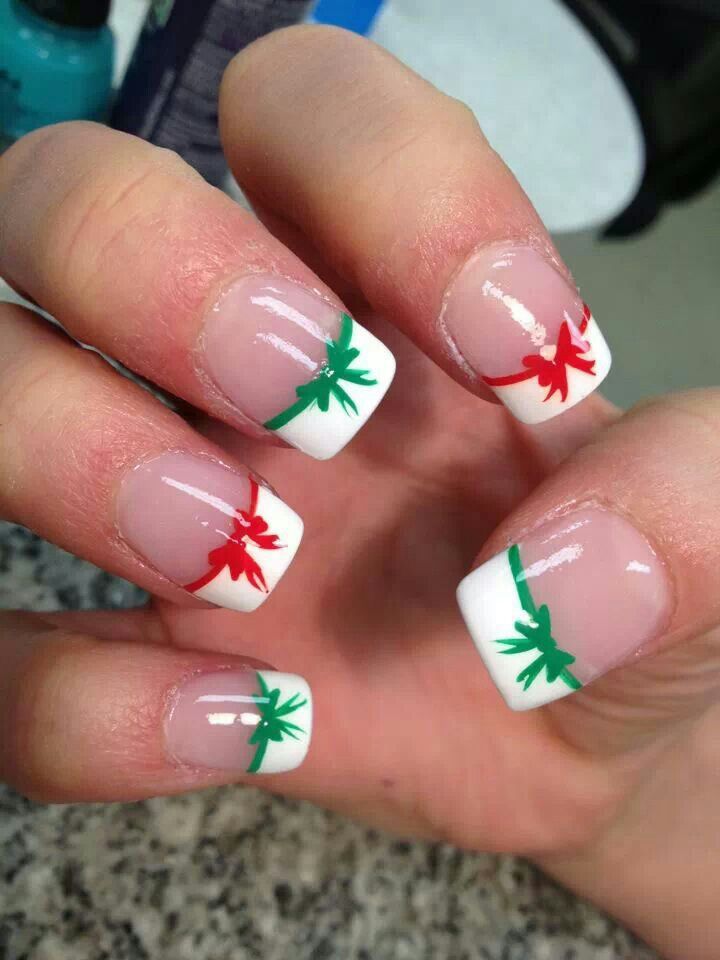 10. Colorful Glitter Christmas Nails
It is the season to shimmer and shine, and that means glitter nails! Christmas glitter combines all the classic hues of the season – emerald, ruby, gold, and silver – and looks fantastic against a neutral base coat. The final effect makes it look as if your fingers have been dipped in magic dust. Plus, it's one of the easiest Christmas-themed manicures to achieve.
11. Cute Christmas Nails
There's no shortage of cute inspiration at Christmas time. Bring out your inner child with adorable cartoon versions of Christmas characters like Rudolph and Santa. These designs look best on short, square, natural nails rather than a long stiletto or coffin shapes, as those tend to have a more glamorous and sexy feel.
12. Green Christmas Nails
Emerald green is a classic Christmas color because it reminds us of pine trees. That makes it an excellent base color for your festive manicure. Give your green Christmas nails a sophisticated twist with white and silver glitter accents. You could add simple stripes or dots, or go all out and create stunning snowflakes and reindeer.