Christmas in Paris Christmas in Paris is simply magical. Paris at Christmastime is as refined as the city itself. Every corner of every quartier has its own special enchantment from lively outdoor ice skating rinks to the many charming Christmas markets that line the streets and squares. Paris isn't called the City of Light for nothing, and especially so at Christmas. Here are just a few of the things not to miss in Paris at Christmastime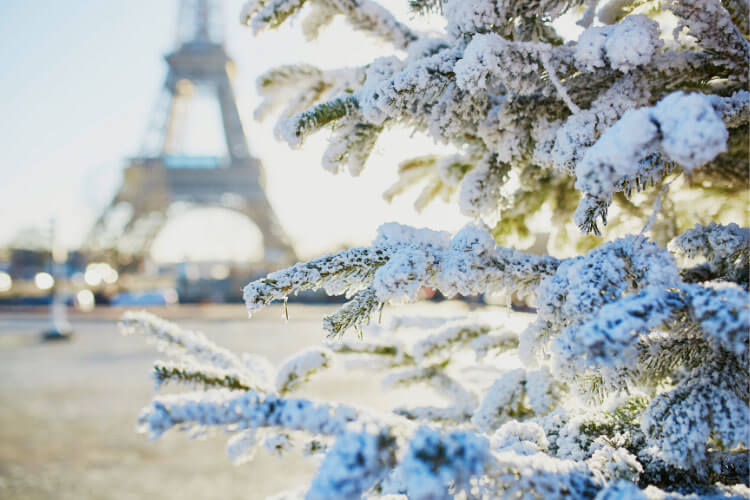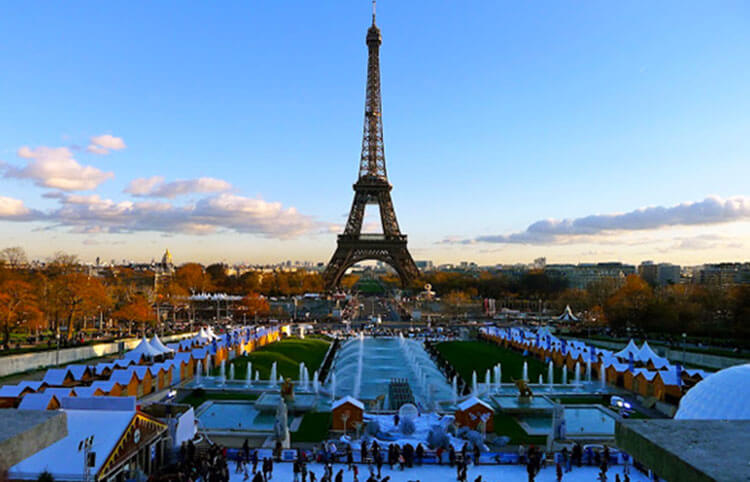 Champ-de-Mars Christmas Village
The Champ-de-Mars Christmas Village at Champ-de-Mars and Quai Branly offers Parisians and tourists alike the opportunity to soak up a little Christmas spirit. Visit the 120 chalets for a wide selection of gifts, treats and decorations for the holiday season.
Not to be missed is the outdoor ice skating rink. Nothing is more romantic than skating hand-in-hand at dusk as the Eiffel Tower twinkles near by.
Tuileries Garden Christmas Market
The former Champs-Elysées Christmas Market that stretched from the Arc de Triomphe to the Place du Concorde was cancelled in 2017 after a dispute between the organizer and the city of Paris. But it was re-imagined starting in 2018 as the Tuileries Garden Christmas Market with more than 100 chalets set up in the Tuileries Garden next to the Louvre.
It's not Paris' biggest Christmas Market and not to be missed when visiting Paris at Christmastime. Santa himself will make an appearance to delight the young and old alike.
La Défense Christmas Market
Another of Paris' biggest Christmas Markets, La Défense has more than 350 chalets with artisans from all over France selling their wares spread over 13,000 square meters. This year's theme also features a massive globe and 18 meter tall Christmas tree.
Energy saving LED lights illuminate immersive light displays created especially for Paris La Défense. Like Christmas magic, they switch on and off as you walk past leaving visitors feeling like the experience was created for them personally.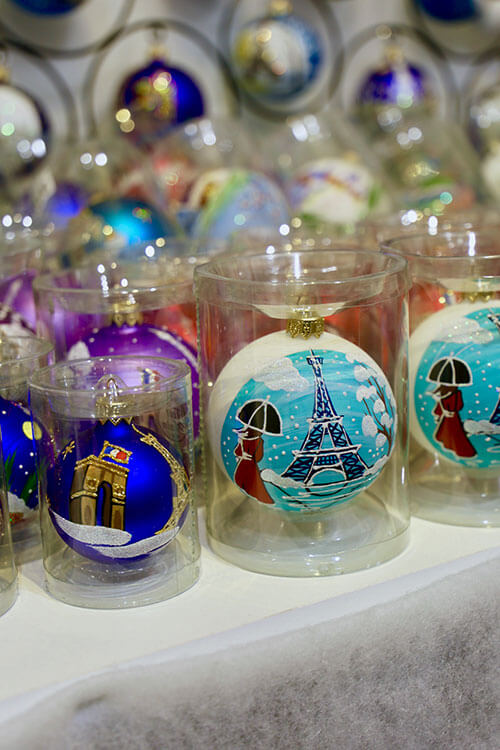 Saint Germain des Prés Christmas Market
Away from the crowds of the Champs-Elysées and a favorite Parisian neighborhood of many Paris insiders, a Christmas Market has appeared alongside the church of Saint Germain des Prés since 1999. The small, but quaint Christmas Market again returns with merchants delight visitors with a selection of French crafts and gastronomic specialties.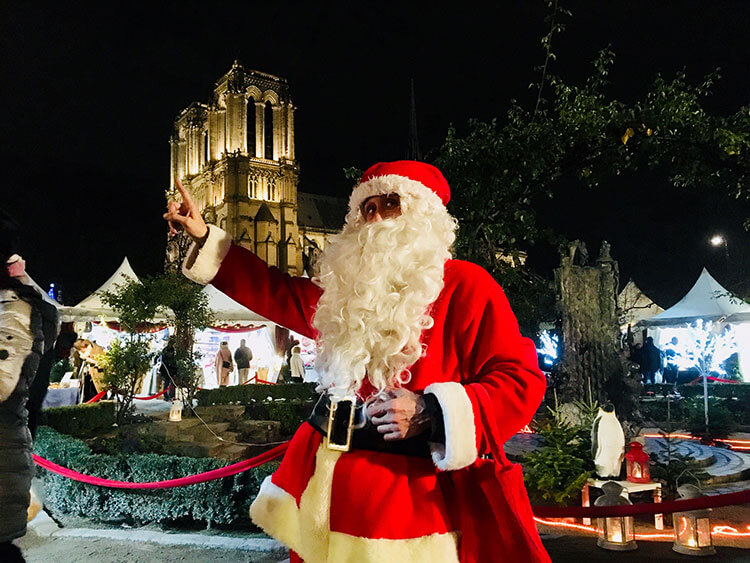 Champs Elysées
While many streets in each arrondissement are decorated, the Champs-Elysées is one of the most popular and festive of the Parisian light displays. The most beautiful avenue in the world transforms into a Christmas wonderland with lights.
For 2019 the Christmas Lights on the Champs Elysées are officially switched on November 24. The Champs Elysées is even car-free for the occasion, so that visitors and Parisians alike can gather right in the middle of the Champs Elysées.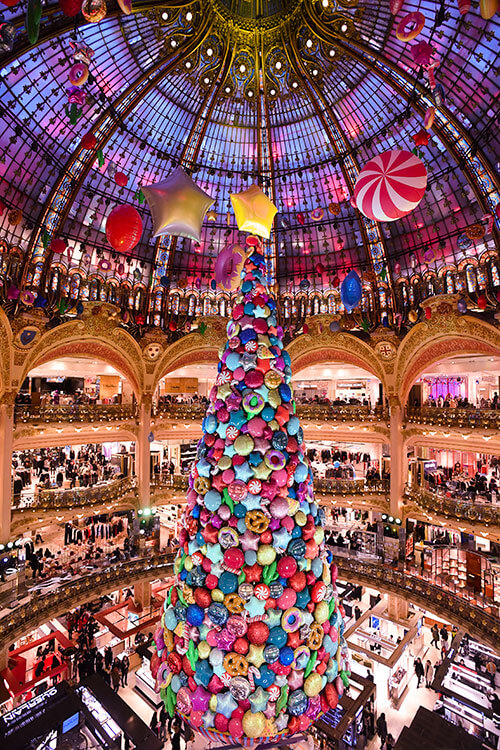 Galeries Lafayette
Don't miss Galeries Lafayette for holiday lights and windows that arguably rival those of New York City department stores. Every year the theme changes. and past themes have included classic American musicals. 
There's not a more mesmerizing sight than window displays with with animated scenes like the Radio City Rockettes dolls wearing Santa suits, gold clogs and red tams or bathing suit clad teddy bears with snorkels and fins dancing away to the tunes of Mamma Mia. No matter what the year's theme, Galeries Lafayette knows how to enchant window shoppers from near and far..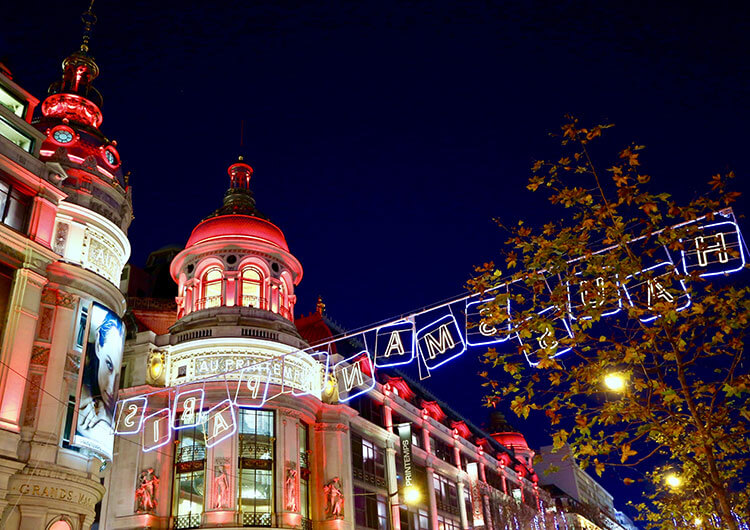 Printemps Paris Haussmann
It's "A Very Curious Christmas" at Printemps Paris Haussmann this year! The French department store known for its selection of beauty, fashion and accessories has created a magical world with amazing animals with contagious energy.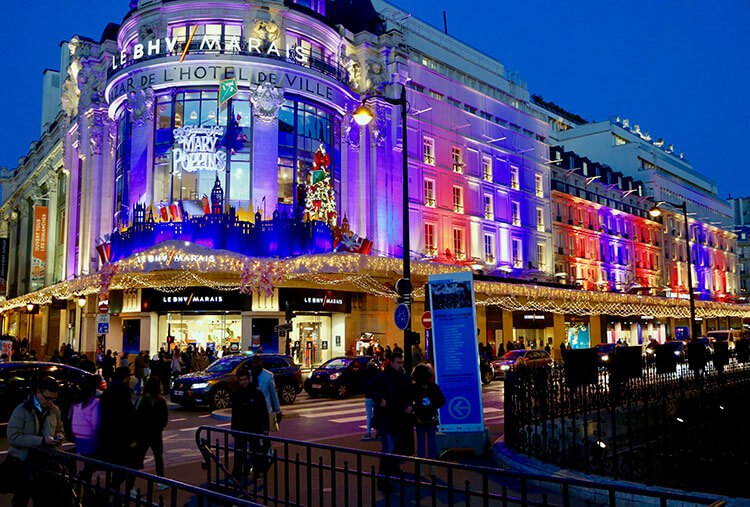 Le BHV Marais
Le BHV Marais department store transports Parisians and visitors alike to the Christmas Capital of France with their Strasbourg themed Christmas window displays this year. Strasbourg knows Christmas; they've been putting on a Christkindelsmärik since 1570. And this year Strasbourg has teamed up with Le BHV Marais with a mini version of the famous Strasbourg Christmas Market enchanting in the store's windows.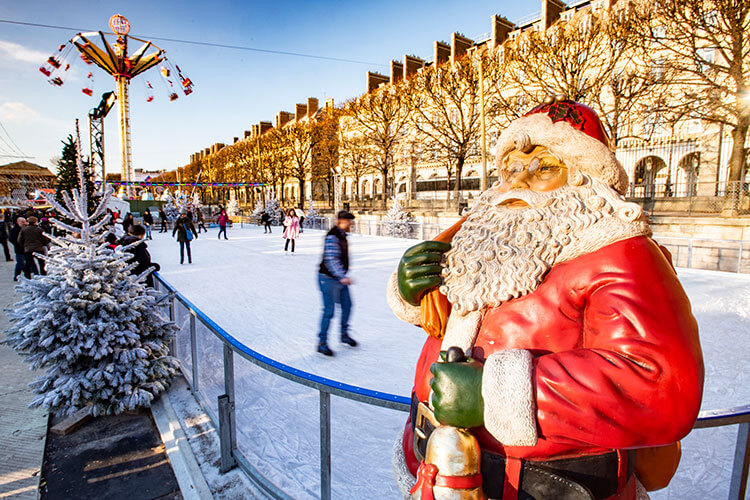 Grande Arche Rooftop Ice Skating at Paris La Défense
The rooftop of Paris La Défense's Grande Arche gives visitors a 360-degree view of some of Paris' most beautiful monuments. Worth a visit for the panoramic view anytime of the year, the Grande Arche is even more magical when the 110 meter high rooftop ice skating rink opens for the holiday season.