Black History Month Crafts
For the first time, we'll be celebrating Black History Month amidst a pandemic, but one thing remains the same: Black History Month Crafts projects honoring Black lives give us an opportunity to express our creativity and have some fun, while honoring African Americans whose achievements have inspired us. 
BHM or Black History Month takes place in February, and after last year's BLM movement I believe this year there will be more people participating in BHM as well as a broader understanding of its significance. Here is a roundup of kids craft activities aimed to educate, make aware and celebrate Black History Month and Black lives.
Black History Month Crafts 2022
Whether you have time for a complicated craft or want something simple with a construction paper project, these crafts help teach that Black history is American history. As a matter of fact, Black history should be celebrated throughout the year, so try these cool crafts not just during February, but whenever you're feeling inspired – or when your kids get completely and utterly bored (again). 
1. Paper People of the World
Kids who like to cut (or watch you cut) will love this craft. The only materials needed are colored construction paper, scissors, and a pencil if you decide to draw your own figures. If you're super creative you can freehand cut, or work together to color in details. Best of all, this easy craft is a great jumping-off point for a discussion about how every single person is different, special, and deserving of respect and love.
2. "Would You Stay Seated?" Activity
Emily Education
Rosa Parks refused to give up her seat to a white man on a bus in Montgomery, Alabama, and her courage and determination sparked the Civil Rights movement of the 1950s and 60s. If you were put in that situation, would you do the same thing? This project from Emily Education helps children engage with big questions and big ideas, helping kids imagine what it's like to be mistreated because of the color of their skin — and what it takes to spark a positive change.
3. Dream Clouds
Urban Bliss Life
If you're in search of a craft that encourages little ones to dream big, put this dream cloud activity on your "cool stuff to make" list. This homage to Martin Luther King's famous "I Have a Dream" speech will inspire kids to envision any world they desire. While it may seem like a project for older kids, small ones can get in on the fun by talking about the kind of person they want to be when they grow up. Check out how to create this craft at Urban Bliss Life.
4. Cardboard Tube Legends
Happy Toddler Playtime
If you've never made a craft from a cardboard paper towel tube or an empty toilet paper roll, have you even been a kid? If you're ready for a cool twist on a classic paper craft, we recommend these adorable MLK, Ruby Bridges and Harriet Tubman characters that are made of construction paper. Add googly eyes for extra giggle factor. For the how-to plus kid-friendly facts about about each of these important figures in Black history, visit Happy Toddler Playtime.
5. Garrett Morgan Graham Cracker Stoplight
Moms N Charge
Sweeten the mood with a tasty snack that's both educational AND delicious. Did you know Garrett Morgan invented the traffic light? Teach your kids about this African-American inventor and community leader by grabbing their favorite graham crackers (cinnamon grahams work too), peanut butter, and M&M's for a mouthwatering treat. Check out the details at Moms N Charge.
6. Chalk Inspiration Art
Getty
Okay, chalk can be messy, but it's a great way to improve kids' fine motor skills while having a little fun. Set up an easel with some construction paper and chalk, draw on the sidewalk, or spread paper on the floor or the kitchen table. Then work together to create your very own inspiring chalk art masterpiece. Draw your favorite people from African American history or from today, write phrases using your favorite colors — and let your creativity shine. Not sure where to start? Think about words that inspire: Hope, change, courage, unity, community. Even the littlest kids can get involved tracing letters and adding colors.
7. Small Hands Change the World
ABCDee Learning
This meaningful craft project from ABCDee Learning uses your family's handprints to inspire us all to work so every race and nationality can feel seen and heard. All it takes is some paper, scissors, glue, markers … and a big dream for a better world.
And if you are looking for more printable lesson plans then check these out on Etsy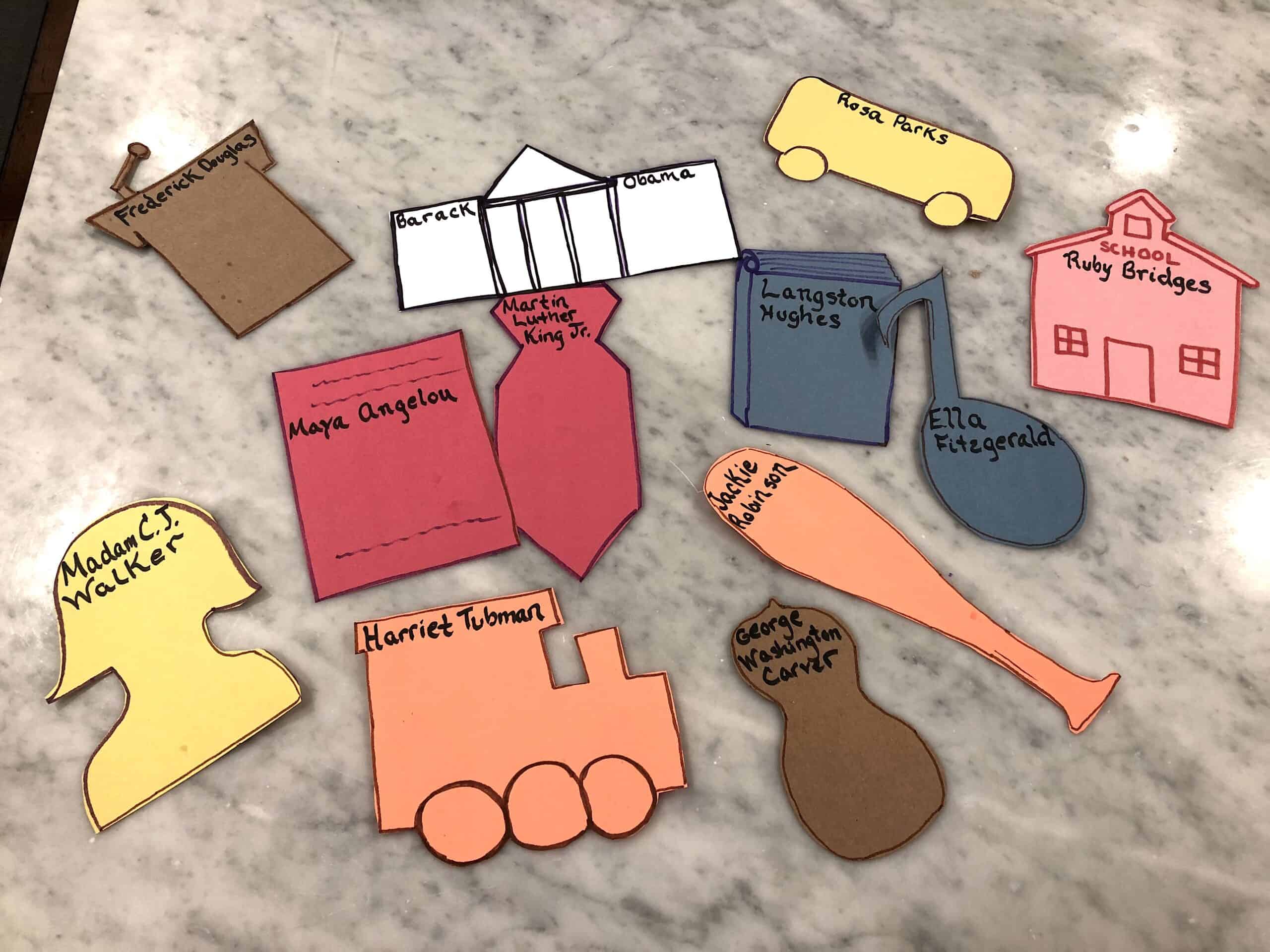 The observance of Black History Month originated in the United States, where it is also known as African-American History Month. The United States and Canada have recognized it, and more recently it has been observed in Ireland, the Netherlands, and the United Kingdom